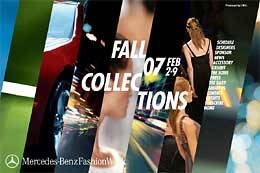 Fashion shows are a true New York event. As one of the fashion capitals of the world, New York attracts some of the top designers to show their new clothing lines. Each February and September, shows take place in Bryant Park between Midtown West and Midtown East as well as other locations throughout Manhattan. If you are a designer, model or someone coming to see the shows, staying in an apartment is a good choice. With the hectic schedule, the ability to come home to your apartment at the end of the day allows for some relaxation before the next busy day.
This year the winter 2007 fashion show is occurring for the week of February 2nd to 9th, 2007. Visit the official site of the New York Fashion show, where the entire show schedule is available.
If you are working the fashion show for one of the designers and are looking for accommodations in New York, consider contacting New York Habitat while you are in the city during the show. We can take you to see some of our apartments and arrange for your stay when you return in September.
If you don't work for a fashion company, but you have decided to make the journey to New York to see one of the fashion shows or the celebrities arriving at the shows, then we can help out with those last minute apartment rental plans. There are several options still available for the week of the show, like Midtown East vacation rentals or Midtown West apartments.