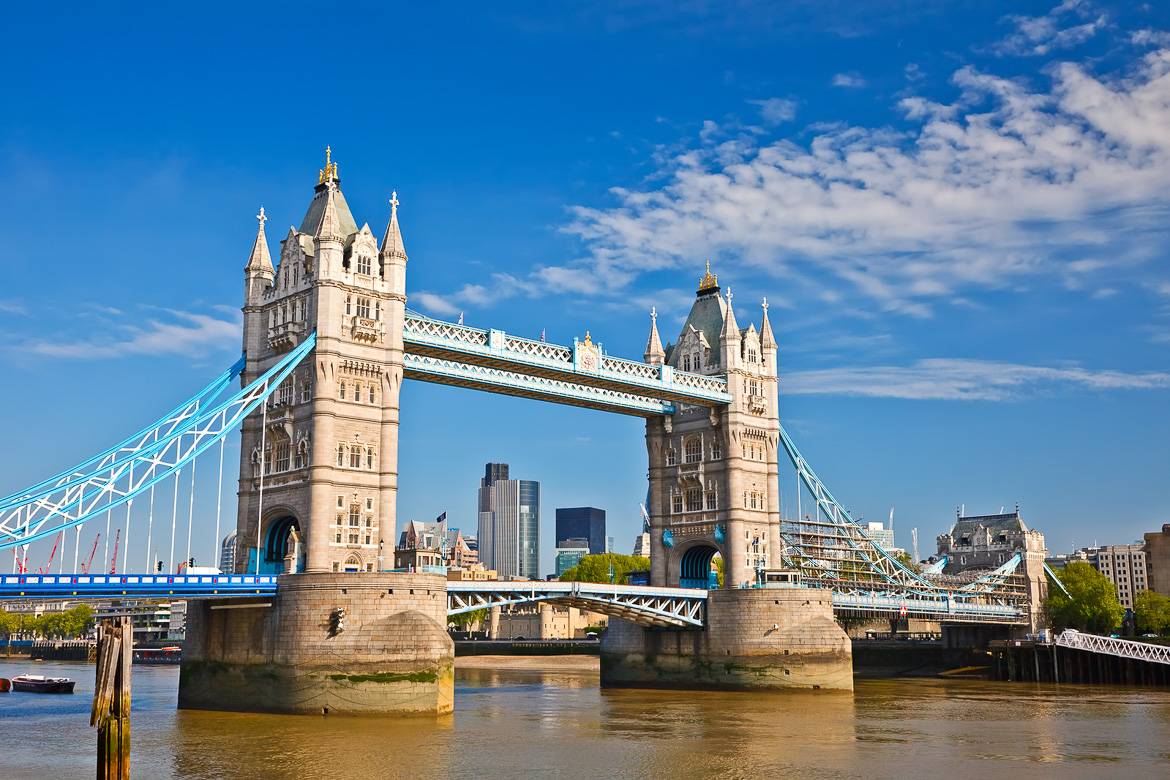 Stay near Tower Bridge and do as the Londoners do!
Few landmarks are as iconic as London's Tower Bridge. This monument (not to be confused with London Bridge) over the River Thames is truly representative of the city itself; steeped in history, majesty, and visually unparalleled. If you're planning a stay in London, there's no better area to stay than around Tower Bridge, no matter on which side of the Thames you find yourself. Get a taste of the culture and entertainment in the surrounding area and have a quintessentially London experience!
Things to do around Tower Bridge
It's impossible to explore London without being entirely awed by Tower Bridge. Famous for its castle-like peaks and blue detailing as well as its rich, 120-year history, this bridge literally towers over the city. Today, you can actually cross the elevated walkways on the bridge for spectacular London views through the glass floor. You can watch the sunset from the bridge and make it a romantic outing or check out the souvenir shop for gifts. Occasionally the bridge will open to let a ship pass, an engineering marvel that even locals stop to admire.
Ceramic red poppies color the Tower of London's lawn in remembrance of the First World War.
Going to the Tower of London is like stepping back in time, and not just because it was built in the 12th century! This palace, which is formally known as Her Majesty's Royal Palace and Fortress of the Tower of London, offers guided tours on which you can learn about prisoners that have been housed in the castle and executions that have taken place at the site. Kids will definitely be impressed by the tower's creepy history, but this UNESCO World Heritage Site offers more than just a gory past. You'll also get a chance to view the Crown Jewels of England, explore the former bedchambers of Britain's royalty, and admire the gothic architecture.
Londoners always say that the city was built twice. The rebuild took place after the Great Fire, which began in a baker's house on Pudding Lane on September 2, 1666, and lasted until September 5th. It destroyed a large portion of the City of London, and many homes and buildings had to be rebuilt as a result. Take a look at what locals simply call the Monument, a stunning, pillar-like memorial dedicated to the unforgettable event in London's history and designed by the famous Sir Christopher Wren, architect of St. Paul's Cathedral.
The HMS Belfast is a London landmark that definitely warrants a family outing. The Belfast is a World War II ship with nine decks and a long history of military duty. It was built in 1938 and finally retired in 1971, allowing the public to explore the ship while it's anchored on the Thames. You can walk through the Captain's Bridge, the boiler room, and the engine room, and travel below the ship's waterline!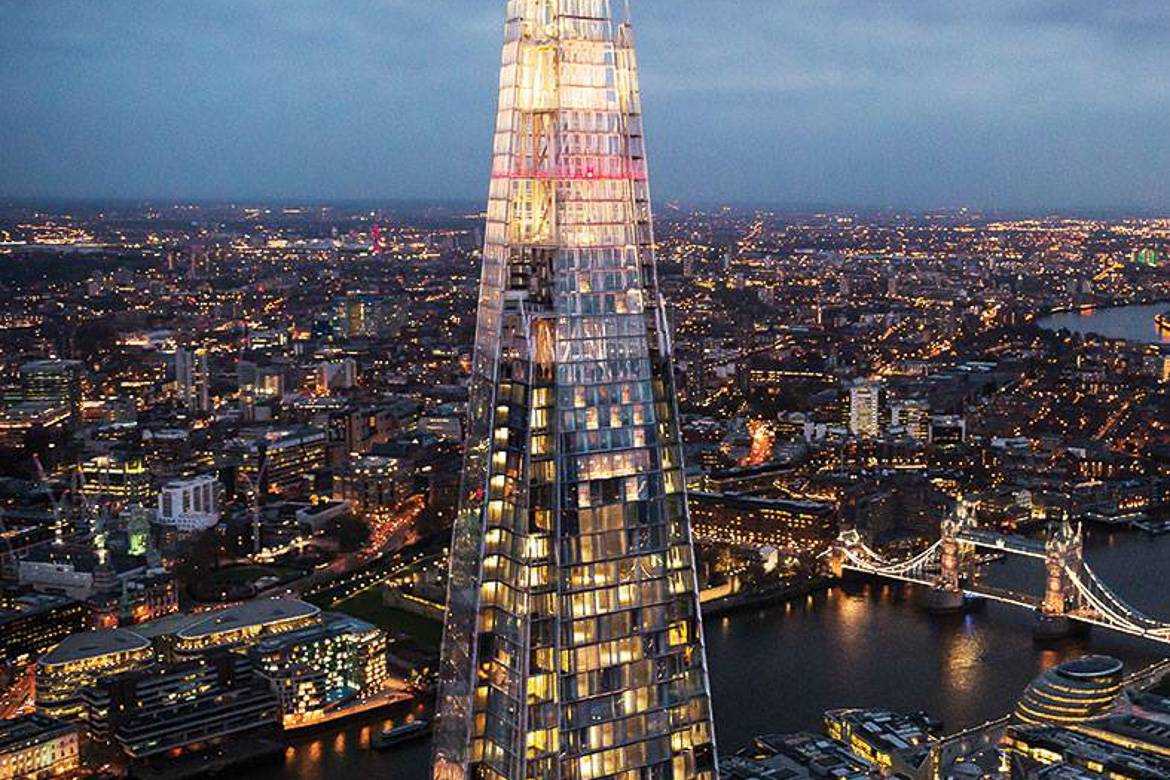 The View from the Shard is now one of London's best attractions!
Make your way over to The Shard to get a view from the tallest building in the European Union. The Shard is visible from nearly anywhere in London, and the viewing gallery on the 72nd floor offers unparalleled views of the city through thousands of panes of glass. It's definitely a thrill worth experiencing! If you like a view over some cocktails, the Sky Garden might be a better option. Located 10 minutes from Tower Bridge, the venue spans three stories, offers panoramic views of the city, and even contains London's highest public garden. Wander through the beautiful landscape designs, enjoy dinner at one of the restaurants, or simply have some drinks at the Sky Pod Bar with friends.
Stay in a furnished apartment with New York Habitat
It's a well-known fact that finding the right lodging is probably the most tedious aspect of planning a trip, but New York Habitat has agents who specialize in the London market and are ready to help you at every step. Even if the apartment you want is unavailable, they can find another furnished rental that fits your needs. These days, having someone on hand who has local expertise is a rarity, and definitely something that will simplify planning.
With these furnished apartments around the Tower Bridge area, you can feel at home and explore London in the best way. Staying at a furnished rental can save you money on dining in the long run (the city can get expensive unless you find ways to cut costs with these free activities) and provide a comfortable, personalized touch to your stay.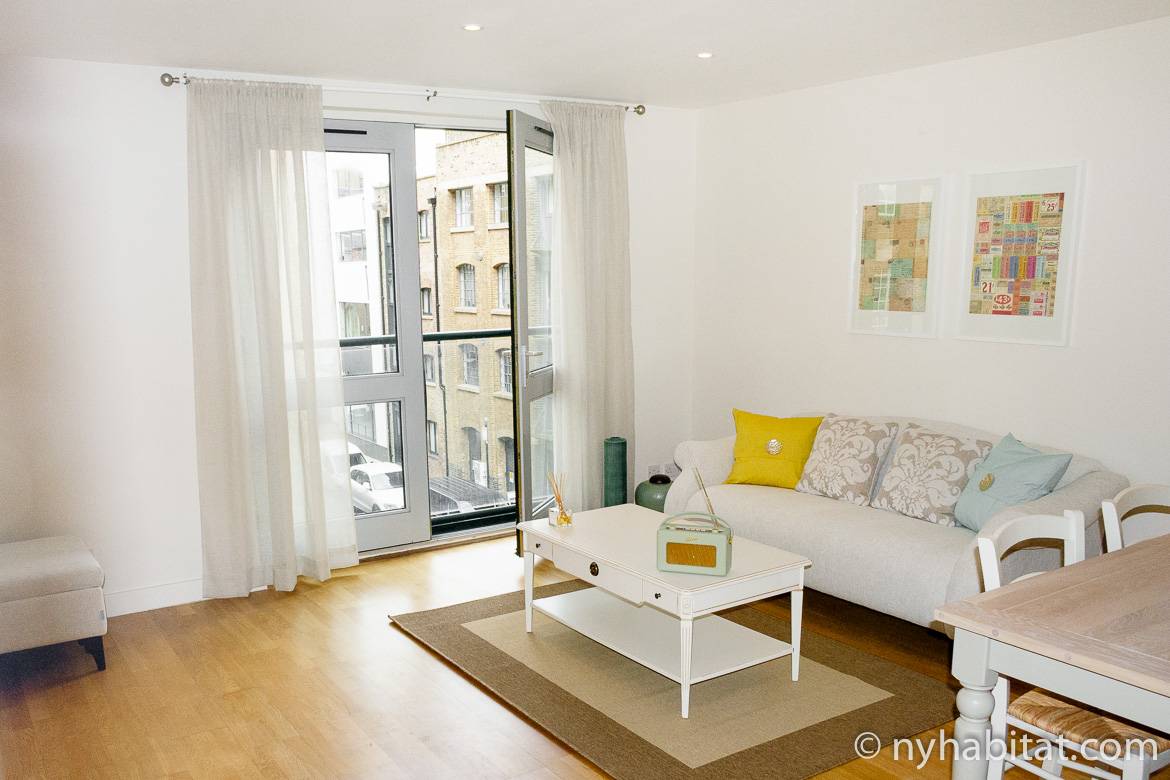 Experience London by staying in this chic flat in Bermondsey!
This fresh and modern furnished apartment in Bermondsey is perfect for those who value space and comfort above all. This cozy 2-bedroom is located just steps away from the iconic Tower Hill, so you'll be near all of London's best landmarks while you rent here. This area (known as Shad Thames) is renowned for its cool converted warehouses that were once used when the Thames was a bustling port. The apartment itself offers stainless steel appliances, a washing machine, plenty of storage for your belongings, and even a balcony for outdoor views.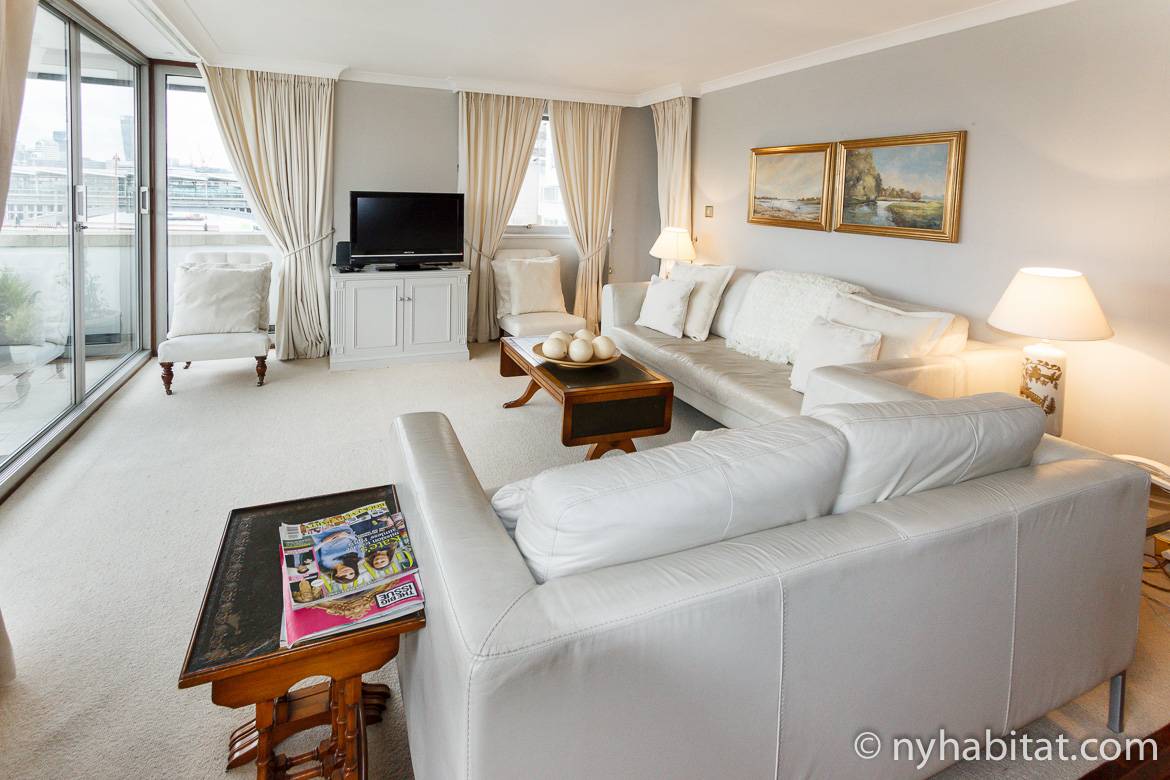 This comfortable and spacious living room is just one reason to rent this flat in Southwark.
It's easy to live like a local in this homey furnished rental that's equipped with everything you'll need to make your stay as relaxing as possible. It overlooks Blackfriars Bridge from the south side of the River Thames, but is just minutes from Tower Bridge past Shakespeare's Globe, Drake's Golden Hind, and the renowned Borough Market along the river. It boasts a spacious living room and the large balcony, where you'll get views of the river towards St. Paul's Cathedral, is a true highlight. This 2-bedroom, which can sleep four people, is also perfect for those hoping to take advantage of the nearby markets and cook their own meals, which makes it especially family-friendly.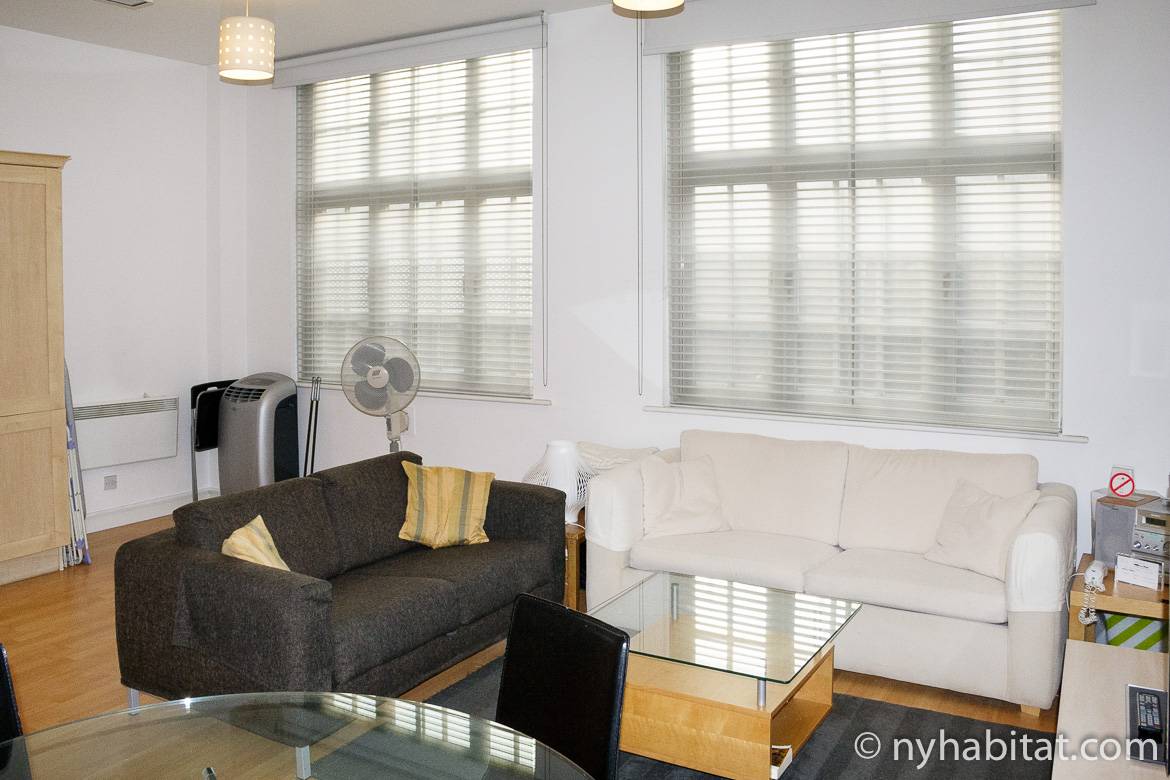 Relax in this modern and elegant vacation rental!
In recent years, Southwark has experienced a kind of renaissance. The area is full of so many great landmarks and newer buildings that locals and tourists alike are flocking to it. This two-bedroom, two-bathroom furnished rental in Southwark is the ultimate apartment for your vacation. It features a private balcony, video intercom, and large windows to allow natural light to flood the living areas during the day. Also included is an in-unit washing machine and an extra sleeping space on the sofa bed for those traveling in a large group. Best of all, you can take advantage of nearby attractions like Borough Market, which is great for street food as well as a huge range of other food products and specialty items from the UK and abroad.
Stay near the iconic Tower of London in this Trinity Square studio that offers more than just its prime location. Besides the open, comfortable set up of the living areas, there is also a communal rooftop terrace offering views of the Tower of London and Tower Bridge. This rental would be ideal for a student looking to take advantage of the great price, especially compared to other rentals in the area.
Food and drink around Tower Bridge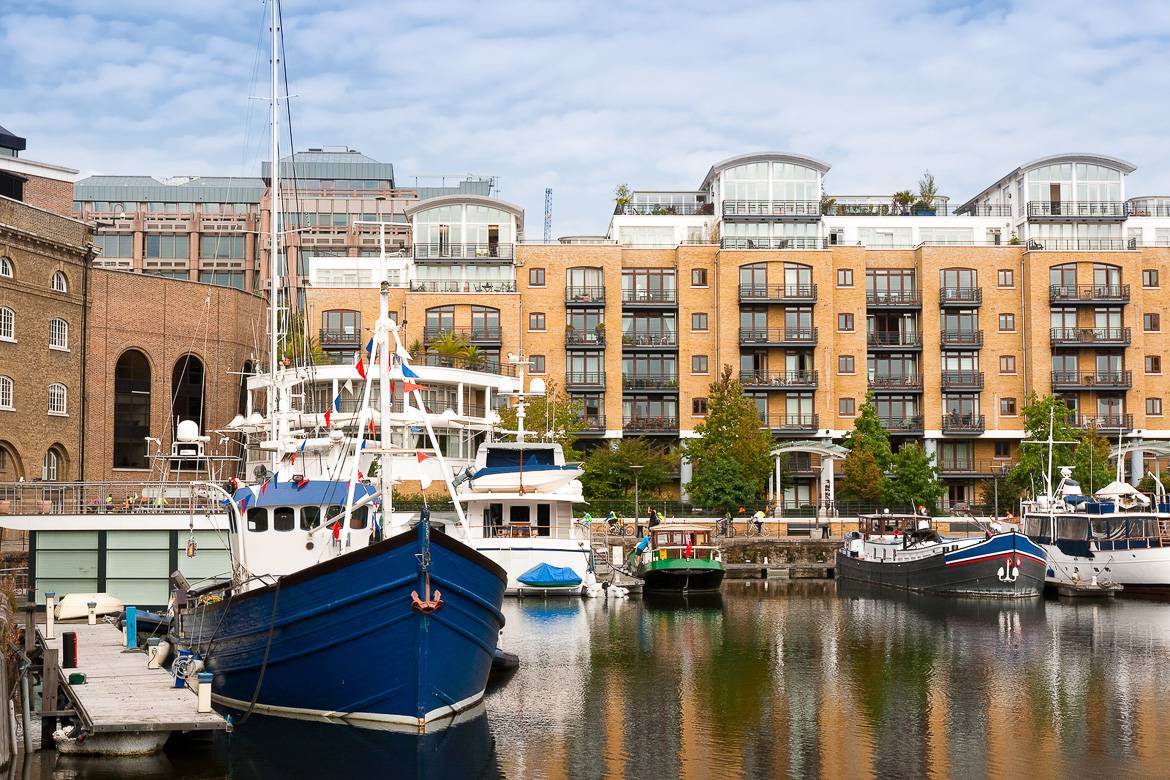 St. Katharine Docks has plenty to offer, including dining and shopping.
Opened in 1828, St. Katharine Docks was once one of the busiest ports in the UK, receiving goods from around the world. Today, it's a lovely waterside marina (London's only one) and offers a relaxed dining and shopping experience. It's only a short walk from Tower Bridge and is well worth a visit.
Look no further than White Mulberries in St. Katharine Docks to get your early-morning pick-me-up before sightseeing. The adorable coffee shop offers outdoor seating and plenty of breakfast or sandwich options, making it a great place to grab some lunch as well.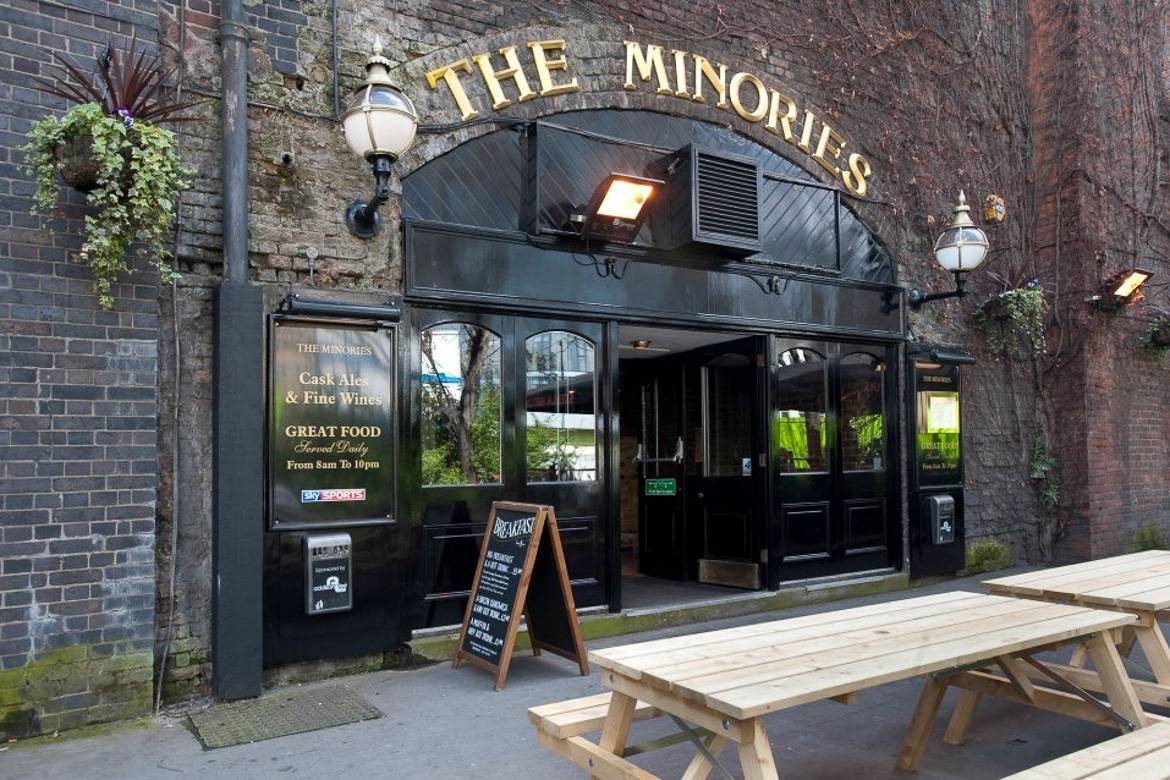 Grab a pint with your friends at this typical London pub!
For a night of fun in this area, head to the Bavarian Beerhouse, where the wait staff is always dressed in lederhosen and you'll feel like it's Oktoberfest at any time of year! If you prefer a relaxed pub environment, The Minories is only a three-minute walk away. Have a bite to eat (pub food is always recommended) and get lost in conversation with your travel companions at this beer garden. Or, for a more sophisticated night out, head to The Wine Library, a French-style bar/restaurant that also offers wine tastings.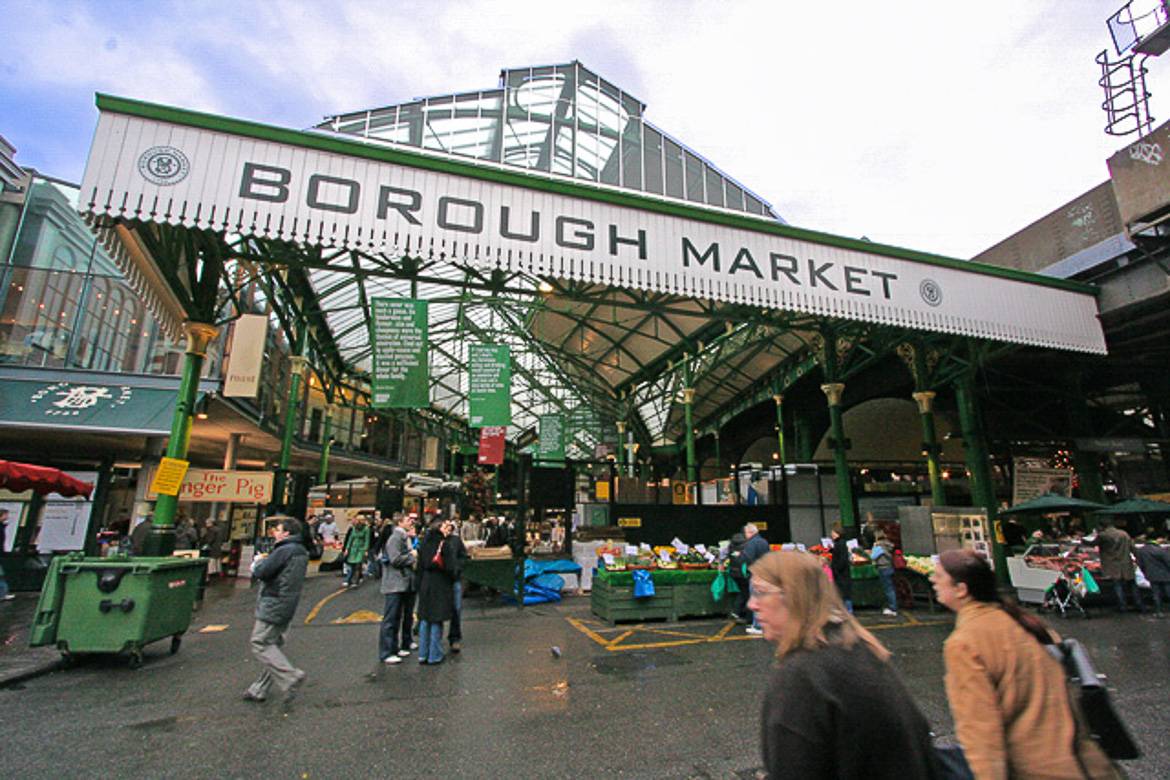 Even locals browse the stalls at Borough Market!
Food is undoubtedly an important part of a city's culture, and it's essential to really get a taste of what the locals eat. But when it comes to dining out in London, you will probably rack up a hefty bill if you're traveling with a large family. The best thing to do to save your money is to cook some meals at your furnished rental. You can take full advantage of the amenities a furnished apartment brings, like a kitchen all to yourself. Buy your food at one of the local markets in this area, like the Good Food Market in St. Katharine Docks, which is open every Friday and offers a range of tempting street food and veggies. There's also Borough Market, which is considered the more famous of the two and one of the largest markets in the world. There's no limit to the range of spices, veggies, fruits, and local fare you'll find. It's also perfect for a fun date since it's such a London staple.
To grab everything you need during your stay without trekking through an outdoor market, visit the Marks and Spencer nearby. This grocery store has everything from toiletries to prepared meals, as well as ingredients for all your culinary needs, so it's fortunate to have one so close.
Shopping around Tower Bridge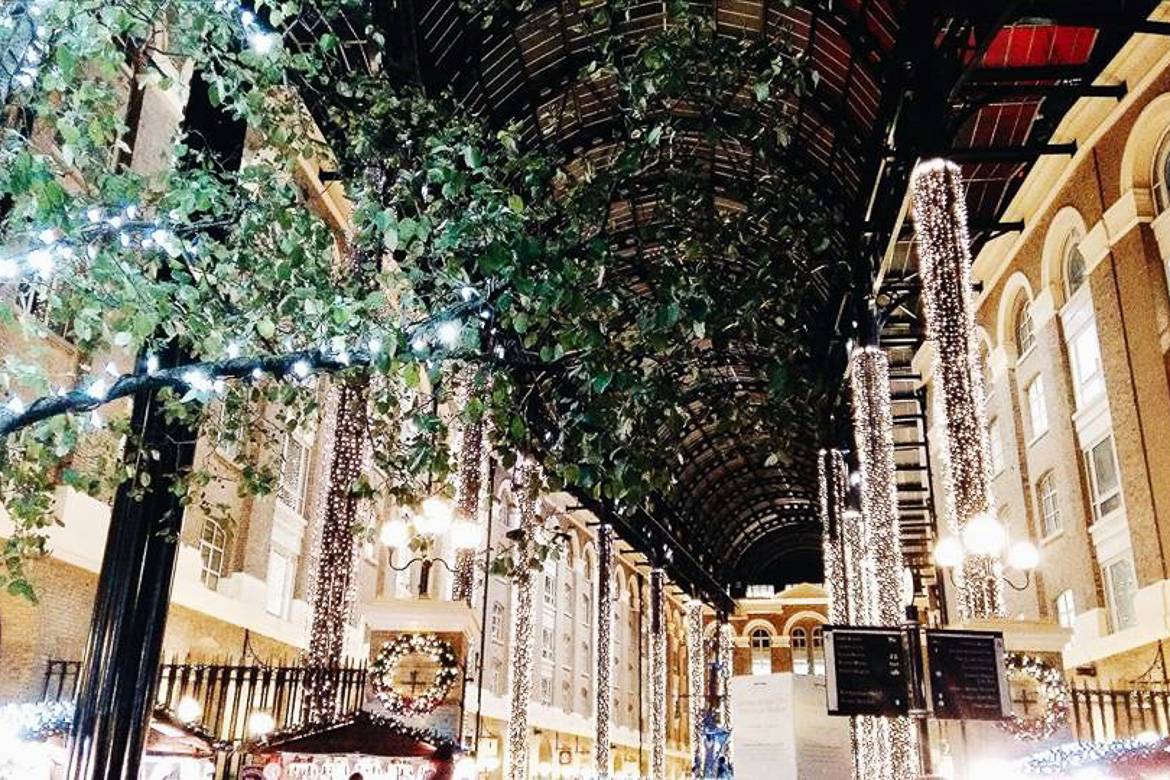 Hay's Galleria is one of London's most unique shopping venues.
Cross to the south end of Tower Bridge and head to Hay's Galleria to do some unique London shopping—the kind you surely won't find at any department store. This wonderfully designed shopping center offers both permanent shops and traditional market stalls so you can find goodies to bring home that are carefully crafted by locals. It's open every day and offers a range of products, from clothing and jewelry to paintings and home decorations. If window-shopping is more your forte, make a day of strolling through the tall, beautifully designed market that's certainly a feast for the eyes.