Sunshine, a summer breeze, and a glass of cold rosé wine from a deck chair next to your swimming pool's strikingly blue water: What could be finer? If this sounds like your idea of a proper summer holiday, then this article is for you!
The South of France is a fantastic summer vacation destination between the French Riviera, Provence, the Mediterranean Sea, picturesque villages, delectable food, wine, and plenty of sunshine! If you choose to stay in a vacation rental apartment or villa, you'll be able to enjoy the South of France like a true local. Plus, you'll have your pick of countless fantastic accommodations. To show them off, we compiled a list of apartments and villas in Provence and the French Riviera that offer a little something extra: a stunning swimming pool! Discover how you can enjoy a perfect summer holiday in the South of France.
Four-bedroom vacation villa in Salernes, Provence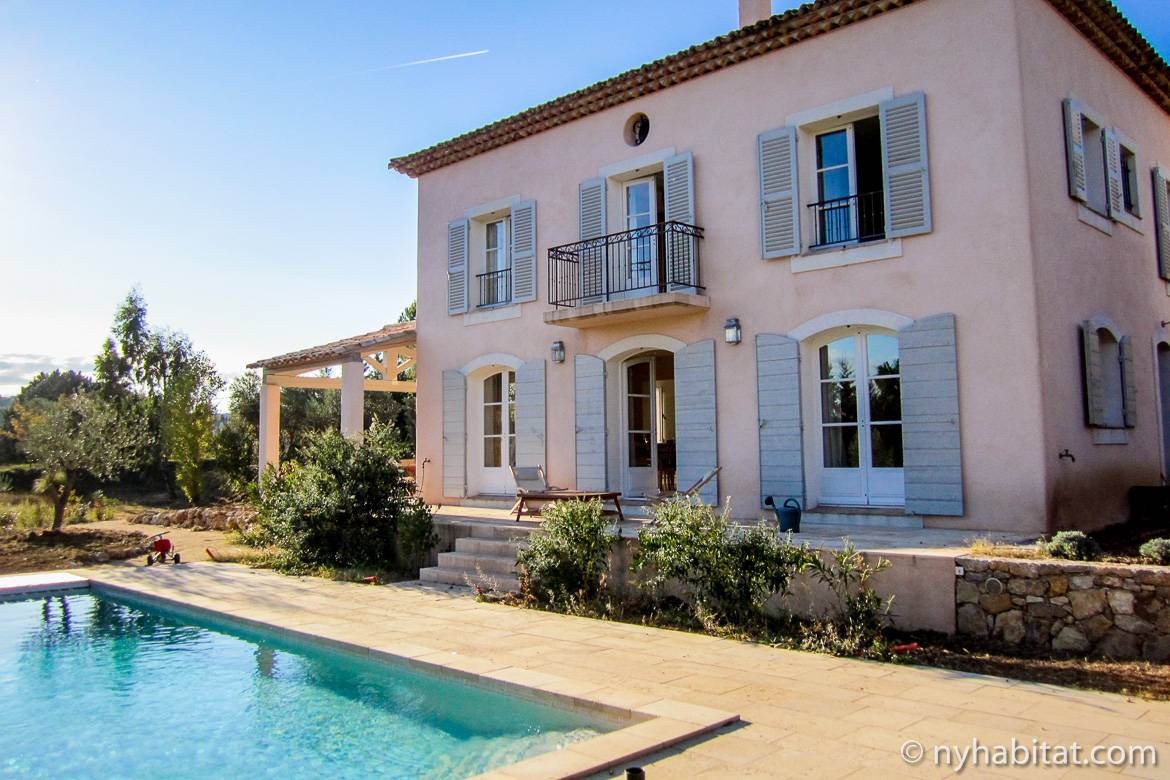 This villa in Salernes is a typical Provencal 'Bastide' with a gorgeous swimming pool and terrace
This 4-bedroom villa in Salernes starts things off as a wonderful accommodation for a family vacation. Kids will go nuts for the gorgeous swimming pool, which is filled with saltwater so it's just like the sea! The villa sleeps up to eight people and is a typical Provencal bastide with a surprisingly modern and stylish interior. The four bedrooms and upstairs playroom ensure there's enough space for the whole family.
The downstairs living room offers splendid views of the sunny terrace and swimming pool and of the garden, which is planted with olive and laurel trees. The fully-equipped kitchen makes it easy to cook your own meals with fresh, local ingredients. You can choose to eat dinner inside or al fresco on one of the two terraces.
The villa is located less than a kilometer (half a mile) away from the village of Salernes, where you can find shops for all your daily needs. There are also many vineyards nearby where you can spend a day learning more about the winemaking process. The nearby town of Lorgues has a fantastic farmers' market where you can purchase fresh ingredients to take home with you. Check out Provence's food culture and southern French cuisine for some culinary inspiration!
One-bedroom vacation apartment in La Gaude, the French Riviera
This apartment in La Gaude has a beautiful swimming pool with a marvelous view of the surrounding mountains
If you're looking for a romantic getaway, this 1-bedroom apartment in La Gaude might be just the place for you. The cozy house sleeps up to four people, perfect for a couple who wants to entertain. The apartment has a wonderful secluded garden with a beautiful pool set into the cobblestoned terrace. You'll have a marvelous view of the spectacular mountain landscapes of the area from the pool and garden as well.
Speaking of, the landscape around La Gaude is great for hiking, but there's even more to see and do if you explore the area by car. The famous Monte Carlo in Monaco is just a 40-kilometer (24-mile) drive from the apartment, and the beautiful city of Nice on the coast of the Mediterranean Sea is even closer at just 20 kilometers (12 miles). Spend 48 hours in & around Nice for more things to see and do in the area.
Three-bedroom villa in Sète, Montpellier region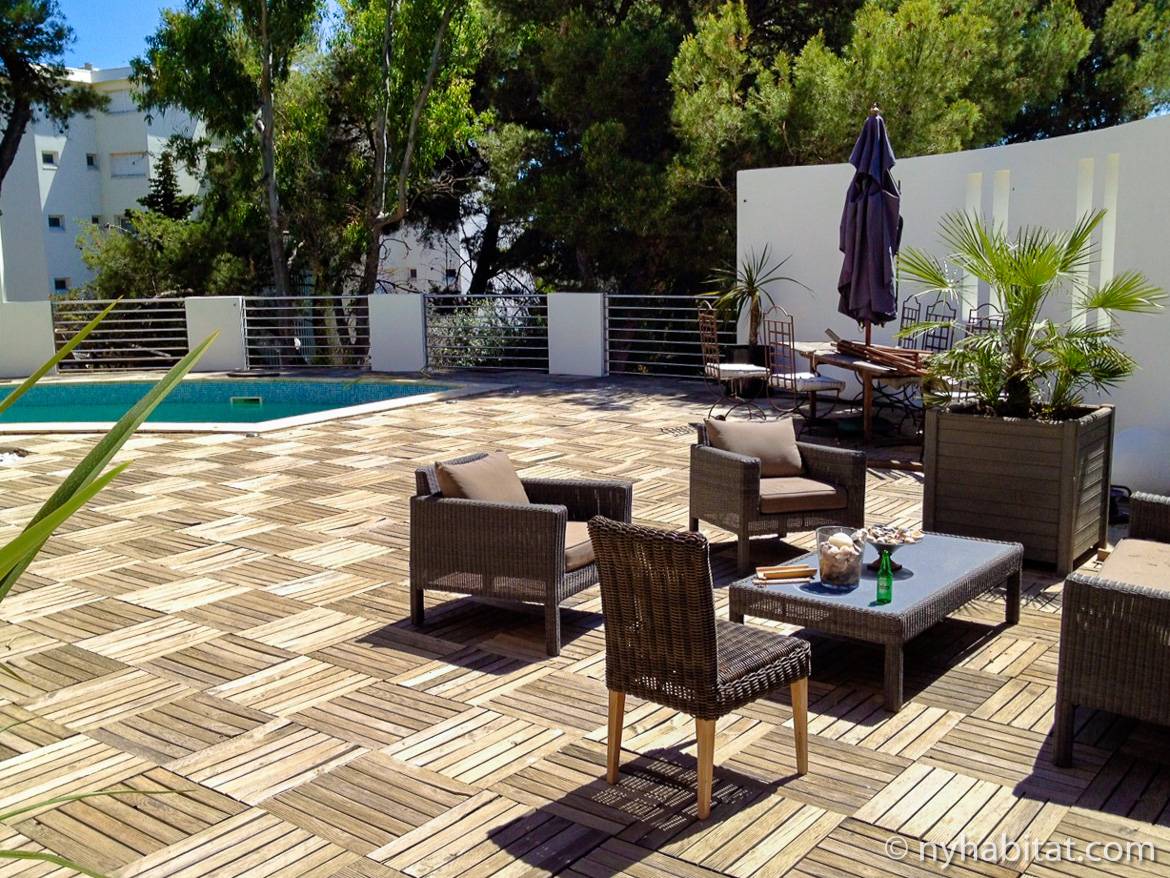 Enjoy a cool drink on the sunny deck of this Sete villa's swimming pool
This 3-bedroom villa in Sète is ideal if you want to be close to the Mediterranean Sea. Sète is a picturesque port town that lies between the Mediterranean Sea and the lake Étang de Thau, so you'll be surrounded by brilliant blue waters!
One more body of water is at this accommodation's gorgeous swimming pool and Jacuzzi. The villa sleeps up to six people and is tastefully decorated. The living room on the ground floor features hardwood floors, a lovely reading nook, and sliding glass doors that open to the terrace where tenants can relax with a view of the pool. You'll find three elegant bedrooms upstairs and another terrace where you can enjoy some proper tanning.
In the charming village of Sète, there are lovely shops, restaurants, and cafes within walking distance of the villa, and a beach nearby! Be sure to also visit some of the other seaside towns in the area like Frontignan or Palavas-les-Flots. The city of Montpellier is just a 40-kilometer (20-mile) drive and makes for a great day trip. Check out our video tour of Montpellier to get a sense of the area!
Four-bedroom villa in Avignon, Provence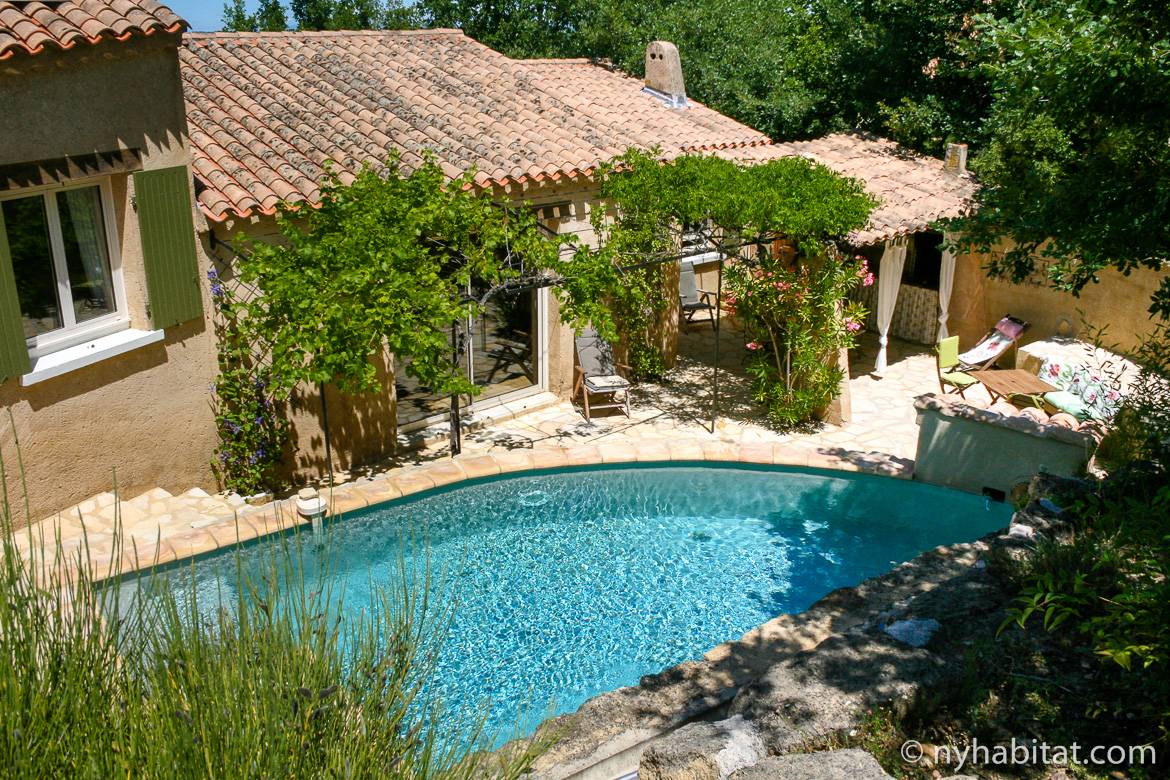 This villa in Avignon has a secluded terrace and gorgeous swimming pool
If you're looking for a nice big place to enjoy a vacation with friends or family, be sure to look at this 4-bedroom villa in Avignon. The villa sleeps up to eight people and will make each one of them feel right at home. The cozy living room has comfortable benches arranged around the fireplace, and the open kitchen makes it a pleasure to cook dinner for your friends. The sunny terrace envelops the large in-ground pool, from which you have a splendid view of the surrounding hilltops.
The villa is located just 10 kilometers (6 miles) from the city center of Avignon, so you'll have all the city's conveniences at your fingertips. Avignon is famous for its Papal Palace and the Pont d'Avignon, but there's more to discover beyond. The city center boasts amazing shops, cafes, and restaurants, and has bustling nightlife. Avignon is also home to the well-known Avignon Festival, which celebrates the arts every year in July. To find more things to see and do in the area, check out how to discover Avignon in 48 hours.
Five-bedroom vacation villa in Eyragues, Provence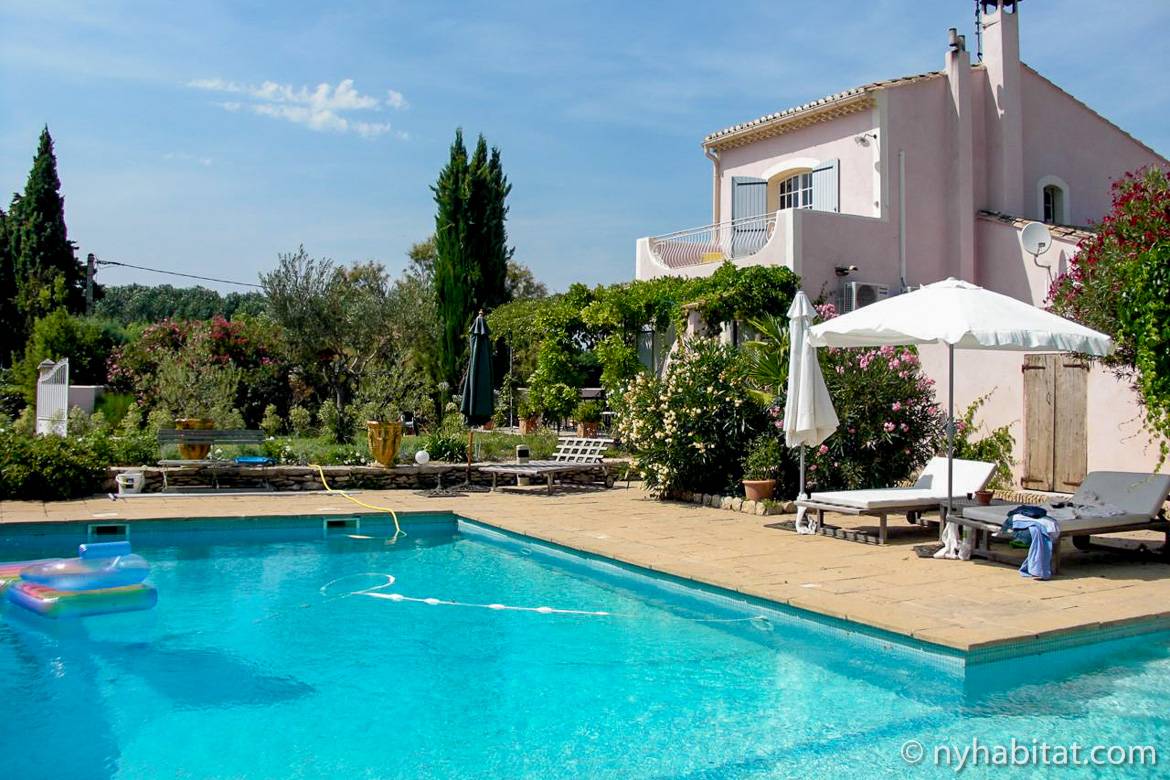 The large swimming pool and garden make this villa in Eyragues perfect for big families
For people traveling in large groups, this 5-bedroom villa in Eyragues is perfect. The classic villa sleeps up to 10 people, but has such a big and beautiful garden that it will never feel crowded. The large L-shaped swimming pool also offers enough room for everyone to swim around and play. Inside the villa, a cozy living room displays views of the terrace and garden, and there's a covered part of the terrace where you can play a game of table tennis.
It's just a short walk from the villa to the picturesque center of the village Eyragues, where you'll find shops, cafes, and restaurants. The surrounding area provides plenty of entertainment too; the beautiful village of Saint-Rémy de Provence is just 5 kilometers (3 miles) from the villa. Here you can visit the monastery where Van Gogh painted his Starry Night, as well as the Roman site of Glanum. Check out 48 hours in Saint-Rémy de Provence for more things to see and do in the area. The city of Avignon is also just an 8-kilometer (5-mile) drive from the villa.
Five-bedroom furnished villa for rent in La Gaude, French Riviera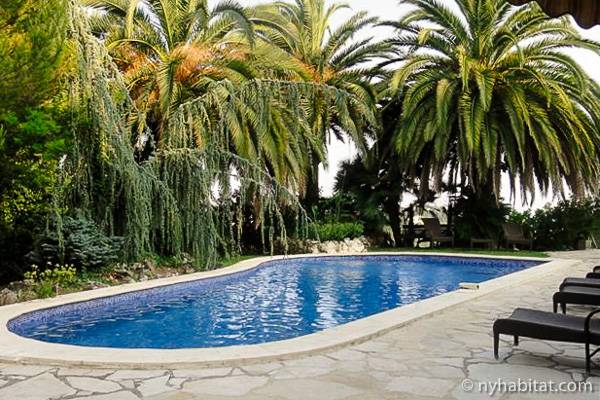 This villa for rent in La Gaude is surrounded by a beautiful garden with spectacular views of the surrounding landscape
If you've truly fallen in love with the South of France and want to experience what it's actually like to live here, we suggest this
5-bedroom villa for rent in La Gaude
. This two-story villa sleeps up to 12 people and can be rented for one month or more. The villa is surrounded by a beautiful garden with spectacular views of the surrounding landscape and the Mediterranean Sea. You'll also enjoy a heated pool surrounded by a terrace with deck chairs where you can enjoy the sun with a cool drink in hand.
The villa's living room consists of three sections: two comfortable seating areas and one dining area with a table that can comfortably seat 12 people. You can also choose to enjoy your meals outside on the deck with a view of the Mediterranean Sea in the distance. There are many fantastic seaside cities such as Nice, Cannes, and Monte Carlo within driving distance, which make great day trips.
Check out our top 10 villages to visit in Provence for more amazing destinations in the South of France.