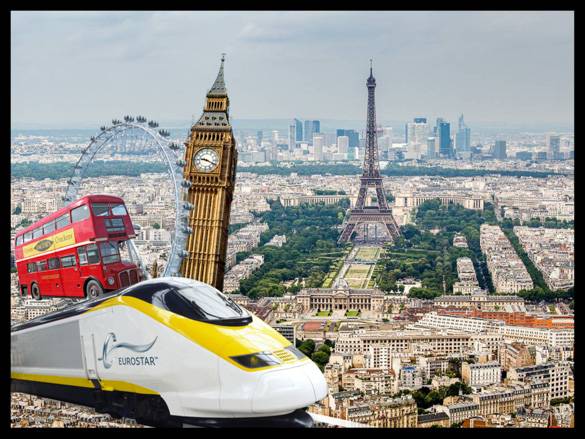 Speeding between the famous sights of Europe's capitals, Eurostar connects London with continental cities from Paris to Avignon.
Once just an engineer's fantasy, the Channel Tunnel that connects Britain to Continental Europe hasn't stopped evolving since its 1994 opening. The latest update to the service offered by Eurostar, the high-speed rail line through the tunnel, brings British travelers farther south than ever before: all the way to Provence! Cosmopolitan London has never been so close to the charms of the South of France. The original stop in Paris makes a great waypoint between the two, so you can make sure your travel time is well-spent. Plus, with our furnished rentals in London, Paris, Provence, and the French Riviera, you'll have a great place to relax after a day on the train, with more privacy and flexibility than a hotel.
1. London: Saint Pancras International, Camden Town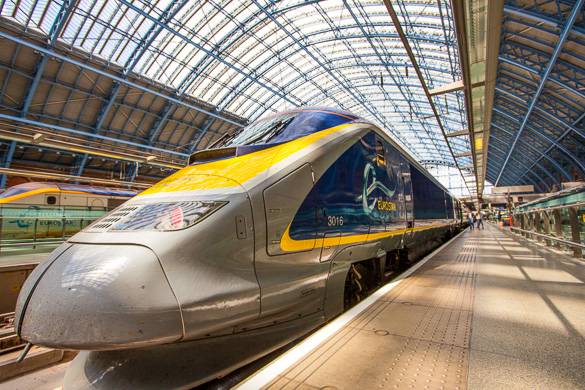 London's Saint Pancras International Station has a luminous glass canopy and a convenient location near hip Camden Town. (Photo credit: www.eurostarcreative.com/)
If you're headed south on Eurostar, your departure point is the glassy Saint Pancras station, a major rail hub just north of central London. Close to King's Cross, a must-see Harry Potter filming site, the station is in a great student area near University College London. On the other side of the transit hub is Camden Town, one of London's hippest neighborhoods for locals and tourists alike.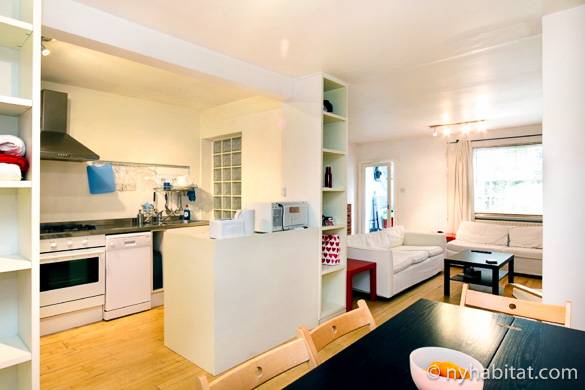 Lots of sleeping space makes this furnished rental great for students or families
There are lots of reasons to choose this one-bedroom furnished rental in Camden, from the cafés and music venues in the surrounding area to the expansive Regent's Park, one of the best parks in London. Inside the apartment are all the furnishings you'll need to feel at home, as well as the loads of natural light you can see pictured above. The sleeping options are also chosen with students in mind: there are two single beds in the living room in addition to the double bed in the bedroom, great for saving on rent.
2. South of France: Avignon Centre, Provence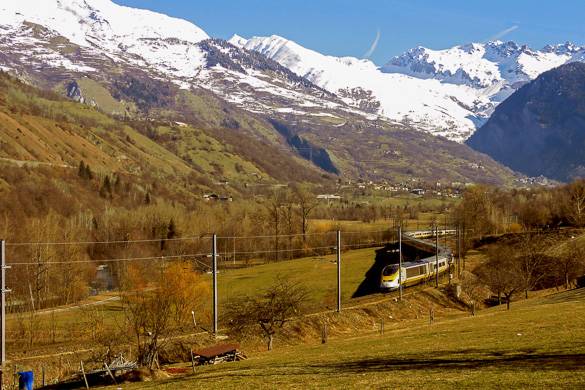 See Europe's dramatic landscapes by train with a high-speed ride on Eurostar. (Photo credit: www.eurostarcreative.com/)
The new southern extension of Eurostar's train service brings it to a charming Provençal city with unparalleled history. The first thing that comes to mind when thinking of Avignon is its papal past, when the city's sumptuous palaces played host to one of the competing popes during the Middle Ages. Nowadays, things are far more relaxed in this riverside town, with the main annual draw being a world-renowned theater festival (starting on July 4, 2016). The warm sun and delectable cuisine of Provence are reasons enough to visit year-round, especially when enjoyed with a glass of local wine.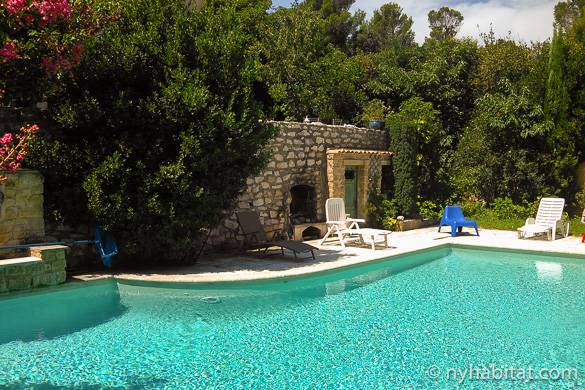 Our four-bedroom vacation rental is a picturesque villa complete with a pool and terrace just across the Rhone River from Avignon
Whether you're coming for a weekend from London or staying for the second leg of a Euro trip, furnished rentals like our four-bedroom villa just outside Avignon offer all the comforts of the South of France. Lush gardens, stone-lined swimming pools, and warm terraces are synonymous with Provence for good reason!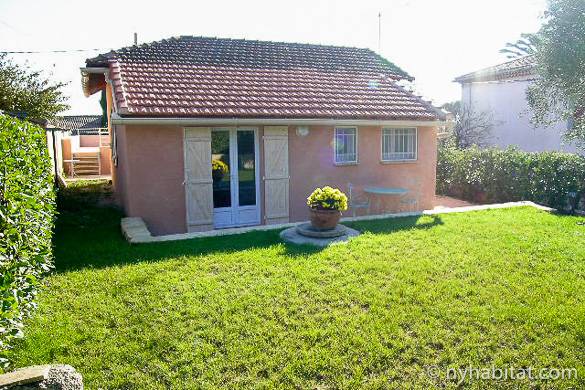 There's nothing like a sunny backyard in the South of France!
Our two-bedroom vacation rental offers outdoor and indoor space just outside the city. This furnished apartment is located on the garden floor with a glass door connecting to a private garden. It's perfect for families, with a king bed in one bedroom, two single beds in the other, and a nice kitchen with a washing machine that makes laundry easy to do. If you prefer to stay in the center of Avignon, why not take a look at our two-bedroom furnished vacation rental that combines classic Provençal features and modern comforts?
3. Paris: Gare du Nord, Montmartre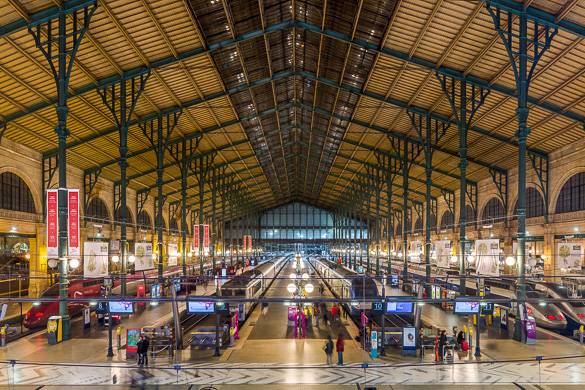 Gare du Nord is one of Paris's largest train stations, a hub for travel to capital cities like London, Amsterdam, and Brussels.
It would be a shame to travel from London to the South of France without stopping to appreciate the City of Lights along the way. The Paris hub for Eurostar trains is at Gare du Nord, one of the city's busiest stations and a portal to northern neighborhoods like Montmartre and Pigalle. Sights like the Moulin Rouge and Place du Tertre offer something for everyone in this corner of Paris. Even if you're only spending a day in the city, its timeless beauty is sure to leave an impression!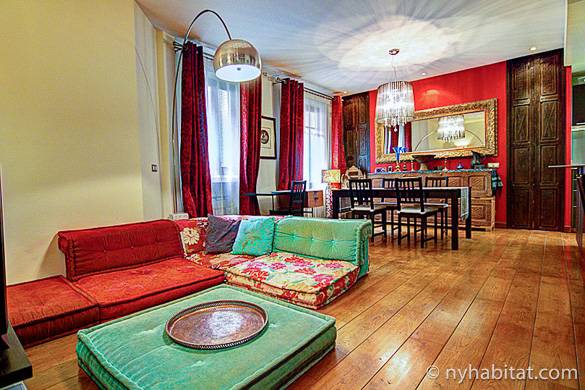 Rich colors and patterns make this Parisian furnished rental stand out
This one-bedroom apartment has a sense of Parisian flair in its eclectic décor, combining French style with refreshing splashes of color. Parquet floors and bright French windows in the living room make the apartment feel even more spacious. The prime location is off of Boulevard de la Chapelle just a few blocks away from the funicular railway that climbs up to Sacré Coeur, one of our must-see Paris sights.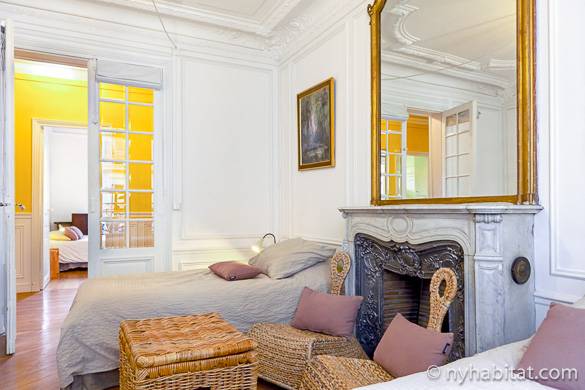 Splashes of color are mixed in with classy Parisian design elements in this fully furnished two-bedroom apartment.
Even closer to the station is our two-bedroom apartment in Barbès-Rochechouart. Its stone and iron fireplaces, parquet floors, gilded mirrors, and bright French doors add to the Parisian charm of the space. A dining table for six, lounge area with cable TV, and two bedrooms with space for two guests each occupy the furnished rental. An elevator provides easy access to its location on the third floor of a traditional Haussmannien building.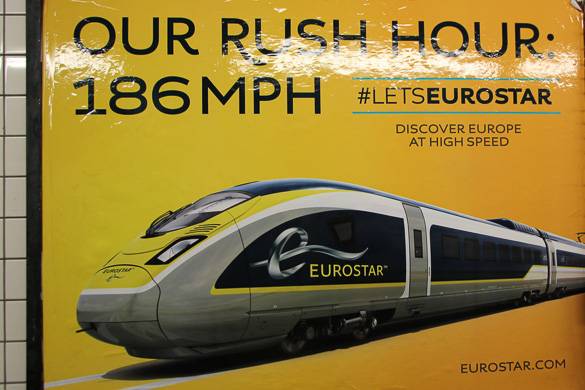 Ads like this show NYC straphangers that Eurostar is a great way to fulfill European vacation dreams. (Photo credit: http://jpblaisephotography.com/)
From Regent's Park near Saint Pancras station to the lavender hills outside Avignon, Eurostar connects people and places. In fact, the ground-breaking high-speed rail line's reach goes all the way to the New York City subway, where advertisements promote a whole new kind of train ride for busy commuters longing for a vacation. Until that break comes, you can relax in a furnished apartment in New York.
While there may not yet be a transatlantic twin to the Chunnel (channel tunnel), it's tough to find a better way to see Europe than in a comfortable seat by the window in a modern, high-speed Eurostar train speeding between London, Paris, and the South of France!