When thinking about the New York that you've seen in the movies, the first things that often come to mind are iconic destinations in the city and the landmarks that dot the skyline. However, any seasoned cinema-goer or New Yorker knows that film history in New York City extends far past the island of Manhattan! Spanning five boroughs, New York City has a massive amount of things to do, sights to see and (most importantly for this article) stories that have been told! While the famous film locations of Manhattan are worth seeing, don't let the most famous borough dwarf the other four—Brooklyn, Queens, the Bronx, and Staten Island all have hosted plenty of filmmakers in their own right, and they each have great places to go on your second visit to New York. If you want the most comprehensive tour of film locations in New York, read on… and complement your tour by booking a New York Habitat furnished apartment rental right in the shadow of your favorite film!
1. Blockbusters and beyond in Brooklyn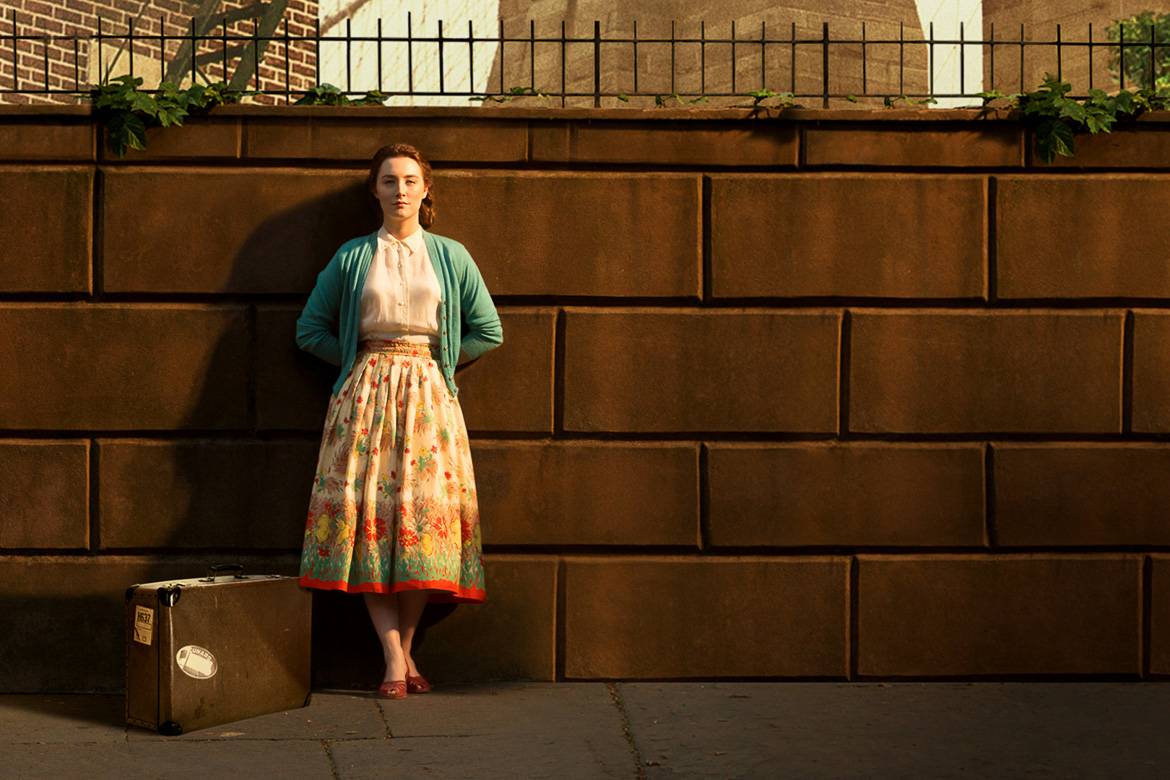 Actress Saoirse Ronan stands in the shadow of the real-life Brooklyn Bridge in 2015's Brooklyn. (Fox Searchlight Pictures)
These days, Brooklyn is almost as famous as Manhattan, and that may be due in no small part to the number of films that have been based or shot in this borough directly across the East River. Brooklyn's waterfront views, rich cultural history, and recent designation as a hip destination for a new generation of New Yorkers has made it a perfect backdrop for both historical dramas and cutting-edge indie flicks. Even foreign filmmakers like Sergio Leone recognized the beauty and gritty charm of Brooklyn when he decided to use it as the setting for his epic immigrant drama Once Upon a Time in America. In addition, the recent Oscar favorite and aptly-titled Brooklyn, starring A-list actress Saoirse Ronan, was a love letter to the borough, featuring beautiful shots of the Brooklyn Bridge, Coney Island, and day-to-day life in a boarding house, the reality for many recent immigrants of the time.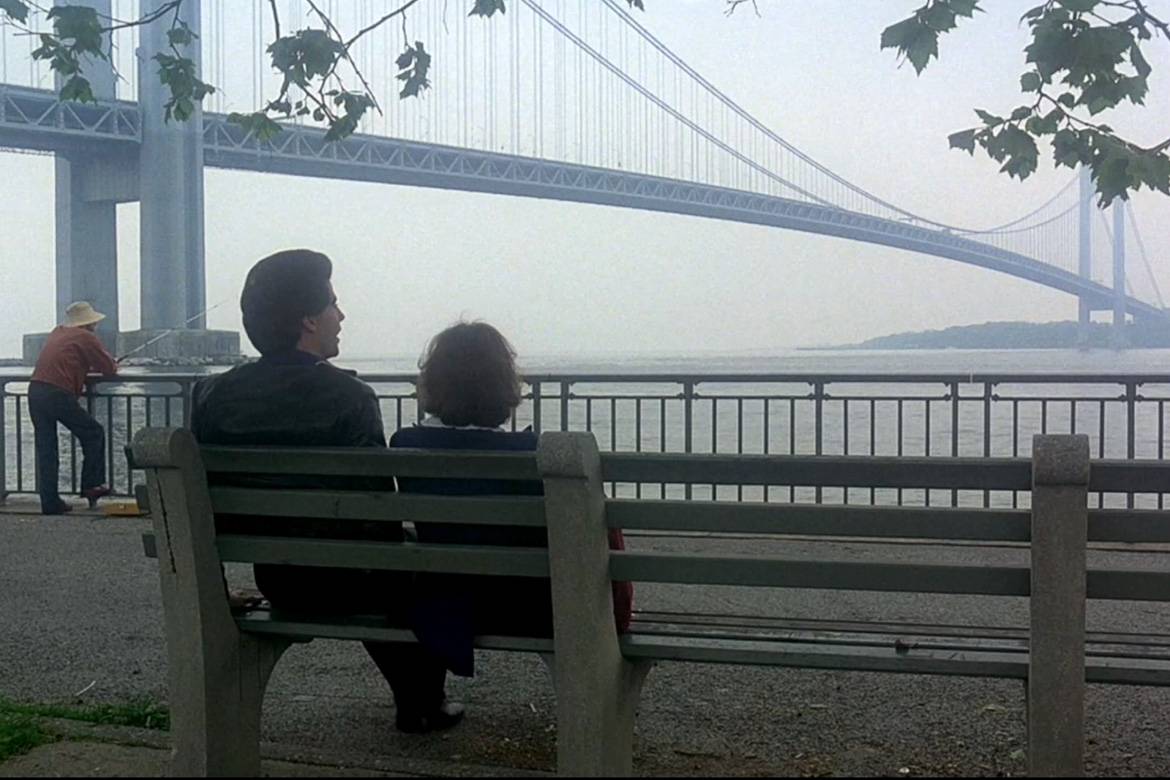 A bench on the Brooklyn waterfront with a bridge view is a romantic spot—no wonder it was used in this scene in the film Saturday Night Fever. (Paramount Pictures)
When it comes to NYC's wonderful bridges, the Brooklyn Bridge isn't the only star! The presence of multiple bridges (4 in total!) that span the East River and connect Brooklyn to Manhattan or Staten Island have created a cinematic setting for several films set near the water. The 1977 film Saturday Night Fever, which had a timely release at the height of the disco craze, was famously set in the neighborhood of Bay Ridge, Brooklyn and features shots of the Verrazano-Narrows Bridge that connects to Staten Island. Other films set in waterfront Brooklyn neighborhoods include the gritty independent film Requiem For a Dream, filmed on location in Coney Island, and Moonstruck, filmed in Brooklyn Heights and featuring an Academy Award-winning performance by Cher. You can visit both of these locations to this day; stroll along Coney Island's busy pier and enjoy views of the ocean and blue sky, or you can head to the intersection of Cranberry and Willow Street in Brooklyn Heights to see the actual building that served as the apartment of Cher's character in the film. Do be advised that this apartment is a private residence; please keep your visit quiet and respectful!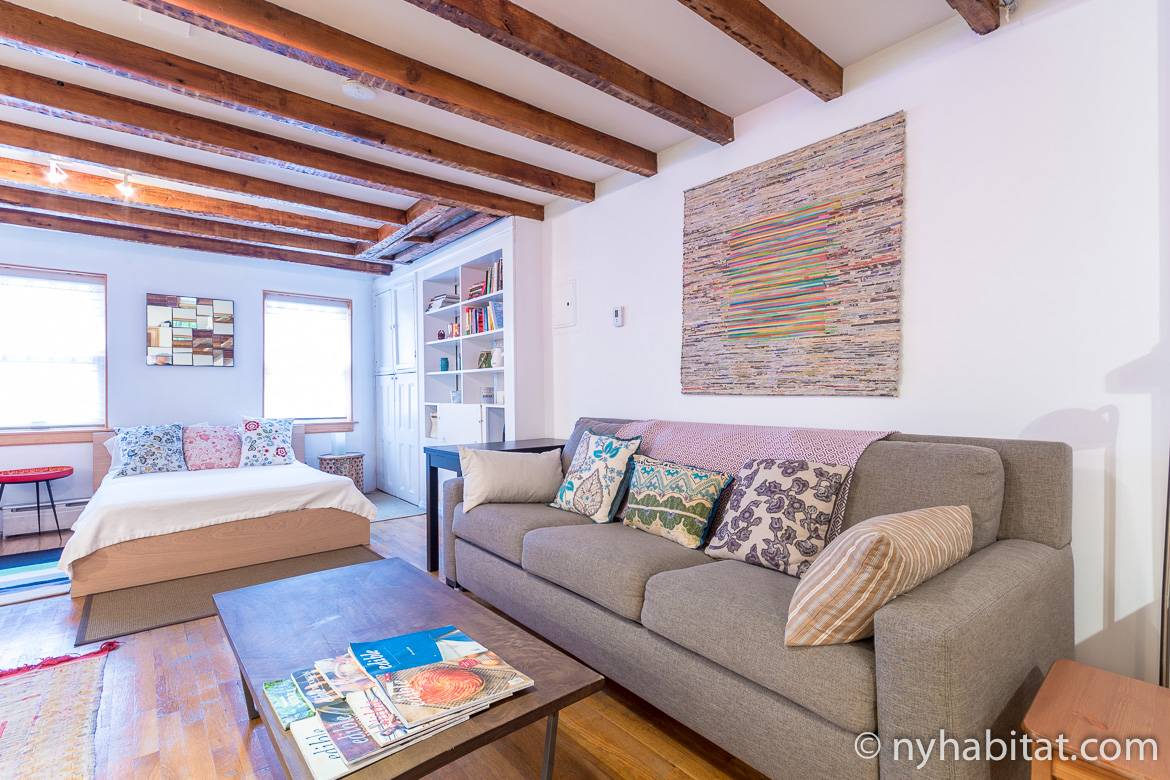 This cozy studio puts you close to the East River and some of your favorite film locales!
If the movies have inspired you to live your waterfront Brooklyn dreams, check out this studio furnished apartment rental in Williamsburg! Located just 6 blocks from the water and a little over half a mile from the scenic East River State Park, this charming studio puts you close to movie-worthy views of Manhattan! Despite its status as a studio, this apartment boasts plenty of room for a queen-sized bed, a living area with a sleeper sofa and television, a full (yes, full!) kitchen, and a bathroom with Jacuzzi tub. There's even an outdoor space and garden! The bright colors and rich patterns of the furnishings may be a little more luxurious than the décor of your favorite film character's apartment, but it'll make your movie night feel extra cozy.
Further inland in Brooklyn, you'll find Prospect Park, yet another of Brooklyn's most famous destinations. The park is the second-largest park in Brooklyn, but probably the most notable (and adored by locals!). Prospect Park West, a street running parallel to the western side of the park, was used for many exterior shots in the Al Pacino film Dog Day Afternoon. Meanwhile, in Flatbush, the park's neighbor to the south, you can find the house of the title character in Sophie's Choice, the film that brought Meryl Streep her second Academy Award. Though the home is a private residence (and it's no longer painted the signature shade of pink in the film), you can still stroll the sidewalk outside and put yourself right on the set of the heartbreaking but riveting drama.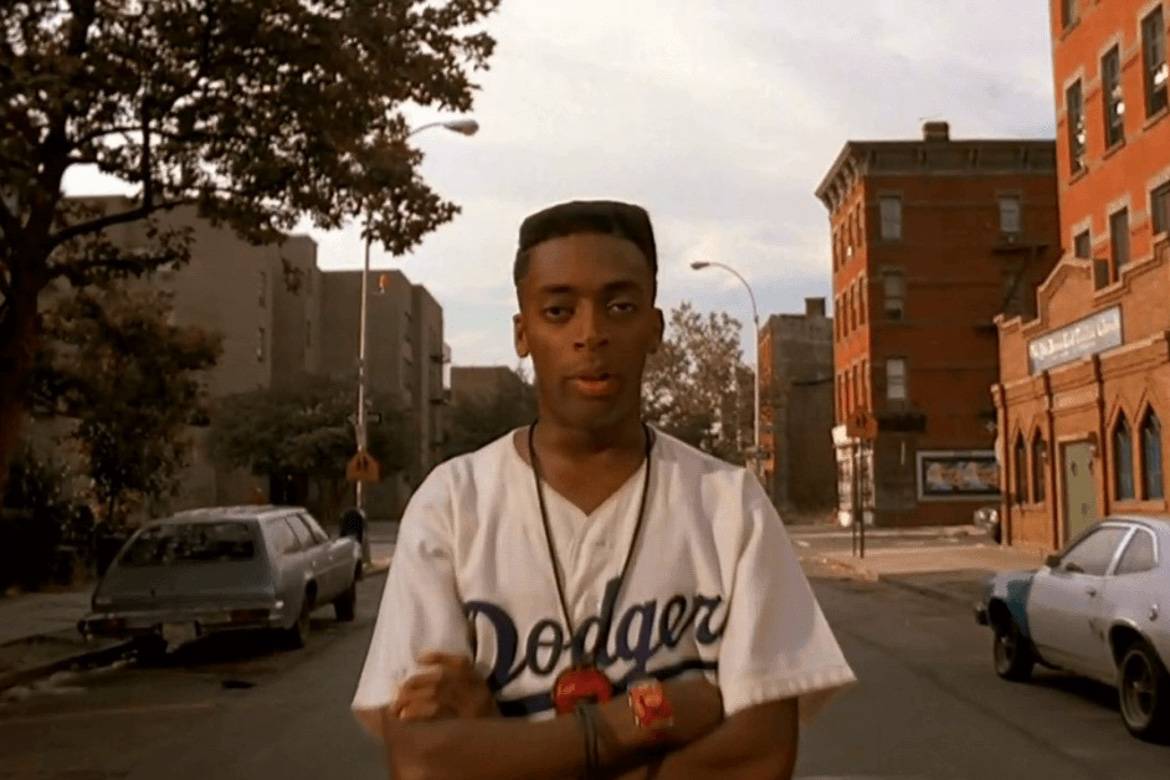 The brownstone-lined streets of Bedford-Stuyvesant were the perfect setting for the pivotal drama Do the Right Thing. (Universal Pictures)
Of course, no Brooklyn film tour would be complete without a nod to Spike Lee's groundbreaking film Do the Right Thing. The film takes place over a single day in Brooklyn's Bedford-Stuyvesant neighborhood, and as a setting, the neighborhood is integral to the plot. The film's commentary on race relations in America would not have been the same without Bed-Stuy's (the nickname given to it by locals) backdrop of cultural diversity and its historically African-American community. Additionally, the film takes place on one of the hottest days of the summer, and a rich reddish hue carries throughout the film thanks to the presence of so many of the beautiful and historic brownstone buildings for which the area is known. If you want to explore Bedford-Stuyvesant and walk around the sites of this film, it's super easy—the movie was filmed on location on a single section of Stuyvesant Avenue that has since been renamed Do The Right Thing Avenue! Though the pizzeria and Korean grocery in the film are fictional, you can still admire the brownstones and their architectural stoops from the street.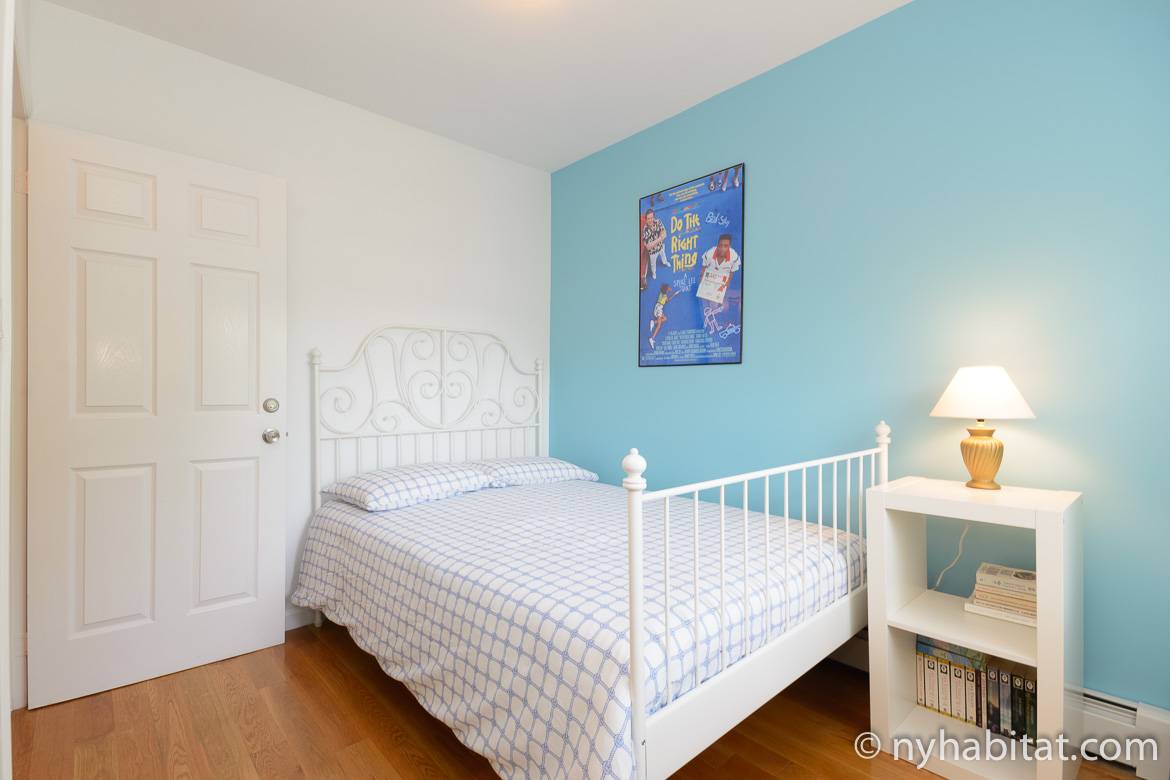 Brooklynites are very proud of the part their home borough has played in Hollywood. Yes, that is a Do the Right Thing poster on the wall of this Bed-Stuy rental!
If you truly want to experience the local flavor of Bed-Stuy, though, we recommend staying in a furnished apartment—particularly this 3-bedroom triplex! The living area is airy, open, and hospitable, featuring a sectional sofa and potted plants for a relaxing space. The full open kitchen makes preparing meals for a larger group a breeze, and you can share this rental with a larger group thanks to the 3 bedrooms, equipped with a double or queen-sized bed each! Best of all, this apartment is the perfect living situation for a cinephile due to the use of a cable television and the framed movie posters on the colorful accent walls! No matter what brings you to Brooklyn, you'll surely gain an appreciation for the films shot here with the help of the artwork that celebrates them.
2. Head to Queens for quaint stories of the American Dream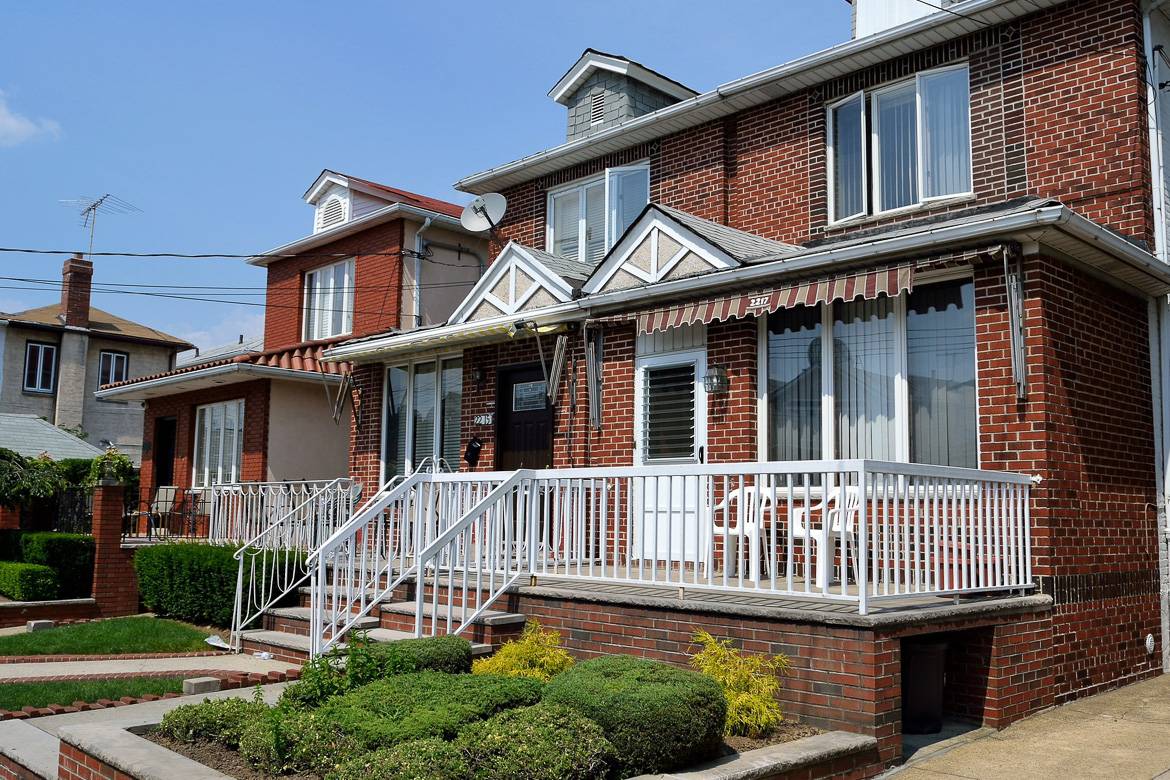 Single-family residential streets like these are a rarity in Manhattan, but quite common in Queens!
If you're looking for a quieter side of life in New York, Queens is a great destination. Notable for being the largest borough in the city, and also the most diverse, the landscape of Queens varies from highly urban and industrial areas like Long Island City to beachfront towns like the Rockaways. Queens also features residences that are more modeled after a traditional suburban style, including low-rise single-family homes. Because of its diversity and its more traditional look, the films and television shows to come out of Queens have featured a diverse cast of characters. The Eddie Murphy comedy film Coming to America, which follows an African prince who moves to NYC, was mostly filmed between Elmhurst and Jackson Heights. Also filmed in Jackson Heights was the popular television show Ugly Betty, with one of Queens' low-level family homes serving as the set of Betty's family home. Walking around Queens' residential streets and commercial centers, you can definitely get a feel for day-to-day life in this more quaint borough.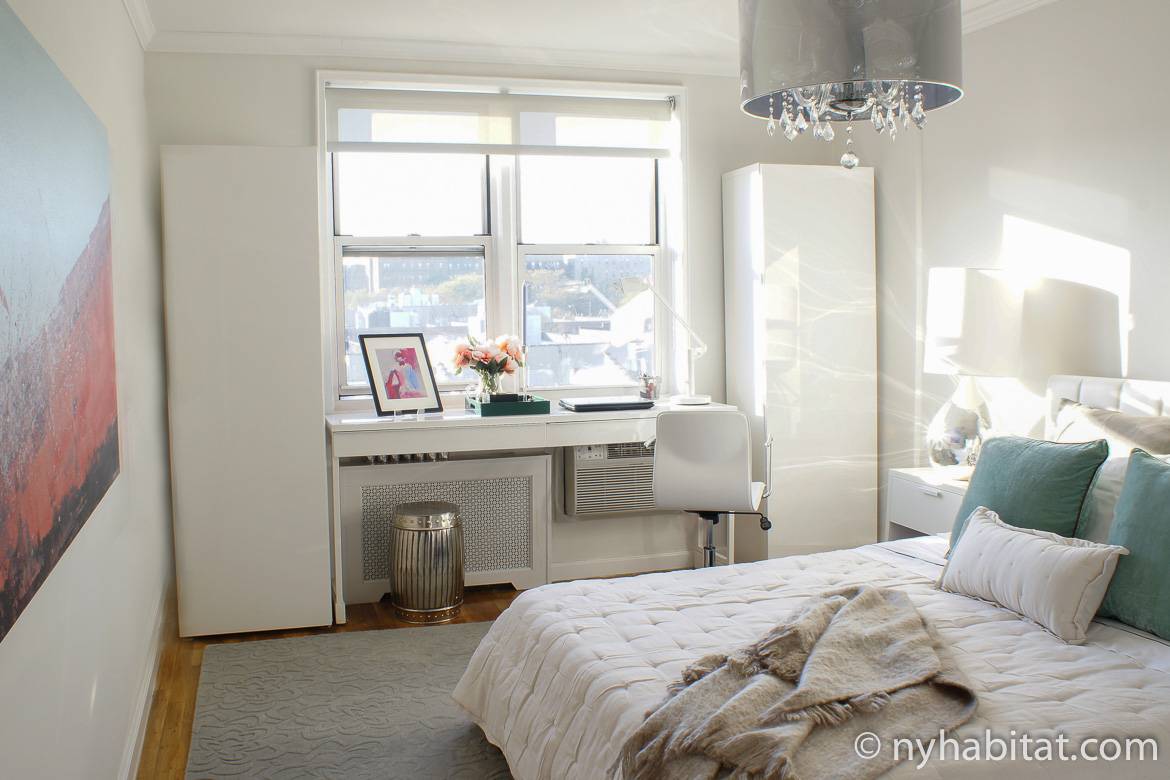 This 1-bedroom rental in Sunnyside is a work of art. Perhaps it will inspire you to make your own film!
Longing for the luxury of more "bang for your buck" in this beloved borough? You'll love this 1-bedroom furnished rental in Sunnyside. Queens residents love the convenience of living in this more residential area, and you'll miss out on none of it thanks to the building's amenities like an elevator and laundry facilities. The apartment itself is beautifully decorated with brightly-colored abstract art that pops among the white walls and contemporary furniture. A stunning dining table for 6 makes this rental great for enjoying meals with friends or family, whether they are cooked in the apartment's full separate kitchen or ordered from one of Queen's multitude of restaurants (especially in Sunnyside, one of the most ethnically-diverse neighborhoods in the world!). You're also only a short subway ride from Manhattan, thanks to the 7 train stop nearby!
3. Beauty from struggle in the Bronx
Manhattan's neighbor to the north, the Bronx is highly accessible by a number of subway trains and bridges. The Bronx is a hidden gem in itself, because despite being the northernmost area of New York City and being seemingly removed from it all, the area is home to a heavyweight selection of can't-miss attractions, including the Bronx Zoo, the New York Botanical Garden and Yankee Stadium. Speaking of heavyweights, the borough is a mine for cinematic gold, favoring stories of underdogs and misfits who feel right at home in the neighborhood. Martin Scorsese's 1980 masterpiece Raging Bull is set in the area as a biopic of Bronx native boxer Jake LaMotta. Also set in the neighborhood are character-building tales like Finding Forrester and the Best Picture Oscar-winning film Marty.
If you love a good underdog story and an under-appreciated gem, the Bronx is a great place to explore. Just hop on the 1, 2, 4, 5, 6, B, or D trains—they'll all take you to this great borough!
4. Star-struck in Staten Island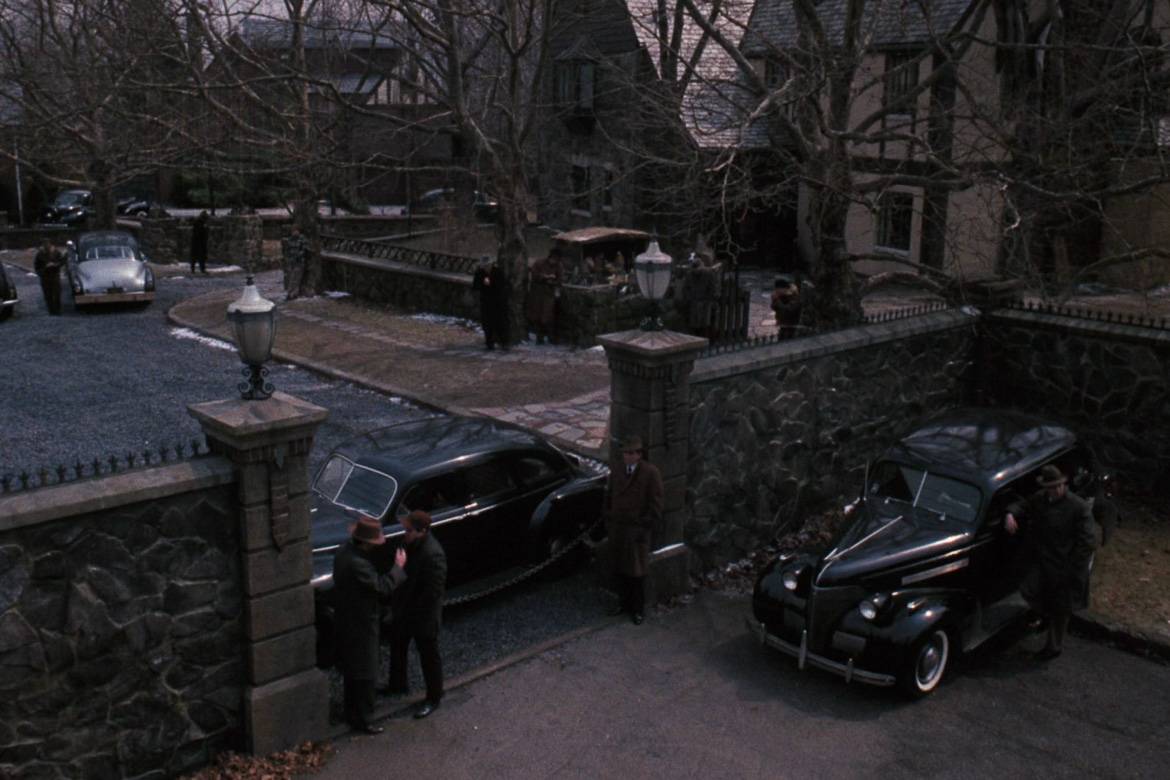 The Corleone family home in The Godfather was filmed on-location in Staten Island (though the stone walls were added for the film)! (Paramount Pictures)
Even though Staten Island gets a reputation as the "forgotten borough," it certainly has had no shortage of famous moments on the silver screen! Staten Island is the most removed from the other four boroughs of New York—no subway lines run to the island—but its more remote location, fabulous houses and waterfront locales have made it highly desirable to a number of filmmakers. One of these houses was used to shoot perhaps the most famous film to come out of Staten Island; The Godfather. The Corleone family home used in the film, especially in the famous opening scene at Connie's wedding, can still be seen via a drive or walk by on Longfellow Avenue in Emerson Hill. Another big Hollywood name, Stephen Spielberg, was drawn to the island to film his disaster flick War of the Worlds. The Bayonne Bridge, which connects Staten Island to the neighboring state of New Jersey, was fictionally destroyed in the movie, but you can view it in one piece from the shores of Staten Island or the Staten Island Ferry. Finally, if you're a music lover, you'll be excited to know that the 2003 comedy film School of Rock was partially filmed at Staten Island's St. George Theater. The venue was permanently closed at the time of filming, but has since been reopened. Catch a live concert there and experience the venue's legendary near-perfect acoustics!
This luxury rental villa on Staten Island would be the envy of any location scout!
Because Staten Island is noted for its luxury and increased space, what better place is there to stay than this 6-bedroom mansion (yes, you read that correctly)? This rental is perfect for large groups (it sleeps 20 people!) and is available as a monthly rental or a vacation rental, making it great for a variety of events, like reunions, group trips and receptions. The luxury amenities know no bounds in this four-story rental, as it includes a swimming pool, a large backyard, a furnished patio, an alarm security system and even a limousine service! The home is furnished in a classic style with beautiful hardwood floors, and seven bathrooms and a spacious chef's kitchen make entertaining large parties easy and convenient. Personally, we love this rental as a home base for a historic film tour; it looks like something out of a Hollywood movie.
Now that you're truly an expert on all the locations that Hollywood has favored over the years in New York City, why not impress your friends with your newfound film knowledge? New York Habitat makes planning a film tour, or any trip to NYC, easy with our wide selection of short and long-term furnished apartments. Be sure to bring a camera on your live journey through film history; if you choose to follow our guide, share your pictures with us and enjoy following in the footsteps of your favorite films!