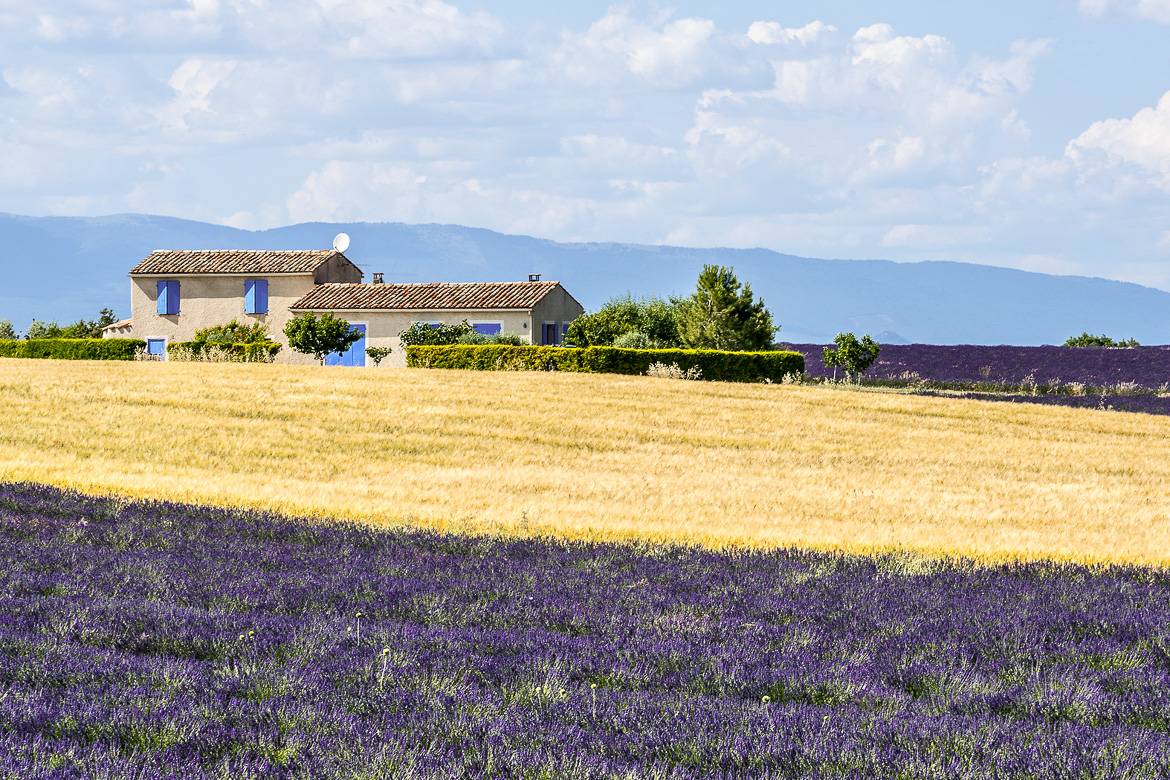 A sunny lavender field in Provence inspires some of the souvenirs on our list.
What makes something French? Simply originating in France isn't quite enough. For most people, there's an indescribable attitude to being French; a certain je ne sais quoi. Many in search of this quality find themselves in Paris, dazzled by the art and glamour of the City of Lights. But when Parisians think of warmth and simple comforts—of living the French experience—they think of Provence.
Provence is a province of southeastern France bordered by the Rhone River, the Mediterranean Sea, and Italy. It was the first Roman province beyond the Alps and formed the seat of the Languedoc region. For centuries it was self-governed by the Counts of Provence from their capital in Aix-en-Provence before it finally merged with the rest of France in 1481. As such, it has a distinct cultural and linguistic identity that makes it a popular destination for both national and international tourists. Check out the top 10 villages in Provence for an idea of where to start in this region.
Sadly, every trip must come to an end, but you can bring a bit of Provence with you when you go! Here are a few key items to inspire quiet memories of the Provencal sun, air, and the sense that somewhere, life's secrets have been figured out.
Calissons & other sweets
Calissons are a traditional Provencal candy of candied fruits and almonds, somewhat like melon-flavored marzipan. They're usually almond-shaped, about two inches in length, and topped with a thin layer of royal icing. Calissons are historically associated with the town of Aix-en-Provence, and as such, some of the best in the world can be found in the city. While they can be stored at room temperature and remain intact, they are best served cold. See what else you can do in Aix-en-Provence in under 48 hours.
Herbes de Provence & olive oil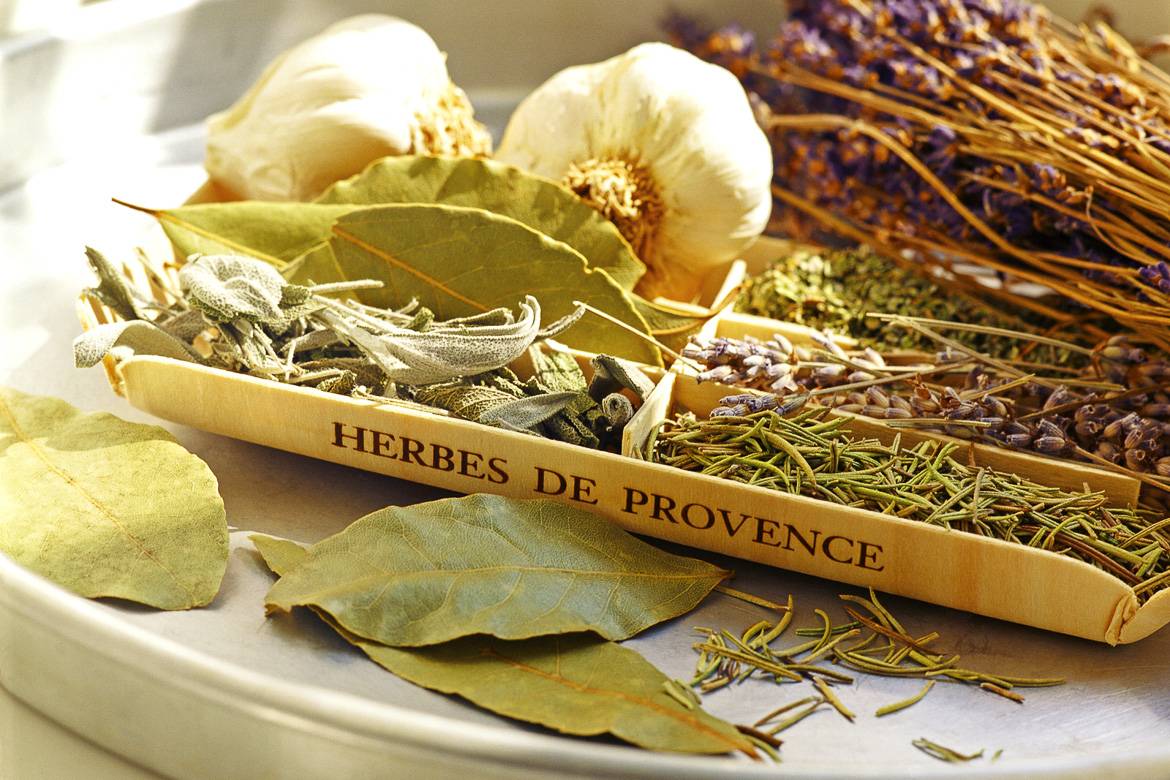 These are the components infused in Herbes de Provence olive oil.
Every chef knows that olive oil is the king of oils when it comes to health, flavor, and versatility. Artisans in Provence looking to go beyond "the best" sought perfection in their oils. This led to the development of Herbes de Provence, a fine-grade olive oil infused with thyme, lavender, and garden herbs. World-renowned chefs swear by it when cooking roasted chicken, lamb, potatoes, soup, stews, grilled meats, or goat cheese. Our favorite use is as a dipping sauce for a crusty loaf of fresh-baked bread! Find out more about famous dishes in the south of France.
Don't just buy a bottle to take home! One of the major benefits of being in a new place is the ability to cook native dishes with local ingredients. Most hotels don't offer cooking facilities so consider booking an apartment! If you're visiting for under one month, consider staying in one of our vacation rental apartments and villas. If you'll be in Provence for a longer term, take a peek at our furnished apartments and villas.
Provencal soap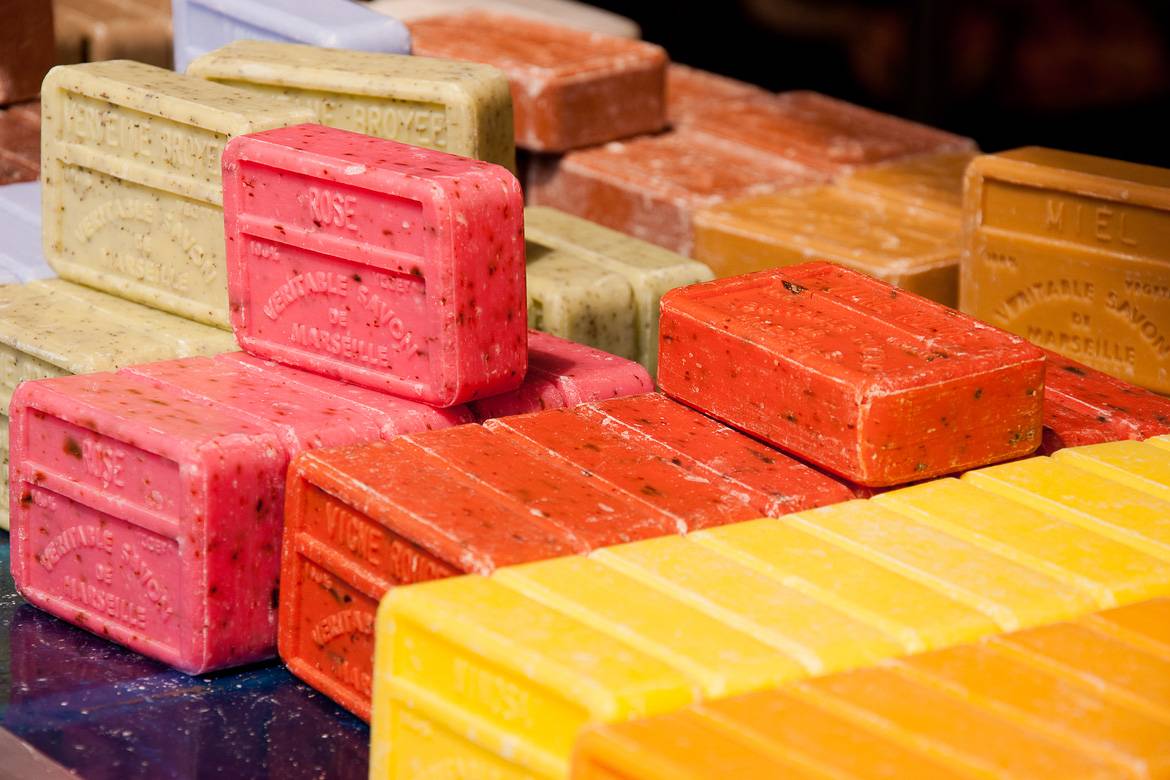 These scented bars of Savon de Marseille are largely considered to be the best soap in the world.
French-milled or triple-milled Provencal soap has a reputation for being among the best in the world. It's made by shredding cold-processed soap, drying it, and then running the shreds through a series of rollers three times to remove all traces of lye. This process makes the resulting bar much harder than normal soap, and gentler on the skin. It's a great choice for those with delicate skin, and the lack of lye means all the perfume notes of scented bars can shine through. The resulting lather is also much richer and creamier.
Another famous French soap is Savon de Marseille. Savon de Marseille is made via a time-honored method from the Middle Ages: olive oil is heated for 10 days before being poured into molds and cut. Many small boutiques in Provence sell both Savon de Marseille and French-milled soap, so be sure to pick up several bars in your favorite scents!
Dried lavender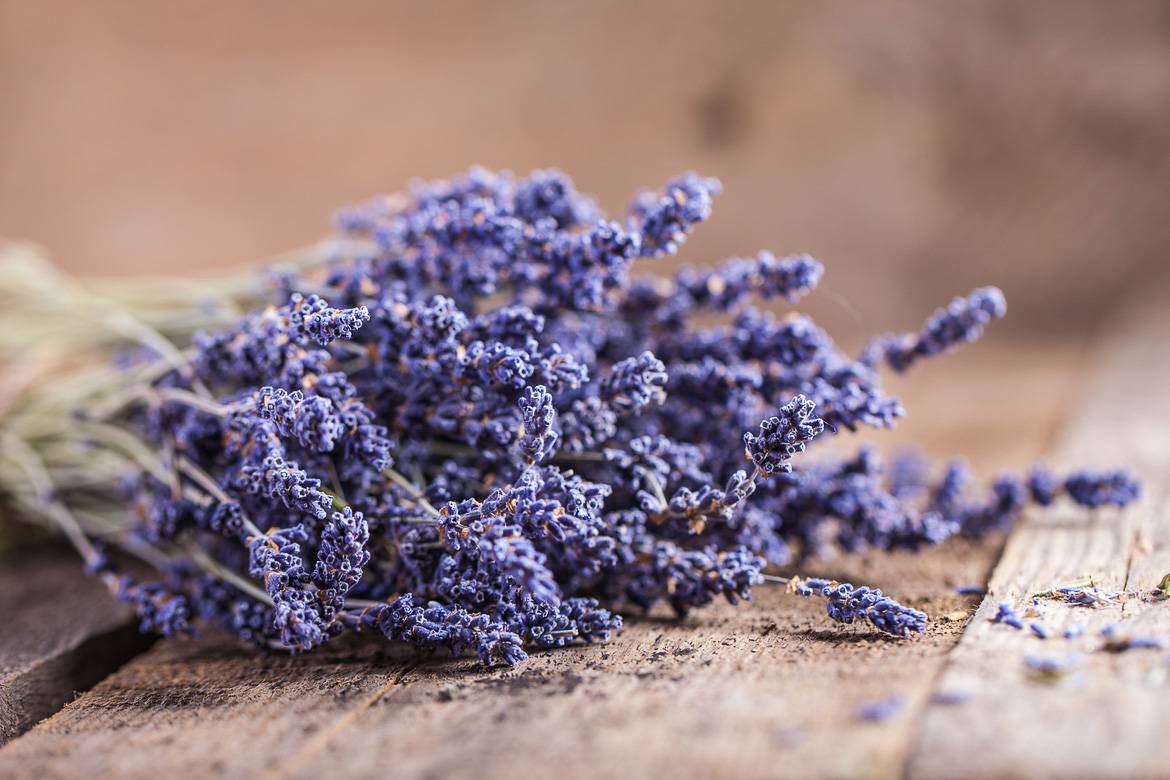 Dried lavender bunches from Provence perfume the air and soothe aches and pains
Fields of lavender are synonymous with Provence, and some of the most beautiful photographs of the region feature the abundant hills of swaying purple reeds. The smell of lavender is reputed to have holistic healing properties, soothing joint pain and promoting cleansing and renewal. As such, lavender is heavily incorporated into many luxury items in Provence, from teas, to sachets, to potpourri, and even ice cream! It's widely as an air freshener and deodorizer, and many French people tuck lavender in their drawers and wardrobes for fresh-smelling clothes. It's considered good luck to have a bunch of lavender drying on or near the front door of a house, so make sure you don't leave Provence without it!
Wine
There are as many different types of wine as there are types of people, and quality can vary from one acre to another. Wine grapes can be incredibly temperamental, and quality depends on everything from the soil to the amount of rain in a given year. Fortunately, the rich land and consistent climate make Provence one of the best producers of wine in the country, and it supplies to 40 percent of all the wine produced in France. Red wine is the most common regionally, but the unique rosés from Aix-en-Provence are certainly worth trying.
Provence cicadas
Unlike in the United States, where cicadas emerge every 10 or even 17 years, cicadas in France are an annual affair. Their large bodies, loud chirping, and ubiquitous presence in Provence has inspired locals to turn them into a form of folk art. Throughout Provence, you can find decorative plastic or glass-painted cicadas. Locals hang them up around the house, and some of them have hollow insides to hold flowers or dried lavender. To find them, try the little boutiques around Saint-Rémy-de-Provence.
Faience and potteries
Few things are more emblematic of Provence than brightly colored stoneware scattered over well-loved tables. Faience pottery is among the most famous kinds of pottery in Provence, and is characterized by vibrant designs painted on a stark white background. The white color is the key marker of these ceramic pieces: back when the art was first developing in the 17th century, kilns had to heat to over 1000 degrees Celsius to achieve the desired result. Faience blanche is the term for stoneware that has been fired white but left undecorated. The most popular type of faience dish is a large serving bowl, but many potters in Provence sell a wide variety of faience goods.
Perfume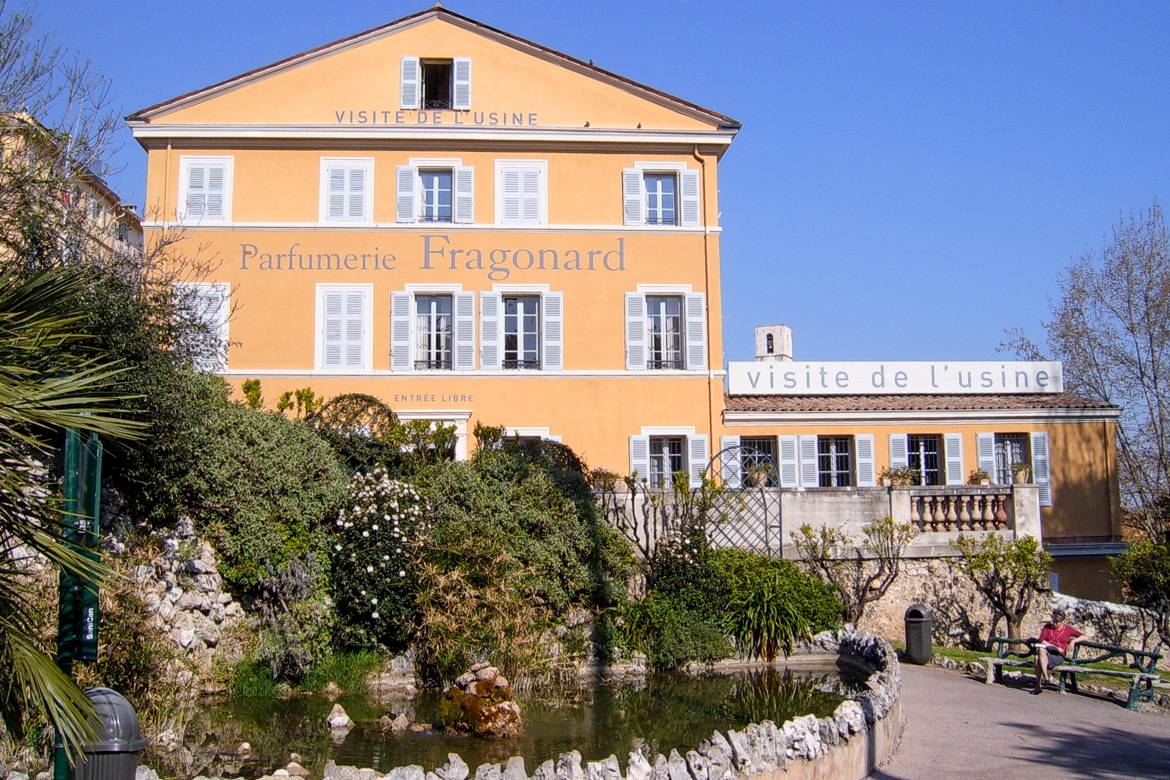 Fragonard perfume factory is a world-class perfumerie
If you're looking for perfume, you can't do better than Grasse. Grasse is widely acknowledged as the perfume capital of the world, and has been home to a prosperous perfume industry since the end of the 18th century. Grasse's world-famous "noses" are trained to distinguish between over 2,000 different scents, and Grasse produces over two-thirds of France's perfumes and food flavorings. Visit the perfume factory of Fragonard on your visit, or create your own scent at one of Galimard perfumerie's workshops in Grasse or Eze. Even the air in the town smells distantly floral thanks to abundant jasmine and honeysuckle plants, making it a great destination for romance.
Olive-wood utensils
Forget your stainless-steel salad spoons and plastic serving bowls. Not only are olive-wood utensils more beautiful and eco-friendly, they're also extremely durable. A good set of olive utensils will last a lifetime. The grain of the wood is extremely tight, which discourages bacteria, and the light-and-dark contrast of the wood's natural swirl makes it one of the most desirable woods in the world. Olive wood grows in abundance in Provence, so you should have no difficulty finding a nice set of beautiful utensils to buy.
Provencal textiles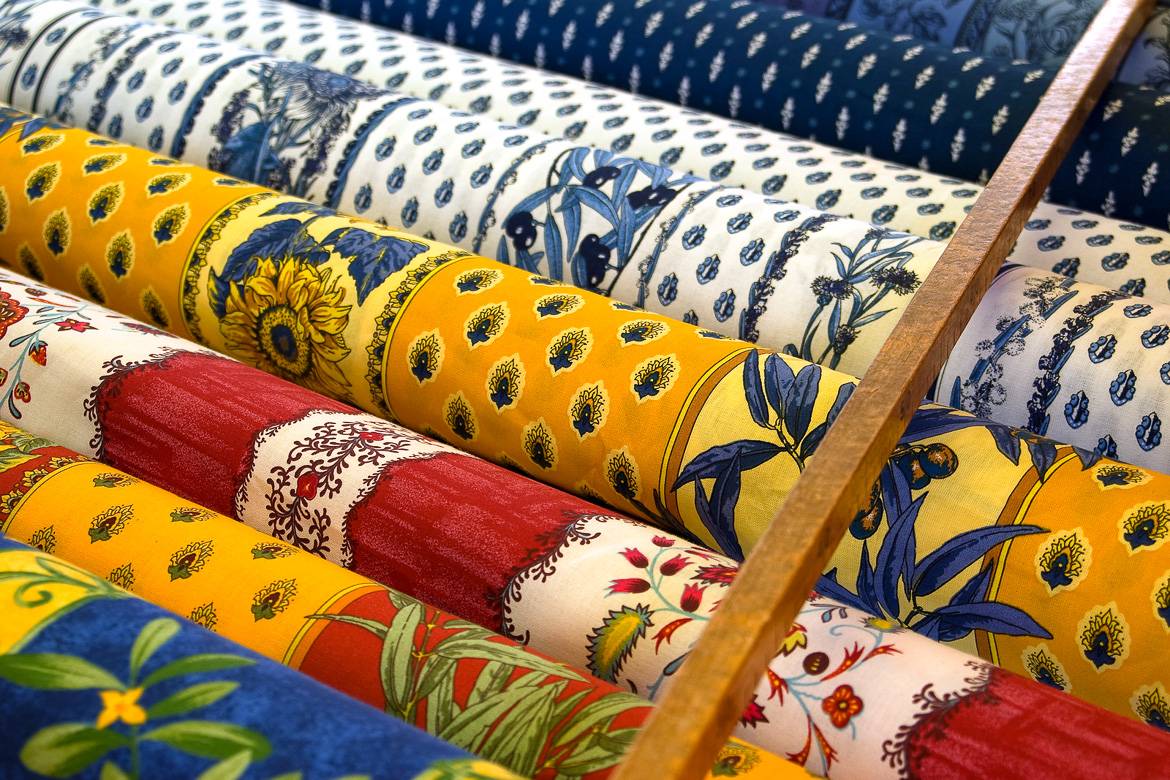 It once was actually illegal for this cloth to be as pretty as Provence's textiles!
What's the natural response to a fabric becoming so popular, it puts other clothiers out of business? At one point, a sweeping ban! In 1686, colorful cotton textiles from Provence modeled after originals from India were banned from production and trade. Crafty merchants tried to evade the law by relocating to Comtat Venaissin (near Avignon), which was not subject to the ruling as it was a Papal enclave. If you're curious about Avignon, find out more about the historic city.
After the ban, a thriving black market trade was born only to be shut down 38 years later when the law caught up with the town. It wasn't until the 19th century that the ancient factories reappeared and began printing fabrics based on the original revolutionary designs. You can buy some for yourself when you visit Aix-en-Provence and see what it was that made Provencal textiles so popular they became illegal.
What are your favorite souvenirs from Provence? Would you recommend any that aren't on this list? Let us know in the comments!