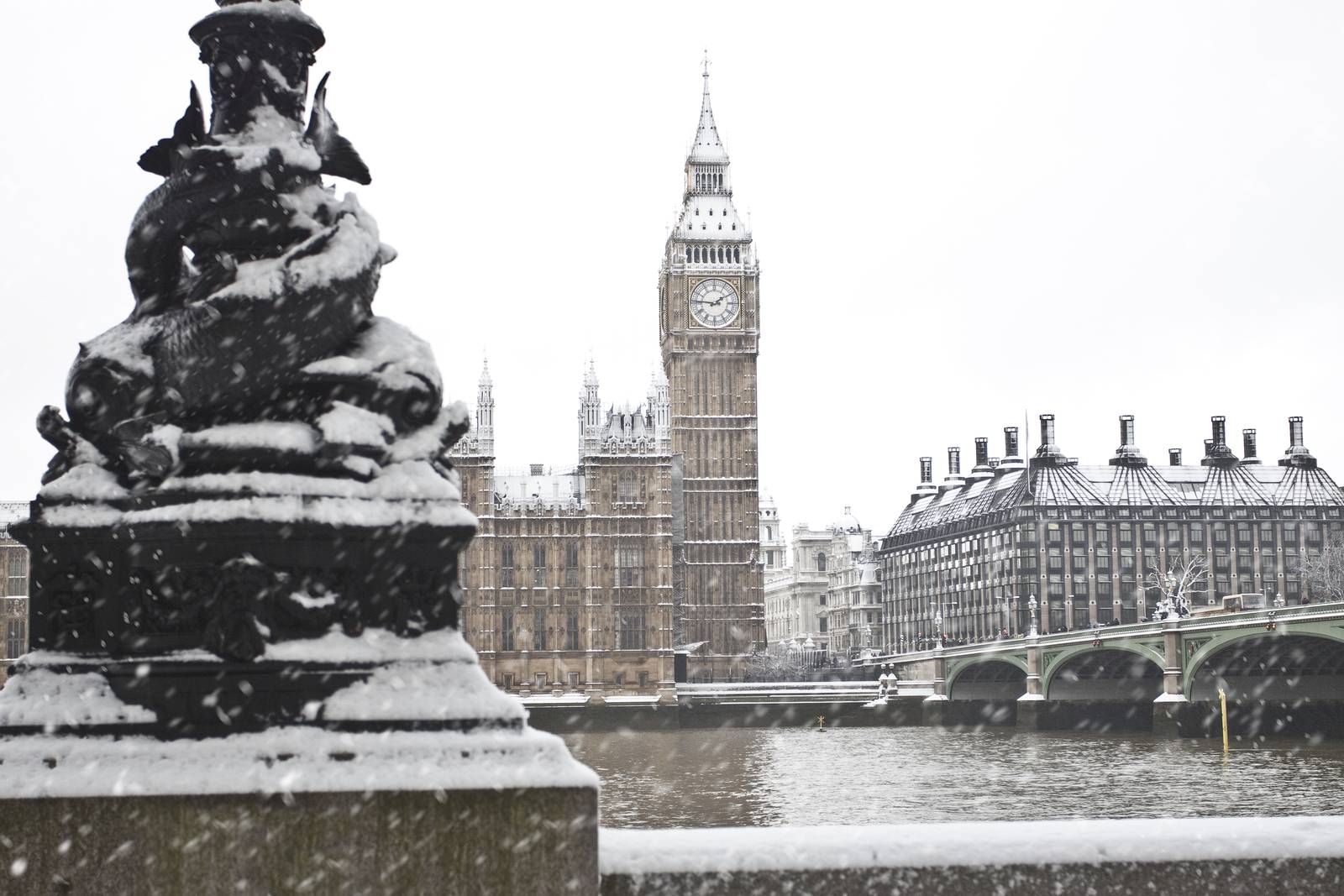 Big Ben on a snowy London Day
There's nothing quite like seeing the joy in a child's face as they frolic in the snow. Of course, wintertime cannot be entirely devoted to snow days. London is the answer to winter blues! Centuries of history spread across 3 districts offer countless activities for you and your family during the winter season. Some of these activities take advantage of snowfall, while others are best for chilly days when you cannot bear to be anywhere besides indoors. Here is a list of our favorite things to do for families in the wintertime.
1. Visit the city's museums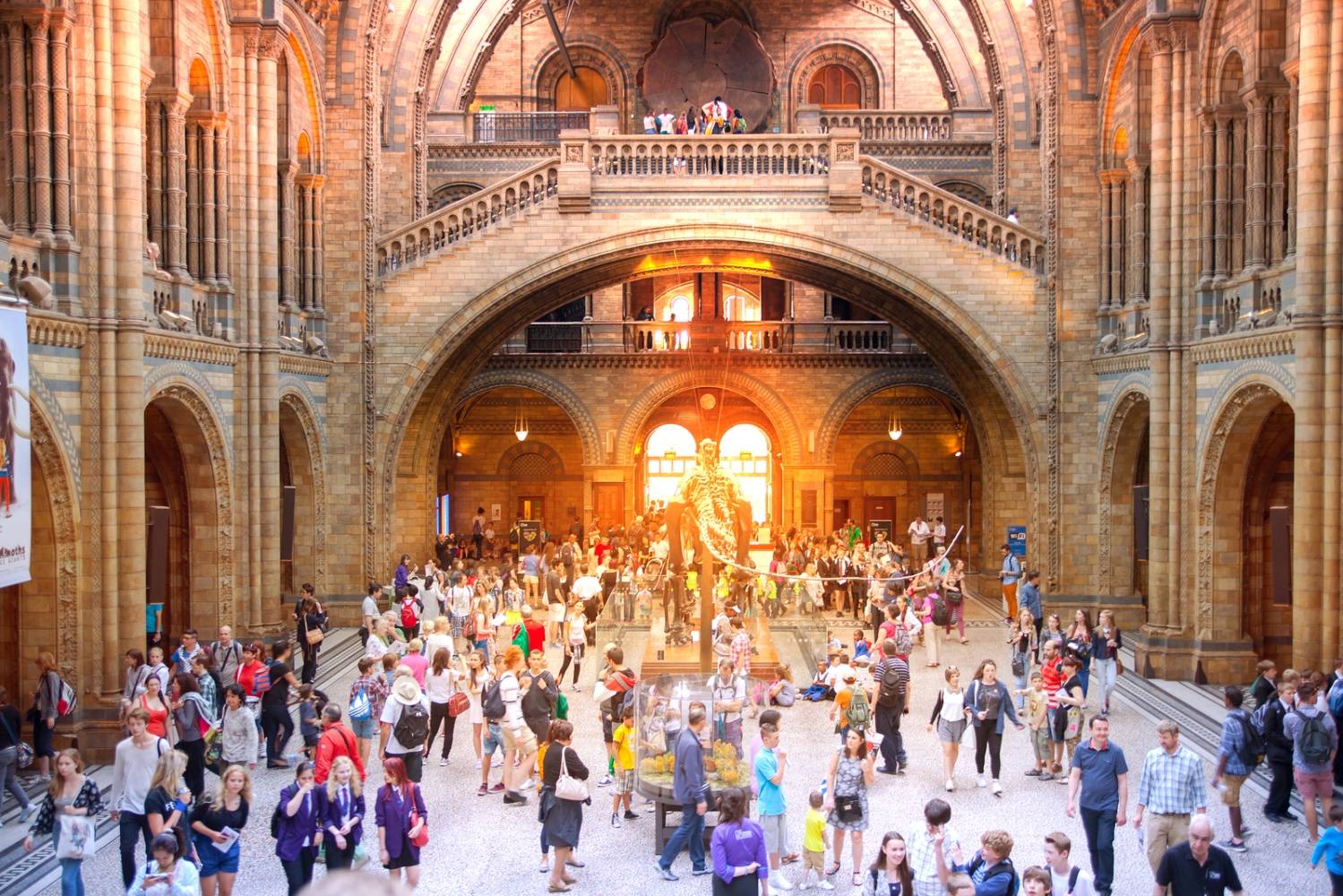 The National History Museum is just as famous for its architecture as it is for its exhibits
The London metropolis has no shortage of museums, many of which feature priceless artifacts! For maritime fans, the HMS Belfast stores nine decks worth of history, from the ship's mechanics to the ways in which sailors lived aboard the vessel.
Want to know more about London's iconic double-decker buses and black taxis? You're in luck; the London Transport Museum seeks to educate the masses on the importance of London's public transportation system.
The National History Museum, one of London's most prominent galleries, boasts exhibits dedicated to geology, ecology, zoology, and paleontology, as well as a wildlife garden. And don't miss the most complete Stegosaurus known to humankind! For astronomy, engineering, and medicine, the Science Museum is unbeatable.
A day of kitschy fun can be found at Madame Tussauds, where you and the kids can pose with the lifelike wax figurines of your favorite celebrities! And for the child in all of us (or the children in your party), there's the V&A Museum of Childhood, which displays toys and other playthings as a testament to the boundless imagination of kids. South Kensington is home to many other museums; check out our guide to the district here.
2. Holiday activities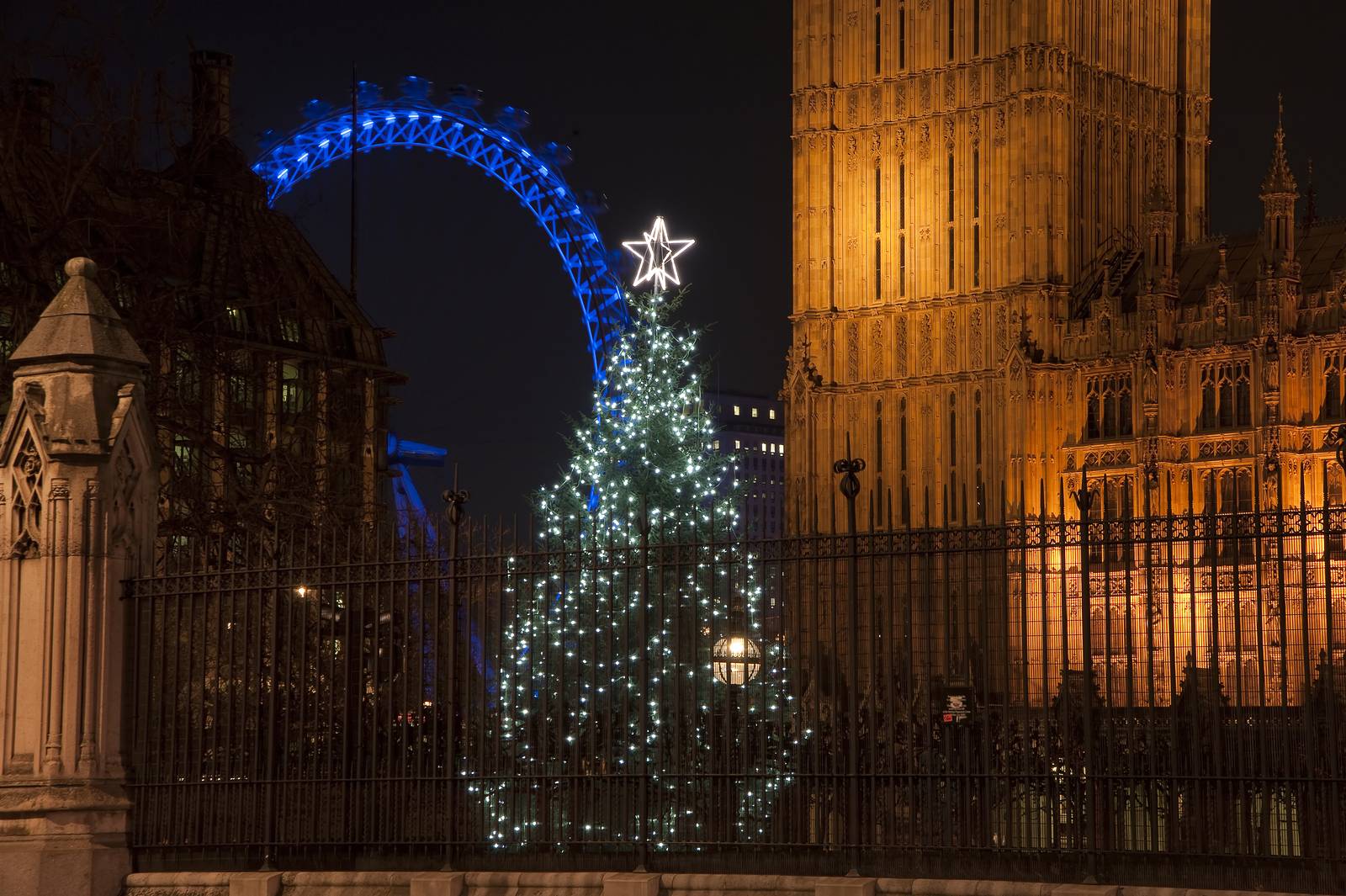 Christmas trees can be found throughout the city during December, even at Parliament!
In milder weather, take advantage of the holiday spirit and pay a visit to the many Christmas markets scattered around the city for the season. Some of the most popular include the Southbank Centre Christmas Market, which specializes in festive food and drink and hosts a family-friendly winter festival. Artsier folks will prefer the Christmas Market at Tate Modern for its handmade gifts. Shoreditch Christmas Triangle and Bust Christmas Craftacular are just a few of the other marketplaces spreading holiday cheer.
While you're out and about, why not lace up some skates for a spin around the ice? Both Broadgate Ice Rink and Canary Wharf Ice Rink, two of the city's most popular venues, remain open until the end of February. The former has a great viewing terrace, while the latter sits among some of London's most impressive skyscrapers.
3. Go on a Harry Potter tour of London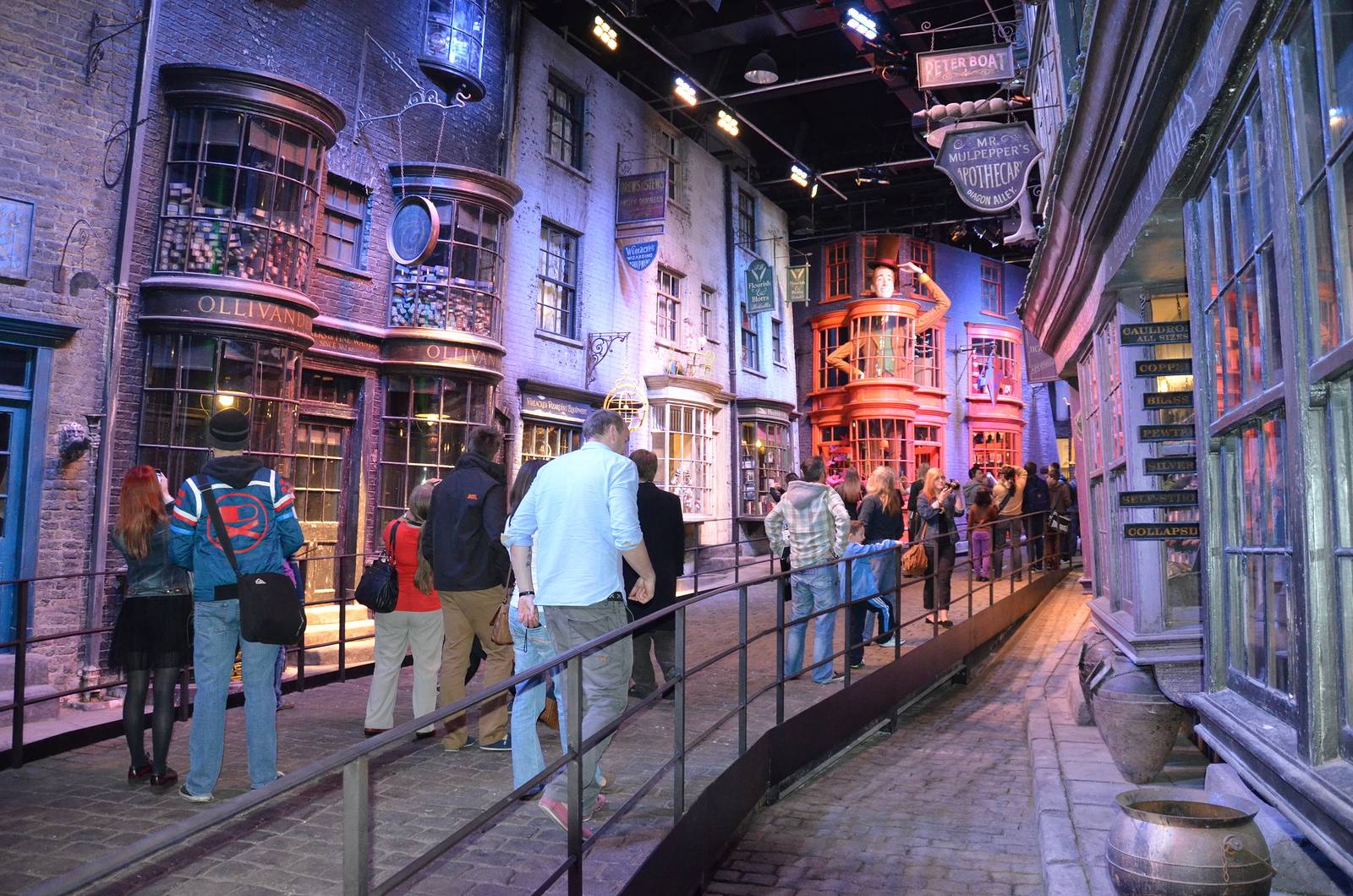 This reassembled Diagon Alley will be a familiar and welcome sight to any Potter fan
Harry Potter is a unique pop culture phenomenon. Not only it is global, but it's beloved by both kids and adults. The Warner Bros. Studio Tour London offers an inside look at some of the films' most iconic sets, props, and animatronic effects. Find out which wand chooses you, sample some butterbeer, or pick up customized gifts while you're there. And don't miss a trip to Platform 9 ¾! Of course, you can make the Boy Who Lived a full sightseeing adventure in London by planning expeditions to the places that inspired or appeared as locations in the Potter films. Our guide to the best Harry Potter locations will get you started.
4. Watch a movie from the comfort of your vacation rental or furnished rental
Pop some kernels, dig into some sweets, and curl up with a favorite family film. When the weather outside is particularly frightful, there's no better place to be than your very own London vacation rental or furnished rental!
5. Attend winter events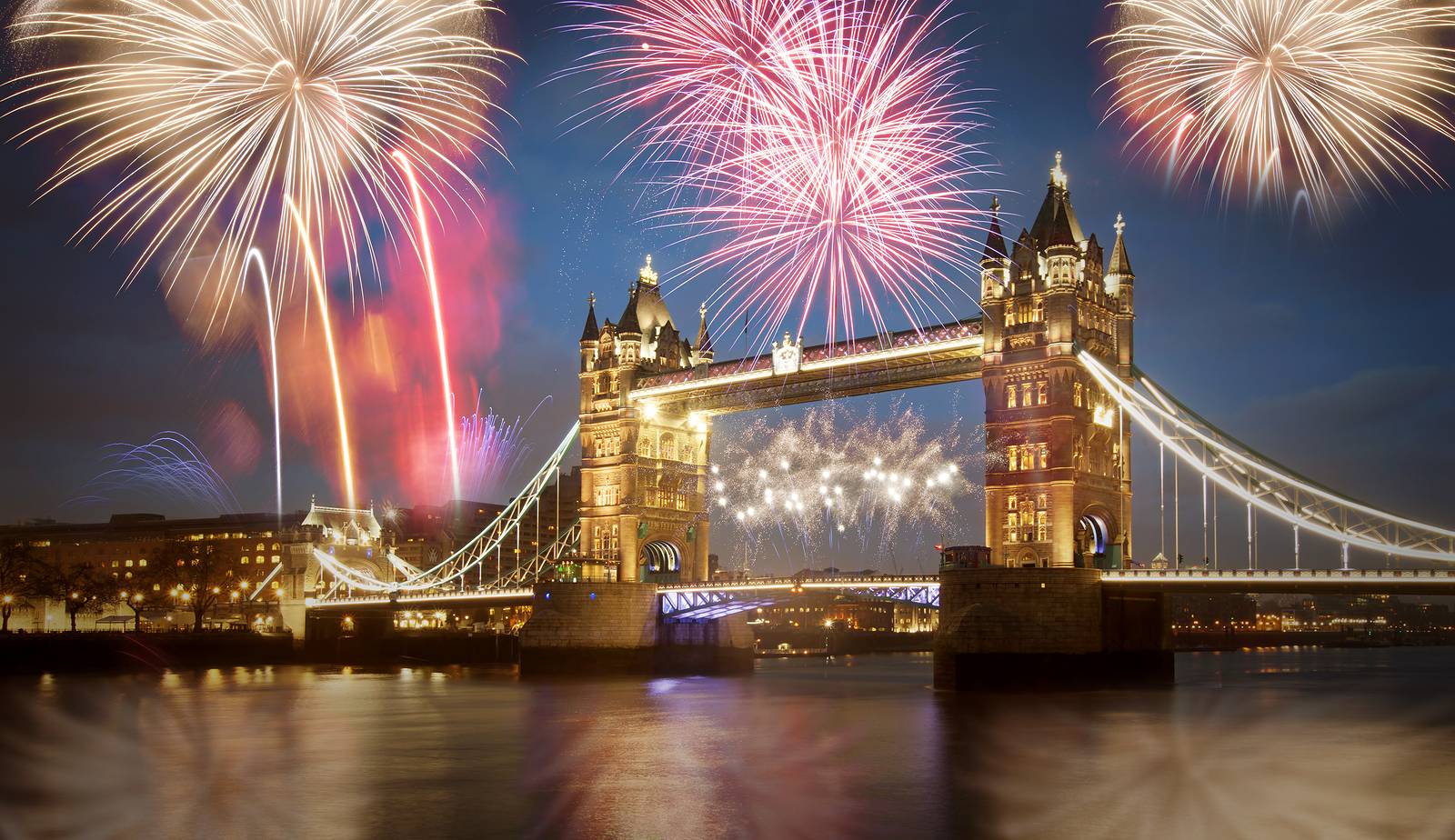 The Thames is the central showcase for a dazzling New Year's Eve fireworks display
The Christmas Pudding Race proves just how silly Londoners can get for the sake of a great cause.Covent Garden sponsors this event–which is complete with costumed participants balancing pudding through ridiculous obstacles, music, and crafts–to raise money for Cancer Research UK every year.
Syon Park, with its lush gardens for the nobility, transforms into a magical light show at the Enchanted Woodland, with backlit trees and shrubbery in all colors. Even the greenhouse interiors get an illuminating treatment.
Out with the old, in with the new: London celebrates January 1 in high style with New Year's Eve fireworks, a dazzling display of pyrotechnics that explode along the Thames's greatest landmarks at midnight. Later in the day comes the New Year's Day Parade, which weaves through the city and attracts families to cheer on the thousands of performers. There's plenty of other annual events in London too!
6. Catch a show or musical in the West End of London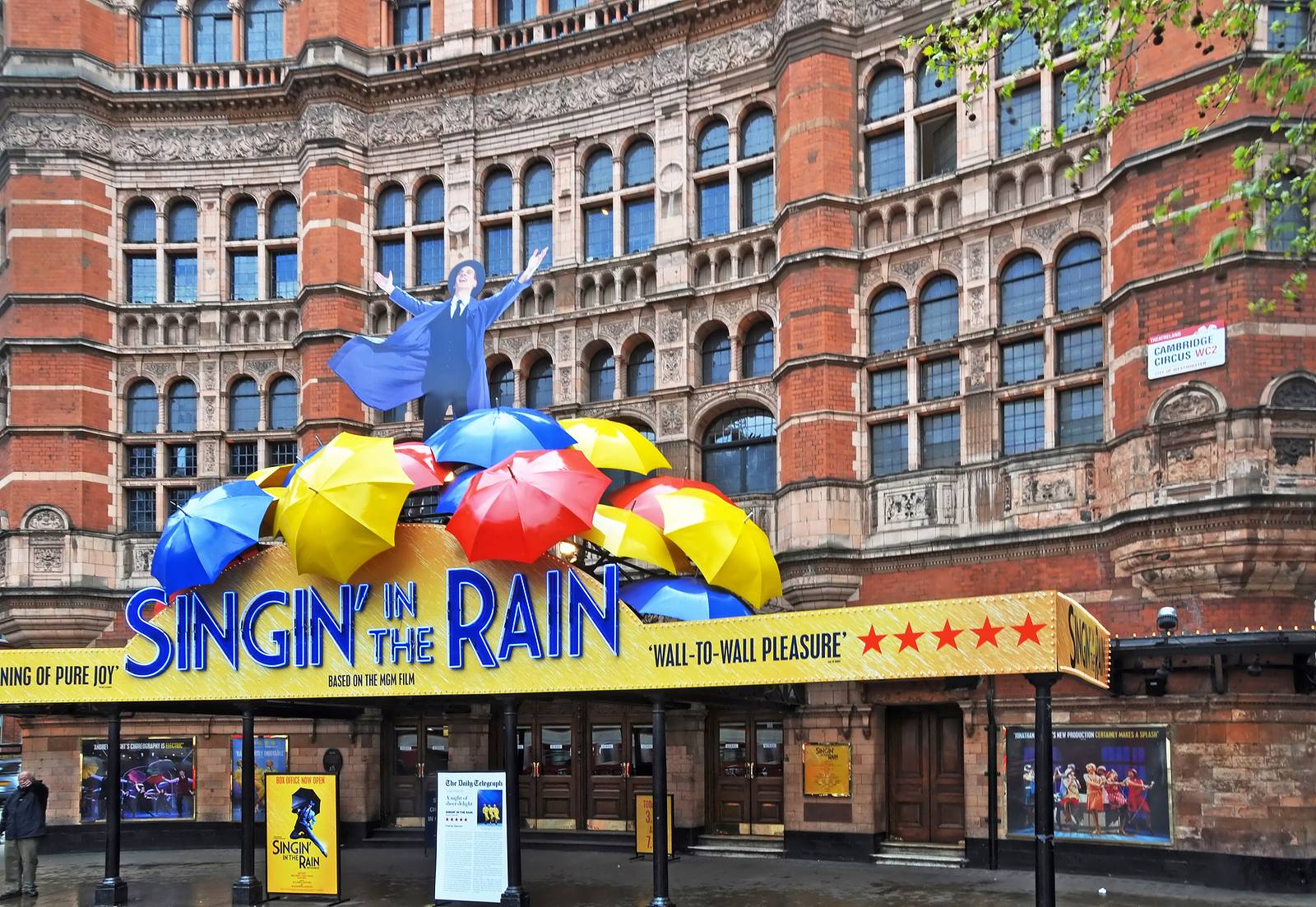 The West End is popular with tourists and locals for its world-class theatre
Arguably a bit edgier and more adventurous than its New York rival, the theatre district of London–the West End–has a plethora of shows to entertain the entire family. There's Broadway transplants The Lion King and Wicked; the intercontinental smash hit Matilda; and non-musical plays War Horse and The Mousetrap for more mature children in your party. New family-friendly productions are constantly coming to the stage, so check box offices or West End Theatre Bookings often. Find out more about the West End and Bloomsbury neighborhoods here.
7. Visit the SEA LIFE London Aquarium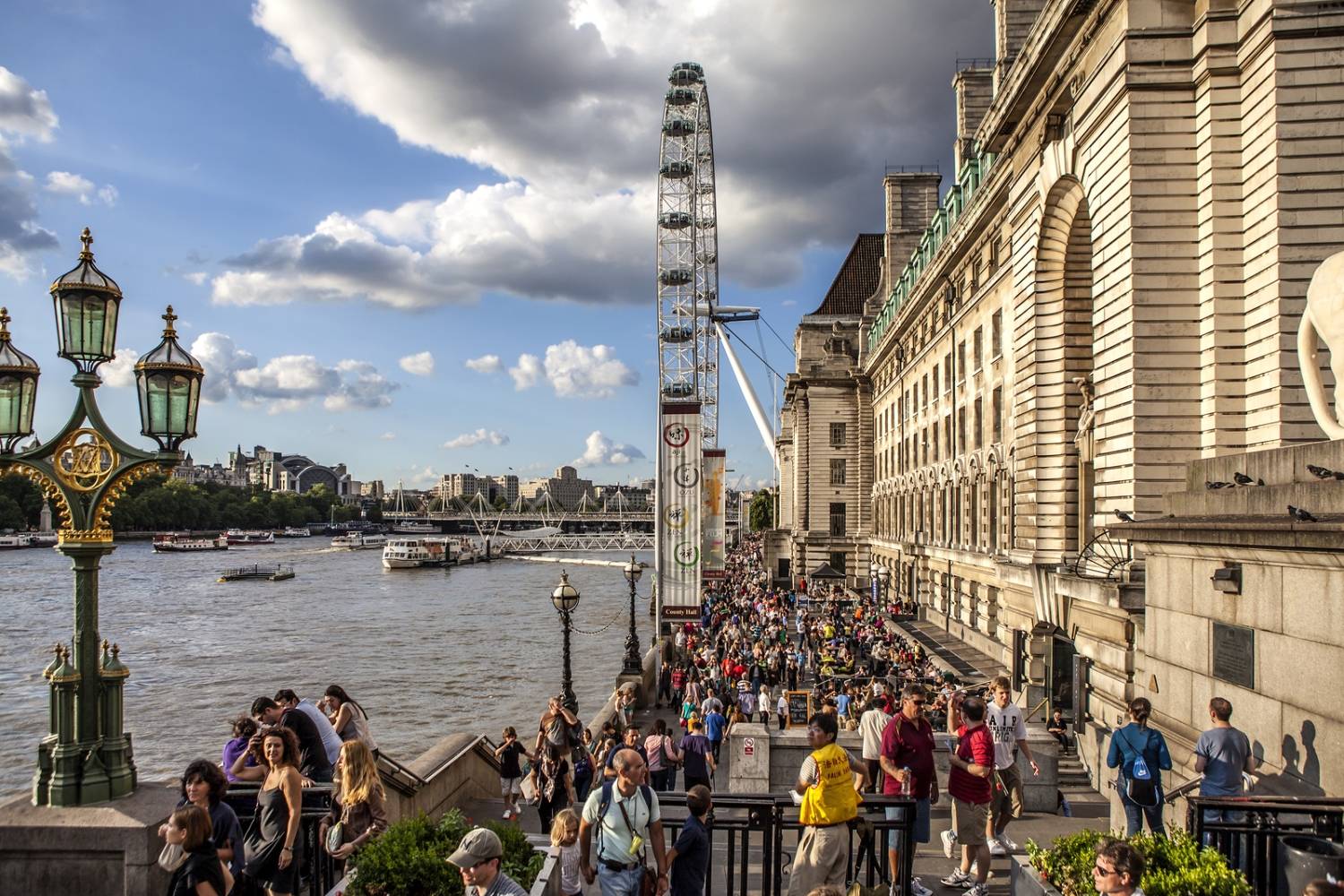 Kids will love the marine creatures at the SEA Life London Aquarium
Got a budding marine biologist in your family? They'll love the SEA LIFE London Aquarium, where sharks, stingrays, and fish all coexist within their unique ecosystems. The aquarium also supports conservation efforts, which is a great way to introduce your young ones to the importance of environmental preservation.
8. Cook winter recipes
The chill of winter is the best time to return to the warmth of the kitchen. Stop by local markets, pick up some ingredients, and put your favorite cookbook to good use. Cooking old family recipes (or creating new ones) is a great way to bond with family and friends! And with your own personal kitchen in your furnished rental, who knows what memories you'll cook up?
9. Visit some of London's best landmarks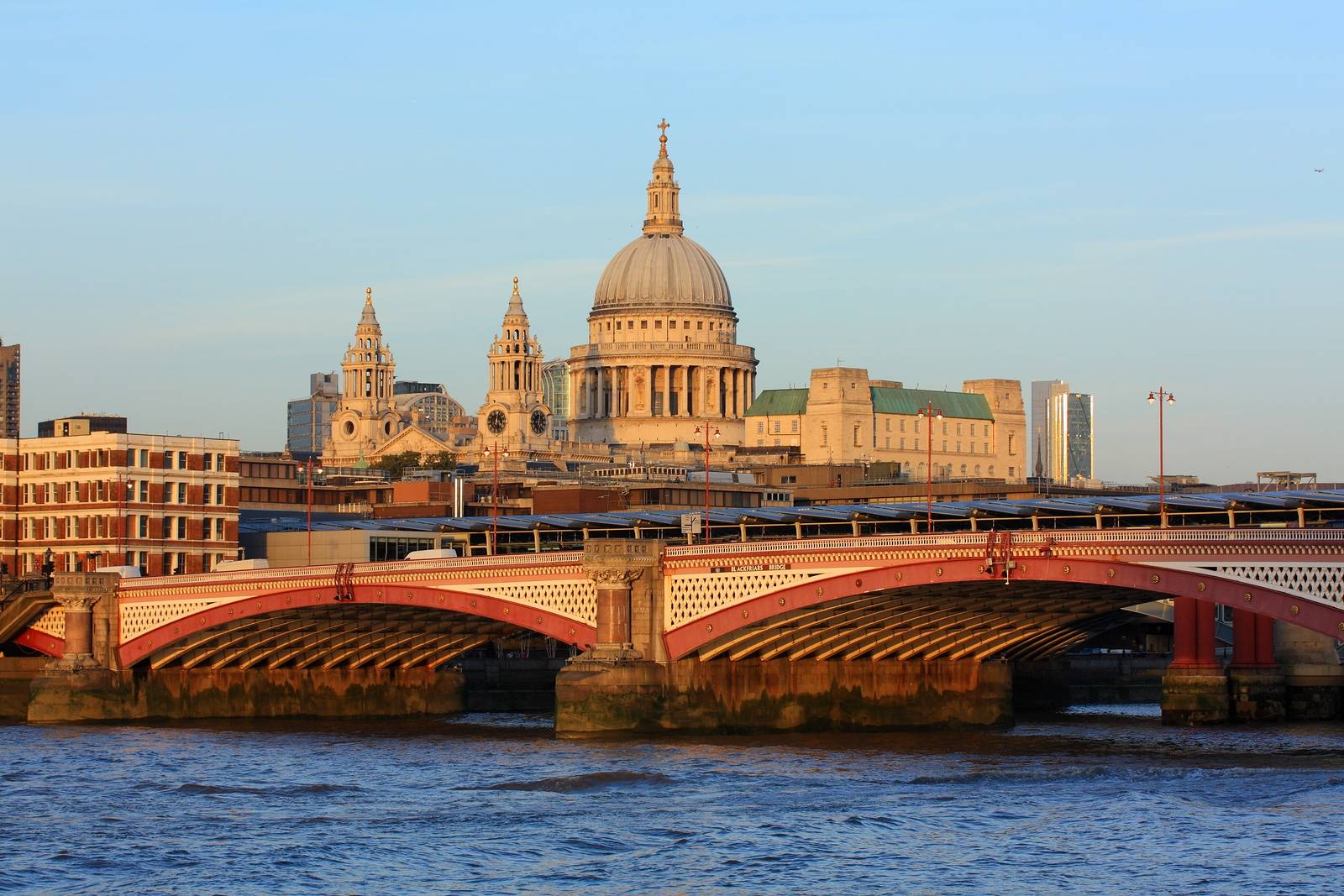 St. Paul's Cathedral makes an impressive appearance in London's skyline
Winter's biggest drawback can also be your biggest advantage: with the colder temperatures comes the off-season, and the off-season means fewer tourists. Now is your chance to explore some of London's most popular (and crowded) landmarks! Teach your kids decades' worth of British history without picking up a textbook by pulling double duty and touring Westminster Abbey and the Tower of London. The former is the site of countless royal coronations and serves as the final resting place for some of Britain's most notable citizens, while the latter is most (in)famous as the home of the crown jewels and the location of Anne Boleyn's beheading.
Maybe if you want to save the more gruesome details for your children a few years down the line, a worthy substitute could be Saint Paul's Cathedral? The majestic views–earned after a 528-step climb–might require a lot of endurance for your family, but cut that number in half and you'll arrive at the world-renowned Whispering Gallery. Hearing someone on the opposite side of the dome clear as day will amaze even the most cynical in your group.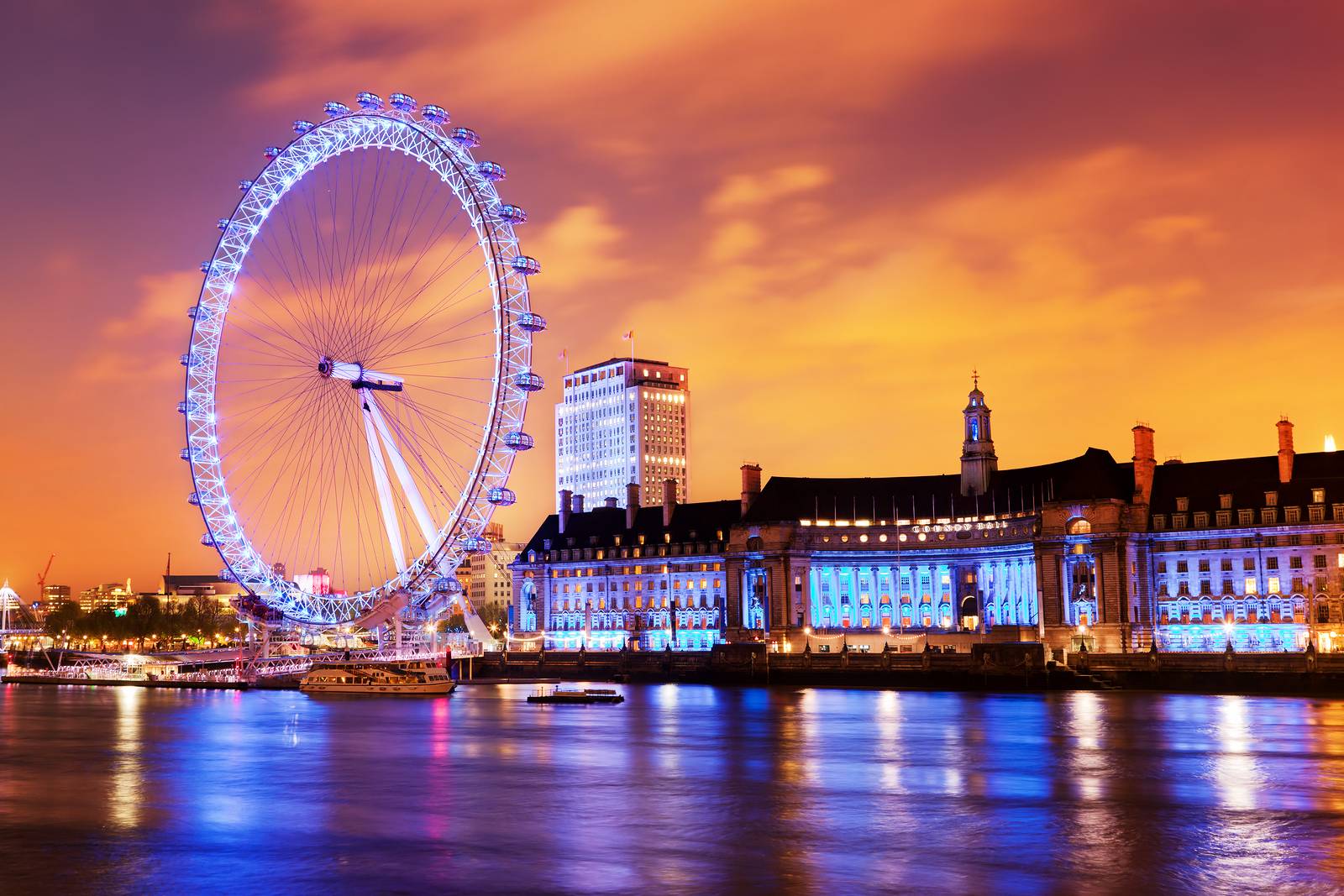 The London Eye offers a captivating view of the city
Put a cap on the sightseeing with a sight unlike any other. The London Eye offers a panoramic view that stretches up to 40 kilometers in all directions. The slow-moving capsules negate potential motion sickness, accommodate those with disabilities, and should counter even the toughest fear of heights. The 30-minute rotation is the perfect time limit to soak in the scenery and snap some unforgettable photos. For other must-see London sights, check out our article here!
10. Have an afternoon tea with the kids: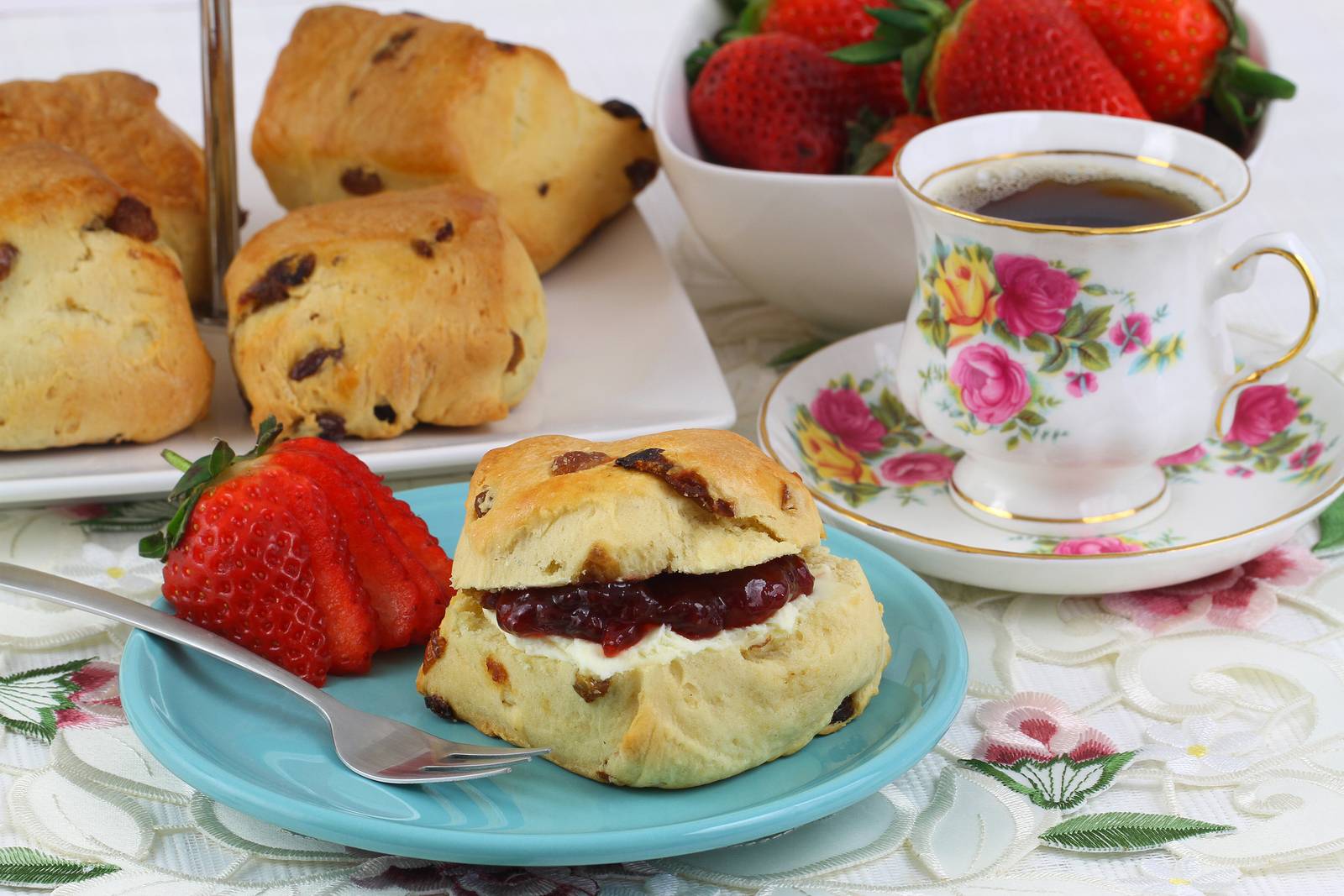 Afternoon tea and scones are a great way to learn about British culture and etiquette
Practice your tea manners and sample some scones at the lush Kensington Palace Orangery (take a palace tour right before or after) and High Tea of Highgate. The most creative tea time for kids can be found at the Little Artists' Afternoon Tea, where children's imaginations let them create perfect cupcakes and personalize their tea (on an easel-shaped dish, no less)! And who says you can't be a tea and coffee connoisseur? Here are our suggestions for the best coffee shops in London!