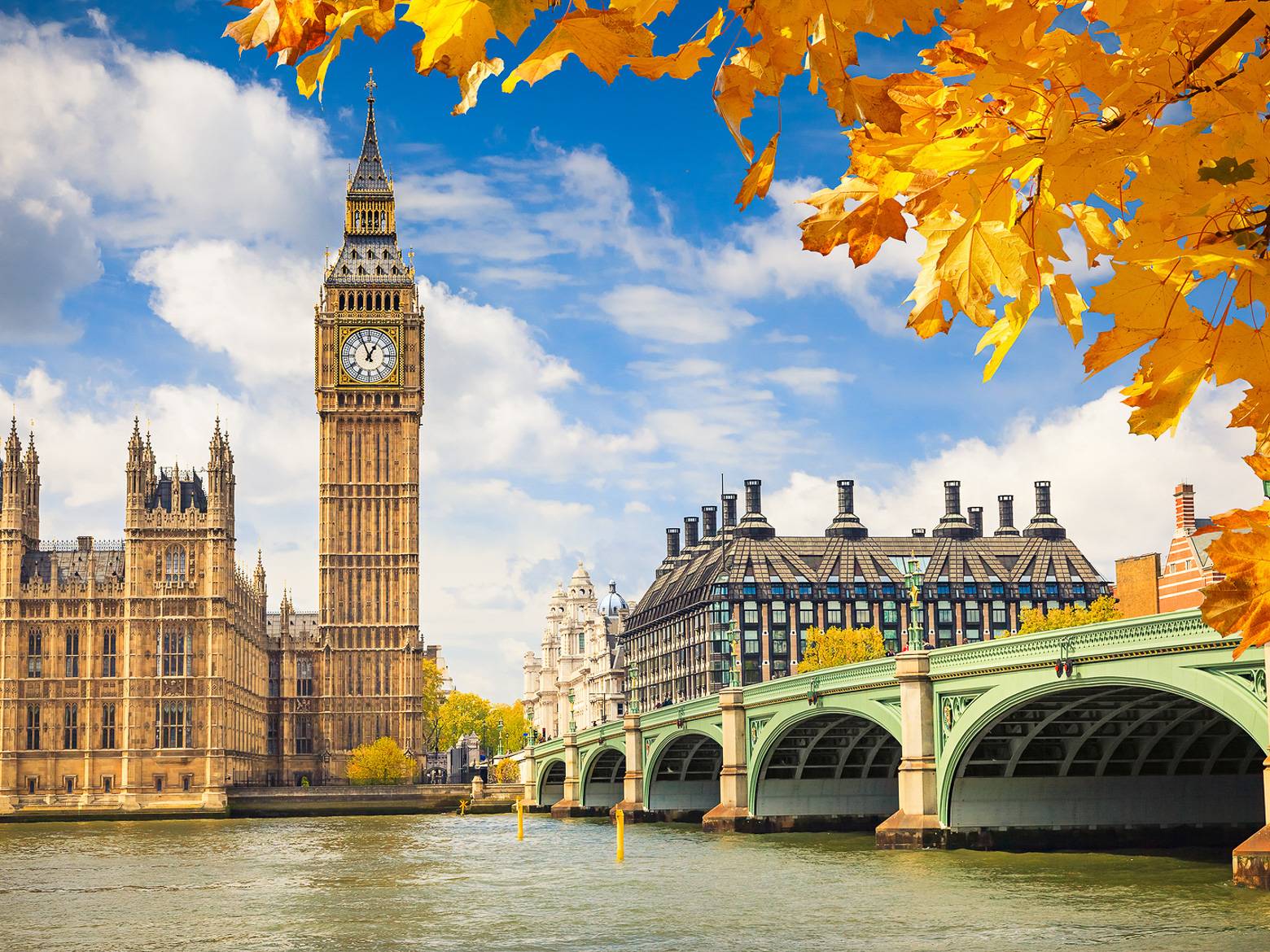 London's Big Ben, framed by fall leaves on the Thames River
There are lots of activities for visitors of all ages in London, whether it's rain or shine. You can take advantage of the warm weather at the beginning of autumn in one of London's many parks and outdoor spaces, or visit one of the city's world-renowned museums for rotating exhibits. Special events throughout the season can also help you plan your trip and make the most of your time in London!
1. Spend an afternoon in Kensington Park at the Diana, Princess of Wales Memorial Playground
Located in Kensington Park, one of central London's largest green spaces, this playground is a great stop on an afternoon walk, or as a destination of its own. There's a large play ship, a treehouse complex, and a teepee camp for kids to explore. The playgroud is one of many great free options for exploring London, and it's no wonder that this is the most popular park in the city! For parents, there's a convenient café and changing stations, making it easy to relax while the kids are having fun. You can also check out the round pond and gardens in the back of Kensington Palace in the northwest corner of the park near the playground. Admission to the royal residence is free for children under 13 years old, and admission is £16-£17 for adults. For other green spaces in London, check out our top 10 list!
2. Admire double-decker buses throughout the ages at the London Transport Museum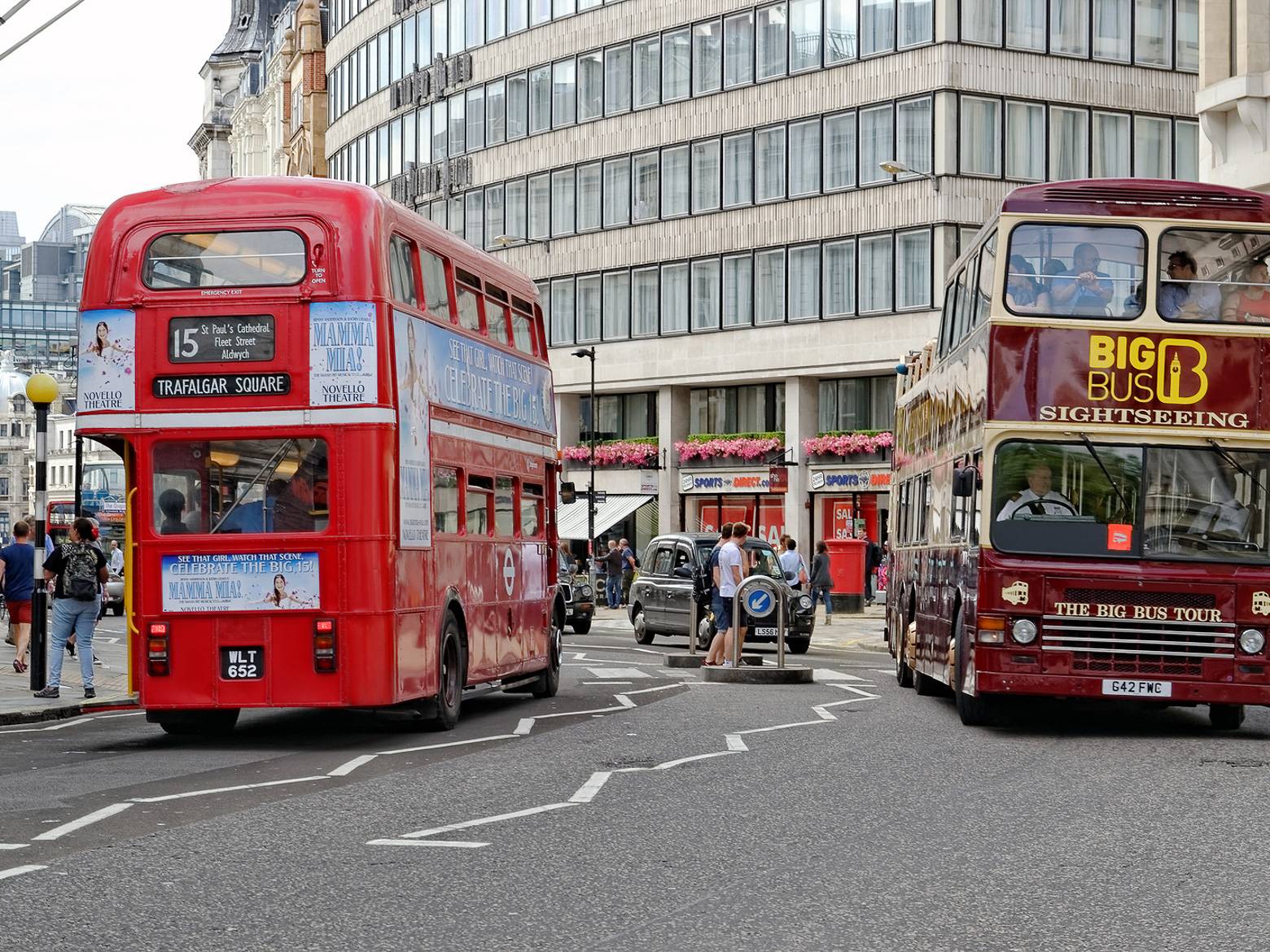 Double-decker buses come in many shapes and sizes
If you or your family are history buffs, don't miss this collection of real buses, trains, carriages, and more dating back to the nineteenth century. Included are some of the first underground trains from London's groundbreaking Metropolitan Railway and a range of the red double-decker buses that are an icon of the city. Kids will love being able to interact with exhibits while exploring the museum. There are also special programs for kids of all ages! Costumed characters throughout the museum explain the history of London's transport, a transportation-themed play zone provides entertainment for children 7 and under, and the Transportorium on the ground floor has a different themed activity each holiday season. Children under 18 years old enjoy free admission to the museum (adult tickets are £16), making this one of our top activities for visiting London on a rainy day.
3. Madame Tussaud's London, a long-time tourist institution, is perfect for kids, with recognizable figures from history and fiction!
Housed in the former London planetarium, Madame Tussaud's has grown to dominate the city's tourist scene since it was founded by a Marylebone wax sculptor in 1884. The museum is always adding new figures to the existing roster of pop culture icons, world leaders, sports stars, and superheroes! Also present is a cast of children's movie characters from Shrek to Star Wars, making it a must-see attraction for young film buffs. Tickets are £21-£30 for children and £25-£33 for adults, dependent on reservation time and the utilization of advance online booking.
4. Forge your own Harry Potter tour across London to see the city's magical side
King's Cross is a modern transit hub with a salute to its book fame
The Warner Bros. Studio Tour lets you experience life-size recreations of the Harry Potter film sets in the London suburb of Leavesden (accessible by public transportation and by highway). As of March 2015, a special expansion with a full-size Platform 9¾ and a replica of the Hogwarts Express was opened for guests to explore. Tickets are free for kids under 4 years old, £25 for children ages 4-18, and £33 for adults. For a more affordable Harry Potter experience, take a trip to King's Cross Station in central London, where a plaque near the real Platforms 9 and 10 commemorates the fictional Platform 9¾. For more inspiring stops on your Harry Potter tour, see our list of 10 London locations from the film.
5. Check out Totally Thames, a festival celebrating London's famous river, all September long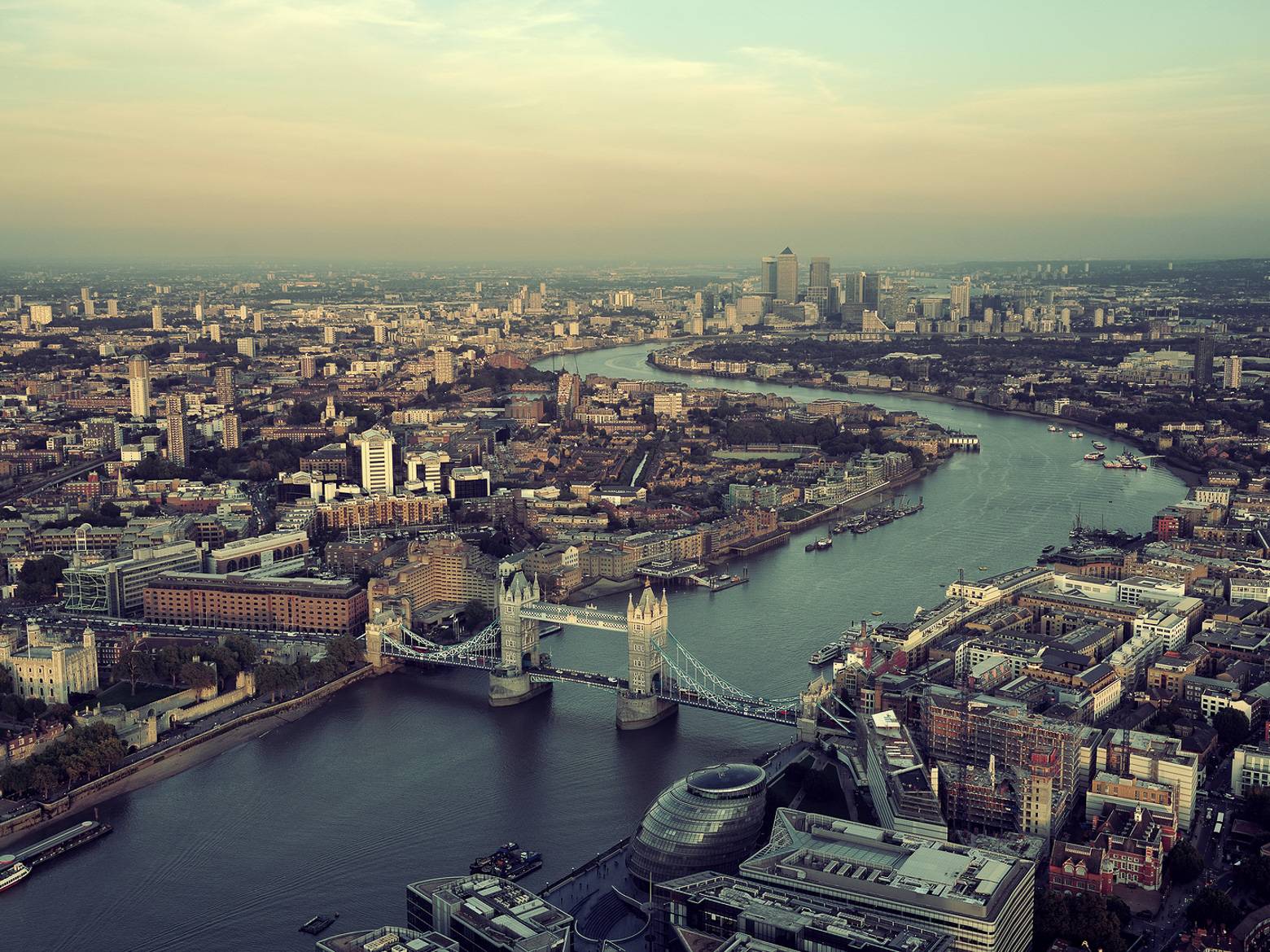 The Thames is lined with London sights like Tower Bridge.
Stretching 42 miles from west to east and through London, the Thames River defines the cityscape. While the river isn't as essential to the capital's economic and social life as it once was, Totally Thames brings the river front and center each fall for a bevy of events for all ages. There's everything from musical events, to fire shows, to public art (including lots of kid-friendly activities), all for free! We have a great selection of vacation rentals right by the river to situate you close to all the action.
6. Browse the collections of Ripley's Believe It Or Not!, which has over 700 objects from around the world
London has a rich history of hosting global exhibitions that present the best from all over the world. The collections of Ripley's bring together everything from bizarre modern art to cultural artifacts from distant jungles, all with a flair for the unusual and the interesting. There are also many interactive exhibits to keep kids' attention, like the Mirror Maze, where an infinite number of reflections can keep you entertained for hours! Individual tickets range from £15-£27, and family tickets (for four people) are £60-£80 depending on the booking time. For other activities around Soho and the West End, check out our guide to living like a local!
7. Explore the Tower of London, a real life castle with a gruesome history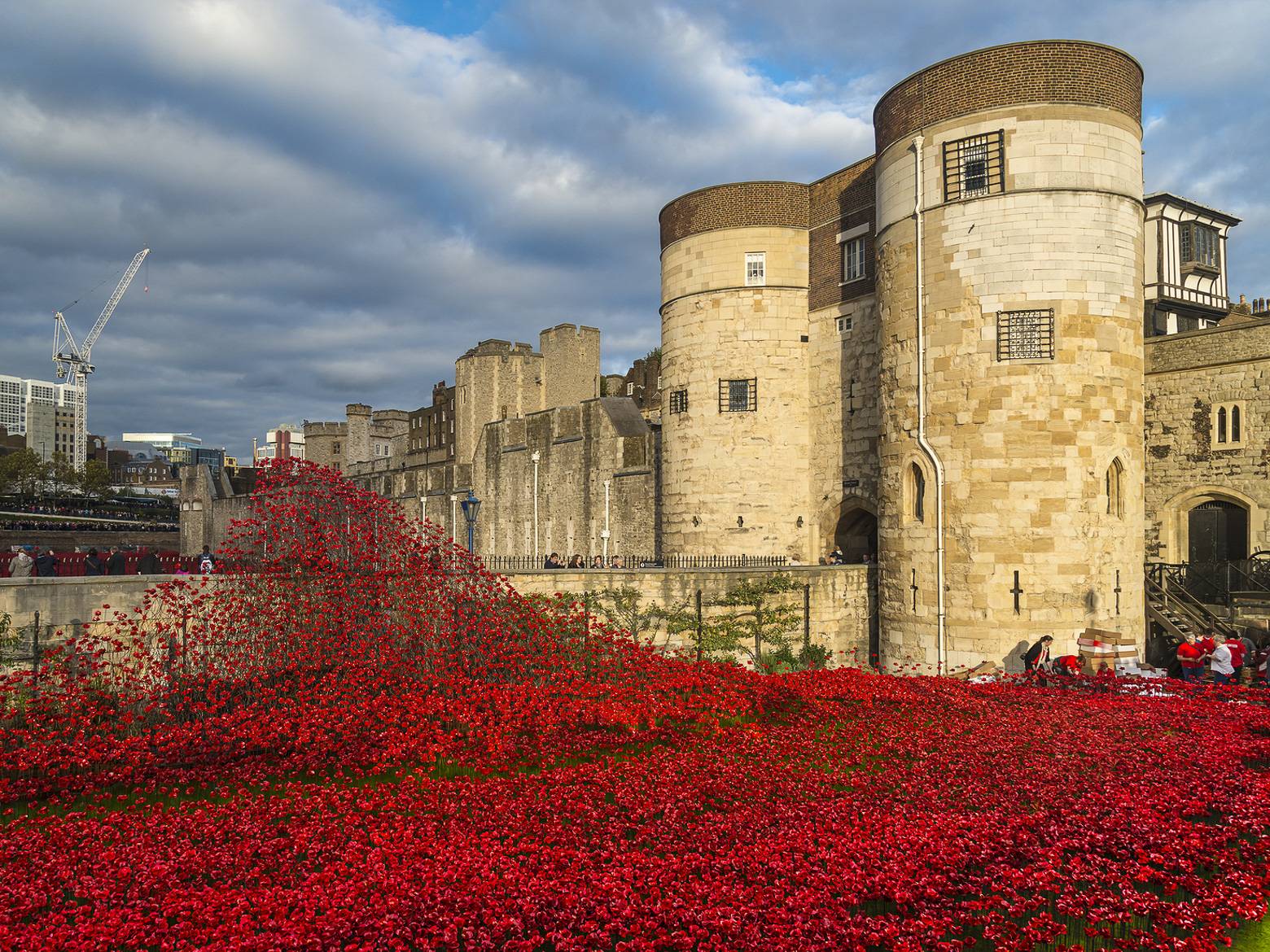 The Tower of London flooded with poppies for Armistice Day
Legend and lore come to life at the Tower of London, a medieval castle where the Princes in the Tower were held as prisoners of Edward III. This gruesome history is enough to attract attention outside of the fortress's stunning medieval architecture, founded by William the Conquerer in the 11th century. The castle is also home to the British crown jewels, making it one of our must-see destinations in the city. Time your visit around November 11 and you'll be stunned by the cascade of poppies that inundate the Tower to commemorate Armistice Day and Britain's fallen soldiers. Buy tickets online at £22 for adults and £10 for kids.
8. Try to catch sight of the Queen at Buckingham Palace
If your trip is in September, you can tour the royal residence while it's open to the public. The massive palace's many rooms combine different decorative and architectural styles from the 19th century to today, providing kids lots of space to explore and parents much to learn! If you head to Buckingham Palace later in the season, try to catch a special event. Maybe you'll spot the Queen herself leaving the palace in her carriage! Before your visit, make sure to check out our list of basic London tips and etiquette.
9. Join the celebration on Bonfire Night (November 5)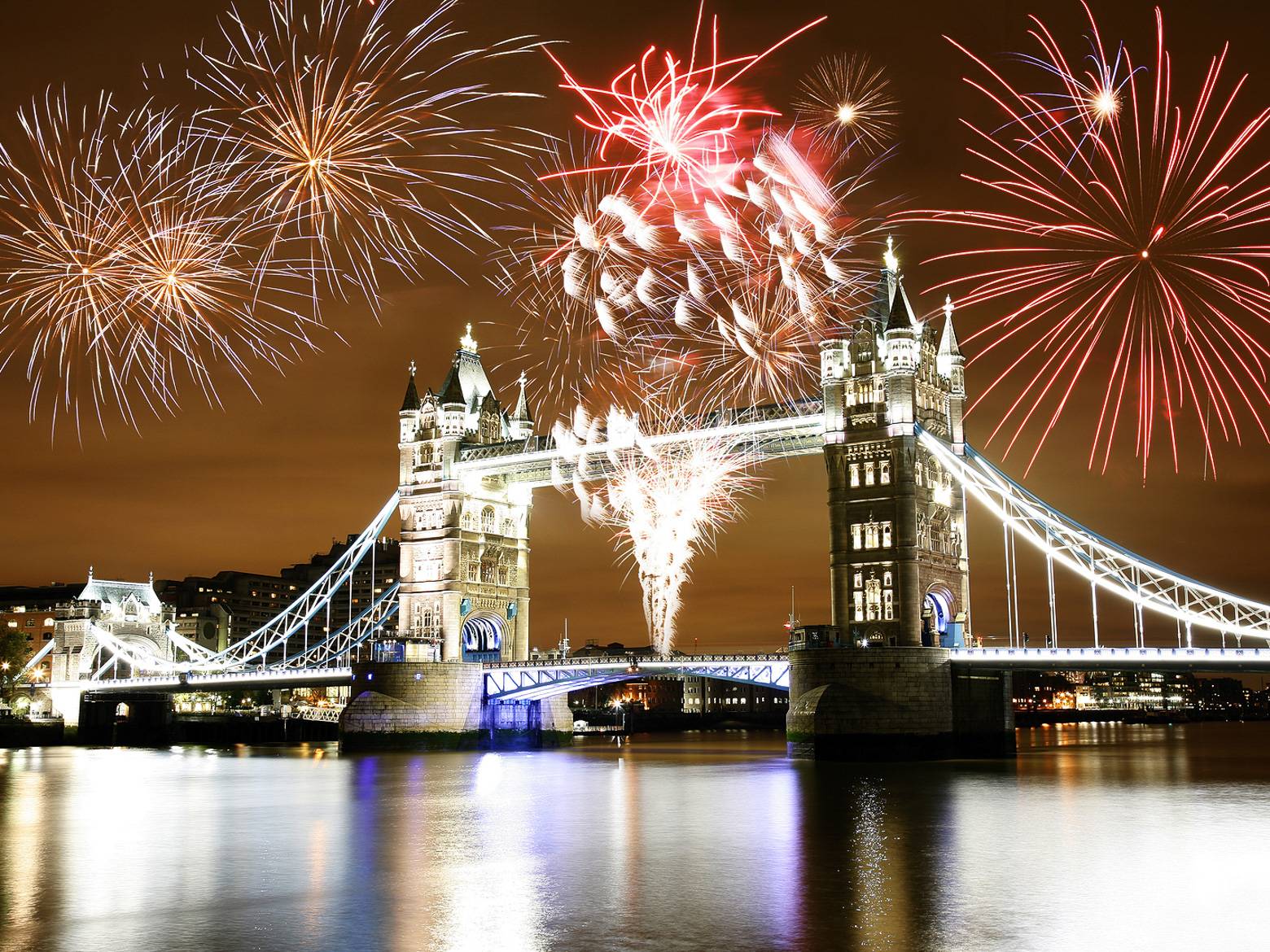 Annual fireworks mark the Guy Fawkes Night celebrations
Like all great festivals, Bonfire Night, also known as Fireworks Night and Guy Fawkes Night, commemorates a serious event in style. The festival marks the survival of the Palace of Westminster, the seat of the UK's government, following a bombing in 1605. The papist plot might have failed, but the day remains significant for the British community and a great excuse for a party! The British celebrate the anniversary with massive fireworks displays across London and bonfires in the countryside. If you're coming just for the weekend, we have the perfect place to stay!
10. Seize the fall by apple-picking in Greater London
Just because London is a bustling metropolis doesn't mean that you can't take part in an autumn favorite of kids all over the world: apple-picking. The city's green belt offers orchards and sprawling farms to help you enjoy the British countryside just a short trip from the city. We recommend Crockford Bridge Farm in Addlestone, Surrey, which offers 75 acres of picking fields, a farm shop, and a homemade gelateria (a great way to get kids to enjoy fruit!). It's an easy day trip, just one hour from Central London by train. To warm up once you return from a day on the farm, head to one of our favorite London coffee shops.
Whether you're only coming for a few days or staying for the whole season, our fully-furnished rentals let you live like a local on your trip to London.