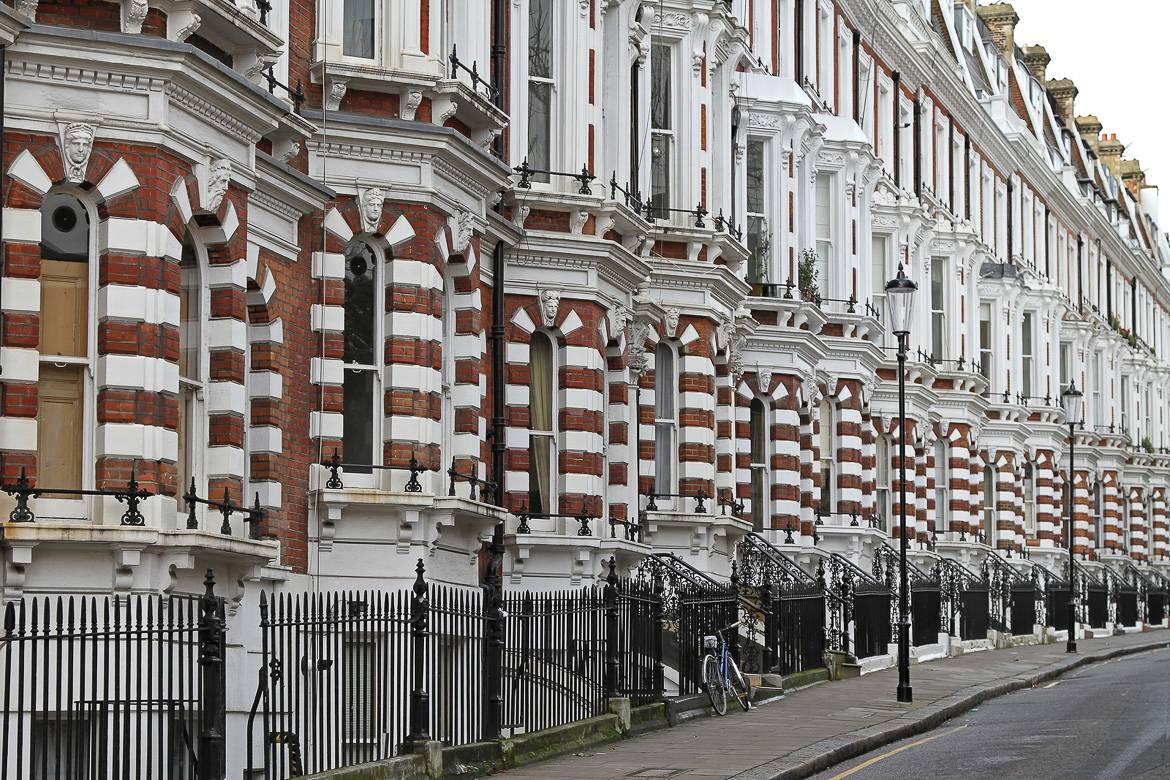 Brick rowhomes make South Kensington a picturesque neighborhood
'Chic,' 'educational,' and 'vibrant' are just some of the ways to describe London's South Kensington neighborhood. The neighborhood, part of the Royal Borough of Kensington and Chelsea, has long been associated with culture and luxury spurned by the extensive construction of museums and real estate following the Great Exhibition of 1851. You'd be hard-pressed to find another enclave of the city with such a dense cluster of cultural and academic institutions, from world-class galleries to prestigious universities. It's also an elegant residential area that attracts the attention of visitors and residents alike.
Welcome to South Kensington
South Kensington is bordered by equally stylish neighborhoods. It lies north of Chelsea, south of Hyde Park, west of Knightsbridge, and east of Earls Court. Its position in London places it in a prime location near the center of the action! An array of shops, museums, parks, restaurants, and theatres give the area its dynamic character, and make it one of the most popular real estate markets in London. Visitors come for the upscale boutiques, art galleries, antiques dealers, and designer furnishing retailers. Francophiles will love South Kensington for its French influence. As well as the many French expatriates who live here, you'll find the Lycée Français Charles de Gaulle secondary school, the French Institute, and the Consulate General of France in London. To help you visualize the neighborhood, our video guide of Kensington covers the region and the bordering neighborhood of Chelsea.
You'll feel like a local when you explore the culinary, shopping, and sightseeing delights of South Kensington!
Go shopping in South Kensington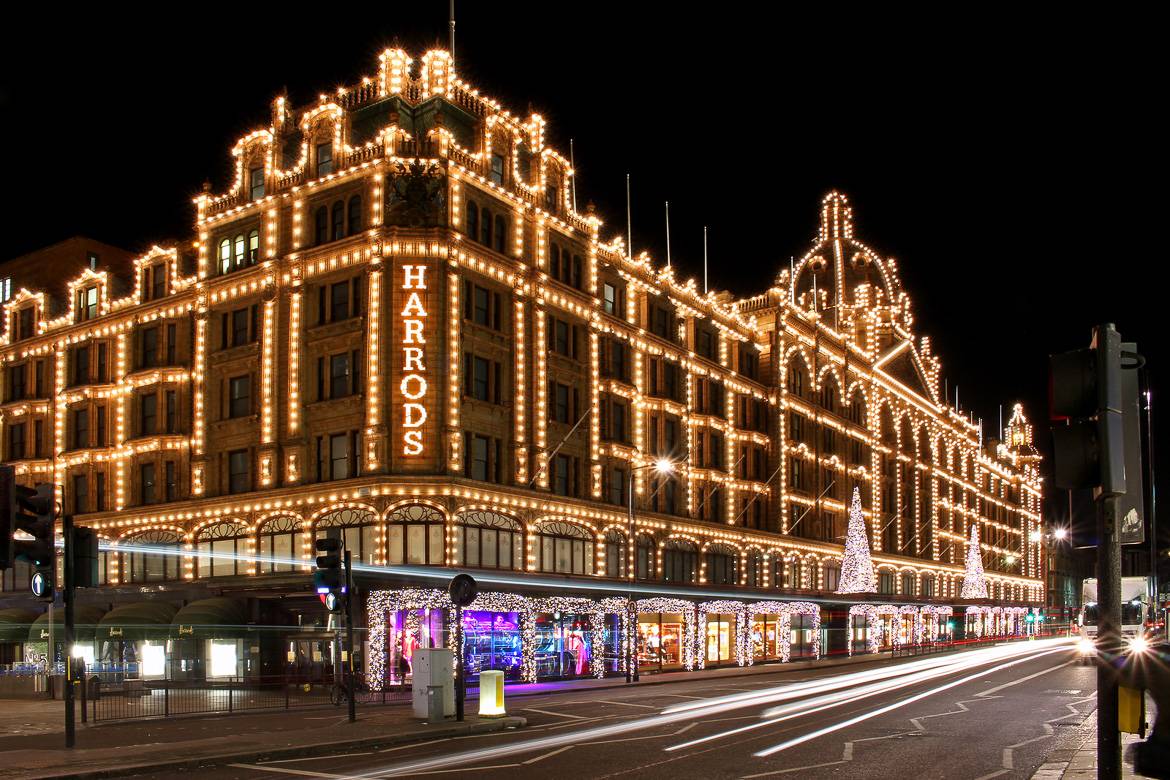 Harrods dazzles at Christmastime thanks to the lights that decorate its façade
South Kensington is the perfect area to do some serious shopping. Affluent residents flock to the neighborhood's stores for fashion and, if you're lucky, designer deals.
Fulham Road is one of the longest shopping streets in South Kensington–so long, in fact, that it extends into the adjacent boroughs of Hammersmith and Fulham. Along this stretch of South Kensington you'll see plenty of boutiques specializing in antiques, trendy furnishings, and interior design. With its stylish inventory of furniture, kitchenware, lighting, and home accessories, The Conran Shop is a notable highlight.
Head to Brompton Road for designer and high-end labels like Burberry, L. K. Bennett, Zara and Topshop. Old Brompton Road is the home of Christie's, one of the most exclusive fine art auction houses in the world. There are also a number of elite hotels and the famed Troubadour coffeehouse, which has nurtured the talents of budding folk singer-songwriters for more than half a century.
Looking to expand your art collection? South Kensington's galleries will satisfy your artistic tastes. Hollywood Road Gallery on the eponymous street is an expert in contemporary European and South American sculpture and paintings. Eclectic collectors will find a wide variety of modern art at Cadogan Contemporary on Old Brompton Road. If you're in the market for something classic, Lane Fine Art on Drayton Gardens specializes in pieces created between 1550 and 1830. For rare oil-on-canvas landscapes and portraits, there's no better place.
Think the Chelsea Farmer's Market is only a destination for locally-grown produce? Think again. At the marketplace, you'll find hip eateries, a bookstore, and a dry-cleaning service. There's an organic supermarket and garden nursery too, but unlike your usual farmer's market, all of the businesses are arranged in small chalet-style buildings instead of stalls. Naturally, this square near King's Road is a great destination for shopping and people-watching.
The name synonymous with department store grandeur, Harrods may be the most famous retailer in all of England. Spread over five acres and 330 departments on Brompton Road, Harrods is the largest store of its kind on the European continent. Inside you can browse designer bags and shoes, couture gowns, and vintage wines, and that's merely scratching the surface. If you're hesitant to spend money on the extravagant and expensive inventory, you can walk through the ornate food halls. Take a look at our list of the top 5 London shopping spots for more inspiration.
Coffee shops, restaurants, bars & pubs
There's no better way to live like a local than to go where the locals go, including coffee shops, restaurants, and pubs! Thankfully, South Kensington has plenty to offer. The difficult part will be choosing which to sample first!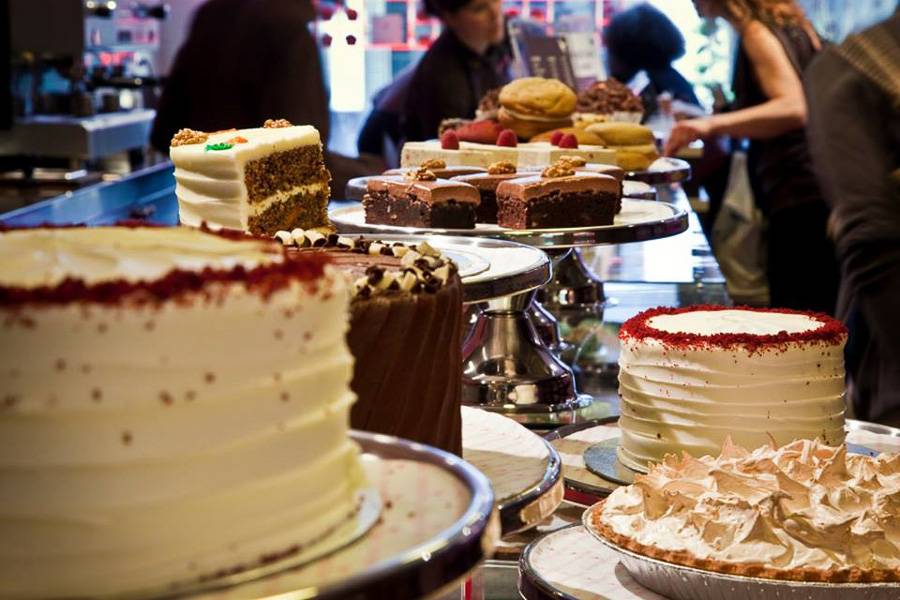 South Kensington's bakeries are sure to please your sweet tooth
Searching for that perfect morning brew? South Kensington's coffee shops are the best way to kick-start your day!
Exhibition Road's Le Pain Quotidien takes pride in its Belgian ancestry. Tartines (a Belgian sandwich) are a menu staple. However, the shop's real star is the hand-baked organic bread, which makes for a tasty treat when paired with a café au lait or hot chocolate.
Raison d'Etre on Bute Street is a small but cozy café serving freshly made baguettes and croissants daily.
For your traditional British breakfast, look no further than Muriel's Kitchen on Pelham Street, which locally sources ingredients and transforms them into authentic home-cooked meals with delightfully modern updates.
Alternately, for a traditional Italian course, try Old Brompton Road's La Bottega. We recommend a steaming cup of coffee served with a crunchy panini.
Coffee fanatics won't want to miss out on Coffee Republic for its artisanal spin on java. If you're willing to leave South Kensington, here's a guide to our favorite coffee shops across London.
Hummingbird Bakery on Old Brompton Road is the place to indulge in some nostalgia with its American pastries like New York cheesecake and red velvet cake.
Patisserie Valerie on Brompton Road is not a place to visit if you're on a diet. If you are, we wouldn't blame you for cheating once you see and smell their delicious cakes and pastries.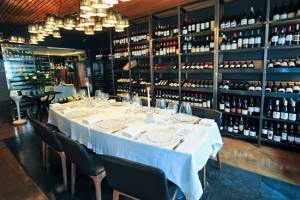 South Kensington has plenty of restaurants that offer sleek, modern dining
London's status as a multicultural hub means that every neighborhood is bound to have innovative and exotic eateries, and South Kensington is no exception.
Visit L'Etranger on Gloucester Road for a unique combination: French cuisine with a Japanese twist. There's also a nationally recognized wine list.
Take your taste buds to North Africa (or, rather, Old Brompton Road) for Couscous Darna's Moroccan cooking.
After you've sampled the food at Darna's, return to French cuisine at the award-winning Racine on Brompton Road.
French and British gastronomy collide at Fulham Road's Bibendium, which also specializes in seafood. It's popular, so we advise you make a reservation in advance.
Traditional French cooking can be found at Old Brompton Road's La Bouchee, where patrons rave about the intimate and inviting atmosphere.
Thanks to Patara on Fulham Road, Thai cuisine has earned the widespread success and respect it deserves in London.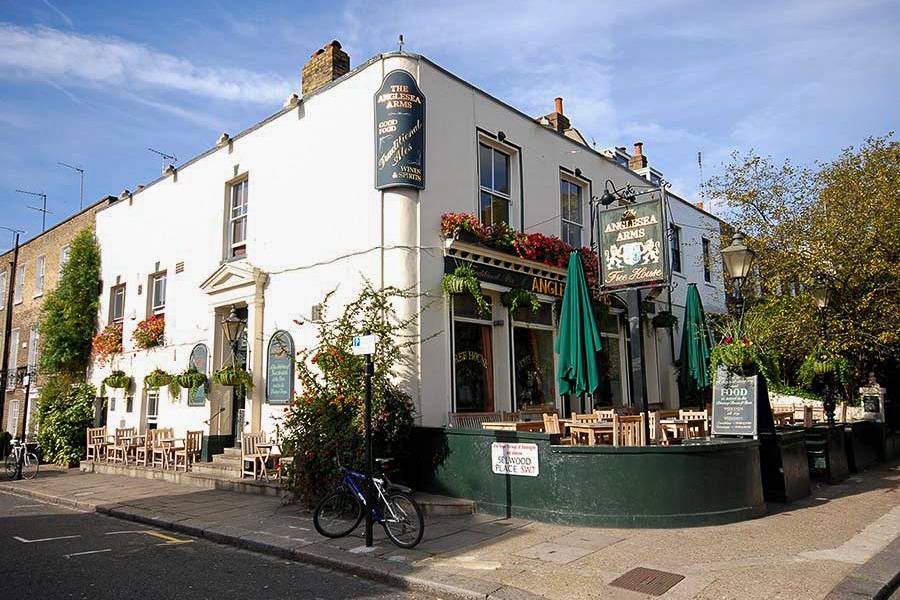 Selwood Terrace's Anglesea Arms stays faithful to its history and serves up a traditional English pub experience
Those looking for a quintessential British pub experience should try these South Kensington staples:
Zetland Arms on Bute Street remains the oldest building in the area, a history the bar embraces through traditional ales and classic pub food.
The Anglesea Arms at Selwood Terrace doesn't have quite the seniority of the Zetland, but as an equally fascinating historical fact, it shares the block with Charles Dickens's former residence. It also serves quality pub meals, but keeps things fresh with a seasonal rotating menu.
In terms of history, The Hereford Arms may take the cake. It has been claimed that Jack the Ripper made Hereford his regular drinking hangout, though this remains a mystery along with the notorious serial killer's identity. Sir Arthur Conan Doyle, the creator of Sherlock Holmes, made the pub famous just by being a customer. We advise you to honor tradition and order a hearty pint alongside fish and chips when you stop by this Gloucester Road pub.
Lastly, for something more modern, the private-membership nightclub Boujis is the place to see and be seen. A-list DJs, superb cocktails, and an extravagant vibe attract the glitziest of London and international society.
Live like a local in South Kensington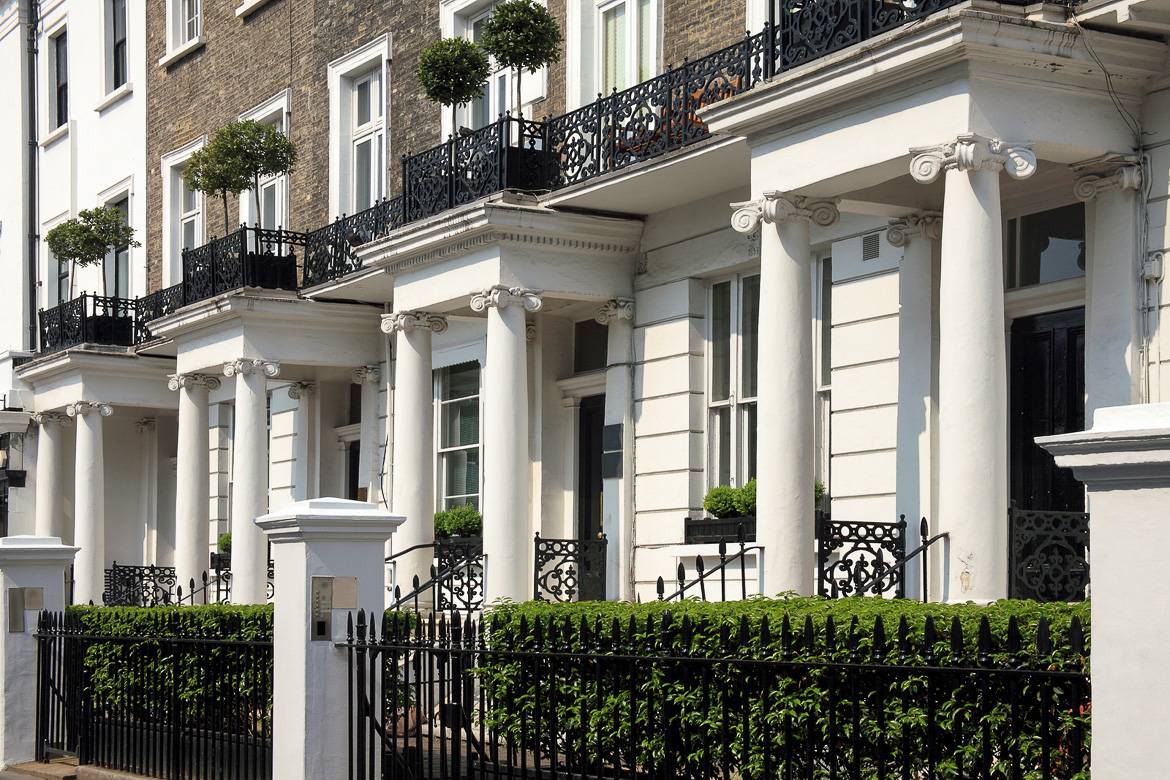 These flats are where some of London's most posh residents live and add to South Kensington's glamorous allure
With an easily accessible central location, South Kensington is a great neighborhood to stay during your London holiday. Our vacation rentals in the neighborhood will ensure you are never far from the city's best and brightest attractions.
If you're staying long-term, South Kensington's active restaurants, shops, and nightlife will never fail to entertain. By renting a furnished flat, you'll have the opportunity to explore this thriving borough and watch as underrated spots are revealed over time. Renting is the best way to experience a city as vast as London. Pretty soon, you'll feel like a native!
For further information, don't hesitate to contact our corporate relocation and housing services. At New York Habitat, we can find you the perfect London apartment for your individual needs!
What to do and see in South Kensington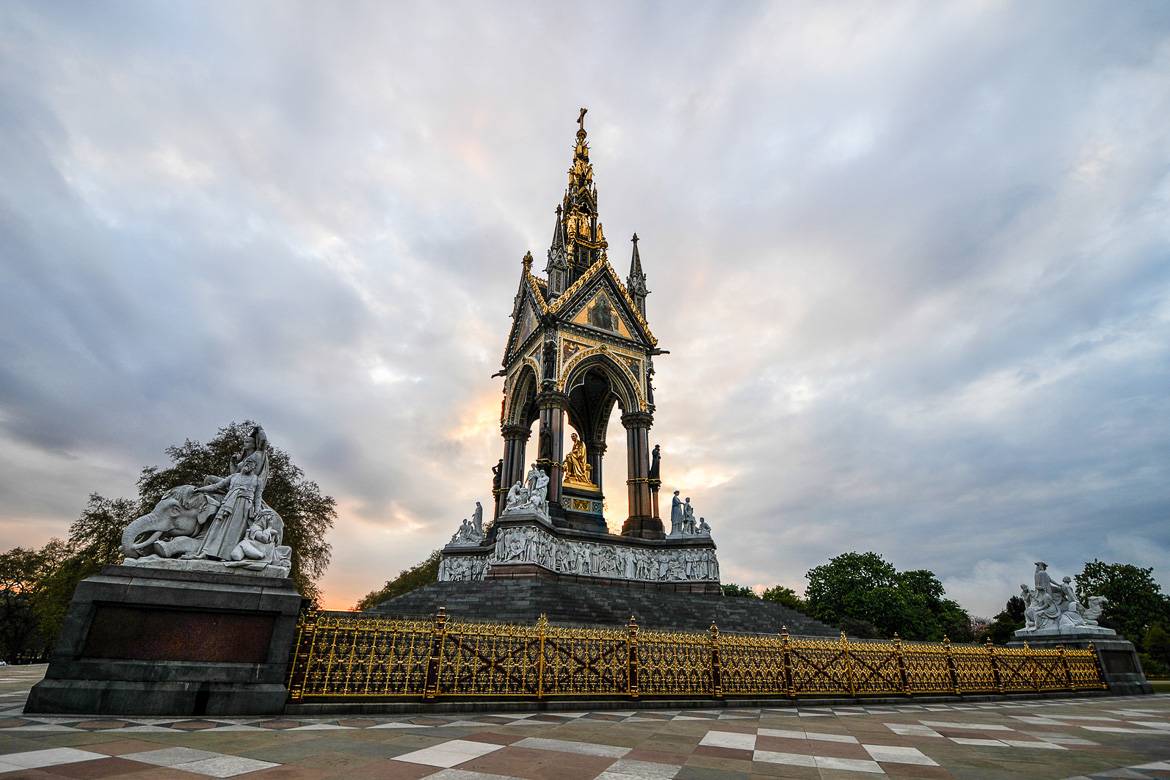 The Albert Memorial rests in Kensington Gardens near the area Prince Albert helped to develop
The Albert Memorial is Kensington Gardens' tribute to Prince Albert, Queen Victoria's husband, and showcases the most opulent aspects of Gothic design. The commemorative piece was unveiled in 1872 and honors Albert's commitment to the arts and his involvement in the organization of 1851's Great Exhibition in Hyde Park. Take the Circle or District lines to the High Street Kensington Underground station to arrive near the Kensington Gardens gates.
Just because the Royal College of Music is a working university doesn't mean it's inaccessible to the public. Visit the institution's museum to tour a collection of hundreds of artifacts spanning five centuries. For live music, visit the campus for a seminar or classical concert. The Royal College of Music is on Prince Consort Road within walking distance of the Gloucester Road Tube station, which is served by the District, Circle, and Piccadilly lines.
Museums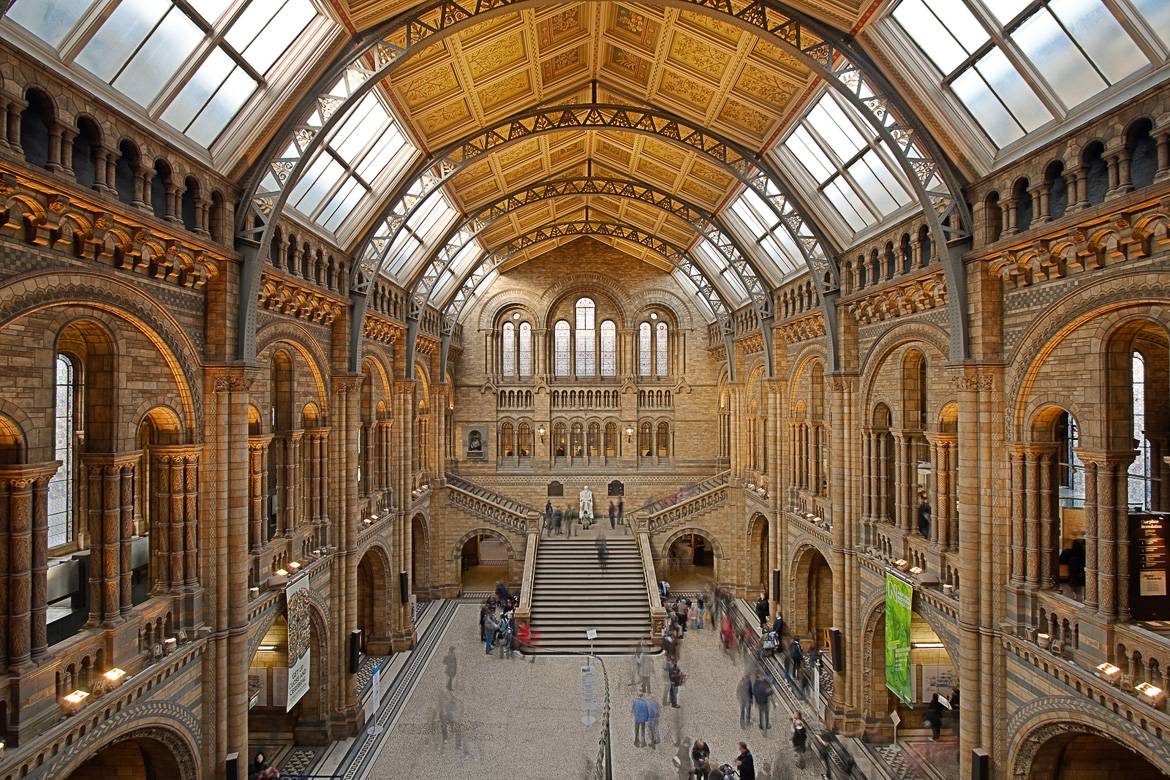 The vaulted ceilings of the Natural History Museum house one of London's most prominent galleries
London's premier gallery for exploring Earth's wonders, the Natural History Museum, boasts millions of artifacts arranged into four exhibit areas, or "zones." The Red Zone focuses on geology, with minerals, gemstones, and plate tectonics on display. The Green Zone educates guests about geology and evolution. The Blue Zone is devoted to human anatomy, the animal world, and dinosaur fossils. The Orange Zone has the Darwin Centre and Wildlife Garden. The museum is open daily between 10:00 a.m. and 5:50 p.m. and admission is free (some exceptions may apply). Ride the tube to South Kensington Station and you'll be only a few blocks from the gallery. The Natural History Museum is hugely popular with families! Here are some other suggestions for a kid-friendly London trip.
Named for the 19th-century royals, the Victoria and Albert Museum is the largest institution for decorative arts and design in the world. Thousands of years' worth of art is contained within the museum's 12.5 acres, from ceramics and furniture to jewelry and textiles. Don't miss the temporary exhibits "Disobedient Objects," which studies the relevance of art as a vehicle of social change, and "Wedding Dresses: 1775-2014," which highlights how bridal wear has changed over the centuries. The former is open until February 2015 and the latter until March 2015. The free museum is open daily from 10:00 a.m. to 5:45 p.m. and five minutes from the nearest tube at South Kensington Station (Piccadilly, Circle, and District lines).
Finish the trifecta of museums on Exhibition Road by entering the Science Museum. Inside, wander through halls dedicated to space exploration, engineering, technology, energy, and astronomy. You'll find interactive exhibits as well as full-size steam engines and airplanes. While you're there, catch an IMAX show to bring these wonders to life. Like the above museums, the Science Museum is closest to the South Kensington Tube station and does not charge an admission fee (though IMAX films and special exhibitions cost extra).
South Kensington is also home to several prominent universities. Imperial College London, frequently ranked as one of the best institutions worldwide, instructs its students in the fields of science, business, medicine, and engineering. The Royal College of Art is a leading university that produces talented graduates and sets the standard for art and design colleges around the globe. The aformentioned Royal College of Music stands as a magnificent conservatory that trains musicians and composers in the study of classical music.
Parks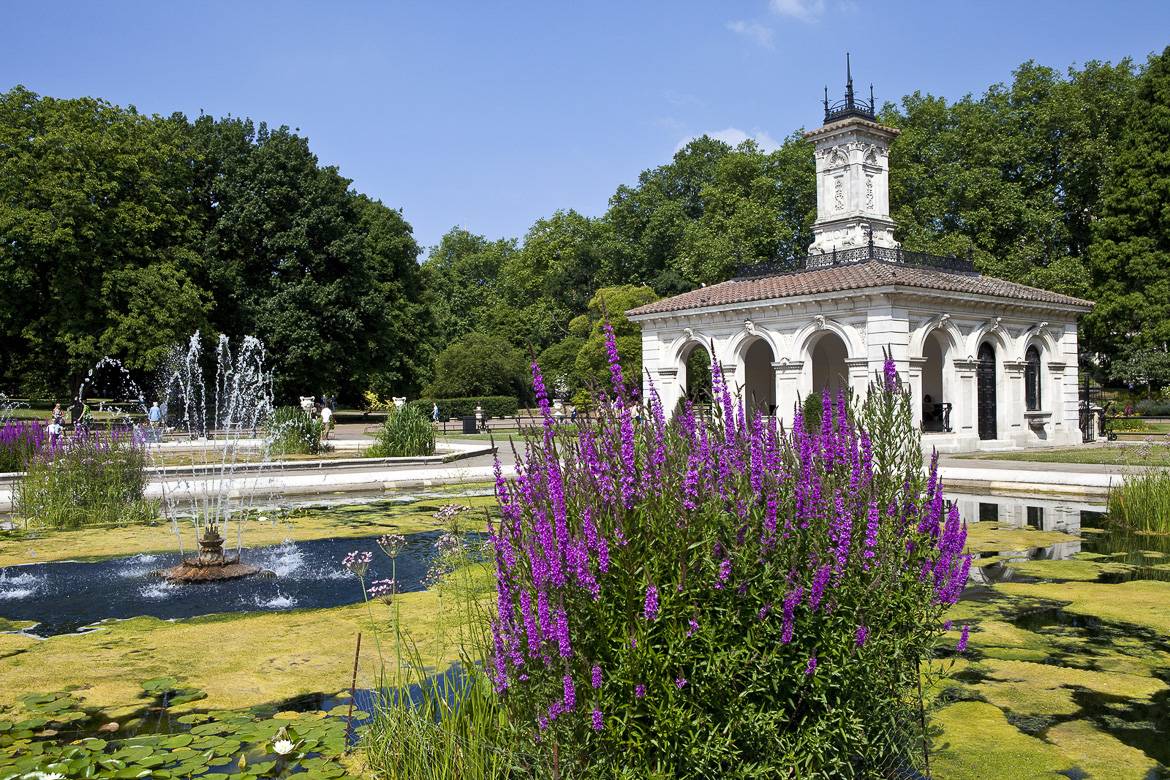 Formerly the private property of Kensington Palace, Kensington Gardens retains an aristocratic air with its exquisite fountains and abundant greenery
Kensington Gardens, one of the eight Royal Parks in London, is a lush 242-acre space sequestered from the urban hubbub. Aside from the beautifully preserved flora, the parkland is worth visiting for its attractions. The two Serpentine Galleries host seasonal exhibitions of carefully curated contemporary art, marble carvings decorate the basins of the Italian Gardens, the Diana Memorial Playground honors the spirit and compassion of the late Princess of Wales, the Orangery delights patrons with traditional afternoon tea, and Kensington Palace shows guests how the British monarchy lives. The park is open 365 days a year from 6:00 a.m. until dusk. Four Underground stations surround the gardens: Lancaster Gate & Queensway Stations on the Central line, Bayswater Station on the District line, and High Street Kensington Station on the Circle and District lines.
Add 108 acres and you'll have the size of Hyde Park, another royal parkland that's adored by Londoners. It's the sportier sibling to the easygoing and dignified Kensington Gardens, with facilities for cycling, swimming, boating, and tennis. Pay your respects at Diana Memorial Fountain and 7 July Memorial, which commemorate the lives lost in two of Britain's recent tragedies. Then, head to the social activists' stage at Speakers' Corner. Open year round from 5:00 a.m. until midnight, Hyde Park is easily accessed via Knightsbridge Tube Station (Piccadilly line), Hyde Park Corner Tube Station (Piccadilly line), Marble Arch Tube Station (Central line), and Lancaster Gate Tube Station (Central line).
Discounted apartments in South Kensington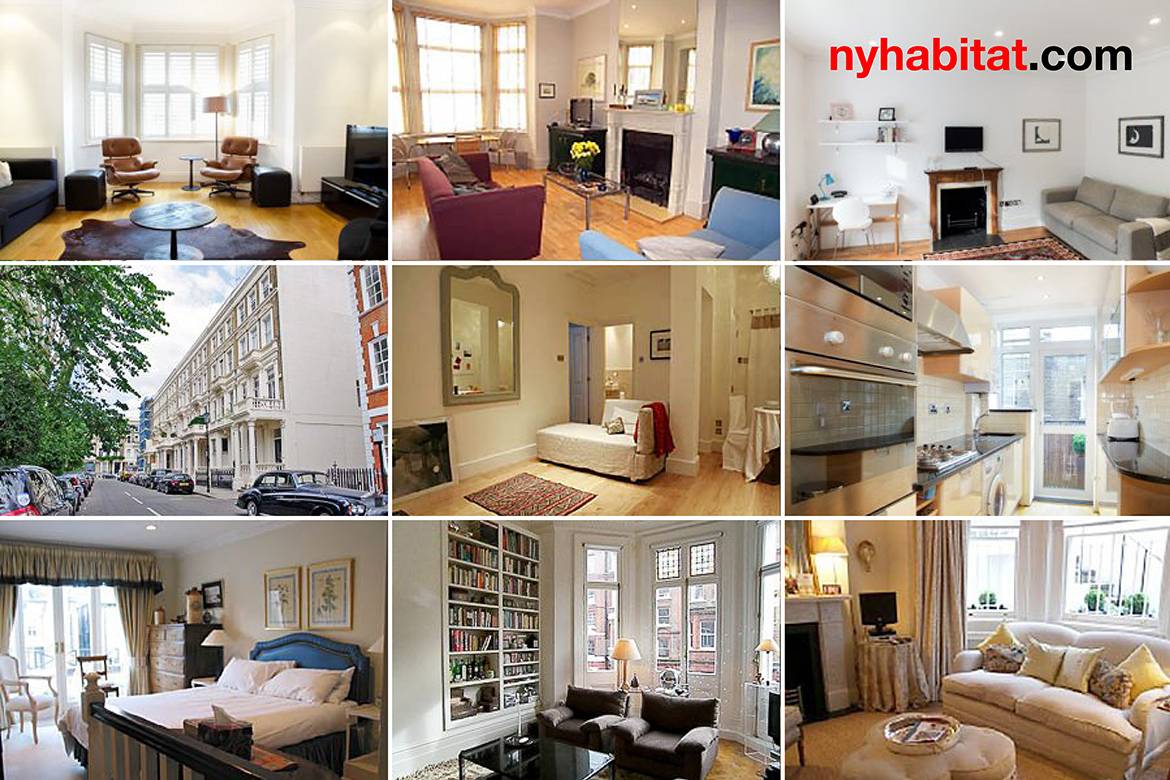 Discover our discounted vacation rentals in South Kensington
Now that we've showed you the neighborhood, take advantage of our vacation rental discounts to discover this area of London. The deal offers up to 10% off the price listed on our website and will only last until October 15, 2014, so act fast!