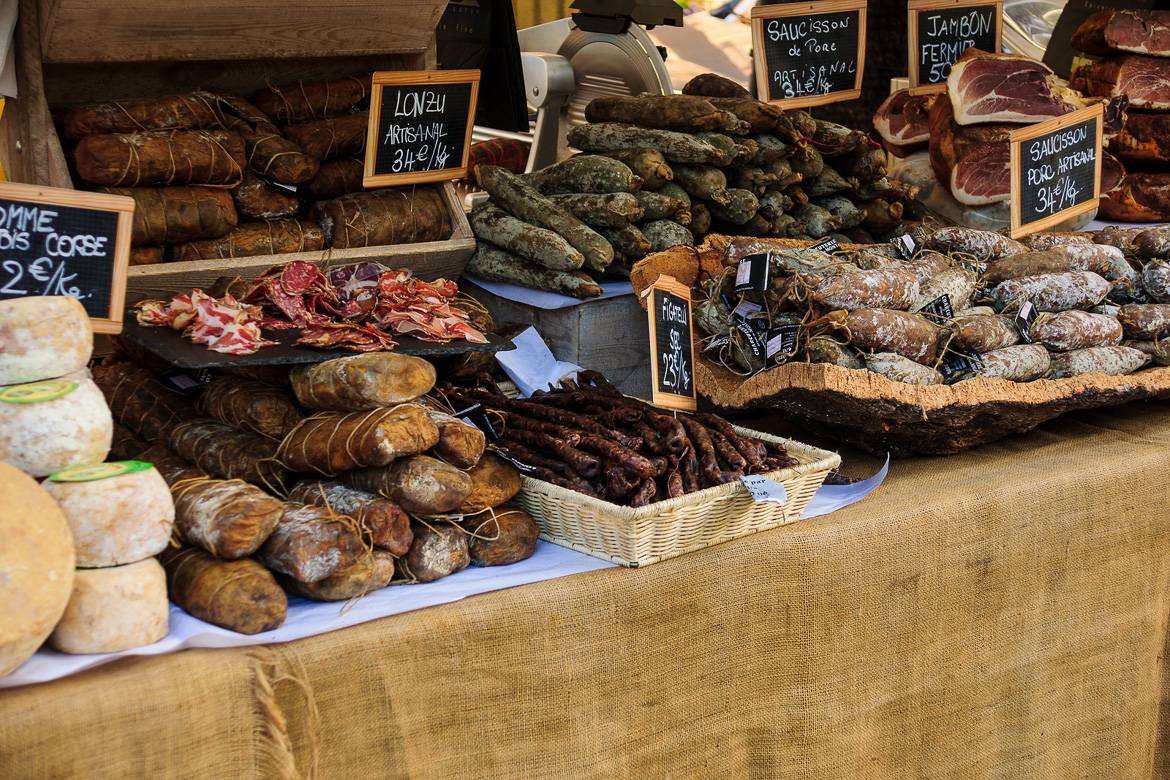 French markets offer tables piled high will all kinds of culinary delights
There's no better way to experience a new culture than through its food; a universal fact that is especially true in France! As the epicenter of all things French, Paris is not only the capital of France, but of the nation's cuisine as well. One French culinary tradition that's particularly charming for visitors is shopping for fresh goods at the outdoor marchés that line the busy streets of cities across France all year long. With our list of the best traditional markets in Paris, you're bound to find something to suit your tastes!
1. Aligre, Halle Beauvau
Famous among hip young people as a bobo (bourgeois-bohemian) market, Aligre isn't your grandmother's marché. Instead, it offers a variety of ethnic foods and unique French favorites that you can't find everywhere. This is the perfect stop if you're looking for a taste of French culture that's been adapted to the modern culinary scene. Hours start at 9:00 a.m. every day except Monday, but note that the stalls close for the déjeuner hour (from 1:00 or 1:30 to 3:30 or 4:00, depending on the day).
2. Marché Bastille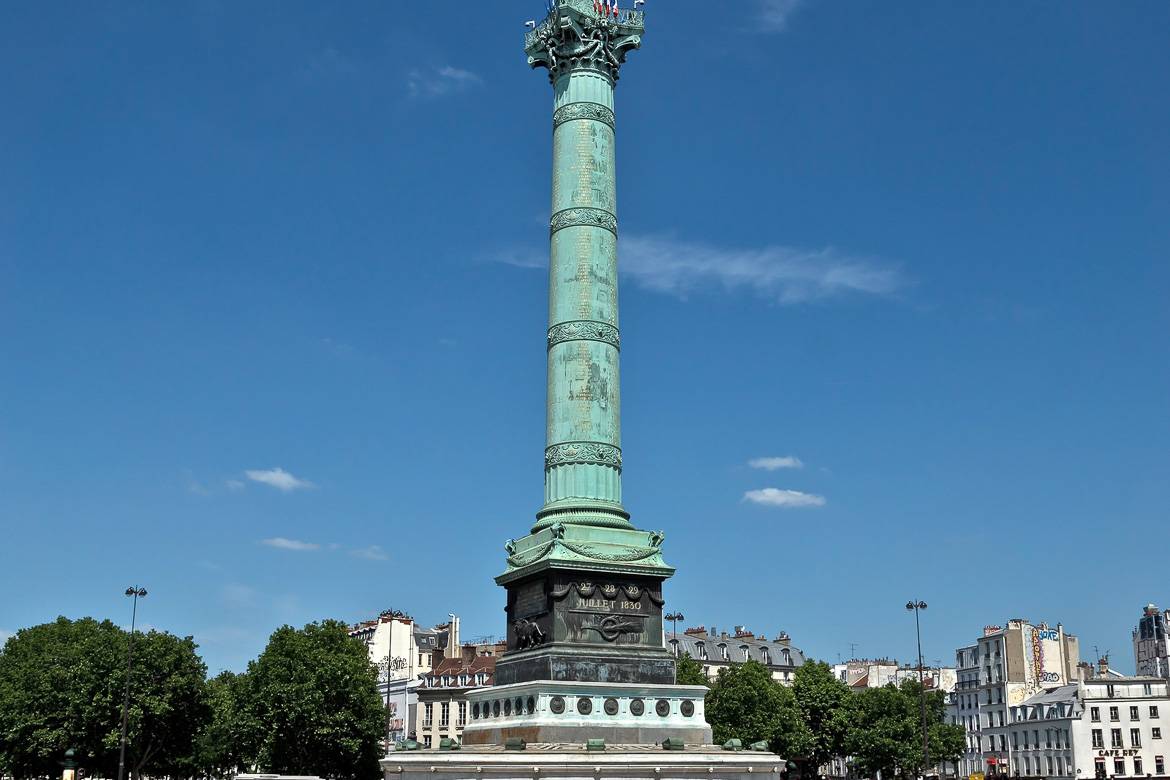 The July Column marks the patriotic core of the Place de la Bastille
Stretching along several blocks north of the historic Place de la Bastille is a market worthy of Paris's rich history and global clout. Butchers, produce vendors, and fromagers compete for your attention with the street performers and enticing falafel stands all along the green-lined stretch of Boulevard Richard Lenoir. The market is open on Thursdays and Sundays. It's best to visit on a lazy Sunday morning, but don't sleep in too late–the market is only open from 7:00 a.m. to 3:00 p.m.! You can extend your trip by enjoying all that the exciting Bastille neighborhood has to offer.
3. Rue Mouffetard
This historic market is one of the last traditional vendors in the city and is located in the Quartier Latin, the site of the Roman city of Lutetia. You can taste the history at the many different stalls along the street that offer locally-made cheeses, top-notch wines, and organic produce from across France. If you're looking for high-quality ingredients in a pinch, this market is a great choice. It's open every morning except Mondays, and exact hours vary between vendors.
4. Marché Saint-Quentin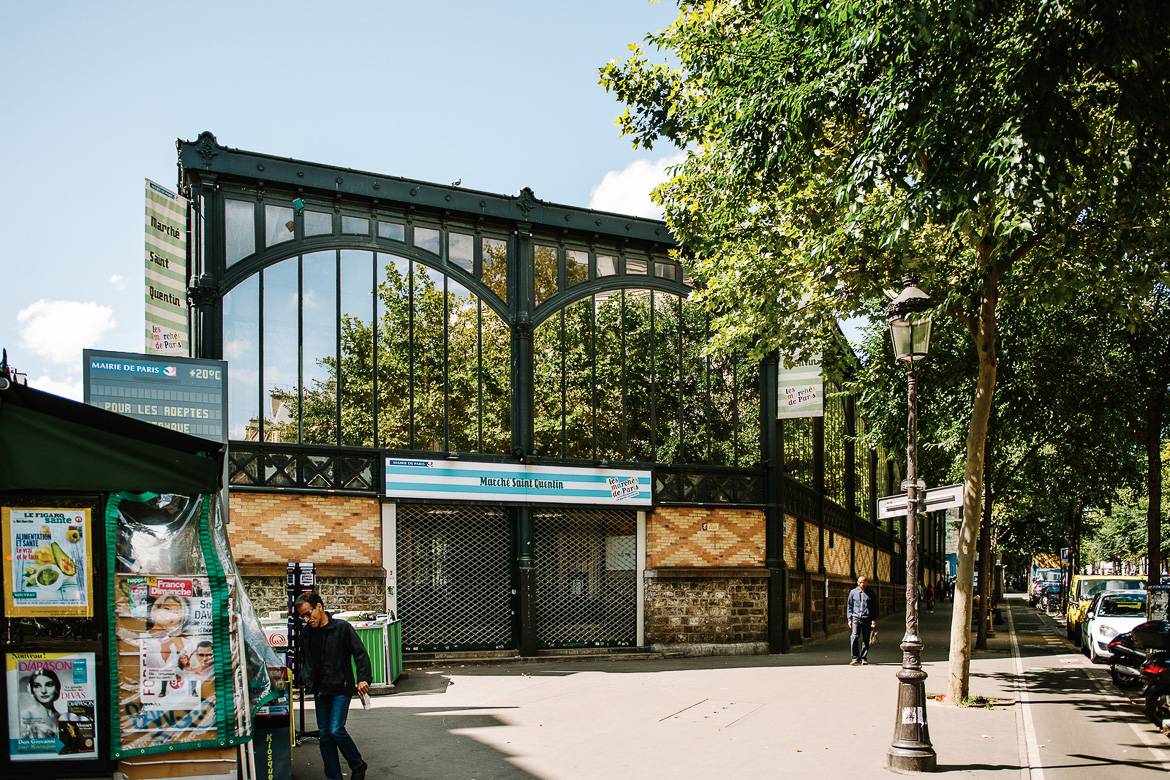 The Marché Saint-Quentin has been located in the same covered hall since the early 19th century
This market's location in one of Paris's oldest covered market halls contrasts with its modern and international flavor. You can admire the nineteenth-century glasswork while munching on snacks prepared by French immigrants from faraway places like Niger, Lebanon, and China. A perfect blend of la France profonde and modern, cosmopolitan Paris, this market is a must-see for any Paris visitor with an appetite. You can visit from 8:00 a.m. to 8:00 p.m. Tuesday thru Thursday, and from 8:00 a.m. to 1:30 p.m. on Sunday. The market is closed on Mondays.
5. Marché des Batignolles
Established in 1846 and permanently moved to its current covered market hall in 1867, this market was a favorite with Manet's impressionist circle in the area. Today the food hall serves modern organic produce and more to hungry visitors. Come to fix a picnic basket and then travel to the nearby Parc Monceau, one of our favorite Paris parks! Plan your visit on Saturday when the market is open from 9:00 a.m. to 3:00 p.m.
6. Marché des Enfants Rouges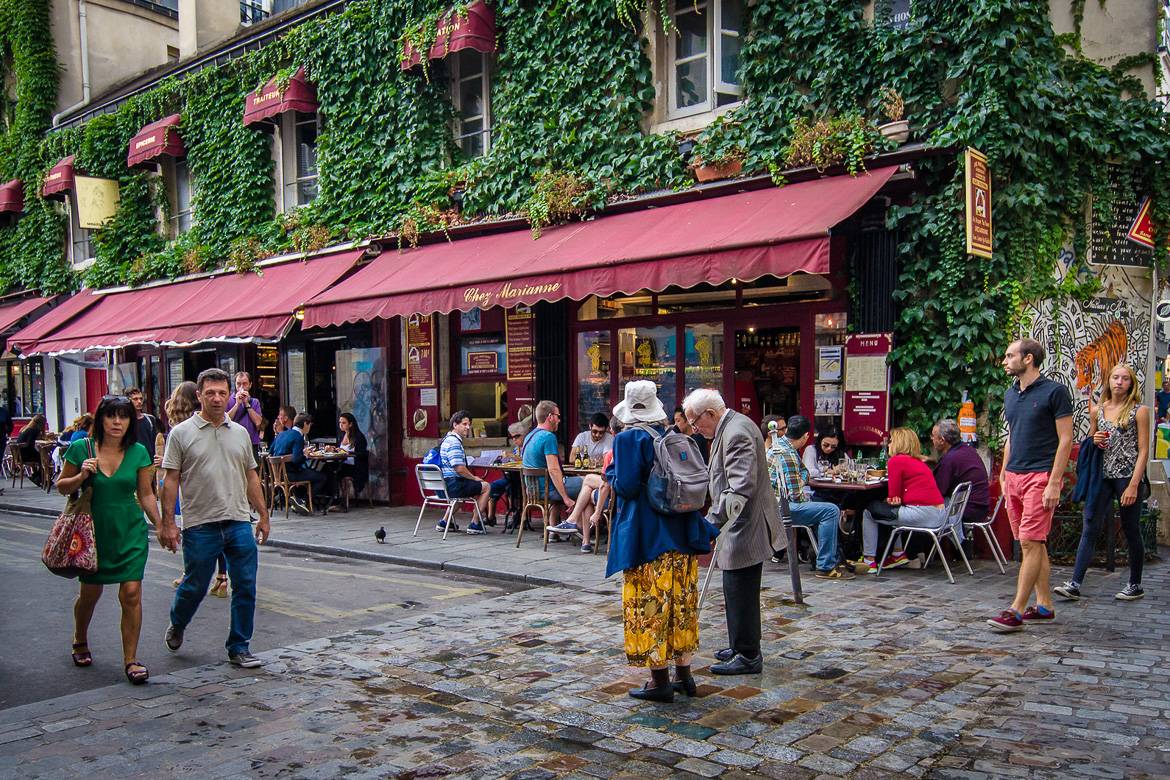 Walking through Le Marais is like a step back in time
This market has seen many updates in its nearly 400 years of operation since 1628. Its current iteration takes full advantage of the recently-renovated hall by the Square du Temple in the 3rd Arrondissement and offers multicultural eats and the best French produce. In Le Marais, one of our favorite Paris neighborhoods, there's plenty to do just blocks from the hip eateries of this food hall. The market is open Tuesday thru Saturday from 8:00 a.m. to 8:30 p.m. and Sunday from 8:30 a.m. to 5:00 p.m.
7. Marché Monge
This micro-market groups around the central fountain of the Place Monge in the Latin Quarter (5th Arrondissement) and competes with the nearby rue Mouffetard for the adoration of Left Bank locals. We have plenty of furnished vacation rentals to help you get right to the heart of the action in the popular Latin Quarter. If you're stopping by the Monge market, make sure to do so on Wednesday or Saturday, when it's open from 7:00 a.m. to 2:30 p.m., or on Sunday, when the hours are 7:00 a.m. to 3:00 p.m.
8. Marché de Noël aux Champs-Élysées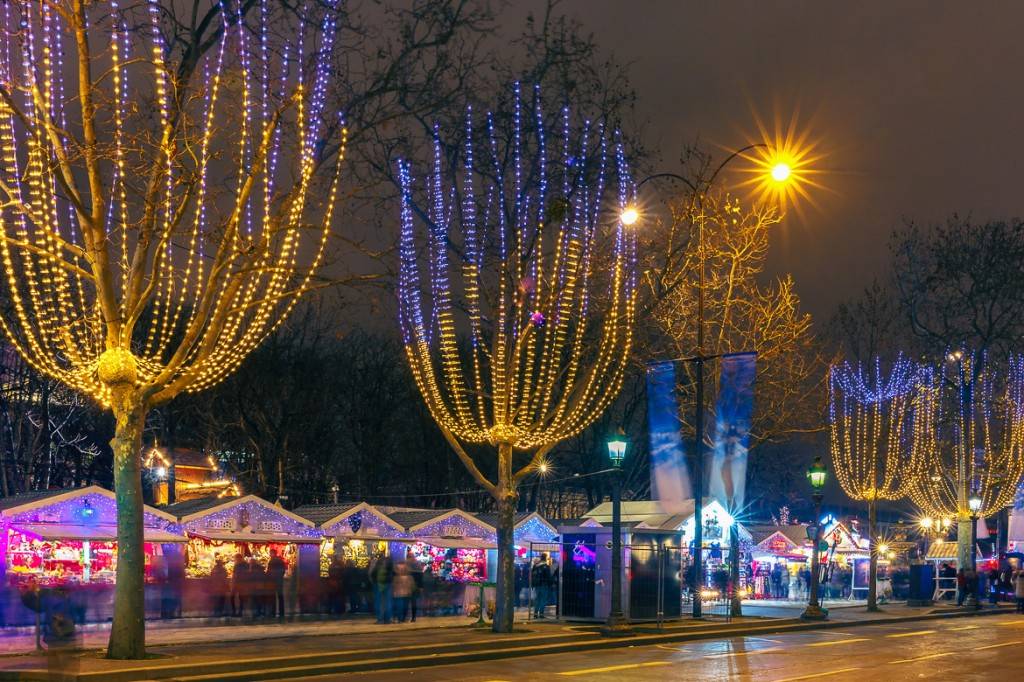 Paris comes to life as the temperature drops with the Champs-Élysées Marché de Noël
Paris is magical at Christmastime in any part of the city. However, there's nowhere better to experience French holiday cheer than at the Marché de Noël (Christmas Market), installed in November along France's most famed avenue. You'll have lots of options for warming up as the season gets cold by trying the food here, like hot wine, sauerkraut and sausage, and funnel cake. Christmas on the Champs-Élysées lasts from late November through early January, so you have plenty of time to visit!
9. Marché Montorgueil
This street market is right at the geographic center of the city, just blocks from the massive transportation hub and commercial center that occupies the former site of Les Halles' legendary market. In addition to edible offerings, there are also vibrant fresh flowers and tempting local cider available here. Montorgueil is also a popular bar district, so you can dance off your meal at one of many local nightlife spots. The market itself is only open on Thursday from 12:30 p.m. to 8:00 p.m. and Sunday from 7:00 a.m. to 3:00 p.m.
10. Marché de Rungis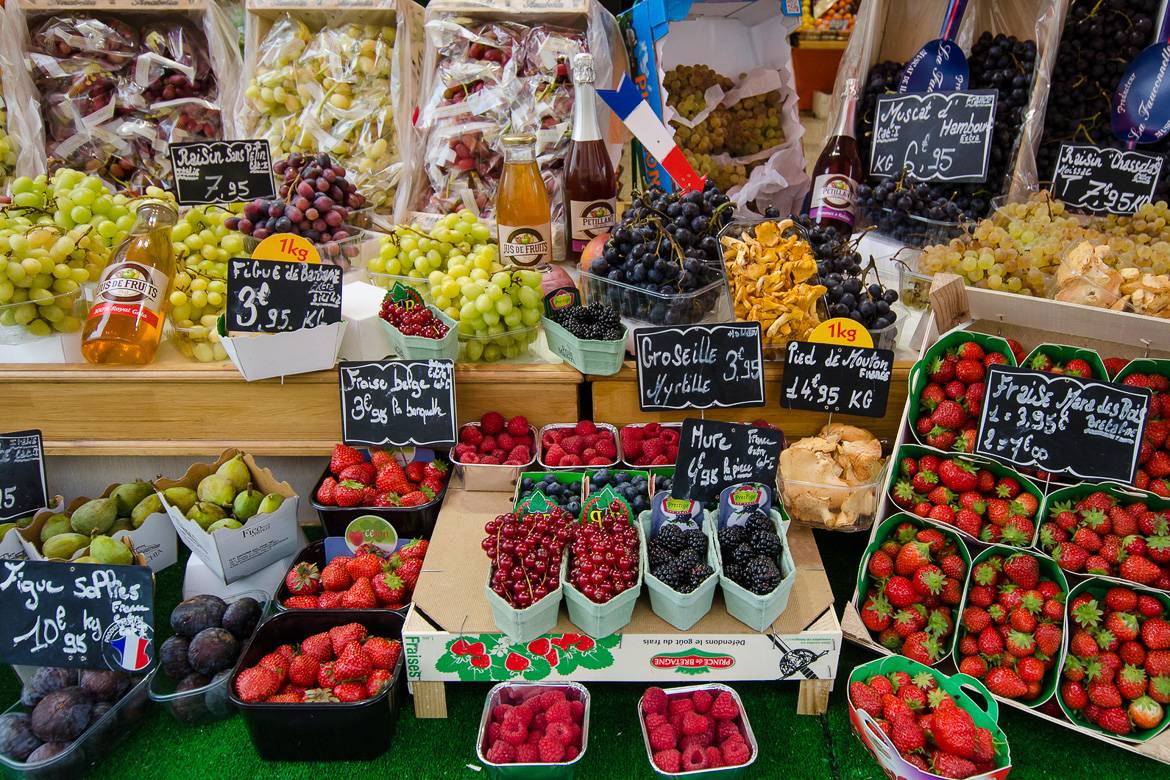 Wholesale fresh fruit, meats, and more are available in Rungis
When the famous Les Halles market of Central Paris (once the largest wholesale market in the world) was demolished in the 1970s, its vendors were relocated to an expansive site in the Parisian suburb of Rungis. Because of this, Rungis is now an international food destination. If you're serious about French cuisine, it's well worth the trip to the suburbs to visit (and make sure you have our Paris travel tips memorized beforehand). Use the online schedule to plan your visit to the massive independent departments.
After a long day exploring the city and sampling every arrondissement's cuisine, we know that you'll want a nice place to kick back and relax. That's why we have furnished rentals available throughout the city for long-term stays or short-term vacation rentals. You can find your home away from home, even if it's only for a few nights!