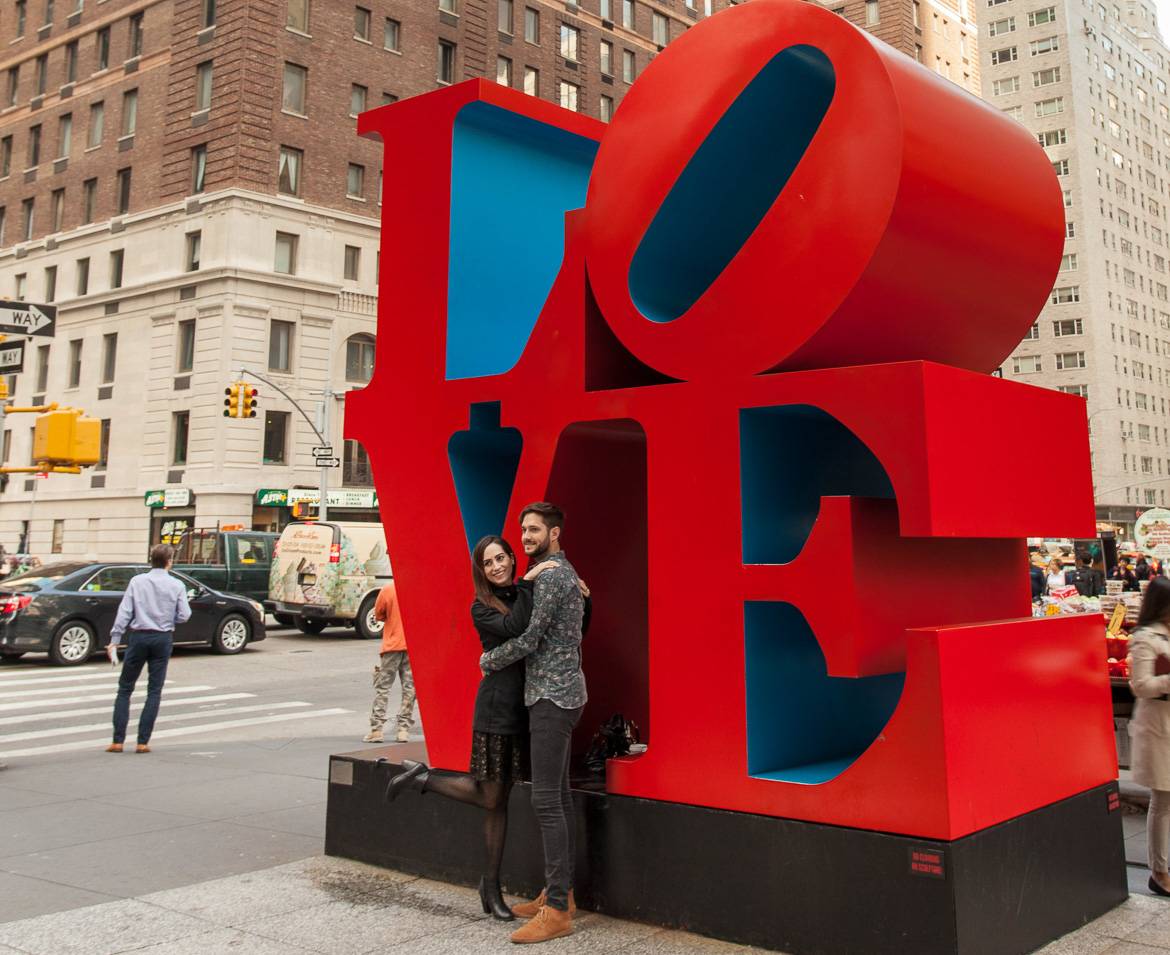 This iconic piece of pop art is located in Midtown West in New York City.
Nothing compares to spending a romantic evening or getaway with your significant other in New York City, whether you've been to the Big Apple before or are experiencing the magic for the first time. If it's for a first date, an anniversary, or even a marriage proposal, keep reading to find out our top 10 romantic activities in New York. Before you start planning your itinerary, ensure that you have a place to stay by checking out our apartments for a romantic getaway to New York!
1. Central Park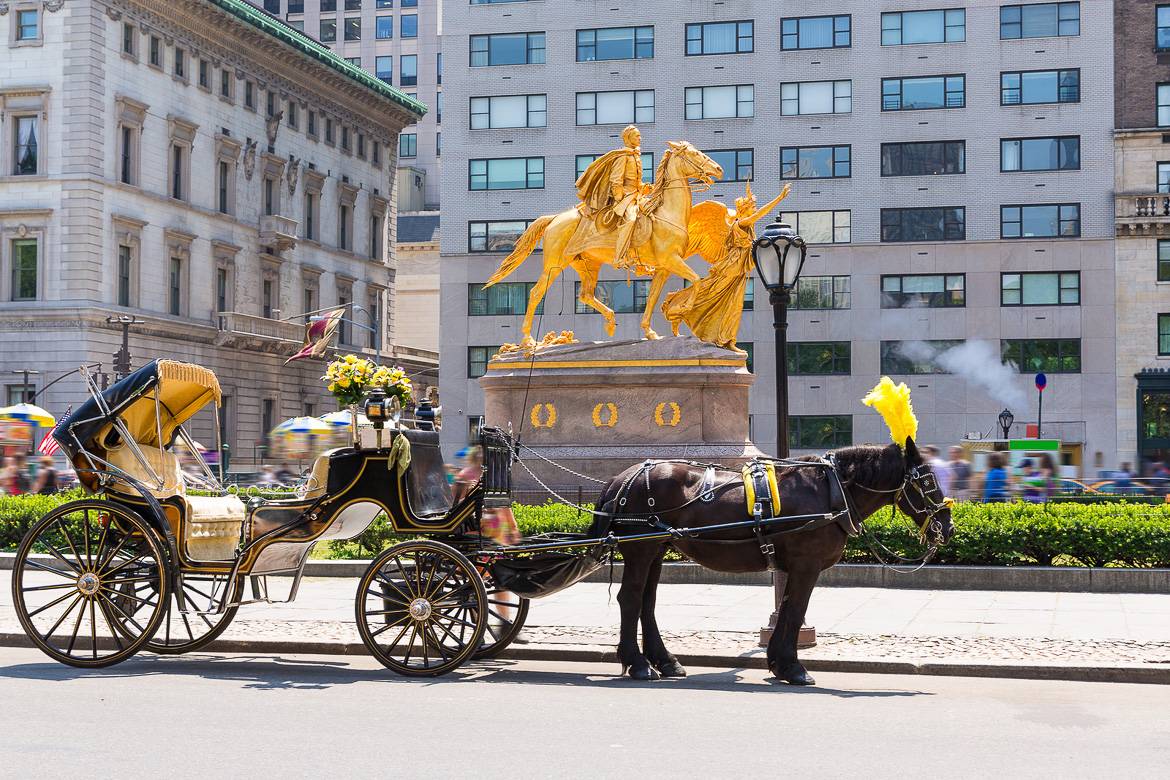 Surprise your date with a romantic horse and carriage ride through Central Park!
Central Park is the most visited urban park in the United States, and one of the most filmed locations in the world. There's plenty to do and see with your date on the 843 acres of land here! Start your night with dinner at the Boathouse Café, which overlooks The Lake and Bow Bridge, one of the most beautiful views of the park. This restaurant provides tranquility for brunch, lunch, and dinner. Visit the restaurant's website to view its hours of operation and to book reservations.
Follow dinner with a classic boat or gondola ride! Row boats are $15 per hour (cash only), and $4 for every additional 15 minutes, along with a $20 cash deposit. Life jackets are provided, and each boat can accommodate up to four people. If you don't want to row, Venetian gondola tours are also available with host Andres Garcia. A gondola can accommodate up to six people, and can be reserved for $45 per half hour.
Finish the night with a romantic horse and carriage ride around Central Park. You can pre-arrange the ride and surprise your date with flowers or chocolate. Customized rides start at $155 for 45 minutes and can be booked on the Central Park website. Central Park is magical all year round; click here to explore Central Park throughout the seasons! Don't forget to book your vacation rental before you arrive to avoid unneeded stress.
2. Brooklyn Botanic Garden
It's easy to forget you're still in New York City when you're surrounded by beautiful flowers and strolling through a garden with your significant other. Start your tour of Brooklyn Botanic Garden by taking a leisurely stroll through the Cherry Esplanade, a field filled with oh-so-stunning East Asian cherry trees. During cherry blossom season at the end of April, these trees burst into bloom and culminate at the annual Cherry Blossom Festival.
After, head to the Fragrance Garden, which was designed for the sight-impaired. Visitors are encouraged to get close to the flowers in the garden, so smell and touch as you please! You also can't miss the exotic plant pavilions, where you'll tower over the small Japanese Bonsai trees and aquatic plants. If you visit on a colder day, be sure to see the desert pavilion, a wonderful southwest desert recreation filled with cacti and wildflowers. The Tropical Pavilion is also great for warming up quickly!
As an added romantic touch, there's the Rose Garden, where you can purchase a bouquet from the Garden Shop for your date. The Brooklyn Botanic Garden is open Tuesday thru Friday from 8:00 a.m. to 6:00 p.m.; Saturday thru Sunday from 10:00 a.m. to 6:00 p.m.; and it's closed on Mondays. Admission fees are $12 for adults, $6 for seniors, $6 for students, and children under 12 are free. If you're interested in learning more about the garden, check out our guide all about the Brooklyn Botanic Garden.
3. Cooking classes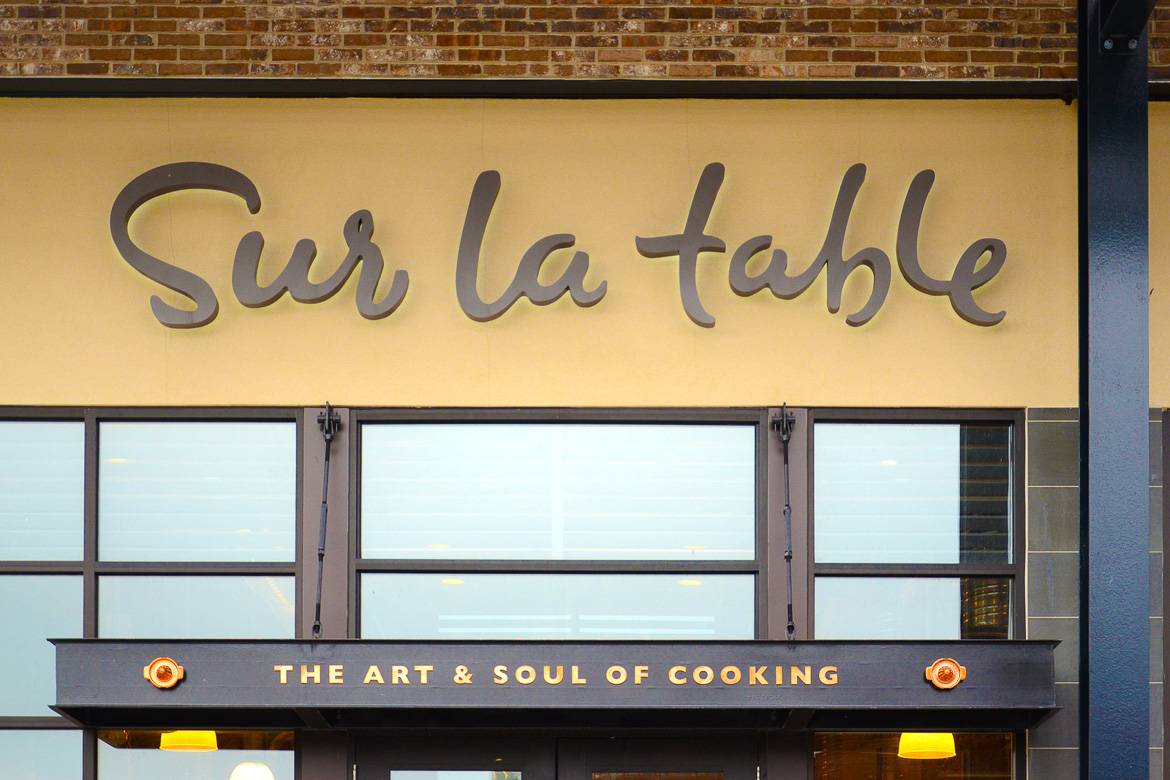 Instead of going to a restaurant for dinner, learn how to prepare a delicious meal together at Sur la Table.
What could be more romantic than a dinner for two? How about learning how to make that spectacular dinner yourselves with some cooking classes? Cooking classes at Sur La Table are available Monday thru Sunday starting at 10:00 a.m., with the last class of the day at 7:00 p.m. Classes are about 2.5 hours long, held in professional kitchens, and led by experienced chefs. After you've sampled your delicious creations, you'll receive a 10% off coupon to use in their store the day of the class.
There are two types of classes available: hands-on and demonstration. In the hands-on class, students participate in the entire process and help prepare the menu items. In the demonstration class, students observe while chefs explain and show the preparation. Regardless of what class you choose, spaces fill up quickly, so book in advance on the Sur La Table website. Learn how to make a delicious meal at one of these classes, then you can go home to your vacation rental and take advantage of the fully-equipped kitchen! You and your date will be able to spend some alone time in the comfort of your vacation rental while preparing a romantic meal for two. Sur La Table is located on 306 West 57th Street in Hell's Kitchen. Once you're done with your class, be sure to explore the area and see how locals live in Hell's Kitchen.
If you prefer baking, try Gelato Mia! At this high-end New York culinary institute, you'll learn artisanal gelato-making secrets. You'll learn about the origins of gelato making, get to make some yourself, and take some home at the end of the day. Classes are $120 per person or $199 for two, meaning it was designed for date night. If gelato isn't your thing, just sign up for one of their baking classes instead. You'll learn how to make a traditional Hungarian kurtosh pastry (more famously known as a 'chimney cake'). These classes are $120 per person or $240 for two people. Both types of classes fill up fast, so book as soon as you can!
4. The Champagne Bar and The Palm Court at The Plaza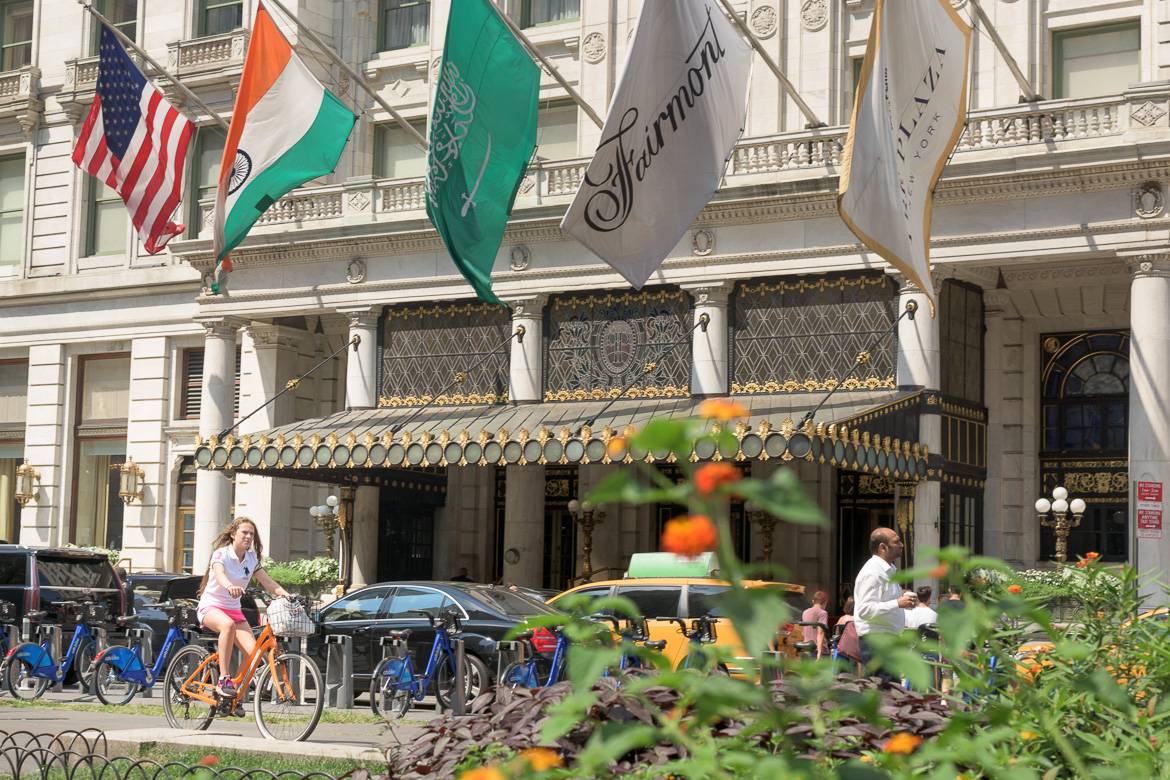 Enjoy some divine champagne, caviar, pastries, and more at The Plaza.
The Plaza is luxurious for lunch, brunch, or tea. This landmark, with all its traditions, décor, and elegance, is located in Midtown Manhattan. The opulent Champagne Bar lets you enjoy the view over 5th Avenue and the Pulitzer Fountain during the day or at night. You can also celebrate your magical night here with the world's best champagne, caviar, and wines. If you prefer to visit during the day, you can treat yourself to some fresh-baked pastries, specialty coffee, and enjoy some light gourmet fare.
You can also dine at The Palm Court at The Plaza. You'll be mesmerized by its historic stained glass, high ceilings, and ample flora. The Palm Court is open daily for breakfast and afternoon tea, and for snacks and cocktails in the evenings. The area around the plaza has tons of great shopping, from boutiques to department stores (click here to find out more!). The atmosphere of elegance and luxury will make the night with your date unforgettable. Walk around the Plaza and enjoy the sophistication, style, and grace of this timeless place, and maybe you'll see Eloise!
5. River Café
If you want to get out of Manhattan, The River Café in Brooklyn is guaranteed to be a good decision. Once you pass through the door and walk over a short footbridge, you'll be in an elegant floating dining room, surrounded by flowers and music by a live pianist. You'll experience spectacular views of Lower Manhattan, perfect mood lighting over your table, friendly staff, and a delicious meal. If you're a fan of the floating dining room, be sure to check out Brooklyn's floating concert hall. Reservations for The River Café are recommended and jackets are required for men after 5:00 p.m. Check out our Brooklyn vacation rentals to experience the rest of Brooklyn! The River Café is open for brunch, lunch, dinner, and dessert, and there is a fixed price for each menu.
6. You Should Be Dancing NYC
Have you ever wanted to learn how to dance, or learn a particular style of dance? Now's your chance to grab your dance partner and prepare for a romantic night of learning to dance together! You Should Be Dancing has a variety of packages and specials to fit your needs. Dance styles include ballroom, east coast swing, argentine tango, hustle, belly dancing, salsa, and more. Choose from private lesson packages or group classes and dance your socks off! Group classes start at various times and have different levels of difficulty to fit your needs. The dance studio is located on the 4th floor of 412 8th Avenue in Chelsea. The best way to experience Chelsea is by living like a local!
7. Top of the Empire State Building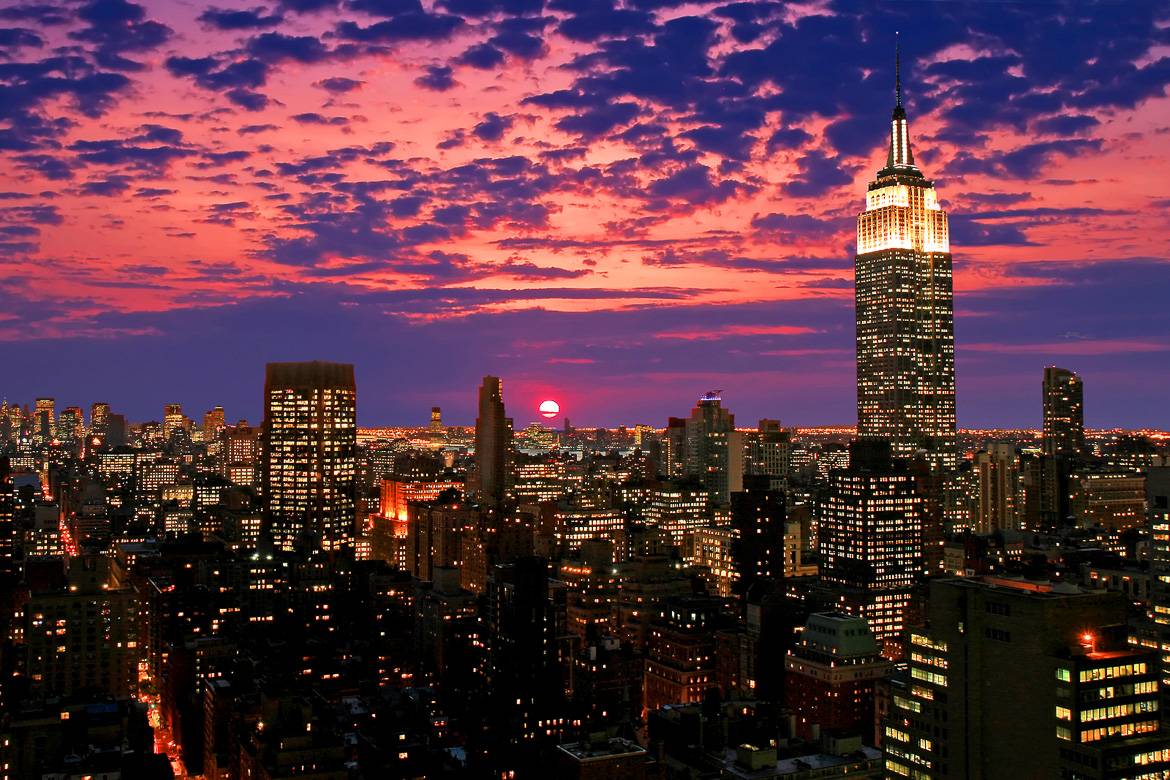 Want unbeatable views of New York City? Ascend to the top of the Empire State Building!
The most romantic building in all of NYC might be the Empire State Building. When the clock strikes midnight, the long lines dwindle and the twinkling lights of NYC appear. The top of the Empire State Building is no stranger to romantic scenes, such as those in An Affair to Remember and Sleepless in Seattle. The platform is the perfect setting for a proposal, a romantic ending to the perfect night, or just staring out over the city and enjoying the view. The last elevator goes to the top at 1:15 a.m., and everything closes at 2:00 a.m. Don't forget to buy your tickets in advance, as you'll save time getting to the top. Want to know more about this iconic building? Check out our guide to visiting the Empire State Building. Don't forget to book your vacation rental nearby to shorten the midnight walk home.
8. S-Cruise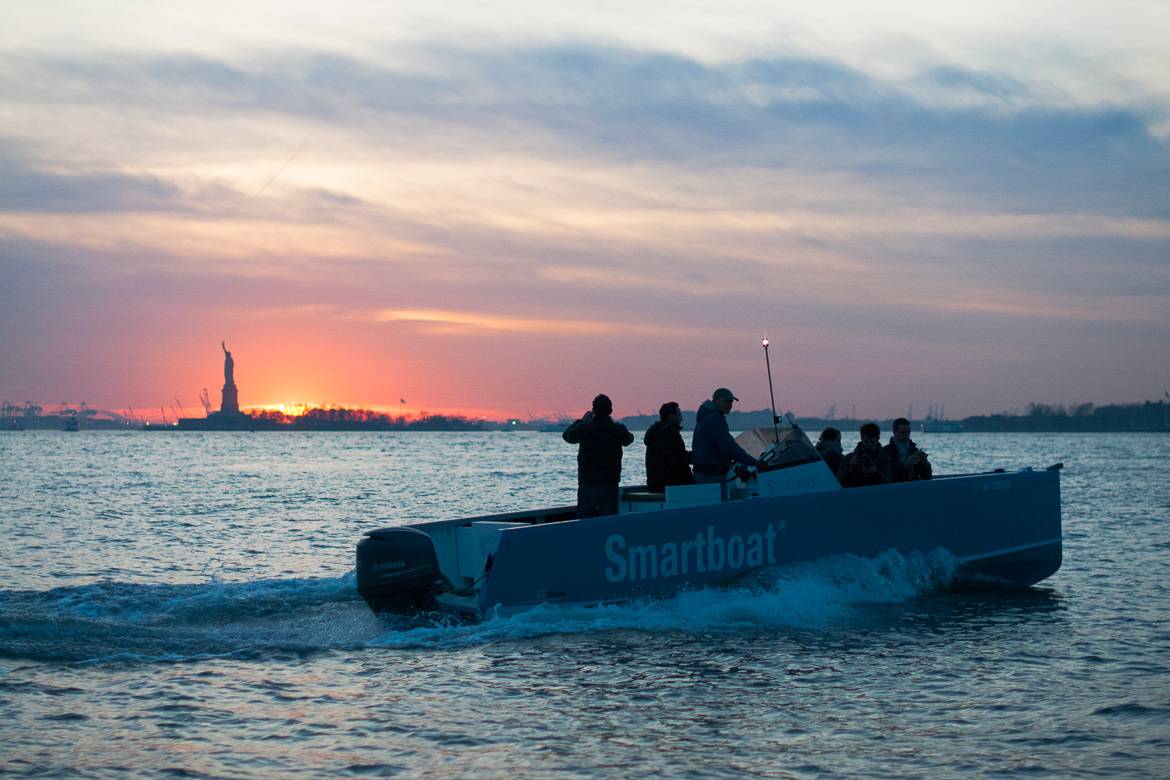 Design your own private cruise and sail around famous landmarks together.
There's nothing romantic about a crowded ferry ride, but you can plan a picture perfect S-Cruise private cruise instead. S-Cruise offers a variety of cruises, such as a breakfast cruise, a sunset cruise, a night cruise, or a special cruise. You'll glide on water in the Smartboat 23, a European design inspired by a sailboat. The S-Cruise has a maximum capacity of four people, guaranteeing privacy for the perfect romantic date. The cruise is fully customizable, so you can decide whether you want to speed on the water at 25 mph or enjoy a slow and quiet cruise. Regardless of what you choose, you and your date will leave Tribeca Pier 25 for a 90-minute cruise around the Statue of Liberty, Governor's Island, and the Brooklyn Bridge. Learn more about some of the bridges in the area before you go. With the exception of the breakfast cruise, all cruises offer soda and water, and you can bring your own food and drinks (but no alcoholic beverages are allowed). The day cruise includes a full breakfast with fresh orange juice, coffee, and croissants.
Prices for cruises start at $320, but luckily for you, we have a special New York Habitat coupon for our clients! Use the coupon code NYCH0702 and you will receive a $15 discount.
9. PaintNite
Let your creative juices flow and sip some cocktails with your special someone. At PaintNite, two hours will give you artist tips and tricks and guide you through painting to create your very own masterpiece. The best part is that no experience is necessary, and PaintNite supplies everything you need! Check online to see when PaintNite will be hosting an event near you, and which piece of artwork you'll learn how to recreate. Most pieces range from an easy to moderate level, and tickets for each event are $65. In addition to creating your own lovely piece of artwork, you and your partner will have tons of memories and a hands-on date like no other! When you complete your masterpiece, you'll probably be a little hungry, so check out our top 10 pizza spots in New York City.
Please note that drinks are not included in the ticket price, but can be purchased from the restaurant/pub hosting the event. Outside food and drinks are not allowed, and the event is strictly for those 21 and over.

10. Serendipity 3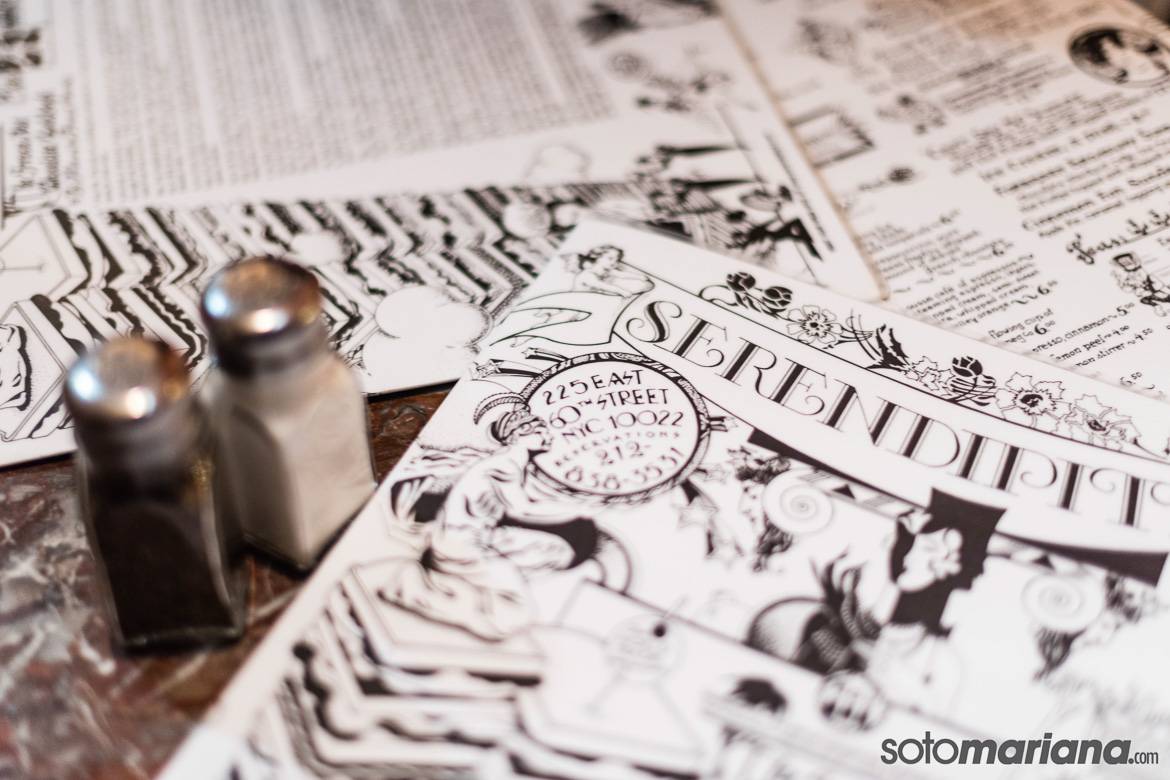 Enjoy each other's company over a dessert or two at Serendipity 3.
Do you and your date have a sweet tooth? Look no further then Serendipity 3, a restaurant located at 225 East 60th Street between 2nd and 3rd Avenues. Serendipity 3 serves a variety of brunch, lunch, and dinner foods, but they are best known for their desserts. Their Frrrozen Hot Chocolate is one of their most popular frozen drinks, so much so that it's said that Jackie Kennedy tried to buy the recipe from founder Stephen Bruce. Meet for dessert and share a Frrrozen Hot Chocolate, or choose from one of their many sundaes, and it'll almost be like you're recreating the movie Serendipity. The charming and authentic décor inside will be sure to add to the special, romantic evening. Once you've dined at Serendipity 3, see how to live like a local in an Upper East Side apartment.
These romantic date night activities are sure to lead to a night to remember in NYC. If you try any of them, be sure to share your experience in the comments below!