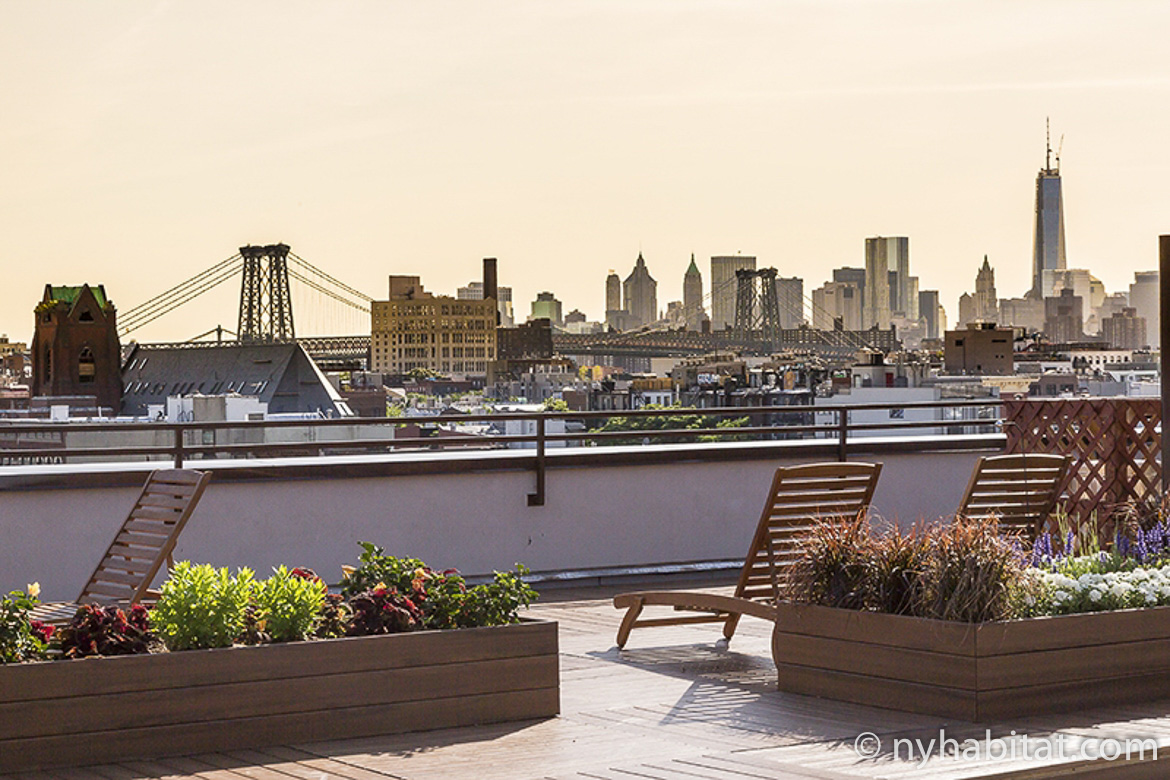 Brooklyn is home to live music of all genres, so get out and discover a new artist or venue!
No city compares to NYC when it comes to enjoying live music, be it at a bar, a concert venue, or a café. There are countless places to hear some music while you enjoy some drinks or dance the night away. Before you head out on the town, keep reading to find out our top apartment picks for live music lovers!
Two-bedroom loft-style apartment near Saint Vitus – Greenpoint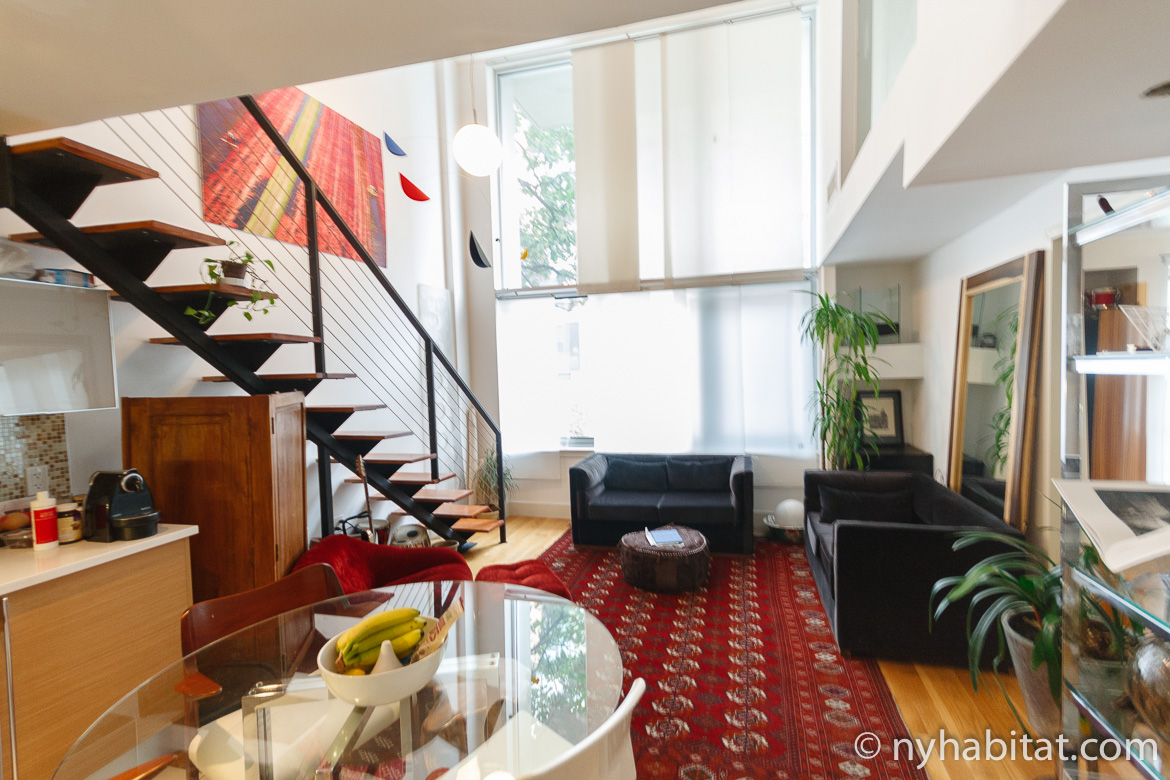 Are you a fan of heavy metal? This furnished rental is less than a mile from Saint Vitus.
This two-bedroom is anything but run-of-the-mill! High ceilings, oversized windows, and modern appliances add charm to this loft-style two-bedroom apartment. Located on the second floor of a modern building that features a security system, this two-bedroom, one-bathroom furnished rental can accommodate two adults and one child.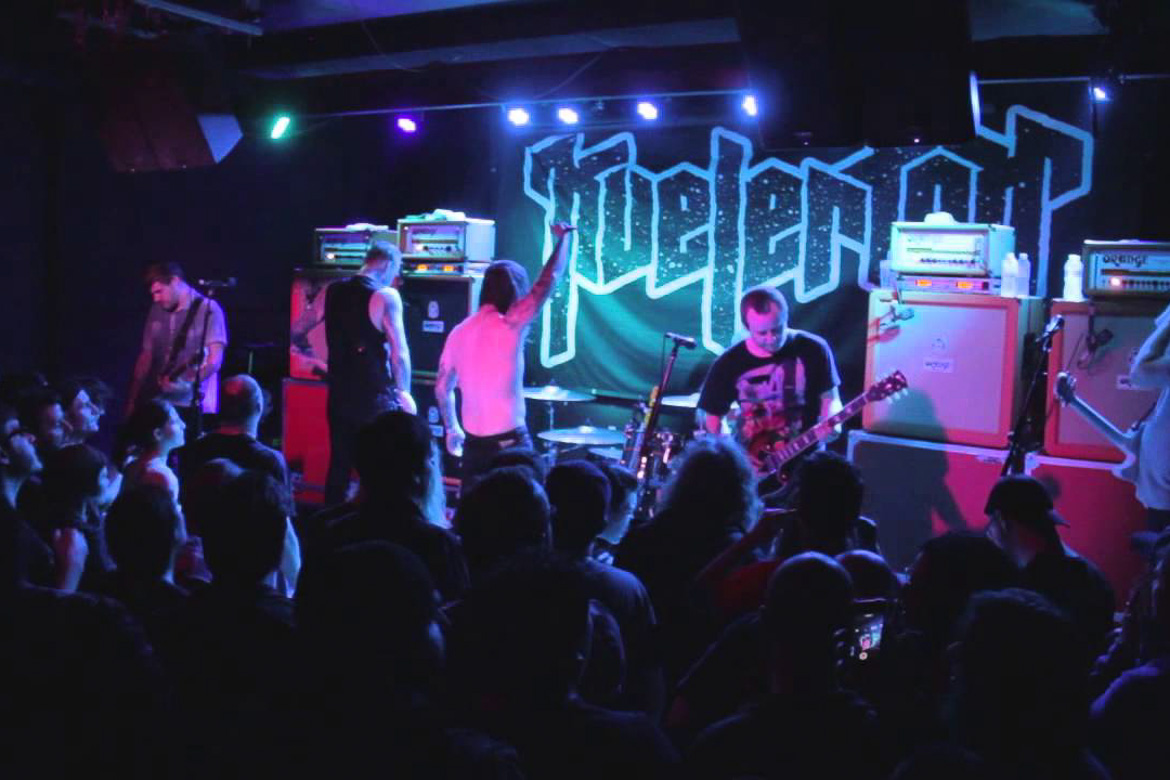 Saint Vitus will have you rocking all night long!
With this apartment's location at Java Street and West Street, you'll be just 0.6 miles (1.0 km) from Saint Vitus, a bar and music venue well known for its hardcore atmosphere and secret shows from the likes of Nirvana and Joan Jett. Apart from Saint Vitus, Greenpoint offers plenty of other bars and music venues, not to mention authentic Polish cuisine and even a farmer's market at the Eagle Street Rooftop Farm!
Shared apartment near Brooklyn Bowl – Williamsburg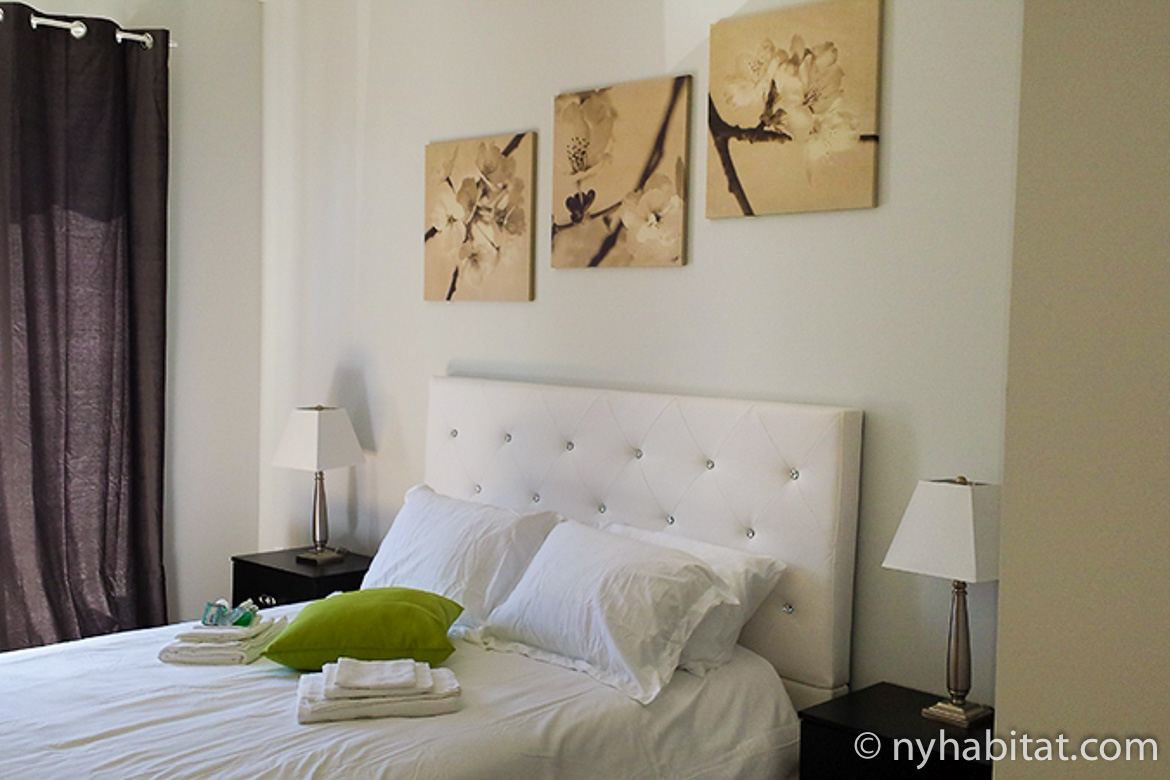 This furnished apartment is located in a luxury mid-rise building with a screening room and a rooftop terrace!
Renting a room in a shared apartment is a great way to get to know the locals, which is perfect for students or interns interested in communal living. This apartment share in a luxury mid-rise building offers amenities such as a rooftop terrace, laundry services, a state-of-the-art lounge, a screening room, and a fitness center. Each of the bedrooms is furnished with a double bed, an air conditioning unit, and large windows. Located at Driggs Avenue and North 9th Street, the music venue, bowling alley, and restaurant Brooklyn Bowl is just 0.4 miles (700 meters) away! Brooklyn Bowl features a variety of musical acts and was named the 20th-best music club in America by Rolling Stone magazine in 2013. The bars also only serve draught beers brewed within Brooklyn. If you're up for more than just a beer after the show, don't worry–Williamsburg offers plenty of bars, restaurants, shops, and more!
Room for rent in a shared apartment close to Silent Barn – Bushwick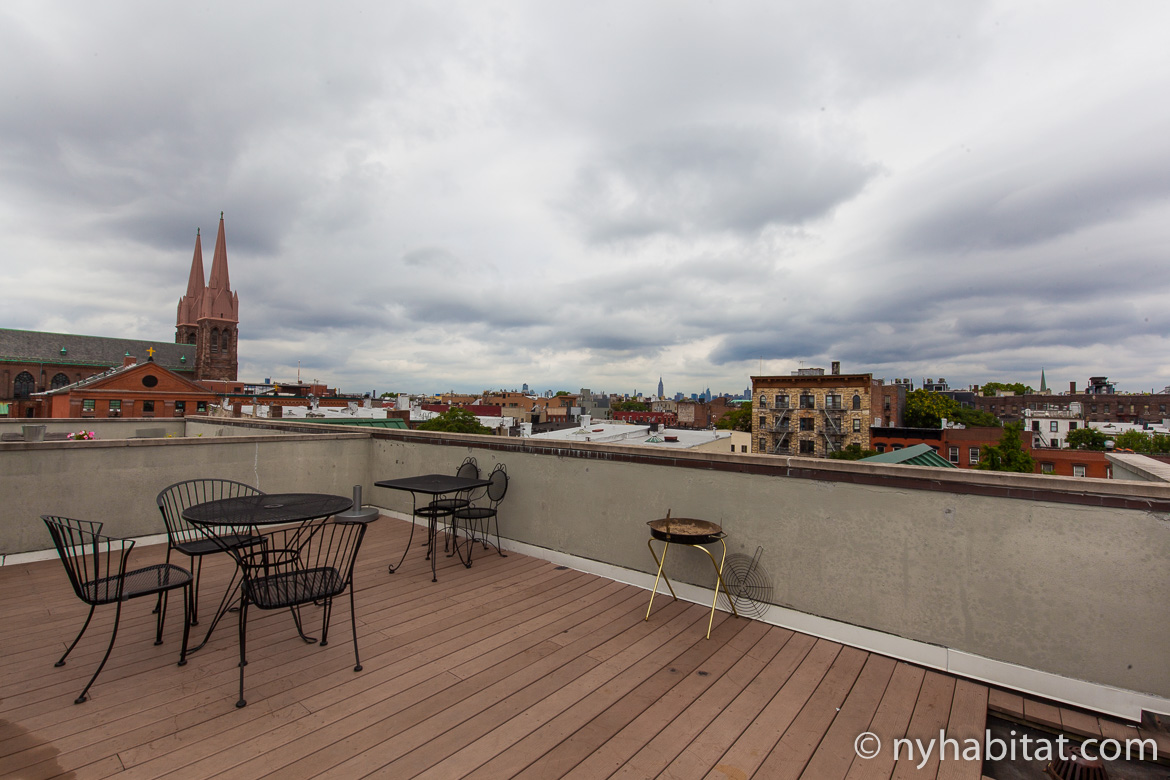 Before heading out to your favorite venue, watch the sun set over Bushwick on the terrace!
This room for rent on the fourth floor of a townhouse is perfectly situated in Bushwick. You'll have a private bedroom and share the common spaces of the apartment such as the kitchen, the living room, and the bathroom. Wall-to-wall windows and a coffee table with pull-out ottomans add character to the living room, while the bedroom offers a double-sized bed and plenty of storage space. You'll have access to the terrace (pictured above), which is the perfect spot to relax after listening to some live music in Bushwick! The apartment can be found at Johnson Avenue & Humboldt Street, just 0.8 miles (1.3 km) from Silent Barn, a self-described "auto-didactic cooperative performance space." Characteristic of the DIY vibe in Bushwick and beyond, there's never a dull moment at this venue! This quickly gentrifying neighborhood offers plenty of bars, bodegas, and galleries, perfect for creative types and the young-at-heart.
Rooms for rent in a shared apartment near Baby's All Right – Williamsburg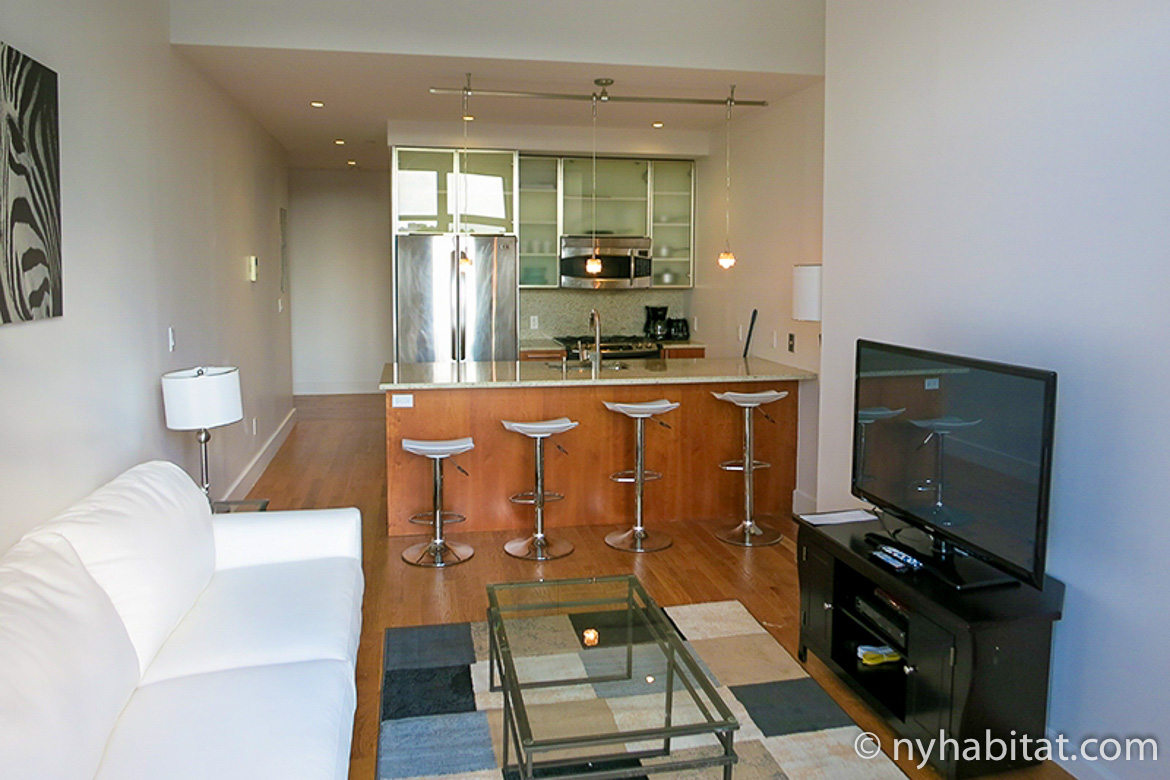 This apartment in Williamsburg will give you access to plenty of shops, bars, and music venues!
Located in another of our apartments in the hip, trendy Williamsburg, these three private rooms include access to the luxury building's private terrace, rooftop deck, lounge, and gym! This modern apartment offers queen-size beds, air conditioning, and large windows to let in plenty of natural light. Found near the intersection of Hope Street and Keap Street (just 0.7 miles or 1.1 km away), Baby's All Right is your typical Williamsburg bar and music venue, with great food, delicious cocktails, and an amazing sound system. This ultra-trendy neighborhood is great for the younger crowd, as it combines food, drinks, music, and street art.
Three-bedroom apartment share close to Bed-Vyne Brew – Bedford-Stuyvesant
Spend your day strolling around Bed-Stuy or relaxing on this terrace, and spend your evening listening to some live music nearby!
Welcome to Bedford-Stuyvesant, a neighborhood of well-preserved brownstones and modern luxury developments like this furnished apartment share at Decatur Street and Sumner Avenue. Although this is a shared apartment, as a tenant you will have your own private entrance to the apartment and a private bathroom as well as access to the shared balcony, garden, and lounge. The private bedroom for two features rich mahogany floors, a double-sized bed, and floor-to-ceiling windows.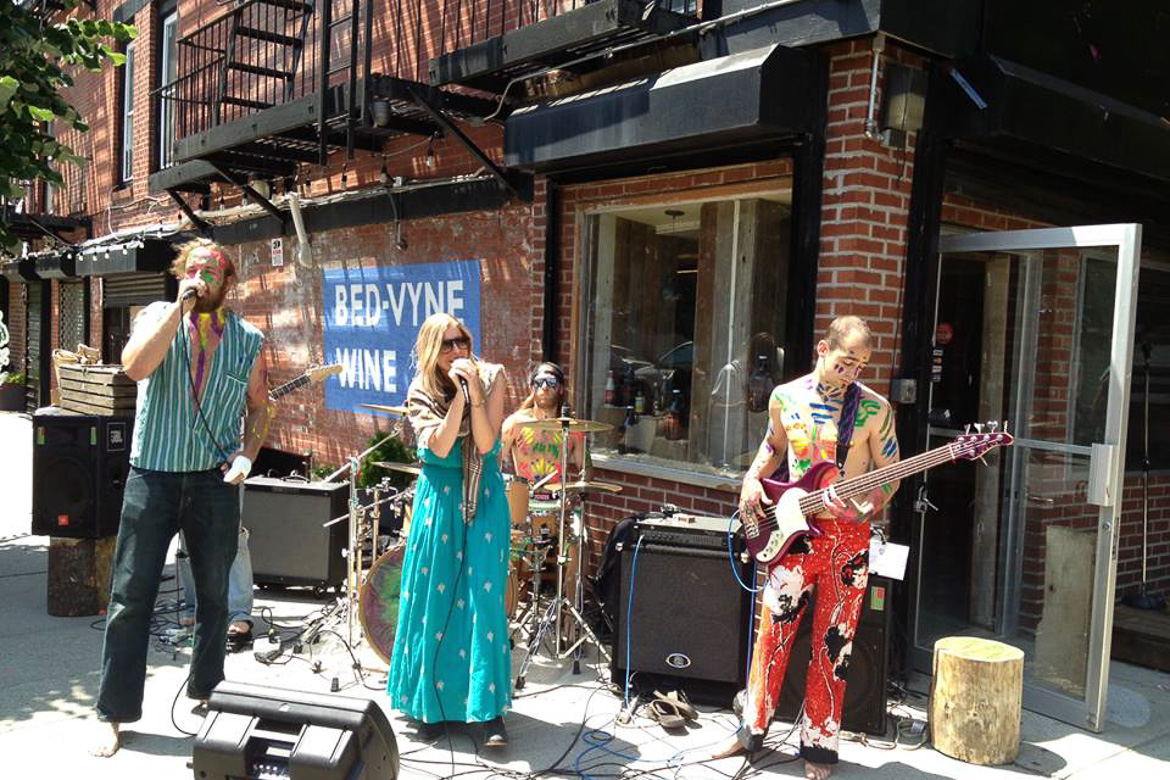 When the weather's nice, listen to some live music outside of Bed-Vyne Brew!
Just 0.6 miles (950m) away, you'll find Bed-Vyne Brew, a bar and music venue offering 10 varieties of hand-crafted draught beer in pints and growlers and a wide range of other brews and cocktails. In addition to live music, they showcase many DJs, so take a look at the lineup and pick a night to check it out! Even if live music isn't your jam, this historic and artsy neighborhood gives you plenty to do, from visiting Fulton Park to vintage clothes shopping, and everything in between.
Brooklyn is home to some of the best music venues around, so wherever you end up staying, you're bound to find a local favorite. Whether your go-to spots are on this list or not, these apartments are the perfect places to stay. Be sure to let us know about your favorite music venues in the comments!