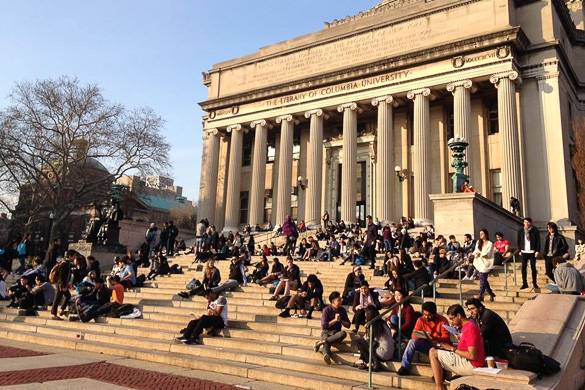 Live just steps away from your University in New York City!
It's an enriching experience to be able to study in one of the most exciting cities on earth: New York City! But unlike in a small college town, some university students who are already tired and pressed for time will also spend hours commuting to and from class each day on buses and subways. Additionally, if you're not a native New Yorker, you don't need the added stress of navigating public transportation to get to school on the first day– there will be plenty of time during the semester to explore NYC using its transit system.
That's why a carefully chosen and affordable furnished rental near your college is an ideal way to avoid hassle and save time in your busy student schedule while enjoying a homier environment than a university dorm.
1. Columbia University – Morningside Heights, Manhattan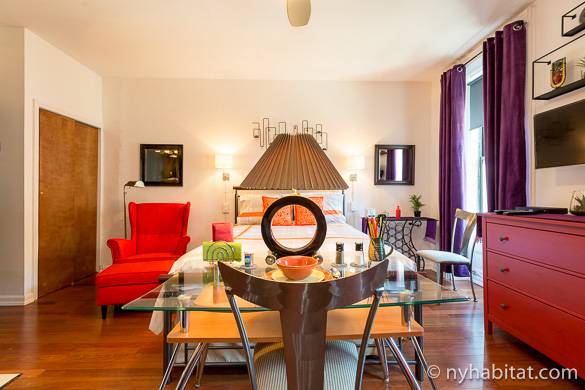 This colorful studio matches the excitement of Harlem.
This furnished studio in Harlem is right on the eastern side of beautiful Morningside Park, which borders the Columbia University campus. On top of its ideal location, this studio has everything a student needs and more: internet access, an intercom system for safety, an open kitchen, and even a flat-screen cable TV for relaxing during study breaks. This doesn't even mention the queen-size bed, which sure beats a twin-size dorm mattress! For a night out, head a few blocks uptown to the culturally-rich 125th Street, Harlem's main thoroughfare, for some soul food, or hop on the subway at 125th Street station to explore any other part of the city!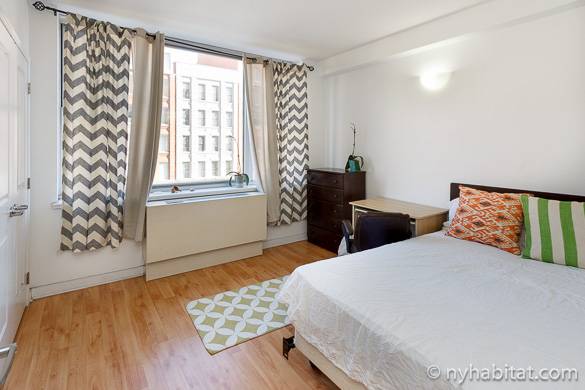 Find your focus at the work desk in this bright bedroom.
If you're looking for a private room in a shared apartment, this roommate share is also within walking distance of Columbia University. This rental offers the utmost comfort and convenience for a student, with hardwood floors, a desk for doing schoolwork, an elevator, on-site laundry, and a shared kitchen with a dishwasher. Not only does this rental sit a few blocks west of Morningside Park and Columbia University, but Harlem's historic 125th Street is to the north, Marcus Garvey Park is to the east, and only a few blocks south is Central Park! You are also within walking distance of one of New York City's "micro-neighborhoods," Le Petit Sénégal, or Little Senegal, where you can explore authentic international shops and cuisine.
2. New York University – Greenwich Village, Manhattan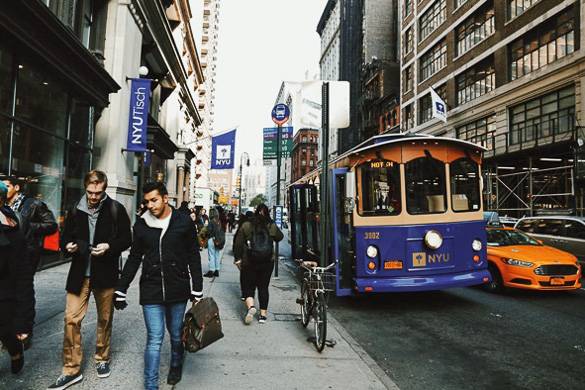 The NYU campus spans across Greenwich Village.
Check out this walk-up roommate share in the East Village that offers a choice between two bedrooms. The smaller bedroom has a double bed, two dressers, and a flat-screen cable television. The larger bedroom includes a small office alcove with desk in the large walk-in closet, allowing you to complete schoolwork in peace. You can reach the NYU campus on foot and pass the area's cafes, bistros, landmarks, subway stations, and nightlife along the way.
While you're in the area you can visit The Bitter End, where legends and current icons like Billy Joel, Bob Dylan, and Lady Gaga have performed, or see a show at the off-Broadway Orpheum Theater. Art lovers won't want to miss the contemporary art at the New Museum, which has discounted admission for students and pay-what-you-wish admission on Thursday evenings. Additionally, this apartment is not far from the Apple store, in case something goes awry with your computer right before finals or if you just want to upgrade your electronics!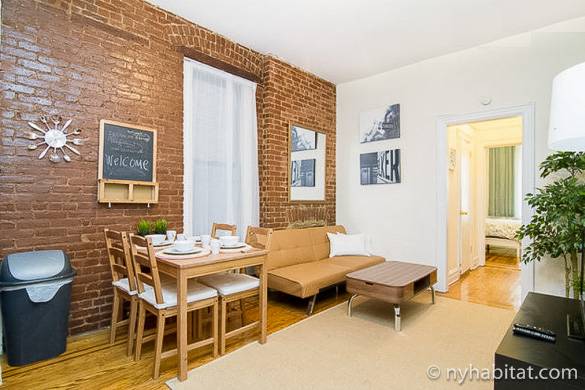 Feel like a true New Yorker with exposed-brick walls in your apartment!
This two-bedroom apartment is perfect for an NYU student who wants to save some money by living with one or two friends or classmates. The building has a security system and even offers a regular cleaning service! The Union Square location is perfect for both work and play. You can find assigned or recreational reading at the famous Strand Bookstore or the large Barnes & Noble. There is also a Trader Joe's supermarket within walking distance. You are blocks away from St. Mark's Place and the surrounding area, where you can visit interesting shops and taste great Asian cuisine like the ramen at the much-adored Ippudo!
3. Pratt Institute (Brooklyn Campus) – Clinton Hill, Brooklyn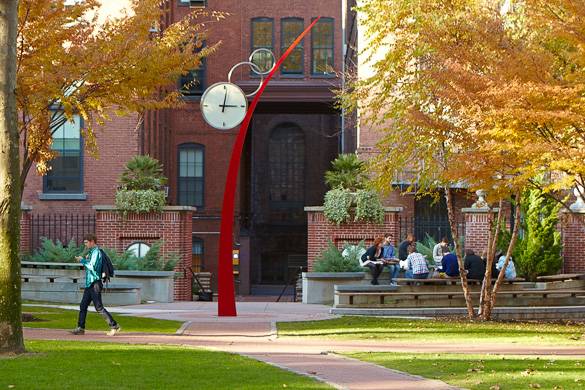 Get inspired by the Pratt campus's unique public art and green spaces!
If you are looking for an amazing deal, this room for rent in Bedford-Stuyvesant is perfect for you! Not only are these elegantly furnished rooms conveniently located just a short walk from the Pratt campus, but the rental is well within a student budget, leaving you plenty of leftover money for books and weekend fun! There are nearby shops, restaurants, and the Marcy Branch of the Brooklyn Public Library within walking distance. Head north to the hip neighborhood of Williamsburg to study in a cozy coffee shop or spend an exciting night out!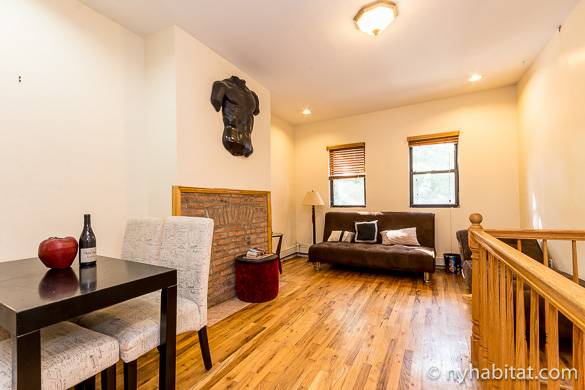 Picture sharing a meal with friends at this dining table!
If you will be studying at Pratt Institute, this two-bedroom duplex apartment in Clinton Hill is perfect for renting with friends or classmates. A dining table in the living room is a convenient place to catch up on schoolwork or host some of your classmates for a meal prepared in the open kitchen! You can even pick up some fresh fruits and veggies on Saturdays from the farmer's market at the southeast end of Fort Greene Park.
4. Hunter College, City University of New York – Upper East Side, Manhattan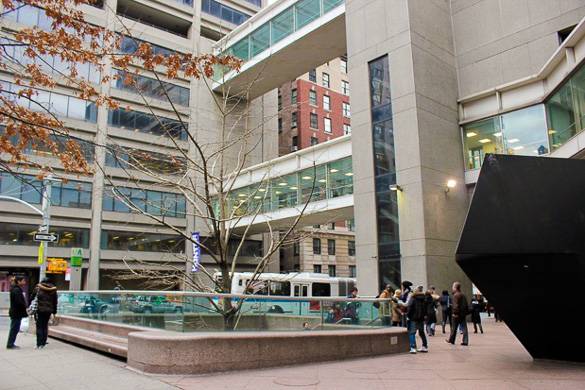 The Hunter College campus is modern and integrated with the city.
You'll be just a short distance from Hunter College with this charming room for rent in a shared apartment. The whimsical decorations and furnishings will make you feel like you are in a cozy home away from home. There are plenty of restaurants and cafes just around the corner, as well as bars for students 21 and up. On a nice day, take a walk over to Central Park to study or relax. Take a longer stroll or hop on one of the nearby subways to head uptown to the Museum Mile and enrich your education with art and history in museums such as the Metropolitan Museum of Art.
Enjoy the Upper East Side in a functional, stylish studio.
This studio with modern furnishings places you right in the affluent Upper East Side! This apartment accepts two renters and has a double bed, perfect for couples. An eat-in-kitchen allows you to save cash by making home-cooked meals and a security system provides extra safety. Amazing views are just a few blocks away at the East River Waterfront Esplanade or on the tram to Roosevelt Island. Check out some of the stellar reviews this rental has received!
5. City College, City University of New York – Hamilton Heights, Manhattan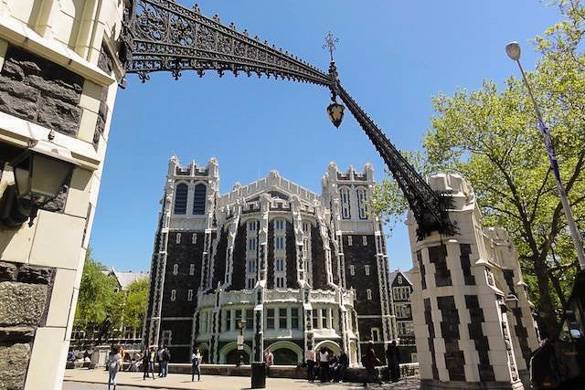 City College's Shepard Hall adds architectural flair to the surrounding campus.
A pleasant two-bedroom rental in cultureally-rich Central Harlem is just a short walk away from the CCNY campus. This apartment sleeps up to four people, making it another great rental for sharing. The apartment has a separate kitchen and living room where you can eat meals or spend free time with roommates and guests. Subway stations are conveniently located at 125th and 135th Streets. And with Harlem and Morningside Heights just down the street, there will never be a shortage of things to do in the area!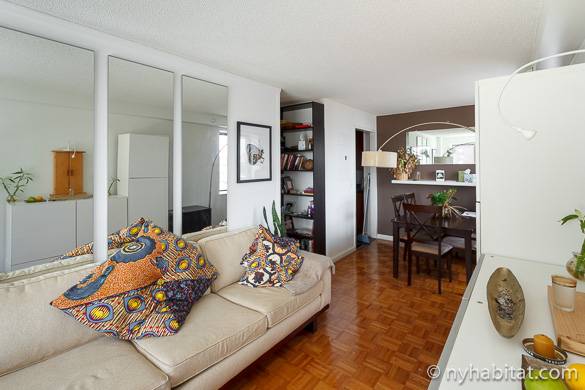 Parquet floors and classy décor set the ambiance in this apartment share's common room.
This room for rent in a shared apartment is located in a luxurious building with a 24-hour doorman, fitness center, recreation room, and even a landscaped garden. The location also cannot be beat; the rental is a few blocks away from a subway station and right on the eastern side of St. Nicholas Park, which borders the City College campus. There are also pharmacies and grocery stores within walking distance. Check out Abyssinia Ethiopian Restaurant right down the block for an authentic dining experience and vegetarian options! Make sure to visit Hamilton Grange National Memorial, the preserved home of United States founding father Alexander Hamilton located in St. Nicholas Park, as well as everything else that Hamilton Heights has to offer!
Explore even more rental options to find an apartment that is just right for you! Once you have found your perfect fit, you can begin looking forward to all of the fantastic things New York City has to offer for college students, such as free activities and cozy coffee shops.