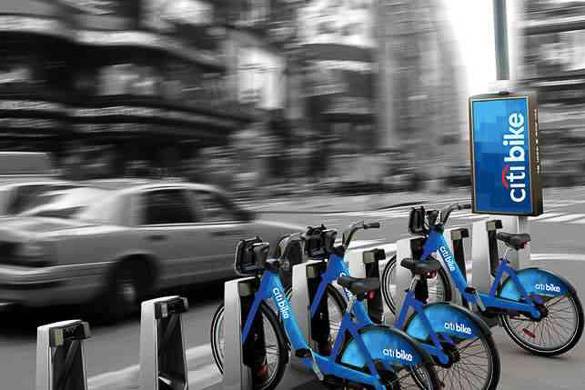 Citi Bike lets you tour NYC with ease thanks to their bike share program.
Urban commuters, fitness enthusiasts and casual tourists are taking advantage of NYC's expanding network of bike lanes. It's now easier than ever to commute to work or school or take a leisurely tour of New York City in an environmentally-friendly and healthy way. Wherever your cycling takes you, you can find a great furnished rental from New York Habitat along the way!
Citi Bike, New York City's bike sharing system, provides New Yorkers and visitors with an added transportation option around NYC. You can rent a bike from any docking station in the network around the city at any time. There are 24-hour and 7-day passes, as well as annual memberships for those who are always on the go.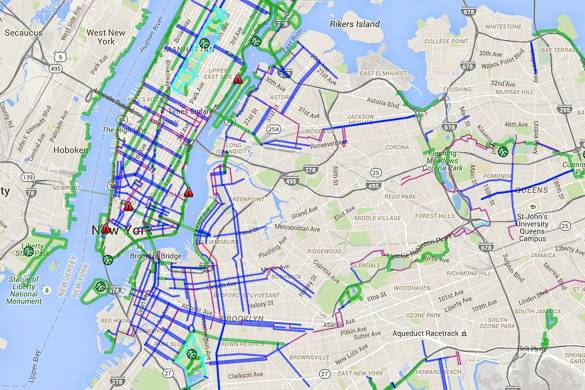 Manhattan is filled with bike paths, bike lanes & greenways.
1. Two-bedroom apartment in Bedford-Stuyvesant (Rental ID: NY-15298)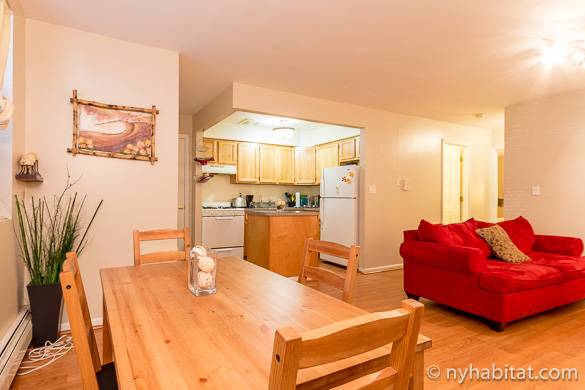 Cook at home in this two-bedroom apartment in Bed-Stuy.
This two-bedroom furnished rental in Bedford-Stuyvesant, Brooklyn is great for a family or a group of friends who want a home convenient for NYC cycling. Grab a bike from the Citi Bike station at Putnam and Nostrand Avenues and go cycling in Prospect Park (1.3mi/2.1km away). Bike to the weekly farmer's market (open through November 11th) at Marcy Plaza, then cycle back home and prepare your farmer's market finds in the apartment's open kitchen. From the living room to the kitchen, the open layout is perfect for entertaining friends or gathering to dine at the dining table for four. If you're an architecture buff, there are endless buildings to admire throughout the city. Start right in your new neighborhood by traversing the Bedford-Stuyvesant Historical District on your bike!
If you prefer to exercise indoors, this two-bedroom, two-bath roommate share apartment in Downtown Brooklyn has the luxury of a gym right in the building. Cyclists in the area can stop at the combination bike shop and non-profit Recycle A Bicycle (35 Pearl Street) and donate, refurbish or buy new wheels. The Brooklyn Bridge Park Greenway (1.5 miles/2.4km away) is the perfect place to start a bike tour. This scenic waterfront path winds through Brooklyn Bridge Park and offers spectacular views of Manhattan. The three convenient Citi Bike stations adjacent to Brooklyn Bridge Park are located at Atlantic Ave. & Furman St. (Pier 6), Old Fulton St. (Pier 1), and Pearl St. & Anchorage Pl. (Main Street).
While on your fitness kick, consider this Crown Heights alcove studio with a gym in the building and a fabulous terrace, both great options for when the weather doesn't cooperate with your biking plans. Speaking of the outdoors, this one-bedroom furnished rental apartment in Clinton Hill has access to a shared garden! Exposed brick and a decorative fireplace make this classic Brooklyn brownstone perfect for any time of the year. You can find more apartment rental options in Brooklyn on our webpage.
2. Two-bedroom apartment in Alphabet City (Rental ID: NY-7311)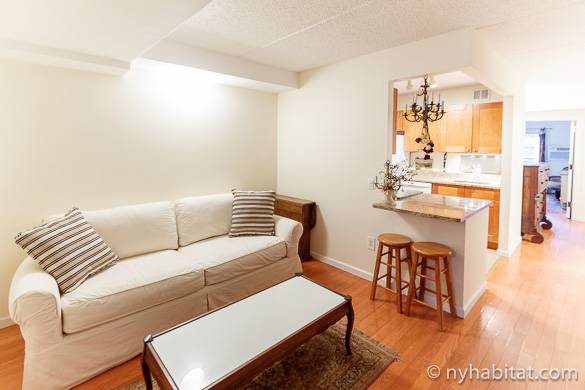 Rent this two-bedroom in the East Village and you'll have a backyard space!
This two-bedroom apartment in the East Village, with double beds in each bedroom and a double sofa bed in the living room, is perfect for roommates or families that love the outdoors. On top of having your own backyard, a rarity in New York, you'll also be close to the East River Greenway, which is perfect for a day of biking. East River Park spans 57 acres along FDR Drive south of 12th Street, providing waterfront bike paths with incredible views. Grab a Citi Bike right near the apartment at East 10th Street and Avenue A and start exploring!
3. Studio in Clinton/Hell's Kitchen, Midtown West (Rental ID: NY-14118)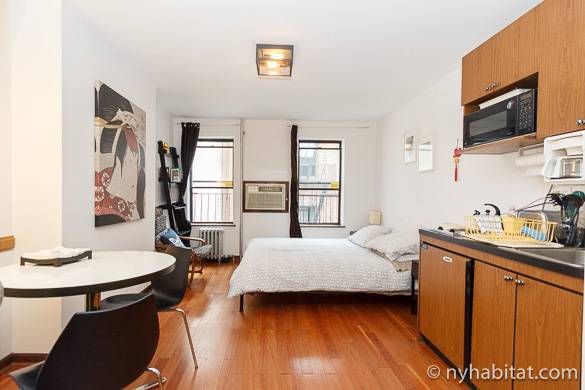 This studio in Hell's Kitchen lets you bike by the Hudson River
Midtown West and surrounding areas like Chelsea and the West Village offer more riverside biking options on the Hudson River Greenway on Manhattan's West Side. Stay at this furnished studio in Hell's Kitchen and you can easily access Manhattan's longest (11 miles) greenway and catch a spectacular sunset along the Hudson River on the way.
Another great studio option is this furnished rental in Chelsea convenient to NYC's High Line, an elevated park built on a historic freight rail line. While you can't bike on the High Line, Citi Bike docks beneath it make it easy to grab a bike when you can't walk another step. You won't even need to head to the park when you rent a room in this two-bedroom apartment share in Greenwich Village. The apartment has its own terrace, plus the building also features a garden area for relaxing right at home.
4. Roommate share apartment on the Upper West Side (Rental ID: NY-14875)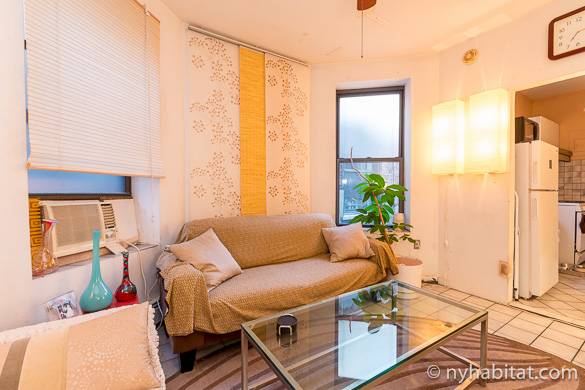 Rent a room in this three-bedroom apartment on the Upper West Side near Central Park.
Other places where you're sure to meet up with fellow bike lovers are two of Manhattan's most visited parks, Central Park and Riverside Park. Rent a room at this three-bedroom apartment share on the Upper West Side of Manhattan and you'll have the option of both famous parks nearby. If you're visiting NYC for a shorter stay with a larger group, this duplex two-bedroom vacation rental on the Upper West Side can sleep the whole crew across multiple floors, so everyone can have their own space. You'll also have a full kitchen for preparing meals, a washer/dryer, and even garden access! For a longer stay, consider this furnished studio with a private terrace for when you don't feel like sharing the outdoors with the rest of New York City.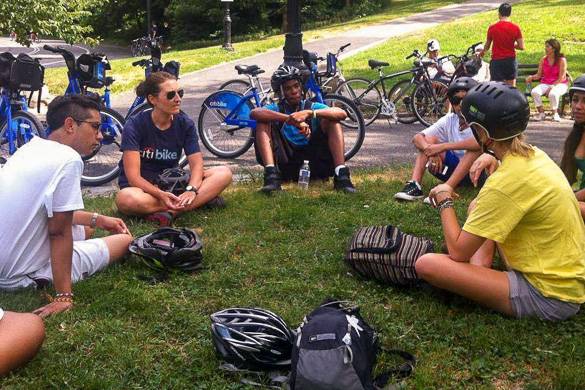 Meet up with other bike enthusiasts in NYC's parks.
5. Alcove studio in Long Island City, Queens (Rental ID: NY-15441)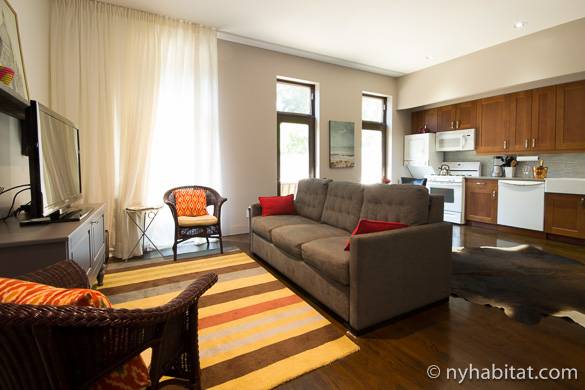 This alcove studio in Long Island City offers close proximity to bike lanes.
Long Island City, Queens is a lesser-known gem of an area, located right across the Queensboro Bridge from Manhattan. Biking over the bridge between the two boroughs is a favorite pastime of many New Yorkers and a great way to see the city for tourists. The views alone are worth the effort! Rent this alcove studio in Long Island City and you'll be right near bike routes to Manhattan and around the rest of Queens. There's bike storage available right at the apartment for your convenience. With a gorgeous garden terrace space of your own, you may be tempted to just stay home, but don't miss out on the unique parks just a bike ride away. Socrates Sculpture Park in Astoria is one-of-a-kind, featuring ever-changing outdoor sculptures. While you're there, take in the views of Manhattan from this green oasis right by the water, and check out their free events all summer: yoga classes in the park, outdoor movies, and even kayaking!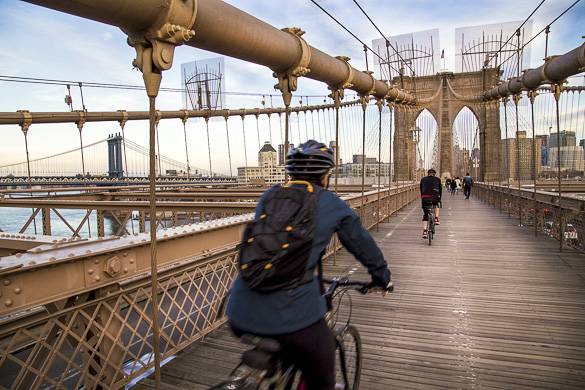 Bike over NYC's bridges for great views of the city.
There are so many great reasons to grab a bike and go outdoors in New York City. We hope we've sent your imagination off and running with these great locales and apartments to rent. For the really enthusiastic bikers out there, you can tour all five boroughs of NYC in one day! Join the yearly 5 Boro Bike Tour, the largest charitable bike ride in the US, and you can push yourself to the limit and visit all five NYC boroughs while raising money for charity!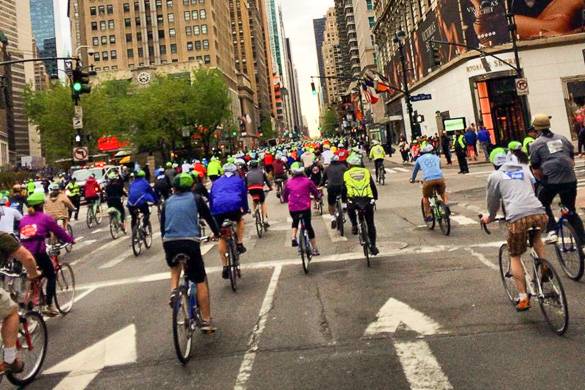 The 5 Boro Bike Tour is a great way to see all that NYC has to offer right from your bike, while raising money for charity.