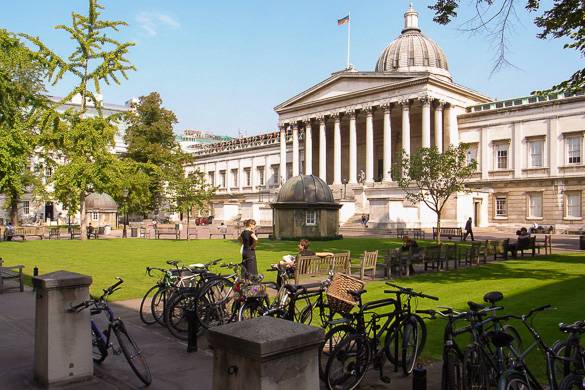 Imagine yourself living in a lovely flat near your London university!
If you're lucky enough to attend a university in London and experience the culture of the city, you'll need to cross one thing off your to-do list before the semester starts: finding housing. As a student in an expensive city, it will be crucial to find the best discounts and free things to do in London—and a great reason to stay in a furnished flat near your university. You'll want somewhere you can study and live independently, or maybe even live with fellow students who share your desire to thrive in London!
1. Birkbeck, University of London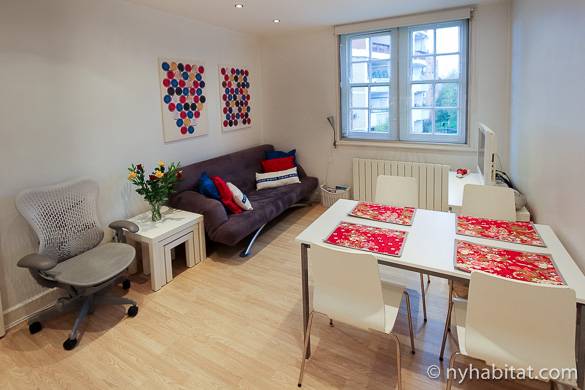 Bloomsbury is one of London's most central neighborhoods.
This furnished one-bedroom flat in Bloomsbury is just a 10-minute walk from Birkbeck and conveniently located next to multiple tube stations for easy commuting around the city. The perks of this 1-bedroom go beyond its location: As a student, you'll be glad to have laundry facilities inside the apartment, Wi-Fi access, and an open kitchen where you can save money by cooking your own meals. Being so close to the university, you can invite some of your peers over for a study session, or expand your horizons outside of the classroom with a trip to Bloomsbury destinations like the British Museum (great for students with free admission), the British Library, and even King's Cross Station, a famous Harry Potter location.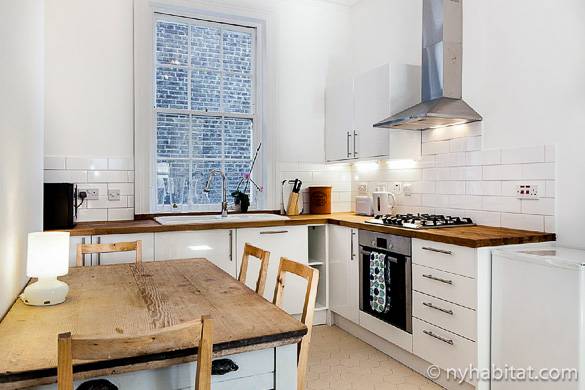 Picture having a home-cooked meal in this modern-yet-rustic kitchen.
If you're looking for an apartment sharing experience, there's no better choice than this beautiful two-bedroom apartment. It's easy to appreciate all the amenities this furnished rental offers—a flat-screen television, a dining table, a security system—but above all, the proximity to landmarks like Hyde Park will really attract you. Picture taking a stroll around Hyde Park and coming home to a nice meal with friends—there's truly no better experience for a group of students!
2. City University London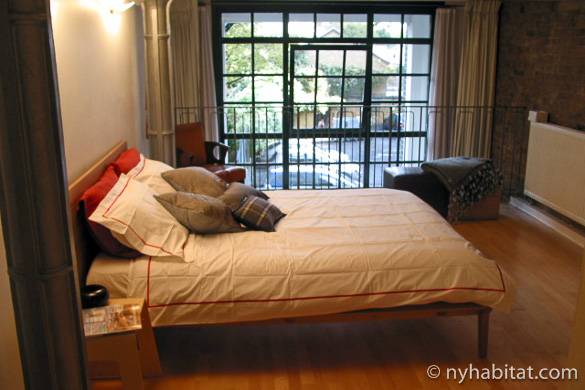 Exposed brick immediately gives this flat a warm and cozy feel.
Being a student in one of the most expensive cities in Europe can mean sacrificing certain things. But with this spacious one-bedroom duplex apartment, style doesn't have to be one of them! You'll be just 20 minutes away from City University London by bus, and you can get to know Brick Lane, London's go-to area for all things artsy and cool. The brick walls and sofa bed make for a perfect student flat, with a price to match! Considering that tenants also have access to a balcony right outside the flat, students should definitely take note.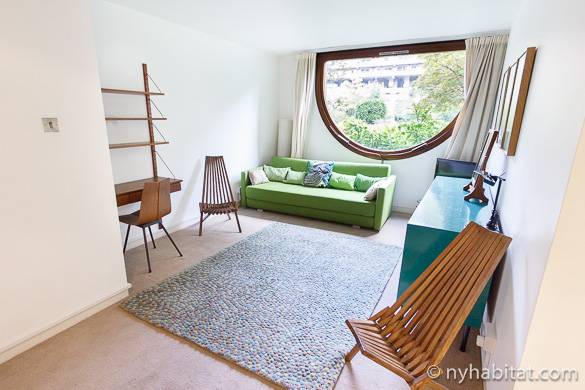 Daydream in your living room beside this unique window.
If you're looking for something offbeat, this studio apartment in Barbican has a vintage-style ship's window to wow your guests and show off London's seasonal changes. It has a security system, is found on the ground floor, and includes a washing machine. Enviable nearby attractions include the Barbican Center (the largest performing arts center in Europe), the Museum of London, and St. Paul's Cathedral, where you can supplement your classroom experience with real historical artifacts.
3. Imperial College London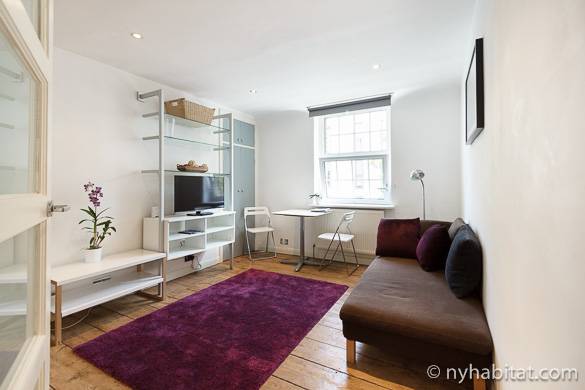 This flat matches Chelsea's chic and stylish ambiance.
Get to know the chic London neighborhood of Chelsea when you stay in this studio apartment for a great price. The fully-furnished flat will make your life much easier as a student—from doing laundry right in the apartment, to relaxing in the garden to de-stress from your studies. There's a Sainsbury's Local supermarket right on your block, so it'll be so easy to cook up your favorite meals and save money along the way! You can also indulge in some tourism from this central location, with Buckingham Palace, Big Ben, and other iconic landmarks just a mile away.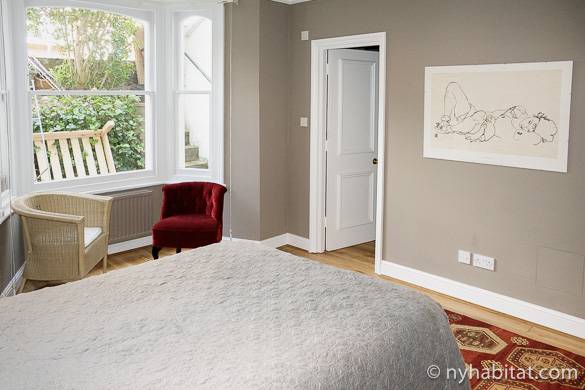 Feel at home in this spacious, romantic Hampstead house.
A shared apartment is often the best option for students who need to be frugal but also want the communal experience of living in a city like London. This fully furnished 3-bedroom rental in Hampstead offers plenty of room for all guests to thrive, including two garden terraces where you can sip some afternoon tea while surrounded by lush greenery. You'll find a dining room, a spacious living area, and a separate kitchen with plenty of appliances. With communal areas upstairs and private rooms on the lower floor, this rental gives you the run of the house!
4. King's College London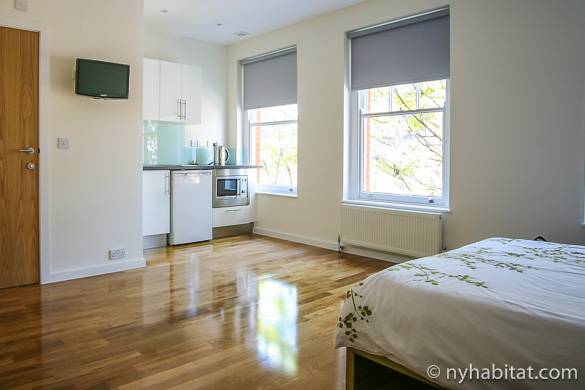 This spacious, open studio is both comfortable and calming.
Counteract the stodginess of London's old-world architecture with this newly refurbished studio in Holborn. Just a 15-minute bus ride away from King's College, this furnished rental won't disappoint. You'll have a double bed, a television, and a wardrobe in the apartment. Everything Holborn has to offer is outside, whether it's the British Museum, Regent's Park, or plenty of restaurant options when you feel like splurging.
While it might seem impossible to live in London's most historic neighborhood and be just a short walk from King's College, this studio apartment in the City lets you do so without breaking the bank! A 24-hour doorman and a washing machine in the apartment are just some of the conveniences of staying in this flat. With the Museum of London, St. Paul's Cathedral, and Big Ben all in walking distance, it will feel like London is your playground, and with the nearby Chancery Lane tube station, it really can be!
5. London School of Economics
When choosing your perfect apartment, what's more important, location or amenities? With this furnished studio in the heart of Fleet Street, you don't have to choose! On mornings when hitting the snooze button is too tempting to avoid, don't worry; this flat is only a 9-minute walk to LSE. When you stay here as a student, you can walk to Sainsbury's supermarket, charming local coffee shops, and several underground stations and bus stops.
This 2-bedroom serviced apartment has all the amenities of a luxury hotel and is a great rental option for student apartment sharers attending LSE. With university taking up much of your time, domestic duties may fall by the wayside, but that will never be a problem in this flat! The furnished rental offers services like a weekly maid, free shopping, and 24-hour laundry/dry-cleaning. Plus, it's only two stops to LSE from the Mansion House tube station.
6. University College London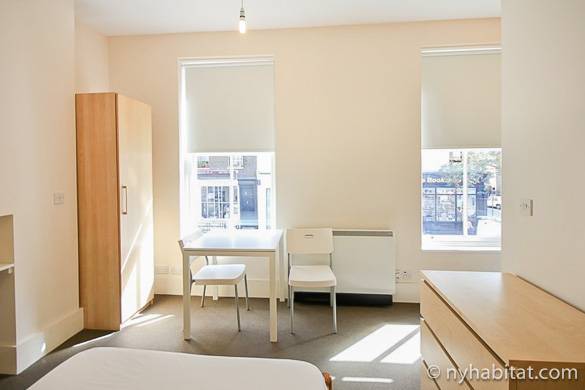 This flat has all the essentials for ideal student living
Located just six blocks from University College London, this fully furnished rental in Fitzrovia is right around the corner from lovely Regent's Park. The flat can suit one or two people and has contemporary décor great for students. Fitzrovia might be known for its dining options, but you'll want the option to cook at home in your fully-equipped kitchen.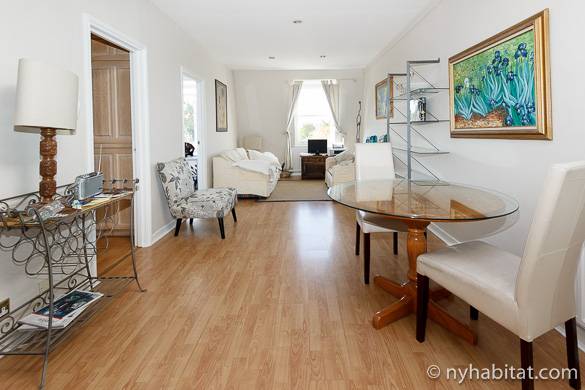 St. John's Wood is one of London's most gorgeous residential areas
Attending UCL with friends? Don't miss out on this great student share in the heart of St. John's Wood, a quintessential London neighborhood home to Abbey Road Studios! This residential area is also just steps away from Regent's Park and boasts its own underground station, simplifying navigation around London. The furnished apartment itself has 2 bedrooms and a security system. One reviewer claims, "The location is a great neighborhood and we felt very safe," which is a comforting thought on the short tube ride back from class. You'll come home to an ample living area, a well-equipped kitchen, and a dining table ready for hosting nice meals with your roommates.
The best part of staying in New York Habitat's rentals is the ability to get assistance at every step. No matter what the issue, local agents who know the market will make sure you get the best deals. If you have family coming into the city, let us help you find the perfect vacation rental next to top London destinations. There's truly nothing like a personalized touch to your apartment hunting experience. Start planning your time abroad in London, and let us help you find the perfect apartment to call home!