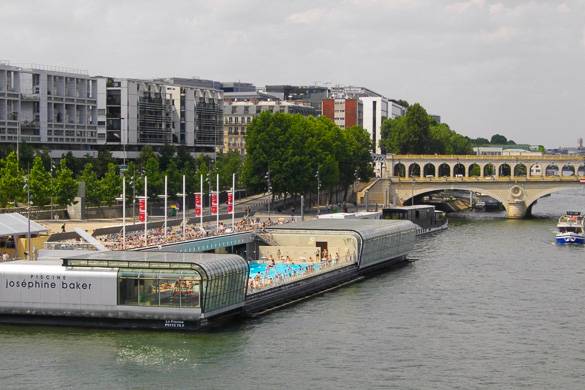 You can't swim in the Seine, but you can swim right above it!
Paris may not be famous for beaches, but it has lots of places to cool off in the summer or get some exercise: unique pools spread around the city. From Seine-side swimming spots to hidden resort-style pools, you're bound to find something you like! After a swim or a day lounging poolside in the sun, you can relax in one of our nearby furnished apartments. So take a dip and see what Paris has to offer!
Piscine Josephine Baker – 13th Arrondissement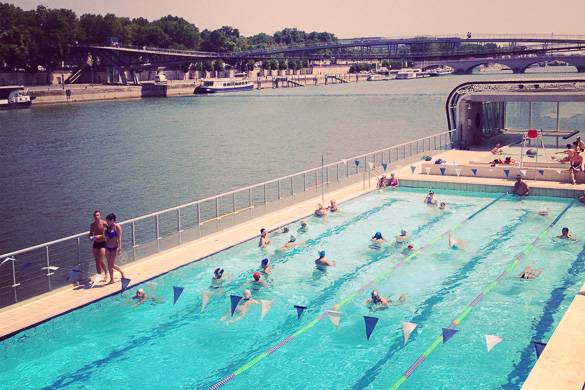 Piscine Josephine Baker has great views, not to mention lots of swimming space.
If you're looking for swimming with a view, it's tough to beat Piscine Joséphine Baker on the Left Bank of the Seine River. The pool is named after one of the most famous jazz singers of all time, Josephine Baker, who left a life of struggle in the American South behind to find fame and fortune in the City of Lights and broke down racial barriers along the way.
Within walking distance, you'll find lots of charming Latin Quarter studios like this furnished rental near Jardin des Plantes. With cable TV, wifi internet access, and a convenient kitchenette for cheap meals at home, it's got all the essentials. When you live in such a great student area, there will be a lot to do right around your home.
Piscine Keller – 15h Arrondissement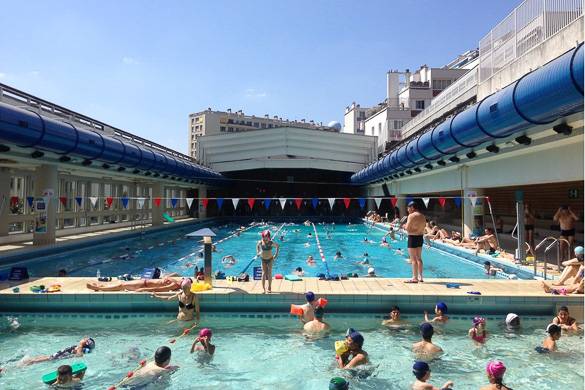 There's space for everyone to swim at Piscine Keller!
On the other side of the Seine in the 15th Arrondissement, you'll find Piscine Keller. A retractable roof and shaded side areas make it possible to enjoy the water in any weather. And with two pools (one for lane swimming and the other for recreation), you can get fit on one side of the pool or bring along kids and play on the other. There's something for everyone!
If you're bringing the whole family to Paris or renting with friends, you may want to consider a spacious apartment like this three-bedroom rental in Auteuil. It has Parisian touches like exposed wood beams and French windows, as well as modern comforts like a dishwasher. Sleeping space is split-level, so parents can sleep downstairs and the kids can head up to the mezzanine. The rental is right across the Seine from Piscine Keller, but you can also go to the Bois de Boulogne to get some fresh air.
Piscine Roger Le Gall – 12th Arrondissement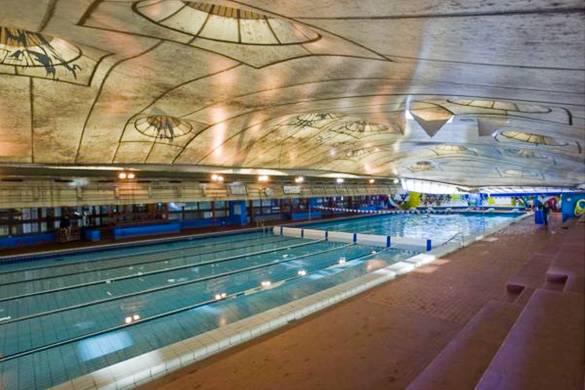 Piscine Roger Le Gall has a unique design that frames its swimming space.
A curvaceous awning roof serves as cover from the sun at this Right Bank pool in the 12th Arrondissement. Piscine Roger Le Gall is also home to a solarium, so you can take advantage of sunny Paris days to get a tan here. It's the perfect place to come and relax after exploring the Bois de Vincennes in eastern Paris, a top Paris park.
Other green spaces in the area include the Parc de Bercy and the Promenade Plantée, a repurposed train line that inspired New York's High Line. Right in the middle of all three is this furnished studio apartment. Home cooks will love the kitchen's real oven, a big plus in Paris, while a double sofa bed provides flexible sleeping space in the main room.
Piscine Hébert – 18th Arrondissement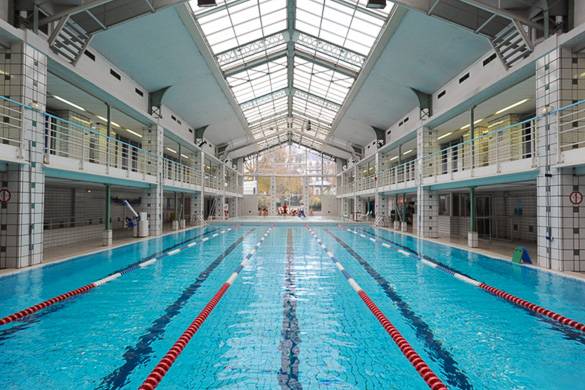 Live like a local in touristy Montmartre by heading to Piscine Hebert.
Like many of the pools on our list, Piscine Hebert has a retractable roof that makes it a joy in summer. Even in the winter you can enjoy the sun thanks to a large glass wall at one end of the space. If you're staying in hip Montmartre, this is a great place to cool off or get a workout during your time in the city.
If you've ever dreamed of living in a cute Paris studio, you'll want to see this furnished apartment in Montmartre. You'll have all the conveniences of a Paris studio, from a compact kitchenette to a little elevator in the building, all for an affordable price. And with some of Paris's must-see sights right around the corner, there will be a lot to do nearby!
Aquaboulevard – 15th Arrondissement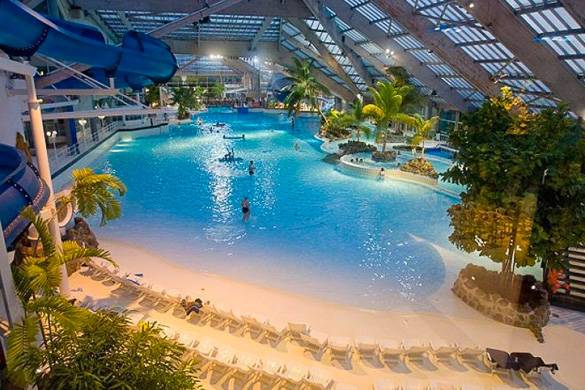 Aquaboulevard feels like a tropical lagoon! (Photo credit: Group Forest Hill http://www.aquaboulevard.fr/aquaboulevard.html#/homePage )
There's nothing else quite like this multilevel recreational space that spans 7,000 m2 (75,350 ft2) in Paris. Aquaboulevard is a one-of-a-kind waterpark space you won't want to miss, especially if you're staying in an apartment in the 15th Arrondissement. The center is located just outside of Paris on the way to Versailles, another great daytime destination.
With a unique one-bedroom apartment like this, you can have your own little garden-facing space in Paris! The Left Bank charm of the apartment goes from the cute mezzanine to the wooden paneling that lines the walls. You'll love this slice of quiet in the city that's separated from the outside world by a private courtyard.
Piscine Pontoise – 4th Arrondissement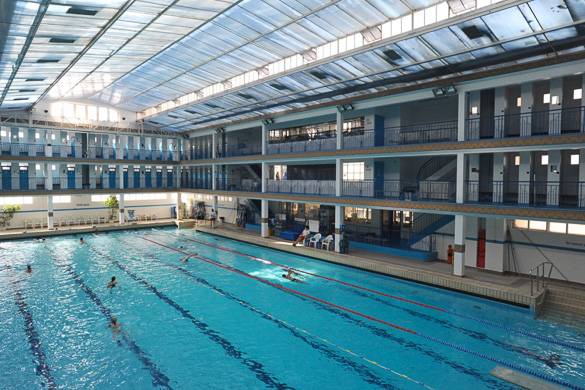 Popular with students like everything in the Latin Quarter, Piscine Pontoise is a great place to spend an afternoon.
A glass ceiling makes Piscine Pontoise a great place to go for a swim in rain or shine, with a mix of natural and artificial light. The airy three-story space is located right off Boulevard Saint-Germain in the heart of the Latin Quarter, and is easy to reach by metro or by walking from the charming Marais across the river.
Teeming with French cachet, from its wooden countertops and hardwood floors to its little Juliette balcony with an outdoor table, this one-bedroom furnished rental is also centrally located. Inside, you'll find a convenient washer and dryer, a mix of antique and modern furnishings, and wireless internet to keep you connected.
Piscine Molitor – 16th Arrondissement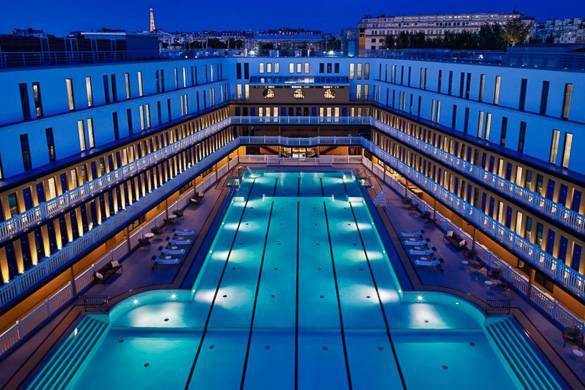 Newly-renovated Piscine Molitor looks better than ever! (Photo credit: http://www.mltr.fr/en/)
One of the most iconic pools in Paris, a byword for class and the debut location of the bikini, Piscine Molitor is a piece of living history. Paris visitors these days can see a very different vision of the pool from its initial art-deco incarnation and its gritty urban decay from the last few decades. Thankfully, the space was rehabilitated and opened as a luxury resort in May 2014, returning it to its former glory.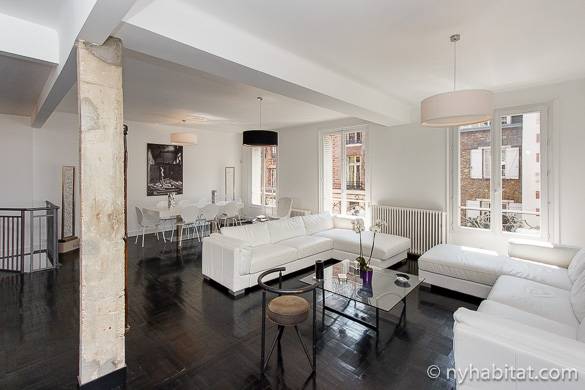 Be comfortable during your time in Paris with this one-bedroom in Auteuil!
Combining modern black-and-white décor with French windows and other classic design features, this two-bedroom in the Auteuil neighborhood has a lot to offer. It has all the convenient amenities you'll need–cable TV, internet access, a washer/dryer in the unit–and a charming outdoor space on a backyard-facing balcony. You can lose yourself in the Boise de Boulogne or stroll along the Seine just a few blocks away.
Wherever you may stay (and swim), we hope you enjoy your trip!