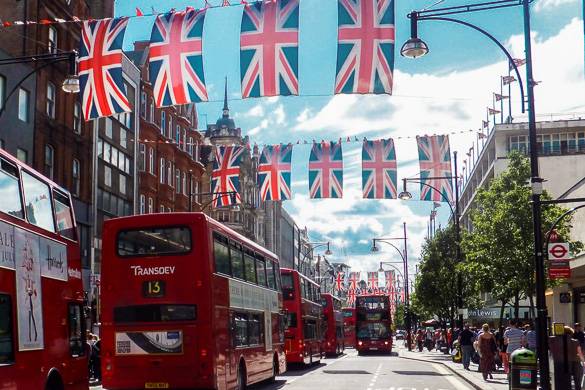 Check out our guide to events and activities in London this summer.
London is a vibrant and culturally diverse city to enjoy in the summer. With four UNESCO World Heritage Sites, some of the world's top museums, hundreds of festivals, and beautiful parks, there is something for everyone.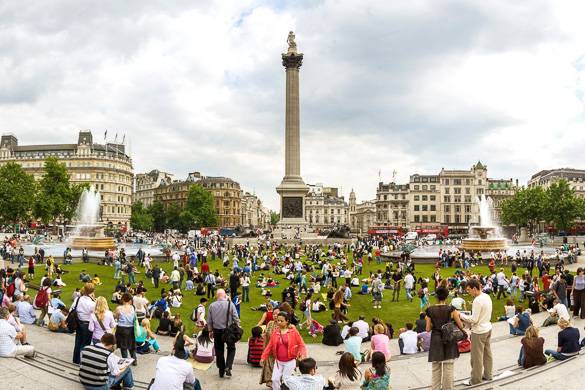 Trafalgar Square is a favorite central hangout in London in the summer.
It isn't easy to pinpoint the heart of London. Visitors all have differing views about where the center of London really is, though if you find yourself in Trafalgar Square, you aren't very far away. In the shadow of the National Gallery, just a short walk to the River Thames, and close to both Buckingham Palace and Westminster Abbey, Trafalgar Square is the ideal place to start your journey.
Enjoy a play at Regent's Park Open Air Theatre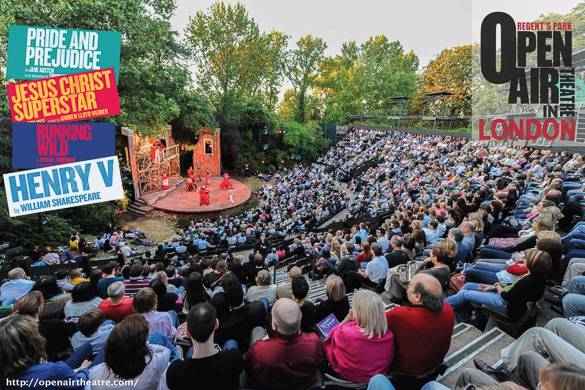 Catch an outdoor play at Regent's Park Open Air Theater.
London's Open Air Theatre–similar to the open air theater in New York City and Cinema en Plein Air in Paris–is set in the delightful environment of Regent's Park in central London. With over 1,200 seats, this auditorium in the park is a wonderful atmosphere to experience culture and theatre. Well-known productions include Shakespeare's Henry V, Jesus Christ Superstar, and Pride and Prejudice by Jane Austen.
If you are looking for somewhere near Regent's Park, why not look at staying in one of our vacation rental apartments? This quaint one-bedroom apartment in the St. John's Wood/Regent's Park section of London puts you close to all the action in Regent's Park. Sleeping arrangements are variable with a queen-sized bed and two twin beds, and you'll have the convenience of a washing machine right in the apartment. You'll enjoy the proximity of Regent's Park when you want to spend time outdoors with the rest of London, and also have the luxury of a terrace and garden all to yourself at your apartment when you want some peaceful time away from the rest of the city.
Check out summer events in Hyde Park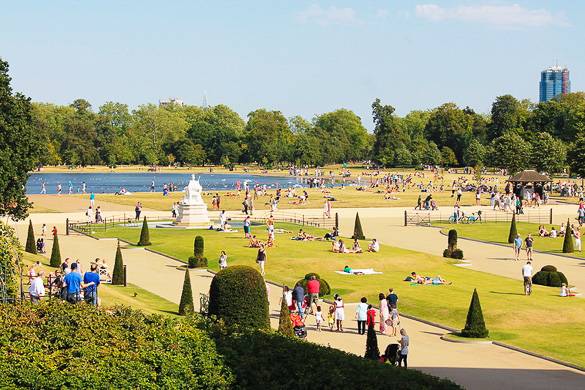 Relax in the greenery of Hyde Park in London.
Hyde Park, like New York's Central Park, is a large green space that defines the city. With easily recognizable neighborhoods like Mayfair, Knightsbridge, Kensington, and Notting Hill all overlooking this sprawling royal park, it's one of the go-to places for a summer visit to London. Hyde Park is actually only half of the area that most people see in their tourist guides; the other half is Kensington Gardens.
Many visitors to London enjoy walking or jogging through the parks, but there are some exceptional events taking place this summer that shouldn't be missed.
The British Summer Time Festival in Hyde Park is one of them; a 10-day festival of music and activities that takes place once a year in the heart of Hyde Park. There are two weekends filled with some of the world's most recognizable bands. Tickets are sold for the headliner bands, which can be seen live on stage during the weekends of July 1 to 3 and July 8 to 10. This year's entertainers include Massive Attack, Florence + the Machine, Mumford & Sons, Take That, Olly Murs, and many more. Ticket prices start at £68.20.
If you can't get tickets to the weekend events, don't worry! Check out our guide to free activities you can find all around London: Hyde Park has free activities from Monday thru Thursday, including open-air movies, street food stands, DJs, live music, entertainment, ping pong, and much more.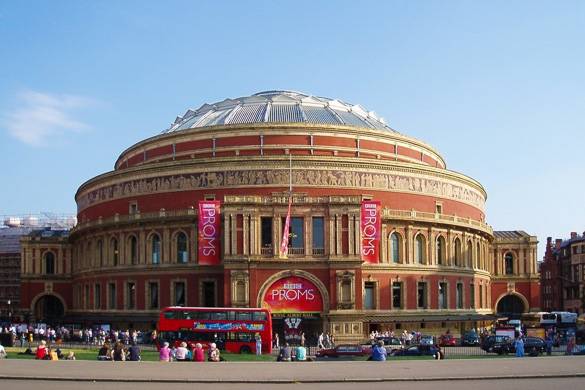 Royal Albert Hall holds the Proms concerts every summer.
For those whose interests are more classical, The Proms should pique your interest. The Proms (short for Promenade Concerts) have been held at the Royal Albert Hall in South Kensington every year since 1895! This year there are over 90 concerts during the eight-week season, and you can buy your tickets online.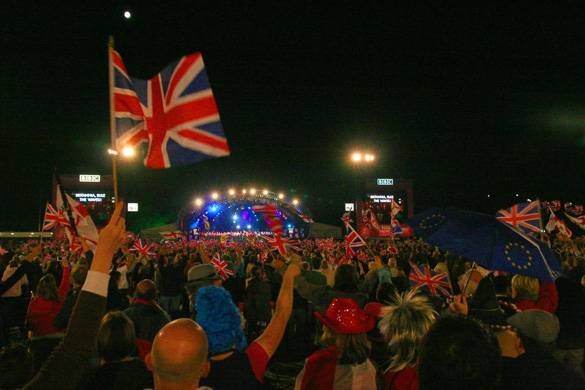 The last night of the Proms is London's largest outdoor classical event.
The Proms season concludes with a wonderful celebration of music on September 10. This concert spills out into Hyde Park for the last night of The Proms and is London's largest outdoor classical event. Take a picnic hamper with you to enjoy this wonderful evening of music and entertainment.
New York Habitat has some great furnished apartment rentals situated within easy walking distance of Hyde Park. For help with your London apartment search, check our London apartment inventory online or contact one of our knowledgeable agents who can guide you in your search.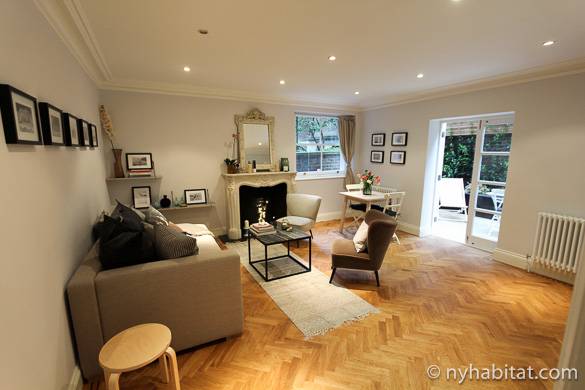 Spend the summer in this one-bedroom apartment in Notting Hill.
If you are staying in London for the summer, this lovely one-bedroom furnished rental in the famed Notting Hill neighborhood is the perfect home away from home. With its cozy interior (situated around a classic decorative fireplace) and its private outdoor garden, you'll certainly feel the charm of London town.
If you're in London on holiday, take a look at New York Habitat's vacation rental search, where you can find great furnished apartments for your next holiday.
Party at the Notting Hill Carnival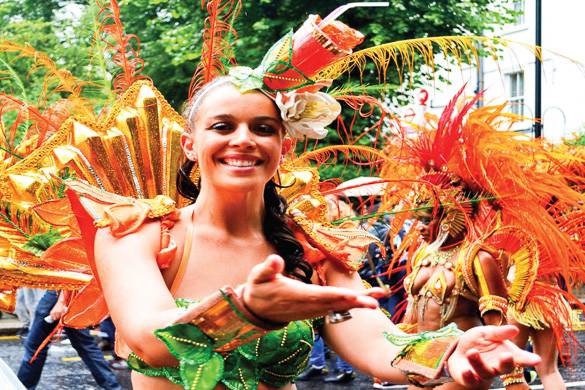 Enjoy Caribbean music and dance at the Notting Hill Carnival.
Now celebrating its 52nd anniversary, the Notting Hill Carnival honors London's Afro-Caribbean communities with a dazzling display of costumes, music, and dance. Culture junkies will not want to miss this joyous street party on August 28 & 29. This neighborhood has much more to offer! Want to know the ins and outs of Notting Hill? Our "live like a local" guide can help!
Visit Buckingham Palace for its summer opening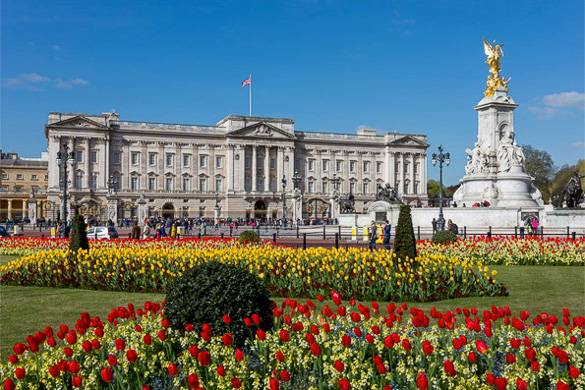 While the Queen is away, Buckingham Palace is open for exploration.
On a rainy day, why not take a tour of the Queen's official London residence: Buckingham Palace? During the summer, the Queen moves to her summer residence and Buckingham Palace opens its gates. Tours have been held each year since 1993, and this year's season runs from July 23 to October 2. You can stroll through the magnificent staterooms, which house many treasures from the Royal Collection as well as famous paintings and sculptures by some of the finest artists in the world.
Learn more about the area and all it has to offer in our "live like a local" guide to Westminster.
Watch your favorite tennis star at Wimbledon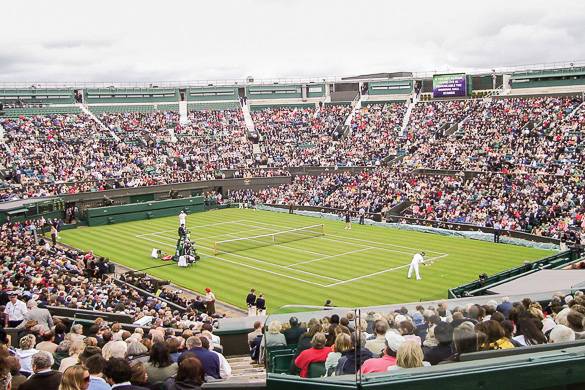 What's more "London" than a Wimbledon tennis match?
Wimbledon, arguably the world's most famous tennis championship, will take place once again this year at the All England Club in the titular London district. This nearly 140-year-old competition is the only Grand Slam tennis tournament still held on grass, and has a long-standing connection with the British royal family. If you attend any of the matches between June 27 and July 10, maybe you'll spot a duke or duchess there! This 4-bedroom furnished apartment in Putney will put you close to the Wimbledon action. This spacious accommodation has four bedrooms and three bathrooms, as well as a balcony with views of a green grass lawn to get you in a Wimbledon state of mind.
Missing out on events from home? How about celebrating America's Independence Day in London? London may not be the obvious choice to celebrate July 4, but in such a culturally diverse city, you will always find like-minded partygoers who are looking to join the fun. Head over to the Big Night Out Independence Day Party and dress up in red, white and blue for an epic bar crawl.
This one-bedroom vacation rental in Westminster certainly celebrates London. Located in the York buildings off The Strand in Charing Cross, it has a true London vibe both inside and out. Decorated with London-themed art and accessories, this vacation apartment will immerse you in your surroundings, including a view of the famous London Eye right from your window!
Live like a local in London this summer
There is plenty to do in London this summer, whether your preference is to spend the day relaxing in the parks, visiting museums, soaking up culture and sunrays at some open-air events, or dancing until dawn. The best way to experience any new place is by immersing yourself in the location and living like a local, and New York Habitat specializes in helping you do just that. Whether it's for a few days or a few months, we've got tons of great apartment options to make your stay a memorable one!