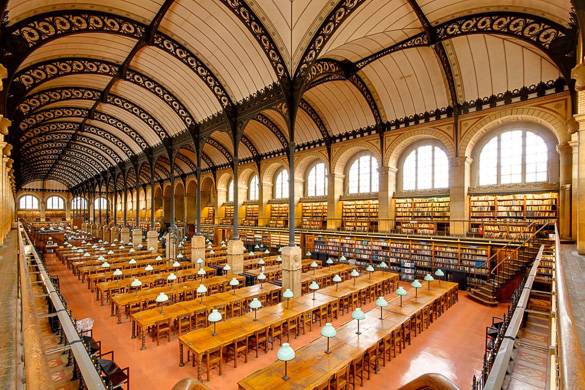 Paris's magnificent libraries, from the Bibliothèque Saint-Geneviève to the American Library of Paris, don't disappoint!
Paris, with its rich history of universities and royal patronage, has been a center of learning for nearly a millennium. Nowadays, students and workers can enjoy some spectacular library spaces that represent that academic heritage. From well-known Latin Quarter study rooms to a fairytale library in Le Marais, the city is full of enchanting workspaces and shelves of books just waiting to be read. You can study at home or check out some of these top Paris libraries when you stay in a Paris furnished rental.
1. Bibliothèque Forney – 4th Arrondissement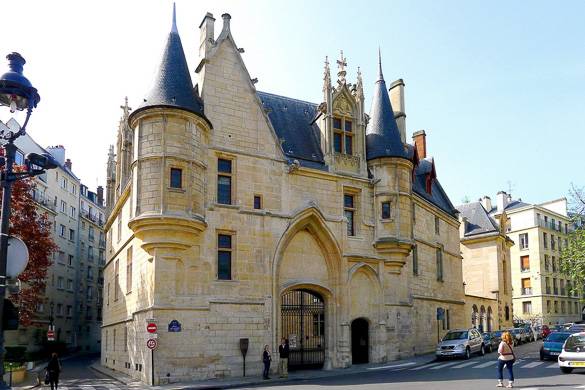 This whimsical castle is actually a library, open to the public and right in the center of Paris!
While much of Paris was famously redesigned in the 19th century, some pockets of medieval charm remain. Perhaps the most notable is the Marais, a neighborhood of renaissance palaces, winding cobbled streets, and storefront galleries. The area is great for students, especially because of the turreted Bibliothèque Forney. Here you can read about history and feel like you're living in it with the 16th-century design and modern touches for comfort.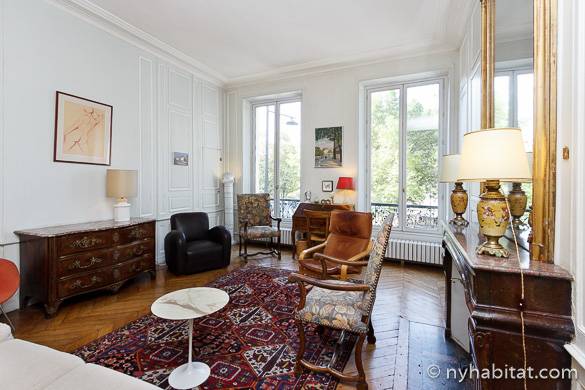 Get a taste of Paris's Marais by staying in a charming furnished rental.
The Marais has everything from nightlife to unique green spaces like the Place des Vosges (once home to Victor Hugo), on top of the convenient access to the library. Just blocks from the Place des Vosges is this three-bedroom fully-furnished apartment, complete with two and a half bathrooms and a separate office. Classic Parisian features include the decorative fireplaces, hardwood floors, and tall French windows with views of the Seine River and its banks.
2. Bibliothèque Richelieu – 2nd Arrondissement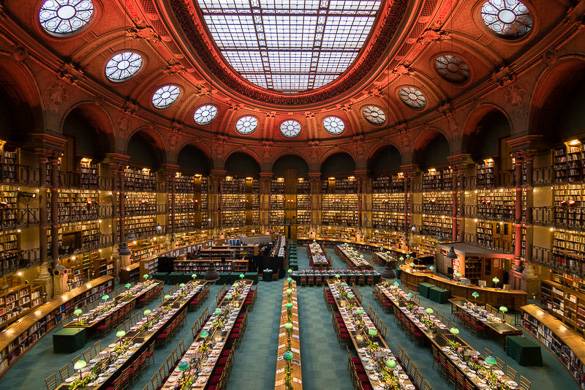 A temple to Paris's love of books, the Bibliothèque Richelieu is part of the national library system. (Photo credit: http://www.bnf.fr/fr/acces_dedies/tournage_et_location.html)
There's a good reason why the French are associated with grandeur and pomp; just take a look at the Richelieu Library in the city's historic 2nd Arrondissement and you'll see why. While it might look fit for a king, the enormous reading room is now part of the Bibliothèque nationale de France and open to the public. A renovation beginning later this year (during which the library will remain open) will help preserve that access for the future.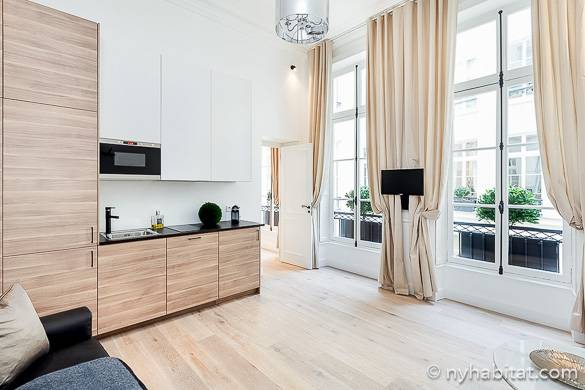 Contrasting the Richelieu Library, this fully-furnished one-bedroom apartment is clean and simple.
You'll find this modern one-bedroom furnished rental within walking distance of the Bibliothèque Richelieu and just off the Jardin des Tuileries, Marie de' Médici's former royal gardens. Light wood tones throughout as well as French windows and high ceilings keep this apartment airy and bright. You can stay entertained with the wifi internet and cable TV, or head out on the town in the nearby Châtelet neighborhood.
3. Bibliothèque François Mitterand – 13thArrondissement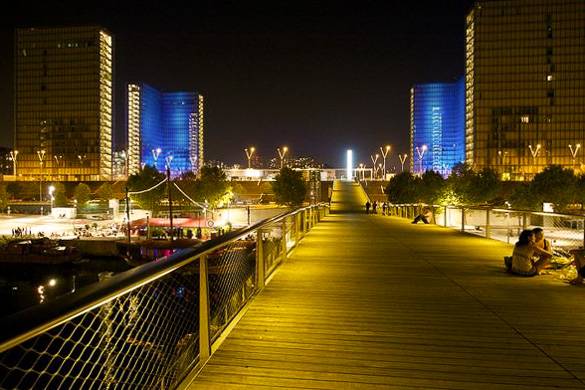 The Bibliothèque François Mitterand is futuristic and fully modern, and couldn't be more different from the Richelieu Library. (Photo credit: http://www.bnf.fr/fr/acces_dedies/tournage_et_location.html)
The other branch of the national library sits a few miles down the River Seine in the 13th Arrondissement. While its four modern towers may not have the same charm as the halls of the Richelieu branch, Bibliothèque François Mitterand presents grandeur of a different sort. The library is a hub for research, preservation, and education, with events for all ages and a wide variety of publicly accessible reading rooms.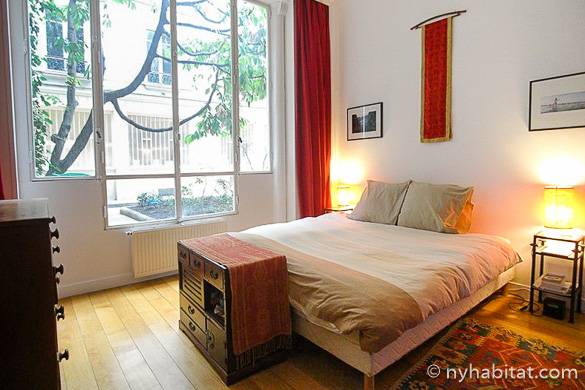 This two-bedroom furnished apartment rental can be your cozy home to return to after a long day of studying.
Across the river from the library sits the hip Bastille neighborhood, popular with students and young professionals. You can have your own slice of the bohemian life with this colorful two-bedroom furnished rental. Design elements from around the world mix with the modern layout and large, loft-style windows. Best of all, facing an interior courtyard will make you feel far away from the crowds of the city's tourist traps!
4. American Library of Paris – 7th Arrondissement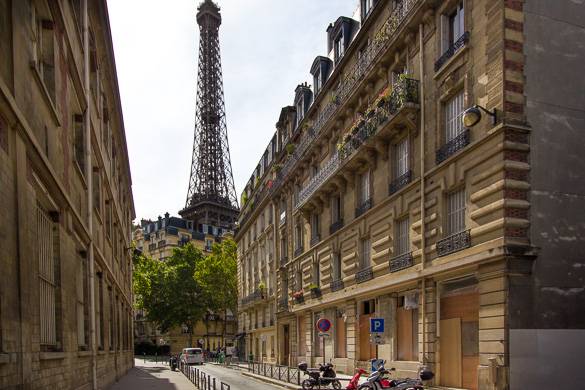 The American Library of Paris is a little piece of America with the Eiffel Tower in the background. (Photo credit: http://jpblaisephotography.com/)
Sometimes, all you need is a reminder of home to feel at ease when you're an ocean away. In Paris, the American Library has been familiar to visitors from the U.S. since the Library War Service began compiling the collection in 1917. The library continues to serve expats' needs from WWI to today, and will complete a renovation in September 2016.
The surrounding Invalides area is close to many American university programs, as well as top Paris sights like the Champs-Élysées, the Eiffel Tower, and the Saint-Germain district. It's also home to this furnished two-bedroom apartment, a perfect bargain for students and travelers. It has all the essentials, not to mention a prime location just off the Champs de Mars below the Eiffel Tower.
5. Bibliothèque Sainte-Geneviève – 5th Arrondissement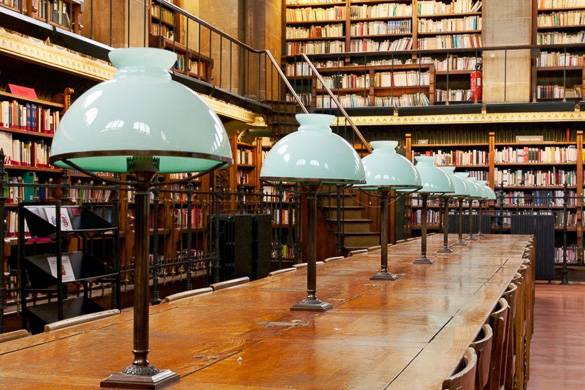 Old-school touches like green-shaded lamps and wooden tables make the Bibliothèque Sainte-Geneviève a perennial favorite with students.
It makes sense to finish off this list with Paris's most famous library, the Bibliothèque Sainte-Geneviève. Pictured is its famous reading room. The library sits atop a hill with the Panthéon as a twin testament to France's intellectual prowess in the heart of the Latin Quarter, Paris's historic student district. It's a crucial student experience to gather at the library, and to reward yourself with a pint at a nearby bar after you're done, of course. Don't miss this Paris student hub!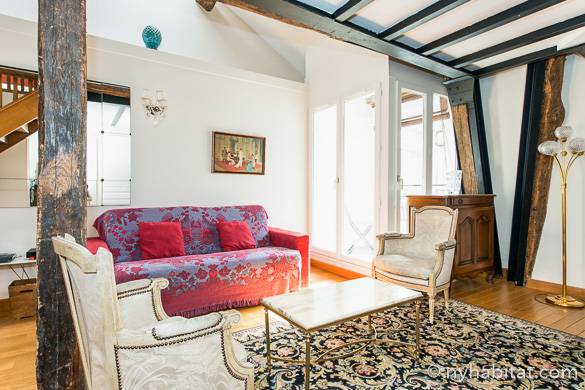 With a vintage style matching the historic Latin Quarter that surrounds it, this two-bedroom is a dream student apartment!
While many of Paris's students commute from their homes in the suburbs or stay in the massive dorms of the Cité Universitaire, it's more convenient–and more charming–to stay right in the Quartier Latin. When you live in this two-bedroom furnished apartment, you can walk to class and grab an espresso and a croissant from a nearby café on the way. A mezzanine maximizes space, so the rental is great for sharing.
You'll be a Parisian in no time when you stay right in the city in a real apartment and explore its student districts and historic libraries!