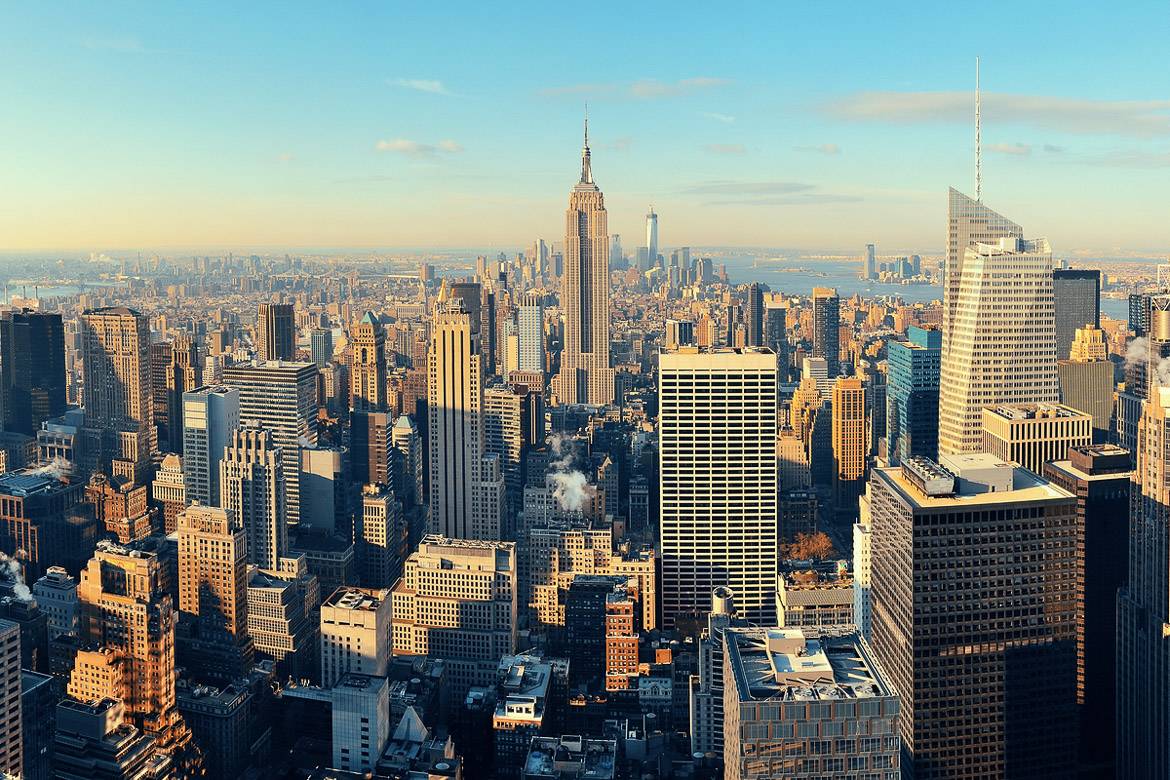 Nothing beats the beautiful views from NYC rooftops in any part of the city!
Not many people have the privilege of staying just a short walk from some of the world's most famous landmarks! In New York City, there's never any shortage of them, between the Empire State Building, Rockefeller Center, Central Park, and more. Also, in a city where each neighborhood brings its own special something, there are some apartments that truly stand out from the crowd. New York City is your playground while you stay in these top 10 rentals!
1. Harlem – The Apollo Theatre
Eclectic and bright décor is what makes this rental unique.
Harlem is large neighborhood in uptown Manhattan that has always been known as a musical and artistic hub. With this furnished apartment, you'll be conveniently located near The Apollo Theatre, where stars like James Brown, Ella Fitzgerald, and Jimi Hendrix first wowed their audiences. Even today's stars like Kevin Hart perform here, so it's definitely worth catching a show while you're in town. Located on the garden floor of a 1901 brownstone, this fully-furnished NYC apartment offers a security system and western exposure to the garden, as well as a bathtub where you can relax after a long day of sightseeing. This rental is perfect for escaping the crowds and enjoying a night in, or stepping out to immerse yourself in the rich history and culture of this area.
2. Upper West Side – Central Park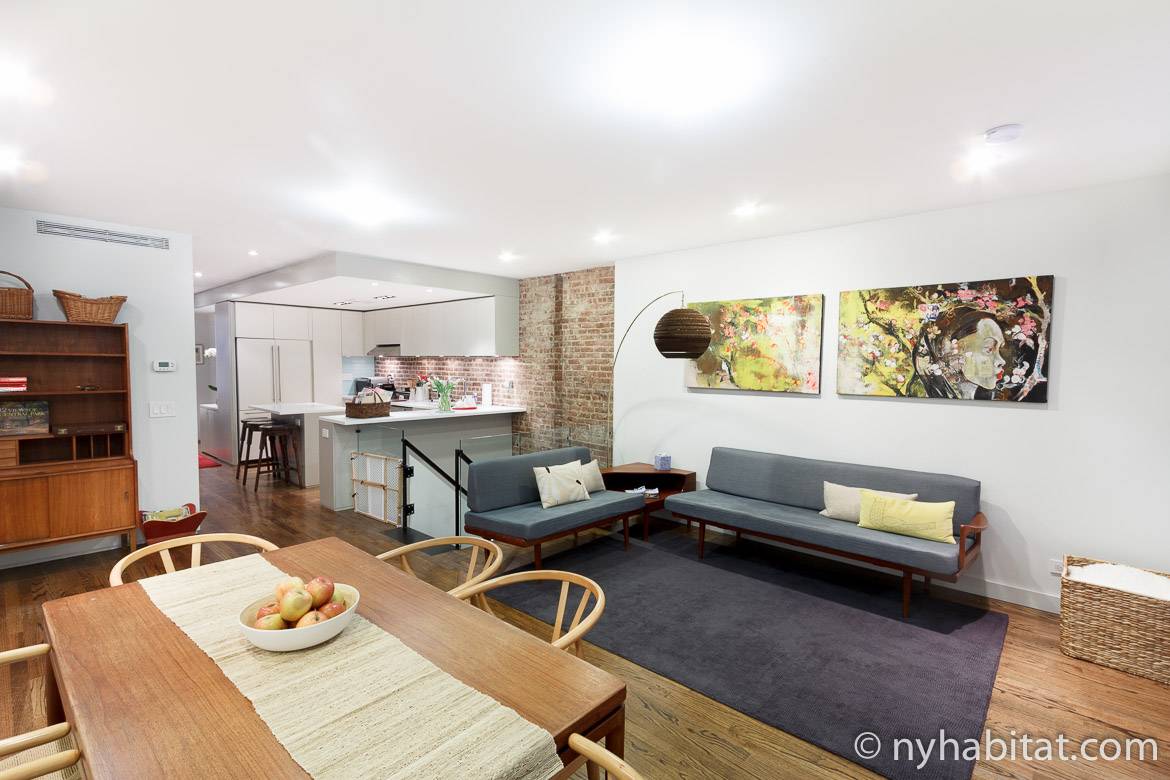 This apartment's dark color scheme and sleek hardwood floors make for elegant décor.
The Upper West Side lies between Central Park and the Hudson River and is a mostly affluent residential area. In this vacation rental in a walk-up brownstone, you'll get all the benefits of a quiet neighborhood with easy access to Central Park, one of the city's best attractions that's only one block away! This 2-bedroom duplex vacation rental comes equipped for 5 adults and 2 small children, ideal for families who want to stay in a prime neighborhood for an incomparably great price. Here, you'll get a private backyard with a fence and picnic table, a video intercom buzzer system, and a washer and dryer for the ultimate convenience. You'll be happy to come home to a spacious apartment with so many valuable amenities!
3. Upper East Side – Museum Mile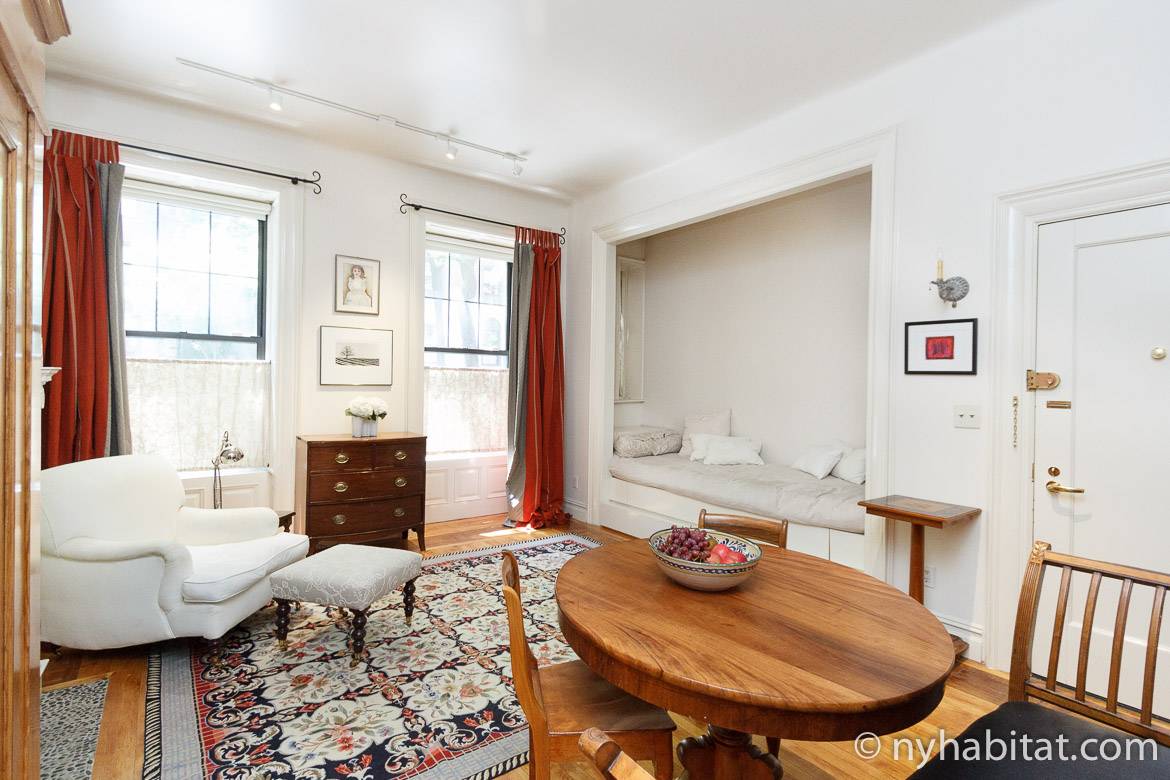 Lounge by the windows in this stunning Upper East Side studio.
If you want to experience the excitement of Midtown, but don't particularly want to experience its crowds, then this studio apartment on the Upper East Side is perfect for you! Though certainly one of the most upscale neighborhoods in New York City, the area still offers plenty of cheap things to do that aren't necessarily targeted toward the rich and famous. For example, the Museum Mile is located here; a stretch of 5th Avenue speckled with several museums and other cultural institutions, like the Metropolitan Museum of Art and the Solomon R. Guggenheim Museum. The spacious studio is just steps away from a subway station, perfect for traveling to other parts of the city on your trip. The apartment is on the first floor of a 1930s elevator building with laundry facilities and a video intercom for added security. The best part of this furnished studio is the relaxed, open feel of the living area and the apartment's proximity to so many New York staples, including nearby delis, cafes, and restaurants.
4. Midtown West – Times Square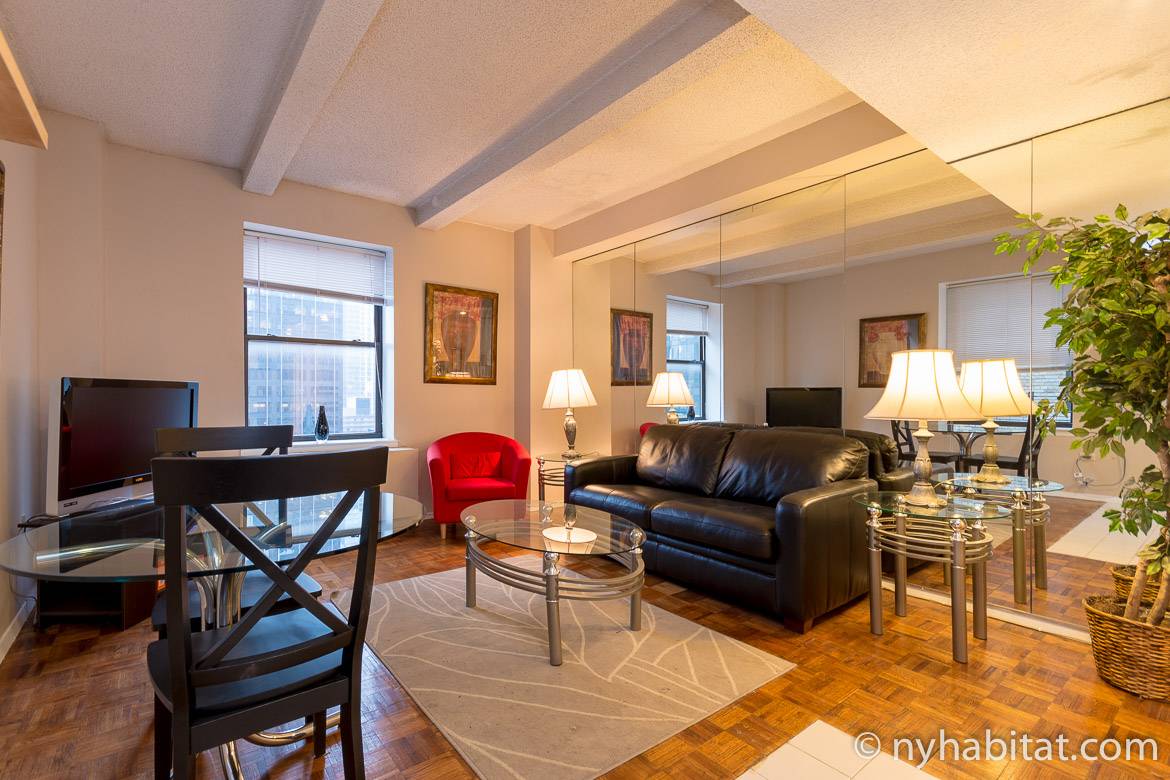 This apartment is just as classy as the neighborhood surrounding it.
Nothing else in New York compares to the thrill of Midtown, where the city really never sleeps. Stay in this furnished rental, located in a luxury high-rise building and equipped with its own kitchen, gym, in-building laundry, and overall stylish and modern living area. You'll get an enviable view from the window of the surrounding Midtown skyscrapers, which as sophisticated as the apartment itself. You will find yourself enveloped by the allure of theatre, as this rental is near the Broadway shows around the world-famous Times Square. You'll also be just steps from several subway stations so you can get around easily.
5. Midtown East (Murray Hill) – Bryant Park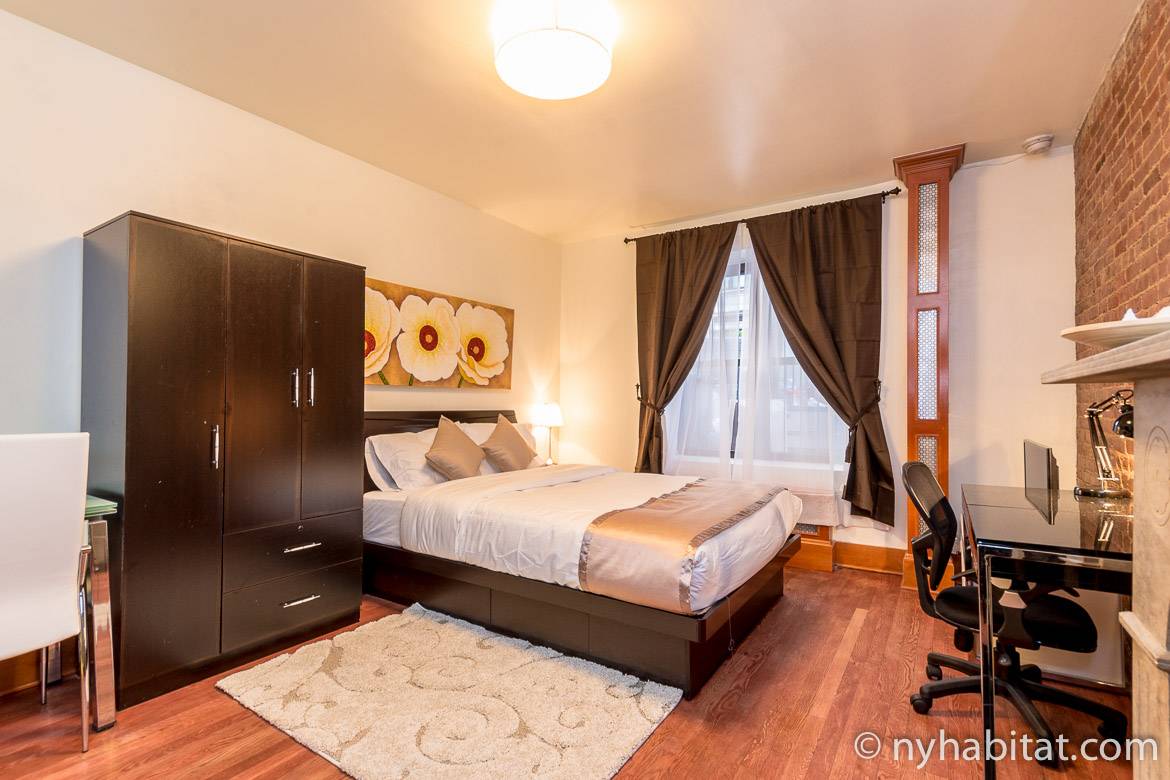 It's easy to picture yourself waking up in this Midtown studio rental.
The quintessential New York experience is comprised of shopping, dining, and sightseeing. In Midtown East, you'll find all of that and more, especially if you stay at this furnished studio apartment at the center of it all. It comes with floor-to-ceiling windows that flood the room with light, a working fireplace, and even a desk in the living area, should you need to do some work during your trip. Walk down Fifth Avenue and find yourself surrounded by recognizable names like Tiffany & Co., Saks, and Bloomingdale's. Beyond retail therapy, Midtown East is also home to Bryant Park, which hosts a Winter Village every year (a great place to find unique, hand-made gifts), and in the spring offers a luscious green lawn on which to sit, relax, and admire the beauty of the city in bloom.
6. Greenwich Village – Building from the TV show Friends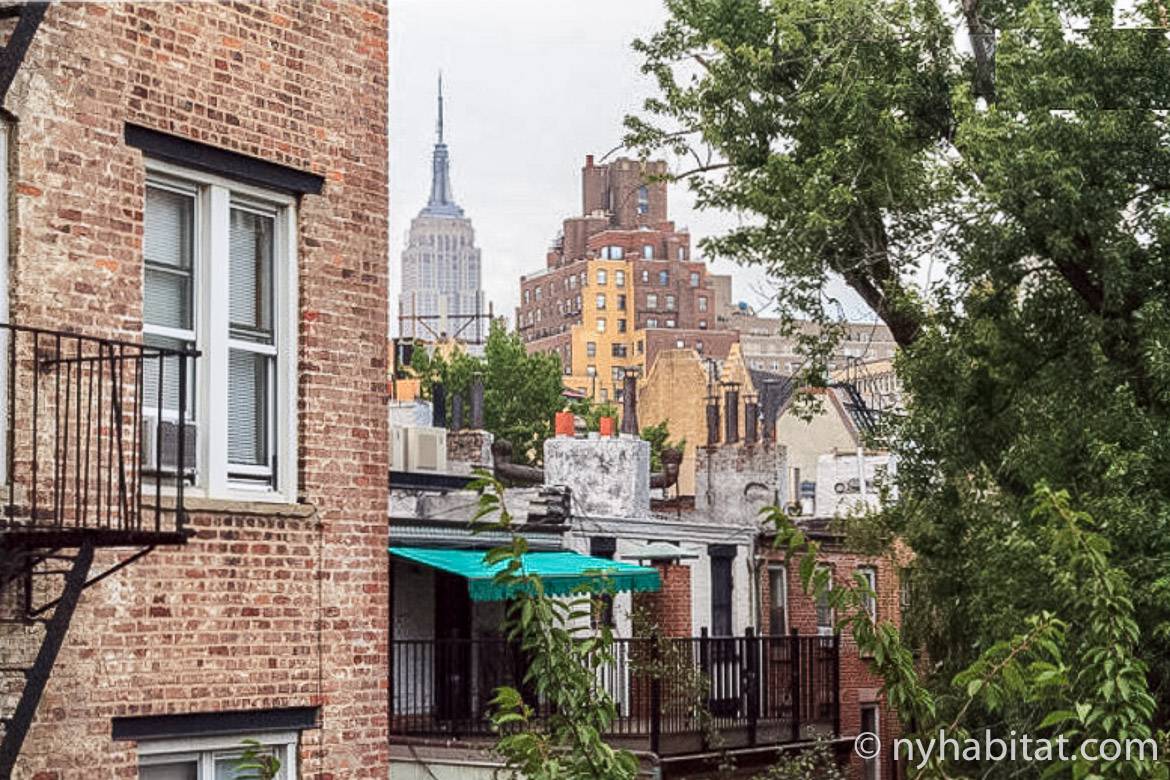 The West Village can sometimes feel like it's right out of a movie.
The West Village is the part of Manhattan that's most often seen in films and TV, and with good reason—its gorgeous exteriors and great dining options make people crave a stay in this neighborhood. This furnished rental located in the heart of the West Village not only offers the benefit of nearby metro stations and the dreamy, brownstone-lined streets of the area, it also has a fireplace and proximity to renowned restaurants nearby. What's more, you'll be within walking distance of the corner of Grove and Bedford Streets, where the famous Friends building still stands today. Stay at this apartment and take a photo where Ross, Rachel, Joey, Phoebe, Chandler, and Monica had their New York adventures.
7. Financial District – One World Observatory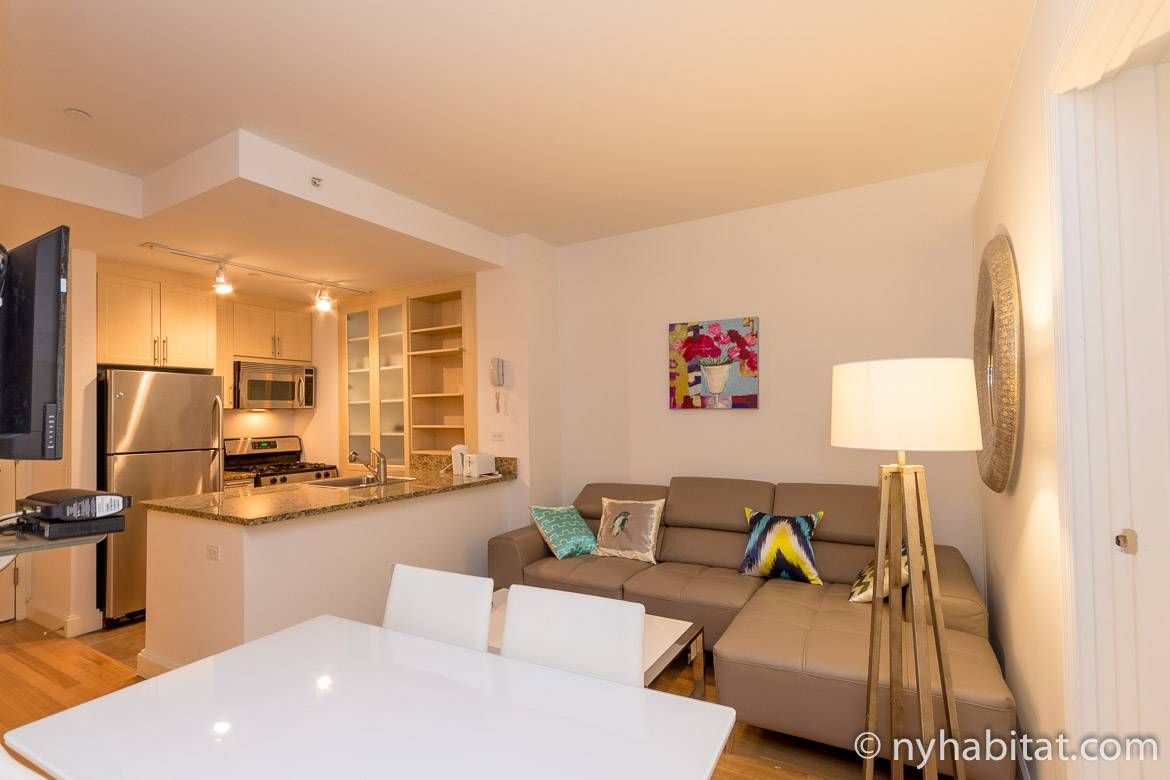 Lower Manhattan is experiencing a revival of great attractions.
In this fully-furnished apartment rental in Lower Manhattan, you'll find yourself surrounded by buildings with an old-fashioned architectural aesthetic, as well as the sleek, elegant high-rises of the modern era. Inside, this 2-bedroom rental has an extra queen bed available near the living room, so the apartment can fit a total of six people. This could be a great choice if you're traveling with a large family or group of friends. With the comfort of a gym, open kitchen, ample storage space, and laundry amenities inside this luxury apartment, you might never want to leave the building—but you definitely should! Just a short walk away is the One World Observatory, where you'll ride an elevator that takes guests on a time-lapse tour of Manhattan's skyline and opens to incredible views of NYC from the tallest building in the Western Hemisphere. There are plenty of dining options and interactive activities here to keep you busy for hours. With great landmarks nearby and top-notch amenities on offer, this is the perfect place to stay in Manhattan's busy Financial District—often known as the birthplace of the American skyscraper.
8. Williamsburg – Brooklyn Brewery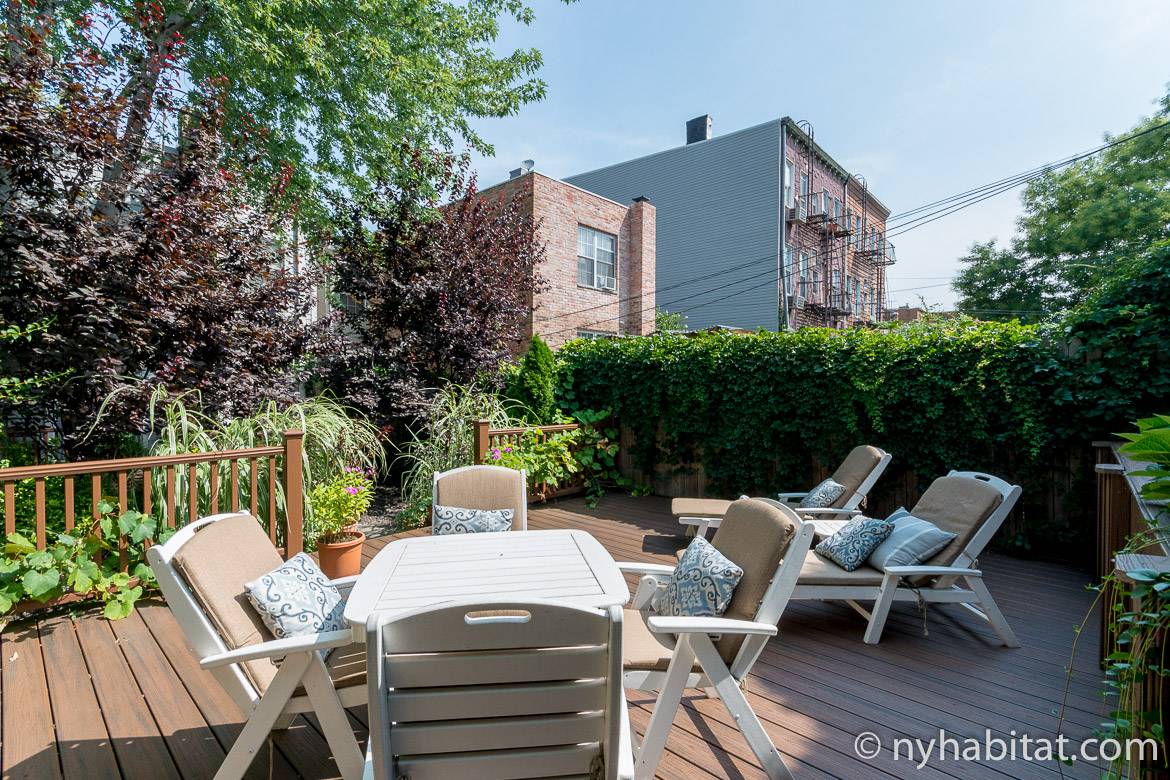 Even in the winter, sunny Williamsburg is a great place to sit on the patio with friends.
Williamsburg has swiftly become Brooklyn's go-to for trendy and eclectic bars, music venues, and attractions that offer an alternative to the posh Manhattan scene. This 1-bedroom vacation rental is ideal for artists looking to explore the city and surround themselves with fellow creative minds. It's on the first floor of a 2-story 1910 townhouse, so the historical value alone is reason enough to choose this rental. You'll have access to a private backyard deck and an artsy-yet-chic interior, perfect for lounging on a rainy day. If you're craving some craft beers, the nearby Brooklyn Brewery won't disappoint. Here you can get an inside look at the brewing process and have a taste of the beers themselves. Though Williamsburg caters to a younger crowd, tourists and even Manhattan locals are fond of wandering around in this Brooklyn hipster hub.
9. Park Slope – Barclays Center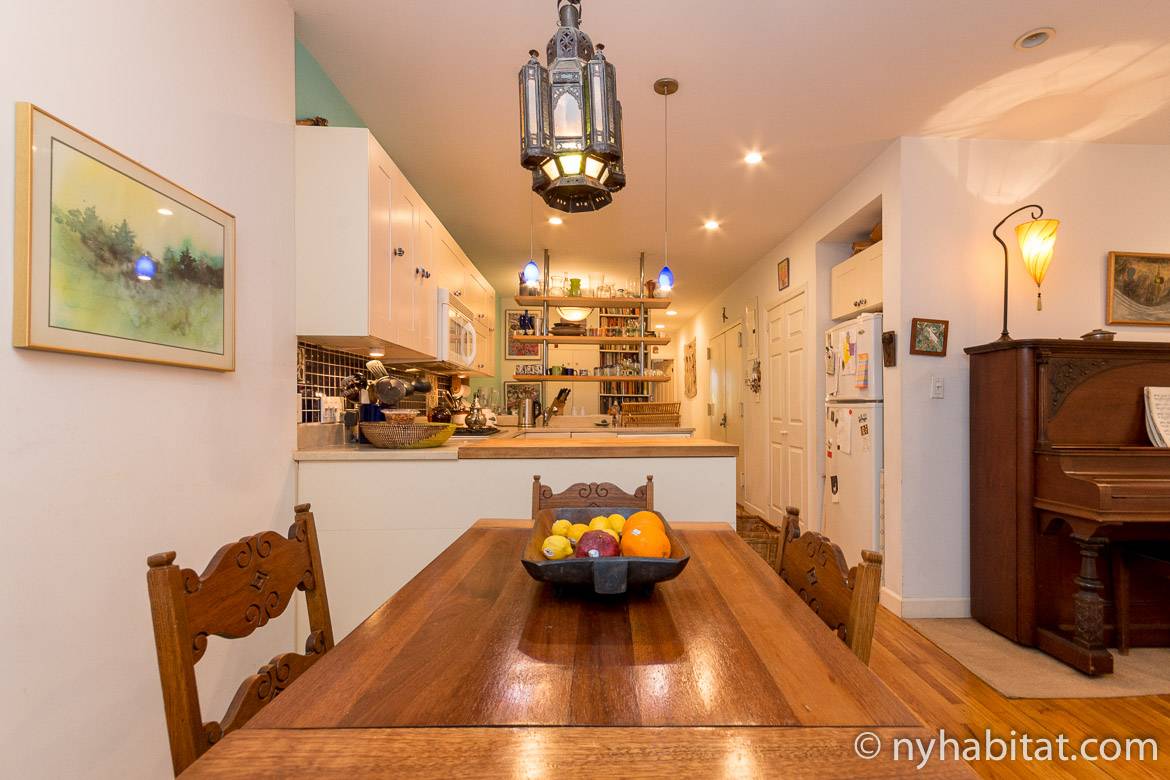 This would be a great place to spend a holiday, since the dining table can seat many guests.
This comfortable 2-bedroom apartment is excellent for those who want a cozy, lived-in environment with open spaces, a prized commodity in the city. This furnished rental includes a washer/dryer inside the apartment, a Jacuzzi, and even allows pets, if it's just too hard to leave your loyal companion behind! There is ample storage space, so you're free to pack away your luggage and feel at home. Park Slope is one of Brooklyn's most historic and well-known neighborhoods, famous for its great restaurants, bars, and a more adult social scene. For those eager to find top-rated entertainment nearby, look no further than Barclays Center, one of New York's best indoor arenas. Dozens of artists perform here regularly, and various sporting events like boxing and basketball are held here as well, all just a 20-minute walk from the apartment. The unbeatable price of this Park Slope gem makes it worth the journey!
10. Crown Heights – Brooklyn Children's Museum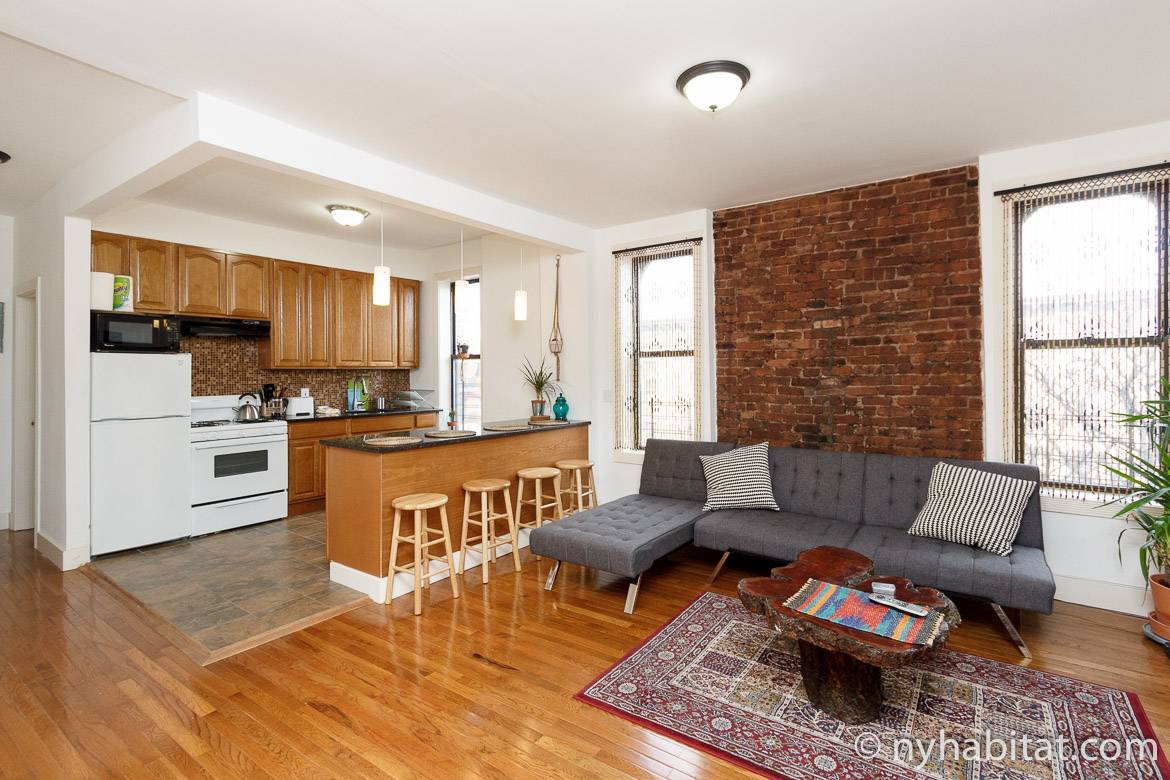 Crown Heights is quickly becoming Brooklyn's best-kept secret.
Stay in this Brooklyn furnished rental and you can enjoy perks like natural light pouring in from the windows and an open kitchen that allows your entire vacation party to make home-cooked meals instead of dining out. The dining table in this apartment seats six, so large parties are welcome! Crown Heights is quickly becoming a Brooklyn favorite, as it's rich in culture and attractions for the whole family while still maintaining the charm of an undiscovered neighborhood. Visit the nearby Brooklyn Children's Museum (the first of its kind in the United States) for a fun day out with the kids. They'll be exposed to countless exhibitions that aim to teach as well as entertain.
With so many areas of NYC offering spectacular rentals, make sure you choose the one best suited to your needs and interests. The truth is, regardless of where you stay in NYC, you're guaranteed to have plenty of great stories to tell your friends back home! Whether you're interested in fine dining from around the world, innovative theatre, or the simple tranquility that comes with sitting in a great city park, there's sure to be an apartment for you.