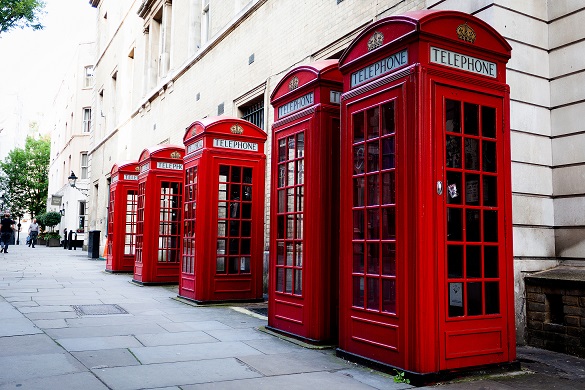 Discover London while staying at a unique property. Photo credit: Mike Dixon
We all love London for its hip energy, its forward-thinking music and fashion, and its wealth of history and culture. It's no wonder this city is always bustling with arrivals from all over the world! If you're considering heading to London for business, academics or leisure you'll want to find the perfect home base to settle into. We've selected some of our favorite London properties that showcase the diversity of style and local tastes that make this city so unique — from classic, historical charm to peaceful outdoor oases and mod apartments with skyline views. So let's jump right in and pop by the first of our most desirable properties in London…
Modern & Trendy with Skyline Views of London in Southwark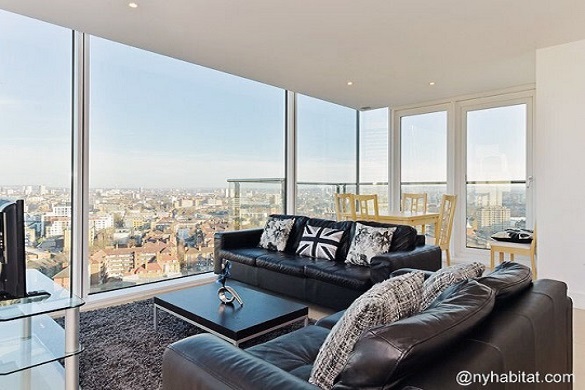 See London from above in this modern apartment in the sky
If you dream of immersing yourself in the landscape of London, you might want to move right in to this 2 bedroom 2 bath apartment in Southwark with wrap around views of the London skyline! Imagine yourself kicking back with expansive, floor-to-ceiling windows in the living and dining room areas, feeling like you're on top of the world. This property is one of our faves for its modern design and its unbeatable bird's eye views of London, not to mention its precious outdoor space (and there's plenty of it), high above the city.
The surrounding windows create a bright and open space with plenty of natural sunlight and jaw dropping views over the city. Sliding doors off the living room open onto the balcony area where you can enjoy fresh air and fantastic vistas. This apartment is decorated in classic black and white tones, creating a modern, stylish space with sleek, minimalist inspired decor. Rich black leather sofas contrast with luminous white walls that reflect sunlight streaming in from the wrap-around windows, making the space light and bright — the perfect antidote to a gray London day. London-themed throw pillows add a dose of local whimsy. The kitchen area opens onto the living area, perfect for entertaining or just taking in the view while preparing dinner. Equipped with modern amenities such as the dishwasher and microwave, meal prep is a breeze. Speaking of breezes, why not enjoy a meal with a view or sip your morning coffee while looking out over the city from this luxurious property. The elevator building is handicap accessible and offers in-unit laundry machines and optional cleaning services which make it a convenient option for a corporate rental as well. The outdoor balcony space can also be accessed from the first bedroom, while the second bedroom is subdued in tone with wrought iron bed frame and space-saving storage underneath. The first of two bathrooms has a modern glass shower and minimalist design while the second bathroom's tub and shower options make it an urban oasis. The location in Southwark means you'll have proximity to the city's most recognized attractions in addition to a fab London apartment.
Hip, Homey & Industrial in Camden Town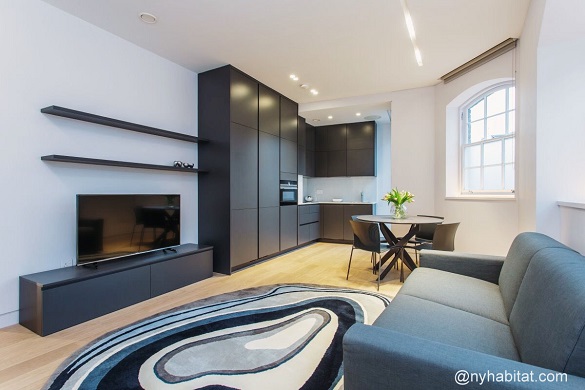 Industrial meets modern in this 1 bedroom in Camden Town
If you enjoy modern luxuries but still want to feel grounded to that industrial, historical charm of the London of yore, this 1 bedroom in Camden Town is where industry meets modernity and hipness. Located in one of London's hippest and most vibrant areas close to the famous Camden Market, this apartment is a harmonious blend of past and present, old school yet modern. We love the element of surprise in this property; it's very discreet from the outside and blends with the history of the area, yet inside it has updated amenities and decor to match.
From the outside the brick facade and cobblestone street give a warehouse-chic charm to the property, while inside modern amenities and decor create a surprisingly luxurious space. Wide, arched windows give the space a contemporary loft vibe while the recessed lighting and beautiful hardwood floors make the space very homey. The modern, open kitchen features floor-to-ceiling cabinetry for plenty of storage space while the matte black, handle-free design is discreet and streamlined, allowing it to flow and blend into the living room area's matching black furnishings. The contemporary decor, with a palette of black and shades of gray contrasts nicely with the crisp white walls and makes the space feel instantly subdued and relaxing. A modern, abstract designed area rug in the same cool tones adds a swirl of movement and a focal point to the living room area in front of the flat screen TV. The bathroom is the epitome of minimalist luxury, with heated towel racks, wall mounted faucet and glass enclosed shower. If you appreciate modern amenities but prefer a more low-key building in a trendy area, you might want to put this apartment on your list of favorite spots.
Quaint & Historic in Chelsea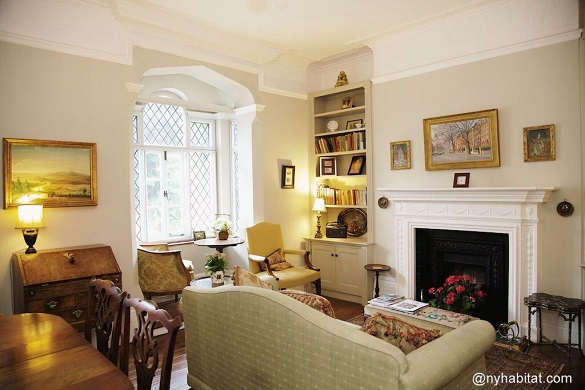 Cozy country style in Chelsea
For those who prefer peaceful surroundings with touches of historic charm, this 1 bedroom va-cation rental in the Chelsea section of London won't disappoint. We love this property for its co-zy, country vibe that takes us back in time, its deco fireplaces and that gorgeous garden terrace!
The beauty is in the details in this property, from its built-in bookcases and fireplaces to its carefully selected antique wooden furniture, and historically-themed paintings. The neutral color palette blends effortlessly with the outdoors. The full kitchen with dishwasher and the wooden dining table for six may inspire you to prepare a traditional English meal in your lovely London vacation home. Mince pie anyone? A green tile backsplash in the kitchen mimics the colors of the garden foliage while the white cabinets add lightness to the space. The bathroom is bathed in natural light while the corner sink and ample counter top are positioned to make efficient use of the space. The glass enclosed shower allows sunlight to brighten the space along with the pale beige shower tiles that add a bit of space definition.
Neutral tones, beautiful wood flooring throughout and quaint decorative touches like the living room shelves lined with the owner's favorite books and glowing side lamps, help to create a sense of coziness and charm in this home away from home. Picture yourself curled up on the couch in front of the fireplace flanked by antique side tables reading a Charles Dickens novel. Floral curtains and throw pillows in vintage hues combine with flower arrangements throughout the space to bring the outdoors in, while antique pieces like the wooden credenza and ornate fireplace mantle hark back to the old days of London. Pale walls are accented with contrasting trim and ornate molding drawing attention to the unique details and historic charm that make this property truly one of a kind. A vintage chair and side table are tucked by the window atop an elevated nook, creating a lovely perch for an afternoon tea while admiring the garden view. Step through the French doors into the relaxing bedroom area where the green tile of the fireplace pops against the pale walls and a gilded statement mirror beautifully reflects the natural light from the outdoors. Long glass doors let the morning sunlight stream in, leading onto the gorgeous planted terrace area. Imagine a perfect London morning, stepping out onto the terrace with a cup of tea and a scone, overlooking the peaceful garden area. Start your day taking a stroll beside the nearby Thames River, then stop for a bite at one of the many restaurants and cafes along Fulham Road.
East London Style Meets NYC Loft Vibe in Hoxton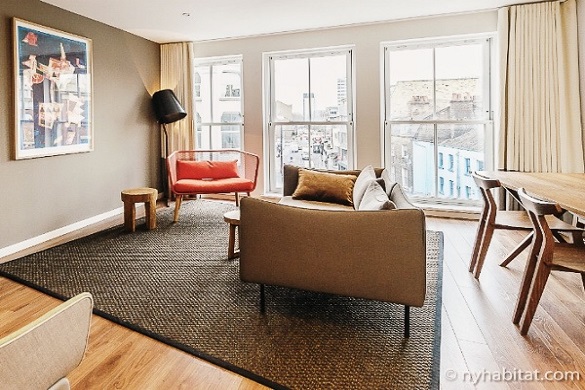 Now this is a living room with a view!
This 1 bedroom in Hoxton is a chic pad in an elevator building with laundry right in the unit, perfect for this cosmopolitan city. We love all the perks and amenities it offers, the use of light-hued wood to bring the outdoors in, and the views overlooking neighborhood life below.
Combining a bit of East London style with a touch of New York loft vibe, three large windows look out onto the London streets and over chimneyed English rooftops while providing plenty of light for the space. The polished hardwood flooring throughout the apartment adds sophistication and blends perfectly with the contemporary wood cabinetry in the kitchen, and wood accent wall in the bath-room. The modern open kitchen is fully equipped with the highest quality appliances for those who might want to try their hand at a traditional beef Wellington or shepherd's pie on a chilly London evening. Wooden upper cabinetry compliments the white cabinetry below while stainless steel adds some reflective polish. The flat cooktop stove and overhead stove hood create a modern center point to this updated kitchen. You may be inclined to pull up one of the barstools for a chat over a pint at the countertop. Picture yourself enjoying meals at the dining table made of beautiful wood with matching carved wood chairs (a modern design piece in and of them-selves) or working from the living room overlooking daily English street life below. Colorful chairs add pops of color to the neutral toned living room while a large, textured area rug delineates an inviting space to lounge.
In the bedroom, earthy tones of brown and beige add warmth while the wall of windows allows sunlight to pour in in the morning. If you prefer to sleep late just draw the heavy curtains to block out the light and add some seclusion. We all need an escape from the liveliness of the city streets sometimes. After a long day you might want to slip into the bathroom for a relaxing soak in the luxuriously deep bathtub. Some units at this location feature a terrace with outdoor seating as well, keeping the wood and steel theme harmoniously flowing from inside to out.
From Warehouse to Bohemian Loft in Shoreditch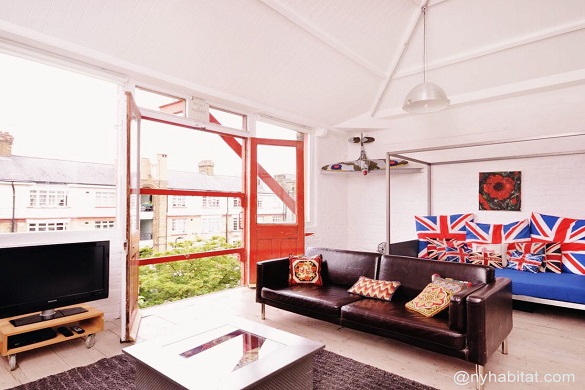 Flexible open spaces are perfect for a family or group
Speaking of a loft vibe, this 2 bedroom/2 bath in Shoreditch is located in an old warehouse-turned-residential building that screams hipster-chic! The exterior red painted door and window frames give this loft-style space a pop of color to brighten up a gray London day, while large windows and high angled ceilings with skylights open up the space. We love this property be-cause of its eclectic uniqueness and all the funky elements thrown in (both architectural and design), the sunlit brightness of the windows that open it up to the outside, as well as the flexibility of the space for different functions.
Vibrantly colored accessories scatter the living area adding a dose of the owner's artistic personality: there is a sumptuous double-size blue sofa bed accented with Union Jack flag pillows adding an energetic blast of UK color, a second sofa with bohemian-style decorative pillows, and a long bench-style dining table that seats twelve with colorfully cushioned chairs. The fully equipped kitchen has the convenience of a dishwasher plus an additional breakfast bar area at the countertop so there's room for everyone to spread out. Quirky pendant lights hang down from above adding whimsy, while unique artwork dresses the walls. The smooth gray and white marble island provides an area for dining with industrial-style bar stools while creatively hiding wood for the fireplace underneath one side and appliances under the other side. Multiple couches provide plenty of seating to gather in the living room area with funky fireplace in the corner.
This space could work well for a family or group of friends or colleagues with multiple sleeping spaces, plenty of dining areas and two bathrooms. The original exposed brick walls in the first bedroom add warmth to the room featuring double bed with jewel-colored pillows and wooden shuttered windows that give it a cool gypsy caravan vibe. Can you picture yourself relaxing in the en suite vintage deep-soaking bathtub?
A ladder accesses the second bedroom giving you an aerial view from its A-framed sleeping loft with double bed. Two modernly styled bathrooms add such spa-like serenity, you may have a hard time getting some people out of them! The first bathroom features gray sandstone tiled walls and shower contrasting elegantly with the white sink and toilet and silver fittings. The other bathroom offers a luxurious, glass enclosed, marble walled shower and rainfall shower head.
With a group, it's always convenient to have a laundry machine right in the apartment so you can spend a rainy London day getting those household chores out of the way. When the weather is nice, spend the day discovering Shoreditch, a trendy London area that still retains traces of its working-class past, much like this fabulously unique property.
Stylish & Space-Saving in Artsy Fitzrovia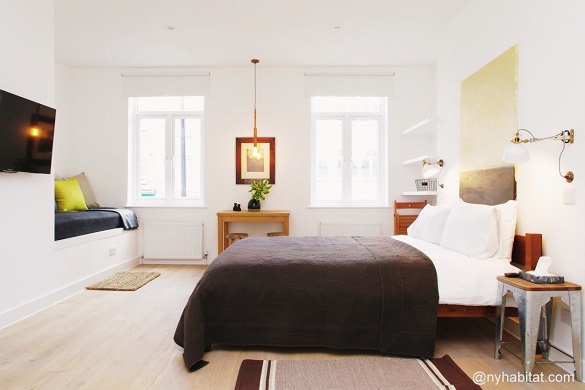 This studio maximizes space efficiently yet stylishly
Form meets function in this studio in Fitzrovia that is simple in design yet maximizes its space, incorporating a living room area, full kitchen, modern bathroom and sleeping area. We love that a studio can provide so many functions and you can feel the separation of areas, all without cluttering the space.
The bright living room has contemporary decor, large windows to brighten the space, and sleek wood flooring. The furniture elements are carefully designed to provide function and convenience while taking up minimal space. Imagine curling up with a book in the cozy seating nook by the window and gazing out at London or sitting down to dinner at the cute dining table near the windows; a pendant lamp hangs from the ceiling accenting the spot and stools conveniently tuck away underneath when not in use, visually transforming it into a coffee table. On a rainy London day you can stay in and watch the flat screen TV from your double bed, flanked on both sides by industrial-style night tables.
The updated kitchen is modern with gray counter-tops pairing nicely with white cabinetry. It's also equipped with all the necessities for preparing meals at home to save on your budget. The modern bathroom juxtaposes light and dark with white and gray tones creating depth while the glass enclosed shower with luxurious rainfall showerhead gives the space the feel of an at-home spa. When you want to immerse yourself in the local area instead, just head outside into Fitzrovia's thriving, creative, and artistic scene, where you'll find dimly lit music venues, public houses, speakeasies, and a vast array of pubs and galleries.
Classic Can Still be Modern in Primrose Hill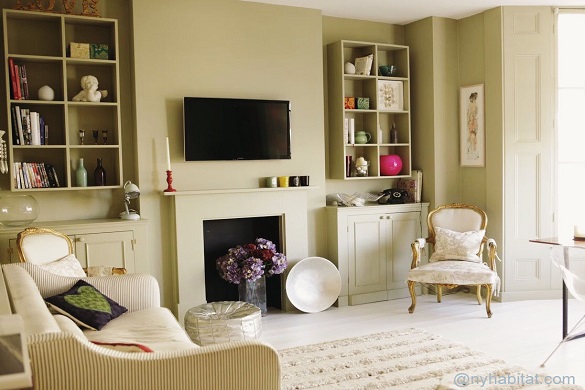 Cozy country style and a garden terrace await you in Primrose Hill
If you adore classic English style but not the frump, this 1 bedroom apartment in a period house in the heart of Primrose Hill Village seamlessly mixes the classic London charm of an historic house with modern styling to update the look. We love this property because it balances English regalness with contemporary decor so it's not stuffy, and blends it all with a love of nature and that fabulous outdoor space!
The apartment maintains its original wooden floors throughout, as well as its period charm. In the entry, you are surrounded by birch tree trunks and branches adorning the wallpaper, perfectly transitioning the outdoors to the indoors. The living room is styled like a classic English country house complete with decorative fireplace and cozy armchairs, while a flat screen TV updates the space. The light colored wood floors create openness and lighten up the space. Antique armchairs sport gilded frames and fluffy pillows while the silver metallic ottoman suggests the designer knows how to have fun and not take things too seriously. Random words like "relax", "soak" and "love" and whimsical phrases are tucked here and there, adding a bit of levity. Modern amenities can be found in the custom eat-in kitchen with wood counter-tops, dishwasher and stainless steel range.
One of the features we love most about this property is the spacious wooden terrace area, a rare find in a megalopolis like London. What could be more serene than being surrounded by real-life nature as you dine outdoors, right in the big city!
The bathroom is sleek and modern with both tub and shower options, a silver framed accent mirror that adds sparkle and a sink that seems to float in space, but it's the small decor details that retain that English country charm and warmth. You might select this property if you're someone who wants to be close to it all in the city yet still be surrounded by the serenity of nature. Nearby you'll find delightful cafes and restaurants, plus Camden Market for ethnic foods, as well as a tube station to take you to the center of the town. But when you prefer a quiet afternoon in nature, you have the option of your peaceful terrace or two lovely parks (Primrose Hill Park and Regent's Park) just within walking distance.
Now that we've introduced you to the wonderful variety of London properties that we have available, head to our website to browse even more. Our agents will work with you to find the right apartment to fit your individual needs. Let them know the specifics you just can't live without, your dream perks, and what's important to you and they will give you customized options to choose from. You've got enough to coordinate when heading to a new city, let our agents use their expertise and local knowledge to point you in the right direction and make your next trip to London memorable and unique.
Related apartment rental posts from New York Habitat: