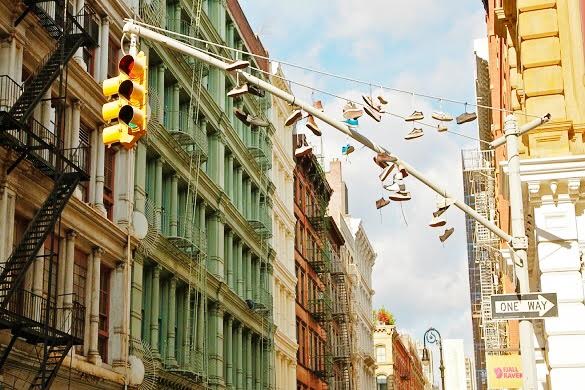 SoHo, NYC is famous for its shopping, boutiques, and fashion
It's that time of year again: The semi-annual event known as Fashion Week, and all its accompanying designers, models, photographers, and entourages are about to take over the major style capitals of the world. Twice a year in winter and fall, New York, London, Milan, and Paris host the fast-paced runway shows of Fashion Week and their fashion-forward events. We know how busy all of our fashion industry clients are, and that hotel rooms can be impossible to find. As such, we've compiled a list of apartment suggestions in NYC, London, and Paris that we think would be just your style.
New York Fashion Week (February 9 – February 17, 2017)
The streets of NYC are always an unofficial runway, but during Fashion Week, the local fashionistas and an influx of fashion gurus can be found out and about in full force. Keep your eyes open for some serious style inspiration.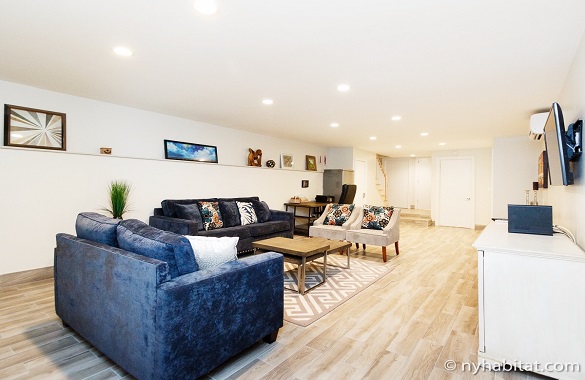 This 4-bedroom/3 bath duplex on the Upper West Side is spacious enough for your whole entourage
If you're traveling with your entourage and looking for a furnished apartment for Fashion Week, this 4-bedroom/3 bath duplex in a beautiful townhouse on the Upper West Side can accommodate 14 people! It's not easy to find this kind of space in the coveted Upper West Side. Wood floors throughout and exposed brick add to the appeal. The dining area adjacent to the fully-equipped kitchen has a dining table for eight, plus plenty of additional dining space at the countertop with bar stools. There's even an additional dining table in the garden area out back for dining al fresco. Everyone can gather in the living room, where there are multiple sofas and seating, as well as a desk and chair for getting work done. Four separate bedrooms with multiple sleeping arrangements make accommodating everyone easily. Plus, with three bathrooms, everyone can get ready without holding up the group. There's also a washer/dryer in the apartment, convenient for quick wardrobe changes.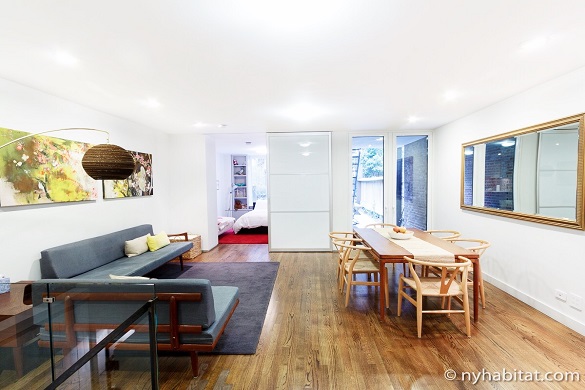 This duplex on the Upper West Side has a private garden area
Another perfect duplex apartment for a group is this two-bedroom duplex apartment on the Upper West Side that can sleep seven people. Located in a landmark building near Central Park, the accommodation has privacy and all the comforts of home, while also being close to great shopping, dining, and Fashion Week events. There's plenty of space for dining, lounging, and working, plus a full open kitchen with exposed brick for preparing meals. One of two bedrooms features a decorative fireplace, while the other has a wall of windows overlooking the private back garden area. One and a half bathrooms and a washer/dryer in the apartment are some of the many conveniences.
If you're looking for a little luxury to come home to after a busy day at the runway shows, this studio in Murray Hill is perfect for relaxing away the stress of the day. This modern, luxurious high-rise building features fireplaces in the lobby, a gym, a pool, and even a Turkish hammam and spa. The stylish studio has everything you could need for a working vacation: wood floors, a king-sized bed, and a desk for working. It also has the convenience of a sleek, modern kitchen for preparing meals at home, a washer/dryer, and a custom walk-in closet spacious enough for trying on all your latest fashion acquisitions.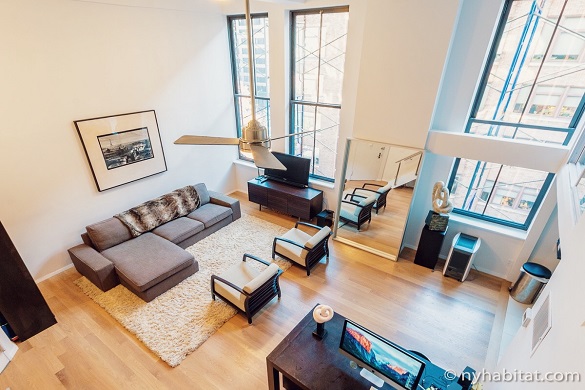 You'll love the chic decor of this duplex loft in Greenwich Village
Perhaps you're coming to NYC for a longer period of time to work in the fashion industry. The chic decor of this 1-bedroom duplex loft apartment in the trendy Manhattan neighborhood of the West Village will be just your style. Featuring soaring ceilings and chic decor, it's a perfect fit for the fashion aficionado. Floor-to-ceiling windows fill the space with the perfect amount of natural light. To keep up with the high-paced fashion world, the apartment has two desks with internet access, so you can get work done effortlessly right from home. And for those into famous labels, there's a Viking stove and Bosch dishwasher in the kitchen and plenty of custom closet space in the bedroom to fit even the most extensive wardrobe. Since it's located in the West Village, you'll be close to all the unique boutiques of SoHo and surrounding areas for inspiration.
London Fashion Week (February 17 – February 21, 2017)
London is hopping with the international fashion crowd from both sides of the pond. The street fashion here has always been on the cutting edge and ahead of its time, so keep a fashion-forward eye out while you roam and you may spot the next big trend. Whether you're coming for Fashion Week or just to check out the shopping and street fashion, Londoners have always been trendsetters. Why not live like a Londoner during your stay in a trendy London flat?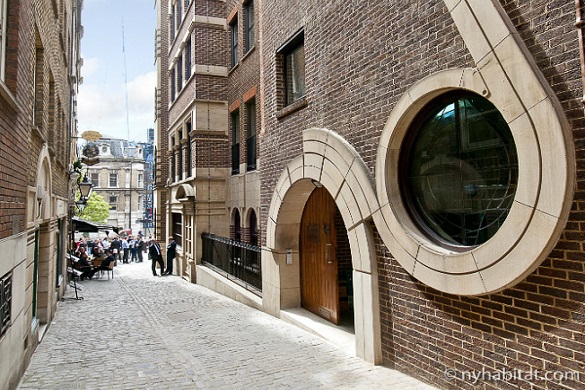 This studio in Central London is also at the center of all the action
This studio is the perfect spot to call home for Fashion Week. Located in the center of the city, it has an elegant Art Deco design style full of colorful fabrics, minimalist lamps, and artwork. It's the perfect home base and its central location makes it easy to head out to all the runway shows and fashion events around town. The apartment has hardwood floors, a fully-equipped kitchen, cable, internet, and laundry right inside the apartment, so it's designer and functional.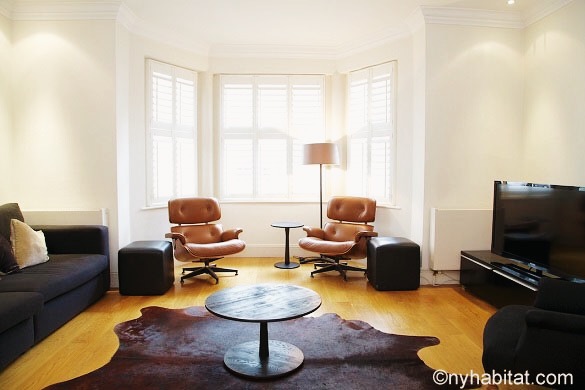 Rent a trendy 1-bedroom apartment in South Kensington
Even the trendiest travelers will enjoy this ultra-contemporary 1-bedroom flat in the South Kensington area. From modern artwork to modern conveniences like a dishwasher and laundry right in the apartment, it has everything you could need for a Fashion Week flat.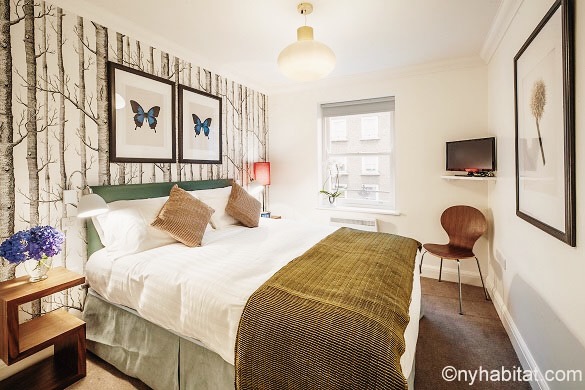 This fashionable 1-bedroom in Marylebone is perfect for Fashion Week
This 1-bedroom apartment in the lively neighborhood of Marylebone is a perfect location for Fashion Week. This fully-furnished apartment with stylish and modern décor is available by the week. It has a cozy bedroom plus sofa bed for a guest, a fully-equipped kitchen with a dishwasher, and a washing machine in the unit. Hop on the tube and head to Covent Garden Market in your free time. This carnival-themed shopping center features a variety of trendy shops for loading up on all the latest London fashions.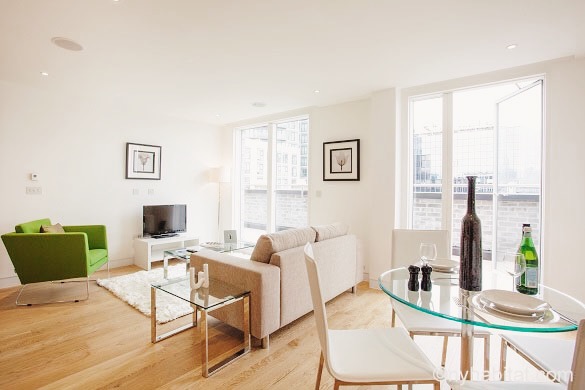 This Shoreditch 1-bedroom has floor-to-ceiling windows and a balcony
Speaking of trendy, the Shoreditch area of London is perfect for trendsetters; filled with restaurants, cafes and nightlife. Stay in style at this bright and airy 1-bedroom vacation rental with floor-to-ceiling windows that fill the space with light, high-end appliances for the option of cooking at home, and even a private balcony to enjoy views of London.
Paris Fashion Week (February 28 – March 8, 2017)
Paris's legacy in high fashion is indisputable, and the city's Fashion Week is as prestigious as it gets. If you're among the lucky few who get to attend, you certainly want to stay in stylish digs that are equally as impressive.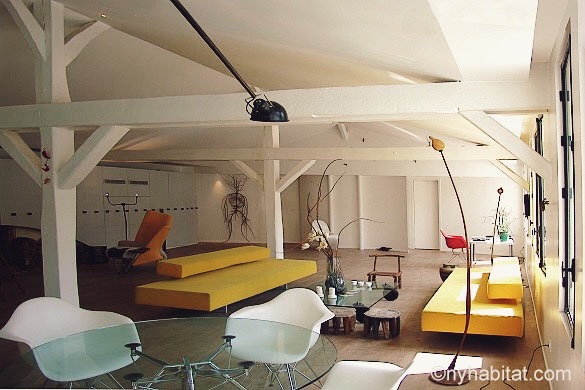 This ultra-hip loft in Le Marais has plenty of space and tons of style
If you're heading to Fashion Week in Paris, you absolutely need an apartment that will get heads turning and tongues wagging. This uber-trendy 3-bedroom loft in the ultra-hip Le Marais area of Paris is just the place to do that! This impressive space has large windows facing the garden/courtyard, a terraced rooftop (accessible by spiral staircase ascending into the sunlight from within the apartment), exposed antique ceiling beams, and a working fireplace, just to name drop a few fabulous features! You'll feel right at home in this charming area of old buildings juxtaposed with trendy cafes, plenty of art galleries, and designer stores, .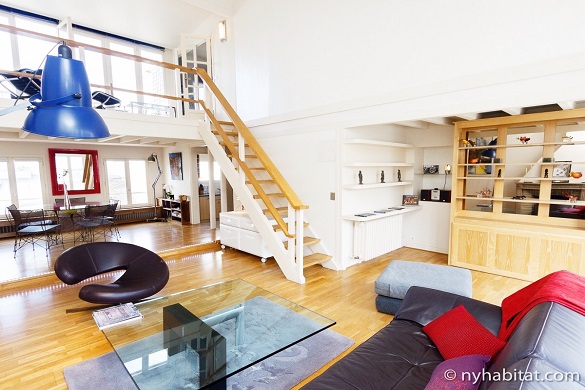 This duplex on Ile St. Louis is bright and airy, with a balcony and rooftop views
If you prefer to be in Le Marais, yet stay in an area that feels almost a world away, check out this 1-bedroom duplex apartment on Ile St. Louis. This charming neighborhood of Paris maintains a 17th-century ambiance with cafes, boutiques, and beautiful old-world architecture. Inside the apartment, wall-to-wall windows and a dual-level living area make the space bright and airy, while the private balcony offers fresh air and views over the Paris rooftops that will simultaneously take your breath away.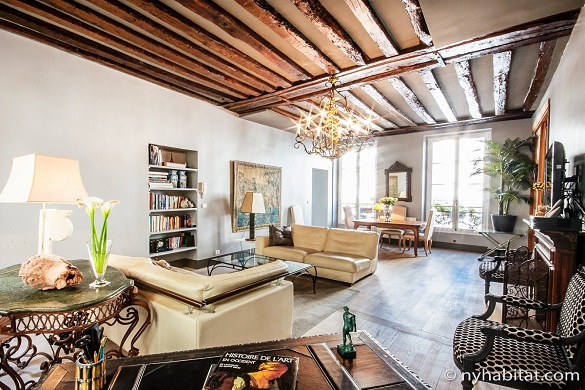 This 2-bedroom in Le Marais has old-world Parisian style
You have to stay in high style for the fashion event of the year, and we've got the perfect place! Located in a fashionable district with luxurious French-style mansions, this 2-bedroom apartment in an 18th-century walk-up building in Le Marais exudes Parisian style, charm and luxury. Immerse yourself in an old-world vibe as you're surrounded by exposed wooden ceiling beams, a decorative fireplace, artwork, tapestries, and dazzling chandeliers. Heavy antique wooden doors open to transport you to another time via peaceful bedrooms adorned with gilded mirrors and chandeliers. With floor-to-ceiling windows allowing sunlight to flood into the living room and kitchen, you may never need to head outside.
In the ever-changing world of fashion, its all about finding the right fit. With so many great Fashion Week apartments to choose from in New York, London, and Paris, we hope we've given you some great starting points for finding the apartment that suits you best. Check out our website for plenty more options and find one that matches your own unique style. After all, as Coco Chanel once said, "Fashion changes, but style endures."