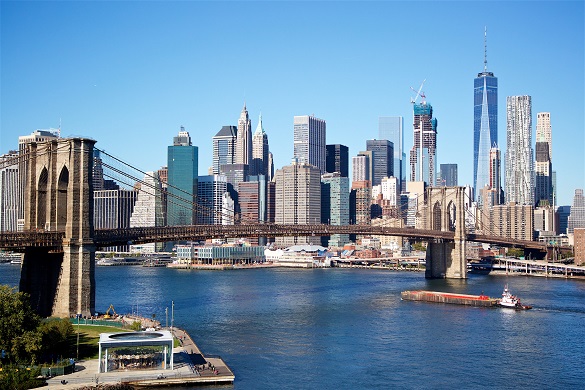 Lower Manhattan's rapidly changing skyline reflects New York's dynamism
New Yorkers range from cosmopolitan style connoisseurs to the kind of irresistible eccentrics you can't really find in any other city. This incredible diversity is evident among the hosts we work with — and the apartments they list with us. Are you curious about some of our favorites? Or could you use some apartment hunting inspiration for your next trip? Check out our selection of 7 apartments that encapsulate the vibrancy of New York City, and see which one best suits your personality!
Find Refuge in the Theater District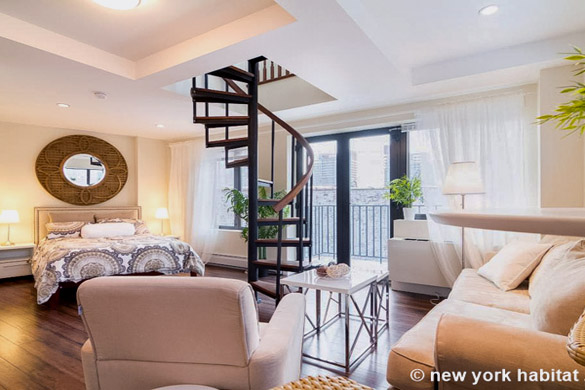 Convenience meets style in this serene duplex overlooking Hell's Kitchen
Be it leisure or business that brings you to the Big Apple, if you expect your ambitious schedule to have you bustling around the city all day every day, this furnished one bedroom duplex apartment might be a strategic pick. Its convenient location in the heart of Midtown's buzzing Broadway Theater District will minimize your travel time to all the essential attractions of New York City. And its proximity to the center offers more than convenience. Dash up the spiral staircase to discover a snug bedroom with access to a spacious private rooftop terrace, and step outside to enjoy the most premium views of Hell's Kitchen's iconic skyline.
But it is the atmosphere of the apartment that makes it one of our favorites. The serene character of this place, furnished in an unassumingly minimalist yet cozy style, creates a wonderful setting for you and yours to unwind after an exhausting day. As your partner prepares an elaborate meal in the open eat-in kitchen, take a dive into the cushy sofa in the lounge space, toss on your favorite show on cable TV, and relax. The subdued but warm color scheme, punctuated by the soothing green of the occasional potted plant, give this tastefully furnished space an air of tranquility that might offer you a welcome refuge from the overwhelming dazzle of the city that never sleeps.
Enjoy Eclectic Harlem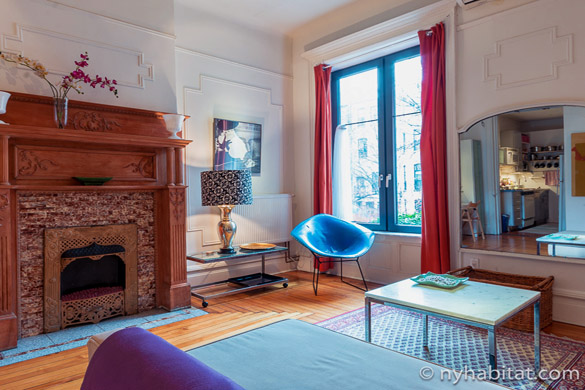 This is how locals live in Harlem
If you're traveling to New York for a quintessentially local experience, look no further than this quaint one bedroom apartment. Situated in a brownstone townhouse, everything about this Harlem gem breathes history, its multicolored hardwood parquet flooring, its two decorative fireplaces with hand-carved wooden mantels, its elegant wall moulding, and its high ceilings evoke some of the more glorious chapters of the city's past. But don't worry,  the outstandingly well-preserved prewar architecture is complemented by modern amenities including air conditioning, a particularly well-equipped kitchen with all the necessary appliances including a dishwasher, a bathroom with light gray marble flooring and walls, and recently renovated windows (a rarity in historic neighborhoods) that insulate well while letting in plenty of natural sunlight.
However, what makes this place truly unique is the creative spirit with which its current owners imbued the apartment through their eclectic choice of décor, ranging from vintage designer furniture to funky abstract paintings. Invite all your friends in the city for a dinner party, put on some smooth jazz (you're in Harlem, after all!), and let your two spacious art-filled living rooms serve as a backdrop to unforgettable conversations over wine. And should an especially long and engaging discussion, or perhaps inebriation – put some of your guests in need of an emergency sleepover option, offer them one of the several couches in the apartment. This space calls for ingenuity and versatility!
Family Fun in Ditmas Park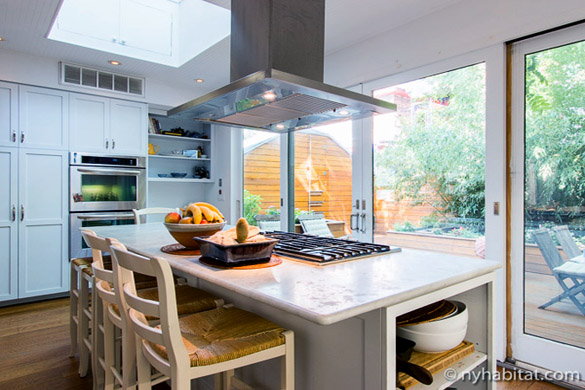 Do you have a perpetually hungry family?
Planning a family trip can be a hassle if your clan happens to be on the larger side. Well, this rustic Victorian four bedroom house sleeps 11 at the very least. Walking through the tree-lined streets of Ditmas Park, one of Brooklyn's officially designated historic districts popular with well-to-do families, but recently also young artists' colonies, you'll feel like you've been transported into an idyllic college town somewhere in New England. Yet, hop on the subway (a short walk from the rental) and you'll be in Lower Manhattan before you know it.
This is a home where everybody will feel truly welcome. Your parents might appreciate the elevator that provides access to all four floors, you're going to love soaking in the Jacuzzi bathtub, and your children will enjoy playing the keyboard or doodling on the blackboard in their own carpeted playroom in the basement. Feel free to bring your pets, too!
Let your family bond over a home-cooked meal – after seeing the kitchen, you'll be tempted to use it every day. Gracefully blending familiar wooden design elements with marble countertops, clean white furniture, and sleek stainless steel appliances, this chef's kitchen could inspire your next culinary masterpiece. Test its two ovens and wide array of cooking gadgets and tools with the most exotic recipe of your choice, and your family will never forget that dinner – especially if, weather permitting, you open the adjacent sliding doors and serve it on your enormous patio.
Harlem: Where Disparate Styles Create Harmony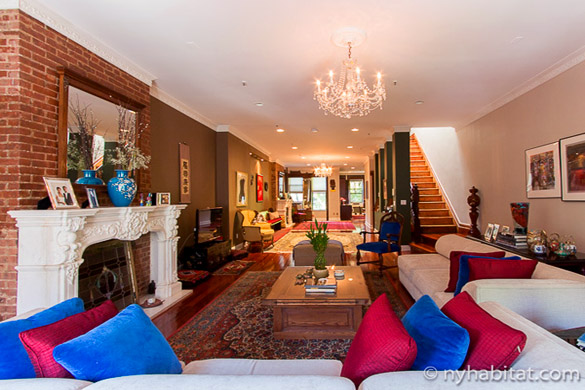 A classic Harlem brownstone jazzed up with oriental motifs
Every detail of this three bedroom duplex, another Harlem gem, is a statement. Embracing the majestic history of the landmark brownstone house where this vacation rental is located, the interior carefully preserves the most beautiful of its original features without being afraid to juice them up with vibrant contemporary themes. This is evident throughout the (notably spacious) living room: two splendid crystal chandeliers are augmented with recessed lighting for extra luminance, which in turns allows for some of the traditionally white walls to be painted in darker, less mundane colors. This still unobtrusive earthy color palette is then contrasted with carefully selected accessories toned in red and blue, providing a lively color accent. Similarly, antique furniture scattered around the living room is juxtaposed with contemporary artworks and oriental artifacts.
Leave behind the fancy kitchen with its granite countertops, ascend the staircase to step inside the master bedroom, and you'll behold another such contrast. Your eyes will be drawn to an exposed brick wall incorporating a large bookshelf made of reclaimed wood and blending with the headboard of a robust wooden king size bed. This unconventional concoction of rawness (traditional textures such as wood and brick) and refinement (an extensive library, a spacious walk-in closet, and a luxurious steam room) will appeal to you if cultural fusion is your thing. And since you probably love New York, the world's ultimate melting pot, as much as we do, it probably is.
Revel in the Bohemian Spirit of Greenwich Village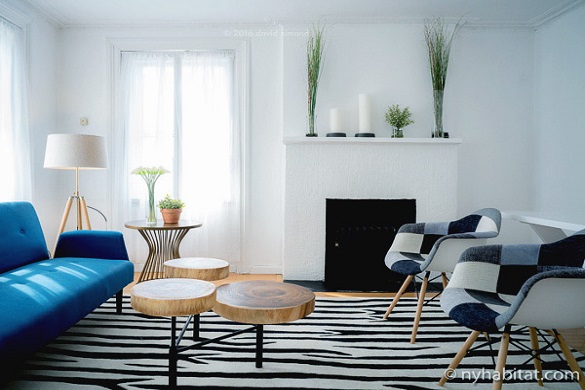 This one is for the artsy types
This enchanting one bedroom apartment in Greenwich Village is ideal for urban explorers with a bohemian bent; for those who flock to this neighborhood in hopes that something of the legendary avant-garde art scene that once flourished here, continues to live on in the minds of its current residents. Are you a 21st century beatnik on the lookout for the next Jack Kerouac or Joan Baez? Does staying minutes from the legendary Stonewall Inn sound appealing to you? Or are you a future scholar eager to join the Village's famously liberal student crowd around the New School or NYU? Imagine yourself settled in a place whose clean and fresh design will leave you enough breathing room for your own creative pursuits, but continue to inspire you to stay in the artsy groove.
Since most features of this space, including the decorative fireplace, are cloaked in white and thus cleverly deemphasized, you'll immediately notice the collection of designer-style furniture in the center of the living room. The blue sofa provides a fresh color accent, while the checker patterned armchairs and the rest of the furniture speak to you through an interplay of geometric shapes. The curious stump-like tabletops of the three-piece coffee table are visually echoed by the round end table by the window and a triad of circular mirrors above the sofa. The zebra striped carpet ties the different pieces together.
The bedroom is equally bright, with a soft white bed, round mirror, and a curvy white nightstand. Other amenities include a small kitchen and a brand new bathroom. We enjoy this property due to its airy, pristine feel that still allows for quirkiness.
Experience Creative Chelsea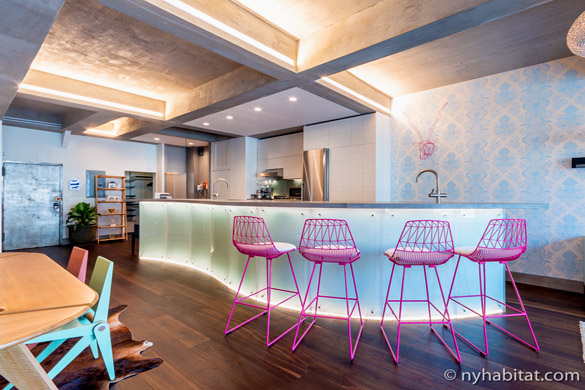 Modern architecture, vibrant colors, curvy feel
This innovative studio in Chelsea, located minutes from the High Line (the city's coolest urban park) offers something glamorous but low-key at the same time. Thanks to its open-concept layout, this space fits everything you need: a funky curved kitchen countertop with four futuristic bar stools, a queen size bed, a set of dining table and chairs, a wooden writing desk, and a modern lounge corner with a fluffy white shag area rug.
When we visited, we were thrilled by the lofty ambiance. The dramatic valance lighting emphasizes the ultra-contemporary exposed concrete beams. The pastel colored, damask patterned accent wall gives the space a touch of elegance. Four gigantic windows allow lots of sunlight to enter, bouncing off of a collection of mirrors and shiny surfaces to envelope the whole apartment.
Everything is flexible in this hip studio – you can suit it according to your personal style. Hosting a party? Fold up your Murphy bed to create extra floor space (and show off your exquisite dark hardwood flooring), use the ample cooking space to treat your guests to something fancy, and hang out at the bar. Or perhaps you've invited a quiet bunch. Turn on your cable TV-connected projector and host a movie night! And let us tell you: with an apartment full of people, you'll surely appreciate that the place has one and a half bathrooms, especially since they feature heated, auto-flushing Japanese toilets.
A Pristine Oasis in Bed-Stuy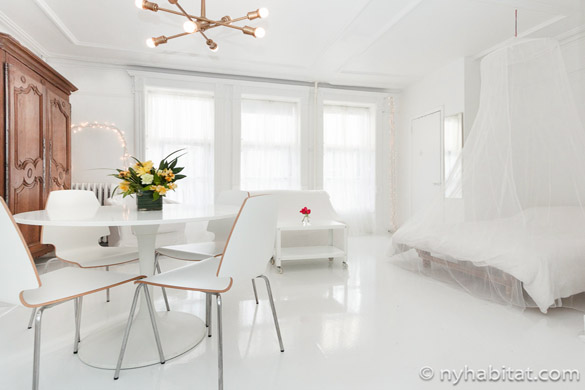 There's no scarcity of light in this one!
And finally, if you fancy yourself a future Brooklynite, look at this delightful studio in a historic brownstone townhouse in bustling Bedford-Stuyvesant. You might be happy to hear that the prices in this neighborhood remain as much of a draw for newcomers as its lively vibe and historic feel (your building is on a landmark block)! This uniquely snow-white, recently renovated apartment boasts conveniences such as air conditioning, but it has retained many of its original elements –hardwood floors, a decorative fireplace,and a wooden antique dresser that, along with the expressive floral arrangements sprinkled throughout the studio, disrupts the pale purity of the space. The walk-in closet in the corner provides enough storage space to keep your home clutter-free and pristine.
The unobtrusive writing desk with a soft designer-style rolling chair will be appreciated if work sometimes follows you home. The kitchen is a minimalist affair, equipped with a coffee maker and toaster in addition to all the basic amenities. The bathroom, true to the overall theme of the apartment, is all white, with a bathtub enclosed by a glass door. Yet, by no means does this space feel sterile or cold. The extravagant light fixture above the dining table reflects the host's heterogeneous style. Sink into the romantic canopy bed, full size futon, or armchair and enjoy the peaceful atmosphere. This apartment is a rare find.
We hope this selection of listings provided you some helpful inspiration in your holiday planning. Are you curious about more? Browse our database of rentals in New York or get in touch with our agents if you don't know where to start. One of our apartments is waiting just for you.
Related apartment rental posts from New York Habitat: