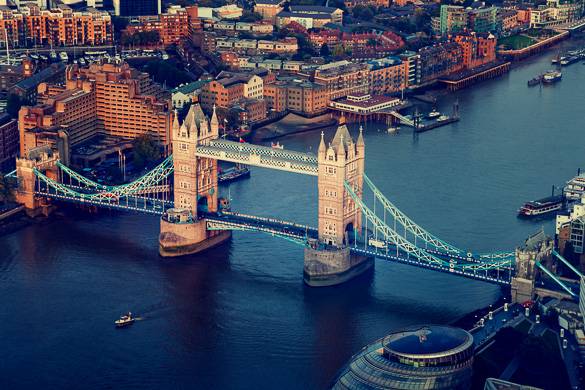 Tower Bridge is one of the most iconic sights in London (Photo credit: Iakov Kalinin)
Crisp air, warm mulled cider, and gorgeous gold and rust-toned trees creating an ever-changing display —these are just a few reasons autumn is many people's favorite season. Seasoned travelers also know it's the perfect time to see popular cities like London without the summer tourist crowds and never-ending lines. Special fall deals on airfare and accommodations mean there's no excuse to put off the trip to London that you've always dreamed of! In case you need more motivation, check out these spectacular fall happenings that are sure to add some autumn spice to your trip!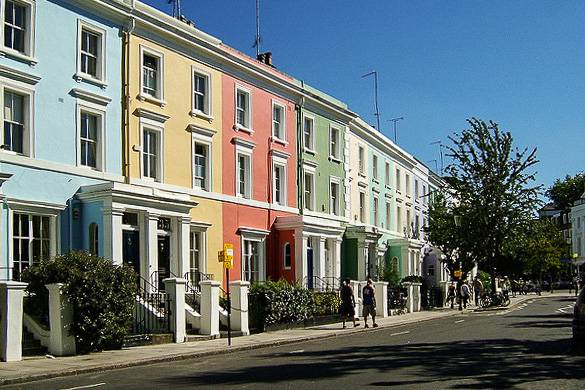 Instagram your heart out as you stroll the colorful neighborhood of Notting Hill (Photo credit: S Pakhrin via Flickr)
The best way to enjoy fall is to spend it outdoors soaking up the fleeting rays of sun and taking in the scenery before Old Man Winter arrives and leaves you homebound. Luckily, London has quaint neighborhoods like Notting Hill, where you can spend the day strolling the colorful streets and checking the vintage shops for new additions to your fall wardrobe. Stop at one of the many cafes lining Portobello Road and indulge in some fall comfort food, or warm up with a glass of mulled cider while sitting by a fireplace in the quintessential cozy English pub.
Experience the changing seasons from a bird's eye view
Get a bird's eye view of London's fall foliage from the Treetop Walkway (Photo credit: RBG Kew)
Once you've fueled up with food and drinks, head outdoors to experience the splendor of nature at this time of year. Did you know that London has the world's largest urban forest, with over 8 million trees? There's no better time than autumn to immerse yourself in the vivid colors of nature's ever-changing landscape. Experience breathtaking views of the forest canopy in all the splendor of its fall foliage while you stroll the 200-meter Treetop Walkway at Kew Gardens, just 30 minutes from Central London.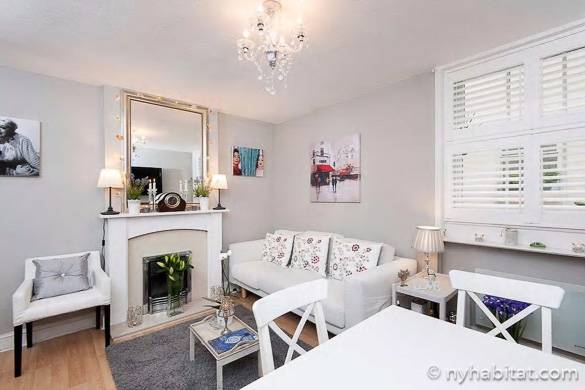 This elegant vacation rental in Knightsbridge has classic London charm
London is full of gorgeous parks to enjoy an autumn day, and nothing beats living close to one when the fall season kicks in! This two-bedroom apartment in Knightsbridge places you just two streets south of the best park in London, Hyde Park! You'll find all of the comforts of home here, including a charming decorative fireplace next to which you can curl up with a good Sherlock Holmes novel, and a terrace where you can sip hot toddies on cool autumn nights. The fully-equipped kitchen will inspire you to hit the local markets and try your hand at cooking some traditional English recipes.
When you want a night out, there's plenty of shopping and dining in the area, as well as pubs and bars where you can mix with the locals over some fall cider.
The parks of Kensington Gardens and Hyde Park are only a few streets away, giving you plenty of chances to snap some Instagram-worthy shots of fall foliage in the heart of historic London. If you're taking the whole family to London, check our blog for kid-friendly fall festivities.
London Film Festival
If you're more of a cinema buff than a nature photographer, the London Film Festival will catch your fancy. The festival runs from October 4-15, 2017 with 242 feature films screening across 20 venues throughout the capital. You're sure to spot some celebrities and discover some up-and-coming local talent.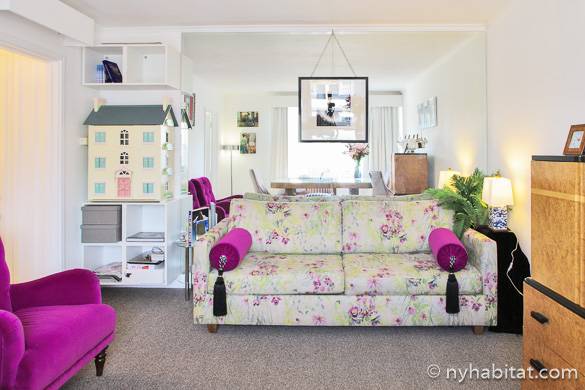 Rent a pad in Paddington and be close to the London Film Festival
Less than a mile from BFI Southbank, where the film festival is hosted, you'll find this stylish 1-bedroom flat in Paddington. Make this your home base and you'll be right near all the cinematic buzz and glitzy galas. Enjoy London's rooftop views from the quaint living room with Art Deco accents and eclectic furnishings. Whip up some snacks in the fully-equipped kitchen and have a movie night of your own right at home, or slip into the deep antique tub for a relaxing soak after a day touring the city.
If you're heading out in the neighborhood, try The Monkey Puzzle, a local pub and beer garden with a great selection. For a classic British vibe, head to The Victoria, a popular 19th-century pub with decorated wallpaper and wood paneling serving comfort food and pints.
And now for something completely different… The Postal Museum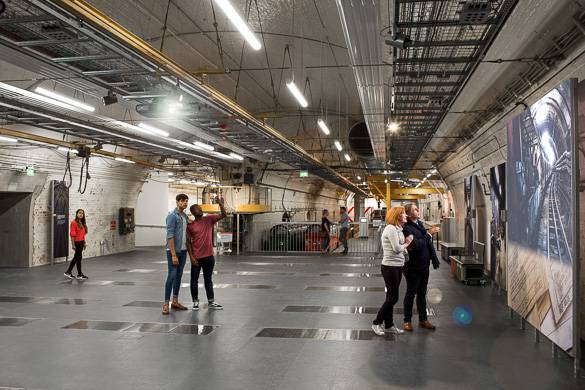 Go postal at the quirky Mail Rail exhibit at the Postal Museum (Credit: Mail Rail at The Postal Museum / Miles Willis)
For a surreal experience, head across the street from the Postal Museum and descend to a subterranean world. Visitors will find the former engineering depot of the 100-year-old Post Office Railway and board a miniature train that will transport them through its stalactite-filled tunnels. Mail Rail's interactive train ride passes through the tunnels that run beneath the Mount Pleasant sorting office, while clever technology and projection mapping transports people back in time, showing the impact of the railway on our ability to communicate with friends and family.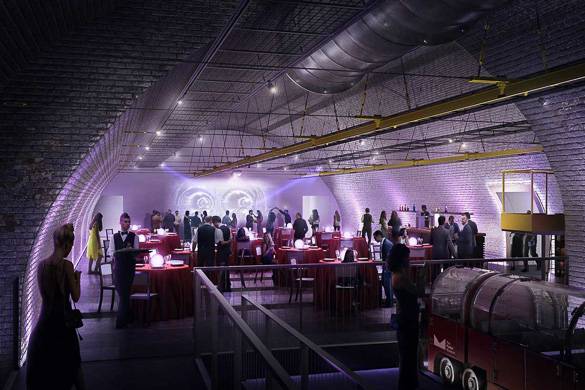 Dine in a subterranean railway tunnel at the Postal Museum (Credit: Mail Rail at The Postal Museum / Miles Willis)
After the ride, visitors can wander through the cavernous engineering-depot-turned-exhibition-space. A replica of a real-life Traveling Post Office, the floor will start shaking as visitors try and sort the mail just like a real-life traveling postal worker.
London Cocktail Week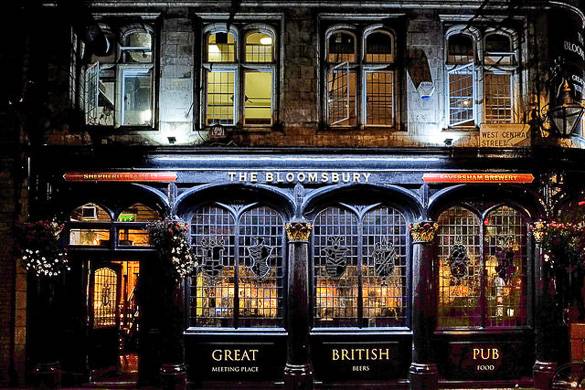 Hit as many British pubs as you can during London Cocktail Week! (Photo credit: Eric Huybrechts via Flickr)
After learning a bit about London's history, discover its contribution to the pub and restaurant scene. Get in the Halloween spirit while celebrating London Cocktail Week from October 2-8, 2017 at some spooky London pubs. A £10 pass entitles you to unlimited discounted cocktails at over 250 venues, as well as bar, restaurant and event discounts. Enjoy an array of events including live music, food and drink pairings, whiskey tastings and a tequila fest!
London Restaurant Festival
After the drinking, soak up some of the alcohol with London's best gastronomic offerings at the London Restaurant Festival. International gourmands can enjoy special values at some of London's top restaurants through the month of October, plus tasting menus, wine samplings, and restaurant-hopping foodie events. Don't forget to pack your appetite and tour London's famous food scene!
The Tower of London
One tour not to miss is the Tower of London, which already has a pretty creepy vibe, but takes on an even more sinister tone leading up to Halloween. Tower Twilight Tours is an after-hours tour of one of London's most famous sites, where you can stroll along cobblestone paths and climb ancient stone staircases while getting a history lesson. Hear ghost stories and get a gruesome look into London's past —perfect for those who like to delve into the dark side of London's history.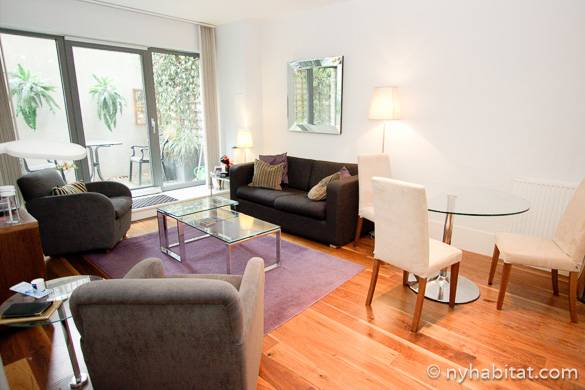 Enjoy the fall outdoors on your terrace at this London rental!
If you want to position yourself close to London's historical sights like the Tower of London, this one-bedroom vacation rental in Bloomsbury in London's West End is an ideal spot. The West End, part of Central London, is popular among tourists since it's home to many of the city's major attractions. The apartment enjoys sun from two planted terraces off the living room and bedroom, so you can enjoy the lovely fall weather right from the comfort of home. The living area is furnished with a double sofa, coffee table, flat-screen TV and DVD player. The open kitchen is equipped with all you need to prepare some seasonal dishes and enjoy dinner al fresco on the terrace. There's also a washer/dryer right in the unit for getting your errands done. The serene bedroom is furnished with a double bed, nightstands, and has sliding doors that open onto a tranquil terrace. The modern bathroom has marble tiles and a glass-enclosed shower equipped with rainfall showerhead.
Well-located near public transportation, this flat is available as a vacation rental or for monthly rental. Bedford Square and Bloomsbury Square are nearby for enjoying the outdoors, or you can brush up on your British history at the nearby British Museum and the Foundling Museum. Tourists enjoy its proximity to famous department stores and independent boutiques situated on Oxford, Regent, Carnaby, and Bond Streets, while the business traveler will appreciate that  the City of London, the capital's financial center, is less than a mile to the east. Don't forget that there's a whole world outside of London proper, so venture out on some easy-to-plan day trips and experience the rest of England!
Harry Potter: A History of Magic at the British Library
From Oct 20, 2017 through Feb 28, 2018, something magical is afoot at the British Library. The "Harry Potter: A History of Magic" exhibit celebrates the 20th anniversary of the publication of Harry Potter and the Philosopher's Stone. Fans will enjoy original drawings and objects from J.K. Rowling's archives combined with centuries-old British Library treasures relating to magic and folklore while learning about the history and mythology that lie behind modern magical traditions. If you're a Harry Potter fan or just a film buff, check out our blog on locations featured in the films and do your own wizardly tour of London.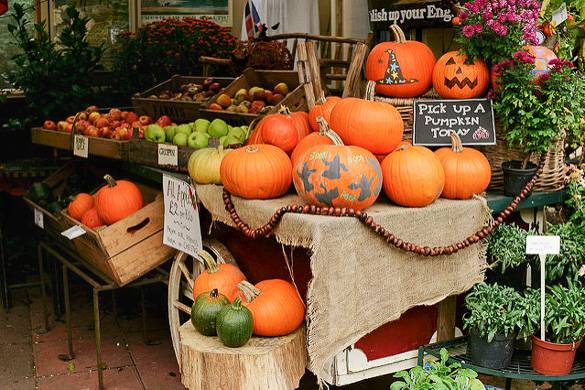 Fall is the perfect time of year for a spooky London tour! (Photo credit: Peter Trimming via Flickr)
There's certainly something to fit everyone's fancy going on in London this autumn, from the Harry Potter fan, to the history buff, the foodie, to the nature lover. It's the time of year that makes London seem all the more magical. To customize your trip to your interests, check our blog where you'll find great ideas on the best things to do in jolly old England. Then, browse our wide selection of London flats to find the one that feels like home to you, and book that fall trip to London while the weather is still perfect!