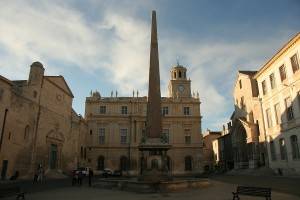 Photo of Arles, France
Nobody will argue that watching a live performance in an exceptional venue duplicates the enjoyment of the listener, and that is just what you will be able to do if you make it to the lovely town of Arles to attend its highly-regarded Jazz Festival from May 15 to 21.
After an inconspicuous debut in 1996, the event has continuously grown and steadily focused on offering the highest quality in jazz music, whether with promising or well-established musicians. Staying away from ephemeral trends, it has resolutely remained dedicated to bringing the various genres of jazz music to newly converts and hard-core aficionados alike. Extra bonus: The unique environment of the Chapelle du Méjan provides not only an outstanding setting, but also a welcome closeness between the musicians and the audience.
Once you've been totally jazzed up, do not fail to explore the UNESCO World Heritage site itself. Well-known for having the most Roman vestiges after Rome, Arles has done an admirable job at preserving those priceless attractions. Located smack between Spain and Italy, the town was considered the "Little Rome of the Gaul" under the emperor Constantine and its strategic importance in those days is still visible today. For an in-depth look at the architecture and operations of the thermal baths, forum, amphitheater, temples and more, do not miss the Musée départemental de l'Arles Antique, the regional museum of Ancient Arles. Walking around town, however, is still the best way to enjoy its many historical treasures.
For a full Arlésienne experience, there's nothing like living among the locals. And that's just what you will be able to do with one of several Arles vacation rentals.
If all you wish for is an inconspicuous pied-à-terre on a quiet street, our cute little furnished studio apartment – Arles Center – PR 1024 right in the historic center will meet your every need.
For a slightly larger space located a 15-minute walk (or 5-minute drive) from downtown, we offer an apartment that can be rented as a furnished 1- or 2-bedroom – Arles – PR 956. Its large, luxuriant garden, especially its impressive number of palm trees, will delight even the most reluctant nature lover.
For a large party, you cannot go wrong with our furnished 3-bedroom vacation rental – Arles Center – PR 915, right around the corner from the amphitheater, the antique arena and the Place du forum. Full of light and rustic touches, it also boasts of a small terrace with fantastic views over the antique arena, the Old Town and the Alpilles mountains.
Once you have been there, you will not forget Arles. If you've had the opportunity to enjoy this charming town, would you share your memories with us in the Comments section below?
Related apartment rental posts from New York Habitat: