They say the neon lights are bright on Broadway.
They say there's always magic in the air.
~George Benson
Times Square, New York needs no introduction to entice. Over 26 million people visit Times Square a year to marvel at the bright lights, larger than life advertisements, and bustling crowds. Unbeknownst to many, besides being a business and tourist district, the Times Square neighborhood is also home to several palatial high-rises. New York Habitat has several accommodations available in Midtown West, right on Broadway.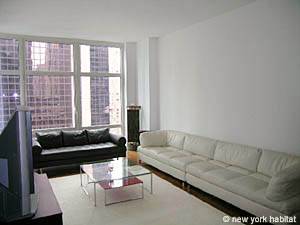 Penthouse: What a View
If a penthouse view of Broadway and Times Square isn't luxury, then we do not know what is. This one-bedroom apartment (NY-12092) features a small, private balcony off of the bedroom, providing a bird's eye view of the Times Square action.
Thisone-bedroom (NY-12046) luxury apartment available in the same building does not have a private balcony. It does, however, have floor to ceiling windows in common with the penthouse apartment. Occupying the entirety of one wall, the windows allow for the multi-colored lights of Times Square to fill the room, while also keeping out all of the noise.
While staying in any one of these three accommodations, renters will have access to the extravagance of the building's amenities, including the common terrace boasting its own putting hole.
These apartments are in the perfect location to visit the major Midtown West and Midtown East Manhattan attractions, while also being located near the 1, 2, 3, 7, A, C, E, N, Q, R, S, and W trains for convenient travel to other areas of New York City.
Why are these Broadway apartments Hidden Gems?
Location, alone, would be enough to make these apartments stand out. That detail combined with the luxury and comforts of the building destine them to be Hidden Gems.
For more information concerning restaurants, theater, and attractions in the Times Square area, visit http://www.timessquarenyc.org/
If you would like to learn more about the Times Square apartment and hotel market, read Times Square: Home to Furnished Accommodations from our blog.
Feel free to comment on the wonders of Times Square below.