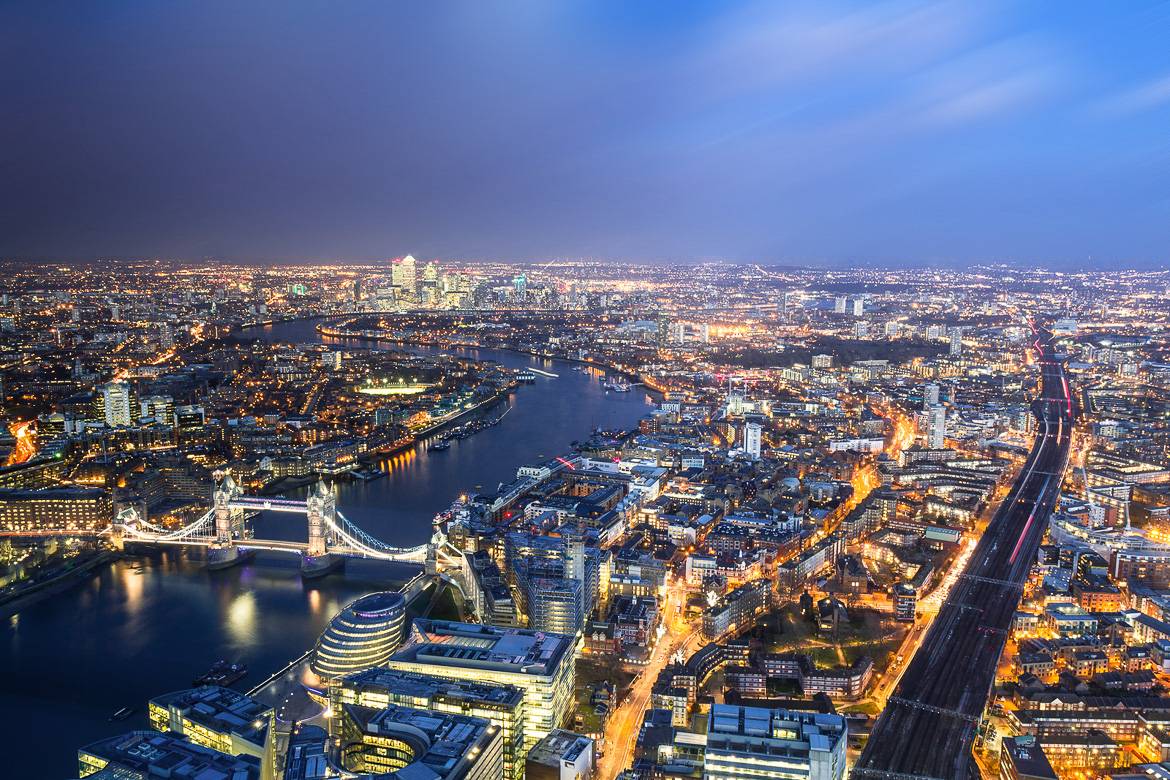 Aerial view of London
We all know how fulfilling it can be to escape the daily grind of full-time jobs and responsibilities through relaxing vacations, perhaps even more so during the summer! What some do not realize is the ease and simplicity of booking short-term destination vacations, which are perfect for people on a budget or time limit. We also have a tip that might just make your weekend a whole lot better!
Short stays in London are ideal for quick breaks from real life, and many Europeans visit for a long weekend via the high-speed trains called Eurostar that are only two hours from the center of Paris. To plan your itinerary, you can read all about the free activities in London on our blog about the top ten free things to do in London. For a look at the highlights of London's many neighborhoods, check out our London travel videos.
New York Habitat wants to help you find the home away from home that best suits you from our long list of vacation rental apartments! Unlike hotel rooms, which can impersonal, furnished apartments maximize the authenticity of your trip. After all, it can be overwhelming to find yourself in a foreign place; why come home to a foreign hotel room? Each vacation rental apartment is a homey environment complete with equipped kitchens and unique styles that offer personality and comfort. Find which one is best for you by scrolling through our list of London vacation rentals, or continue reading to find six of our favorite, hand-picked homes!
Studio apartment in the City of London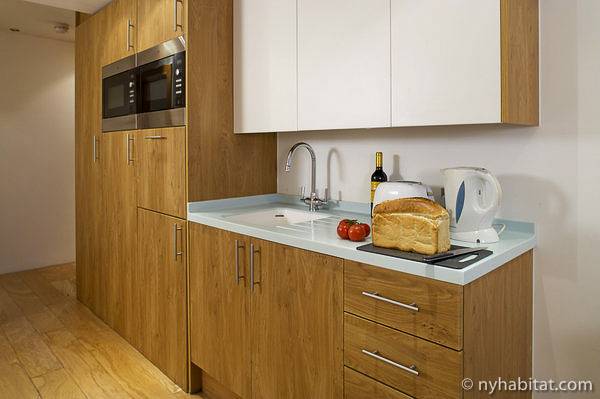 Studio apartment in the City of London
This studio apartment in the City of London sleeps up to two guests in its freshly-made double bed. Tucked behind a large dresser which serves as a half wall and storage space, the bed has a semi-private location away from the rest of the living space. The apartment spans about 377 sq ft (35 sq m) and comes with a full-sized private washing machine and dryer, a well-equipped kitchenette with a dishwasher, and a sofa that faces a cable television. A floor-to-ceiling, wall-to-wall window illuminates the home with sunshine, making this studio warm and welcoming. Guests who stay here are laid-back and practical, preferring basic amenities to non-essentials. The apartment is in close proximity to iconic attractions and beloved local hotspots. You can shop on the popular Bermondsey Street and visit the world-famous Tower Bridge, Tower of London, and Thames River. If you're feeling more low-key, check out the area's trendy cafes and pubs. For a list of popular coffee shops, read our blog on the top ten coffee shops in London.
One-bedroom vacation rental apartment in the City of London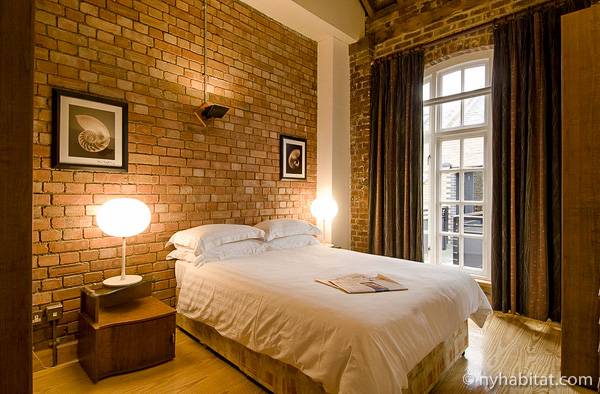 One-bedroom apartment in the City of London
This charming one-bedroom apartment in the City of London has an air of elegance and classic beauty. It features hardwood floors, an exposed-brick wall in the bedroom, and a floor-to-ceiling, wall-to-wall window that warms the space with midday sun. Cooking enthusiasts will love the apartment for its open kitchen, which includes most essential appliances and a dishwasher for easy cleanup. Try your hand at making your favorite British dish! Other amenities include a double bed, a flat-screen cable television with a DVD player, a personal washer/dryer, a sofa, and a dining table for four. Located in the same building as the previous studio, this apartment is also near the Tower Bridge, the Tower of London, and the Thames River. Fans of the Thames may also want to read our blog about amazing apartments with a view of the Thames River!
Alcove studio apartment in Earls Court, London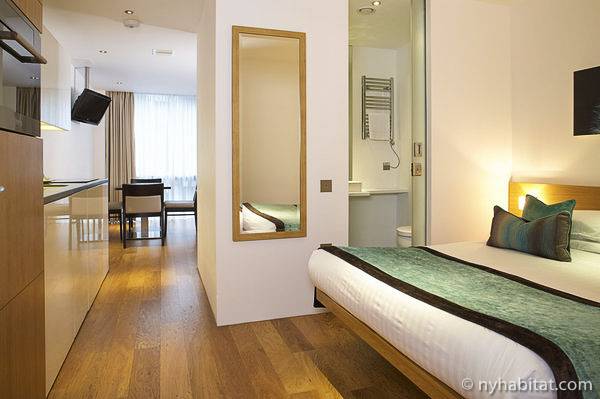 Studio vacation rental in Earls Court, London
Check out this alcove studio apartment in Earls Court, London! The apartment is lined with hardwood floors and spans approximately 323 sq ft (30 sq m). The double bed sleeps two guests and is hidden behind a half-wall with a full-length mirror that allows guests some privacy. This is especially convenient while hosting guests! Fully equipped with modern conveniences, it includes a private washer and dryer, a dishwasher in the kitchenette area, a sofa, and a dining table for two. Guests who stay here are likely to be interested in the tourist-friendly community of South Kensington. In this apartment, you'll be near a host of museums like the Science Museum, the Natural History Museum, and the Victoria and Albert Museum.
Two-bedroom vacation rental in Earls Court, London, near South Kensington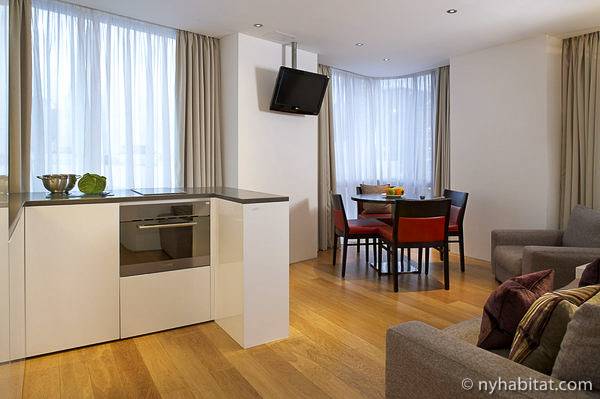 Sunny two-bedroom apartment in Earls Court, London
Also in the same building as the alcove studio mentioned above is a two-bedroom, two-bathroom apartment in Earls Court, London near South Kensington. The space is suited for a party of four who want to be near the center of the city. Featuring hardwood floors and modern amenities, it includes two double beds, a washer/dryer, and a flat-screen cable television mounted on the living room wall. There is a private balcony through the living room that offers the perfect personal space to get inspired! This warm accommodation sits near the attractions of South Kensington, West Kensington, and Chelsea. Within walking distance, guests will find the Earl's Court and Olympia Exhibition Centre, which hosts a variety of weekend events. A bit further but still accessible on foot is the famous Harrod's department store.
Three-bedroom apartment rental in Regent's Park, London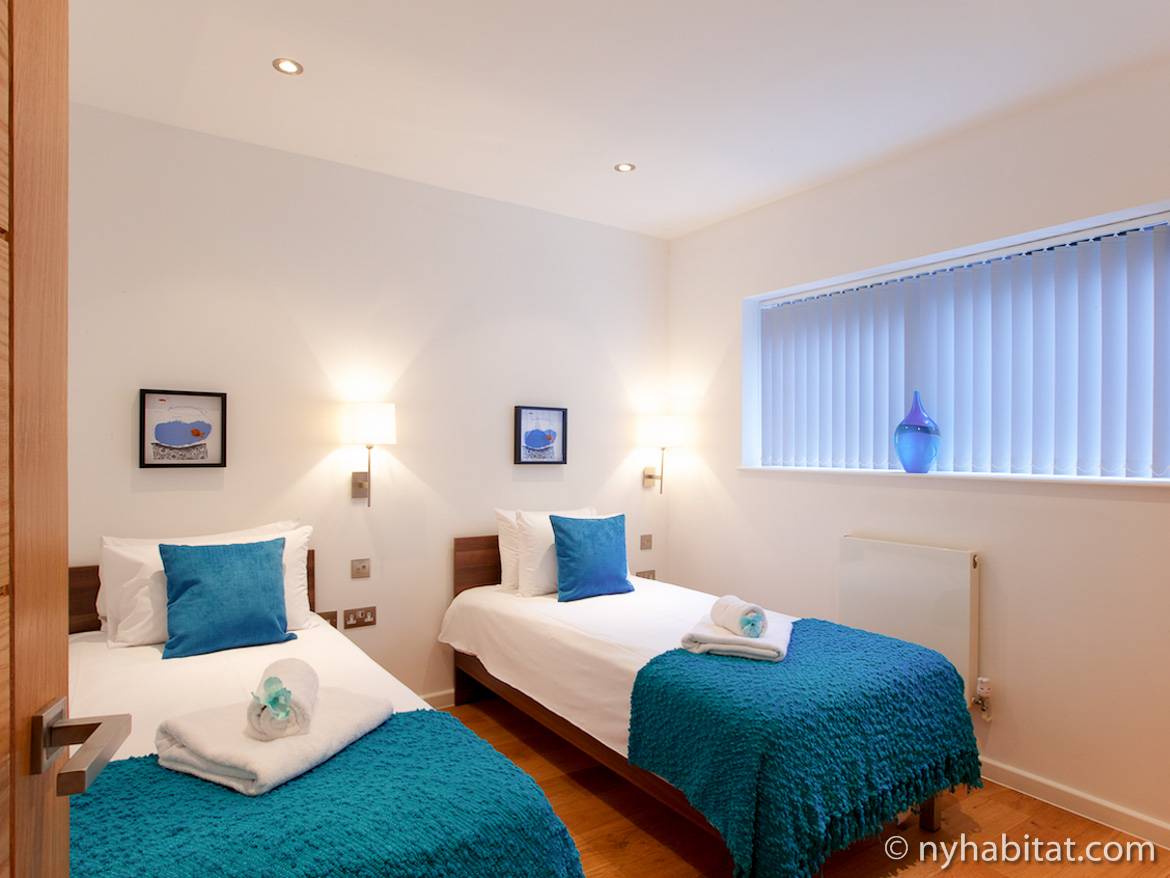 Three-bedroom apartment in Regent's Park, London
With this three-bedroom apartment rental in Regent's Park, London six guests will have plenty of space to comfortably hang out at home. Part of a gated development of mew houses, the rental is equipped with a video security system for the utmost privacy. The space is well-lit by large windows and has a light-hearted personality thanks to hardwood floors, sloped ceilings, and colorful bedspreads. It's ready for a family thanks to two twin beds in the third bedroom. Amenities include four beds (one king, one double and two twins), a private washer/dryer, a fully-equipped kitchen with a dishwasher, an iPod dock, and a television with Freevision channels and a DVD player. Its location in Regent's Park near the West End boasts close proximity to Madame Tussaud's of London, the Wallace Collection art gallery, and the famous Camden Market, where you can stock up on fresh food to bring back to your own kitchen table! Families with children will love the variety of family-friendly activities all over the city. We've suggested a few in this guide for London visits with kids.
One-bedroom luxury vacation rental in Paddington, London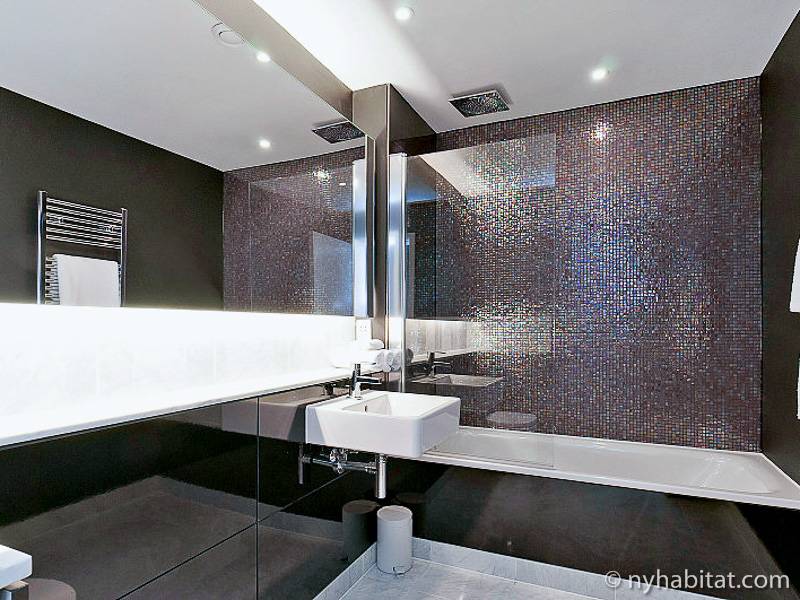 Luxury one-bedroom vacation rental in Regent's Park, London
Want to ensure your vacation is luxurious? Look no further than this one-bedroom luxury vacation rental in Paddington, London! The stylish space sleeps four guests and is hosted by a concierge in the lobby. Hardwood floors, track lighting, and ultra-chic amenities in orange and blue hues gives the space a young and trendy atmosphere. Amenities include a washer/dryer, a queen bed, a dishwasher in the fully-equipped open kitchen, and a flat-screen digital television. The apartment is near the Bayswater community and walking distance from the famous Hyde Park, Serpentine Gallery, and the Albert Memorial. This modern furnished space is best for fashionistas, artists, trendsetters, and those looking for convenience! Artists may also enjoy Bayswater for its bohemian vibe and record stores.
Do these apartments offer everything you want for a weekend getaway? We hope so! Tell us in the comments which features you find most attractive in potential vacation rental apartments.