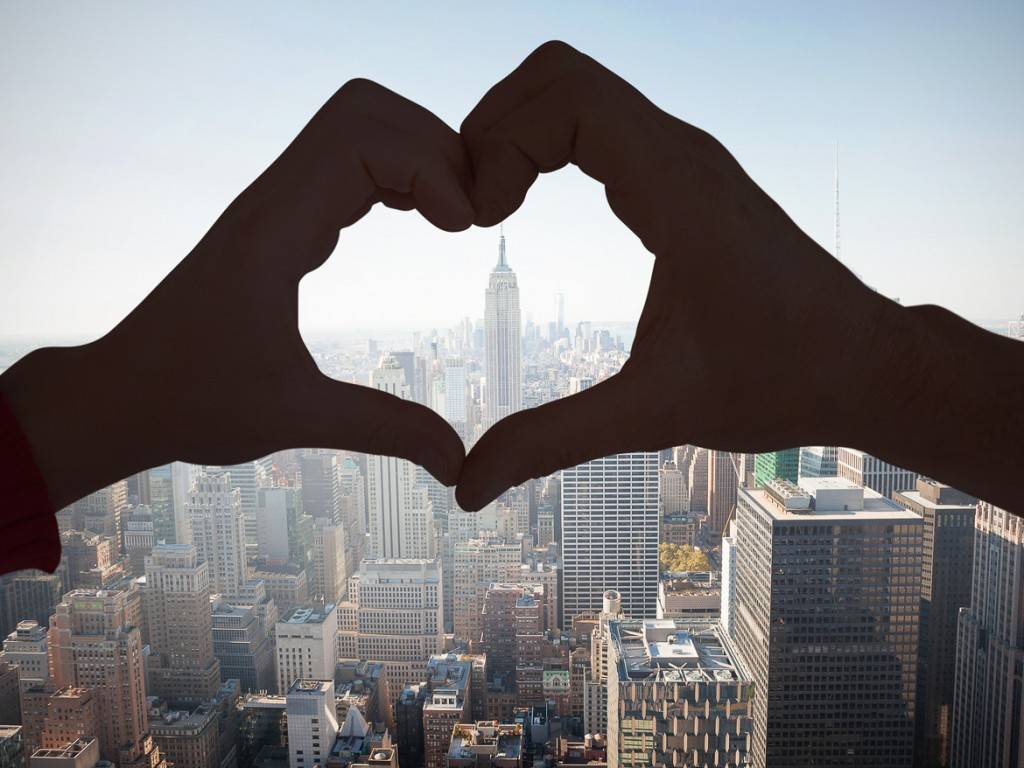 A couple makes a heart around the iconic Empire State Building
The city that never sleeps welcomes visitors from all over the world. There are many ways to enjoy what New York City has to offer, but one of the best ways is with your significant other. This large city boasts many romantic neighborhoods and beautiful scenery for you and your loved one to enjoy. Each borough offers an incomparable charm that will cause you and your other half to fall in love all over again. We have hand selected the perfect apartments for that romantic getaway both you and your companion desire!
Alcove Studio in the East Village
This charming alcove studio can be yours on your romantic getaway to the East Village, Manhattan.
This alcove studio vacation rental is located in the East Village of Manhattan, New York. This charming apartment is furnished with contemporary décor and has desirable features including hardwood flooring and a backyard garden. The living area has ample space for you and your significant other since it is furnished with a sofa, dining table and a TV with cable. The alcove offers an ornate king sized bed for maximum comfort and has access to the backyard garden. This eloquent outside space is rare in New York City, so don't miss out on a chance to enjoy a glass of fine wine with your significant other in this captivating space. This neighborhood is a great place for couples due to the volume of restaurants, nightlife and parks to take a stroll in. This location is not far from the iconic East River, where you will get breathtaking views of the beautiful Williamsburg Bridge. Learn to live like a local in the East Village on your romantic getaway!
Studio in the East Village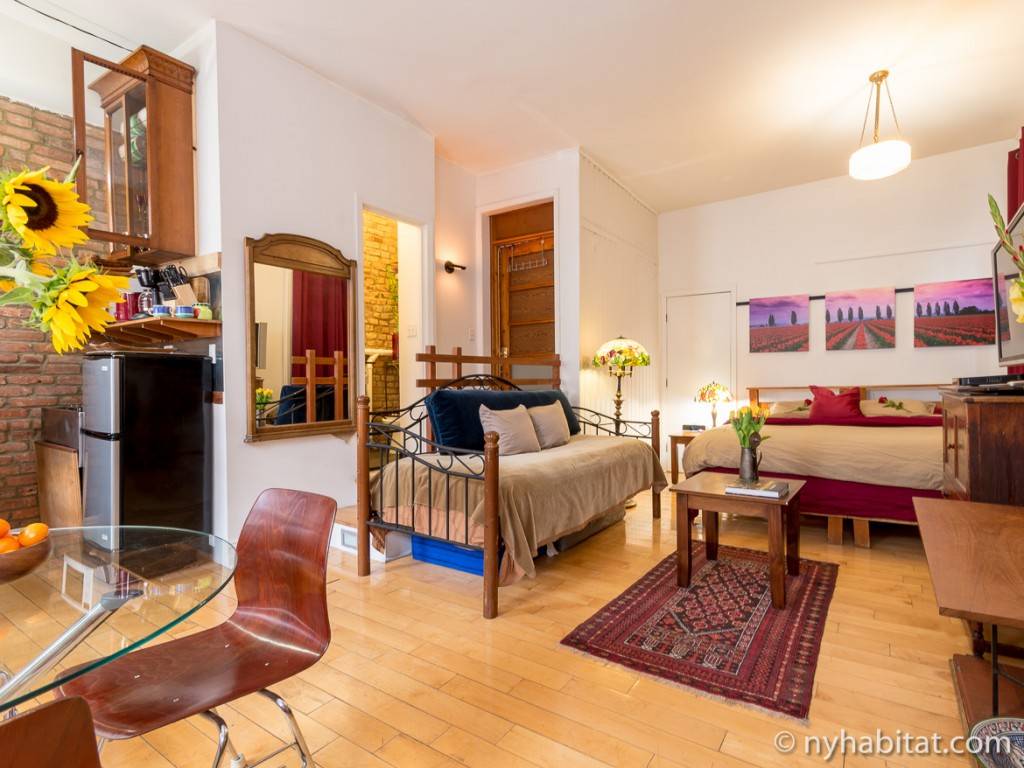 Enjoy the comforts this studio apartment in the East Village, Manhattan has to offer with your significant other.
This studio apartment is also located in the neighborhood of the East Village. This romantic apartment is nestled between exposed brick and luminescent walls. The charm goes further with the contemporary décor and offers cozy furnishings including a king sized bed, fireplace and a TV with cable. The kitchen is perfect for a romantic dinner for two since it is equipped with an oven, microwave and a coffeemaker. This location is a lover's paradise due to the chic storefronts and quaint cafés to explore. Whether you and your better half decide to listen to some tunes in the many music clubs along Bleecker Street or shop for the hottest items on Canal Street, this neighborhood has lots to offer for every hand-in-hand couple. Now that you are an expert on the East Village, discover what is so great about the neighboring West and Greenwich Villages!
Two Bedroom in Harlem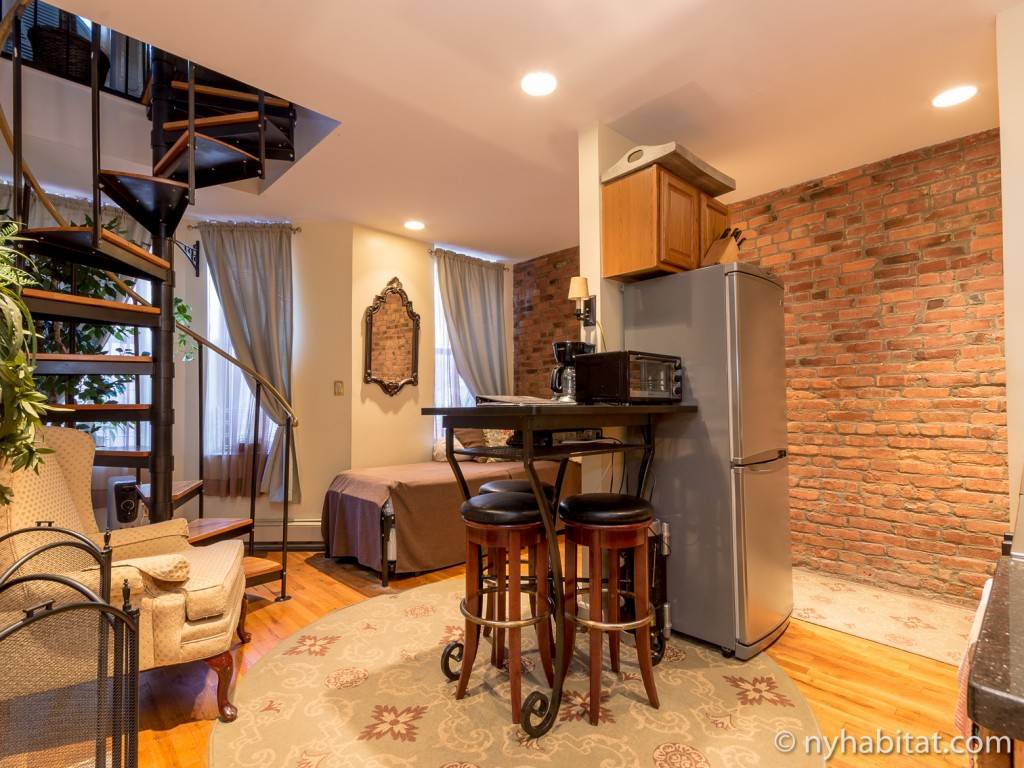 This delightful two bedroom apartment is perfect for couples looking to bring their family to New York City!
If you envision the apartment on your New York getaway having more space, discover why this two bedroom apartment in Harlem fits the bill. This contemporary duplex has many great features including exposed brick, hardwood flooring and a unique spiral staircase. You will find a sofa, dining table, fireplaces and a TV with cable in the two living rooms. Both bedrooms are furnished with full size beds and additional trundle beds can be found throughout the apartment. Harlem is a thriving neighborhood full of history and charm. The famous Apollo Theater, where many musicians were discovered including the Jackson 5, is only a few blocks from this apartment. You and your significant other can enjoy the many restaurants this neighborhood offers including Red Rooster and Amy Ruth's. Live like the locals do in Central Harlem!
Alcove Studio on the Upper West Side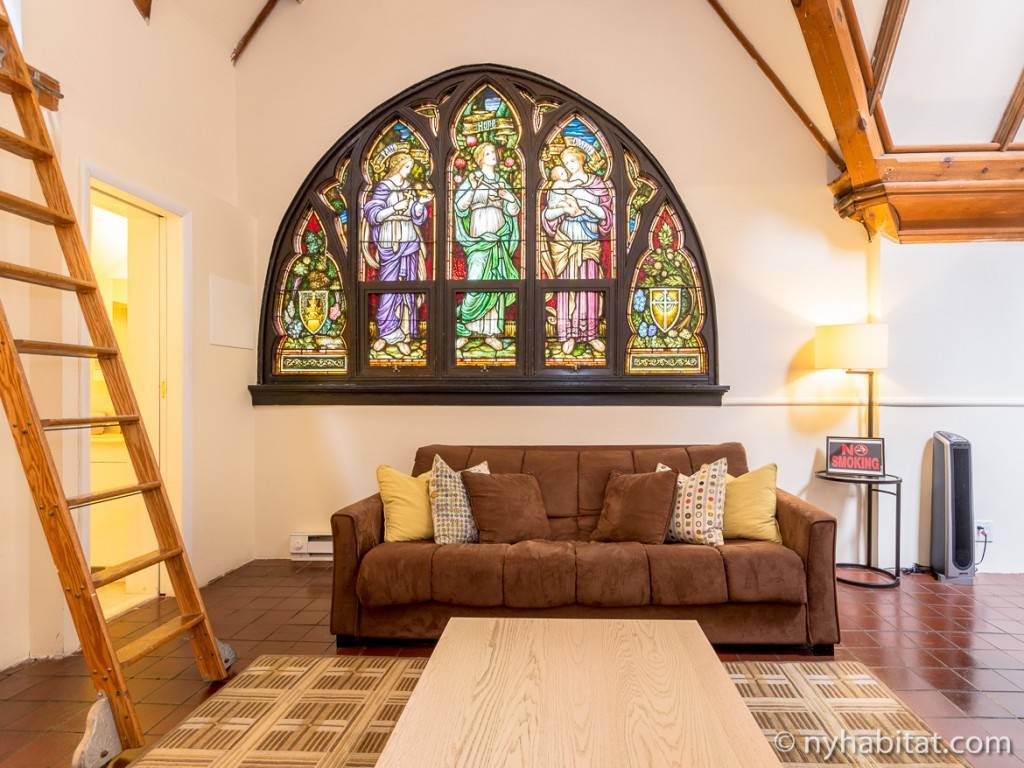 This converted church rectory is a dream for any couple looking to take a romantic trip to New York
You could not find something more unique than this alcove studio apartment for your New York romantic getaway. This loft style apartment has been converted from a Protestant Church built in 1882 to a modern oasis. The living area is furnished with a sofa, TV with cable and a dining table. The open concept kitchen offers basic amenities including an oven, fridge, microwave and coffee maker. This apartment is situated in the heart of the Upper West Side, where you and your loved one can spend your time browsing the many exhibits at the Museum of Natural History or walking through Central Park. Shops and cafes in this area are numerous, so explore all that the neighborhood has to offer!
Alcove Studio in Long Island City
Welcome to the fantastic borough of Queens! This romantic alcove studio has everything you could need in a New York City getaway. The open concept Long Island City apartment has a fresh and airy feel and allows for the natural light to illuminate the entire space. The living area is furnished with a sofa, dining table and a TV with cable for your entertainment. The open concept kitchen has everything you need to make meals at home, including an oven, dishwasher, microwave and coffeemaker. The sleeping alcove has a queen sized bed and has access to the bathroom, which has a shower and large vanity. Not to mention, this apartment has a great private terrace! Long Island City has the best direct access to Manhattan from Queens and is situated along the banks of the East River. Bike along the less congested streets or in Queensbridge Park where the views of Manhattan are unbeatable. Explore even further into what makes Queens such a great place to stay on your romantic getaway.
One Bedroom in Williamsburg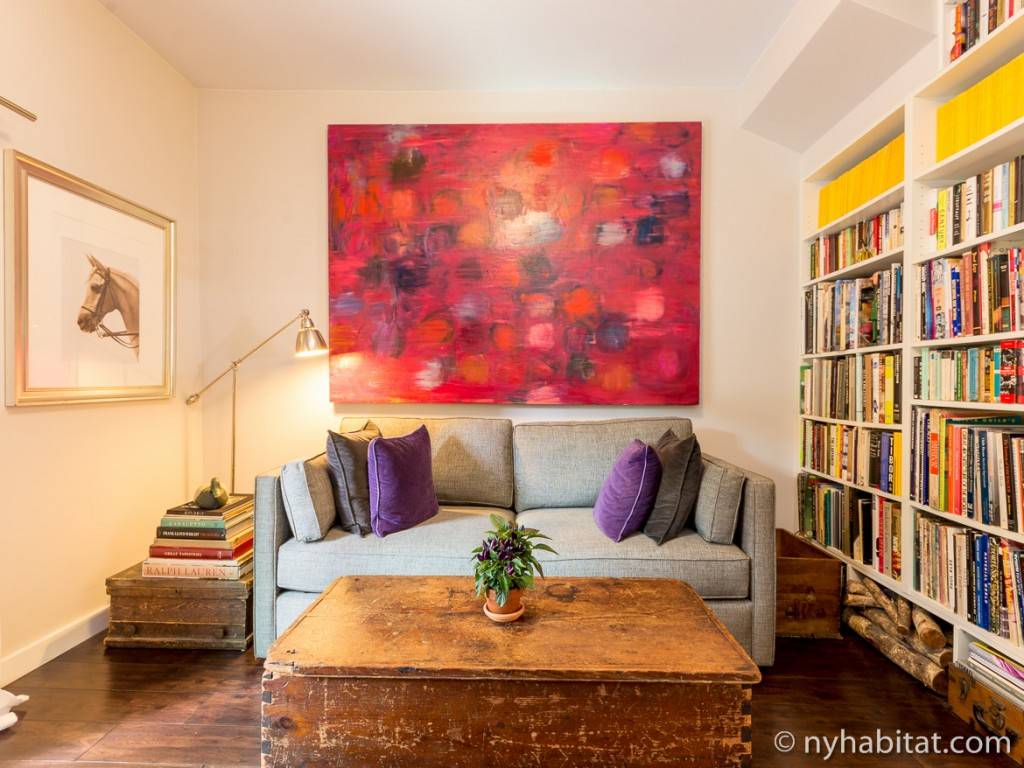 This cozy one bedroom will win the hearts of you and your loved one
Explore why Brooklyn is one of the fastest growing areas of New York City with this one bedroom apartment in Williamsburg. This contemporary apartment has updated décor finishes which give the space a sleek and cozy look. The living room has a sofa and TV and cable for you to enjoy, which opens up to the large eat-in kitchen. Planning to make some meals at home? This gourmet kitchen has an oven, large fridge, coffee maker, microwave and a dishwasher. Head into the bedroom and you will find a king sized bed and another TV with cable to enjoy just before bed. Williamsburg boasts plenty of restaurants and nightlife, including German beer gardens and unique music venues. There is also great access to public transportation via the subway or water taxis over the East River. Discover all there is to know about the neighborhood of Williamsburg, Brooklyn.
Studio in Midtown West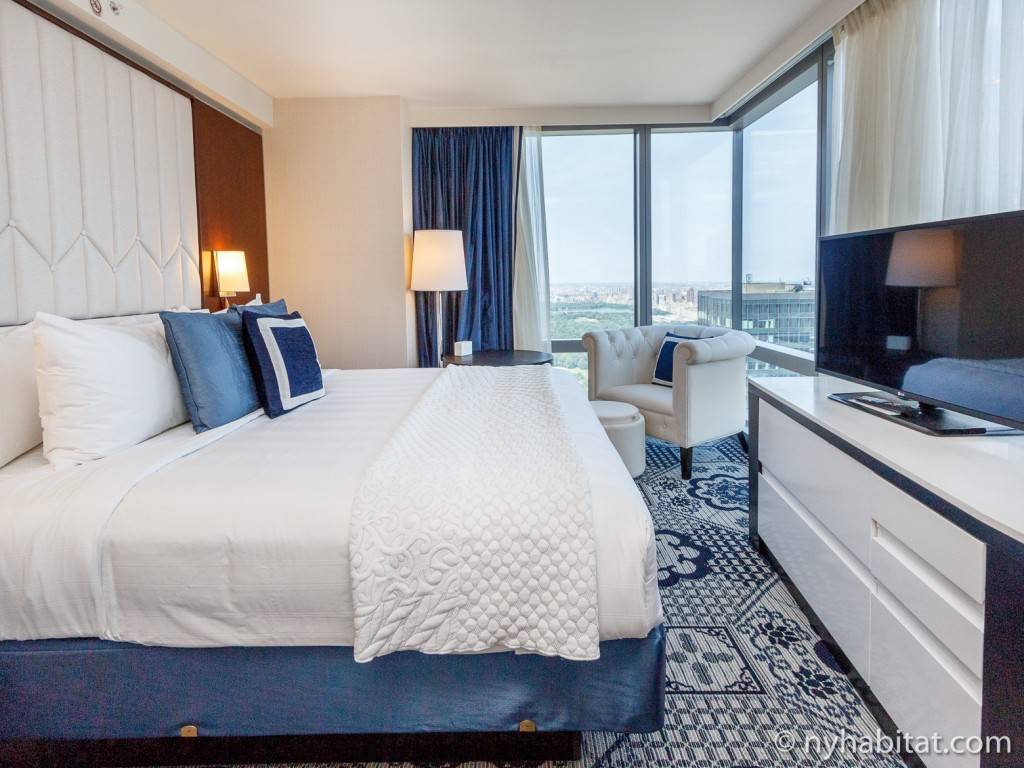 Enjoy the unbeatable views of this apartment in a 62-story high-rise.
This studio apartment is located in the heart of New York City in Midtown West and offers stunning sunset views over the Hudson River. This furnished apartment offers modern décor and spectacular views for your romantic NYC getaway. The building offers many amenities including a gym, café, terraced bar and parking. The living space of this apartment features a king sized bed, a phone and a TV with cable. The luxury bathroom has a shower, WC and a sink with a vanity. The kitchen is fully equipped with a fridge, microwave, toaster, coffee maker and dishwasher. Feel the pulse of the city in this neighborhood where you will find restaurants, bars and numerous New York City landmarks including Times Square, Central Park and Radio City Music Hall. Learn why this neighborhood is so loved by all those who visit here.
What are your favorite romantic spots in New York City?
Related apartment rental posts from New York Habitat: