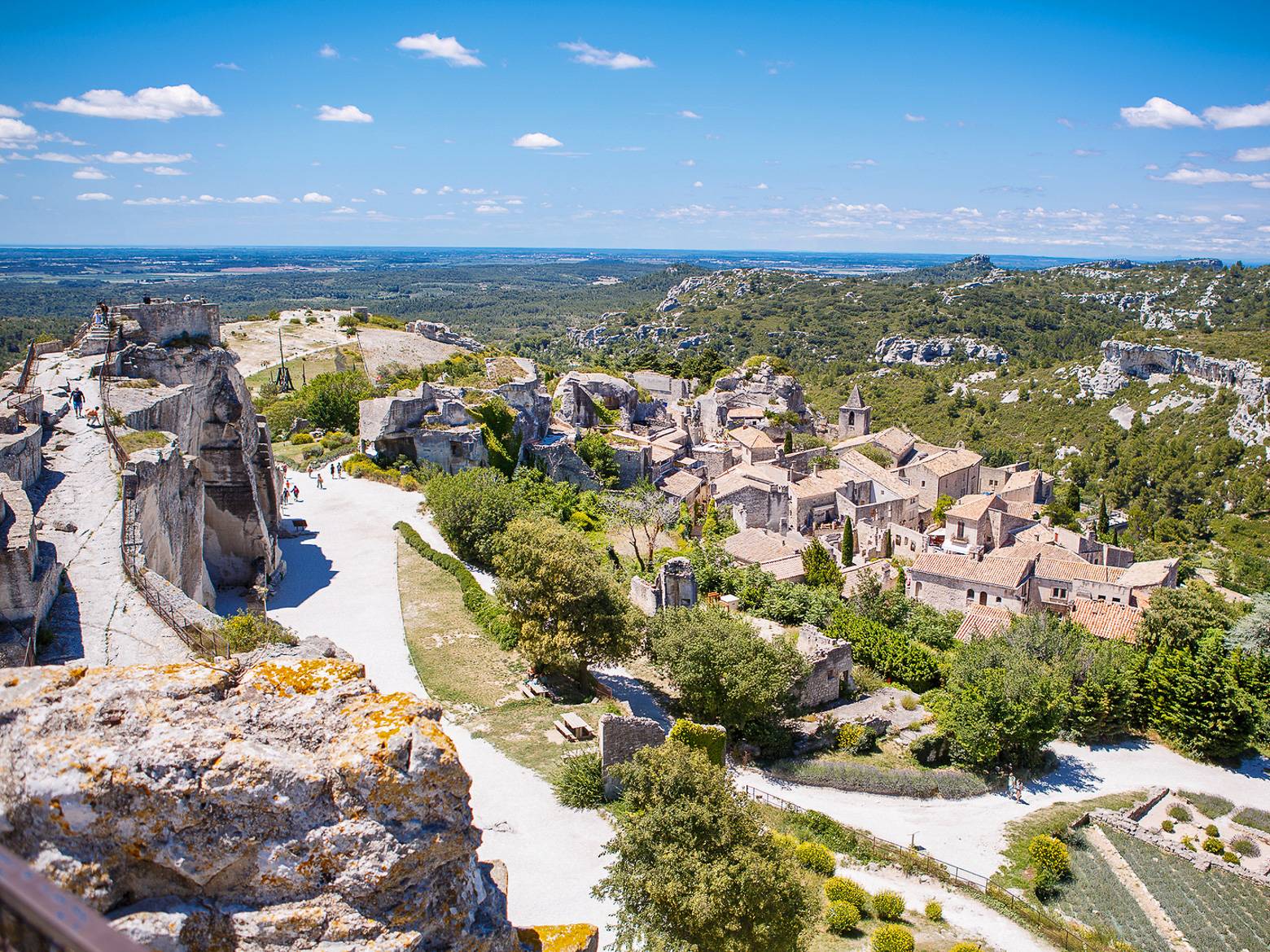 A typical Provençal landscape outside Les Baux de Provence
Provence's rich history, dramatic landscapes, and charming cities have attracted foreign visitors for centuries. This region is rich with international festivals, special cultural events, and ample joie de vivre—the perfect environment for a romantic trip with your significant other! Enjoy France's complete cultural atmosphere and the warm sun of the South of France by escaping with your loved one to Provence for a memorable vacation in one of our furnished rentals.
Garden studio loft with terrace and pool access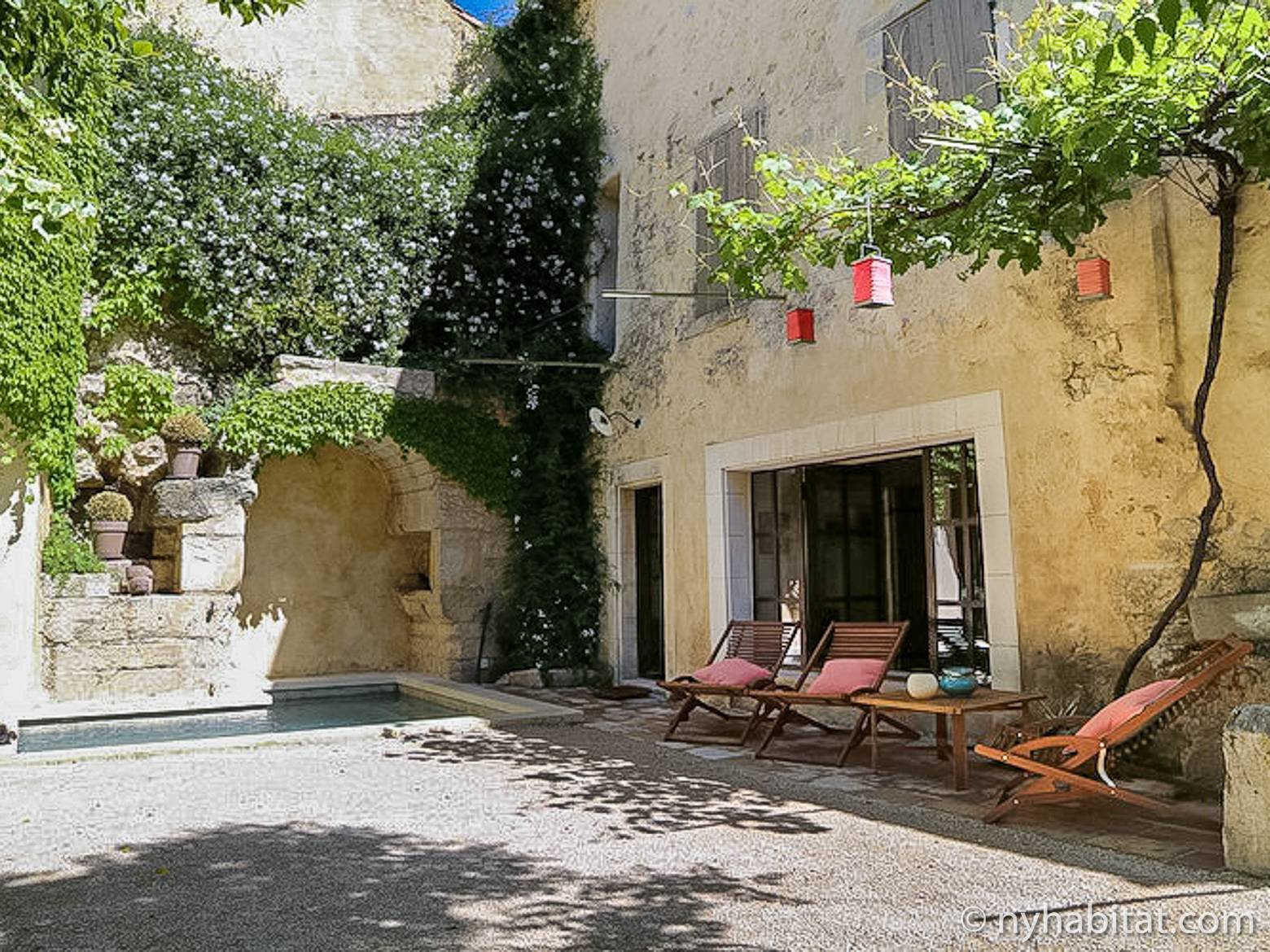 You can lounge poolside at this romantic studio in Boulbon
Have you always dreamed of living the good life in a peaceful village in the French countryside? This charming studio vacation rental gives you the chance to do so in style, combining convenient amenities (air conditioning, fridge, modern bathroom), the luxury of an outdoor pool and terrace, and a location in the bucolic village of Boulbon with its traditional outdoor markets and a medieval château. After climbing a set of spiral stairs from the garden of the larger villa (inhabited by the owners), you'll find a stone-floored studio with a sofa, an eat-in kitchen, and a double bed in the mezzanine above the main room. The bathroom is stylishly modern, with a large mirror and rainfall showerhead. This vacation rental is well-placed for trips to some of the top 10 villages in Provence, all less than an hour's drive away!
Modern-style studio vacation rental near Saint-Rémy de Provence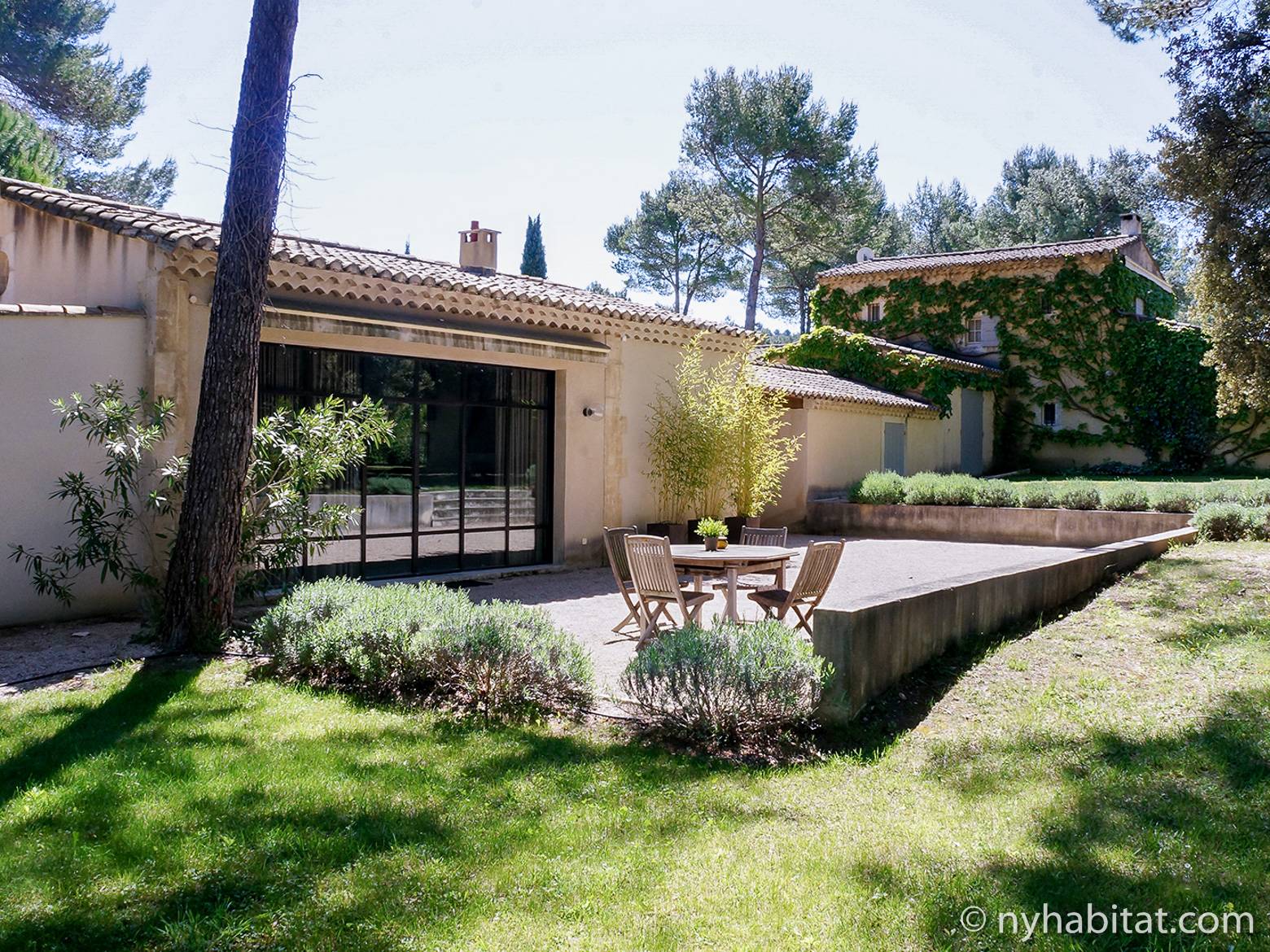 Full-length windows open onto this Provence studio's garden
You don't need to "rough it" to enjoy the authenticity of the Provençal countryside. Stay in this chic studio, part of a mas, or traditional farm, outside the village of Saint-Rémy de Provence where Vincent Van Gogh painted his Starry Night. The sleek modern interior contrasts with the lush natural beauty of the extensive gardens surrounding this vacation rental. Inside, you'll find a double sofa bed and a matching lounge chair facing a wall of floor-to-ceiling windows that look out onto the garden. Amenities include a cable TV, an eat-in kitchen, and a full-sized bed in the glass-lined mezzanine. Explore nearby Saint-Rémy and you'll find a variety of things to do for all tastes.
Centrally located Aix-en-Provence studio pied-à-terre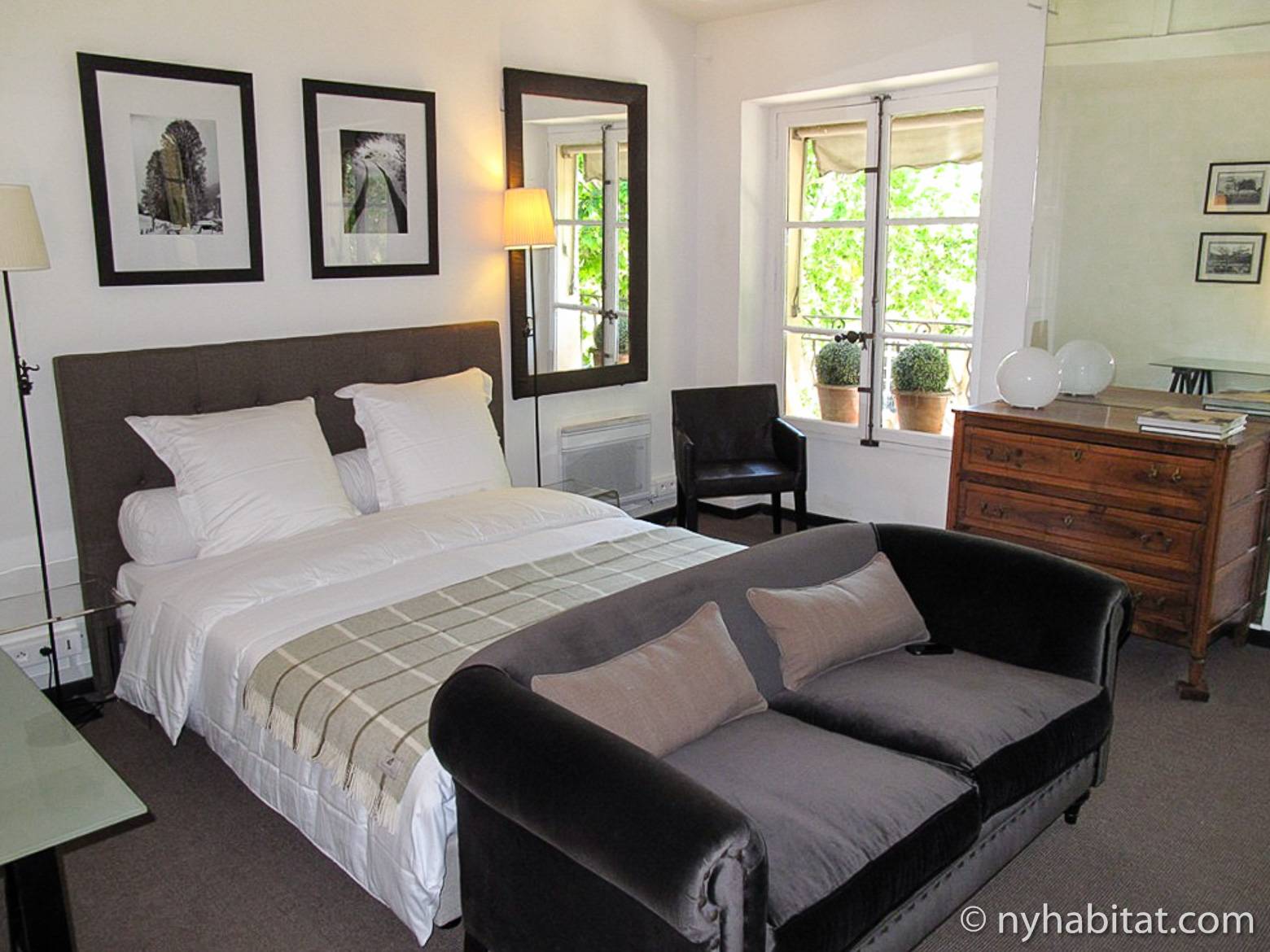 See the whole city from this central Aix-en-Provence studio
It isn't just sweeping landscapes that attract visitors to the South of France, but also vibrant cities like Aix-en-Provence. The city is the perfect starting point for exploring the region from the Alps to the Mediterranean. This convenient vacation rental is on the top floor of an 18th-century building that overlooks Aix's main thoroughfare, the Cours Mirabeau. While the double bed and cable TV might make it tempting to stay in bed forever, there's also an eat-in kitchen (complete with a fridge and electric stove) for cooking at home. For all your other needs, Aix's best shops and cafés are right outside your door. Plan your trip around the Aix-en-Provence Festival of live lyric music in July for a truly unique experience.
Airy modern vacation rental in a 17th-century mansion outside Aix-en-Provence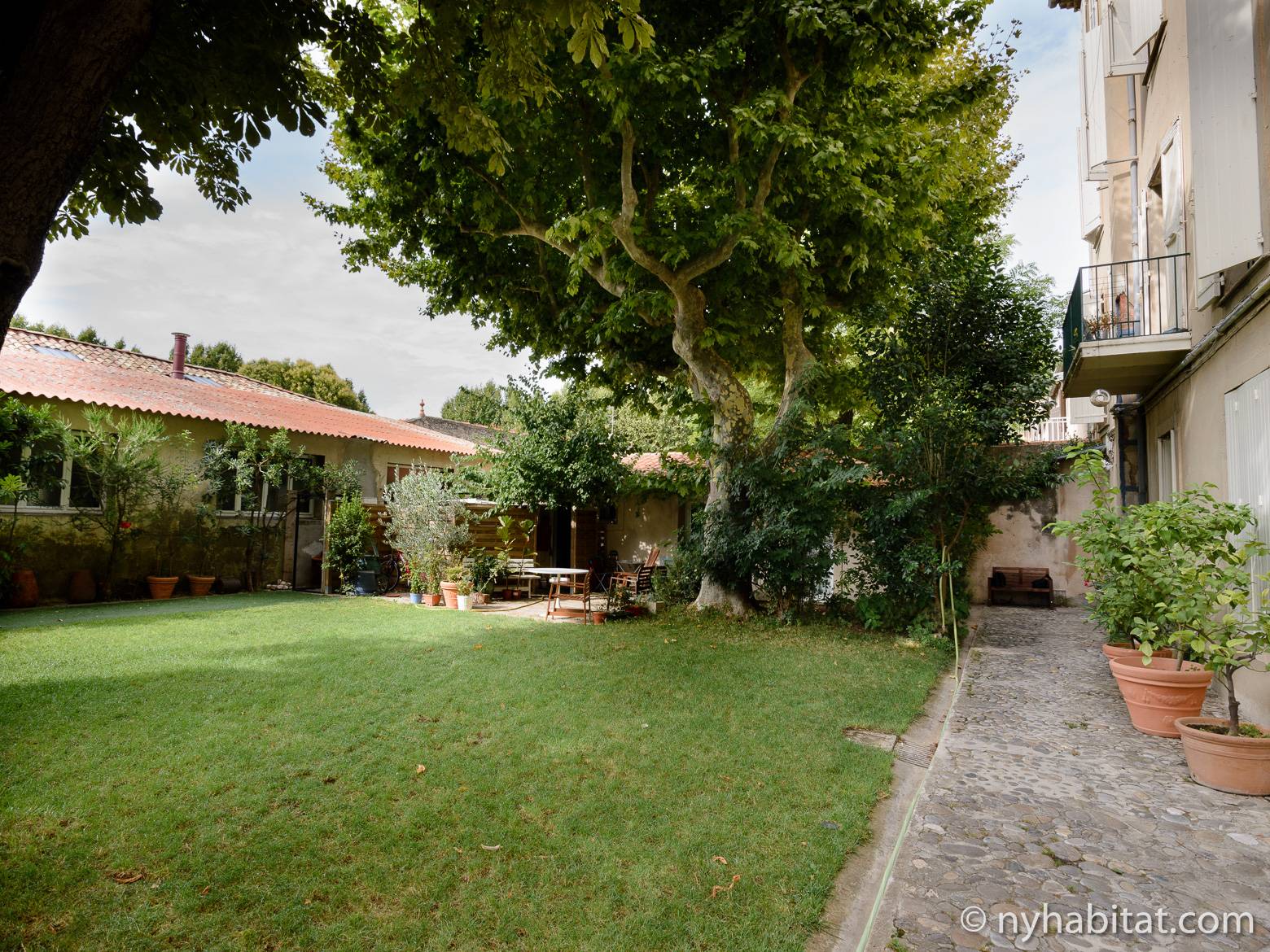 This rental is in a 17th-century mansion just outside Aix en Provence
Want all the excitement of Aix-en-Provence without sacrificing the peace and quiet of the French countryside? This unique studio apartment, located on the second floor of a 300-year-old mansion, offers the best of both worlds! Benefits of the suburban location (just meters outside of Aix) include fresh air and a charming private garden behind the property. Upstairs, you'll find a dining table for four, a daybed, and a kitchen with modern amenities like a full-sized fridge and stainless steel sink. In the corner, a double bed offers a welcome place to relax after a long day of exploring the city. This accommodation is a convenient home base for experiencing everything Aix has to offer, even on a short visit.
Luxurious two-bedroom apartment with astounding views of Marseille
If your appetite for Provençal sunlight isn't yet satisfied, look no further than this phenomenal two-bedroom vacation rental in central Marseille. As France's second-largest city, Marseille is perfect if you're looking for natural beauty, the bustle of a global city, and the region's cultural heritage in one place. This apartment is located on the eighth floor of an elevator building and offers high-end amenities like two balconies that overlook the city's skyline, parquet flooring throughout, a glass dining table, and a full kitchen complete with stainless steel appliances and a breakfast nook. For sleeping accommodations, choose between the tasteful king-sized canopy bed in bedroom one or the queen in bedroom two. Marseille is teeming with sights, smells, and scenery to please all tastes. For inspiration for how to start your visit, check out our list of the best markets in Provence.
One-bedroom vacation rental in a luxury seaside residence in Marseille
Relax by the beach outside this luxury furnished rental
Beach lovers will appreciate the convenience of this luxury apartment on the Mediterranean coast in Provence's capital, Marseille. Located in a chic housing development, this apartment benefits from a security system at the exterior door. There is also an elevator. Inside, you'll find a bright open space with contemporary furnishings: an adaptable double sofa bed, a dining table for two, a large flat-screen television, and a mirrored closet. In the bedroom, a double bed is flanked by two side tables and a dresser. You can sample Marseille's global cuisine or cook at home in the fully-equipped kitchen, which includes stainless steel appliances and a dishwasher. There's more to Marseille than just the beach! Travel inland to discover the city's diverse culture and street life.
Bring home a piece of Provence to remember your romantic trip to the South of France. Here are our recommendations for unique artisanal souvenirs.
If none of our accommodations pique your interest, what would be your dream vacation in the South of France? We may have the perfect vacation rental to make your dream come true!