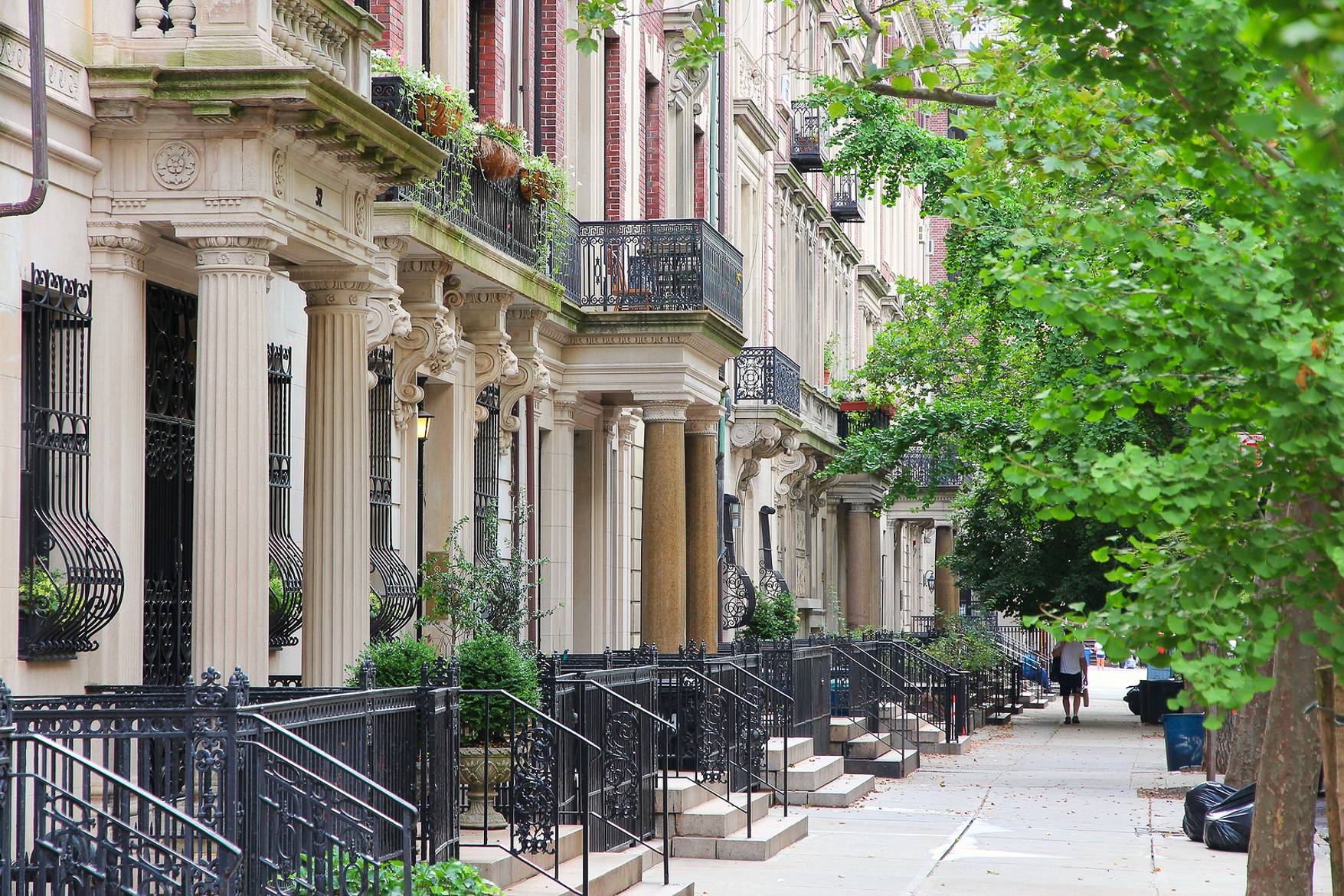 You'll find beautiful townhouses on the Upper West Side, a neighborhood known for being kid-friendly.
Don't miss a beat in discovering all that New York City has to offer! Bringing a family to a large city can be challenging, but you can eliminate stress about comfort and space by opting for a stay in a furnished apartment. Furnished apartments are the most cost-efficient way to house a family in this bustling city. We've hand-selected the best furnished vacation rentals to accommodate families of all sizes.
Four-bedroom vacation rental in Clinton Hill, Brooklyn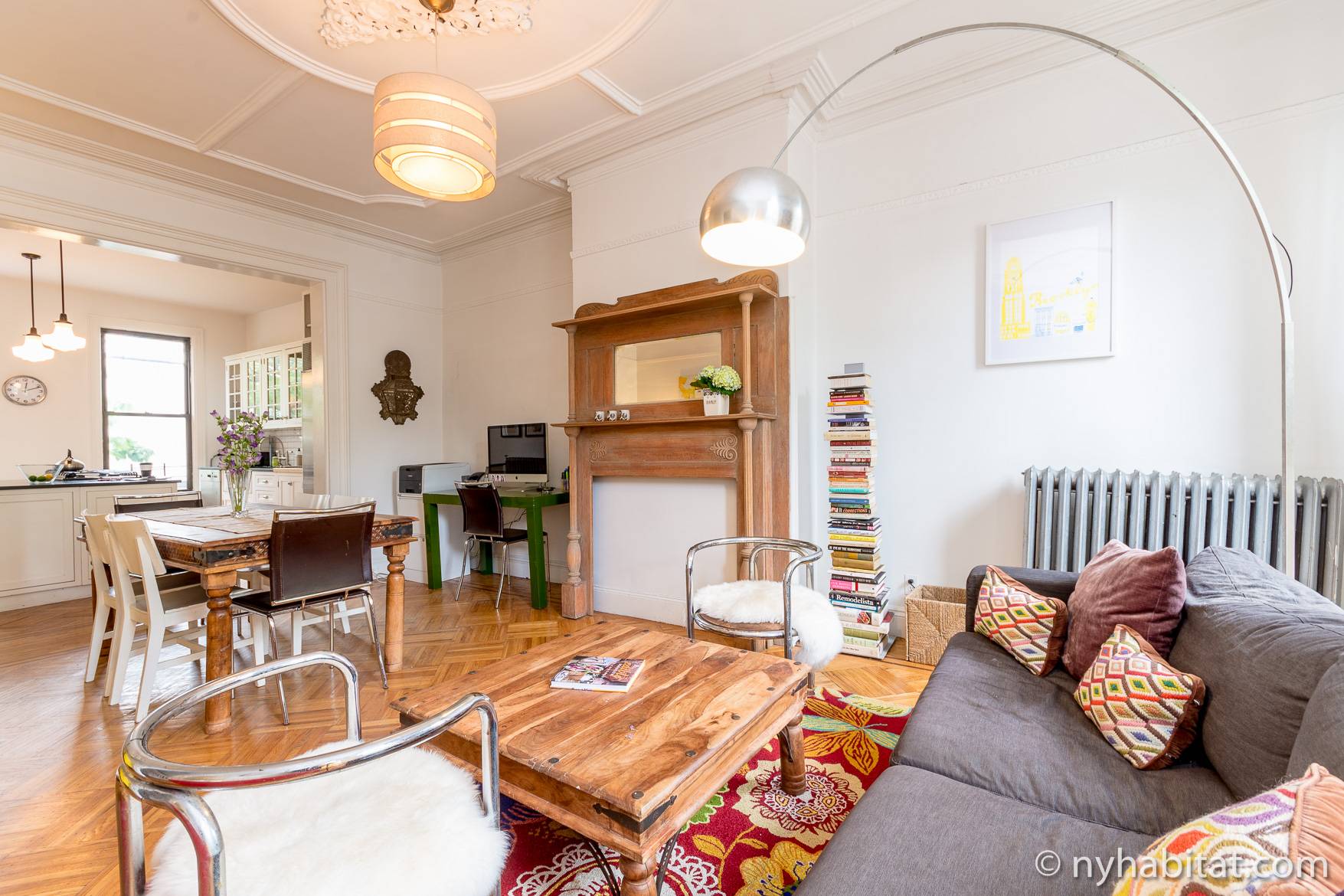 Early-1900s charm is still prevalent in this antique apartment.
This four-bedroom vacation rental in Clinton Hill, Brooklyn offers antique charm in a private setting. Your family can sprawl out comfortably in this home, which has a grand living room accentuated by beautiful hardwood flooring. The show-stopping ceiling medallion is common among early 20th-century constructions. The updated kitchen has modern appliances, sleek white cabinets, and subway tiles to add a contemporary feel to this well-appointed space. The master bedroom features a queen-sized bed while the other three bedrooms offer single-sized beds, perfect for a family with kids! Clinton Hill has a family-friendly atmosphere like Park Slope, with an artistic flare similar to Bushwick. You'll get the best of both worlds in this lively neighborhood, with many cafes and restaurants to enjoy. We even named a Clinton Hill bagel shop as one of the top 10 bagel spots in New York!
Three-bedroom vacation rental in Park Slope, Brooklyn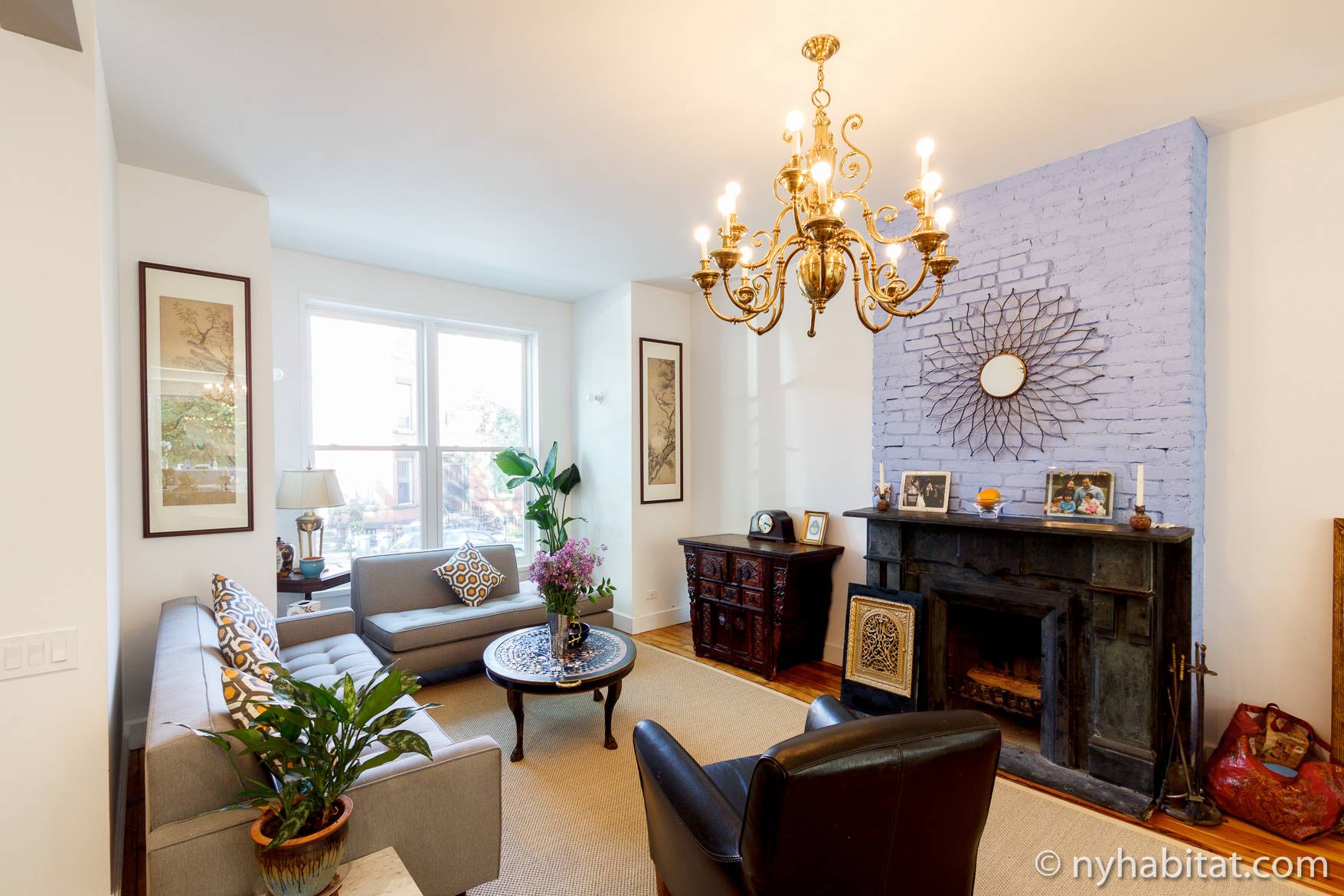 Contemporary décor adds unique charm to this spacious townhouse.
Welcome to this three-bedroom vacation rental in Park Slope, Brooklyn, where you will find contemporary décor in a roomy space. The two living rooms offer comfortable furnishings accented by early 20th-century charm like a chandelier and fireplace. The gourmet kitchen features high-end white cabinets, which highlight the natural light that enters the space, as well as beautiful stainless steel appliances. The first two bedrooms offer single beds, while the master bedroom has a queen-sized bed tucked away near a quaint bay window. Park Slope is known for being a great setting for families. Bustling streets with restaurants and parks offer plenty of family-friendly activities during the day and a quiet atmosphere at night. Learn to live like a local in the fabulous neighborhood of Park Slope, Brooklyn!
2-bedroom vacation rental on the Upper West Side, Manhattan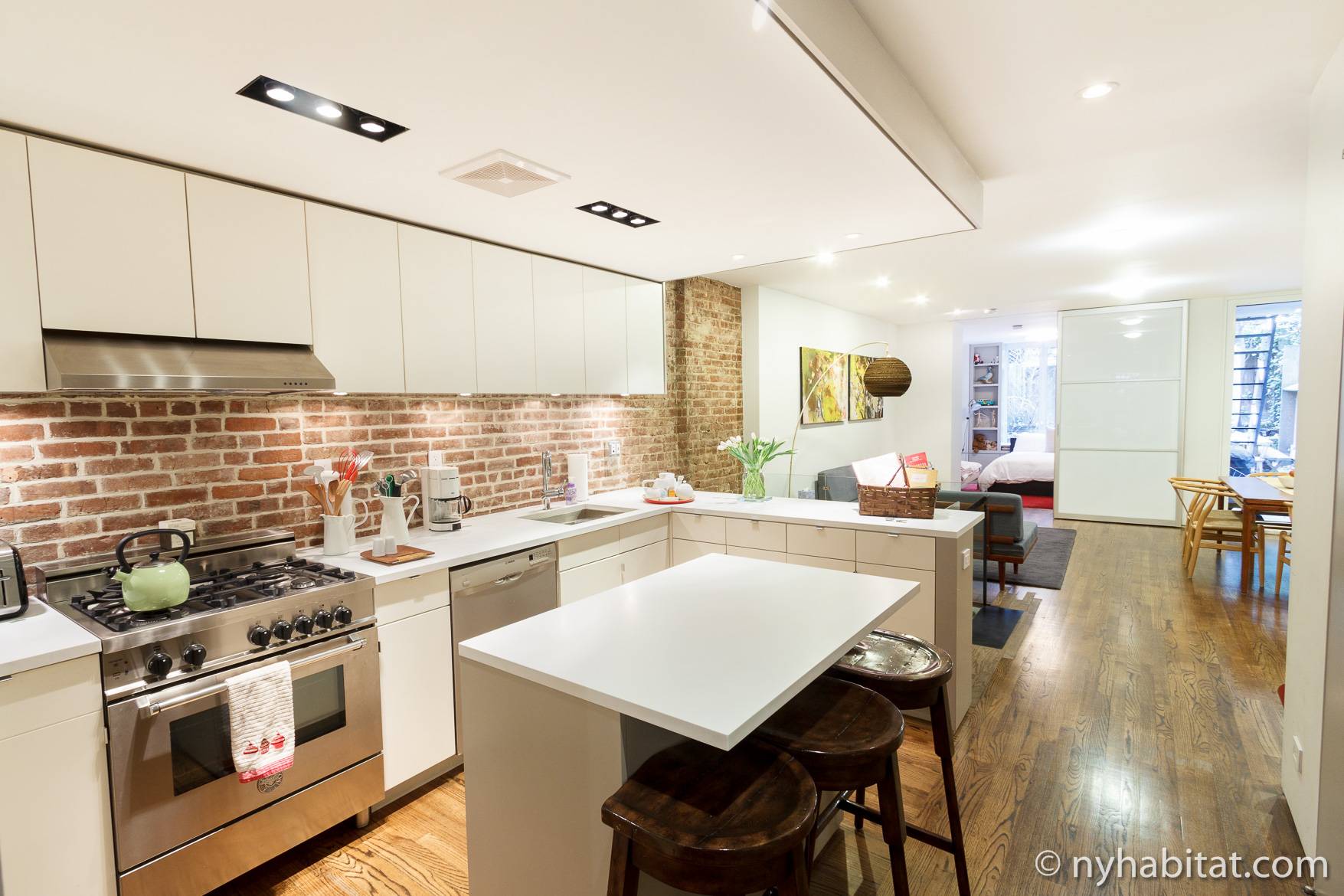 Cooking at home can be cost-effective for a family, so use this gourmet kitchen to prepare great meals!
This two-bedroom vacation rental on the Upper West Side, Manhattan offers modern amenities in a historic neighborhood. Immerse yourself in this spacious accommodation with your entire family! The three living rooms give the entire household space to spread out on the luxury sofas and enjoy entertainment on the cable TV. Have your family gather around the dining table or sit outside in the garden! Decadent meals can be prepared in the magnificent kitchen, which is equipped with high-end appliances and complemented with an exposed-brick backsplash. The two bedrooms feature queen-sized beds and an extra child bed, so there is room to house larger families! The Upper West Side is one of the most family-friendly areas of Manhattan. You will find many parks, museums, and indoor playscapes! Bringing a large family to the city that never sleeps can be expensive, so check out our top 10 free things to do in New York City.
3-bedroom vacation rental in Harlem, Manhattan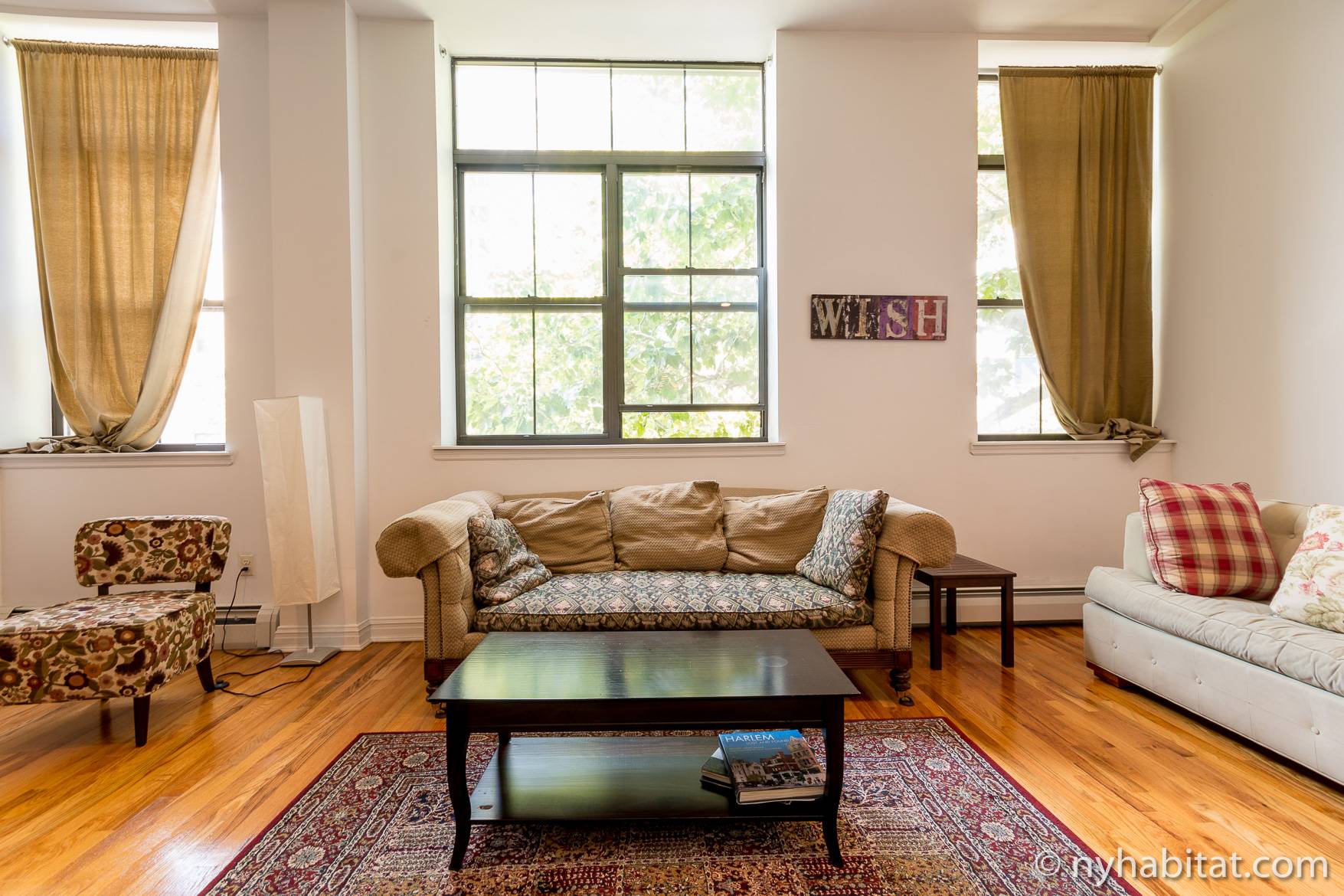 This spacious apartment has quaint rustic charm that's unique for an industrial loft
This three-bedroom vacation rental in Harlem, Manhattan offers splendid natural light in an open-concept setting. The high ceilings provide the grandeur that's expected of a rustic industrial loft. Relax after a long day of exploring the city in the expansive living room, where you will find sofas and a TV. The open-concept kitchen features appliances such as an oven, a coffeemaker, and a dishwasher, so don't hesitate to make New York-style cuisine in the comfort of home. You will find two queen-sized beds and four single-sized beds scattered throughout the three bedrooms, which gives the whole family plenty of room to spread out. Harlem is extremely dynamic and perfect for a family getaway. You will find excellent restaurants from an array of cuisines, fabulous public parks, and popular New York attractions like the Apollo Theater. There are so many things to do with kids in New York City; make sure you don't miss out!
Two-bedroom vacation rental in Bedford-Stuyvesant, Brooklyn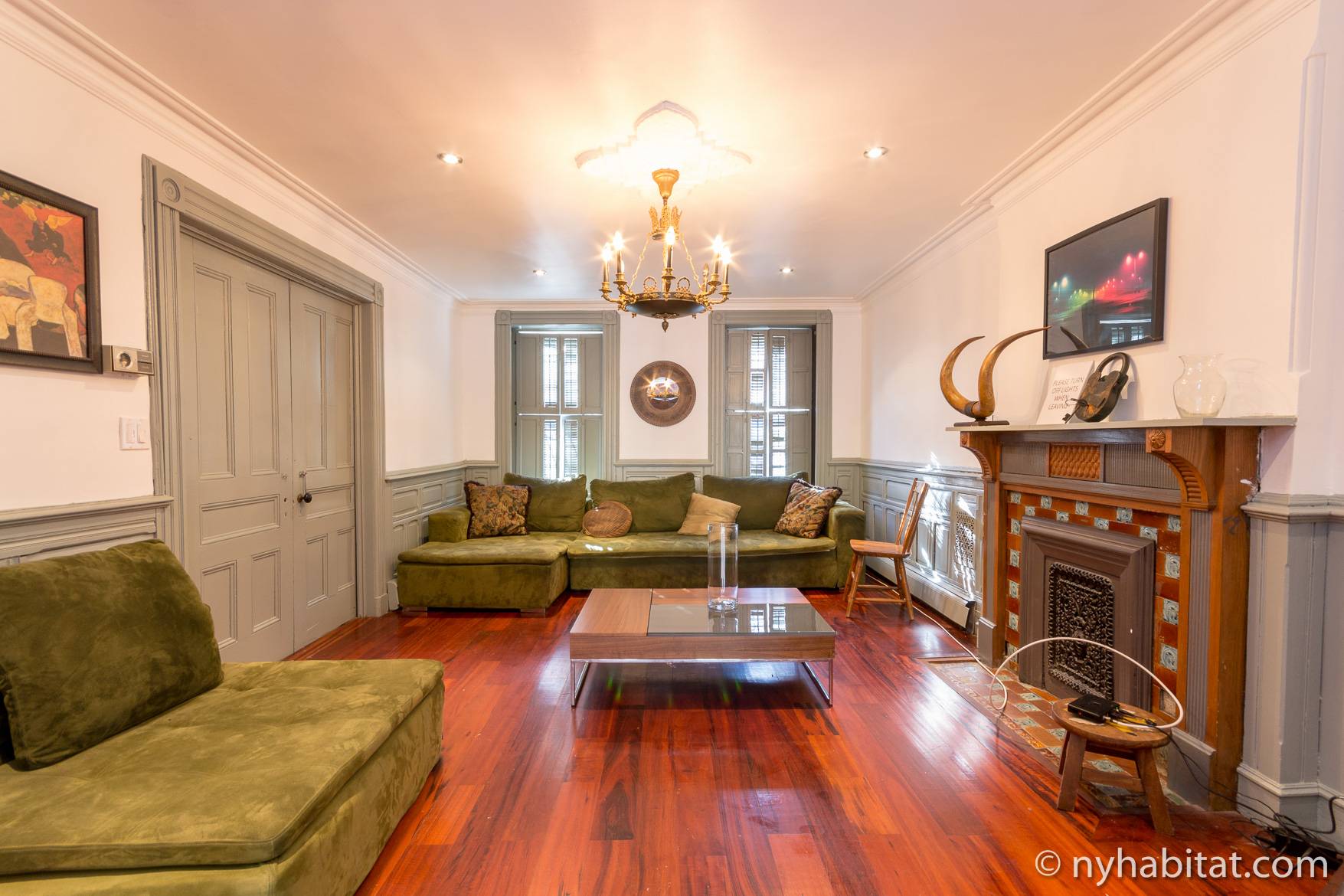 Traditional allure can be found throughout this lovely Brooklyn brownstone.
This two-bedroom vacation rental in Bedford-Stuyvesant, Brooklyn offers beautiful 19th-century charm in a spacious plan. The large living room features soft hues of green that complement the cherry hardwood floors. You will also find sofas and a decorative fireplace. The open-concept kitchen features the same stunning hardwood floors. Here, exposed brick on the ceiling and walls give a country flare to this traditional home. Upstairs you will find the two bedrooms, which again feature this unique flooring in a parquet style. A queen-sized bed can be found in the first bedroom, while two full-sized beds occupy the second. The shared bathroom has a deep soaking tub and shower for advanced relaxation. Bedford-Stuyvesant is a growing neighborhood that offers beautiful architecture, modern conveniences like restaurants and shops, and even art galleries and music venues! While in New York, check out the best kid-friendly activities around the city.
Three-bedroom vacation rental in Hamilton Heights, Manhattan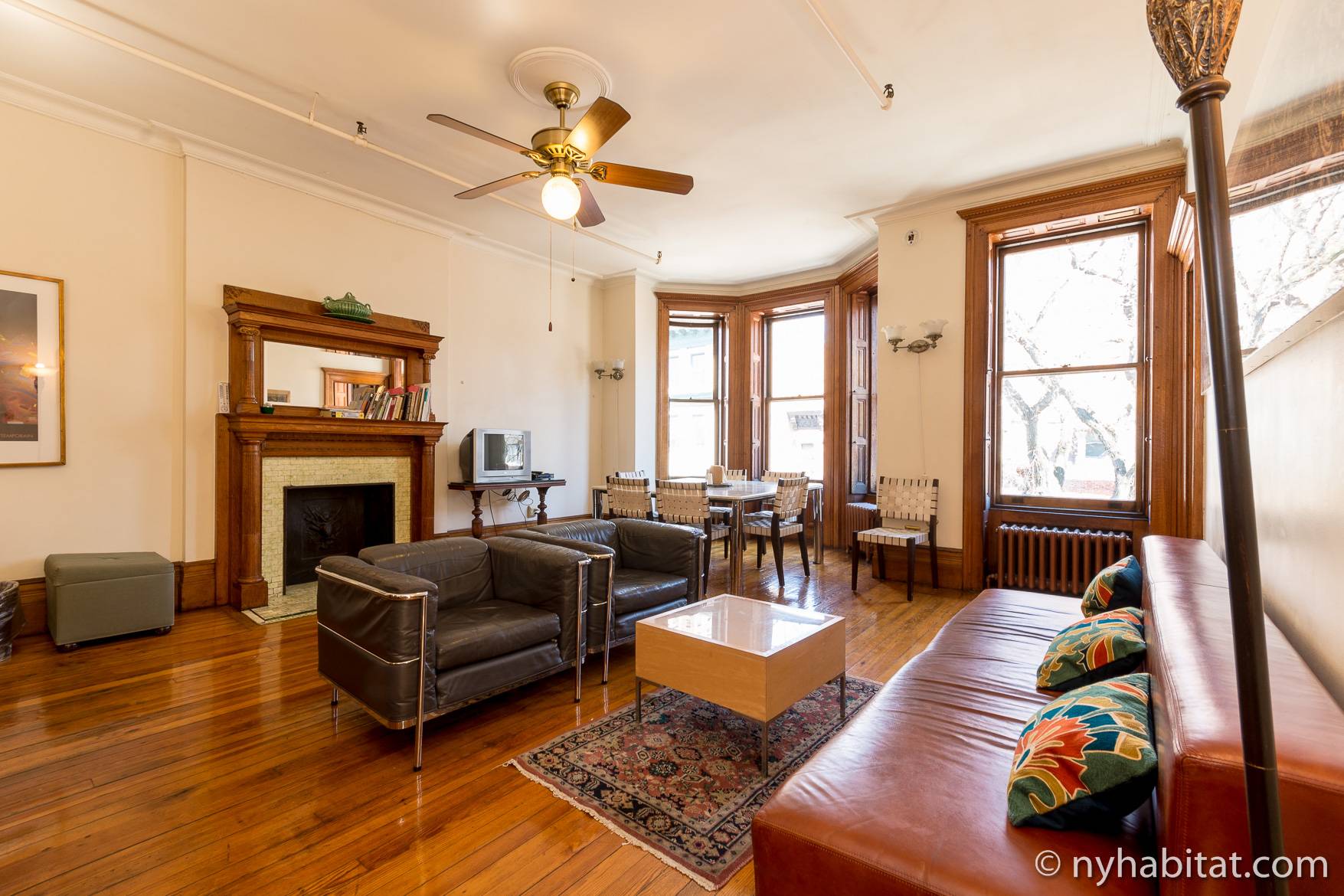 Ornate woodwork is commonly found in 19th-century New York City homes
This three-bedroom vacation rental in Hamilton Heights, Manhattan features stunning architecture that is unique to homes built in the late 19th century. The light woodwork around the windows, doors, and fireplace adds a traditional feel to this updated apartment. Hardwood floors, comfortable sofas, and a bay window for plenty of natural light can be found within the living room. Distinctive tile flooring and a backsplash decorate the eclectic open-concept kitchen, which offers modern stainless steel appliances including an oven, a dishwasher, and a microwave. The first bedroom is a parent's retreat, furnished with a king-sized bed and a decorative fireplace. Two single-sized beds can be found in the second bedroom, and a full-sized bed in the third bedroom. Hamilton Heights is named after famous economist and founding father Alexander Hamilton. This active neighborhood is popular for its array of restaurants, parks, and universities. Don't miss out on these top yearly events on your family vacation!
What other neighborhoods would you bring your family to on a New York City getaway?