London is just as romantic a city as Paris or New York. If you've picked this picture-perfect city for your romantic night, weekend, or week, you need to plan your itinerary. Don't worry, we've come up with a list of activities to keep you and your date entertained, however long your trip may be. Before you plan your itinerary, make sure you've secured the perfect vacation rental for a romantic getaway to London! Keep reading to discover our top 10 romantic London activities.
1. Romantic strolls through the park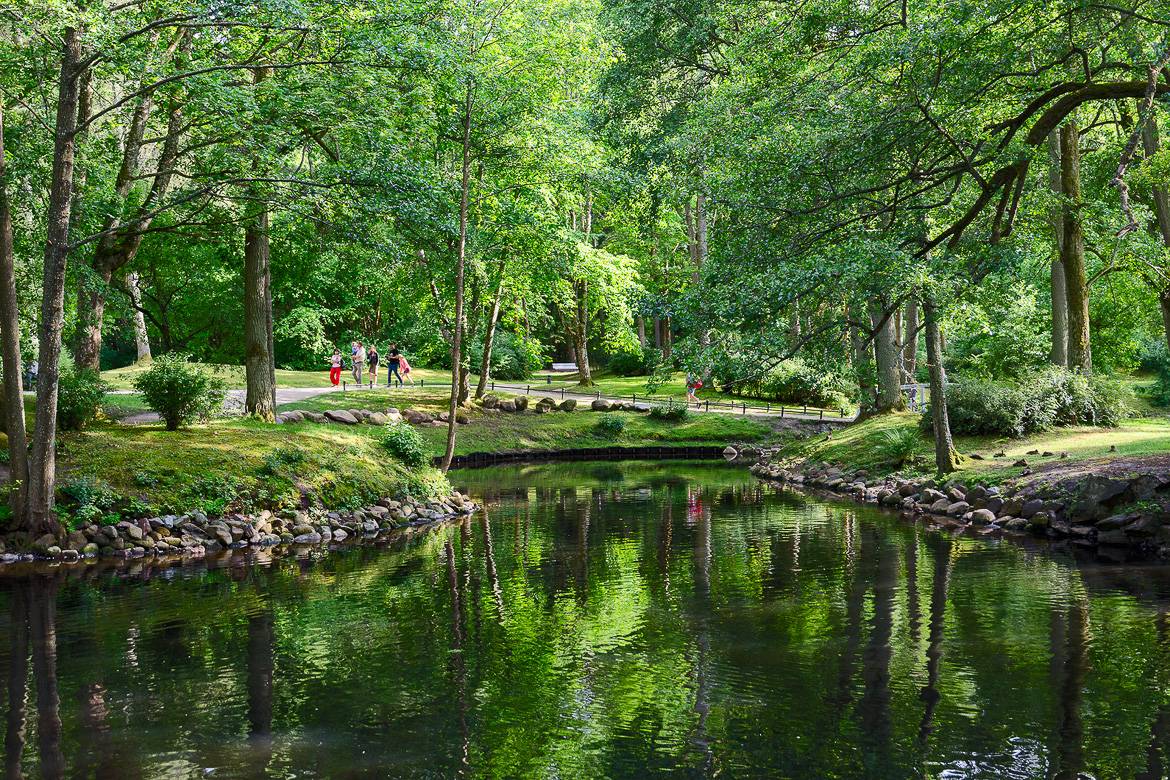 Take a leisurely stroll through the park with your partner and enjoy the beautiful foliage.
Picture you and your date strolling hand-in-hand through the park, admiring the beautiful gardens together. Realize the dream with a visit Kyoto Japanese Garden in Holland Park, the Royal Borough's largest park. This garden is the perfect place for a romantic stroll. It's particularly beautiful during the spring and summer seasons when all of the flowers are blooming. Enjoy the peaceful atmosphere, sit by the waterfall, or say hello to the fish in the large koi pond. Don't be surprised if you encounter a peacock or two during your stroll, they roam freely here!
The Chelsea Physic Garden behind the Thames is a hidden gem; the oldest botanical garden in London and originally a training center for apothecaries. This green oasis is home to around 5,000 species of plants. Walk around and see how many you and your date can identify!
It may not be a park, but St. Katherine's Dock in Chelsea offers great activities for a date at a marina on the River Thames, including shops, bars, and restaurants. If you'd rather stick to parks, take a look at our post about the top 10 parks in London! Regardless of where you decide to take your romantic stroll, you'll be able to forget you are surrounded by a large city and just get lost in each other's company.
2. Active dates
After your romantic stroll, it's time to do something a little more active! Hyde Park is one of the royal parks of London and attracts millions of people every year. It's an excellent spot to go horseback riding with your date. Choose from a variety of lessons that can improve your skills, teach you to ride, or just let you ride for fun. Begin at Hyde Park Stables and enjoy the rides, as well as the beautiful views around the park and the Serpentine Lake.
Continue the fun after your ride with some indoor rock climbing at The Castle Climbing Centre. All levels of experience are welcome and there are 450 different routes on a rotation of about 80 per month, so you'll never get bored! Once you've finished leading your partner to the top, see what it's like to live like a local in Hackney.
For something more laid-back, you can also book a private lane at Bloomsbury Bowling Lanes. Gather some friends and enjoy a fun game or two with your date, and if you get hungry, head to the on-site diner or have the food delivered directly to your lane!
3. Romantic dinner for two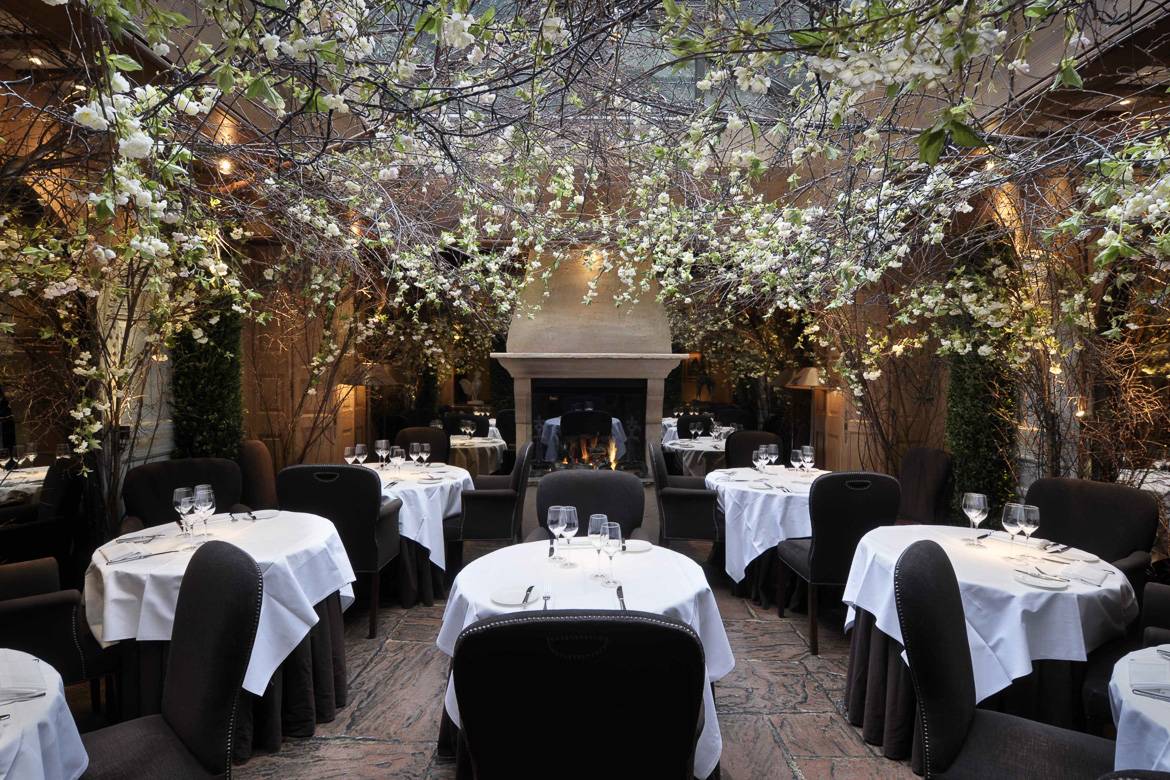 The dining area of restaurant Clos Maggiore adds magic and elegance to your evening.
There's nothing more romantic or classic than a nice dinner for two. Clos Maggiore in Westminster offers one of the best romantic dinners in London. Choose between a table in the wood-paneled dining room or in the conservatory of twinkling lights, faux blossoming trees, mirrors, and candles. It's easy to forget your surroundings while you're enjoying a Provence-inspired dish with your date. With over 2,500 wines from which to choose, you'll be sure to have a magical night.
If you and your partner are feeling more daring, consider dining in complete darkness at Dans Le Noir. In the dark, the focus of the dinner shifts to the taste, smell, and texture of the food. Choose from 4 surprise menus (either meat, seafood, vegetarian, or chef's special), and then be led by a waiter to your table in the pitch black dining room. You'll have a remarkable experience and a one-of-a-kind-dinner at Dans Le Noir.
You also can't go wrong planning a romantic dinner at Aqua Shard, which is located on the 31st floor of the high-rise Shard building. Come for the dinner and drinks, but stay for the views! Get cozy by the window and marvel at the bright lights of Southwark in the city below you.
4. Visiting iconic attractions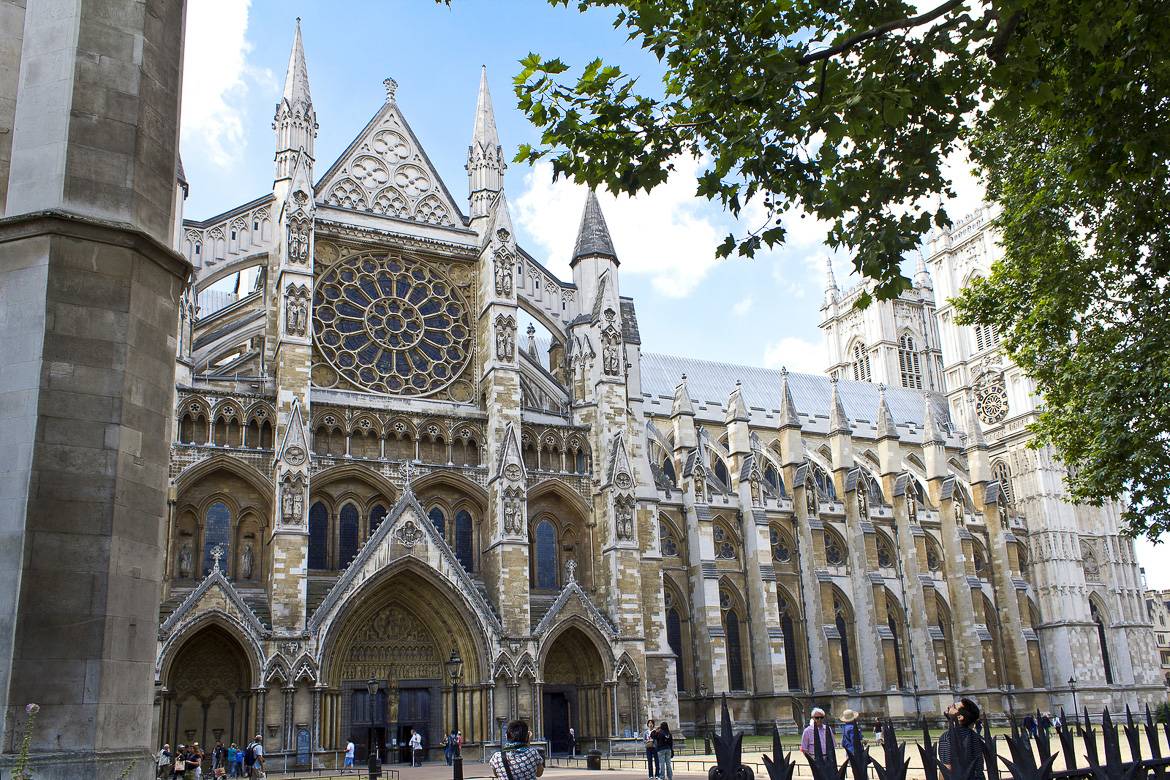 Marvel at famed Westminster Abbey in Westminster
Perhaps this is you or your date's first time in London, or maybe you haven't had a chance to visit some of the iconic attractions before. Now is the perfect time to grab your partner and explore! Start at Westminster Abbey, a gothic church located to the west of the Palace of Westminster. It's known for celebrations like weddings and coronations, but also as being the burial site of some of the country's past royals. To learn more about Westminster Abbey, check out our blog!
Follow your trip to the abbey with a visit to Buckingham Palace to see how Britain's monarchs live and work. 19 of the 775 rooms in Buckingham Palace are state rooms which are open to the public, so you can see everything Buckingham Palace has to offer. Finally, no trip to London is complete without a visit to the London Eye, one of the largest Ferris wheels in the world. Ride to the top of the London Eye and watch a breathtaking sunset over the city!
5. Tours of London
Now that you've seen the iconic attractions, you can forgo the conventional path and do something a little different. Take part in one of the following tours and experience London in a whole new light! With the Alternative London tour, you'll see a side of London you might never have noticed. Explore the artistic side of the city with a walking and bike tour that showcases the creativity and uniqueness of the East End.
If the two of you prefer food markets, a Mind the Gap Tour is the tour for you! With the Eat London Mind the Gap tour, you'll experience a variety of markets like Borough Market. You'll be able to taste your way through London while visiting shopping destinations and gourmet tastings.
For something completely different and adventurous, take a London Duck Tour! With a variety of tours, such as a classic sightseeing tour, a James Bond tour, a pirate treasure hunt tour, and many more, you and your date are sure to find one that you'll both love. On this tour, you'll start on land but eventually continue into the water in a WWII-ear amphibious vehicle. After all, the Thames the best way to experience all of London! Regardless of what type of tour you choose, you'll be sure to have a romantic date in London.
6. See a show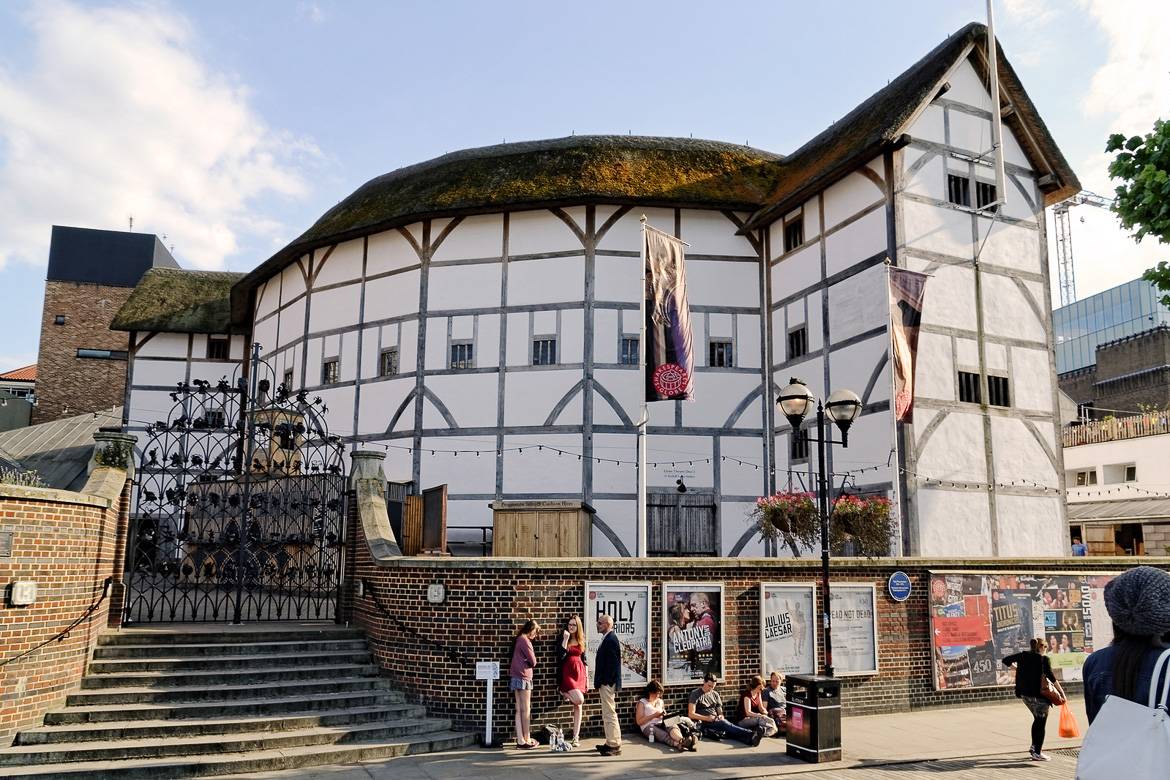 Plan your visit to Shakespeare's Globe Theatre carefully; this open-air amphitheater's performances are rain or shine!
No city's stage is quite as special as London's. You can't go wrong with the variety of shows to see! If you love ballet, head to Covent Garden's Royal Opera House. The Royal Ballet is Britain's largest ballet company and is known worldwide for its remarkable performances. Don't worry, your date night isn't ruined if it happens to rain. Go to The Piazza to take shelter and enjoy a street performance.
The West End has amazing musical shows like Cats, Les Miserables, Guys & Dolls, Stomp, Wicked, and more, so it's easy to pick a show you both will enjoy. Interested in learning about West End theaters? Check out our post about them!
You also can't visit to London without seeing Shakespeare's Globe Theatre. This open-air amphitheater is where many of Shakespeare's plays debuted! Whether you're a Shakespearean fan or a modern-day theater geek, you can't go wrong by seeing a show in London.
7. Nightlife
If you've packed your day full of romantic activities, be sure to plan something for your night. Gordon's Wine Bar, the oldest wine bar in London, has an award-winning wine list. The wine is served from wooden casks behind the bar for distinction, and the outdoor seating will allow you and your date to marvel at the perfect night you've planned. After you've filled your bellies with wine and cheese, see how the locals live in nearby Westminster.
Before retiring to your London vacation rental, continue your romantic evening at Nola, a New Orleans-inspired cocktail bar. The jazz music that fills your ears will make you instantly swoon over your partner. The Luggage Room also has a lavish, "roaring twenties" feel. Finding this bar may be a little tricky, as it's quite hidden. You'll have to use the knocker to gain entrance, and you'll be escorted to the bar by flappers. Stay and enjoy yourselves in this speakeasy for a date night neither of you will forget. Before you start your London vacation, be sure you know the basic tips and etiquette for going out in London!
8. A view from the sky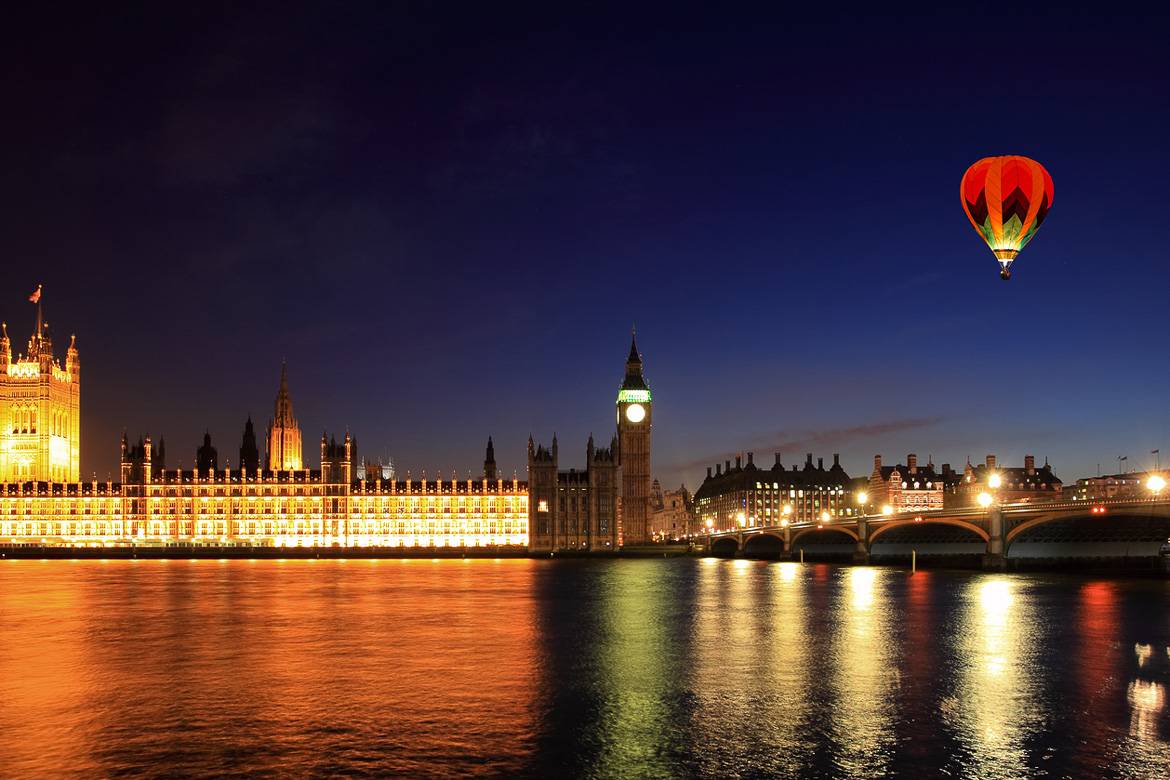 Up, up, and away! Fly over iconic London attractions and soar through the air together.
This date-night idea goes above and beyond! You and your date can glide hand in hand above the city on a helicopter ride from the London Helicopter Centre. Plan the perfect helicopter date by picking where and when you want to fly, and let London Helicopter Centre take care of the rest.
For something even more memorable, plan a hot air balloon ride with Adventure Balloons. Have you ever dreamed of floating through the air with your date? Now's your chance! Regardless of whether you choose a morning or evening ride, it'll be magical. Fly over iconic London attractions and enjoy each other's company among the clouds.
9. London museums and art galleries
There's nothing more classic than a romantic walk through some spectacular museums and art galleries. You and your partner can walk side-by-side and admire your favorite pieces while escaping the rain outside. The British Museum is one of the top attractions in London and charges no admission fee. The Bloomsbury museum's permanent collection houses around 8 million pieces. You'll never run out of things to see here!
Another great museum is the National Gallery, one of the most visited museums in the world that also happens to be free! Bring your date and enjoy the collections.
Other great museums include the Natural History Museum in South Kensington, London, which houses 70 million items, and the Tate Modern, a modern and contemporary art gallery in Southbank!
10. Unwind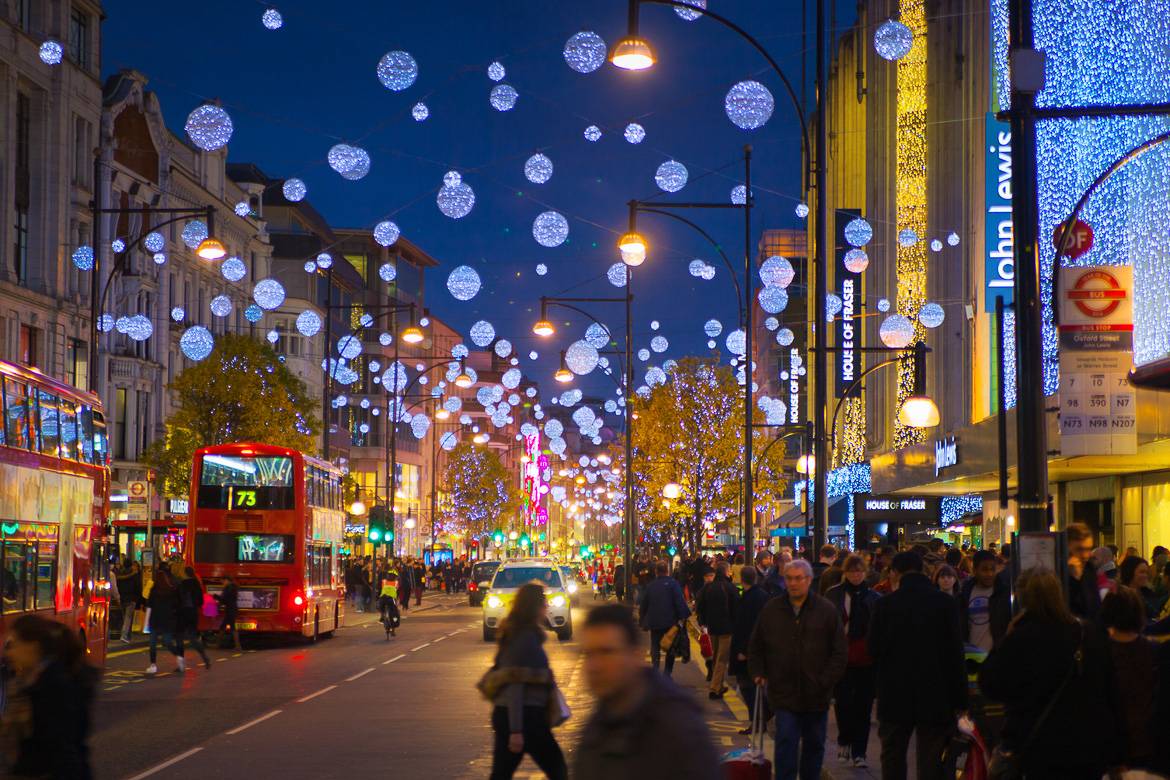 For a more casual date, head to Oxford Street for some of the best shopping in London!
After traveling around London, be sure to plan some time for the two of you to relax! What better way to relax with your partner than at a couple's spa? There are plenty of options; whether you go with an affordable spa like The House of Elemis or a luxurious one like The Berkeley Spa, it will be the perfect end to your romantic trip.
There are other ways to relax besides a spa! Local cinemas are great for a quiet evening, or you can go out shopping on the town. Oxford Street is one of London's most popular shopping destinations, for good reason; it boasts over 300 stores!
No trip to London is complete without a cup of tea, so we've compiled a list of the perfect tea rooms to enjoy a British cuppa with your date. Unwinding is the ideal way to end your romantic night or getaway.
Whether your itinerary only has room for a few romantic activities, or you have an entire week to plan, we've narrowed down your options to help you. Although London is known for its cloudy skies and rainy days, it shouldn't put a damper on your dates. Check out our suggestions for what to do on a rainy day in London! Plan your romantic night or getaway with ease, and be sure to let us know what you and your date enjoyed the most.