Going back to school may have kids dreading the fall, but it doesn't have to be all bad! There's no better way to get kids excited for autumn than by bringing them to The Big Apple. With beautiful fall foliage and countless activities ranging from the Haunted High Line to apple-picking, the spectacular fall season in NYC is sure to amaze them!
1. Visit NYC's parks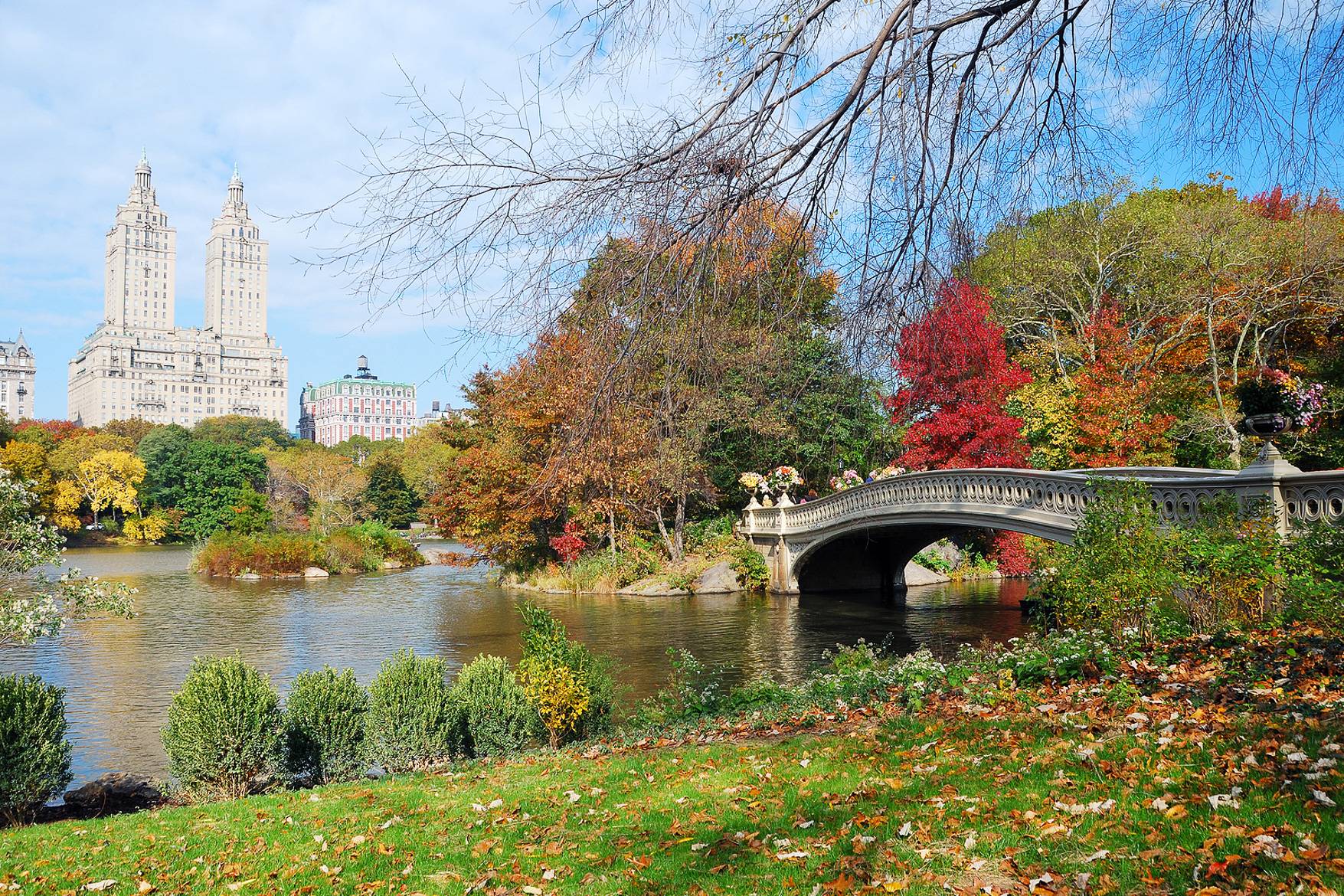 View of Central Park on a crisp fall day
The iconic Central Park is a great place to visit when the leaves start changing. Watch as the colors slowly fade from green to yellow as you stroll through the park after you grab a delicious cup of hot chocolate or hot apple cider. If you prefer to sit for a while, pack the kids' favorite snacks and enjoy a peaceful picnic in the midst of busy Manhattan. Can't get enough? Check out our guide to Central Park through the seasons!
Not near Central Park? Prospect Park in Brooklyn has four nature trails for taking the kids on a nice hike. The trails all offer spectacular views of waterfalls, the forest, and the lull water, not to mention fall's changing leaves. Lastly, don't forget to check out Hudson River Park, which stretches 4.5 miles (7.2 km) and is the second-largest park in Manhattan. The kids will be sure to enjoy its children's playground, tennis courts, soccer fields, and batting cages.
2. Pumpkin picking & corn mazes at Queens County Farm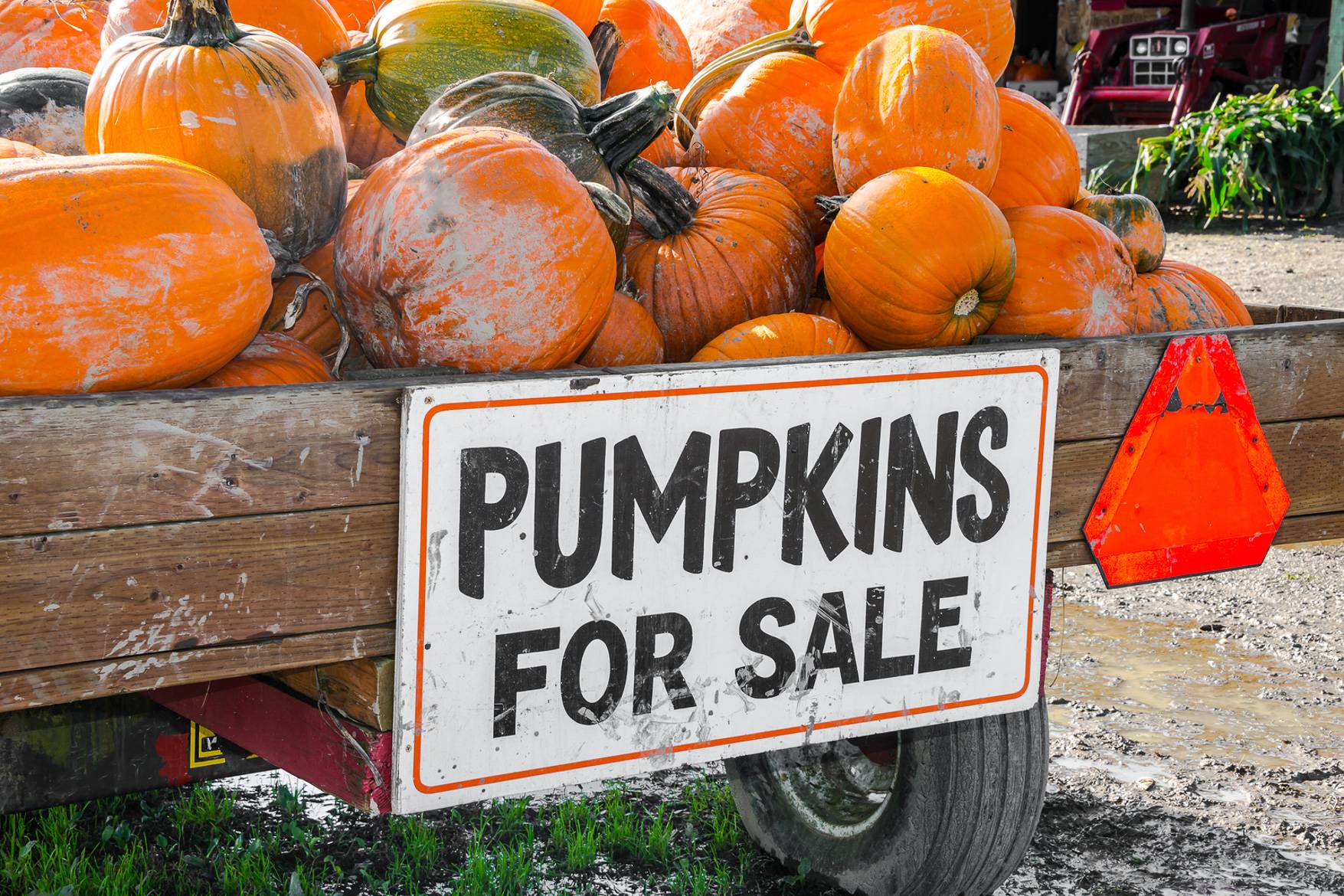 Pick your own pumpkins or buy some pre-picked ones.
The 32nd annual Queens County Fair is being held in 2015 on September 19 and 20 from 11:00 a.m. to 6:00 p.m. at the Queens Farm. Don't miss this popular event's blue-ribbon competitions in livestock, produce, arts & crafts, and more! The fair features both pie-eating and corn-husking contests, pig races, hayrides, carnival rides, and entertainment for the kids by Big Apple Circus To-Go. There's sure to be plenty to do for the whole family. Admission is $9 for adults and $5 for kids 12 and under.
The Amazing Maize Maze at Queens Farm also opens up this weekend, and runs every weekend until October 25 from 11:00 a.m. to 4:30 p.m. Are you and your kids up for the challenge of finding clues, solving puzzles, and trying to find your way out? Visit to find out! Tickets are $9 for adults, $5 for kids ages 4-11, and kids under 3 are free.
Don't forget about the farm's Pumpkin Patch! It runs on weekends from October 3rd to October 25th, 11:00 a.m. to 4:30 p.m. There's no admission fee to enter the patch, so stroll through for as long as you like until your kids find the perfect pumpkin. Want more to do in Queens? Take a peek at our guide to Queens and immerse yourself in the borough.
3. Apple-picking
When one thinks of apple-picking, NYC doesn't necessarily come to mind. Surprisingly, the surrounding areas offer plenty of apple-picking orchards, a great fall activity. In Westchester County, you'll find Stuart's Farm, the oldest apple farm in the county. The farm has over 200 acres of orchard growing nine different varieties of apples. They also bake their own pies, scones, muffins, apple cider donuts, and streusel. The kids will be sure to love the hayrides (weekends only), which run past the pumpkin patch and the apple orchard to the very top of a hill where you'll see vast views of Connecticut along with the stunning fall foliage. Hayride tickets are $3 per person. Grand Central Terminal offers train service every 40 minutes to Katonah. After a 10 min drive from the station, you'll be picking apples in no time!
Another great orchard is Fort Salonga Farm in Northport, Long Island. They don't offer hay rides, but they do offer plenty of dwarf trees, which are perfect for little ones to pick apples all by themselves. While there, be sure to try the farm's fresh honey.
Don't forget about nearby Connecticut and its spectacular views. It will give you and the kids some time away from the city that never sleeps! Check out Silverman's Farm in Easton, Connecticut, as they offer a variety of pick-your-own-apples, a pumpkin patch, cornstalks, and gourds. Pay an admission fee and you'll have access to their animal farm, which is filled with animals such as buffalo, alpacas, emus, fallow deer, and more.
4. Festivals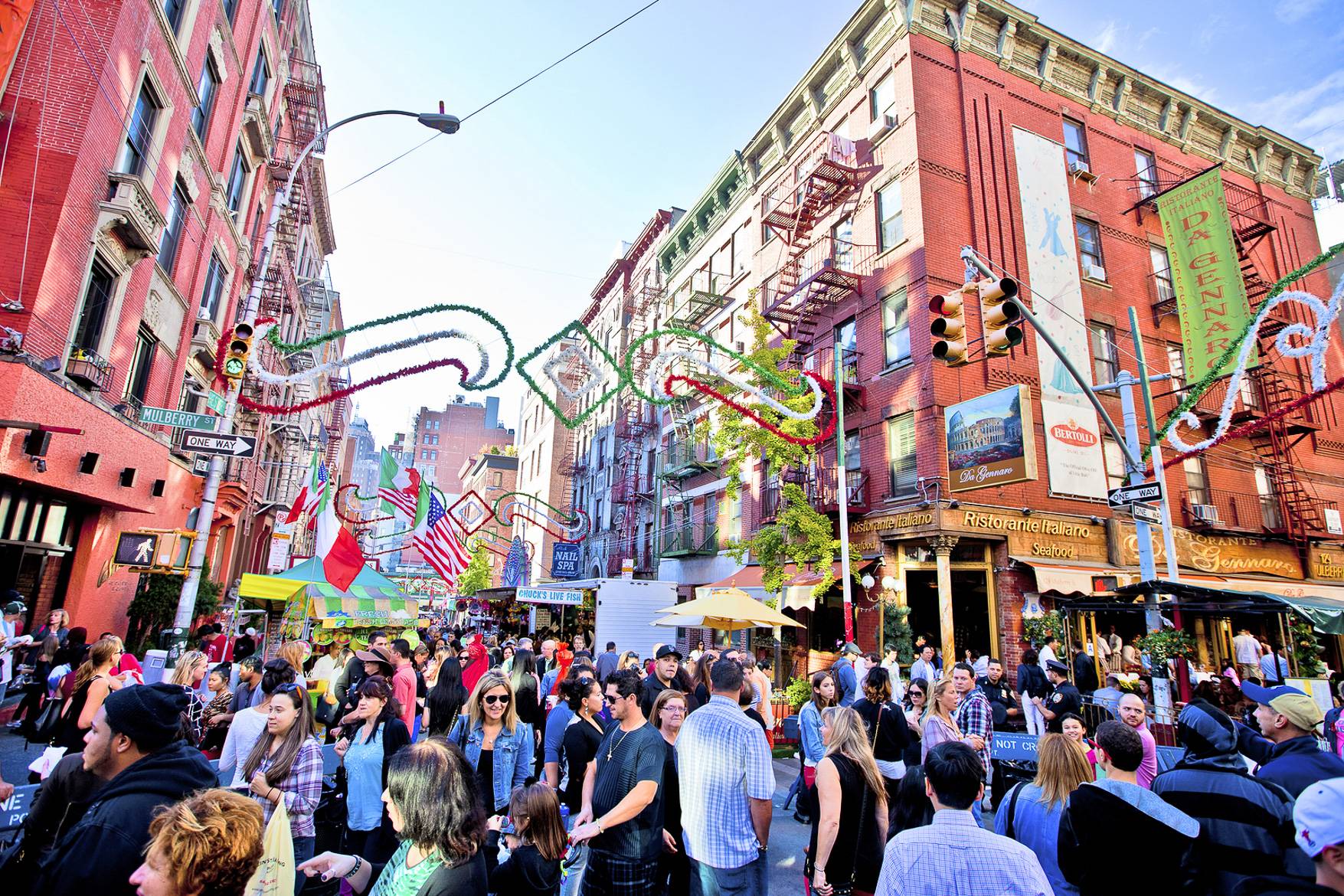 People enjoying the San Gennaro festival in Little Italy
Take a trip to Little Italy any day between Thursday, September 10 and Sunday, September 20 for the 89th Annual Feast of San Gennaro. There are tons of events for the entire family like ceremonies, parades, and even eating competitions (think pizza and cannolis)! While you're sampling some fine Italian cuisine, stop by the Fiat Performance Stage to listen to some of the live musical performances. The feast is one of the most popular events in NYC each year, with family activities taking place along Mulberry Street, Hester Street, and Grand Street every day of the festival.
Not near Little Italy? No problem. Just make your way to Brooklyn on Sunday, September 27th for the annual Atlantic Antic Festival. Stay close to the festival by booking a Brooklyn vacation rental! The festival is comprised of local and national vendors alongside popular restaurants and boutiques. Your kids will be sure to love the pony rides, storytelling, and face painting on an entire block dedicated exclusively to kid-friendly activities. Want to know more about this festival? Check out our post all about it.
5. Halloween festivities
Gather your superheroes, ghosts, and witches, and head to The High Line in Manhattan for the annual Haunted High Line at the end of October. Kids can learn about the ghosts of the west side of Manhattan, crawl through a haunted tunnel, and participate in a variety of other activities that they'll be sure to enjoy.
If you're near Brooklyn on October 24, 2015, be sure to explore the Brooklyn Botanic Garden during Ghouls & Gourds 2015. Admission fees are $12 for adults and free for kid under 12. The unique Halloween event is family-oriented and suits kids of all ages, and you can attend a different activity every 20 minutes. Listen to some live music, watch live entertainment, do some crafts, and end the day with a festive costume parade (be sure to come dressed in costume!).
When it comes to Halloween, have no fear… join the 42nd Annual Village Halloween Parade at 7:00 p.m.! This year's theme is "Devil May Care." But beware! Only those in costume can join the parade. Put on your thinking caps and create unique costumes to fit the theme, then line up on 6th Avenue at Canal Street between 6:30 p.m. and 8:30 p.m. To find out more about this NYC tradition, click here for a ghoulish good time.
6. Macy's Thanksgiving Day Parade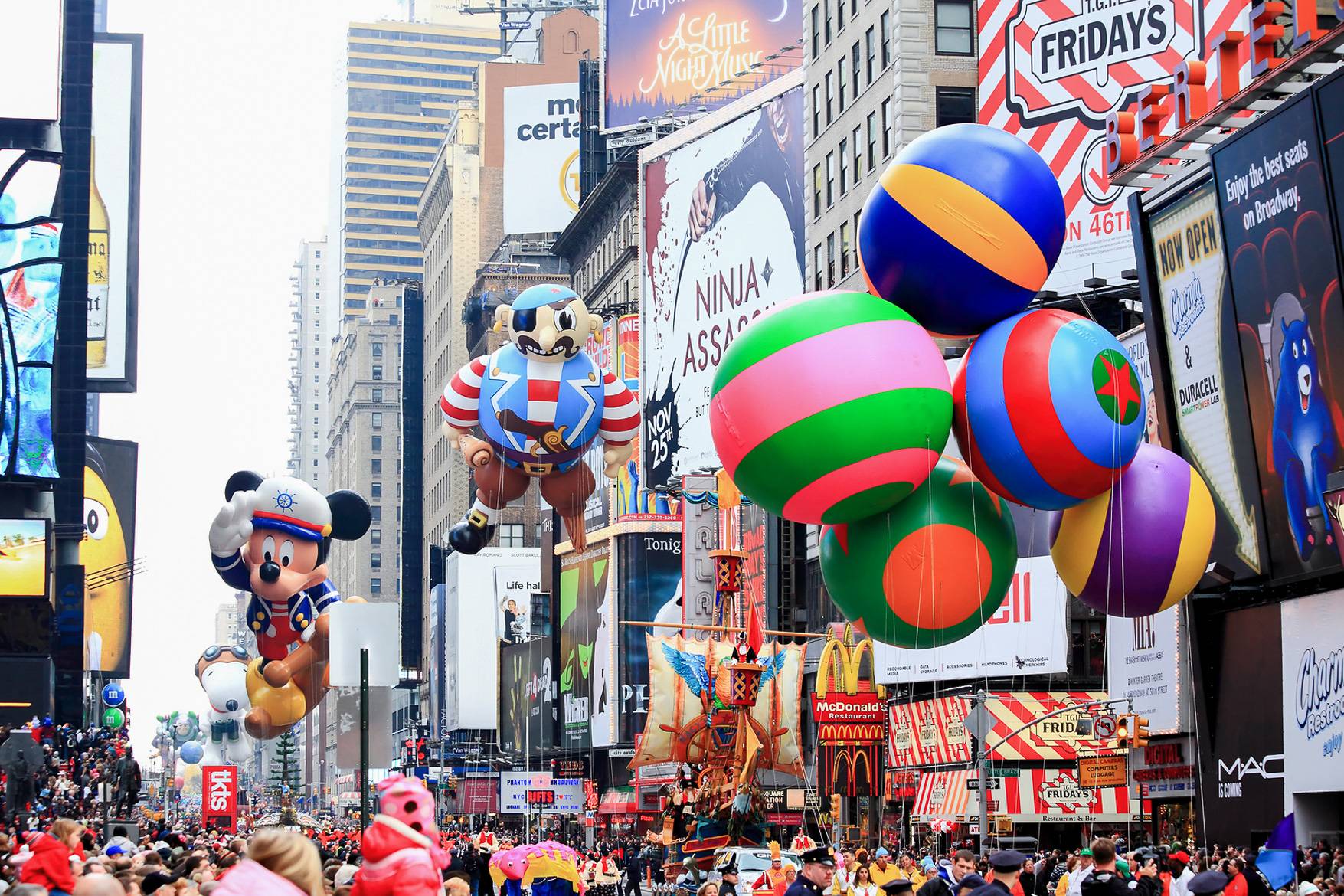 Balloons float by during the Macy's Thanksgiving Day Parade.
Whenever one thinks about Thanksgiving in New York, the Macy's Thanksgiving Day Parade comes to mind. Unbeknownst to most, festivities start the night before with the balloon inflations. On Wednesday, November 25, you can watch the parade's 25 balloons as they're filled with air at the Thanksgiving Parade Balloon Inflation from 3:00 p.m. to 10:00 p.m. near the American Museum of Natural History. You'll deal with smaller crowds, so you'll be able to walk away and come back to watch more of your favorite characters later in the evening.
That being said, if you can make it to the parade, do! The Macy's Thanksgiving Day Parade will be held Thursday, November 26 starting at 9:00 a.m. If you plan to watch, be sure to arrive early to secure your family's spot! The Macy's parade features live music, performances by cast members of Broadway shows, floats, and the famous Thanksgiving balloons. Be close to all the action by staying in a Manhattan vacation rental. Want to know more about the parade? Be sure to check out our guide to all things Thanksgiving.
7. Museums
Are your kids a fan of Night At The Museum? If so, then the American Museum of Natural History is the museum for your family! With a Night At The Museum self-guided tour, your kids will be able to see the real exhibits behind the characters featured in the movie. In addition to the self-guided tours, there are also a variety of exhibitions, 3D/2D films, and a space show where kids can learn about the universe around us. All of these things make the American Museum of Natural History the perfect family-friendly activity on a rainy fall afternoon.
General admission tickets to the museum are suggested prices; feel free to pay what you wish at any of the admissions desks. Have a look at our furnished rentals in the Upper West Side to put you close to the museum.
If you have younger kids, the Brooklyn Children's Museum is a great choice! Founded in 1899, the Brooklyn Children's Museum was the country's first museum to be designed specifically for children. The museum features fun and educational exhibits. Admission is $9, but on Thursdays from 3:00 p.m. to 5:00 p.m., admission is free! Check out how the Brooklyn Children's Museum is one of the five best New York sites for kids.
Other great museums for the entire family include the Children's Museum of The Arts in Manhattan and the New York Transit Museum in Brooklyn.
8. NYC landmarks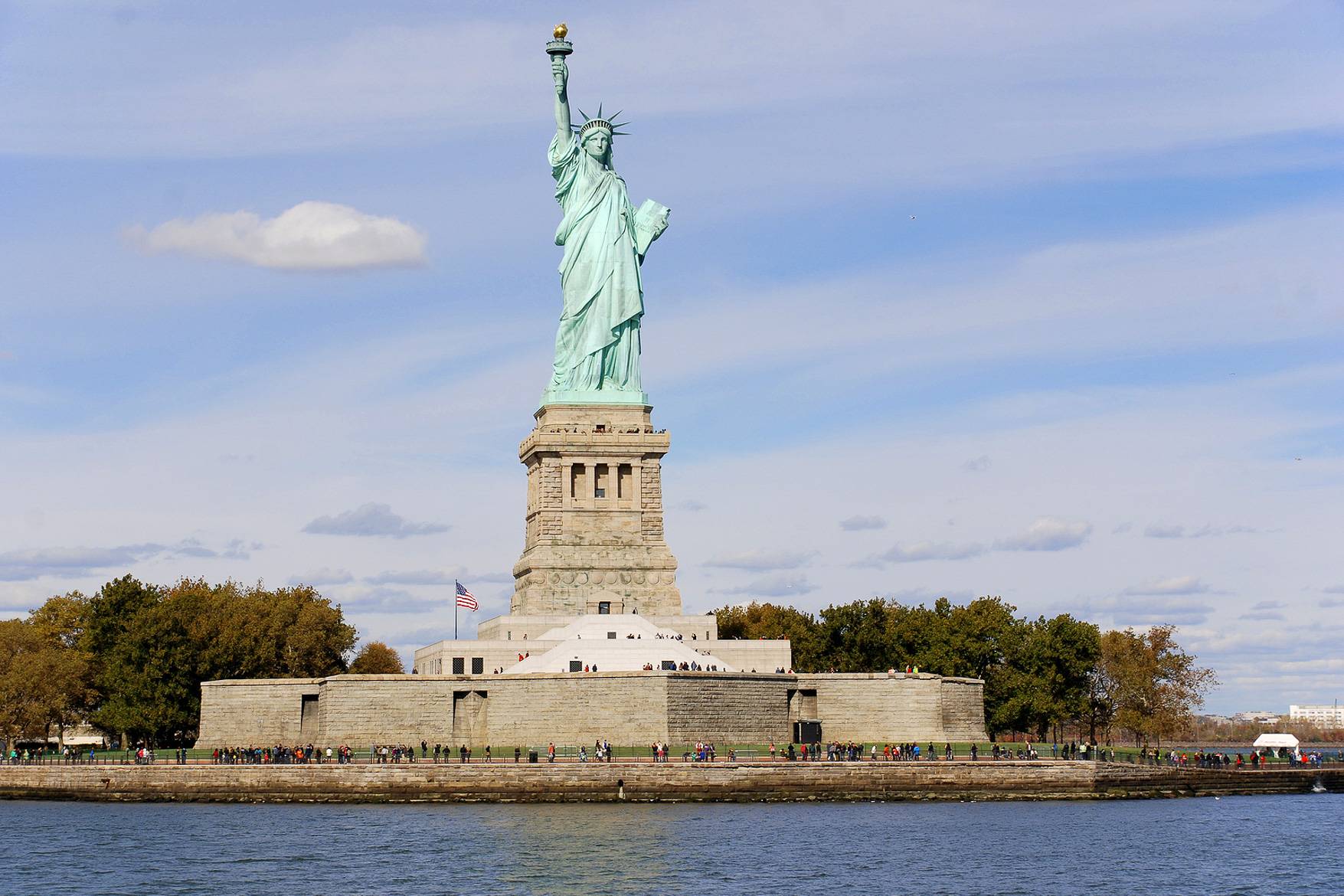 The Statue of Liberty welcomes you to Liberty Island.
No trip to NYC is complete without visiting some historical landmarks. The Statue of Liberty is a landmark all children and parents should visit. Tickets for the ferry and access to the grounds are $18 for adults and $9 for children, with ferries departing every 25-30 minutes. You can purchase these tickets once you reach the ferry, but be advised that tickets do sell out, so it's better to purchase them online ahead of time to avoid disappointment.
Visiting the Statue of Liberty is fun and exciting for kids, but participating in the Junior Rranger program will engage them even more! When you get off the ferry, go to the Information Center and ask the ranger for a Junior Ranger book. Complete the activities listed in the book and return it to the Information Center when the kids are done. The ranger there will swear in your kids as Junior Rangers and give them souvenir ranger badges. This is a fun way for families to learn more about the Statue of Liberty together! Want more to do when visiting the Statue of Liberty? Click here to find things to do.
Another great landmark that can be reached by foot is the Empire State Building. This landmark soars over the city, standing tall at 1,450 feet. The observation decks are located on the 86th and 102nd floors, although the 86th deck is better for views as it's less cramped and can offer 80-mile visibility on a clear day. You won't be the only one with this idea, so be prepared to wait in line. Tickets start at $26 for kids and $32 for adults. Stay nearby in a vacation rental in Midtown Manhattan!
9. Baseball & football games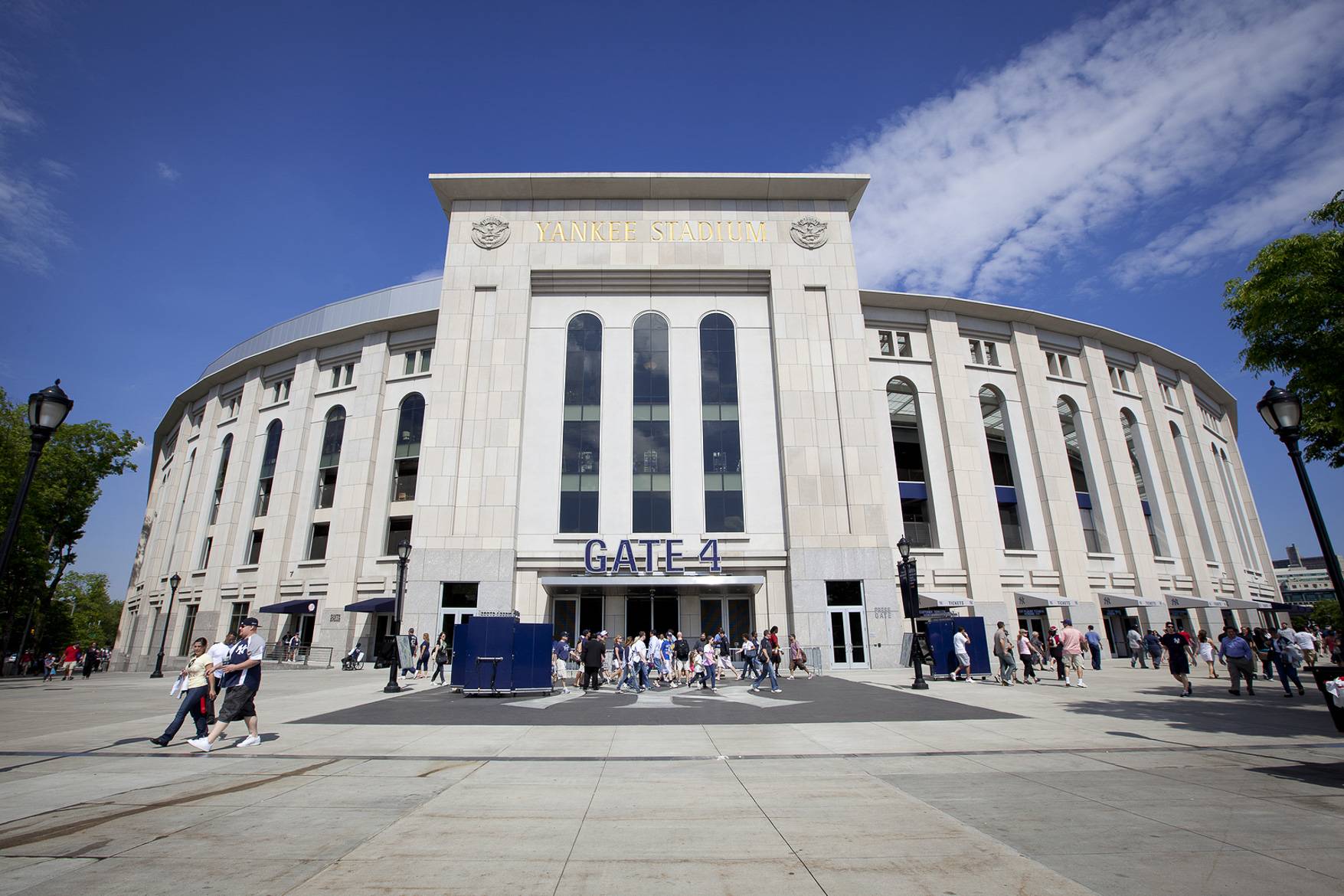 Play ball! Catch a baseball game at Yankee Stadium.
If you're a baseball or football fan, there's no better way to experience New York's sports scene than by going to a game! With two Major League baseball teams, New York leaves no excuse for missing a baseball game. Go uptown to the Bronx to Yankee Stadium, or over to Queens for Flushing Meadows-Corona Park and Citi Field, home of the Mets, to catch a game and enjoy a hotdog.
Are you more of a football fan? Don't worry; NYC has two football teams as well! You can catch Giants and Jets games at MetLife Stadium in New Jersey. Regardless of whether you're a baseball fan, a football fan, or root for a specific team, you won't experience quite the same atmosphere anywhere else as you will in New York!
10. Horseback riding
What better way to enjoy the fall scenery with your children than with a trail ride? Horseback riding is a great form of aerobic exercise, and kids will enjoy the chance to bond with a horse too. You'll have plenty of trails from which to choose to start riding in no time. Check out Kensington Stables for rides in and around Prospect Park. The 3.5-mile trail ride will take you through scenic and varied terrain and will expose you to all the creatures that call Prospect Park home. An hour's ride is $37 per person (for ages 11+), and $57 per person for younger children to ride with a supervisor on foot. Want to be close to Prospect Park? Check out our furnished rentals in Park Slope.
Jamaica Bay Riding Academy in Brooklyn also offers stunning trail rides. The 40-minute trail ride will take you through Jamaica Bay's wooded area and along the beach. Prices start at $47 (for ages 16+) and $65 (for ages 6+, with a supervisor). Don't worry if your little ones are younger than 6; pony rides are available for $20 for a 15-minute ride.
Lastly, don't forget about the Bronx Equestrian Center. The full-service equestrian facility offers trail rides, pony rides, and hay rides for all levels of experience and interest. Trail rides are $35 per hour, but anyone under the age of 18 must be accompanied by an adult. Pony rides are just $5 for three rides for the same child!
With so many great family-oriented events and activities, you can't go wrong with a trip to New York City in the fall! What are your favorite fall activities? Share your thoughts if your family tries any of the activities above.