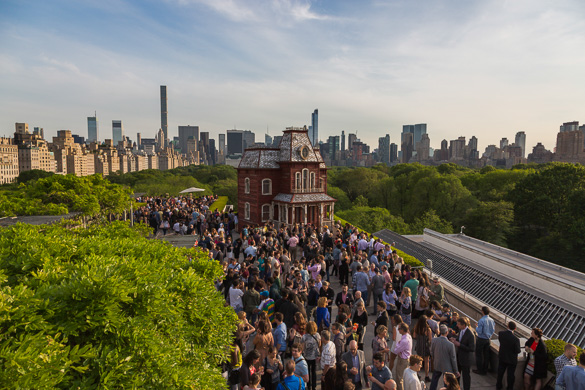 The Met, one of the city's most famous roofs, offers stunning views of Central Park. (Photo credit: The Metropolitan Museum of Art/Hyla Skopitz)
New York is vertically-oriented more than any other city, with shining glass skyscrapers and sweeping bridges dotting the skyline. There's no better place to enjoy the unique vistas that NYC offers than on one of the city's many rooftops, whether above a furnished apartment, a cultural icon, or a nightlife hotspot.
See the city from above with our guide to some of the best rooftops in town. From there, you can take in all that the city has to offer!
Manhattan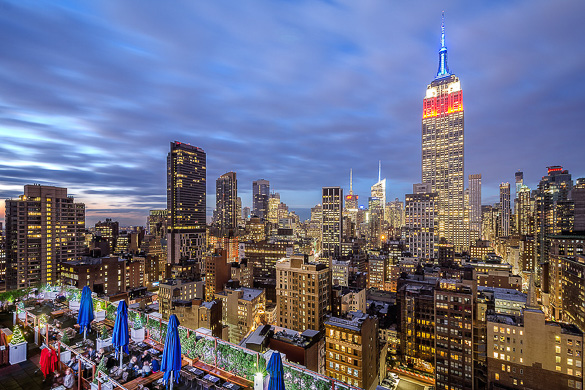 Nightlife lovers won't want to miss the front-row skyline views of 230 Fifth. (Photo credit : 230 Fifth http://www.230-fifth.com/)
As the birthplace of the skyscraper and the longtime world-record holder for its towering buildings, Manhattan is logically the epicenter of amazing rooftop views. There are a handful of spots that stand out from the other, and stand off and above the streets, like the trendy bar 230 Fifth, located in Midtown East near the Empire State Building. Known simply by its address like the chic new towers sprouting up around the neighborhood, this drinking hole is a high-end nighttime option for a unique perspective on the city.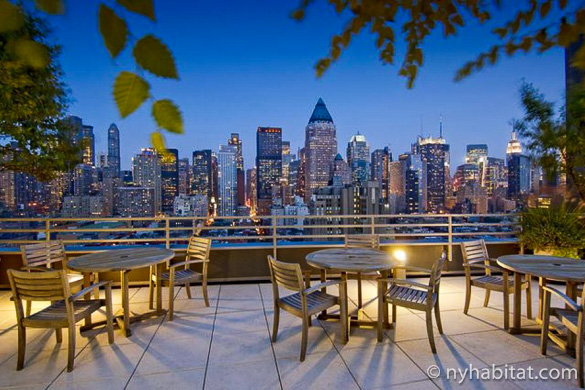 Make the skyline your own with an apartment roof terrace like this one in Clinton (part of Midtown West).
Even better than a night out with great views is coming home to your own stunning roof scene. From our furnished two-bedroom apartment in Clinton, you'll be able to view the Midtown skyline from a different angle. When you've had enough of the view, you can wind down and relax on the couch or cook up a nice dinner at your home away from home.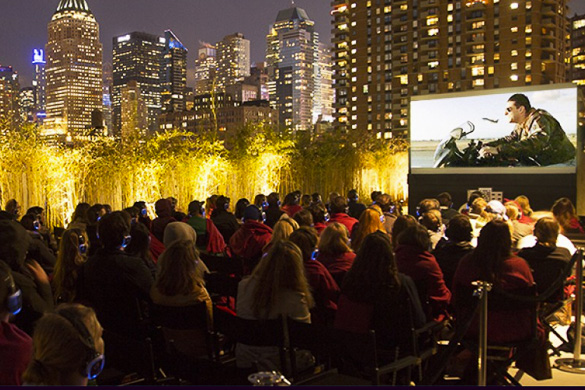 Have a unique Manhattan rooftop experience at the Rooftop Cinema Club, where you can watch a movie with a view! (Photo credit: Rooftop Cinema http://rooftopcinemaclub.com/newyork/venues)
There are some things that you can't get at home, like an outdoor movie to enjoy with a crowd under the glowing Manhattan sky. If that's what you're looking for, don't miss out on the Rooftop Cinema Club, a one-of-a-kind movie-viewing experience with a venue just three blocks west of Times Square in Midtown Manhattan. Also located in Midtown is our two-bedroom rental in Murray Hill, a residential neighborhood on the East Side, complete with its own roof terrace, as well as laundry and air conditioning already in the apartment.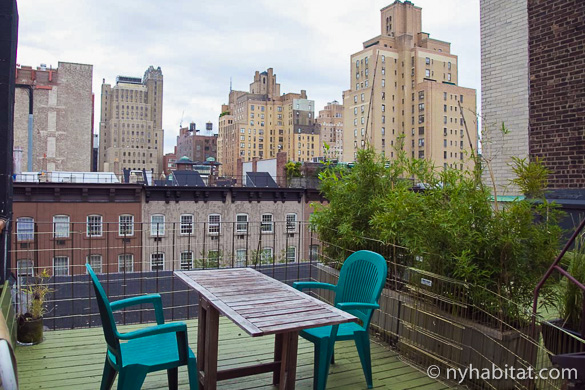 You can get away from it all with this hidden roof terrace in Chelsea!
On the other side of Manhattan in hip Chelsea, you can find this hidden terrace that's part of a one-bedroom apartment. A charming private view of the surrounding area and a patio table complete the outdoor space. Inside, a queen bed and two twin beds inside give you lots of space to relax or accommodate guests. With the full kitchen, cable TV, and internet, you'll have everything you'll need to live here!
Brooklyn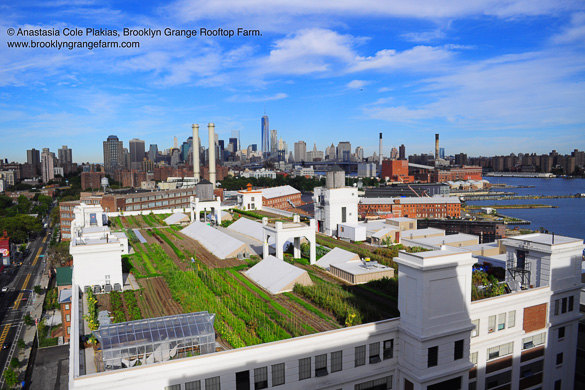 The best view of Manhattan is from Brooklyn Navy Yard farm (Photo credit: Anastasia Cole Plakias, Brooklyn Grange Rooftop Farm)
It's no secret that you can get the best perspectives on Manhattan's famous skyline from the outer boroughs. Across the East River from the city's tallest buildings, less expensive and low-rise housing makes for some great apartment roof vistas of NYC. There are even rooftop farms, like Brooklyn Navy Yard Farm! Now that the Brooklyn waterfront is redeveloping, you'll want to check out some of the rooftop views that are emerging in the new skyline.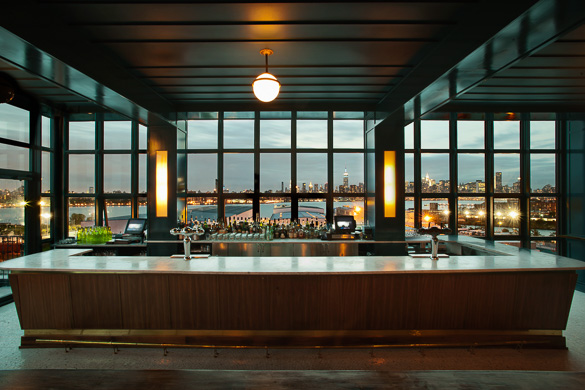 The Wythe is located in Williamsburg right across the river from Manhattan and has great views! (Photo credit: Matthew Williams)
One of those new developments and a landmark in the area is the Wythe Hotel. Like many of the hot new properties nearby, the space was formerly a warehouse. Now, it offers quite the view of Manhattan, with the East River in the foreground. Down the street is our one-bedroom apartment in prime Williamsburg. It has its own outdoor spaces: a balcony and a little roof terrace with its own view.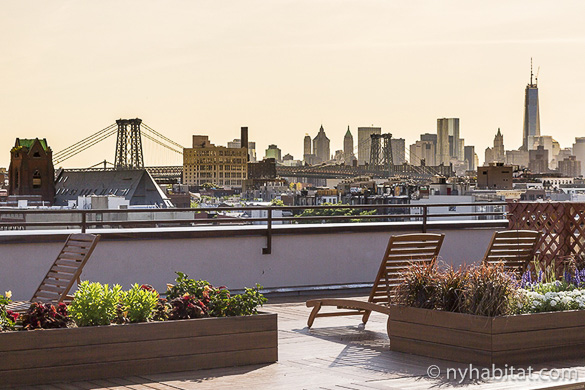 With views from your roof like this, you'll never want to leave the building!
Also in the area, this luxury Williamsburg studio has a tanning-worthy roof deck that includes lounges, bridge views, and lots of space for hosting guests. A gym and laundry room are in the building, giving you high-end amenities without Manhattan prices! The neighborhood is also full of interesting spots like Night of Joy, a small bar with a patio space, great for warm summer evenings.
Queens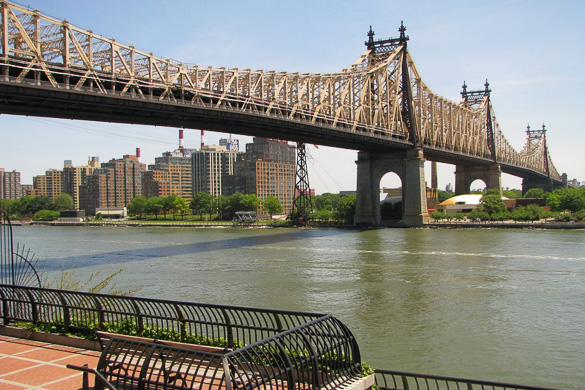 The iconic Queensboro Bridge fills many rooftop views.
Though it comes second to Brooklyn in terms of hipster credentials and nightlife destinations, Queens is the next big thing in New York City boroughs. The borough is symbolized by the graceful Queensboro Bridge that stretches from Midtown to Long Island City and serves as the backdrop for many movie scenes. There's even more to Queens than just the connection to Manhattan!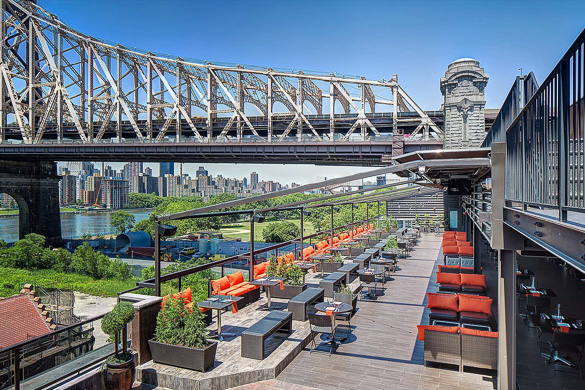 Right beside the bridge, Penthouse 808 has an outdoor lounge and great drinks. (Photo credit: Penthouse 808 Bar http://penthouse808rooftop.com/gallery/)
It is true, though, that the best rooftops in Queens face west towards its glittering neighbor across the river. A great one to experience on a sunny afternoon or summer evening is at Penthouse 808. The bar, lounge, and restaurant is located right at the base of the Queensboro Bridge and serves a great Sunday brunch. One of our rentals in Queens with its own outdoor space is this three-bedroom furnished rental in Woodside. All the comforts of home are within so you can find your niche in the city.
The streets of New York City hide a number of secrets, from rooftop gardens to Midtown movie clubs. Get to know the city more with our neighborhood guides, or check out a vacation rental for a shorter trip! Make sure you find yourself on an NYC roof at some point to enjoy the view.