Swim with a view at the Astoria Park Pool, one of many great NYC pools. (Photo credit: NYC Parks)
When you think of relaxing on a hot summer day and lounging by a pool, New York City is probably the last place that comes to mind. Amid all the concrete and skyscrapers, elusive urban pool oases can be found, you just have to know where to look. New York Habitat can also help you find the perfect furnished apartment in New York City. From apartment buildings, to hotel rooftops, to gyms, read on to find a spot to cool off this summer in the urban jungle.
1. Rent an apartment in a building with indoor pool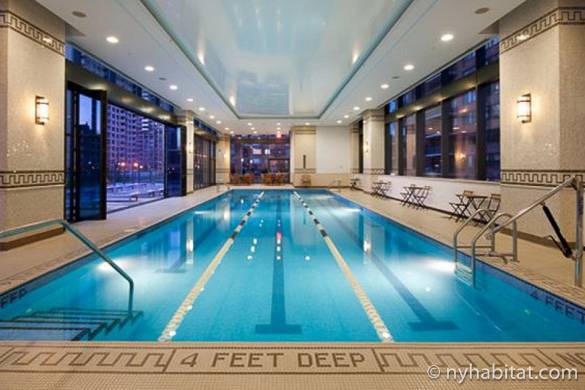 Enjoy the convenience of an indoor pool right in your building.
Renting a furnished apartment in a building with amenities like an indoor pool is always a cool option. Luckily, we have several apartments in buildings with luxe amenities across the five NYC boroughs. This furnished one-bedroom apartment rental on the Upper West Side is located in a building with a 70-foot indoor saltwater swimming pool and two acres of an elevated and landscaped outdoor terrace where you can relax your day away.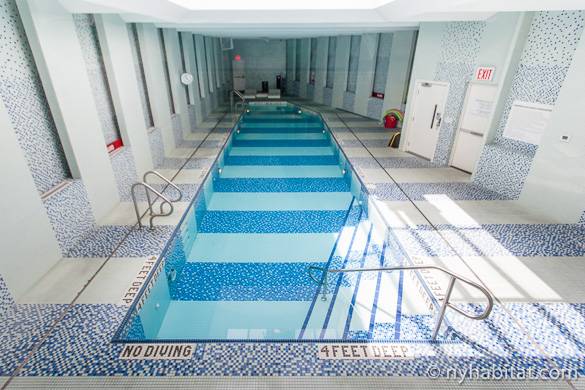 Swim some laps in your building's indoor pool when you rent a room in this Fort Greene building.
If you are looking for a room for rent in a shared apartment, there are several options available. One is this room for rent in a two-bedroom apartment in Fort Greene, Brooklyn. The apartment is in a building with gym facilities that include an indoor pool, a yoga room, a sauna, and a roof deck.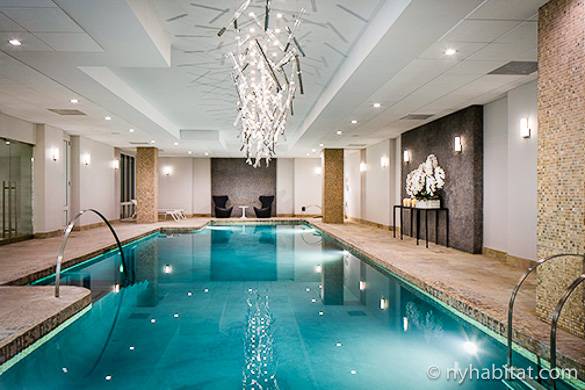 This luxurious pool can be right in your building in Midtown East
Imagine immersing yourself in this luxurious indoor pool right in your building when you rent this two-bedroom furnished apartment in Midtown East.
Nestled right on the East River between Queens and Manhattan is Roosevelt Island, once only accessible by elevated tramway (although that's still most peoples' favorite way to commute there). This island is also now connected to the F subway line. Although you'll be surrounded by water on all sides on this island, there's nothing better than access to a pool right at your own building. Purchase a pass and you can take advantage of the Olympic-sized swimming pool in the building where this two-bedroom apartment share and four-bedroom apartment share are located.
2. Take advantage of NYC's outdoor public pools
You don't have to rent in a luxury building to have access to a pool. New York's public swimming pools are open from Memorial Day to Labor Day and are a great place to take the kids for a day of fun. Adults can also enjoy uninterrupted lap-swimming hours at some pools in the early morning and evening hours.
In the borough of Queens you can find the Astoria Pool, an Olympic-sized pool located in Astoria Park that also offers swimming lessons. Take a stroll around the rest of the park, where New Yorkers catch some rays by the picturesque East River and Manhattan skyline views. Afterwards, check out all the new restaurants and bars opening in the Astoria area, which is a quick commute from Manhattan. Rent a room at this 2-bedroom apartment share at 30th Street in Astoria and discover this vibrant neighborhood for yourself.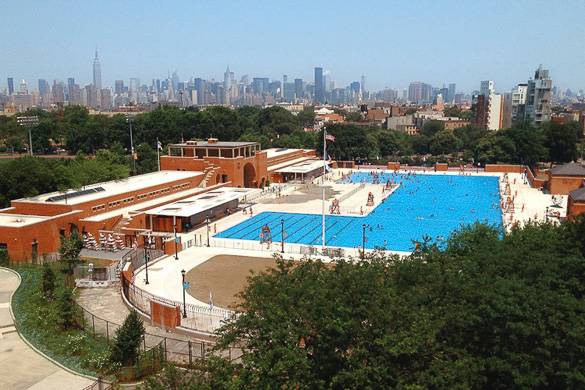 McCarren Park has a huge public pool and a Manhattan skyline view in the distance (Photo credit: Rogers Marvel/McCarren Architects)
McCarren Park is a place in neighboring Brooklyn where there's always something going on, including outdoor movies throughout the summer and a 37,000+ square foot, newly-renovated pool to escape from the steamy concrete jungle. Rent this studio vacation rental apartment in nearby Williamsburg or this alcove studio furnished apartment and you'll be close to all the outdoor summer fun.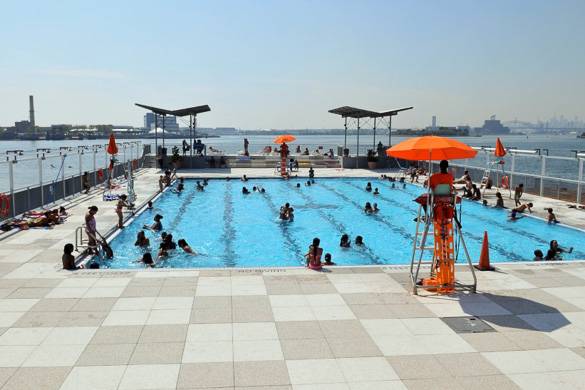 Have you ever swam on a floating barge? (Photo credit: Daniel Avila, NYC Parks)
Located on the East River waterfront, the floating pool at Barretto Point Park in the Bronx is constructed on a refurbished barge that's docked at the park, providing extraordinary river views. If you get tired of swimming, there are plenty of other water activities at this park, including canoeing, kayaking, and fishing off the pier. There's even a beach volleyball pit too!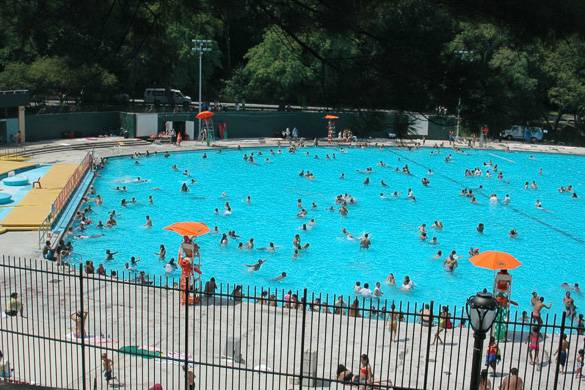 Lasker Pool is the only pool in Central Park (Photo credit: Malcolm Pinckney)
Manhattan also has its share of public swimming holes scattered throughout its many neighborhoods. Lasker Pool & Rink, located at the northern end of Central Park near Lenox Avenue & 110 Street, overlooks the Central Park Meer. Locals and tourists line up to get into Central Park's only pool, which has been operated by Donald Trump since 2001. Free swimming lessons are offered here, and in the colder months it turns into an ice skating rink where you can also join an adult ice hockey league. It's also available for private parties and corporate events. This one-bedroom furnished rental is also located near Central Park on the Upper East Side, right beside John Jay Park at 77th Street and Cherokee Place. Here you'll find a public outdoor pool with lounge chairs and an East River view.
On the west side of town, you'll find Riverbank State Park, a 28-acre state park above the Hudson River and between 137th and 145th Streets in Upper Manhattan. The Olympic-sized pool here is a crowd favorite, and you'll also find an athletic complex, a roller skating rink, and an ice skating rink in the winter, so there's something to do all year round. This studio vacation rental on 142nd Street is conveniently located right nearby; a great choice for those who want to be close to convenient outdoor athletic options.
3. Splurge on a day at a rooftop pool with amazing views
You can have access to lush amenities without renting a super luxurious apartment. If you want to save on rent but still mingle with the celebrity clique, follow the New York "staycationers" and splurge on a day pass to a swanky hotel pool. With amazing views and cocktails, you'll feel like you've left the city behind.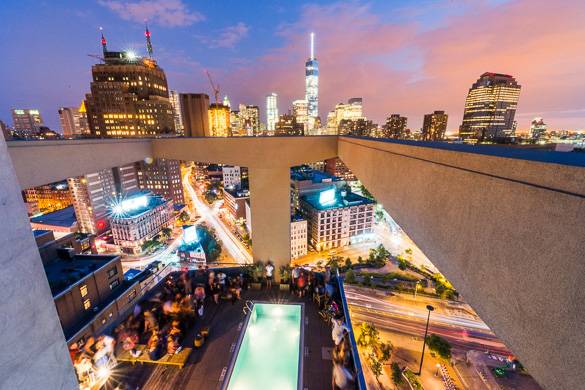 Check out the sweeping 360-degree views from the Jimmy rooftop pool and lounge
Summer in the city wouldn't be complete without a night of poolside cocktails atop a skyscraper. At the SoHo rooftop bar "Jimmy" at the James Hotel, you can sip drinks and mingle around a pool deck with breathtaking 360-degree views of the Manhattan skyline. This rooftop bar hosts pool parties throughout the summer with live DJs, so you can party with a bird's-eye view of the Big Apple.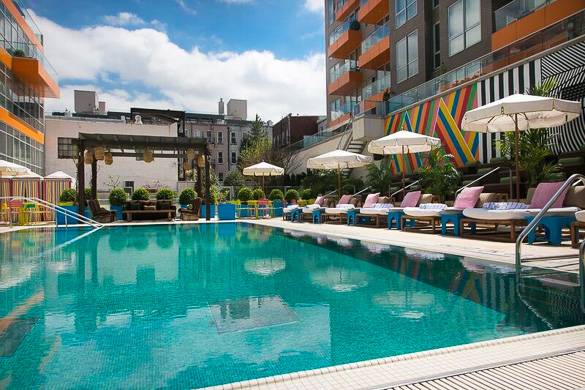 Head to Brooklyn and have a poolside drink at the McCarren Hotel pool (Photo credit: Conor Harrigan)
If Brooklyn is your home base, the McCarren Hotel and Pool offers day passes to its saltwater swimming pool and terrace with poolside snack and cocktail service. While the pool is on the ground floor, there's also a rooftop bar on the 9th floor with fabulous Manhattan skyline views.
Another way to have access to cool waters in the midsummer heat is to get a membership at a local gym with pool facilities. Some even offer day passes, so you can pay for access just when you want it. Pricing, of course, ranges widely, so there's somewhere to fit everyone's tastes. Equinox Printing House in the West Village is on the higher end, but swimming with views of a Manhattan sunset in the background can be priceless.
Asphalt Green is more family (and budget) friendly, and has locations on the Upper East Side and Battery Park. They offer a range of aquatic options including swim classes, lifeguard training, competitive swim teams, and water exercise classes. They even offer swim camps, summer day camps, day passes, and family memberships. You can get a free 3-day pass to try out the facilities.
Now that you know the secrets to beating the heat in NYC, browse our website for a great apartment rental for your trip and get ready to chill out, New York-style, in the Big Apple this summer!