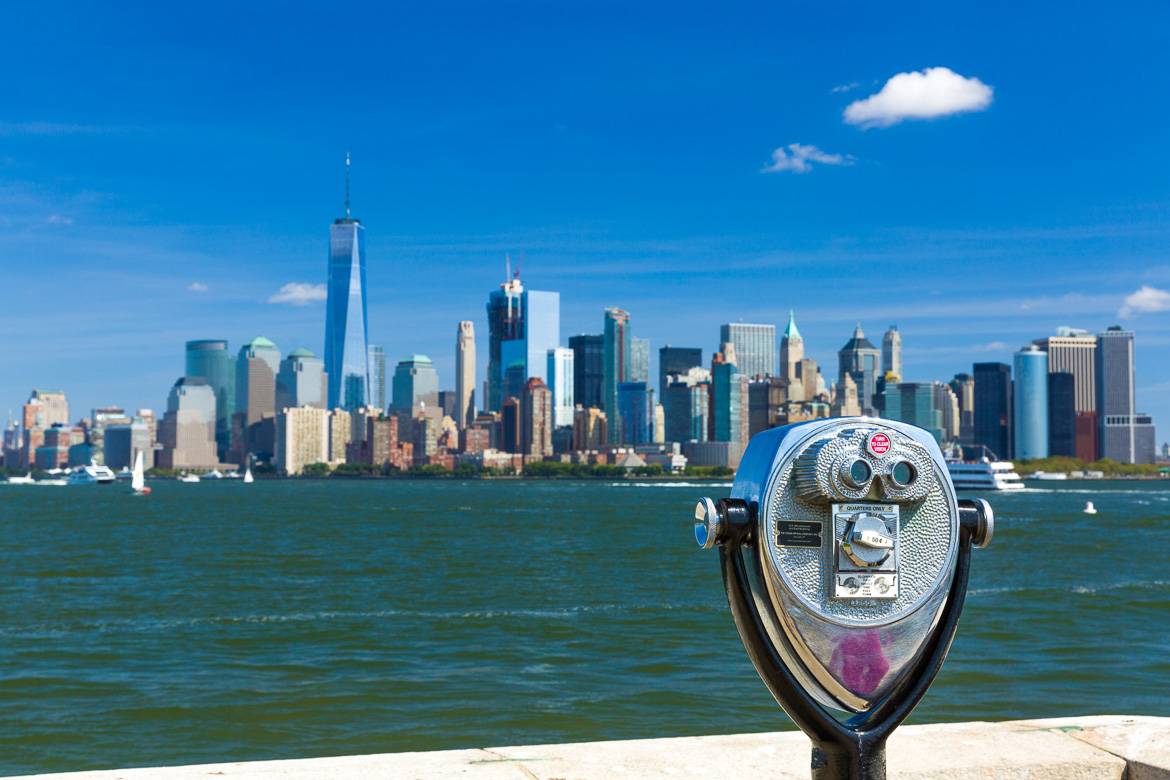 Almost anywhere you stand by the water will give you a beautiful view of the city.
When thinking of famous islands around the world, your first thought may be of a tropical destination like Hawaii, Fiji, or The Bahamas—in fact, New York City is so well-connected, it may be extremely easy to forget that the five boroughs are spread across a series of islands (well, except for the Bronx!). One thing that may help you remember, however, is the abundance of beautiful waterfront vistas, sweeping parks along the river, sandy beaches, and aquatic sports. Between the Hudson and East Rivers, smaller straits like the Harlem River, bays and coves, and landlocked bodies of water like Central Park's Lake, there are plenty of ways to make a splash in NYC! Read on for all the creative ways you can enjoy the waterfront in the city, and why not make your trip more personal by staying in a New York Habitat furnished rental? With your own furnished apartment, you can enjoy the prime real estate of a waterfront view, usually with a reduced cost and more space!
1. Start by exploring the water's edge on foot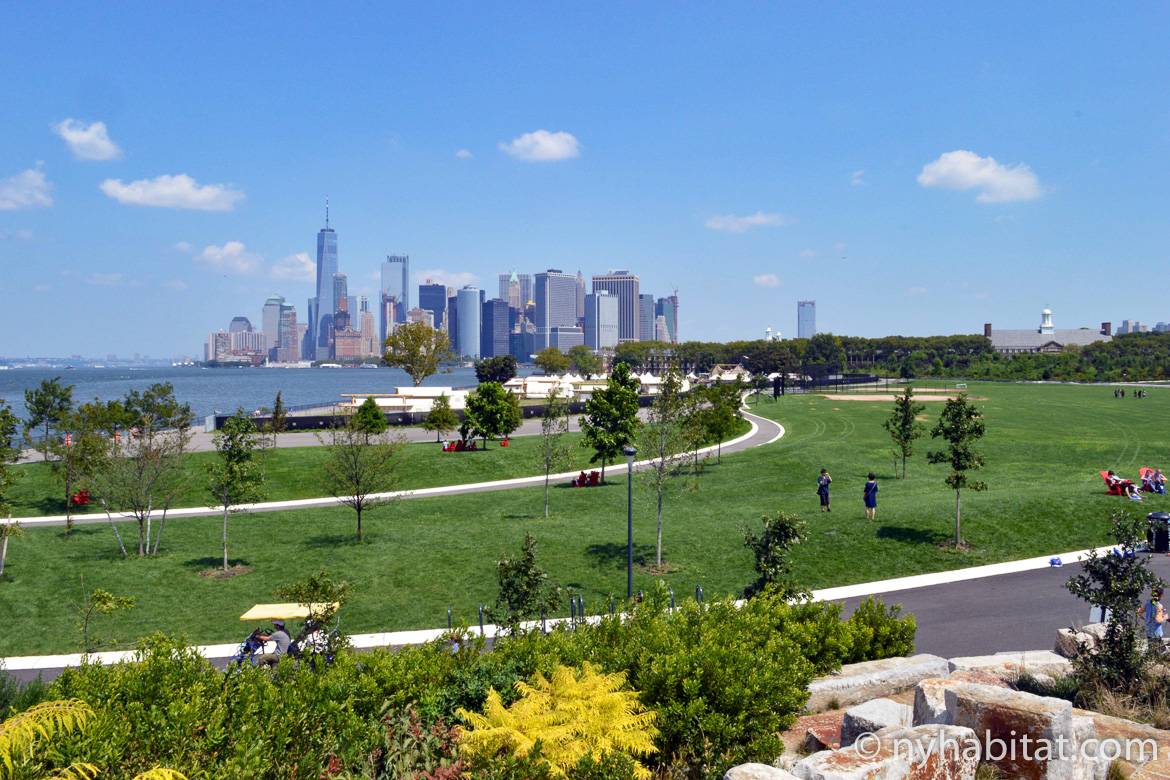 The rolling green lawns of Governor's Island are bordered by great waterfront walking paths.
With the unobstructed skyline views available beside the water and the existence of so many gorgeous waterfront parks, New York City's coastline is the perfect place for a pedestrian tour! Tourists, locals and fitness enthusiasts alike enjoy the beautiful landscaped walking and biking paths in the waterfront NYC parks like Riverside Park, Brooklyn Bridge Park, and Randall's Island. For an especially quiet escape from the bustle of city life, head to Governor's Island. The rolling green lawns of this preserved colonial-era island are an unexpected gem in a metropolitan city, and the Manhattan skyline views are to die for.
Over in Brooklyn and Queens, you can also enjoy views of Manhattan on your morning jog from East River State Park, Gantry Plaza State Park or Queensbridge Park. The waterfront areas of the boroughs are sometimes even better for a walk, being that they're usually a little less touristy than the parks in Manhattan (so there's less picture-takers to dodge!)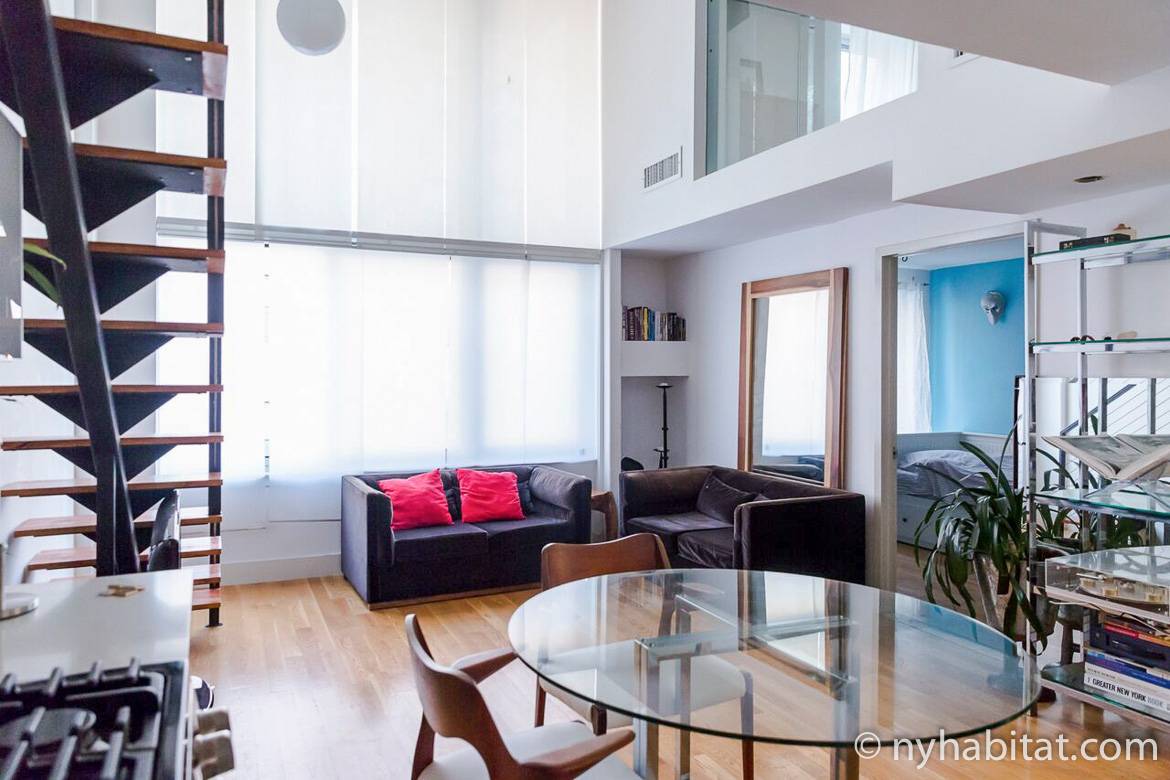 This Greenpoint walk-up is filled with natural light thanks to the stunning windows!
If a brisk walk along the water won't get your heart pumping, then this 2-bedroom loft apartment in Greenpoint, Brooklyn surely will! Located on the second floor of a modern walk-up building, just getting to this apartment is a great way to sneak in a little exercise, but the panoramic wall of windows in the living area will reward your efforts. The entire apartment has a sleek contemporary style, right down to the furniture, which helps maintain its luxurious look. A full kitchen with stainless steel appliances, neatly tucked under the floating staircase, opens to the living area. This makes this space great for entertaining. Best of all, the apartment's location in Greenpoint, the northernmost neighborhood of Brooklyn, means you'll be close to all three of the aforementioned waterfront parks in the boroughs via the G subway train!
2. Take a boat ride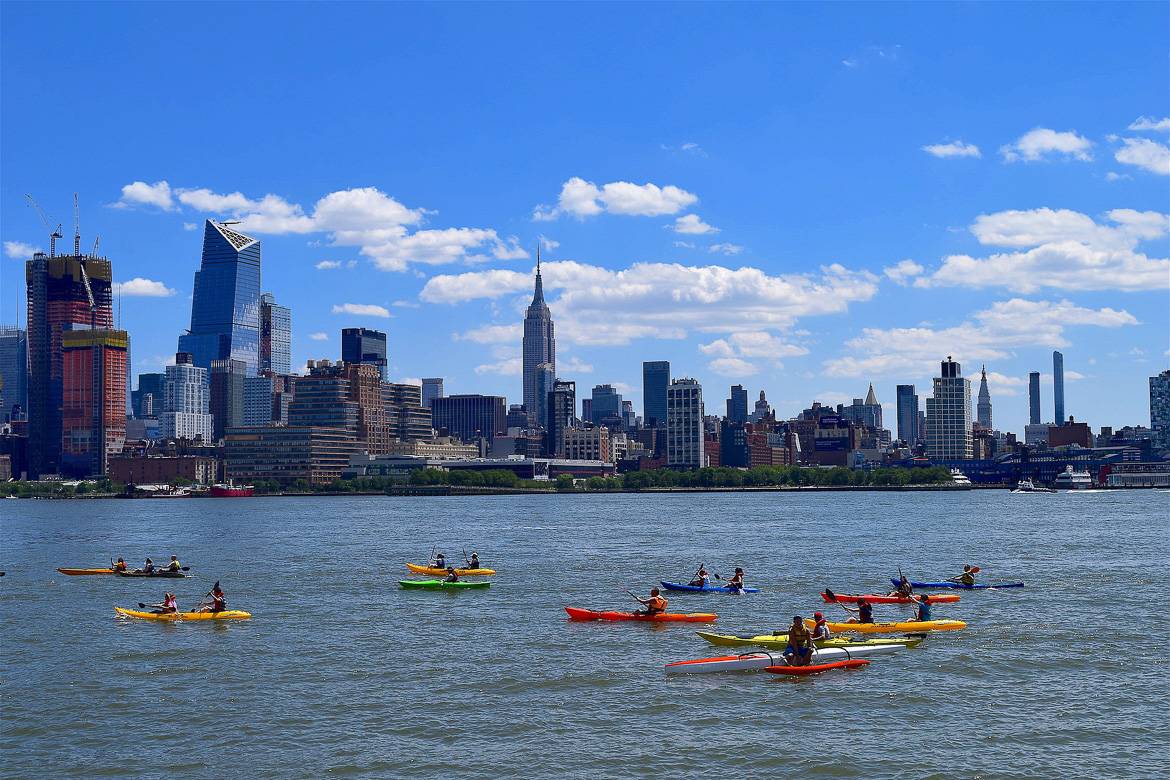 Satisfy your adventurous side with a scenic kayak trip along the Hudson or East River.
If your morning walk by the water left you longing to get even closer, there's good news: During the summer season in New York City, you can get closer to the water than ever before by taking a kayak out on the Hudson or East Rivers! One of our most beloved summer pastimes and a best-kept secret here in the city, many opportunities to kayak are absolutely free! You can use a free kayak on loan from the Manhattan Community Boathouse at Pier 96 in Hell's Kitchen, the Downtown Boathouse in Tribeca, and the Brooklyn Bridge Park Boathouse. Make sure you dress accordingly, you will get wet!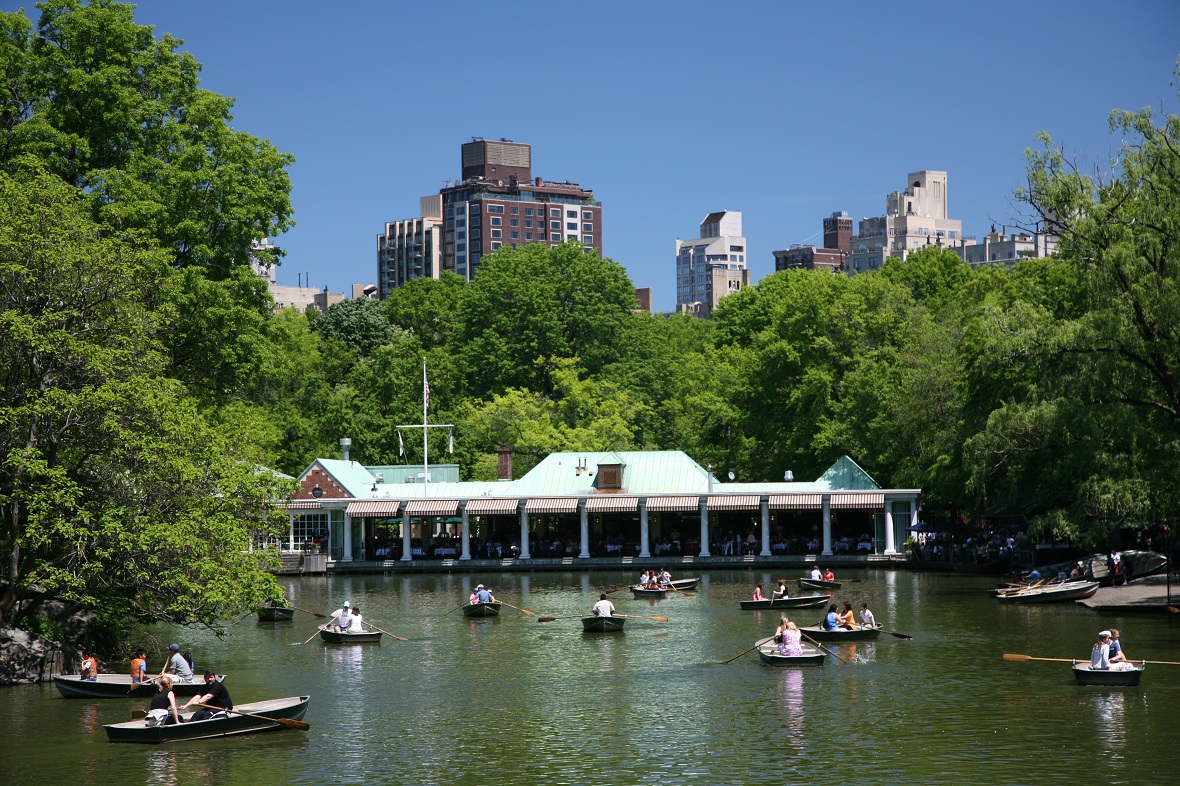 A quiet rowboat ride on Central Park's Lake creates an idyllic and romantic atmosphere.
If you'd rather be a more comfortable distance from the open water, there are plenty of other ways to take a boat ride around the city. The Staten Island Ferry is a favorite of NYC residents and travelers alike for its zero-fare views of the city and the Statue of Liberty. There's also no shortage of cruises you can take around Manhattan, from guided tourism cruises to NYC water taxis. And of course, we can't mention water features in New York without a shout-out to the famously picturesque lake in Central Park. Known simply as "The Lake," this gorgeous area has drawn decades' worth of lovers to row their oars to the iconic date spot and wedding venue of the Loeb Boathouse. If you're looking to impress your date, entertain your family or just get a great arm workout, you can rent a rowboat and take it out on the tranquil and serene lake for $15 per hour.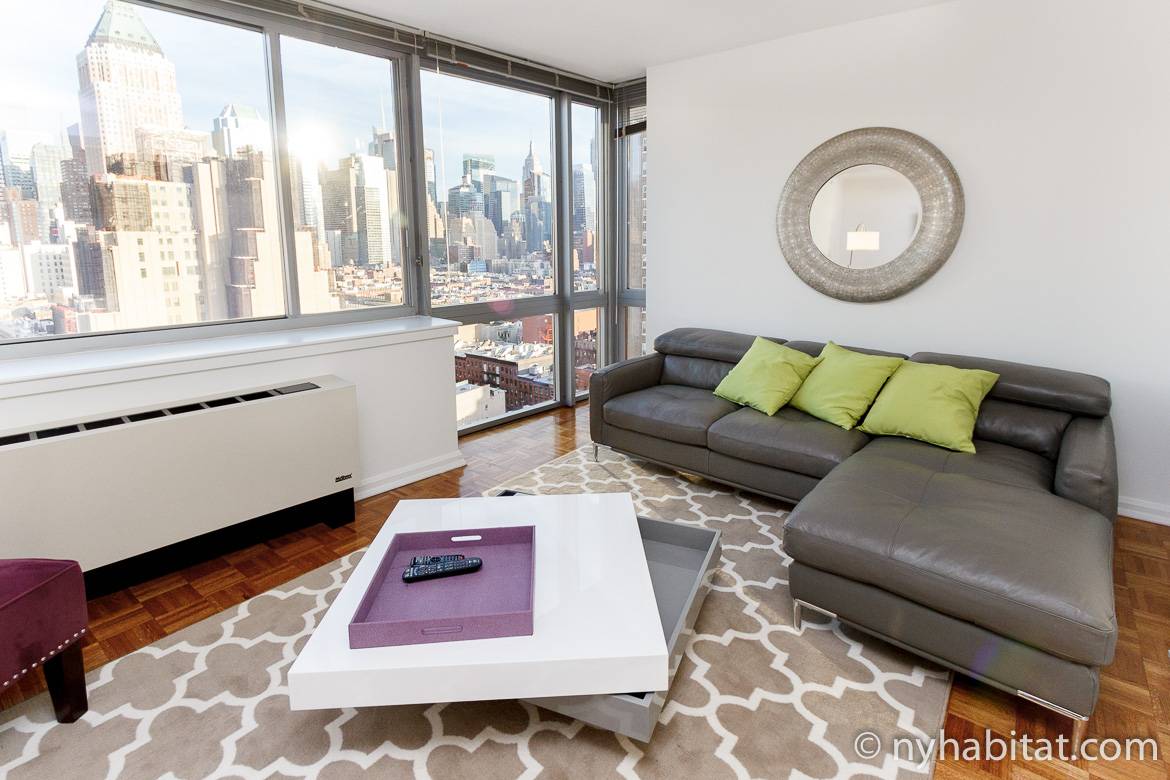 The location of this Midtown West apartment couldn't be better for waterfront activities!
Be close to all the best boating in New York in this luxury high rise 2-bedroom apartment in Midtown West. If you're all about "location, location, location!" then you'll love this apartment; as it's close to major tourist attractions like Times Square as well as Central Park and the Intrepid Sea, Air & Space Museum. In addition to its contemporary furnishings, large panoramic windows, and hardwood floors, the unit offers air conditioning, queen-sized beds in both bedrooms and ample closet space for comfortable living (and storing all your water gear!). The true highlight for lovers of the NYC waterfront will surely be the building's two roof decks, which give you panoramic views of Midtown and the Hudson River, so you can dream of your next trip to the water from the comfort of home.
3. Get a breath of coastal air over lunch!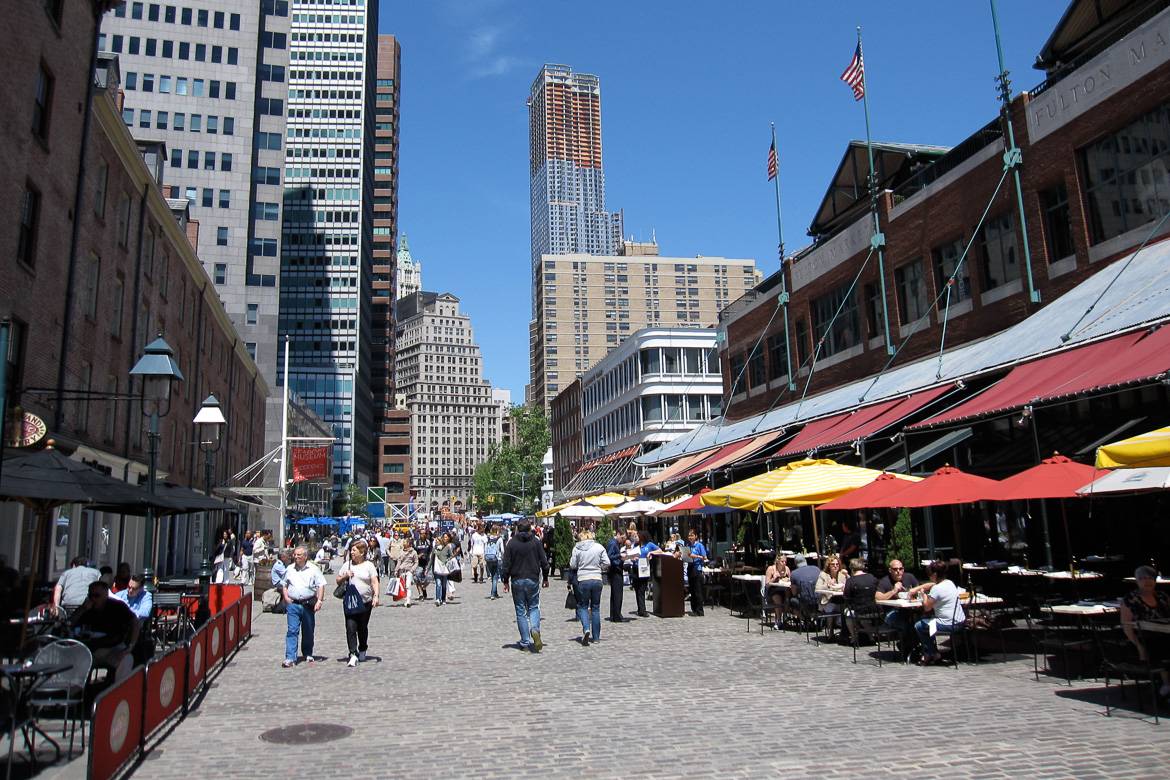 The cobbled streets of South Street Seaport give it a small-town feel that's perfect for dining al fresco.
As the home of New York-style pizza, bagels, Reuben sandwiches and cronuts, New York has a reputation for its cuisine, and when combined with waterfront real estate, a dining experience becomes as scenic as it is tasty! After all that exercise in the morning, you're probably hungry for a good meal, so head to a waterfront dining destination for lunch or dinner! Some of the best places in the city to eat on the water include South Street Seaport, notable for its quaint cobblestone streets and seafood restaurants, Battery Park (great for cheap eats and food trucks/street food!), and the waterfront in DUMBO, which is known for its trendy atmosphere and some of the best bridge views in the city!
4. Go for a swim and soak up the sun at the beach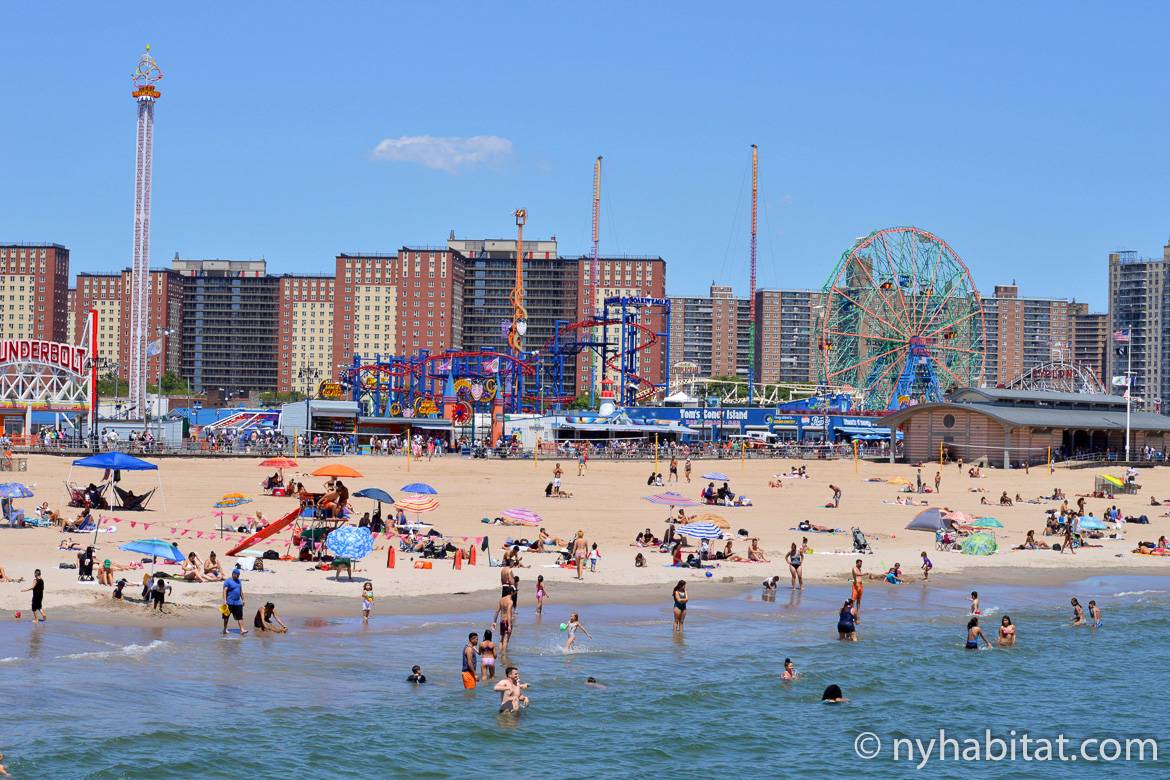 Coney Island is world-famous for its bathing beach and its carnival atmosphere!
New York truly has a little bit of everything—even a handful of sandy beaches! Hop on the subway from Manhattan to Brooklyn, the Bronx or Queens and you can go from skyscrapers to the seaside in less than an hour. Orchard Beach and the Rockaways are great destinations for a smaller beach town feel or a surfing spot (respectively). However, the true New York classic is Coney Island, known for its extensive boardwalk, amusement park and fair food, including Nathan's famous hotdogs! So beloved is this Brooklyn beach, it has even become a staple in many New York-based films. Whether it's swimming, surfing, sunbathing, or theme park rides that bring you to the beach, you'll find plenty of waterfront fun at NYC's beaches.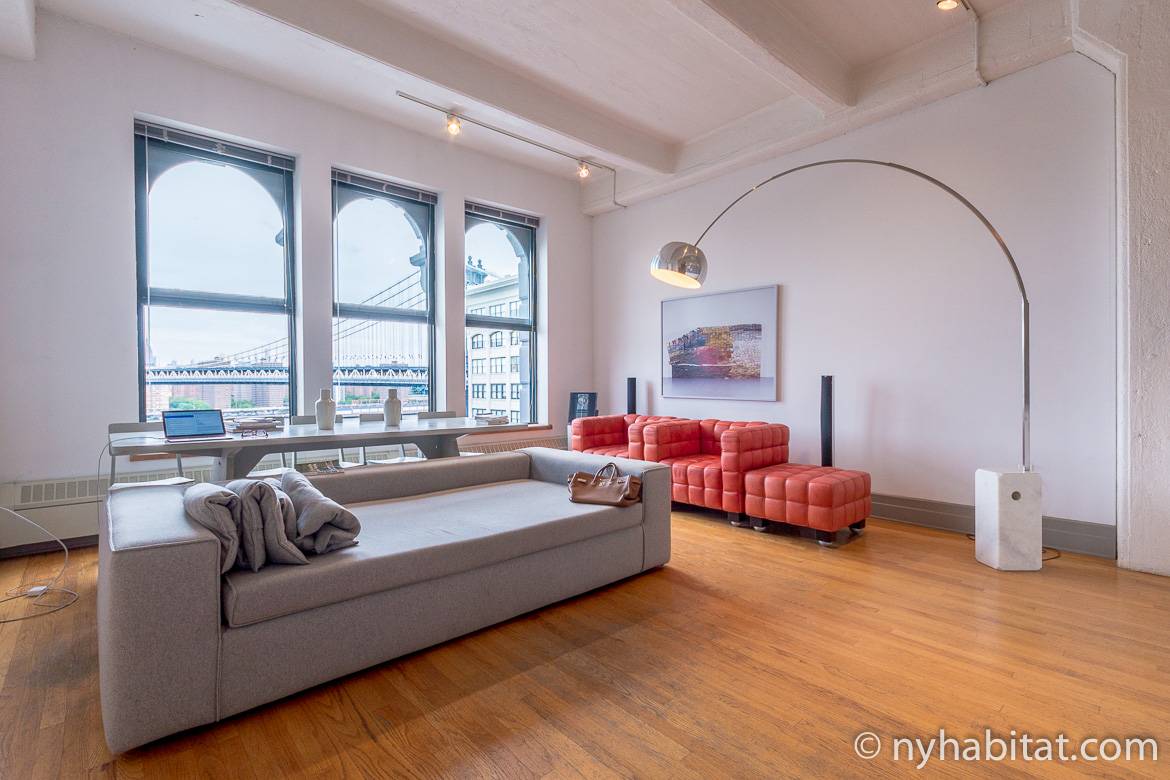 Don't miss the chance to stay in this amazing DUMBO studio and admire its unparalleled river views!
If you're looking for some of the best waterfront real estate in New York to complement your favorite beach or dining destination, look no further than this stunning alcove studio in DUMBO! The studio makes the most of its space with high ceilings, wood floors and an open kitchen with island and granite-style countertops. Funky contemporary seating, artwork and quirky lighting give this space a hip flair, while the sleeping alcove is accented with plenty of colorful books in the built-in shelves to keep the bedroom from being too plain. Finally, we can't talk enough about the huge triple windows in the living area and their spectacular views! Peer out of the windows or enjoy your breakfast and coffee at the dining table for 5 and enjoy unparalleled views of the East River and the Manhattan Bridge, exclusive to the prime location of this apartment.
5. Get fit with a riverfront view
Running and walking aren't the only ways to get a workout on the riverside. Parks like Hudson River Park and West Harlem Piers have become popular places for New Yorkers looking to work out in a beautiful outdoor location. During the spring and summer, free community yoga classes are offered in various parks in Manhattan, Brooklyn and Queens as a great way to stay fit and flexible (and meditate on the gentle lapping of the waves on the shore!). You can visit the NYC Parks website for a full schedule. In addition, on any given day you can find New Yorkers doing yoga solo, as well as other sporty activities like rollerblading, playing Frisbee and handball, skateboarding, and more. Sanctioned events like Summer on the Hudson (featured in our summer guide) also offer plenty of activities like dancing, yoga, children's games and activities, and more to get you on your feet and moving along the river.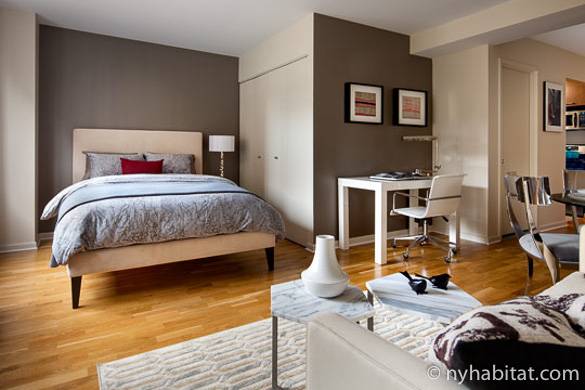 The sleek look of this Chelsea studio will match a fitness enthusiast perfectly.
If living by the water inspires you to get active, then you'll love this studio apartment in Chelsea! This studio features hardwood floors, walls in a cool neutral gray, and is unusually spacious for a studio, making it perfect for a single person or a couple (so you can bring along your jogging buddy!). No matter what sporting equipment you bring along for an extended stay in New York, you can store it between this apartment's three built-in closets. A separate kitchen with wooden cabinets and granite-style countertops that run the length of the wall make it easy to prepare healthy meals. The apartment's building even features an on-site gym so you can work out even on a rainy day. Thanks to its location in Chelsea, this apartment itself is not far from the water—you can enjoy views of the Hudson River from the building's rooftop terrace.
6. Watch the sunset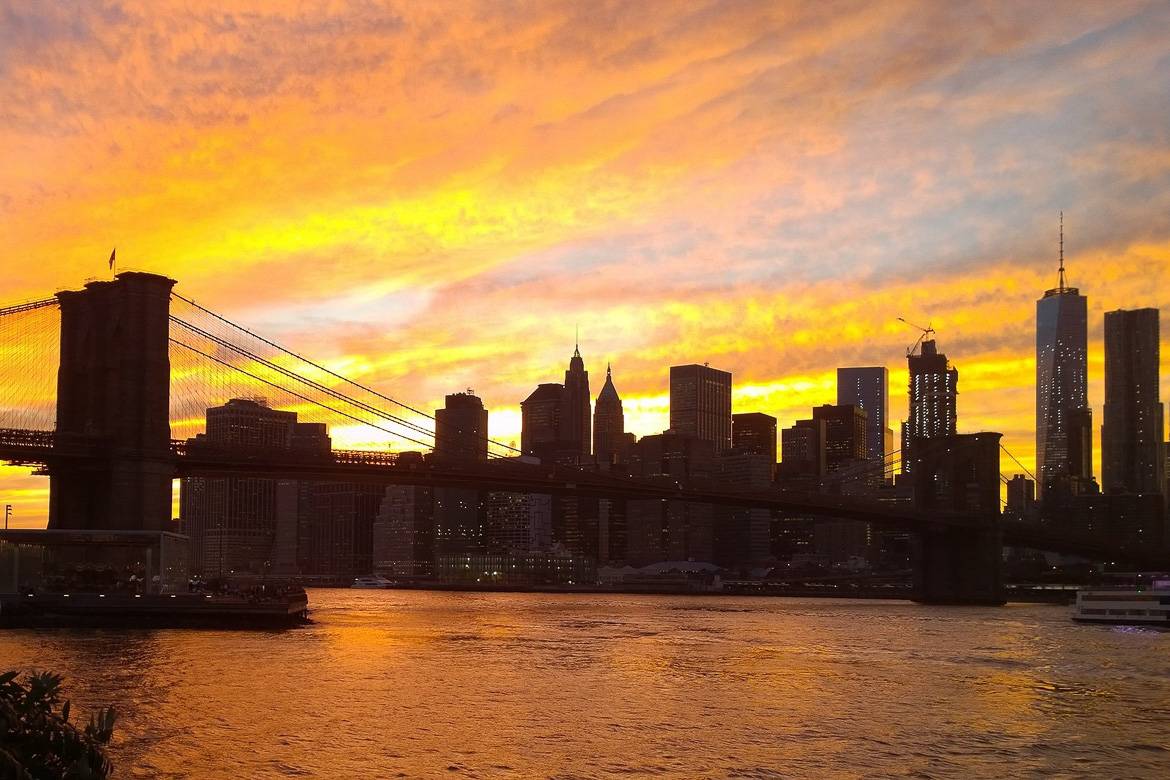 Breathtaking sunsets are an NYC waterfront specialty.
As we come to the end of a day on the New York waterfront, it's essential to mention one of the finest views in the entire city: watching the sunset over the water and the Manhattan skyline. Thanks to the abundance of rivers surrounding New York, fiery sunsets get an upgrade as they glimmer and gleam off the water, and the silhouettes of iconic buildings and bridges such as One World Trade Center, the Chrysler Building, the Empire State Building and the Brooklyn Bridge dot the sky. If you want to see the sunset itself, we recommend facing West by watching from Brooklyn or Queens—Brooklyn Bridge Park, Gantry Plaza State Park and East River State Park are all excellent places to try! However, you can also head to East-facing destinations like Hudson River Park or Hoboken Riverside Park in New Jersey for a different, but still stunning perspective. The sun will set behind you, but the orange and yellow light will reflect and gleam off the water and shiny glass skyscrapers beautifully! New Jersey is easily accessible via PATH trains, so if you're staying in a New York Habitat vacation rental, why not try both on separate evenings?
While many of its most famous attractions are further inland, true New Yorkers know that there's no better place for late-summer fun than right on the water. Whether boating, swimming, jogging, or just admiring the views brings you to the shores of New York, we hope this list has given you plenty of ways to get inspired by the island. Still searching for the perfect apartment with a waterfront view or easy access to your favorite aquatic destination? Give one of our agents a call and we can set you up with the rental of your dreams.