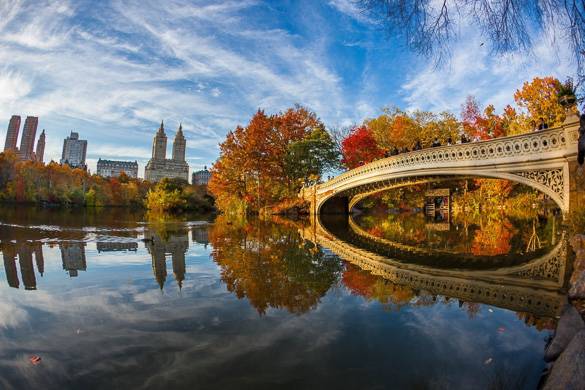 Central Park in fall is the place to be. (Photo credit: Anthony Quintano via Flickr)
Many New Yorkers consider fall to be the best time of year in New York City. The cool weather and vibrant colors of the changing seasons make it the perfect time to get outdoors and enjoy the city before the season's fleeting beauty disappears and New Yorkers settle in for the winter.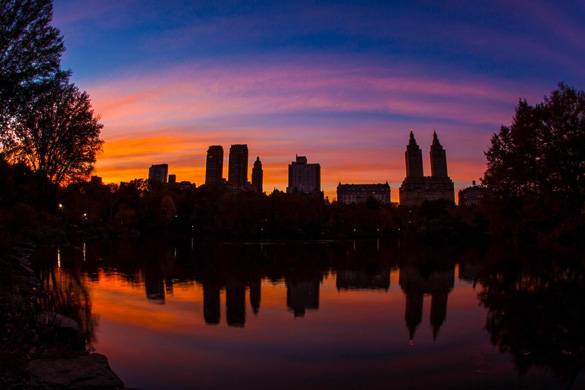 Catch a spectacular fall sunset above the NYC skyline in Central Park. (Photo credit: Anthony Quintano)
Read on for some of the best ways to make the most of the fall season outdoors while you're in NYC.
Browse the fall farmer's markets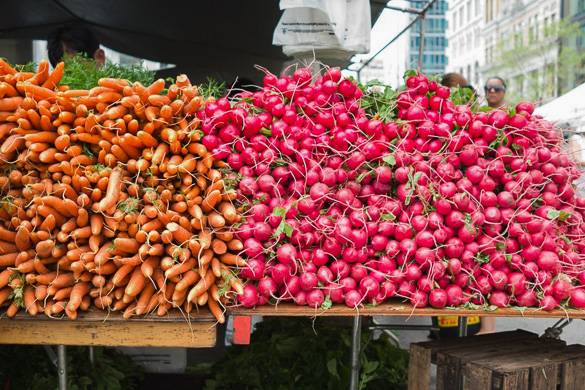 Fall farmers markets have all the autumn goodies.
Farmer's markets are a favorite of city dwellers in the summer and fall months. They offer a chance to shop for fresh ingredients while supporting local famers, and satisfy the urge to shop in a country market and talk to farmers, an urge people get after living in the city for a long time. Luckily the city's greenmarkets are open until mid autumn, so you can pick up favorites like locally-grown apples, pumpkins and squash, or delicious homemade pies for your fall table. Stop by the Union Square Greenmarket in Manhattan, the Grand Army Plaza Greenmarket in Brooklyn, or the Jackson Heights Greenmarket in Queens. You'll find the freshest ingredients and great gifts like local honeys, jams, and desserts to bring to your next dinner party.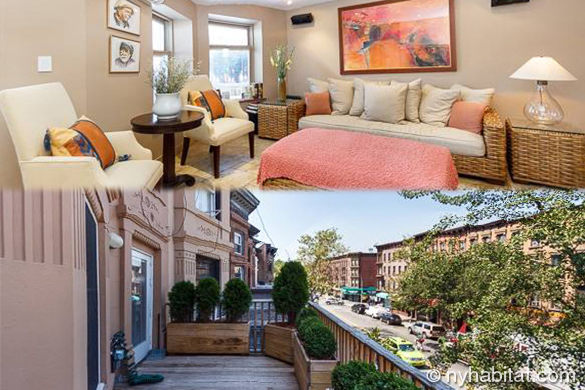 Enjoy home-cooked meals and the crisp fall air on the balcony of this Park Slope furnished rental
This one-bedroom, two-bathroom furnished duplex apartment in Park Slope, Brooklyn sets the mood for cozy autumn days with its fall-themed color palette of orange and earth tones. Perfect for those who love to cook, this apartment has the rare luxury of a fully-equipped contemporary kitchen with dishwasher that any chef would covet. Picture yourself shopping the nearby Greenmarket at Grand Army Plaza and stocking your culinary finds in the extra-large stainless steel refrigerator-freezer combo. What screams "fall" more than enjoying a home-cooked meal at a dining table in front of a working fireplace?
After dinner, you can enjoy the crisp fall air on one of the two balconies, an amenity that's a true rarity in NYC apartments. Outdoor space is also hard to come by in apartments here, but with views of the serene back garden from the apartment, you'll be surrounded by the beauty of NYC's fall colors. When you want to take a stroll through the autumn trees, this apartment gives you the convenience of the boundless exploration of Prospect Park, just a short walk away.
Take in the colorful view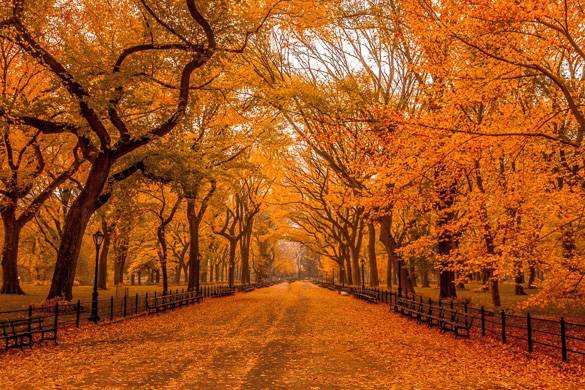 Stroll through the vibrant colors of fall foliage in NYC.
No fall season would be complete without a stroll through one of NYC's beautiful parks. You'll get a whole different feeling visiting the parks in each season, and fall is one of the best times for photos. Breathtaking displays of colorful foliage are everywhere. Take a boat ride on the lake in Central Park, go for a jog through Prospect Park in Brooklyn, or head to the hills in Fort Tryon Park in Upper Manhattan for some incredible riverside views of the changing leaves along the Hudson River.
Take a day trip or spend a weekend away from Manhattan and discover more of the beautiful Hudson Valley, where you can explore historic sites, stroll through quaint villages, or hike in one of many New York State Parks. Just a train ride away from NYC on Metro-North or Amtrak, the Hudson Valley is becoming a contemporary art mecca. Spend a day at Dia:Beacon, a contemporary art museum housed in a former industrial building. Situated on the banks of the Hudson River, the museum uses the northern light entering through 34,000 square feet (3,200 square meters) of skylights to make you feel like you are outdoors while providing optimal viewing conditions for the specifically curated installations.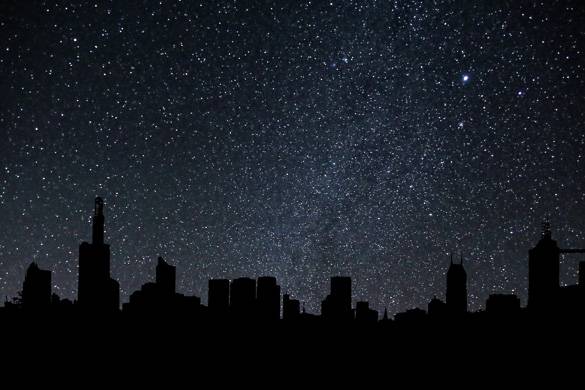 Try stargazing in the fall night sky from the High Line.
For an otherworldly view, try stargazing on the High Line. Every Tuesday night through October from dusk to 11:00 p.m., you can take a peek at the stars, planets, and moon from the High Line in Chelsea for free. Enter the High Line at 14th Street and look out for the high-powered telescopes provided by the Amateur Astronomers Association.
Catch a football game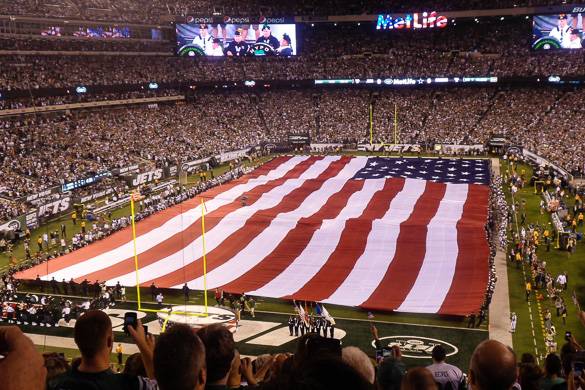 Fall is football season
Grab a group of friends and head to MetLife Stadium in New Jersey for some good old American football. America's favorite way to pass the cold fall and winter months is to be huddled up with a bunch of die-hard football fans cheering on the home team. If you'd rather not brave the cold, you can always grab a cold beer and catch a game with the locals at your neighborhood sports bar, a great way to make some new friends.
Bundle up the kids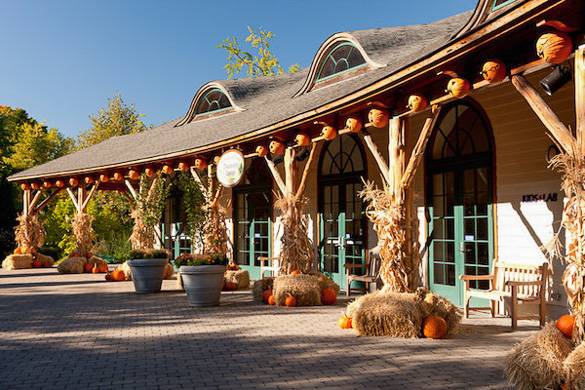 See fall's colors at the New York Botanical Garden
Fall is full of fun outdoor activities for kids too! New York Botanical Garden in the Bronx hosts Giant Pumpkin Weekend (October 22-23, 2016), where kids can learn about and see pumpkins of all shapes and sizes. From September 17 through October 31, 2016, catch "Scarecrows & Pumpkins" at the Everett Children's Adventure Garden in the New York Botanical Garden. There will be festive fall puppet shows, a spooky tea party in the Victorian playhouse, and demonstrations featuring bats and other creepy creatures.
Join in NYC family holiday traditions
Fall isn't quite complete without watching the Macy's Thanksgiving Day Parade. Sure, you can watch it on TV, but nothing beats watching it live in New York City! Find a spot along the 2.5 miles of public viewing space along Central Park West and Sixth Avenue to catch a glimpse of the famous giant balloons floating past skyscrapers down the city streets. If you've got too much cooking to do on Thanksgiving Day, you can always join in another tradition the night before the big day. Head to the Upper West Side near 79th Street & Columbus Avenue and watch the balloons being inflated for their big debut.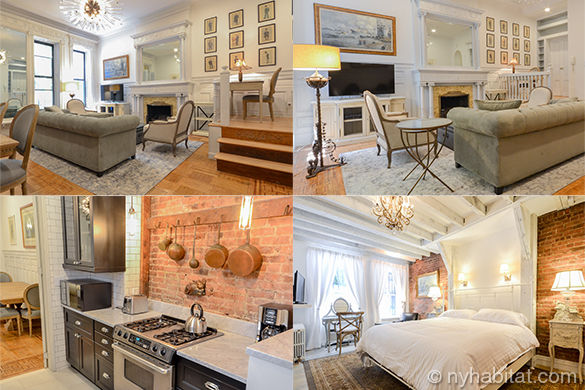 This Upper West Side duplex apartment exudes fall coziness with exposed brick, a decorative fireplace, and warm glowing chandeliers
This two-bedroom, two-bath furnished duplex apartment on the Upper West Side is perfect for a family. Located on the ground and parlor floors of a 19th-century brownstone, it is easily accessible for those with children. Kids will also appreciate the back garden area where the whole family can enjoy the change of seasons. Exposed brick throughout the apartment gives the space a warm, cozy atmosphere. Gather in the living room around the decorative fireplace or enjoy a home-cooked meal prepared in the beautiful fully-equipped kitchen. Amenities include a microwave, a dishwasher, and convenient in-house laundry. Two bathrooms and a double vanity add to the convenience and luxury of this property.
The art and culture of NYC will be easily accessible with the Lincoln Center for the Performing Arts and the American Museum of Natural History right in the neighborhood. LC Trick-or-Treat 2016 will take place October 29 across the plazas of Lincoln Center, with costumes, candy, and live performances. Bring the kids with their costumes and goodie bags! Lincoln Center always has an array of children and family programming, so check out their website for the latest events happening during your visit. The kids will love the Dinosaurs Among Us exhibit currently on display at the Museum of Natural History, with life-like dinosaur models towering overhead and rarely-seen fossils to explore. On Tuesdays from September 6 to October 25, the museum hosts Fall Lunchtime Bird Walks, where you'll take a birdwatching tour through Central Park with an informative guide who will enlighten you about the various species of birds that call NYC home. With the park so close to your apartment, you can take a stroll through Central Park anytime to enjoy an autumn day with the family. Be sure to catch the preparations for the Macy's Thanksgiving Day Parade just a block away!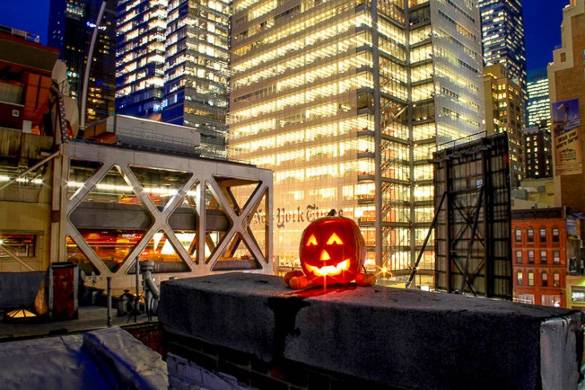 Halloween in New York City is something to be seen!
New York City's ice skating rinks open in late October to get us all in the holiday mood early, so head to some of the local favorites. At Wollman Rink, you can skate among the beauty of Central Park. The Rink at Bryant Park is NYC's only free skating rink (just pay for skate rentals if you don't have your own), and you get to skate surrounded by the picturesque Bank of America Winter Shopping Village, a fun spot for all to enjoy. Last but not least, the world-famous Rink at Rockefeller Center is a must-do. It's the perfect spot for when you just have to be the center of attention in the center of the Big Apple. After, you can climb 70 stories above to Top of the Rock for amazing views of NYC from above! The famous Rockefeller Christmas Tree lighting ceremony will take place on November 30, 2016, with live performances by top artists starting at 7:00 p.m. This event draws a huge crowd, so plan to get there very early!
Planning a stay in New York City this fall to enjoy the sights? Visit our website and find the perfect furnished rental to make your long or short stay as cozy and unforgettable as fall in NYC.