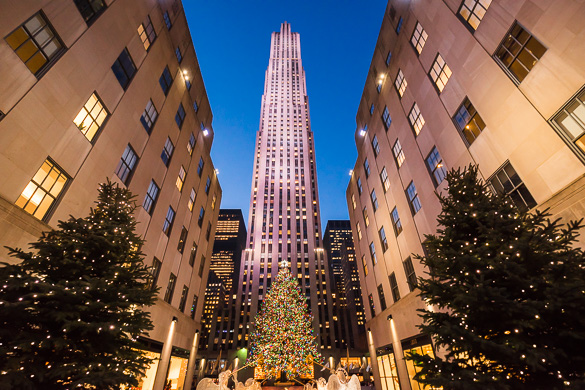 The Rockefeller Center Christmas Tree is a must-see on a holiday trip to NYC. (https://www.rockefellercenter.com) Photo Credit Francois Roux
Many people dream of warm locales for their winter travels, but the holiday season can also be a great time to check out a new location while airfares and rents are their lowest of the year and you don't have to battle as many crowds. The slower season before and after the big holiday rush is one of the best times to visit any destination, even one you have been to before in other seasons, because nothing is quite like being immersed in the local traditions and the collective energy of a place leading up to the holidays. Stick around after the rush when all the locals are back at home and you get a real sense of local neighborhood life. New York City gets in the holiday mood early, so you can catch all the holiday preparations and enticing sales plus find a great furnished rental to stay at for a reasonable price. Many properties lower their prices for the shoulder seasons, so it's a great time to save while you explore a new place and see how the locals really live outside of the hectic tourist season.
Of course if you are headed to NYC in the winter, the holiday season is also a favorite time for people to experience the Big Apple all aglow with holiday lights and decked out in all its glory. Read on for some of our suggestions of the not-to-miss things that should be on your to-do list.
Famous Holiday Shows & Entertainment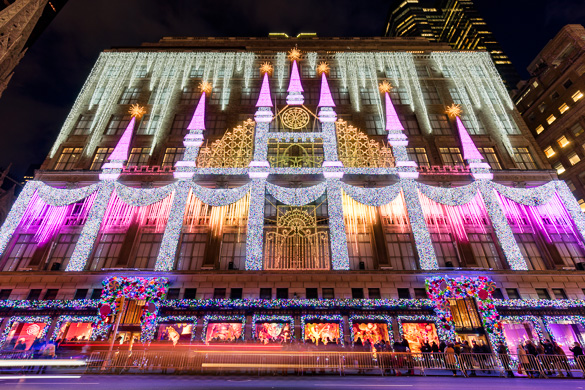 Christmas window displays are an NYC holiday tradition. Photo Credit Francois Roux
Broadway shows are always a favorite of tourists heading to NYC, and Christmastime means you can catch the classic seasonal performances that enthrall both tourists and locals like at this time of year. The Christmas Show at Radio City Music Hall has been a holiday tradition for New Yorkers going back decades. Get your tickets early for this once-a-year spectacular filled with singing, dancing, surprises for all and, last but not least, the famous NYC Rockettes! Catching the New York City Ballet perform "The Nutcracker" at Lincoln Center is also a timeless New York holiday tradition for all ages.
Stay Close to the Entertainment in a New York Habitat Furnished Apartment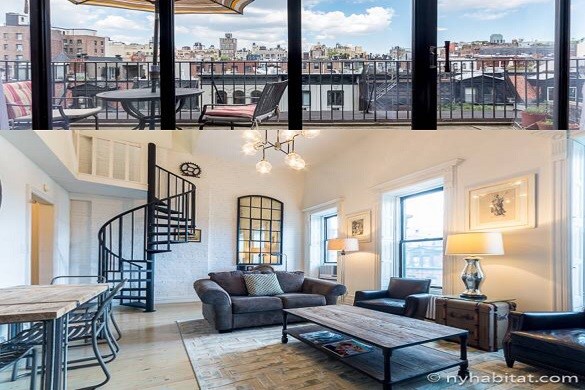 This duplex apartment on the Upper West Side lets you stay close to Lincoln Center and Central Park for the holidays.
Stay close to all the Lincoln Center holiday performances, the holiday market at Columbus Circle and sledding fun in Central Park when you rent this one bedroom duplex apartment on the Upper West Side. With an extra living room converted to a second bedroom there's plenty of room for a family in this gorgeous duplex in a classic NYC brownstone. The open layout gives the apartment an airy, spacious feel and a spiral staircase leads to the second floor penthouse, where the master bedroom with en suite bathroom is located. From this penthouse floor you can enjoy the private terrace with expansive view over the rooftops of the Upper West Side, perfect to watch the snow fall on a lovely winter day in NYC or watching for Santa with the kids.
The sleek cabinetry and stainless steel appliances in the kitchen give the space a modern yet homey feel. With all the needed kitchen amenities, including a handy dishwasher, you'll be inspired to make some home cooked meals and gather at the dining table. If you need some culinary inspiration, you'll be close to some of the best grocery shopping in town; Green Flea Market and the famous Zingone Brothers, in business since 1935. For those days you prefer to dine out, there are a multitude of choices in this Upper West Side neighborhood, one local favorite being Old John's Luncheonette, a 1950's style vintage luncheonette.
Skate at one of NYC's Famous Ice Skating Rinks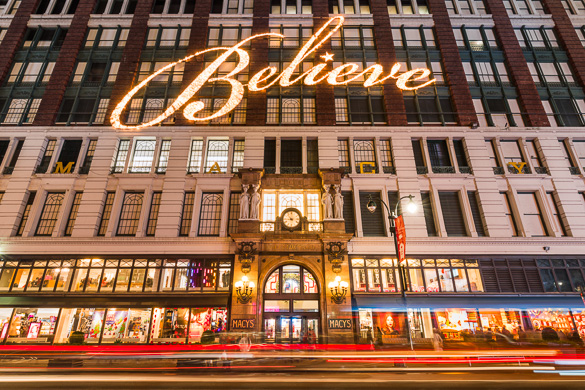 Believe in the magic of Macy's at Christmas time.(http://www1.macys.com/) Photo Credit Francois Roux
Head downtown a little and you're in Rockefeller Center, on the top of everyone's must-do list at Christmastime. Stop by for a picture near the world-famous 80 foot tall tree or a spin around the ice rink beneath it. Many a famous film scene has been shot at this iconic ice rink, and its also a well known spot for marriage proposals (just in case you want to make your New York City trip truly unforgettable)! Wollman Rink in Central Park is another quintessentially New York skating spot, and was also featured in numerous films including the John Cusack and Kate Beckinsdale film Serendipity, which also featured iconic NYC locations such as the Plaza Hotel, Bloomingdales and the restaurant/cafe Serendipity 3, known for its trademark frozen hot chocolate, all of which are right nearby, so you have an excuse to stop by all of them.
Visit a Bustling Christmas Market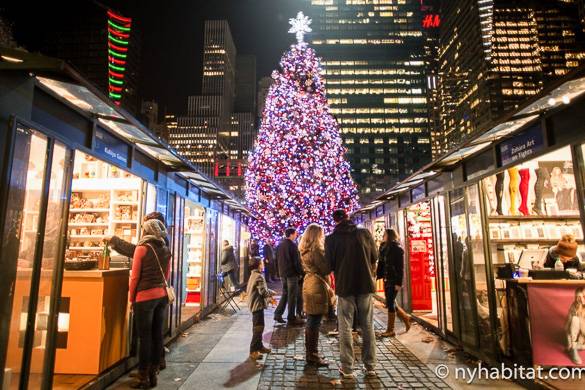 Surround yourself in holiday cheer at the holiday market in Bryant Park
If you're looking for holiday gifts that won't be stocked at the local department store or mall, venture to one of the city's holiday markets. The Union Square Holiday Market is a smart spot to score unique gifts. The market is inspired by the Northern European tradition of the Christkindlmarkt (Christmas market). Bargains are abundant because you're buying direct from designers, avoiding retail markups.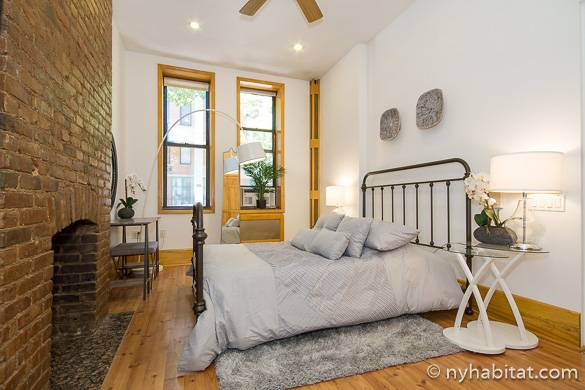 This cozy East Village furnished apartment has a decorative brick fireplace in the bedroom.
If you want to be close to Union Square shopping, this two bedroom apartment in the East Village is the perfect spot. Surrounded by the unique little shops you can only find in the East Village, you're sure to find one-of-a-kind gifts for those hard-to-please people on your shopping list. Exposed brick walls and a cozy decorative fireplace will make you look forward to spending a cold winter day right at home with a cup of hot cocoa. With two bedrooms, a full kitchen to save on preparing meals at home, and laundry facilities in the building its also perfect for college students to share, since its conveniently close to NYU, Cooper Union and St. John's University Astor Place campus.
NYC Must See Holiday Attractions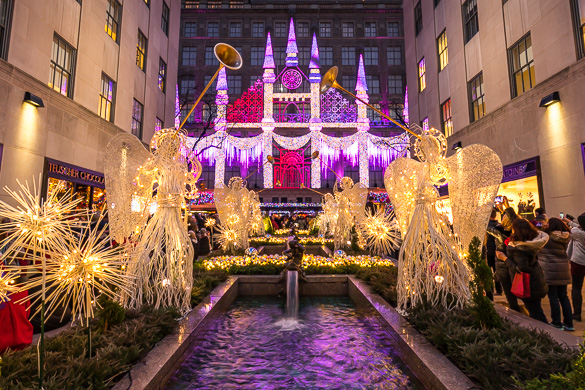 The angels in Rockefeller Center herald the holiday season. Photo Credit: Francois Roux(https://www.rockefellercenter.com/)
Another holiday market not to miss is at Bryant Park (located behind the New York Public Library on 42nd Street). At holiday time, the park completely transforms into the Bank of America Winter Village, a magical space filled with ice-skaters, the scent of enticing food vendors and cute holiday shops. Stop by this haven of peaceful holiday spirit in the heart of Midtown and browse for unique stocking stuffers, grab a bite from one of the many food and beverage stalls and head out on the ice for a skating session. Best of all, if you bring your own skates the skating is free!
Just around the corner from Bryant Park is 5th Avenue, this stretch of high end real estate is the go to street for a little holiday window shopping. The famous holiday window displays at Saks Fifth Avenue, Bergdorf Goodman, Tiffany's, and Henri Bendel, just to name a few, are a New York City tradition that's always magical and inspiring for all ages. If the hustle and bustle of holiday shopping has you crazed, slip into the gothic serenity of St. Patrick's Cathedral on 5th Avenue for a break. Its nativity scene, flickering candles and sense of calm will transport your mind away from the hectic city streets.
Christmas in Brooklyn with the Family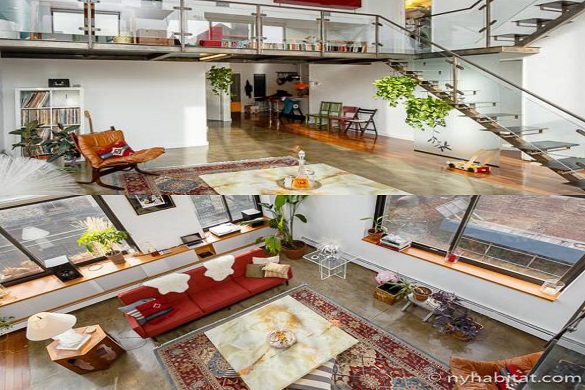 This triplex apartment in Prospect Heights has plenty of room for the whole family.
Speaking of hectic, if you're visiting New York with kids, winter sports and activities such as ice-skating and sledding are essential to keep the little ones content. Central Park, of course, is famous for ice-skating and snowy hills for sledding. But there's no need to limit yourself just to Central Park for sledding—Prospect Park has some of the city's best hills. If your kids are serious about sledding, we recommend the sled-worthy Lookout Hill located on the eastern side of the park. Prospect Park's Le Frak at Lakeside ice-skating rink is very spacious and offers skating lessons for both adults and kids! Not sure which of these fun, seasonal activities is the best fit for you? Try them for free! Lakeside offers quality service and competent teachers completely free of charge.
If you're heading to NYC with the family, we suggest one of our wonderful furnished apartment rentals to accommodate the whole gang. Why stay in a cramped hotel when you could enjoy the space of this three bedroom, three bathroom triplex apartment in Prospect Heights, close to all the winter fun in Prospect Park.
With this apartment you'll have three bathrooms, two of which are en suite in the bedrooms, perfect for a post-Christmas shopping soak. And what could be more serene than watching snow fall over the Brooklyn landscape from the floor-to-ceiling windows in your living room, or from one of two private terraces or the common building roof deck? Gather the family around the fully equipped kitchen, perfect for preparing a festive holiday dinner, then work off all the holiday treats in the gym located right inside the building! And with a laundry room in the apartment you won't need to go out in the cold to get the laundry done either. Keeping the whole bunch entertained won't be a problem because there's plenty of room to spread out in this spacious apartment spanning three floors! With a separate TV room for the kids to escape to, plus a playground right on the building grounds, everyone will be in good holiday cheer.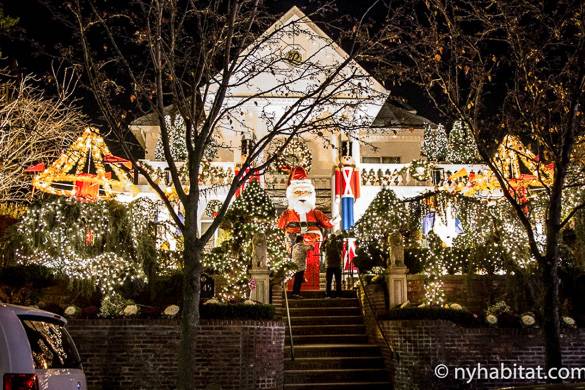 Dyker Heights in Brooklyn takes Christmas lights to a whole new level
In addition to all the wonderful things to do in Brooklyn, we highly recommend a trip to the neighborhood of Dyker Heights, which turns into a fairyland with one of the most impressive Christmas lights displays in the USA! From 80th to 86th streets between 10th and 13th Avenues is something to see, for kids of all ages.
Holiday Shopping at Macy's Herald Square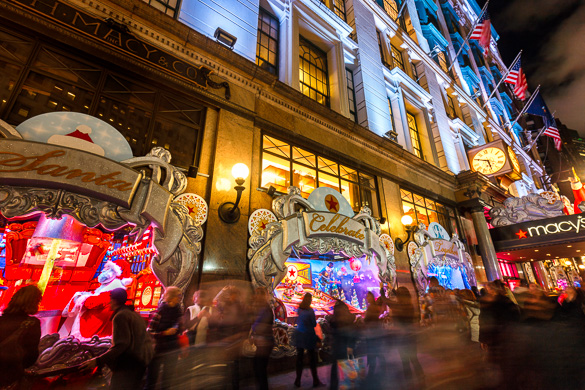 Macy's is known for its holiday window displays and endless shopping for the holidays.(http://www1.macys.com/) Photo Credit Francois Roux
You're sure to spot some jolly folks and holiday cheer in the many pubs of Murray Hill in the Midtown East area of Manhattan. Located near the restaurants and bars along 3rd Avenue, this one bedroom apartment in Murray Hill, located in a classic townhouse off Park Avenue, also is within walking distance of Macy's Herald Square, where you can lose yourself in the 2.2 million square feet (205,000 square meters) of the world's largest department store! After a hectic day of shopping you can come home to a peaceful bedroom overlooking the building garden plus a sofa bed in the living room for additional sleeping accommodations for the kids or guests. The apartment also features an in-unit laundry machine, a welcome convenience for a family on the go. The apartment's close proximity to Grand Central is perfect for a quick trip to the holiday shops and gourmet food market at Grand Central Terminal, where you're sure to find some gourmet treats to bring home for the holidays.
Now that you're dreaming of all the winter fun to be had in NYC, don't forget to check out all the great furnished rentals available on our website to find the perfect spot to call home for the holidays.
Related apartment rental posts from New York Habitat: