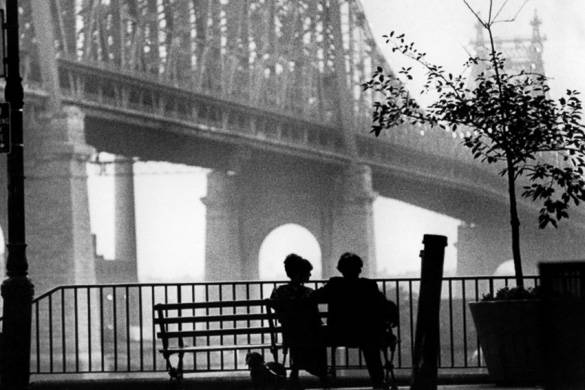 Woody Allen's films include iconic shots of NYC (Production Co: Jack Rollins & Charles H. Joffe Productions. Dir. W. Allen (Manhattan (1979))
Filmmakers have flocked to the Big Apple since the early days of cinema, drawn by its edgy energy and backdrops that range from skyscrapers, to Fifth Avenue mansions, to gritty downtown back alleys. Streets lined with movie trailers and production crews are an everyday sight here, and cinema buffs can also find bus and walking tours of famous film and TV locations.
Speaking of locations, New York Habitat has an expansive inventory of classic NYC apartments right by some of the city's most iconic film and TV locations. Read on to hear about some of our favorite films, each depicting a different version of the city, and our apartment picks near each location— because New York apartments are as diverse as the city's people and neighborhoods. Get ready to explore New York while living among a bit of cinematic nostalgia.
1. Taxi Driver – 13th Street, East Village, New York
Martin Scorsese's film Taxi Driver (1976) is considered by many to be one of the greatest movies of all time. In the film, Oscar nominee Robert De Niro is a taxi driver prowling the gritty streets of 1970s New York City. The Variety Theatre on 3rd Avenue in the East Village is the setting for De Niro's first date with Jodie Foster in the film.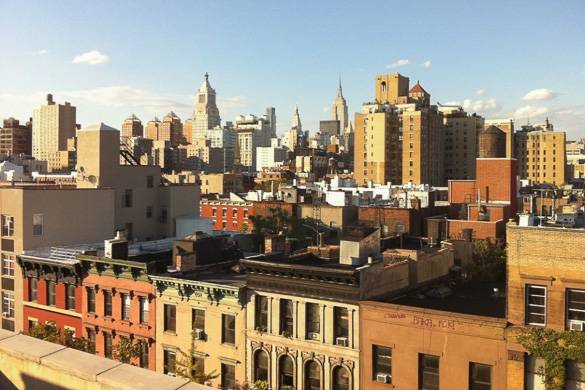 Have a bird's eye view over the East Village from this rooftop deck. (Photo credit: Matthew Hurst)
This two-bedroom apartment share is located amidst the charming streets of the East Village, where you can still find quirky local shops, vintage stores, and ethnic eateries. When you rent a room here, you'll have a bird's-eye view of the neighborhood from the 800 square foot private rooftop terrace. You'll feel immersed in an urban garden right in Manhattan when you dine al fresco surrounded by potted plants.
The charm of this neighborhood (which still feels a bit like a village compared to the bustle of Midtown) may inspire you to pen a screenplay of your own while perched on your rooftop observing the locals. Alternatively, you can perch on a chair at the counter of the apartment's modern, functional kitchen, complete with a dishwasher– a rare perk in NYC. The bedroom has hardwood floors, big windows, and a sizable closet, something you usually have to give up for the charm of a classic New York apartment building.
2. Sex And The City: Carrie Bradshaw's apartment – Perry Street Greenwich Village, New York
One of Manhattan's most fashionable and charming neighborhoods, the West Village is home to some of the chicest bars and boutiques, cobblestone roads, and tree-lined streets. Carrie Bradshaw, the main character on Sex and the City, lived in a classic brownstone here in the heart of the West Village.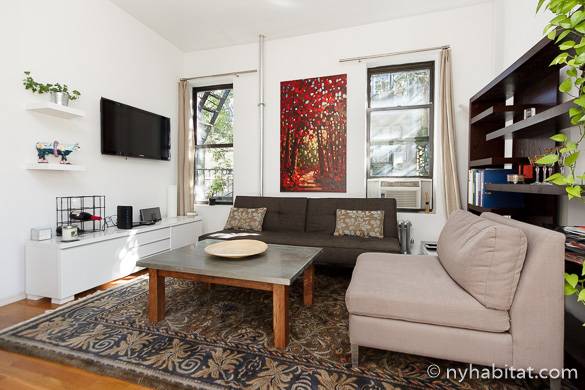 Live on the same street as Carrie Bradshaw in this one-bedroom apartment in the West Village.
The Sex and the City gal pals were lovable-yet-flawed characters who collectively experienced the many messy permutations of modern-day urban romance. You can imagine yourself as one of them while sitting by the bedroom window in this furnished one-bedroom apartment in the West Village that overlooks the gardens between buildings that are typical of this area.
With modern and stylish decor and stunning wall art, the apartment captures the artsy and stylish essence of the West Village perfectly. Sleek white cabinetry, kitchen amenities like a coffeemaker, toaster, and microwave, and a dining table for four provide the perfect excuse to invite your friends over for the latest gossip, just like Carrie and her pals. With an extra sofa bed, there's always room for one more. Speaking of room, we're sure Carrie would approve of the closet space in this très chic apartment, located on the very same street she lived on in the show! Check out our NYC shopping guide to fill that closet with clothes from designers or thrift shops in the surrounding area.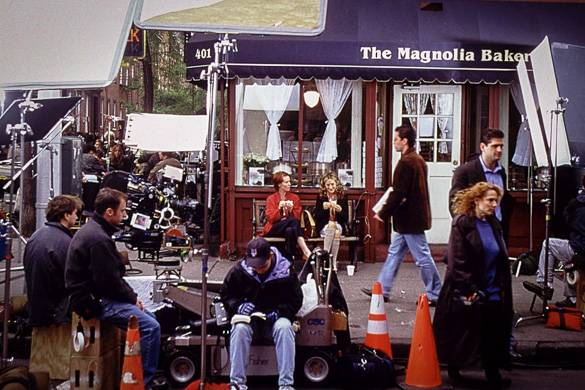 "Sex and the City" was shot on the streets of the West Village in Manhattan. (Home Box Office (HBO), Sex and the City Productions)
Take a walk in the neighborhood and you can't help but end up at Magnolia Bakery. The bakery was made famous by the series, but was already known by neighborhood locals as the sweetest of sweet shops around.
3. Girls – Greenpoint, Brooklyn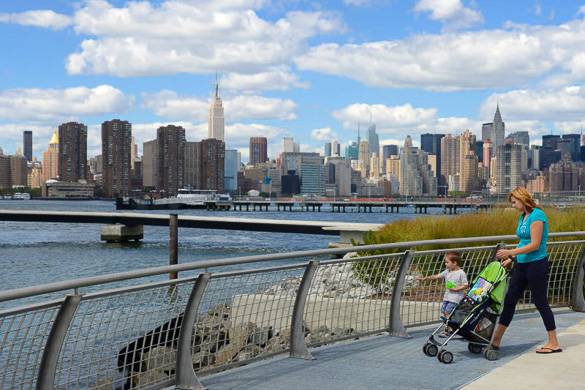 HBO's hit "Girls" was filmed in Greenpoint, Brooklyn. (Photo credit: © The City of New York, WNYC Transmitter Park B385)
Apartment seekers with a more modest budget might opt for apartments in the borough of Brooklyn. HBO's latest hit Girls, created by and starring Lena Dunham, shows Brooklyn's Greenpoint neighborhood as it is today in the 21st century (all the Greenpoint locations are authentic and not fictional). The series is praised for revealing the uncertainties and contradictions produced by the independence of many contemporary young women living in NYC.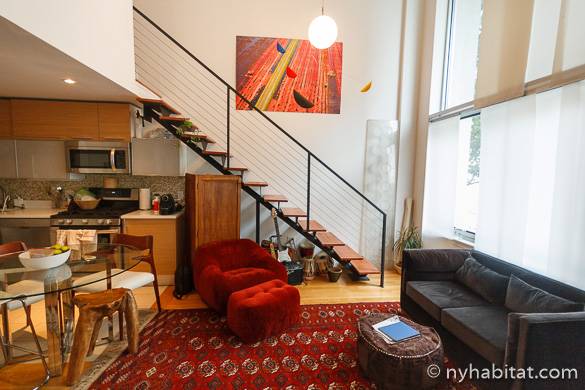 Share this light-filled Greenpoint apartment loft with a friend.
While Sex and the City's Carrie and friends had established careers that could afford them a luxe lifestyle, for the younger generation, a shared flat in Brooklyn is more in keeping with the reality of living in New York City. This two-bedroom furnished apartment in Greenpoint has to be the coolest place for a couple of friends to share, and is located practically around the corner from Hannah's India Street apartment in the show!
This loft-style furnished apartment features floor-to-ceiling windows with natural light to showcase all the great artwork. The open kitchen with stainless steel appliances is perfect for entertaining friends at your hip new NYC pad. The split-level loft space allows for separation of the bedroom area from the home office, great for finishing up some work at home. The second bedroom has a trundle bed for convertible sleeping arrangements, closet space, and a wall unit for added storage. The sleek modern bathroom with glass-enclosed tub/shower and convenient laundry washer/dryer in the apartment will also be a favorite of millennials. And for all the Girls fans out there, the famous Cafe Grumpy from the series will be your real-life neighborhood coffee stop. Afterwards, venture out and try some of the other great coffee spots from our top 10 list.
4. Ghostbusters – (The Ghostbusters firehouse: North Moore Street, New York)
Ghostbusters mania takes Manhattan.
TriBeCa is renowned for its spectacular architecture, world-famous restaurants and arts community. But who can forget the famous firehouse in Ghostbusters from which Dan Aykroyd and friends ran their paranormal investigation and elimination service, located on North Moore street in Tribeca? Tourists still flock to get a picture in front of this famous film site.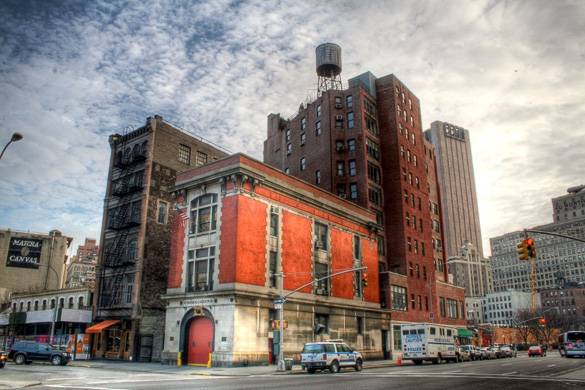 Tribeca's most famous firehouse.
This alcove studio in Tribeca is located in a duplex loftperfect for the artsy cinema buff. Filled with art, sculpture, and quirky accents, it's a little piece of the NYC art scene. Catch up on your movie watching on the comfy sleigh bed/couch in the living room, which also has a flat-screen TV and sound system worthy of any movie theater. The mod kitchen with electric stovetop and dining area is perfect for cooking up some movie snacks to share with friends. The loft bedroom allows for privacy and separation from the living area. Many famous actors live in these classic Tribeca area lofts, famous for their architecture and depicted in films like Ghost (starring Patrick Swayze and Demi Moore) and the Richard Gere/Diane Lane film Unfaithful.
5. Birdman: St James Theatre – West 43rd Street, New York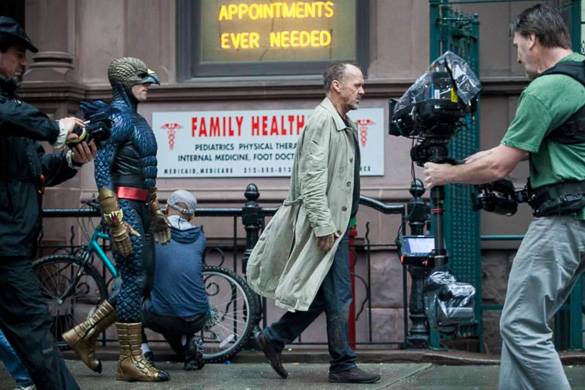 Michael Keaton filming "Birdman" on the streets of Midtown West. (Photo credit: Mr. Keaton on set of "Birdman or The Unexpected Virtue of Ignorance." Fox Searchlight Pictures)
Birdman is the story of Riggan Thomson (played by Michael Keaton), a faded Hollywood actor best known for playing the superhero Birdman, as he struggles to mount a Broadway production. The lights of Broadway mesmerize tourists and aspiring actors who come to NYC with the dream of being on a Broadway stage. For the rest of us, a night out at the St. James Theater (depicted in the movie) will suffice. The Theater District is always buzzing with excitement, theater-goers, and great prix fixe theater menus!
Why not live your Broadway dream and rent a room in this duplex apartment share in the Clinton/Hell's Kitchen section of Midtown West, right near all the Broadway action? With a private room and bathroom on the top floor of a duplex apartment with its own separate entrance, it will feel like you have the place to yourself! Decorated with paintings of NYC to immerse you in your surroundings, the bedroom features hardwood floors, a queen-size bed, and a TV to catch all the latest flicks. The mini fridge in the room lets you keep snacks on hand, while the full shared kitchen downstairs has a dishwasher, a microwave, a full-size refrigerator, and a stove/oven. The high-rise elevator building has the convenience of laundry facilities right in the building.
6. Manhattan – Riverview Terrace, Sutton Square, 59th Street, Empire Diner, Tenth Avenue and Chelsea, New York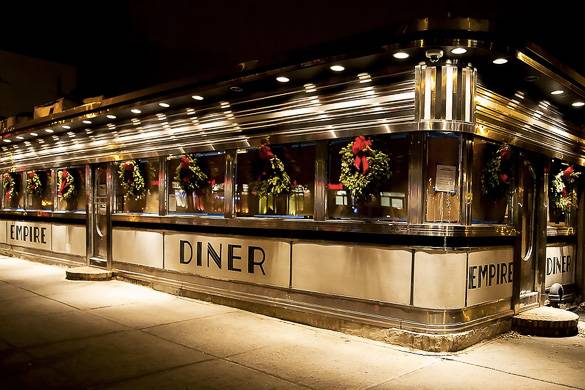 The Empire Diner was featured in Woody Allen's film "Manhattan".
Bronx-born director Woody Allen's film Manhattan has been described as a love letter to New York. Allen portrays his characters as New Yorkers doing the day-to-day things typical New Yorkers do: sitting in the park, ordering take-out, catching an artsy movie, taking cab rides, and visiting museums. His films always include iconic NYC landmarks, such as in the scene where the characters talk until sunrise with the Queensboro Bridge in the backdrop. The film also features famous eateries New Yorkers know and love like the Empire Diner in Chelsea.
This two-bedroom apartment share in Chelsea is situated in a classic pre-war walk-up full of New York character, from its exposed brick wall in the living room to its unbelievable view of the Empire State Building! Have a movie night in the living room with a flat-screen TV and plenty of seating. The black-and-white checkered floor tiles in the kitchen and bathroom are reminiscent of old New York, while the bedroom is peaceful with a queen bed and view over the back garden area (hard to find in NYC!). While New York is full of great takeout food, NYC apartment kitchens are notoriously small, so you may want to take advantage of the fully-equipped kitchen and prepare some meals right at home.
From Chelsea Market, to the High Line, to the Hudson River, Chelsea is filled with quintessential NYC spots, many of which you'll probably recognize from the movies. Keep an eye out for famous directors and actors too, who are often spotted out and about in the streets of New York or strolling through Central Park.
Movie and film buffs will agree: New York City is the place to be! Pick your favorite film location and then check our website to find the perfect furnished apartment for your stay.