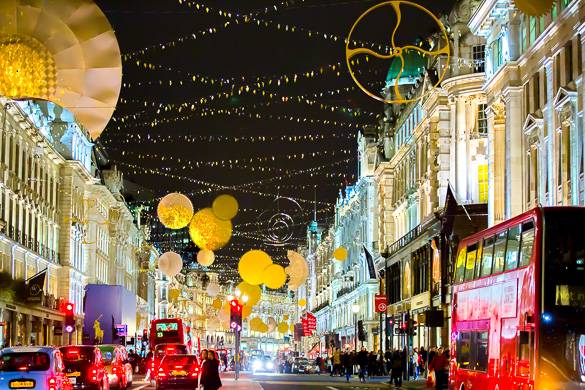 London's streets are alive with colorful holiday lights and frenzied shoppers enjoying the sales.
The holidays season such a festive and magical time of year with its colorful decorations, nostalgic music, and the scents of traditional holiday baking. It's also a great time to travel, even to cities you may have visited before, to see them in a whole different light. Wander through markets, snack on seasonal nibbles, and enjoy all the fun wintertime activities. What better time to visit a new city and immerse yourself in the local culture and traditions?
Holiday light illuminations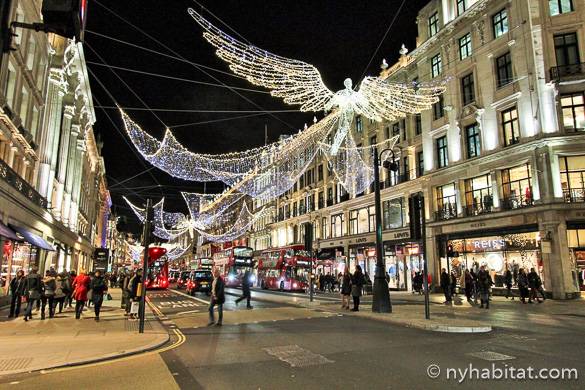 Enjoy the holiday light displays as you check off items on your Christmas wish list.
As Christmastime approaches, Central London becomes especially charming as it's lit up with twinkling lights and filled with carol singers and brass bands that add to the festive magic. After sunset, things become even more magical when you can experience the city's Christmas light displays in full swing! Save a little time for sightseeing before or after Christmas. One advantage of being in London during the holidays is that you can go see most of the major tourist attractions without all the crowds and lines.
It's the season of giving, and carolers around London raise money for various charities. Follow the carol singing to a major landmark like Trafalgar Square, which becomes a fairyland with fountains and buildings aglow. Thousands of tiny Norwegian white bulbs light a huge tree near Nelson's Column. The tree has been donated to the people of Britain by the city of Oslo, Norway each year since 1947 as a token of gratitude for British support to Norway during the Second World War.
What could be more lovely than strolling down Regent Street in the West End, where the entire length of the street is adorned with holiday lights strung above you as you shop for the perfect gift? For an off-beat light display, head to Carnaby. 13 streets are aglow with quirky Christmas decorations reminiscent of the Swinging Sixties, inspired by The Victoria and Albert Museum's exhibition You Say You Want a Revolution? Records and Rebels 1966-70. Afterwards, you can shop the unique independent boutiques in the area or try a new cuisine at one of the many restaurant options here.
Holiday shopping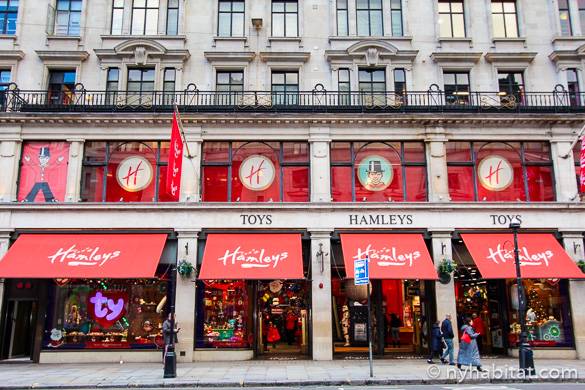 Hamleys is one of the biggest and oldest toy stores in the world and a must for Christmas shopping for the kids.
Stores in Britain have embraced shopping as a form of entertainment and turned their stores into leisure-time destinations. Harrods is one of the top 10 tourist attractions in Britain, and Selfridges has started to go over the top with Christmas decorations that even a spoiled customer will find mesmerizing! Oxford Street is England's version of 5th Avenue and the Champs-Élysées. Here, you can admire the twinkling Christmas lights and seasonal window displays while getting your holiday shopping out of the way. Regent Street and Bond Street are other can't-miss destinations for the best Christmas shopping. With tons of flagship stores, you're sure to find something for everyone on your list.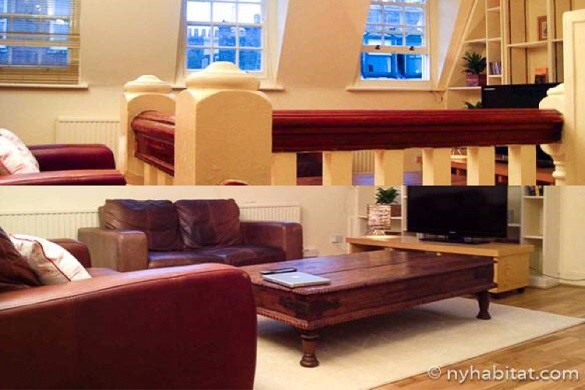 This two-bedroom vacation rental in SoHo is located right near all the best shopping.
This lovely two-bedroom flat in the trendy SoHo section of London is close to plenty of shopping and the famed Harrods department store. The duplex layout gives you living space on two floors, perfect for a larger group or family. You'll have two bedrooms, each with a double-sized bed and its own cable television to keep everyone happily entertained, plus the living room sofa opens into a sofa bed for additional sleeping arrangements. After a long day of shopping, take a soak at home in your tub and appreciate the convenience of a fully-equipped kitchen that allows you to prepare a relaxing dinner at home and away from all the holiday shoppers. Of course, with all the dining options close to the flat, you're sure to be tempted to try some of the local pubs and restaurants as well– you won't be disappointed! And when you're in the mood for some entertainment, this neighborhood is hopping with plenty of theaters and live music venues where you can catch performances of Christmas classics like The Nutcracker or discover some of the local talent playing your holiday favorites.
A quick shopping can also be had while renting a flat in nearby Fitzrovia, famed for its bohemian air. Having been the chosen hangout of authors such as George Orwell and Virginia Woolf, this area is known for being both hip and classy. Fitzroy Square is the architectural pinnacle of the area, bounded by Oxford Street to the south and Euston Road to the north. Fitzrovia also isn't far from two other central residential areas, Marylebone and Bloomsbury.
Indulge in this thriving community by staying in this bright studio apartment with double-glazed windows, wood flooring and a very British sense of décor. With an extra sofa bed there's room for the whole family, plus you'll have the convenience of a washing machine in the apartment. Take advantage of the fully-equipped kitchen to lay out a spread of holiday delicacies for friends or family. Need some culinary inspiration? Just head to Harrods Food Hall, where gourmet grocery shopping is an experience like no other. If you don't cook, stop by just to see the artful displays. Even the fish market here artistic; featuring a colorful arrangement of fresh fish with water cascading down from a shell held by mermaids.
Traditional Christmas markets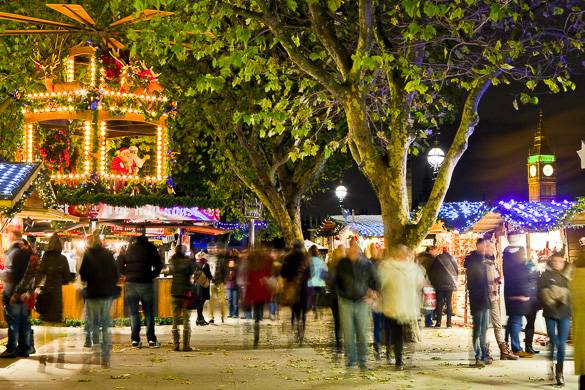 Don't miss an evening trip to the holiday markets with dazzling lights and plenty of unique gift ideas.
The holiday season is not complete without the traditional Christmas Markets known throughout Europe. At the markets in London, shoppers can still be part of this beloved tradition. Imagine bartering for wines, fresh produce, antiques, and arts and crafts in magical London. Meander through the stalls searching for unique and handmade gifts while you sample festive treats like mulled wine and mince pies. One of the largest Christmas Markets can be found at Winter Wonderland in Hyde Park, where there's plenty of family fun to be found as well, including big top shows, acrobats, and ice sculptures. For more ideas of family-friendly activities in London, check out our blog on things to do with kids in London. For example, you can take a ride on the 60-meter London Eye observation wheel  for stunning views above London. And of course, there's ice skating at the UK's largest outdoor rink, which circles the Victorian bandstand.
Outside the Tate Modern, a modern and contemporary art museum located right by the River Thames, you'll find a favorite spot among the local Londoners for the holidays: the Tate Modern Christmas Market. This market specializes in food vendors of all types, so it's great if you're an adventurous foodie, or if you just want to stop and sample the local street food offerings while doing your Christmas shopping. Plus, it's conveniently close to many other tourist attractions, like the famous St. Paul's Cathedral (via the Millennium Bridge), Shakespeare's Globe Theatre, and Borough Market. Browse the festive wooden chalets for handmade toys, unique jewelry, and other fun gifts while you munch on roasted nuts, drink cider, and soak in all the holiday cheer surrounding you.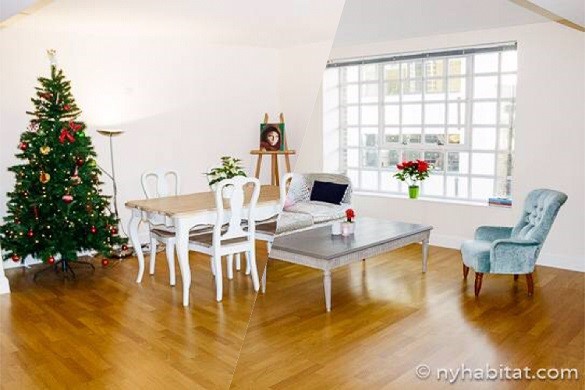 Experience the best of London at holiday time in this two-bedroom rental in Southwark near the River Thames.
This two-bedroom apartment in Southwark (a popular neighborhood experiencing a kind of renaissance) is close to the Tate Christmas Market and iconic London sites like the River Thames and Tower Bridge. It's a very convenient location for public transportation, with Tower Hill Underground station just a short walk from the apartment. Even the railway stations get a Christmas makeover, so don't forget to check them out as well! If you happen to have a rented car, there is also parking available on-site. What could be better than living beside the River Thames, where you can gaze across the river at the classic London skyline and famed St Paul's Cathedral?
With hardwood floors, exposed beams, and high ceilings, this apartment has a warm and homey feeling. Add some holiday décor straight from the local market, and it transforms into the perfect London home for the holidays! A large wooden dining table makes it easy to cook at home and accommodate family meals or a holiday dinner party, while the fully-equipped kitchen with granite countertops includes most essential cooking appliances and the convenience of a dishwasher. There are two cozy bedrooms: the master, with a French caned mahogany bed with intricate floral carvings, matching bedside tables, and hand-blown glass bedside lamps, and the second bedroom, with a brass-and-nickel bed with marble-top bedside tables. Everyone will be happily dozing dreaming of Christmas morning! Restaurants, shops, museums and parks surround the area, so there's never a shortage of things to do both before and after the holiday festivities. If you need more inspiration for keeping the kids busy, check out our guide to London winter activities for families.
Family activities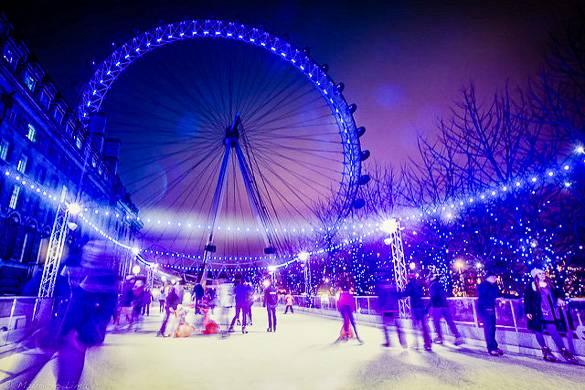 Ice skate near the London Eye for a very British holiday. (Photo credit: Lima-pix)
Ice skating rinks are lit up with dreamlike Christmas lights and garlands. For many in England, Christmas wouldn't be complete without a spin around an ice rink! Temporary ice rinks pop up all over London for the holidays, so you can pick your favorite, or try as many as you can!
Adding a modern twist to skating, LED lights sparkle beneath the ice and all around the rink at the Canary Wharf Ice Rink. You'll be surrounded by modern glass buildings for an impressive skating experience set to music. While you're there, go explore the neighborhood. If you prefer something more old school, how about skating in the shadow of a 1,000-year-old London landmark, the Tower of London, while snowflake lights illuminate the walls of the castle? Afterwards, you can grab a drink at the Eis Haus pop-up ice bar! If some hot tea is more your style, check out our list of the best tea rooms in London.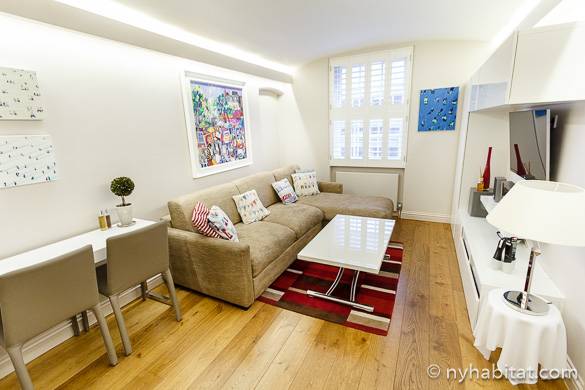 Rent this furnished one-bedroom flat in Bloomsbury and you can walk to the British Museum
Aside from tea, London is known for its great literary minds and, of course, its museums. With this beautiful, spacious one-bedroom apartment in Bloomsbury, you will be located within easy walking distance of the British Museum and close to a bit of Christmas nostalgia as well. You can't think of Christmas without thinking of Charles Dickens, author of A Christmas Carol and other classics. One of Charles Dickens' first London homes, where he wrote one of his most famous novels, Oliver Twist, is located right nearby. This charming apartment in the quaint neighborhood of Bloomsbury has hardwood floors and arched ceilings and will make you feel like you are living your very own London tale.It's located in the very same living area of famous past residents including Virginia Woolf and George Bernard Shaw. The updated kitchen adds a bright burst of color with blue backsplash tiles, and just might inspire you to try your hand at preparing a local favorite, the full English breakfast. The luxurious bathroom equipped with a bathtub and shower offers you a delightful retreat after a long day of touring or holiday shopping. Meanwhile, on those cold winter days when you don't want to venture outside, you can appreciate the convenient in-unit laundry washer and dryer, curl up on the couch in front of the modern entertainment center, or just stay under the covers for a while in the cozy bedroom. After all, you have all the comforts of home right here.
If you decide to venture out in search of Christmas gifts, you can easily jump on the tube and find yourself in the vicinity of the most famous department stores as well as smaller independent boutiques situated on Oxford, Regent, Carnaby, and Bond Streets.
New Year's Day Parade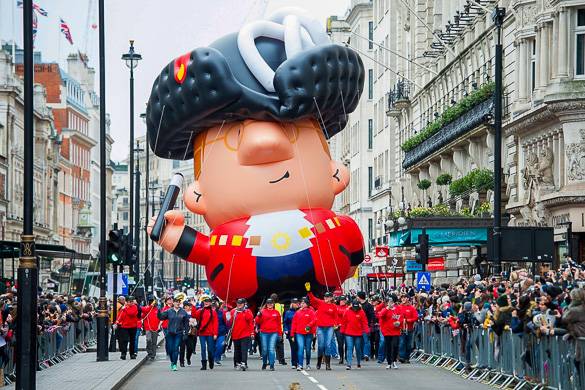 Giant balloon characters float through the London streets at the New Year's Day Parade
Don't miss out on the remarkable London New Year's Eve fireworks display. The 10 minutes of firework mastery involve 50,000 firework projectiles lighting up the sky above the London Eye! The action can also be viewed live on screens in Trafalgar and Parliament Squares. The next day, join the crowds and watch marching bands, cheerleaders, and acrobats parade past London landmarks. Major streets turn pedestrian-only, a rare and fun way to tour through London.
Pimlico is located in Central London, right off the Thames River. Experience living like a local in this fully furnished two-bedroom apartment in a delightfully beautiful period building. There's no need to venture out on a cold night when you can prepare meals at home in the fully-equipped kitchen. The same goes for getting laundry done; you'll have a washing machine right in the apartment, perfect for those chilly winter days. When you do leave, get to know the neighborhood by taking a walk through the surrounding Pimlico Conservation Area, notable for its Regency-era architecture, where even the pubs and theaters will be strung with Christmas garlands.
When traveling in London, keep in mind that there is no public transport on Christmas Day, and on Christmas Eve public transport starts to wind down from early evening. This includes no night buses, so plan your outings accordingly. Taxis run with an additional surcharge. Activity returns to London on Boxing Day (26 December), and by "activity," we mean throngs of holiday shoppers. The January sales start in many London shops, and public transport also resumes with limited service. Although New Year's Eve is a frenzy of activity due to the fireworks display, remember that on New Year's Day, there is limited public transportation.
Discover the magic of holiday time in London for yourself. We've got lots of great furnished rentals, so whether your stay is a short one or long, you can find the perfect apartment that feels like home.