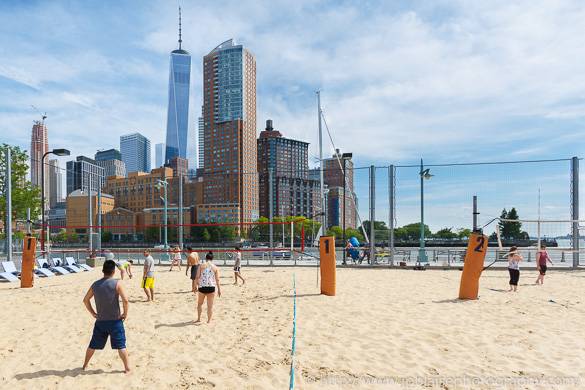 Join a game of NYC's interpretation of beach volleyball. (Photo credit: http://jpblaisephotography.com/)
For some New Yorkers, summer in the city means getting as far away as possible. But for those in the know, with all the events, free concerts and activities available, it can be the best time of the year to be in New York City! Our guide to all the hottest things to do will surely make you want to stick around and discover how great summer in NYC can be.
Catch a flick in the open air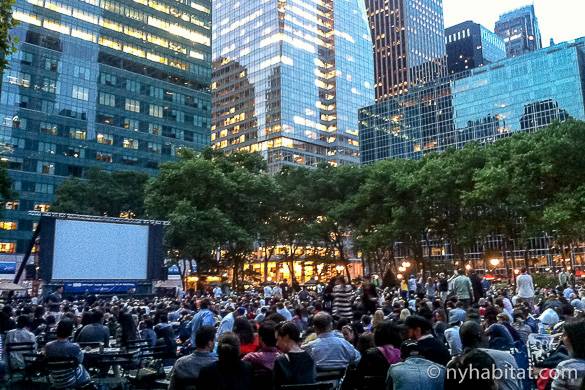 Summer in NYC means outdoor movies!
Everyone loves movies, and summer is all about the outdoors, so it's no wonder New Yorkers love combining the two. Outdoor movie lineups are being announced all over NYC. The NYC Department of Parks & Recreation hosts free outdoor movie events throughout the summer in parks throughout the five boroughs. Check their website for the schedule with times and locations.
SummerScreen is Brooklyn's annual free outdoor film and music series, held in McCarren Park in Williamsburg every Wednesday in July and August. Live music starts at 6:00 p.m., with the cult-classic film pick of the night to follow at sundown. This year's lineup includes thrillers like Scream and the popular action flick The Fast And The Furious.
Bryant Park in Manhattan features some family-friendly outdoor movies, so bring a picnic blanket, grab some free popcorn, and enjoy it with the kids!
If you're into foreign films, Socrates Sculpture Park in Queens is the place for you. Its annual film festival features a different country or culture each Wednesday evening at 7:00 p.m. between July 6th and August 24th. Each film is paired with live international music and local food vendors representing each week's featured country of origin.
Even the Intrepid Sea, Air & Space Museum gets in on the fun, screening military and space-themed movies like Top Gun, Close Encounters of the Third Kind, and Apollo 13, that you watch outdoors right on the Intrepid flight deck!
Get out of the museum and enjoy arts & music outdoors
NYC has many arts and music venues, but when summer hits us, New Yorkers like to head outdoors. SummerStage is a free performing arts festival with events in all five boroughs of NYC, from concerts, to opera, to circus performances. There are also paid benefit concerts with big-name entertainers, the proceeds of which support the program. This year's lineup includes Barenaked Ladies, Orchestral Manoeuvres in the Dark, and Howard Jones on June 13th, and The Go-Go's Farewell Tour on August 13th.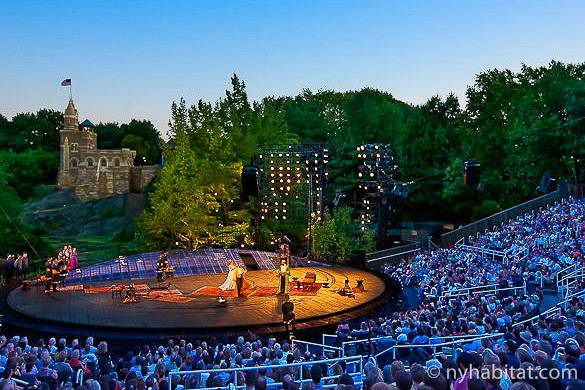 To be or not to be (in Central Park for free outdoor Shakespeare)?
Shakespeare in the Park provides free public theater performances of Shakespeare's plays, presented at the open-air Delacorte Theater in Central Park. Lincoln Center Out of Doors is a three-week-long event held each summer, featuring free music, dance, and spoken word in the public plazas of Lincoln Center (2016 dates still TBA).
Pack some snacks, a bottle of wine, and a blanket; then grab a date, friends, or family to picnic like a New Yorker. Head to Central Park to dine while you listen to the world famous New York Philharmonic in the background. During the summer they perform free concerts in Central Park on the Great Lawn, often with a fireworks show at the end!
Millennials love music festivals, and Governor's Ball is no exception. A three-day, multi-stage music festival on Randall's Island from June 3-5, 2016, this event draws music fans from all over the world who come to NYC to see their favorite bands live. In addition to a lineup of musical acts, 53 food vendors are on hand to feed the masses, from famous New York restaurants to food trucks.
If you're looking for something a little out of the ordinary, check out the Jazz Age Lawn Party, held on Governor's Island in New York Harbor. Taking place over two weekends (June 11-12 & Aug 13-14, 2016), this event is a 1920s-inspired party where attendees dress in period attire, sip classic cocktails, and dance to jazz music.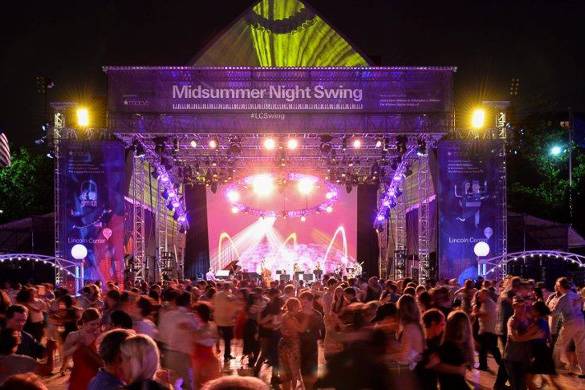 Why not swing into summer at Lincoln Center's Midsummer Night Swing? (Photo credit: Kevin Yatarola)
If you love music and aren't afraid to dance, Lincoln Center's Midsummer Night Swing is for you! There's something for every taste, including swing, salsa, tango, disco music, and R&B. You can purchase tickets in advance or buy a pass and attend several events at a discount. The event runs from June 21-July 9, 2016, with the dance floor opening at 6:00 p.m., followed by a dance lesson at 6:30. Then a live band or orchestra provides the music to dance to and show off your moves.
The Museum of Modern Art cranks up the excitement in the summer every Saturday from the end of June through the first week of September at MoMA PS1 Warm Up, held in the courtyard of MoMA's contemporary art institute at 22-25 Jackson Avenue in Long Island City, Queens. This music series features a lineup of bands and DJs, keeping things fresh each week.
New Yorkers don't pay full price for Broadway shows if they can avoid it. Discounted ticket offers for Broadway and Radio City can often be found at the TKTS booth in Times Square. You can find same-day tickets for Broadway shows and other theater events there at discounts prices. Chase Bank also offers discounts to various events when you use your Chase card.
Try dining al fresco the NYC way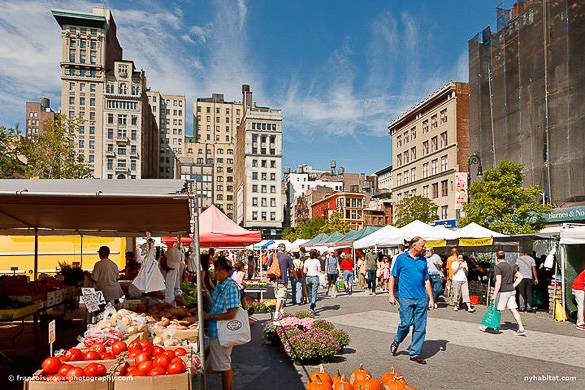 The Union Square Greenmarket is the go-to place for fresh produce in Manhattan. (Photo credit: Francois Roux)
Foodies will love all the food events going on in NYC in the summer. Discover the diversity of Queens at the Queens International Night Market. This family-friendly night market takes place in Flushing Meadows – Corona Park Saturday nights from April 23 thru August 20. It features cultural performances, merchandise, art, and food vendors celebrating the cultural diversity of NYC and Queens.
Over in Brooklyn, there's Smorgasburg, an all-food market held every Saturday on the Williamsburg waterfront at East River State Park and every Sunday in Prospect Park. Come sample all of the great eats that make NYC a foodie heaven.
Food is everywhere in the streets of NYC in the summer! The kids will love getting a taste of NYC's famous street food at one of the city's street fairs. Healthier fare is offered at farmer's markets or greenmarkets where you can shop for groceries and support local farmers.
Spice up your fitness routine by taking it outdoors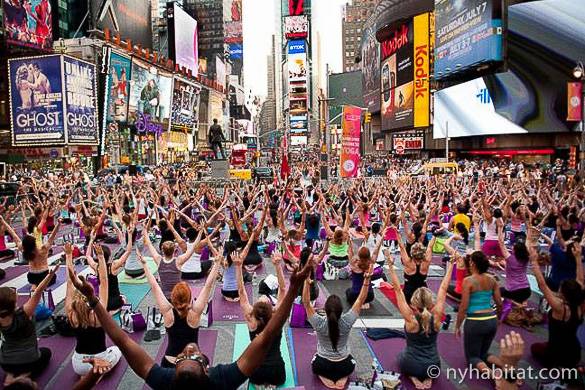 Summer means free outdoor fitness classes
NYC's parks offer a multitude of recreational activities for all ages, from hiking, biking, and rollerblading to baseball and soccer games. There are even more free fitness events offered during the summer. Bryant Park in Manhattan and Socrates Sculpture Park in Queens offer free fitness classes for all ages, including yoga and Tai chi.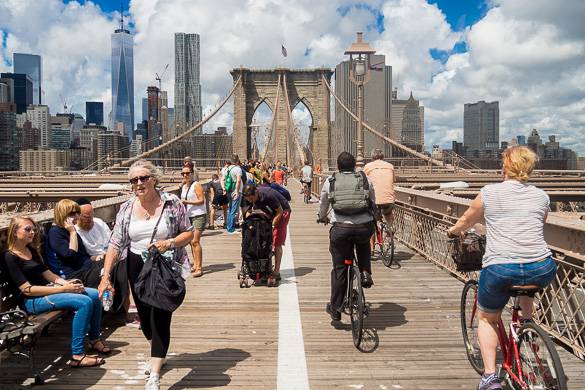 Get your exercise biking across the Brooklyn Bridge from Manhattan to Brooklyn.
Combine your daily fitness routine with your commute by biking across one of NYC's many bridges, a great way to discover what's going on in all of New York's boroughs.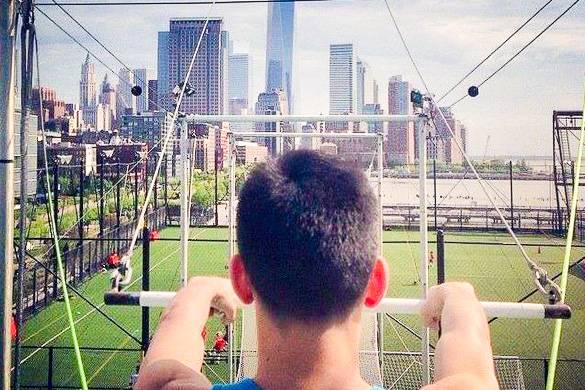 Soar among skyscrapers at Trapeze School NY. (Photo credit: Nolan McKew)
Want to impress the kids? Trapeze School New York on Pier 40 at Hudson River Park is something out of the ordinary. They offer classes from beginner to advanced levels in flying trapeze skills and trampoline. You can even book a private party!
Spend a summer day on the water
When you think of summer, you probably think of being on the water. Taking a rowboat out on the water in Central Park is the quintessential New York experience. It can be the perfect family outing or romantic date idea. For the sporty and adventurous types that want to try something unique, the Long Island City Community Boathouse offers free kayaking at Hallet's Cove at 31-2 Vernon Blvd in Astoria, while the Downtown Boathouse offers free kayaking off Pier 26 in Manhattan.
If you want to enjoy the water without the exertion, why not try a sightseeing or dinner cruise around Manhattan? Circle Line and Bateaux New York are just a few of the options offering sightseeing, dining, and booze cruises, so you can enjoy the sights of NYC from the water.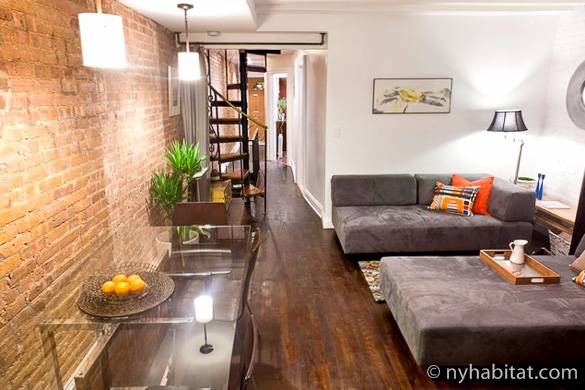 A New York Habitat furnished rental is the perfect summer getaway.
Make a family trip to New York City unforgettable for the kids by staying in one of our family-friendly vacation rentals with a fully-equipped kitchen for sharing family meals (and memories)! If you're traveling to the city for work this summer, a furnished apartment is the best way to get to know what living in New York is really like. Get a feel for a neighborhood before making a permanent move by renting a furnished apartment for a few months. Students can also save by sharing an apartment– gather some classmates and rent a furnished apartment, or let New York Habitat find you the perfect apartment share with a resident New Yorker who can give you tips on all the best things to see and do.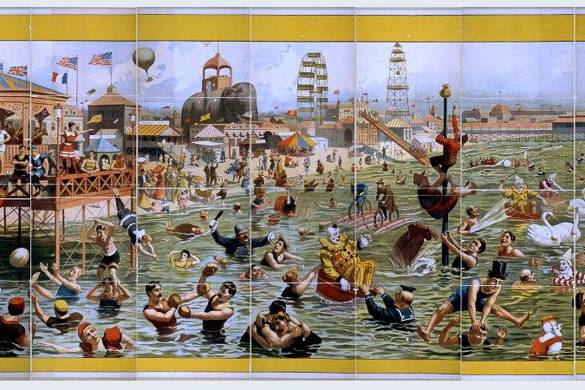 The best way to end a summer day is with a beautiful sunset at the beach.
With so much to do in the city, you'll find it hard to run out of options to keep you busy. Just in case you feel the need to get away, NYC also has plenty of beaches nearby. You can get to Coney Island and the Rockaways by subway or bus. Take a train or rent a car for a day trip to the Jersey Shore or Long Island, where you'll find miles of beach for a dip in the Atlantic Ocean. Tour the wineries of the East End of Long Island, or just enjoy the perfect summer sunset by the ocean.