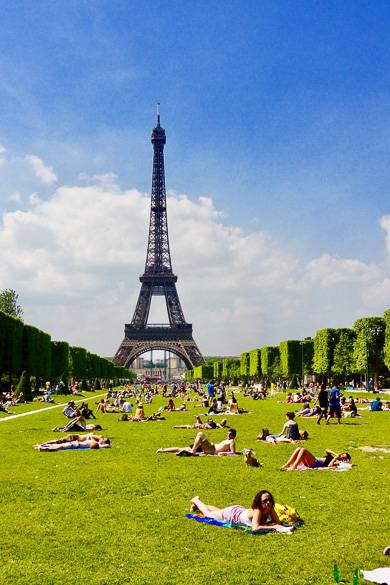 The Champ-de-Mars near the Eiffel Tower is the perfect summer picnic or sunbathing spot
Summer is here, and that means everyone is making travel plans! If you're thinking of heading to Europe this summer, you can't skip the glimmering Paris! Any time of year, Paris is an exciting destination, but in the summertime, the city pulls out all the stops to help you make the most of those long summer days. Parisian gardens, a boat ride along the Seine, lunch in a quaint outdoor cafe — if it all sounds dreamy, read on for some of our favorite summer pastimes in Paris.
Bateaux Parisiens dinner cruise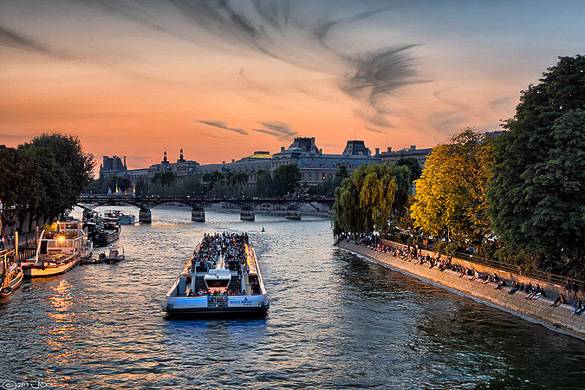 Cruise the Seine in style on a Bateaux Parisiens
When you imagine summertime, water always comes to mind. When in Paris, you head to the Seine, where sunbathers line the banks to soak up some rays. The Seine is the center of life in Paris and a respite from the city streets, so locals and tourists alike love to head to its banks. This 482-mile river flows through the heart of Paris, providing great photo opportunities from the 37 bridges that cross it. One of the best ways to experience this magical river, sightsee, and indulge in some French cooking is to book a dinner cruise down the scenic Seine on a Bateaux Parisiens. You'll be treated to live music, fine food and French wines, all with a breathtaking view of twinkling lights as the sunset turns the city to shades of peach and pink.
Fête des Tuileries – Paris funfair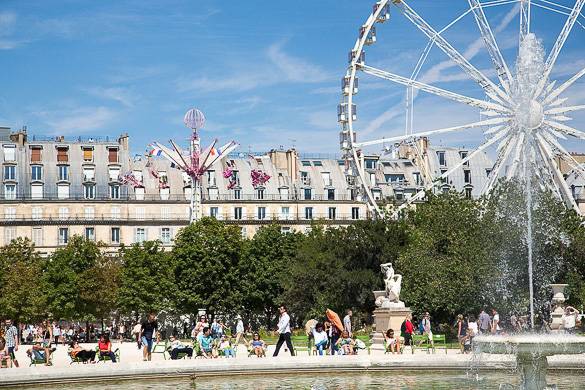 Kids of all ages won't be able to resist the thrills and treats of the Fête-des-Tuileries
Once daylight hits, Paris will be bustling again, and if you're traveling with a family, then the kids will be raring to go explore! Believe it or not, posh Paris is also a very kid-friendly city! With many of its principal sights concentrated in a fairly small area, it's quite walkable with kids, and parks are conveniently located near monuments or museums. Nothing screams summer like the thrill of amusement rides, and this year marks the 30th anniversary of the Fête des Tuileries, meaning the excitement will be bigger and better than ever! Grab the family and head over to the Jardin des Tuileries for this year's summer fair before August 24th. You can find all your childhood favorites here, including a vintage carousel, Ferris wheel, and bumper cars to keep the kids entertained. For the adults, there's live jazz music and French festival favorites like crepes and beignets!
Now that you've got food on your mind, part of the thrill of travel is discovering the local cuisine, and there's no better place to hone your culinary skills than in Paris, home of the famous Le Cordon Bleu culinary school! Rent an apartment with a kitchen that gives you the option of saving some money and testing your cooking skills, an excellent excuse to browse the enticing Parisian markets. Plus, you'll likely be in a more authentic neighborhood where the locals dine, away from the expensive tourist traps. This quaint 1-bedroom rental in Beaubourg has an open kitchenette with all the essentials for trying your hand at French cuisine, and a cozy dining table for a romantic meal at home. When you prefer to dine out, the streets surrounding the apartment are lined with small cafes, traditional restaurants and plenty of food markets. For a side of entertainment along with your meal, try Le Petit Casino, a popular local dinner theater in the neighborhood that serves up laughter and great food.
Beach volleyball in front of Paris City Hall (Hôtel de Ville)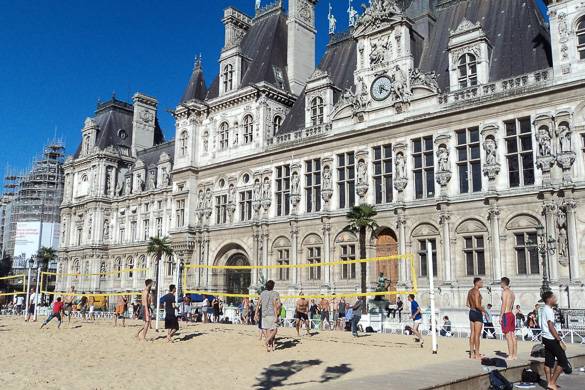 Who says you can't play beach volleyball in the middle of Paris?
Once you indulge in all the great culinary contributions of the French, you're going to need some exercise. Beach volleyball is a classic summer sport, but only the unimaginative think you have to have a beach nearby to play it. Add a French twist to your game by hitting the courts in front of the iconic Hôtel de Ville, and play a game with a scenic Paris backdrop. Paris Plages takes place between July and August, when sand is shipped into Paris to create urban "beaches" for the city dwellers. Outside the Hôtel de Ville, four volleyball courts are available for everyone from July 28th to August 16th from 1:00 p.m. to 8:00 p.m. For those who prefer to relax, deck chairs line the 'shore' alongside refreshment and play areas. It's a fun time to see Paris transformed into the Cote d'Azur.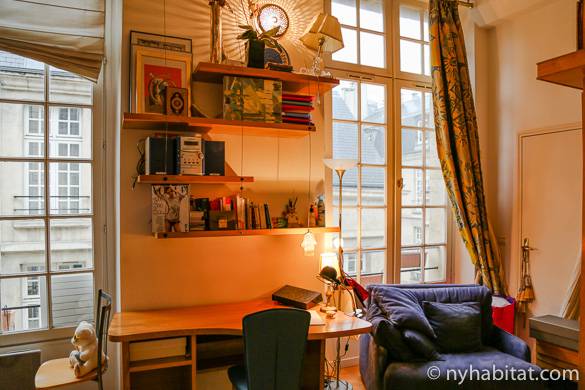 Rent this artsy studio in Le Marais this summer
Not far from the fun at the Hôtel de Ville, you'll find another lively area, the medieval district of Le Marais, known for its art galleries, trendy restaurants, cafes and proximity to many sights. Rent this artsy studio in Le Marais and you'll be located steps from the oldest square of Paris, the Royal Place des Vosges. Located in a 17th-century building, this studio retains classic features such as parquet floors and high ceilings. French paned windows fill the studio with light, while the space is efficiently maximized with overhead storage and a recessed kitchenette that allows you to prepare simple meals at home to save on expenses. The two sofas conveniently open to sofa beds, providing maximum versatility of the space. This studio is convenient for a solo traveler, a couple, or friends who want an apartment with all the basics and a great central location.
Paris and the Seine's built-in swimming pool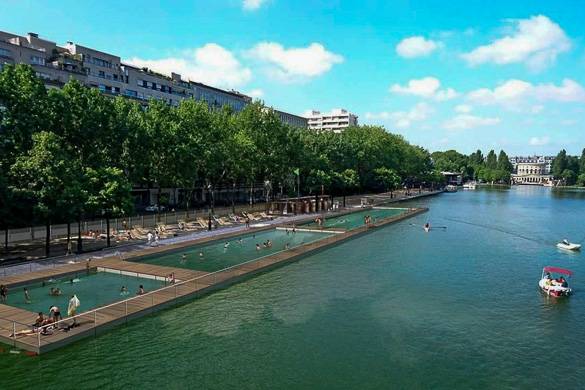 Swim in a floating pool on the Seine during the Paris-Plages event (Photo credit: Paris City Hall)
Every summer the Paris riverbanks get a fresh dose of sand, beach chairs, and even palm trees! This year, Paris Plages will set up a bathing area in the Bassin de la Villette, located on the Quai de la Loire. Three pools will be open daily for free between July 15 and August 15, 2017, from 11:00 a.m. to 9:00 p.m. Best of all, you'll be able to tell everyone back home that you swam in the Seine! Athletes will surely find plenty to do this summer around the city — since Paris has bid for the 2024 Olympic Games, athletic activities open to the public have been popping up all over to get everyone excited!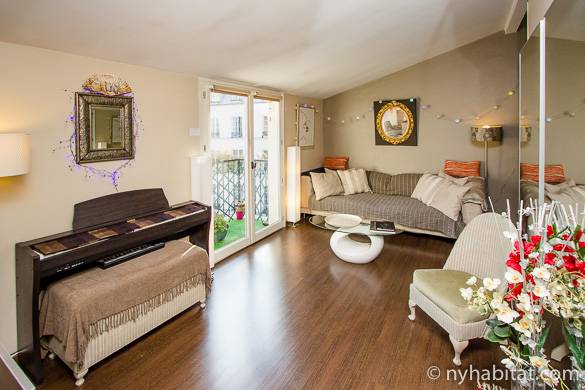 This loft-style apartment in Le Marais is truly unique
If you crave being out in the open air but not in the Seine, you'll adore the quaint balcony space at this 1-bedroom loft apartment in Le Marais instead. Sip your morning coffee in the fresh air while you gaze out over the typical Haussmannian rooftops of Paris. This loft-style apartment is decorated in an eclectic style with dark hardwood floors and antique pieces. A classic piano sits in the living room near a modern flat-screen TV and antique armchairs. French doors open onto the balcony seating area and allow fresh air to flow through the living room. Sloped ceilings, a cozy reading nook, and spiral staircase add a unique touch. After a day exploring Paris, you can bring back some fresh ingredients from the Marché Bastille outdoor markets nearby and prepare a meal at home in the open kitchen. Retire to the bedroom with a queen-size bed and skylight to gaze at the evening sky while you fall asleep. Art lovers will also enjoy this apartment's location, as it places them close to both the Centre Pompidou and Musée National Picasso.
Cinema en Plein Air (open air cinema)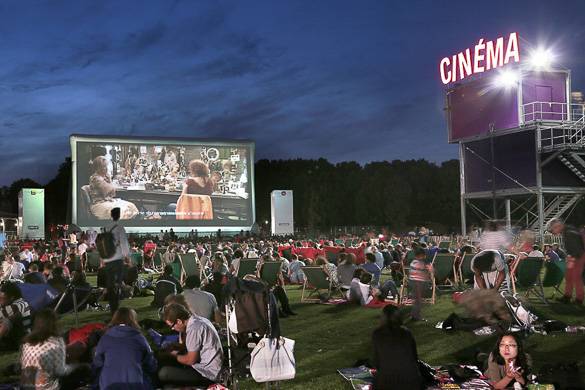 Outdoor movies are a summer classic, so don't miss Cinema en Plein Air! (Photo credit: Marie-Sophie Leturcq)
Summer nights just wouldn't be the same without outdoor movies, so grab the family or some friends and head to Parc de La Villette where Cinema en Plein Air (an international film festival) is taking place July 12 to August 20, 2017. You'll find locals and tourists alike camped out on the grass with a picnic and a bottle of wine to enjoy the summer night and a great film. This year's films will center around the theme "In the Kitchen," an homage to French gastronomy. If you're renting an apartment, you have the perfect reason to head home to your kitchen and try out your best French chef impression.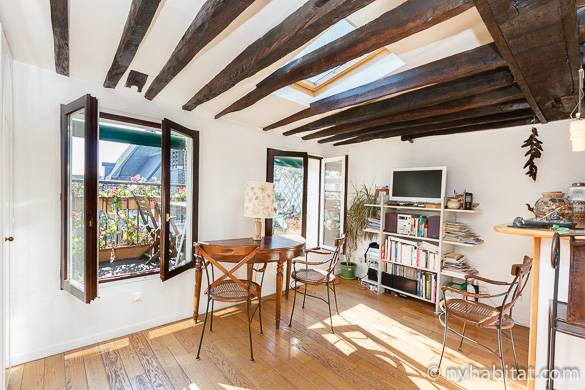 This studio in Les Halles has charming French details like exposed beams and rooftop views
Luckily, here at New York Habitat, we've got plenty of quintessentially Parisian apartments to choose from! This light-filled studio in Les Halles, perched atop an 18th-century building with dreamy views of Parisian rooftops, is just about as French as you can get! Inside, classic features such as the exposed-beam ceilings and antique wooden doors bring you back to the French days of yore. The views from this apartment are out of a storybook, with two sunny balconies at opposite ends of the apartment. One balcony faces the elaborate roof and towers of the Church of Saint-Leu-Saint Giles right across the street! The fully-equipped open kitchen design will inspire you to try a few French recipes at home and enjoy them on the balcony surrounded by views and vibrantly-colored plants.
Whether you are coming to Paris for the sights, the food, the museums, or just to see how Parisians enjoy the summer, you're sure to find something to satisfy your curiosity here. You can also browse a variety of furnished apartments to match your interests on our website — so pick the perfect apartment and start planning a trip to Paris before the summer days are gone!