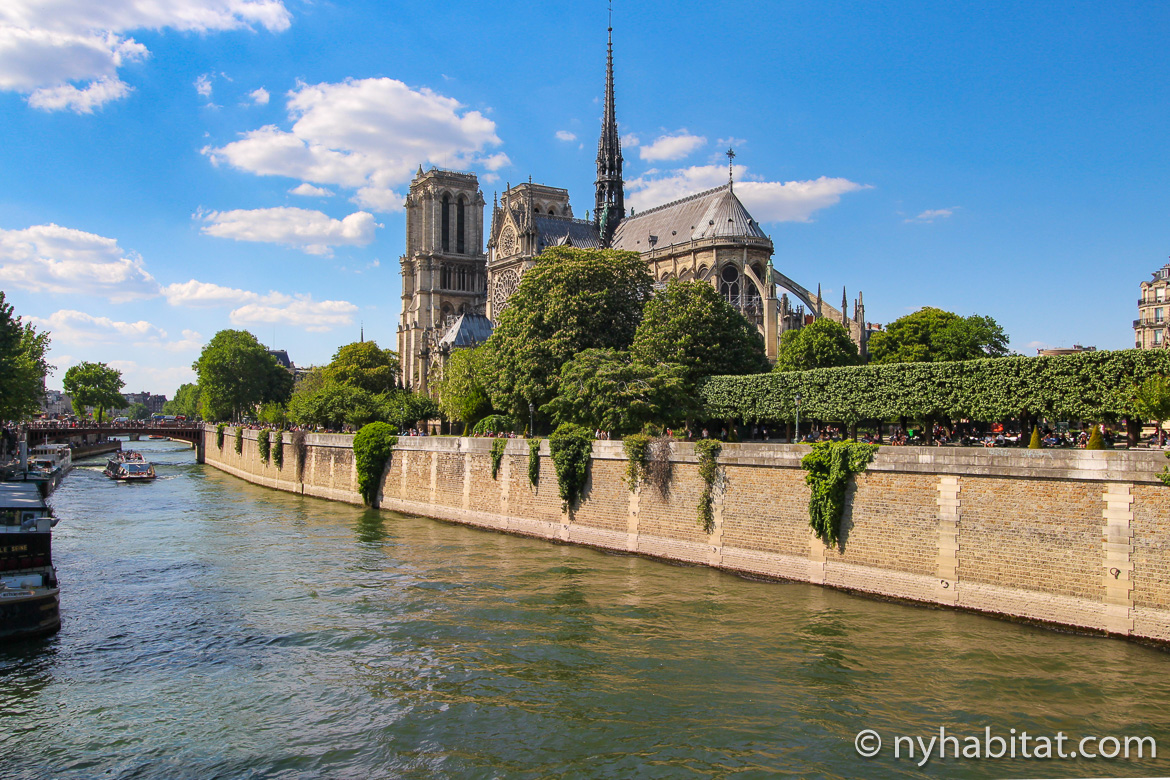 Paris comes alive in the summer with its lush greenery and scenic waterways
As spring turns into summer in Paris, the city comes alive with endless things to do! Known for being a birthplace of art, music, fashion, and of course delicious French cuisine, Paris offers endless chances to mingle with the locals and experience the city's culture in the summertime. Combined with a number of easy and fun day trips that you can take from Paris, the possibilities for summer fun are boundless. If you're not already dreaming of your next Paris vacation, read on for our full guide and imagine yourself living like a local this summer in the City of Lights.
Soak Up Some Sun at Paris Plages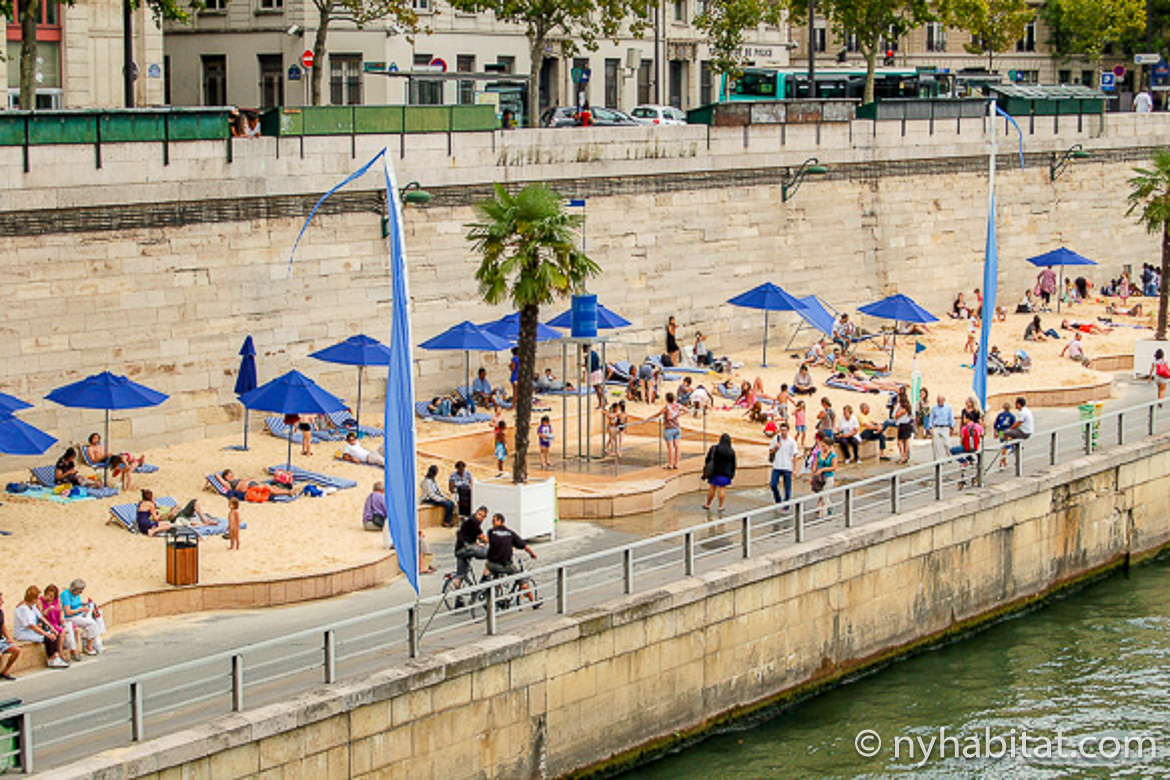 Go down to the seaside without leaving the heart of Paris at Paris Plages!
One of our favorite hidden gems and perhaps one of the most unique city-wide tributes to summer is Paris Plages (Paris Beaches for our English speakers). During the months of July and August, the banks of the River Seine and La Villette Canal Basin are transformed into sandy beaches, complete with umbrellas, palm trees and lounge chairs, providing a free space for Parisians to relax and enjoy the warm weather (without traveling all the way to the French Riviera!). You can even go for a swim in the river at select times and locations! The attraction returns for its 16th summer in 2018.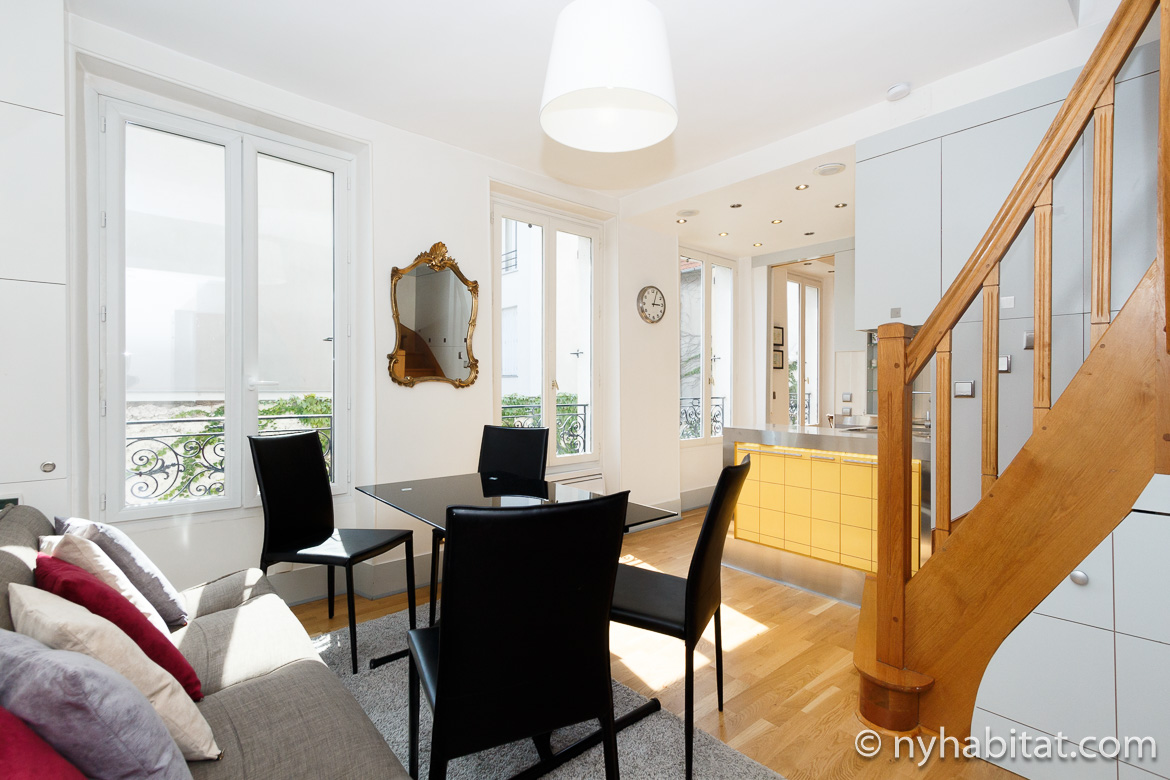 The open space and bright colors in this apartment rental are a cheery partner to a day on the banks of the Seine.
At the end of a day at Paris Plages, come home to this 3-bedroom duplex rental. The bright, summery color palette and south-facing windows ensure that this apartment will let you maximize your sunny days in Paris. The rental also features 2 full bathrooms with plenty of space for washing up before dinner at one of Paris's many wonderful restaurants. Or stay home and prepare a hearty French meal in this apartment's full modern kitchen! The location of this apartment in the 19th Arrondissement also puts you close to La Villette Canal Basin, so visiting the "beach" there is a breeze!
Dine at La Felicitá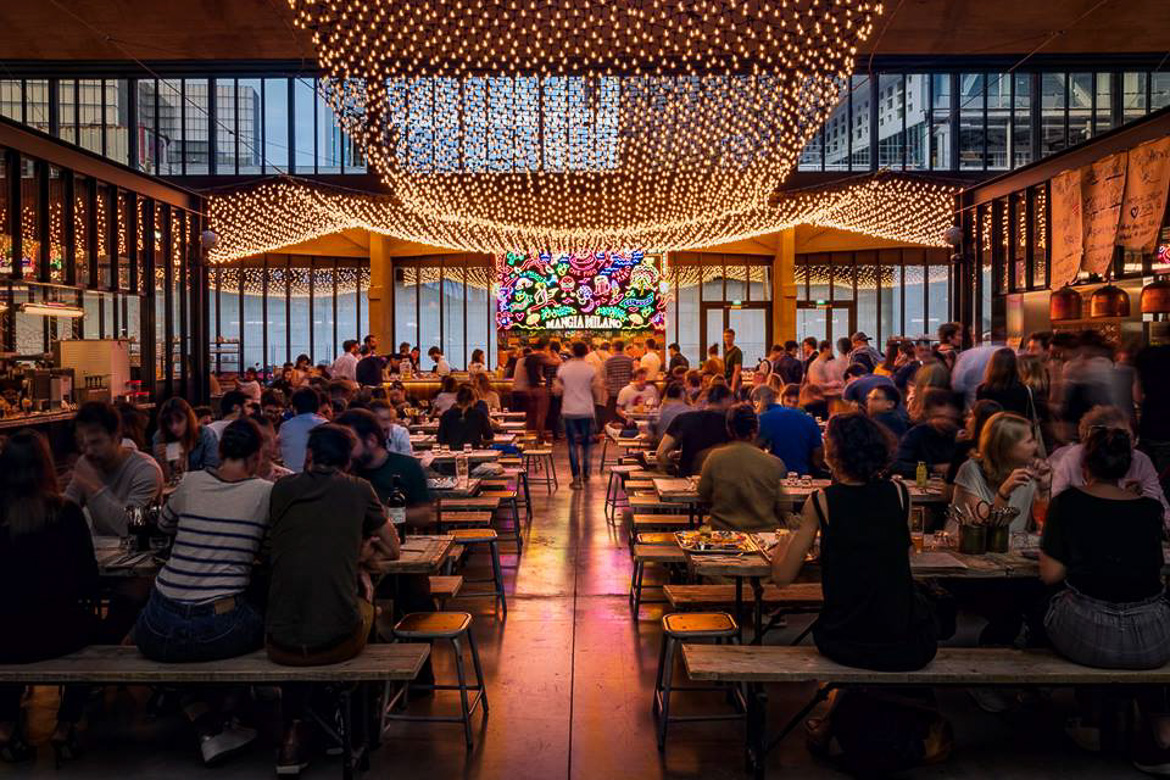 Restaurant La Felicitá is the trendiest place in Paris for a summer meal. (Photo credit: Jérome Galland)
Those who are truly in the know about what's hot in Paris this summer will tell you all about a brand new eatery called Restaurant La Felicitá in Xavier Niel's Station F. Housed within a 48,000 square foot (4,400 square meter) industrial space, this foodie hotspot is so much more than a restaurant. The food hall features plenty of funky American-style cuisine, pizza, BBQ, espresso, craft beer and more, all in an atmospheric space thanks to the trees and string lights that deck it out.
Summer on the Canal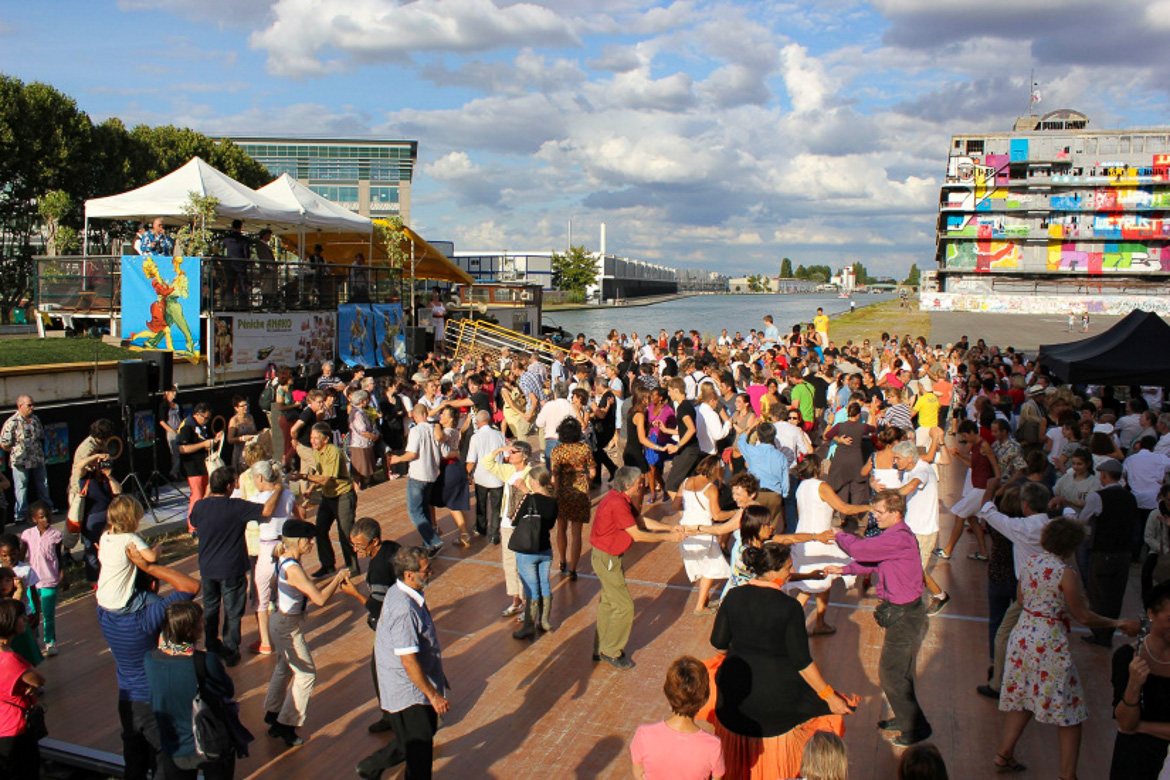 Pop-up balls are just one type of awesome activity at Été du Canal this summer!
Regardless of your reason for visiting Paris, travelers of all types will enjoy the activities offered at this year's Été du Canal festival on the banks of the Canal de l'Ourcq. The festival offers everything ranging from concerts and dancing to street art exhibitions and open air cinema. You can also just stroll along the banks of the canal or enjoy the water shuttle rides to and from the heart of Paris. The full schedule of festival activities begins July 7 and is a great way to experience summer in Paris for the whole family.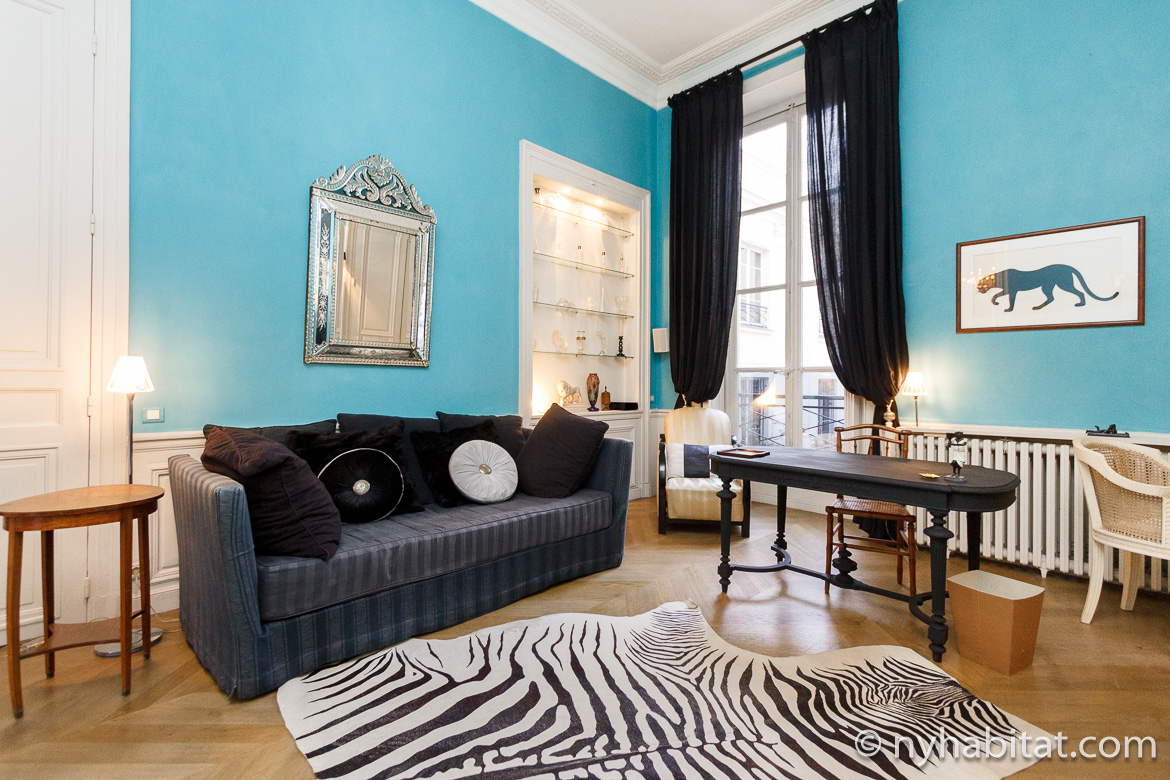 Live in artistic Parisian luxury in this funky and stylish vacation rental
Enjoy the long days of summer in Paris from this 4-bedroom furnished apartment in the 10th Arrondissement. The apartment is filled with large windows, including the living room windows, which feature panoramic views of the garden and terrace. Not only is this apartment beautiful and luxurious, but it's also conducive to a longer stay as you can enjoy the opportunity to prepare meals in the full kitchen with a dishwasher. The living room has plenty of seating, perfect for gathering at the end of the day, whether it's with friends or family. Plus, proximity to Canal Saint Martin means you'll be connected to Paris's beautiful waterways all summer long.
Celebrate Another Side of French Culture With the Carnaval Tropical de Paris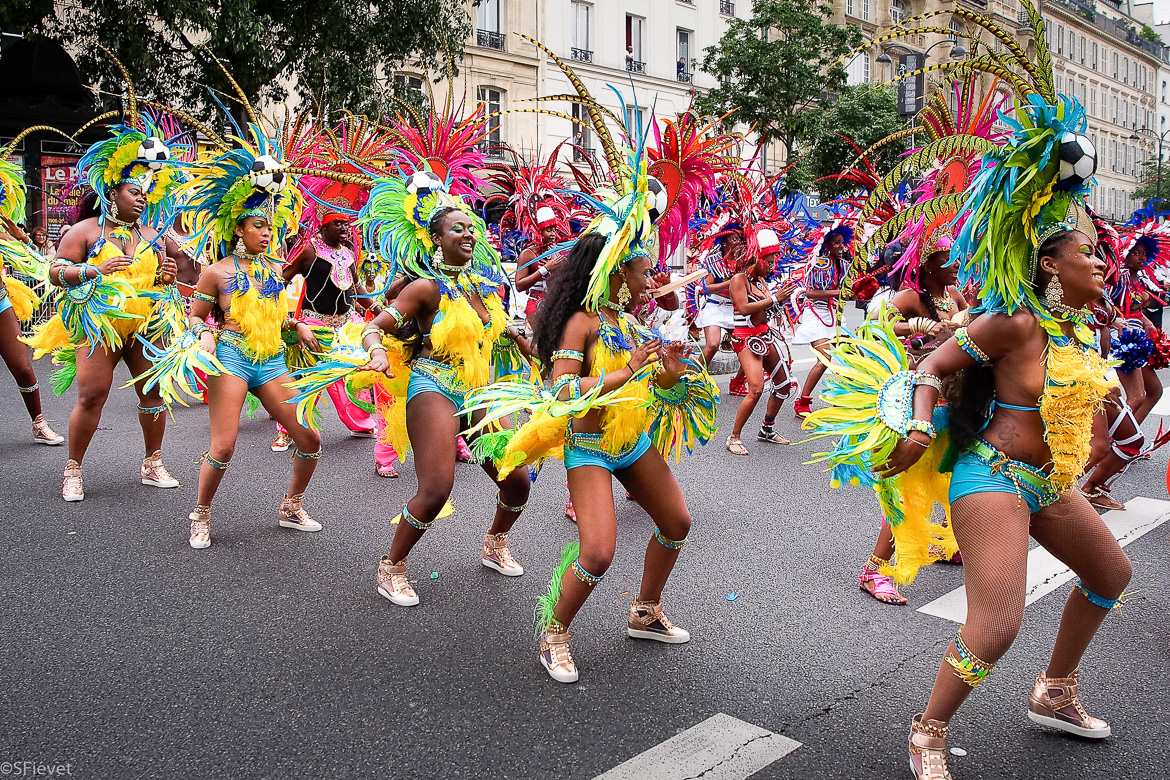 Celebrate France's rich cultural heritage in an explosion of color at Carnaval Tropical (Photo credit: Stéphane Fiévet)
On July 1, the Champs-Elysées will explode with the energy and bright colors of a host of Caribbean nations as the city celebrates Carnaval Tropical de Paris. This parade through the city showcases the music, dance and traditional costumes of people from the Antilles. Enjoy the spectacle of sight and sound as dance groups from all over the world and more than a dozen floats parade down Avenue Champs-Elysées, showing off their moves to traditional music. You can also sample Caribbean food from food trucks along the parade route!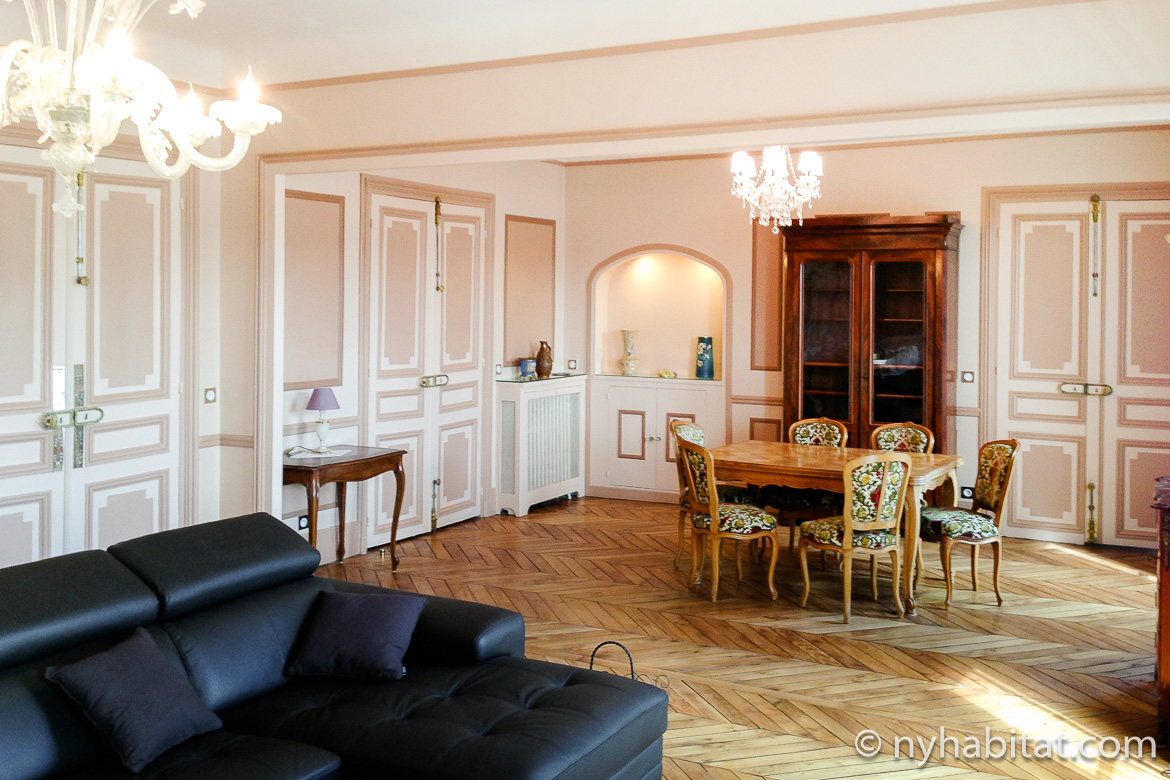 Stay in an apartment with character and class as you explore Paris
If you come to Paris in search of some unique French flair, you'll love this 3-bedroom rental in Gare Saint Lazare. This apartment features beautiful French architectural features like expressive molding on the walls and ceilings, parquet floors, graceful chandeliers, and wall sconces in every bedroom. The apartment is furnished with handsome antique-style wood and leather furniture, and floor-to-ceiling windows in the living room keep it cool in the summertime. Like the contrast of bright Caribbean culture with traditional Haussmannian architecture in the parade? You'll love the bright pops of color in this apartment's bedrooms. Best of all, its location puts you extremely close to Champs-Elysées and the center of the action, including excellent shopping– perfect for when the Paris Summer Sales roll around!
Skip the Lines at the Louvre
If it's your first time in Paris, the Louvre and The Eiffel Tower are probably high on your destination list. While summer is a peak travel time to these popular places, there are also best-kept secrets that allow you to visit without waiting in line! During the summer, the Eiffel Tower offers special tour packages allowing those who purchase early a chance to skip the lines up to the observation deck. In addition, the Louvre offers special evening tour packages with wine tastings for those ages 18 and up.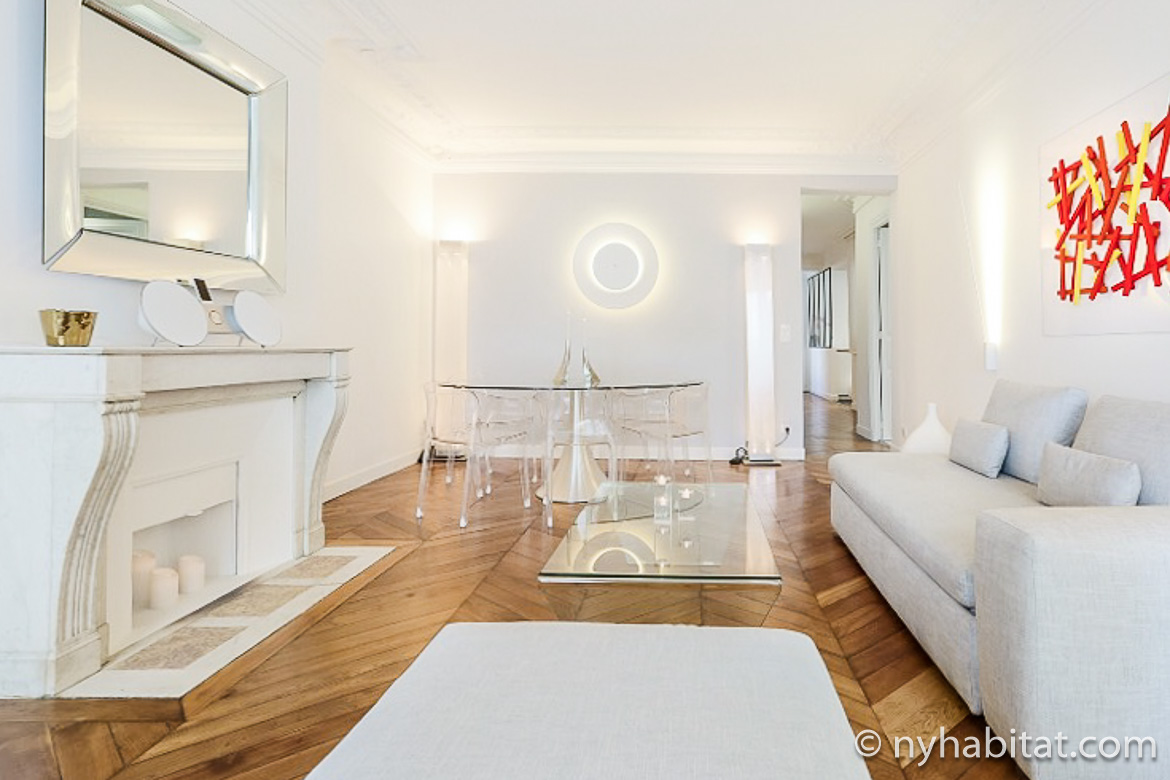 The monochromatic color scheme and futuristic lighting in this apartment were made for those with a creative eye
If you came to Paris for art, you'll love the contemporary style of this 2-bedroom apartment in the 1st Arrondissement. The sleek, graphic style of this apartment's lighting and furniture will make you feel like you're right at home in your own personal art gallery. The space has chrome details in the bathrooms and kitchen, a mounted flat-screen TV and two bedrooms with double-sized beds ensuring an equal mix of comfort and style while you live in close proximity to both the Louvre and Notre Dame Cathedral.
See France in Full Bloom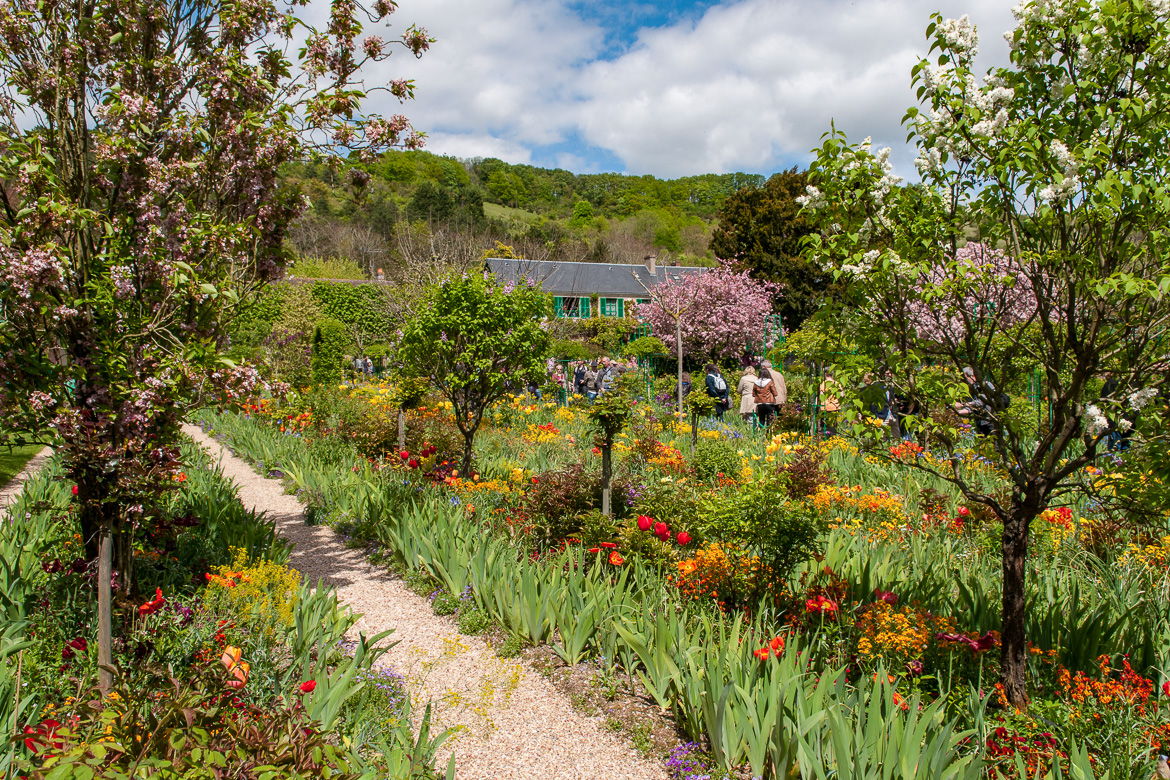 See the beautiful gardens that inspired Monet at his home in Giverny
In Paris, there are no shortage of chances to see the more natural side of summertime's beauty in any of the city's fabulous parks, but if you're looking to really get in touch with the country, consider taking a day trip out of Paris to Claude Monet's former home in Giverny, France. The site is famed for its beautiful gardens as well as tours of his home and studio. Giverny is just over an hour's drive from the heart of Paris, and touring the village is a wonderful way to spend a peaceful, sunny summer day!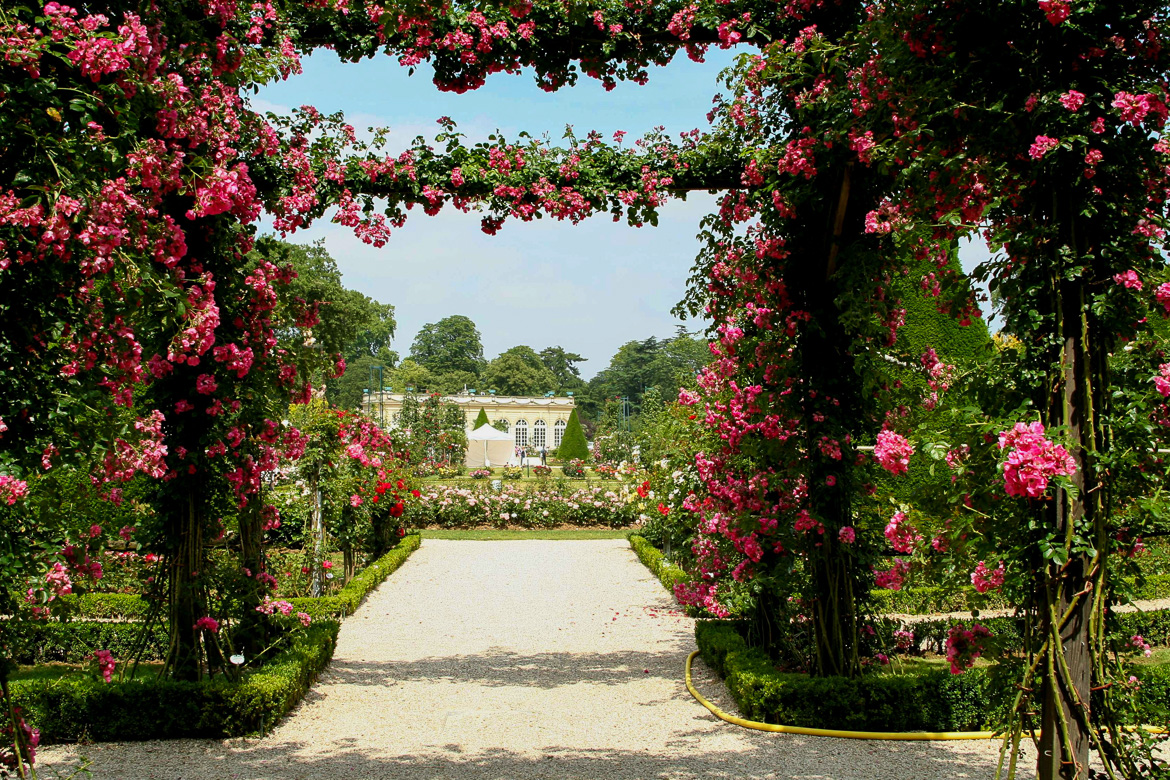 Parc de Bagatelle is world-famous for its beautiful summer roses!
Another way to see the beauty of France's botanicals is at Jardins et Parc de Bagatelle in the 16th Arrondissement. The park is known for its exquisite rose garden, and if you happen to be traveling to Paris in June, you can visit during the annual Concours international de roses nouvelles, an internationally-recognized rose contest held this year on June 21.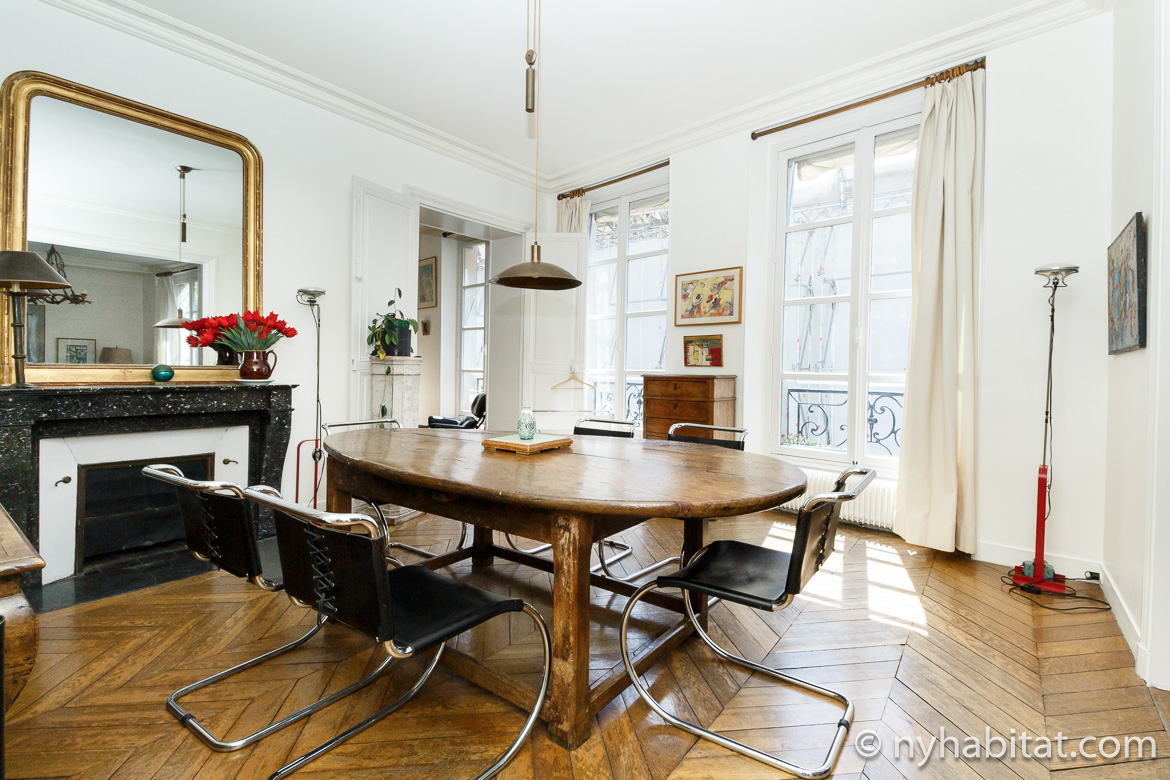 Romance and classic beauty are in the air in this 2-bedroom apartment
You can further immerse yourself in the romance of Paris after a day in Bagatelle in this 2-bedroom apartment in the district of Invalides. This classically French apartment features touches of grandeur like a decorative fireplace, gilded mirrors, chandeliers, and a large selection of artwork on the walls. There's even a grand piano in the living room for entertaining guests or just that special someone. Finally, you'll never forget where you are in this apartment, as some of its windows offer views of the Eiffel Tower!
If you come to Paris looking for culture, history, relaxation, art or cuisine, you'll find it all and more this summer. With special opportunities to see the sights, eat outside, or enjoy free activities hosted by the city, and do it all while living in your perfect furnished rental, what better time is there to visit Paris?