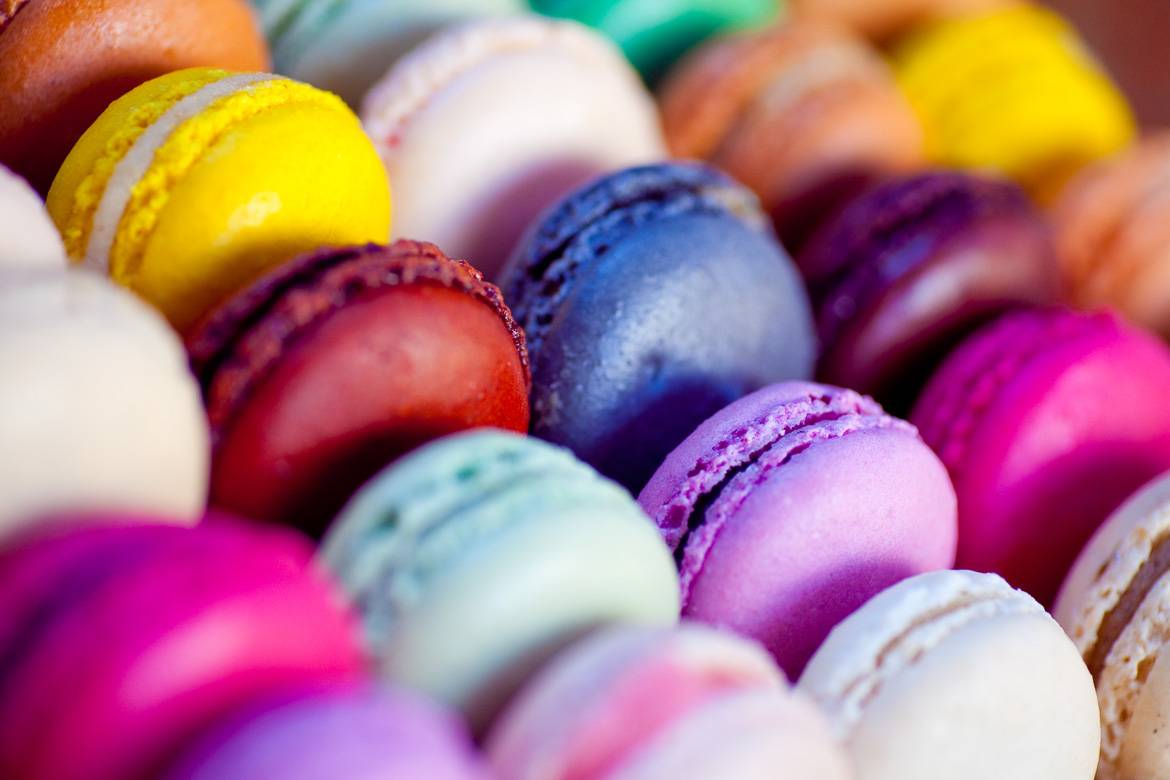 Colorful French Macarons
Macarons, croissants and chocolate éclairs: if you have a sweet tooth, Paris is definitely the right place for you! The city features hundreds – maybe even thousands – of wonderful pastry shops. These pâtisseries offer the most exquisite selections of tarts, cakes, pastries and more. It's important to know the difference between a bakery and a pastry shop: while bakers in bakeries only make bread, pastry chefs in pastry shops specialize in pastries and sweets. You'll find that most pastry shops in Paris have certain areas of expertise, and are often known for a specific type of pastry. It's not uncommon for Parisians to visit one pastry shop to get a box of macarons, and then travel across the city to buy their éclairs at another place!
In this article, we'll give you our top 10 pastry shops in Paris. Keep in mind the list is not definitive as there are so many amazing pâtisseries in town. However, all the shops listed here do have one or more specialties that really make them stand out. The following are some of our absolute favorites in the city of Paris. Enjoy!
1. Pierre Hermé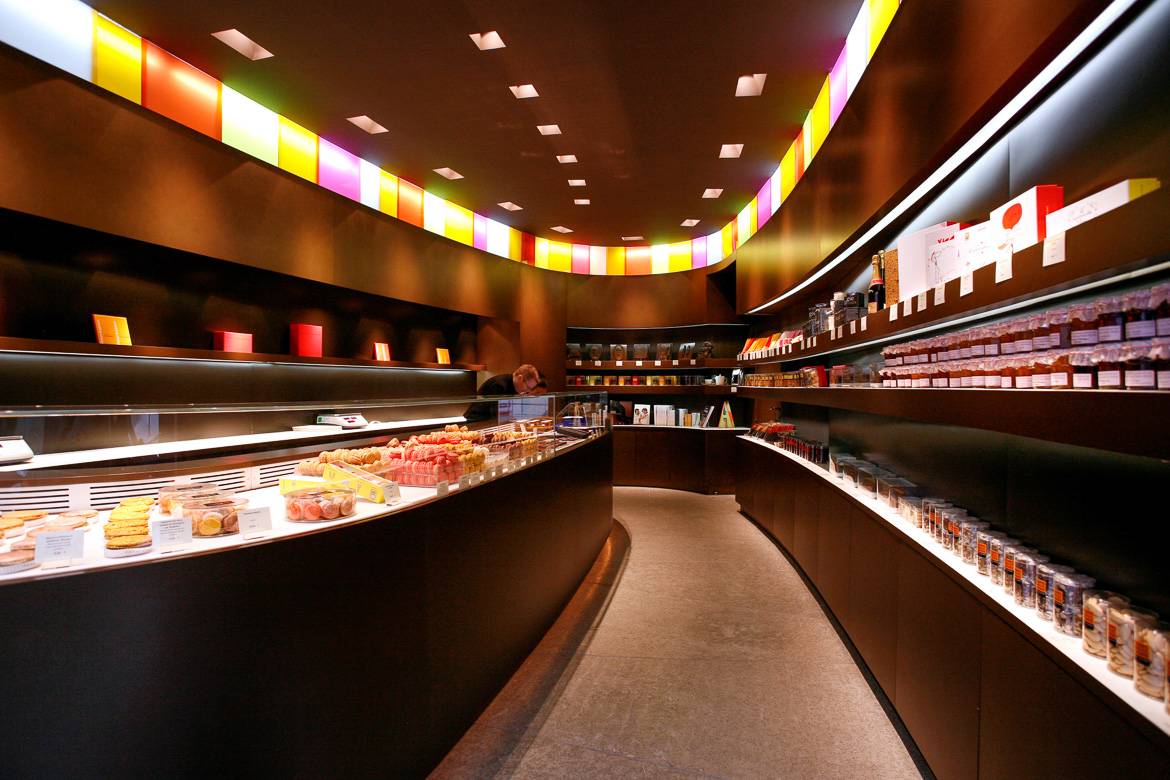 The Parisian pastry shop Pierre Hermé is famous for its delicious macarons
Pierre Hermé is the perfect first pastry shop to try in Paris. It's got two very French and very delicious specialties that you just have to try during a visit to the city: the macaron and the croissant Ispahan. Pierre Hermé became famous for his delicious macarons: sweet meringues with crunchy outsides and delectable creamy fillings. Try the pistachio, violet, or chocolate. The croissant Ispahan has a topping of rose and glaze, which adds just a pinch of inventiveness to the traditional pastry. Pierre Hermé was once called the 'Picasso of pastry', and it's easy to see why! There are several locations of the brand in Paris, but the best known is probably the Rue Bonaparte flagship store in Saint-Germain-des-Prés. This store often has a line out the door, but the pastries are definitely worth standing in line for!
2. La Pâtisserie des Rêves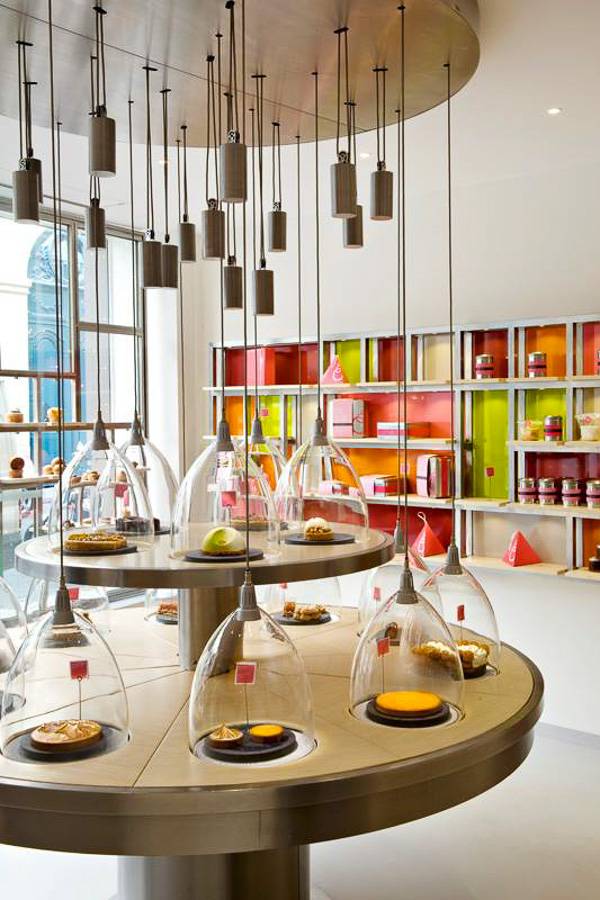 La Pâtisserie des Rêves in Paris treats its pastries like works of art
In this pastry shop on Rue de Bac in the 7th Arrondissement, pastries are treated like works of art. The innovative pastries give a modern twist to old classics. It is said the store makes the best Paris-Brest in town. Paris-Brest is a French dessert with pastry and cream, and the La Pâtisserie des Rêves version is indeed divine. The store is also famous for its chocolate éclairs: they aren't just glazed with chocolate, but actually rolled in it! Prepare for a taste explosion. The store also boasts some luxury deserts and cakes, which are perfect for a special occasion. The shop has two more locations in Paris one the Rue de Longchamp in the 16th Arrondissement, and one inside the brand-new mall Beaugrenelle on the Rue Linois in the 15th Arrondissement. This last one also provides a great opportunity to visit a pastry shop during a day of shopping! Check out our top 5 shopping spots in Paris for more great places to shop in the city.
3. Gérard Mulot
This wonderful pastry shop has several locations, but the most popular of these is the shop on the Rue de Seine in Saint-Germain-des-Prés. Gérard Mulot offers a delicious selection of both sweet and savory foods, and is a true magician when it comes to fruit tarts. There are so many to choose from, and all equally delicious, but some of our favorites include the citron meringue tart and the pear fig tart. The great thing about the location on Rue de Seine is that it's a mere block away from the Luxembourg Gardens, so you can enjoy your pastries in the sunshine in the park!
For more information about Gérard Mulot and other typical French delicacies, check out Best Snacks in Paris!
4. Café Pouchkine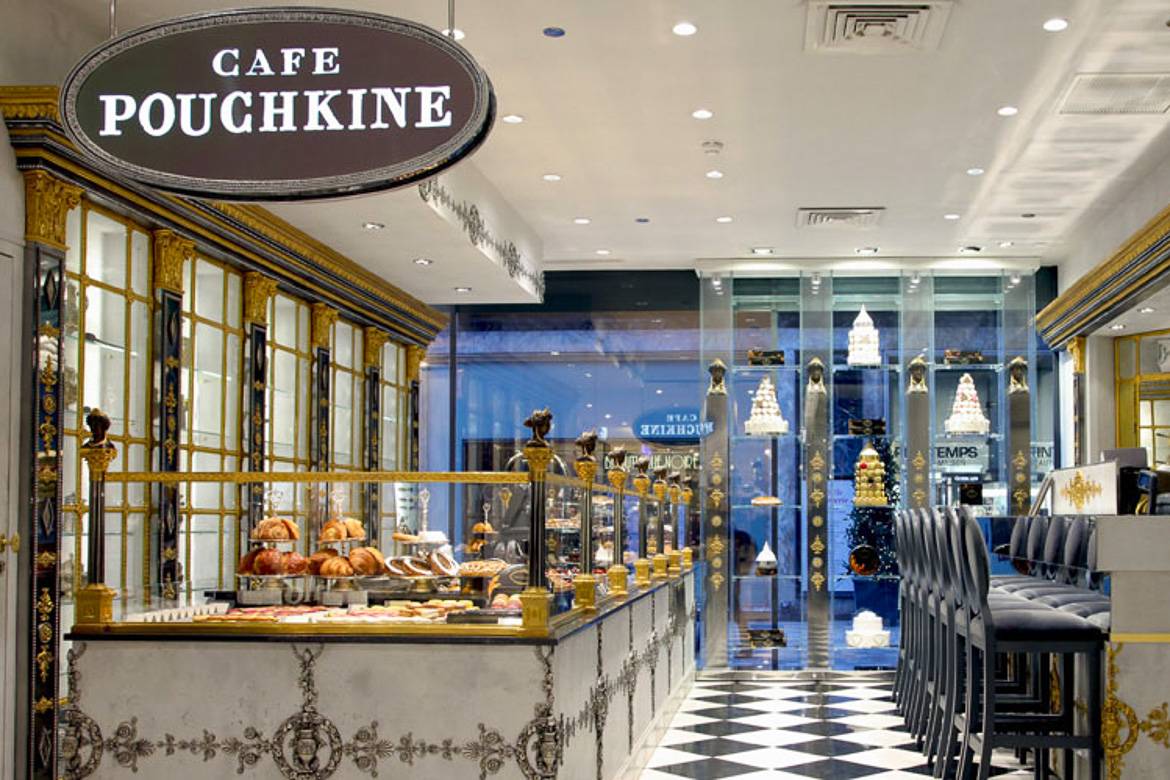 The beautiful Russian décor of pastry shop Café Pouchkine in Paris
Café Pouchkine on the Boulevard Haussmann (inside the Printemps Department Store) in the 9th Arrondissement offers a wonderful fusion of French and Russian pastries. Emmanuel Ryon is the celebrated head chef of the shop, and his French/Russian creations are something to see. The Napoleon, which is also known as mille-feuille, and is made up of layers of puff pastry and pastry cream, is absolutely exquisite. The selection of Russian pastries is also very varied, and gives you the chance to taste something different.
5. Angelina
This pastry shop/tearoom on Rue de Rivoli has become something of a staple in the 1st Arrondissement. It's a very popular place for breakfast and lunch, but is best known for its Mont Blanc cake and its hot chocolate. The Mont Blanc cake is a wonderful combination of meringue, whipped cream and chestnut cream. It's difficult to write a review that does it justice, so you simply must try it yourself! Angelina's hot chocolate is pretty much the epitome of what hot chocolate should be: rich, chocolaty, and served with fluffy whipped cream. A carafe of hot chocolate at Angelina's isn't cheap, but it's definitely worth it if you're a lover of chocolate!
6. Jean Paul Hévin
When you're talking about chocolate, you simply can't leave out Jean Paul Hévin. His shop on the Rue Saint Honoré just two blocks from Angelina is a true heaven for chocolate lovers. Most of the pastries center on chocolate, and are also pure works of art. Beware of the selection of chocolates and truffles; you might just be tempted to spend all your money at once! Jean Paul Hévin also makes a delicious hot chocolate with great value for your money. There are three other locations of the store in Paris that are all also quite worth a visit.
7. Sadaharu Aoki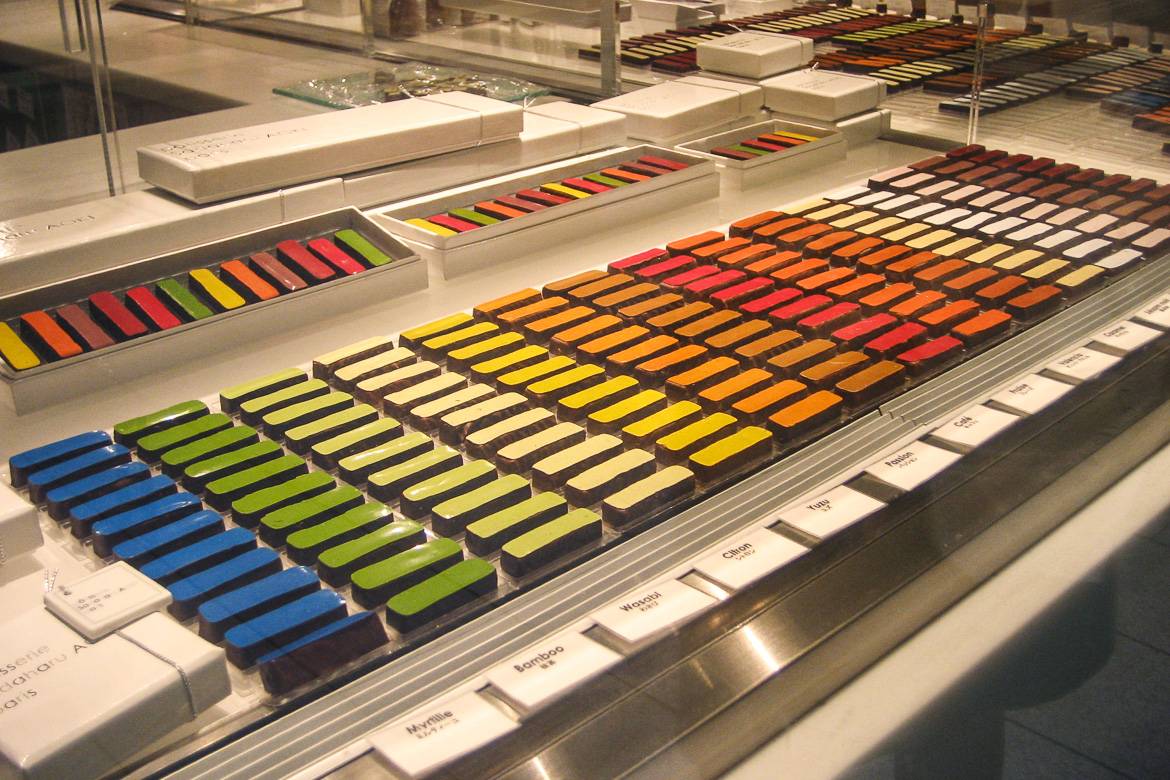 A selection of modern éclairs at the pastry shop Sadaharu Aoki in Paris. Photo: Teruhiro Kataoka
This stylish shop on Rue de Vaugirard (one of several locations in the city) is easy to miss, as the 6th Arrondissement storefront is so small. It's worth the search though! This great pastry shop offers a fusion of French and Japanese delicacies, which results in wonderful concoctions such as matcha (fine green tea) and black sesame macarons. There are also several other exotic flavors to try, such as the delicious salted caramel tart! This store is also located close to the Luxembourg Gardens, so take your treats for a picnic in the park and wow the passersby!
8. La Bague de Kenza
La Bague de Kenza also has several locations in Paris, but the flagship store is located on Rue St Maur in the 11th Arrondissement. This Algerian pastry shop mixes French flavors with Middle-Eastern ingredients, and offers delicacies such as baklava dripping with honey and delectable oriental pastries. This is definitely a good place to try exotic delicacies: it doesn't matter one bit that you might not know the name of everything. You can choose to purchase the sweets in the store, or you can go to the teashop next door and order a nice pot of mint tea to accompany the sweets.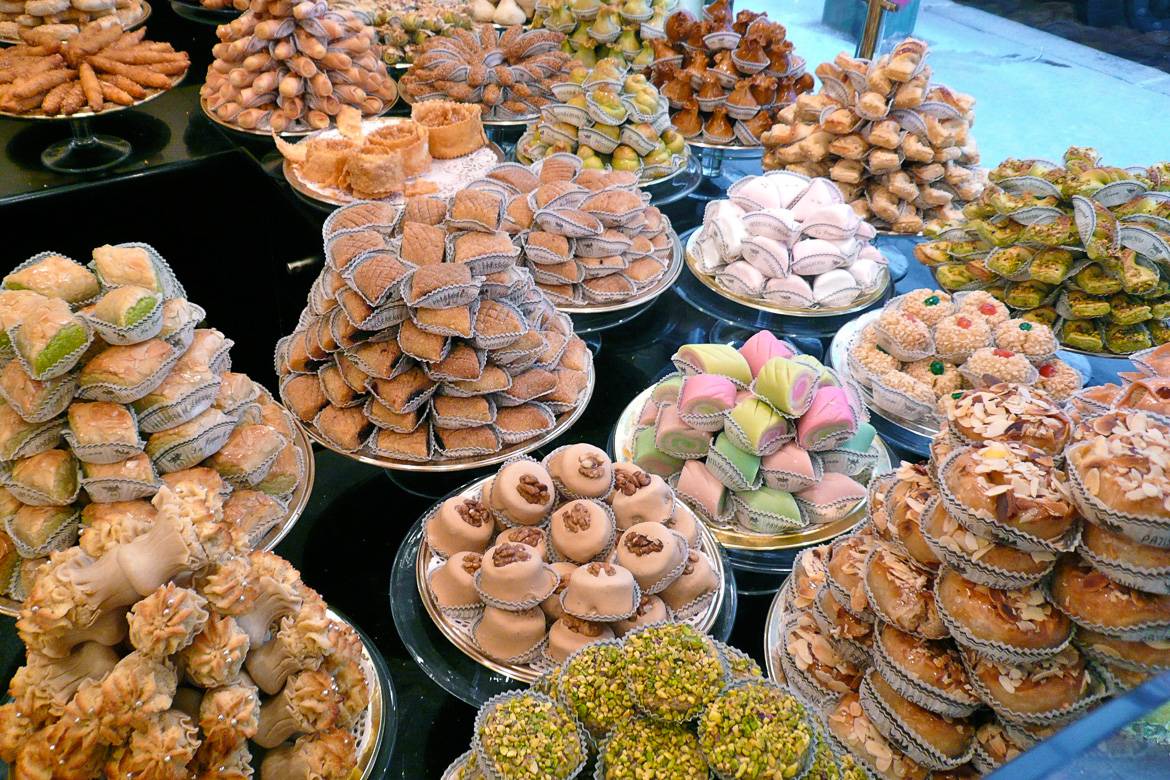 Delicious Algerian pastries at the Parisian pastry shop La Bague de Kenza. Photo: Jason Whittaker
Another option is to take the pastries home and enjoy them in your own vacation rental apartment in Paris! These apartments come with fully equipped kitchens, so you'll have everything you need to make a pot of mint tea and enjoy the sweets in the comfort of your own home away from home! These apartments are also great if you want to stay in a central location in the city, so you'll be able to find all your favorite pastry shops in no time. We have a wide choice of apartments in different locations, so you can choose an apartment near the pastry shop of your preference and enjoy a delicious fresh croissant every day!
9. Un Dimanche à Paris
This pastry shop on Cour du Commerce Saint André in Odeon is unlike any other on this list, as it comprises two stories and almost half a city block! The store includes a pastry shop, hot-chocolate and chocolate bar, restaurant, and tea salon. Headed by the award-winning pastry chef Quentin Bailly, the pastries of Un Dimanche à Paris will blow your mind. The pistachio and red fruit choux (a kind of pastry) is absolutely divine and the chocolate pastries are simply delicious.
10. Hugo & Victor
The flagship store of Hugo & Victor on the Boulevard Raspail in the 7th Arrondissement almost looks more like a jewelry store than a pastry shop. The pastries are displayed like works of art, which indeed they are. Hugo & Victor is big on balancing different flavors, and their collection changes with the seasons. They have some wonderful originally flavored macarons, such as an Earl Grey macaron and a pamplemousse macaron. The different seasonal pastries are all paired with accompanying wines by an internationally recognized sommelier, which is definitely something novel to try!
If you feel like you can't wait until your next visit to Paris to try a delicious French pastry, we have one more bonus Parisian pastry shop for you: Ladurée. This famous Parisian pastry shop now has stores all over the world in big cities and airports. If you simply must have a macaron right this instant, there's a good chance you'll find a Ladurée shop nearby.
We hope you've enjoyed this top 10 of pastry shops in Paris! Of course there are many more amazing pâtisseries in the city that are just waiting to be explored. What's your favorite pastry shop in Paris?
Related apartment rental posts from New York Habitat: