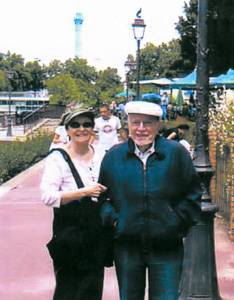 Mr. Jacques B. and his wife in Paris
Welcome to the first article of a new series we're developing, featuring interviews with people that have a connection to New York Habitat. From owners of apartments to people renting apartments, these are all people with amazing stories who have a specific connection with one of the cities where we offer apartments.
This first interview is with a man of French and Spanish heritage called Mr. Jacques B. Mr. Jacques B. grew up in Morocco, and used to visit Paris as a child in the 1930s. He returned to Paris when he served in the Free French Forces in the Second World War. Mr. Jacques B. now lives in the U.S. where he is a Professor in French literature, and he still visits Paris almost every year.
Mr. Jacques B.'s unique view of Paris in the 1930s, 1940s and in modern times makes his recommendations about Paris truly one of a kind.
 Could you tell us something about your past in Paris and what it was like in the 1930s and 1940s?
"I used to go to Paris as a child practically every year. My first memories of Paris go back to 1930- can you imagine? I was 7 years old in 1930. I'm going to be 90 years old now. Some memories are quite vivid. I remember going up the Eiffel Tower as a child in 1930. And then, you know, everybody goes to the Eiffel Tower two or three times in a lifetime." Read the entire story here…»