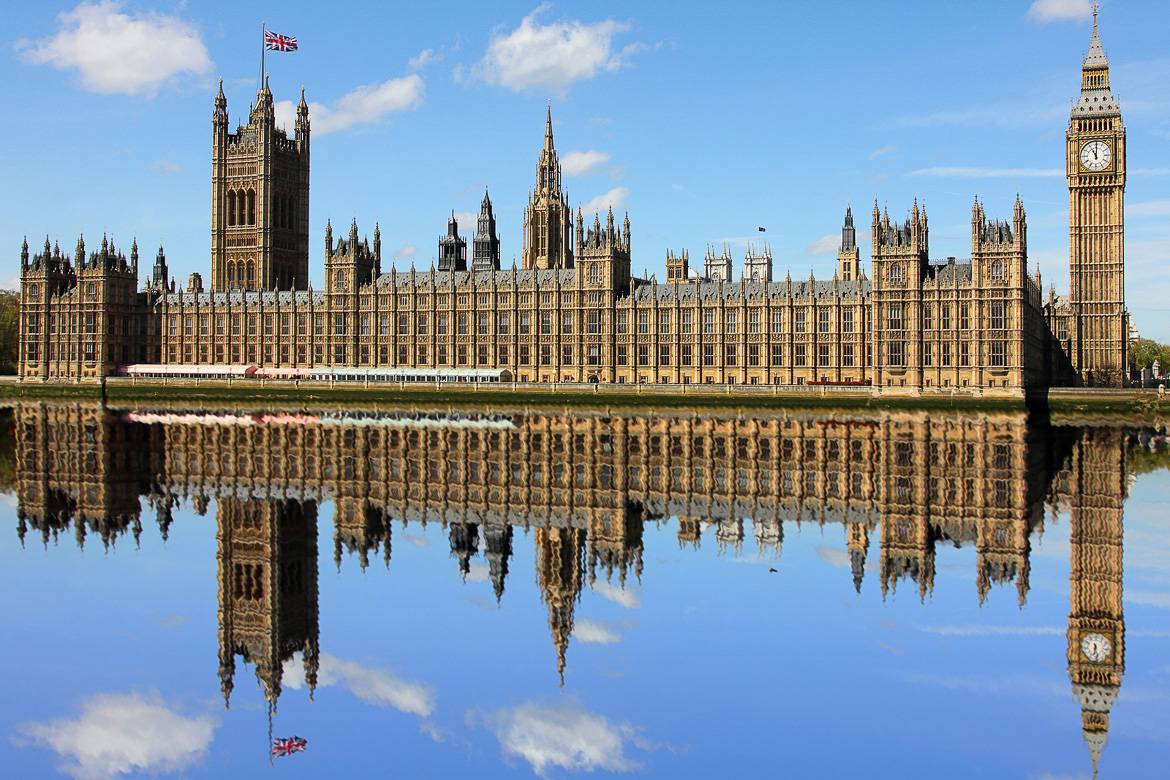 Big Ben and Parliament are iconic images of London
London is a metropolitan wonder and doesn't disappoint during the summertime. For the millions who call this U.K. capital home (and to the many more who visit in the months of June, July, and August), it's a city that celebrates sunny days with style! Here are some of our favorite events and activities to enjoy in the 2015 London sunshine.
See outdoor movies in London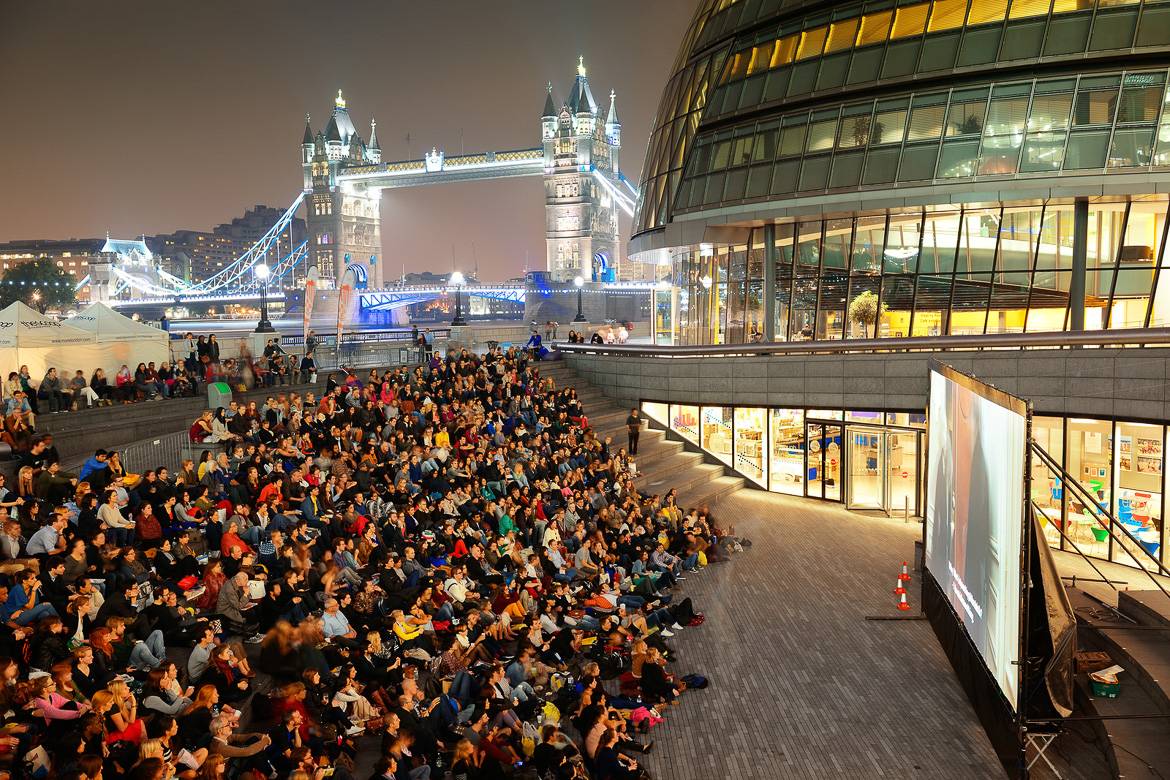 The South Bank is just one place to catch an outdoor movie screening!
Pop-Up Screens: Science fiction lovers are in for a treat during this annual cinema screening series. The series will show Alien, Terminator 2, Apollo 13, Shaun of the Dead, and more beginning May 15. For just £18 (£12 for those in the National Union of Students), you can enjoy these films plus additional commentary discussing their scientific value at Chelsea Old Town Hall.
Film 4 Summer Screen: Under a blanket of stars at the Somerset House courtyard lawn, you can experience one of the most magical nighttime activities in London. A projector on the side of the stately neoclassical building screens a collection of beloved classics, modern masterpieces, and cult favorites. Catch True Romance, Do the Right Thing, and Roman Holiday (with more to be announced soon) beginning August 6.
Kew the Movies: The beautiful greenery of Kew Gardens provides the background scenery for four evenings of movie magic. Families and couples have the opportunity to watch The Grand Budapest Hotel, Back to the Future, Casablanca, and Mamma Mia! this year. Ticket prices are £16.50 for adults, £13.50 for children, and £45 for families. Mark your calendars for the screening dates on July 22, July 23, September 3, and September 4.
Rooftop Film Club: The top of the Bussey Building in Peckham lets you see a gorgeous panorama of London. Throughout the month of May, it also serves another function: the setting for movie screenings of beloved films new and old. £14 is all you'll have to pay for a spot to watch Dirty Dancing, Cinema Paradiso, Some Like it Hot, The Silence of the Lambs, The Breakfast Club, and many more! Headphones are provided to enhance the experience, and you can get discounts on sweets and snacks by signing up for the £32 membership. Leave the kids at home for this one; every screening is for ages 18 years old and over.
Enjoy a cultural summer in London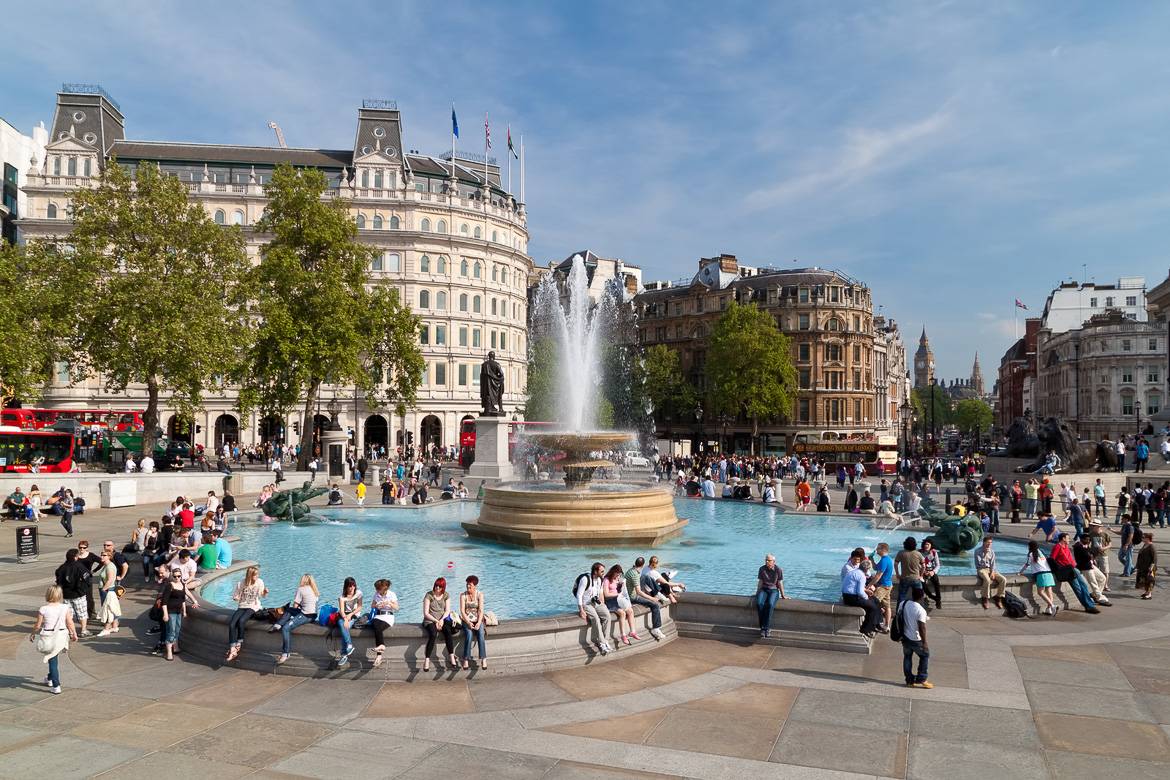 Lions and fountains and museums, oh my! Find it all at Trafalgar Square
Music Festivals
West End Live: During the weekend of June 20, Trafalgar Square will transform into a bonafide concert venue. Thousands will swarm into the public space to celebrate music and the arts free of charge. While the lineup for 2015 has not yet been announced, last year's West End Live included performances from The Royal Opera House Chorus and some of London's most popular musicals. Expect a similar assembly of theatre and orchestral acts (along with bands and quirky performers) this summer. Space is limited, so get there as early as possible! While you're in the district, explore the rest of the West End.
BBC Proms: Royal Albert Hall once again becomes the centerpiece of this most beloved annual two-month-long musical event. For as low as £6 and up to £95, you can enjoy any of the event's over 70 concerts, which range from performances of classical masters such as Ravel and Strauss to big band/swing tunes and traditional bhangra music. July 17 will open the festivities with a Mozart piano concerto, while September 12 will feature Shostakovich and Grieg. As this is a popular event meant to generate the public's interest in live musical performance, we encourage you to reserve your tickets now.
Somerset House Summer Series: Swap the projection screen from Film 4 Summer Screen for a stage, and you've got the Somerset House Summer Series! A mix of acts ranging from top hit makers to indie darlings will descend upon the regal landmark for ten days between July 9 and 19. Tickets are approximately £33, but most of the artists have already sold out. Claim your spot before it's too late.
iTunes Music Festival: Throughout the month of September, the Roundhouse opens its doors to dozens of superstars and up-and-comers for the iTunes Music Festival. Free tickets are distributed to a lucky few via lottery to attend this London-based fest. An eclectic mix of artists, such as Kylie Minogue, Tony Bennett, First Aid Kit, Maroon 5, Robert Plant, and deadmau5, appeared last year, so anticipate an equally diverse lineup in 2015.
Wireless Festival: EDM and rap fans will rejoice the return of The Wireless Festival to Finsbury Park. This year's exceptional billing includes Drake, Avicii, Kendrick Lamar, Mary J. Blige, David Guetta, Nicki Minaj, Jessie J, and Grandmaster Flash as just a handful of the performers taking the stage for the exciting June 28 and July 3-5 festival. A three-day pass will cost you £209.50, with single-day tickets available as well.
British Summer Time Festival: Over at Hyde Park, attend the two-weekend British Summer Time extravaganza between June 18 and June 28. Headliners this year include The Strokes, Blur, The Who, and Taylor Swift. Ticket prices depend on the performer and range widely, from roughly £66.90 to well over £200.
Cultural Events
Regent's Park Open Air Theater: Much like New York's Public Theater is in Central Park, London's Open Air Theater is set in the lush green environment of Regent's Park. The amphitheater prides itself on its intimate atmosphere and productions, which include Peter Pan, The Sea Gull, Seven Brides for Seven Brothers, and Lord of the Flies this summer. Here is a guide to our other favorite parks in the city.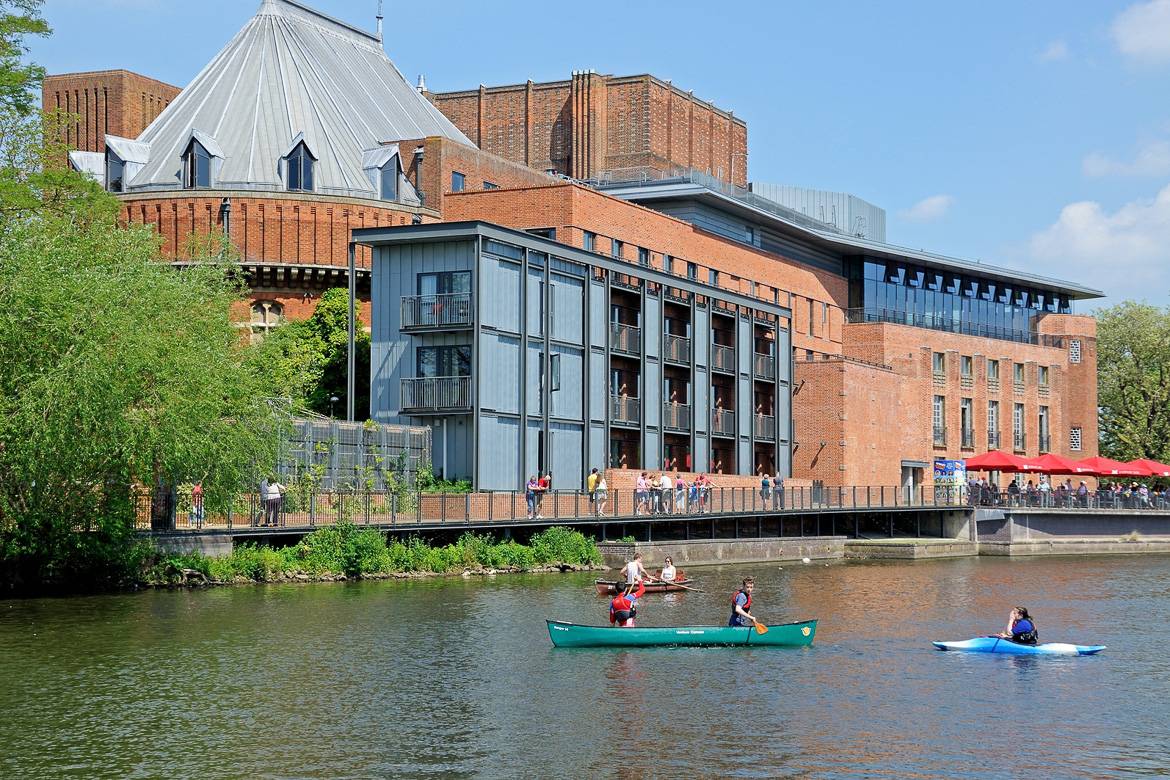 Take advantage of the warmer weather to practice your rowing skills!
Shakespeare's Globe: The original theater was damaged in a fire in 1613, rebuilt, and then demolished in 1644, but this reconstruction is an accurate representation of what Shakespeare would have seen in his time. Today's theater is devoted to educating the public as well as putting on performances of the Bard's works. This summer you can see As You Like It, Measure for Measure, King John, and Richard III live on stage. Check out our other favorite sites in London!
Open Garden Squares: For just £10 (and free for children 12 and under), you can explore the beauty of 200+ gardens across 27 boroughs in just 2 days! It's up to you to choose a walking tour or going solo. It's unlikely you will reach them all between June 13 and June 14, but you can try!
Hampton Court Flower Show: This year's festival is particularly special, as it's the Flower Show's 25th anniversary. You can anticipate a look back at the festival's history through its floral displays. You can also expect the stunning rose displays to make a triumphant return as Hampton Court bursts into full bloom from June 30 thru July 5.
Sporting events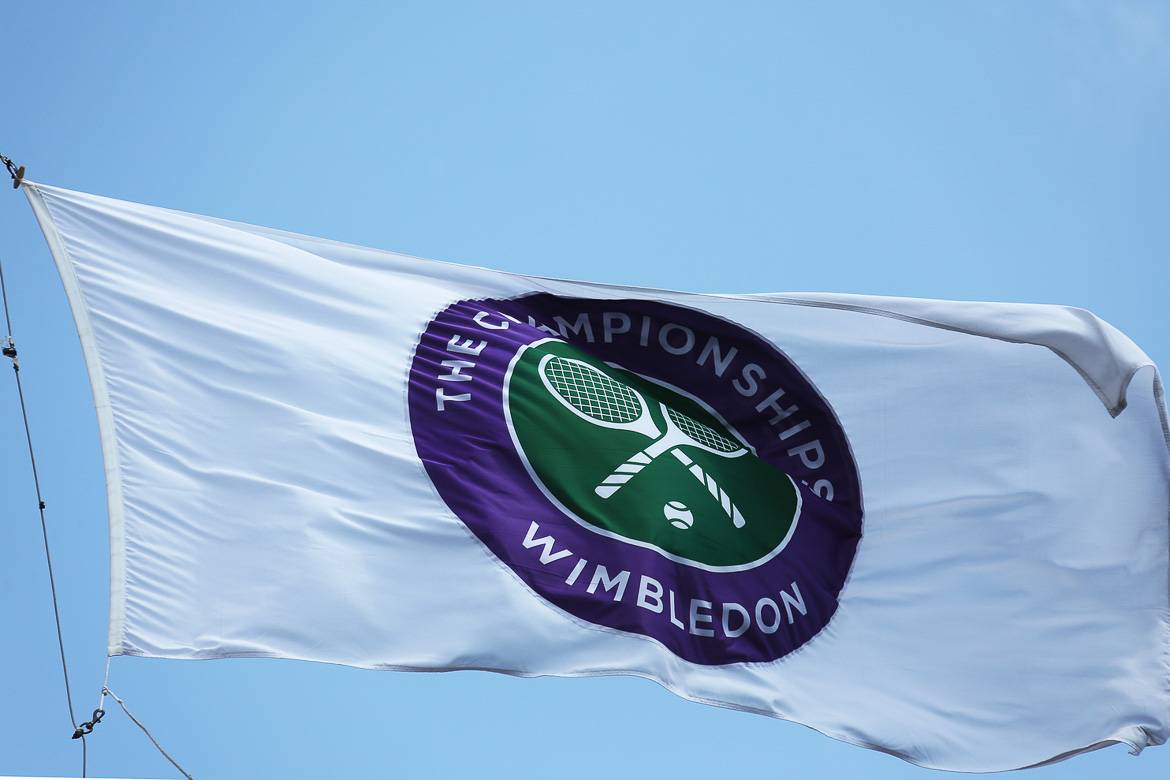 Game, set, match! Tennis's biggest stars will battle for the Wimbledon title once again this summer
Wimbledon: Arguably the world's most famous tennis championship, Wimbledon will take place again this year at the All England Club in the London district of Wimbledon. This nearly 140-year-old institution is the only Grand Slam tennis tournament still held on grass, and has a long-standing connection with the British royal family. If you attend any of the matches between June 29 and July 12, maybe you'll spot a duke or duchess!
Beat the heat in London
It can be hard to relax in a crowded urban space. Thankfully, London has plenty of public pools for a "staycation." Try the Golden Lane Sport & Fitness Center, Tooting Bec Lido, and Hyde Park's Serpentine Lido.
If you're planning a beach trip but would prefer not to stray too far from the city, you're in luck! Southern England has a plethora of great seaside spots, many of which are in East Kent, like Camber Sands, Ramsgate, Margate, Joss Bay, and Botany Bay, which shares its name with Star Trek's sleeper ship.
Don't miss these summer events!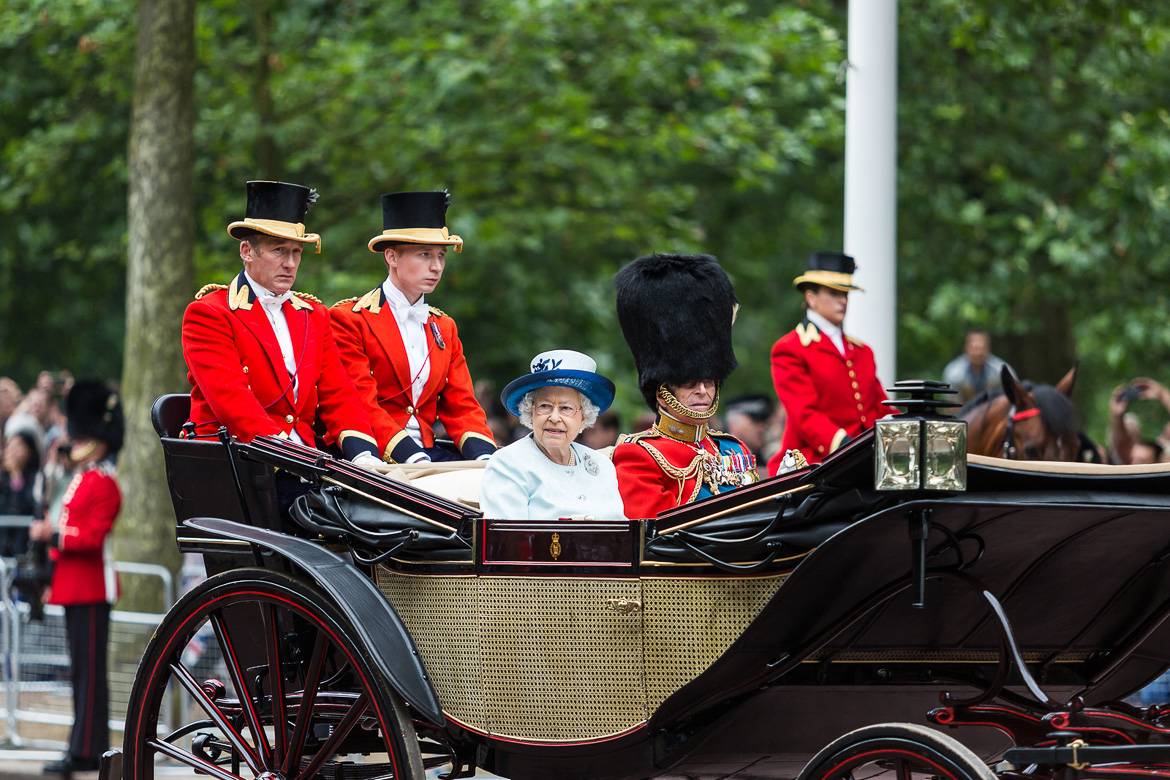 Fit for a queen: London celebrates Elizabeth II's birthday at Trooping the Colour
Trooping the Colour: Though Her Majesty the Queen's birthday is in April, the official celebration is a large-scale pageant on a Saturday in June. Mounted guards, marching bands, and the British royal family all take part in this spectacle of regality and tradition.
Pride London: Expect to see all colors of the rainbow at this annual weeklong celebration where the LGBT+ community takes center stage. The week's largest event, the Pride in London Parade, will be held this year on Saturday, June 27. Different areas of London will participate by organizing their own events throughout the week, ranging from a talent competition to live entertainment in the park.
Kids Week: 'Week' is a bit of a misnomer, as this festival runs from August 1 until the end of August, but in the spirit of the fest, who cares? Adults who purchase a full-price ticket for themselves will receive a free ticket for children 16 and under. Kids Week also sponsors theatre workshops across the city for families. This is a great way to spark your kids' interest in theatre!
The Notting Hill Carnival: In the year of its 51st anniversary, the Notting Hill Carnival honors London's Afro-Caribbean communities with a dazzling display of costumes, music, and dance. Culture junkies will not want to miss this most joyous of street parties on August 30 and August 31. This neighborhood has much more to discover! Want to know the ins and outs of Notting Hill? Our guide can help.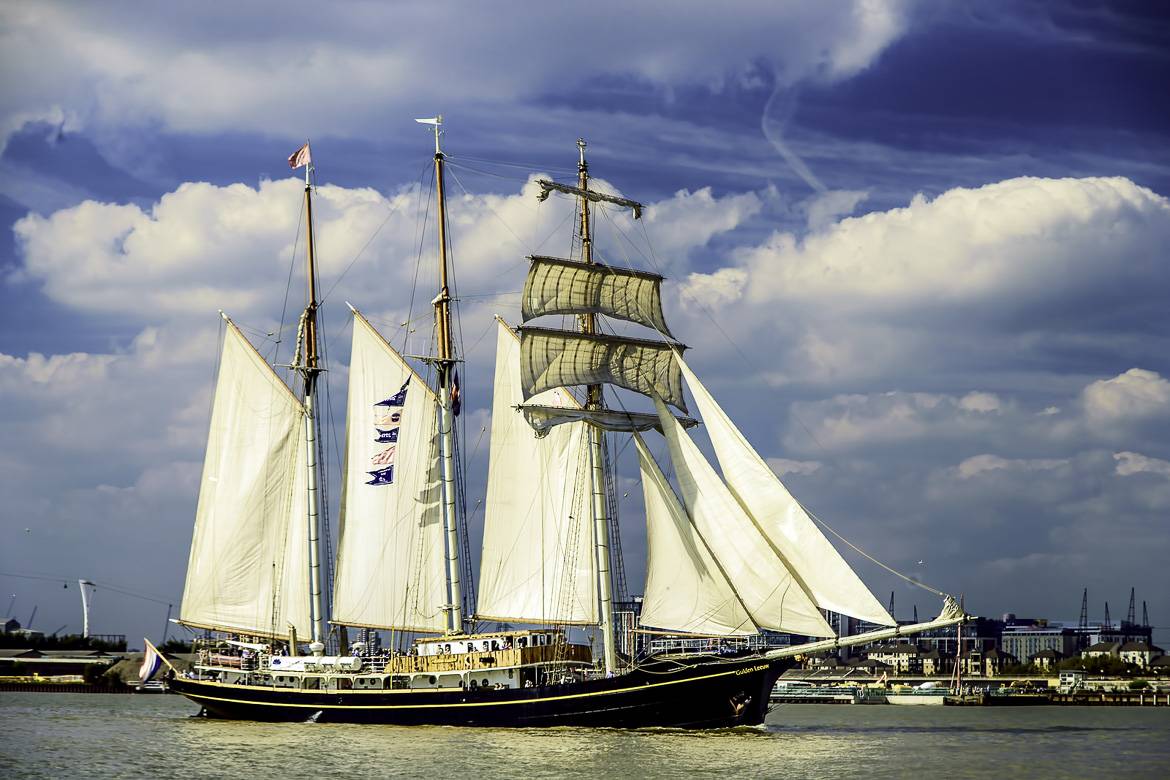 Set sail for the Tall Ships Regatta this August!
Tall Ships Regatta: Sailing fanatics will love the Tall Ships Regatta. This August 26 thru August 31 event marks the opportunity to witness beautiful ships floating along the Thames. Some ships even offer boarding and tours!
Open House London: If seafaring ships aren't satisfactory, Open House London lets you explore the land. Urban planning and architecture are the stars of the festivities as many buildings open up to the public on September 19 and 20. The goal of the event is to increase interest in and activism for well-constructed architecture. It must be working, as the Open House mission has spread to dozens of cities around the world.
Live like a local in London this summer
The best way to enjoy London to its fullest is to spend a lot of time here! At New York Habitat, our mission is to match you with the perfect apartment, whether you are visiting the city for vacation, looking for a more permanent home, or relocating to London for work. No matter the circumstance, we can help.
What are your favorite activities to do in London in the summertime? Check out our favorite events in London throughout the year!