Marseille is the second-largest city in France after Paris, boasting a population of 850,000. Historically, it was the most important trade center in the region and functioned as the main trading port for the French empire. Learn more about the history of Marseille here. This city is currently the largest commercial port in France and the largest city on the southern French Mediterranean coast. Located between Montpellier and Nice, Marseille is also the capital of the Provence-Alpes-Côte d'Azur region. It has a Mediterranean climate with mild, humid winters, and warm-to-hot, mostly dry summers. Marseille has a vast public transportation system involving trams, metro, and buses; all under an easy ticketing system. There is also a very sophisticated bike rental system, which many argue is the best way to see the city. Residents of Marseille are known as Marseillais.
This article is the first of a two-part series featuring Marseille! In the series, you will learn about some of the most popular destinations in town.
Vieux-Port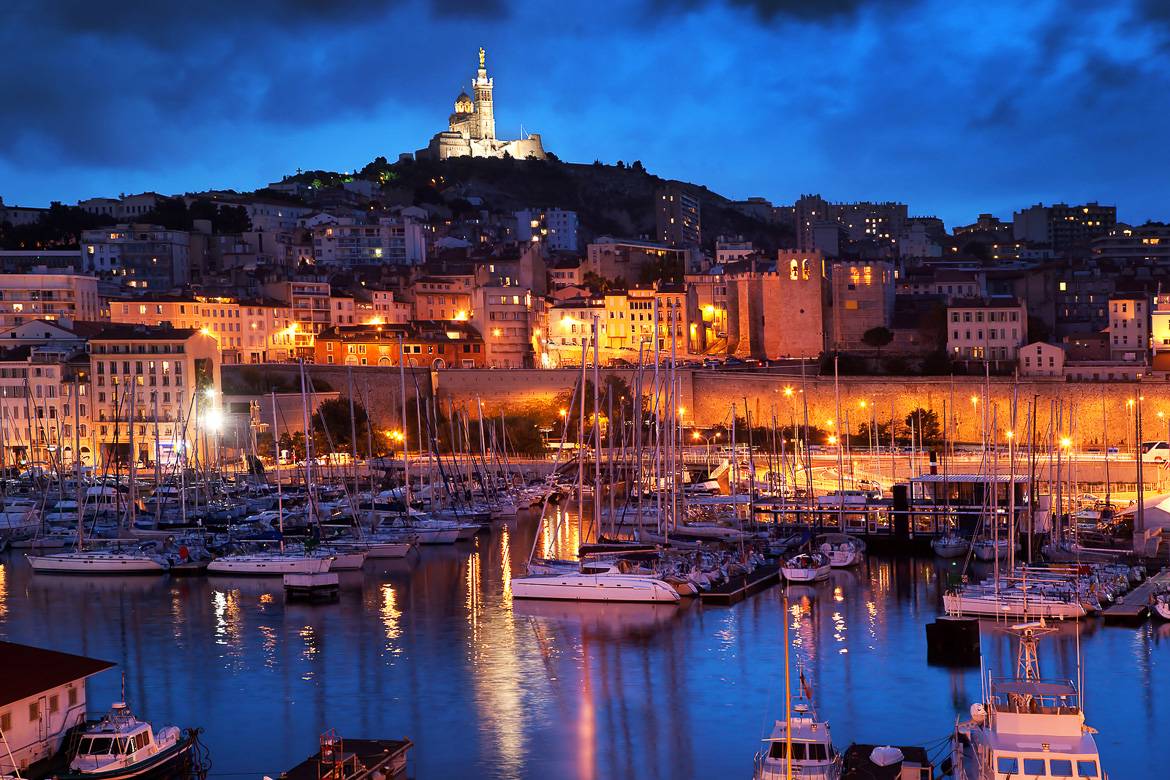 The Notre Dame de la Garde perched atop beautiful Vieux-Port of Marseille at dusk
Vieux-Port ("old port" in English) is the top destination in Marseille for tourists. If you're only in town for a couple days and want to see everything, this is where you should start. It's often cited as the place where civilization began, as it was the site of one of the first Greek settlements in 600 B.C. By 2013, Marseille transformed Vieux-Port into a mainly pedestrian area, making it easier for tourists and locals to experience the old port as it had been in centuries past. The Vieux-Port, as well as the Chateau d'If, was featured in Alexandre Dumas's landmark work The Count of Monte Cristo. In its glory days in 1854, the Old Port had a capacity of between 1,000 and 1,200 ships and welcomed roughly 18,000 ships per year. It lost relevance with the rise in popularity of steamships, as its 6-meter depth was too shallow for the ships to enter. The entire region was devastated by the Nazi incursion in 1943, but in 1948, Fernand Pouillon was charged with reconstructing what you see today.
Nowadays, the Vieux-Port is well-known for its diverse markets and handcrafted souvenirs. For a look at what is essentially the "new port" in Marseille, check out the Grand Port Maritime de Marseille to the northwest.
Museums in Marseille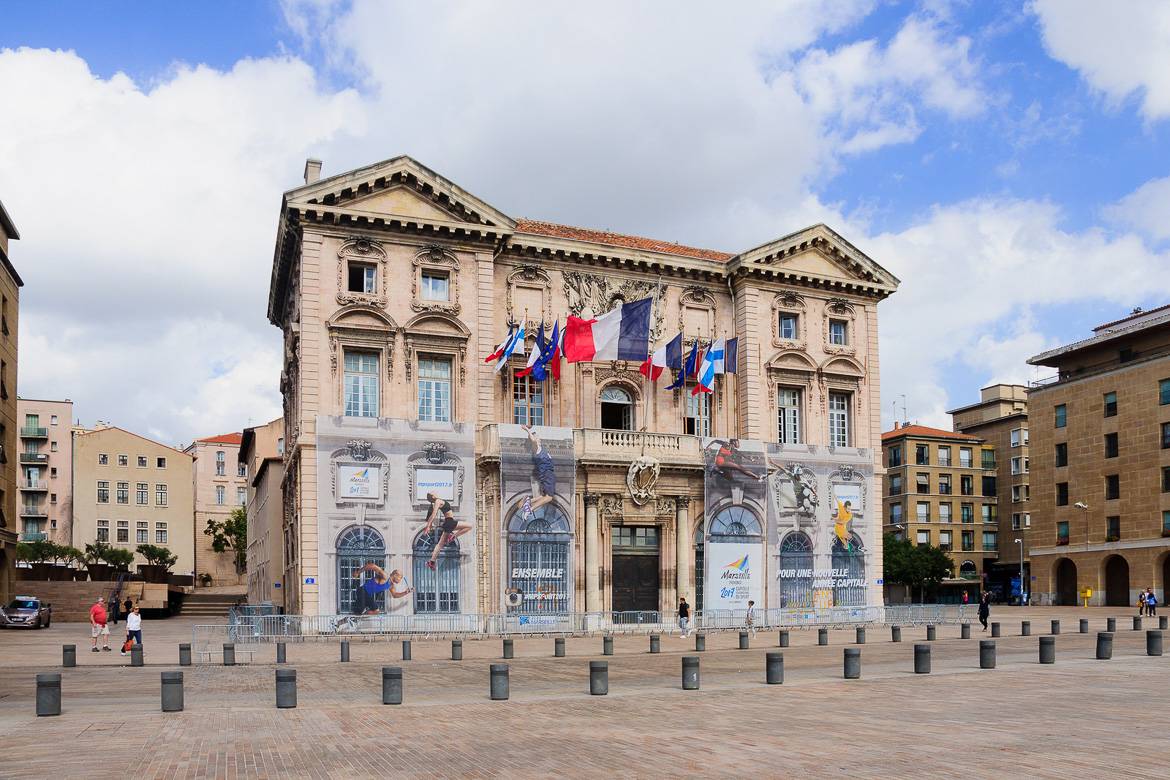 The Hôtel de Ville has been the meeting place of Marseille's city council since the Middle Ages.
Marseille is also known for its astonishing selection of museums. Although we discuss a few in this video, make sure to check out the rest on your next trip. You'll find the Museum of European and Mediterranean Civilizations on the north side of the port. This museum features a fascinating comparison of all aspects of Mediterranean culture. It takes a historical perspective on the development of Marseille and showcases the evolution of the south of France. Another great museum is the Marine and Economy Museum, which is entirely dedicated to sea trade, especially the role Marseille played in the expansion of European sea trade.
The Marseille Town Hall, while not exactly a museum, is a spectacular example of 17th-century architecture. It has been a meeting place for the city's council since the Middle Ages. Other architectural examples include the St. Nicholas Fort and the St. Jean Fort at the mouth of the Vieux-Port. The St. Nicholas Fort is famous for its great views of the port, and both forts were built by King Louis XIV following a revolt by the citizens of Marseille against their governor.
Staying in Marseille
While you won't be able to stay in a fort, New York Habitat has a diverse range of accommodations available for every budget and style. Booking a New York Habitat apartment is the best way to experience Marseille like a local. If you're only in town for a few days or weeks, consider booking one of our vacation rental apartments in Marseille. If you're looking for more long-term or permanent Marseille apartment stays, this list is a great place to start.
Places of worship in Marseille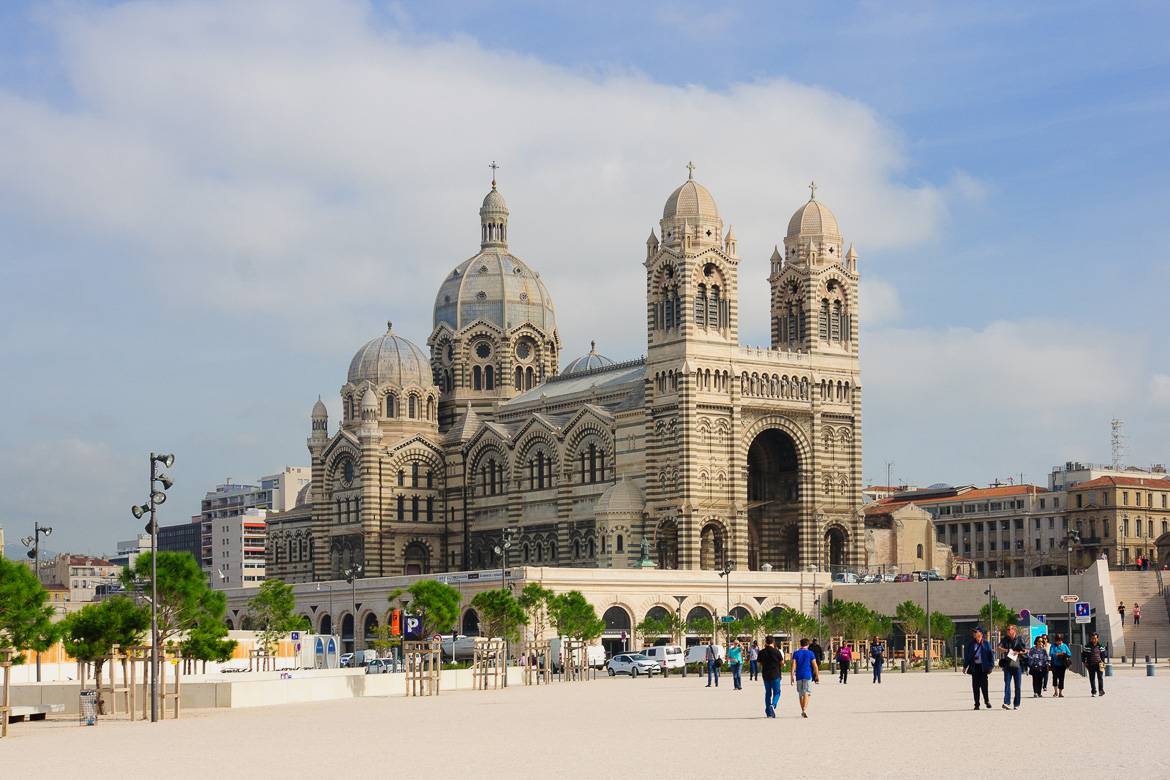 The Cathedrale de la Majeure is one of the most unique churches in France.
Another great destination is the Abbey of Saint Victor, which was founded in the fifth century. Legend has it that the abbey contained relics from the Martyr of Marseille; though in reality, the crypt preserved archeological finds from an ancient Greek quarry. It has been a place of worship throughout most of its long history, though in 1794 it was ransacked and then finally restored in the 1800s.
The Catholic basilica Notre Dame de la Garde is located at the highest point in the city. This must-see church was first built as a chapel in 1214, then expanded in 1853 and finally consecrated in 1864. It promptly earned the nickname of bonne mere, or "good mother." Although it is primarily a religious site, it has also been used as a lookout post and military fort. If you're interested in learning more, check out our article on Notre Dame de la Garde here.
If you wander near the sea, you'll discover the Cathedrale Saint Marie Majeure de Marseille. Known locally as "La Majeure," the current version of this cathedral was built from 1852 to 1896 on the site of all of Marseille's cathedrals since the 15th century.
Entertainment in Marseille
Along the Vieux-Port you'll discover La Criée, the national theater of Marseille. This is a great place to go if you want to see French renditions of Shakespeare's plays, as well as other classics. Other interesting theater options include Le Merlan, which hosts cinema and dance, as well as the Theatre Toursky, which is well-known locally for its annual Russian theater and music festival.
Le Panier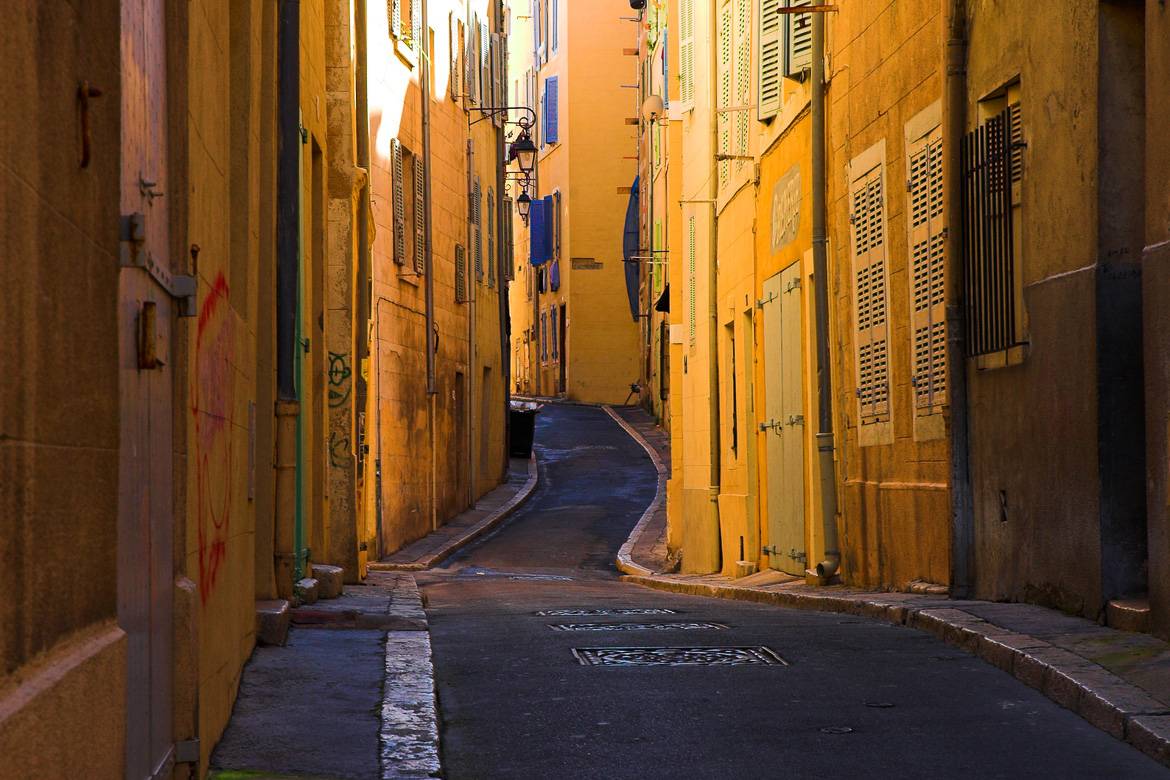 Winding medieval streets characterize Le Panier in Marseille.
Known for its medieval maze of narrow winding streets, Le Panier is one of the most dynamic areas of Marseille. You'll find dozens of small boutique shops and charming cafés in this chic bohemian neighborhood. This is one of the best places to find a variety of famous artisanal Marseilles soaps, any number of spices, local cafes, and Mediterranean goods. Its layout makes it the perfect setting for many of Marseille's fictional detective stories, and on any given day you can wander through the ancient maze and enjoy the unique flair of this neighborhood.
In the heart of Le Panier, you'll find the Vieille Charité. The structure was originally built to house the poor and has since been transformed into a museum and cultural center. Construction on La Vieille Charité began in 1671, but was not completed until 1749.
Have you ever been to Marseille? Tell us about your favorite spots in the comments below!