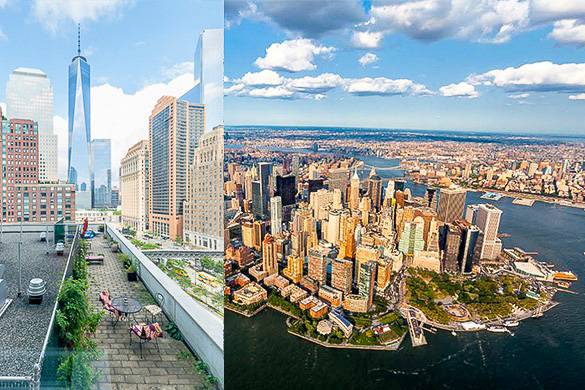 A green oasis lies at the southern tip of Manhattan.
Images of skyscrapers and the bustling Times Square may come to mind when you think of New York City, but if you know where to look, there's a whole other side of the city that the typical tourist never sees. Gardens and parks provide a green respite from the hectic pace of big city living. While the masses flock to Central Park, here are some lesser-known green spaces to visit when you're in NYC on a beautiful day.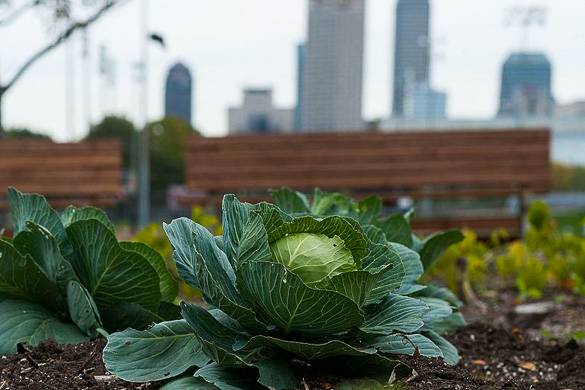 Did you know there are urban farms in NYC?
1. Battery Urban Farm, Battery Park, Manhattan
At the Battery Urban Farm in Battery Park at the southern tip of Manhattan, you can spend a day learning about sustainable farming in a natural environment. The farm was created to educate people about environmental concerns such as sustainability and waste management, and to inspire them to eat healthy and create edible gardens anywhere. Fruits and vegetables grown here are donated to NYC school cafeterias, so all the effort and care that goes into this urban farm ends up benefitting and nourishing the community. You can learn about edible plants and medicinal herbs for your next nature hike at the new Forest Farm, perfect for an educational day trip with kids or nature lovers of all ages.
Check out the view from this Battery Park apartment.
From farms, to atriums, to rooftop gardens, developers and planners in this ever-expanding city create interesting ways to add greenery and natural beauty to the urban jungle. For your own oasis away from all the hectic rush of the city, rent this alcove studio in the Battery Park area in a luxury building with breathtaking views of the Freedom Tower! The building's rooftop terrace provides a respite with skyline views and seating among the greenery, so you can enjoy a bit of nature right at home.
To see the New York City skyline from a different perspective, hop aboard the Clipper City schooner docked at the Battery and take a daytime or twilight sail around New York Harbor. If you're in a reflective mood, walk the Battery Labyrinth, a walking path of circular rings created to commemorate the one-year anniversary of the World Trade Center attacks. Its meandering paths are made to help the public heal from the tragedy and to honor those who were lost through contemplation and reflection.
2. 6BC Botanical Garden, East Village and Lower East Side, Manhattan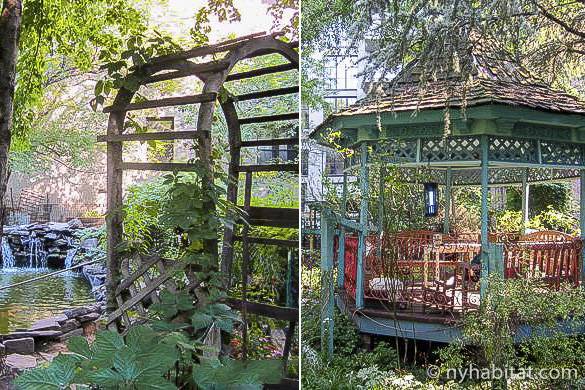 6BC Botanical Garden is a quiet green oasis in the city.
The East Village and Lower East Side are the place to discover quirky, hidden garden gems. So many fabulous gardens are sprinkled throughout this area, where the community garden movement began. You'll be surprised what you can discover in these little spots between buildings: beautiful flowers and trees, lush vegetable gardens, koi ponds, bee hives, and whimsical sculptures by locals. Spend a fun day strolling through the neighborhood and discovering your own favorite refuge.
6BC Botanical Garden, as the name suggests, is on 6th Street between Avenues B & C in the East Village. The "B" also stands for "botanical," and the "C" for "community." This community garden was started by volunteers and East Village residents on what used to be a barren garbage-filled lot, and is now a little slice of paradise! You'll find meandering paths, small ponds, and shady spots with benches to sit, read, write, or just be inspired.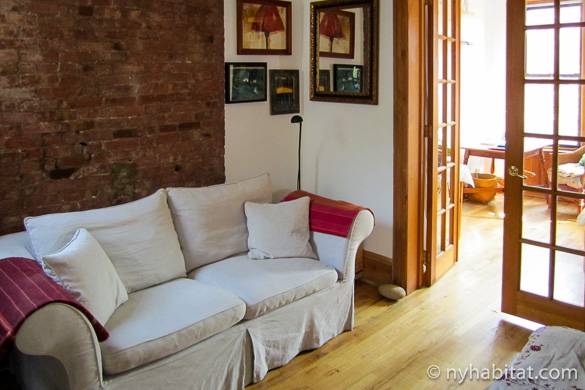 This two-bedroom apartment in the East Village sits in the midst of several community gardens.
This unique two-bedroom apartment in the East Village is perfect for a family, and a prime spot for nature lovers. Its layout is family-friendly, with a trundle bed for added sleeping space and a bedroom with child-sized bed. Nestled all around the building are hidden gardens to which you can retreat for a peaceful escape or a close-to-home nature exploration with the kids.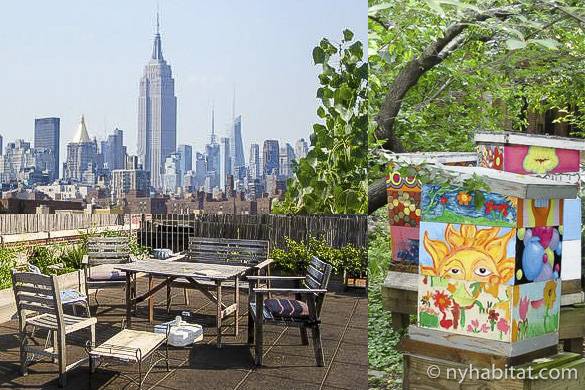 This rooftop in the East Village has amazing views, and a vegetable garden too!
When you don't feel like venturing out of your own building, a rooftop with sweeping views of top NYC sights like the Empire State Building and the Freedom Tower is a great place to unwind! Take a seat among the plants and vegetables, lovingly grown here by the building residents and fellow nature lovers.
3. Tompkins Square Park, East Village, Manhattan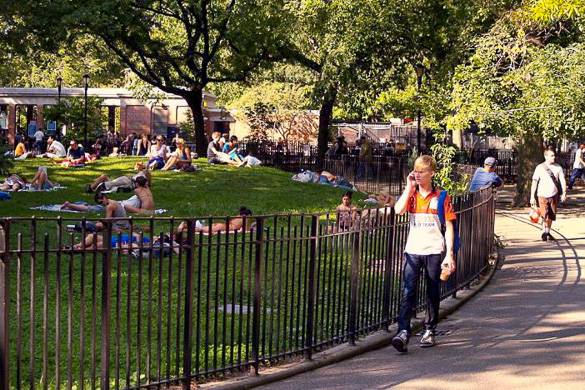 Take a nap on the grass this summer in Tompkins Square Park in the East Village.
Tompkins Square Park, situated right in the middle of the eclectic East Village, is a unique spot full of history and great people-watching too! You never know when you'll happen upon a demonstration or social movement in this always-lively square. It has a history as a place to voice dissent– it was the site of a riot in the 80s when the city tried to impose a curfew for the park, where punk rockers and homeless people used to camp out for the night.
On October 9, 1966, Bhaktivedanta Swami Prabhupada, an Indian Spiritual leader, held the first outdoor chanting session outside of India under an elm tree here with his followers. The event is recognized as the founding of the Hare Krishna religion in the United States, and this famous tree in Tompkins Square is now known as the Hare Krishna Tree.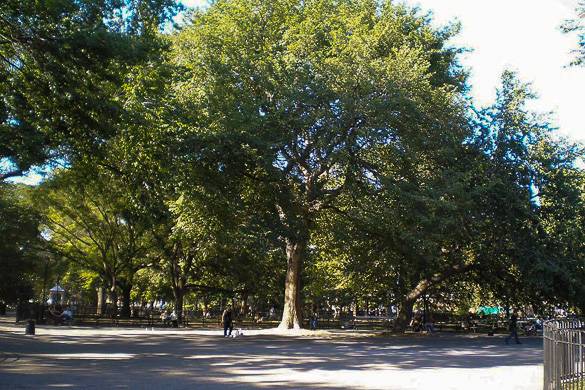 Try to find the famous Hare Krishna Tree in Tompkins Square Park.
The park is also full of entertainment for hanging out with the local crowd. Films on the Green is an outdoor French film festival in NYC parks. This year, it's part of Tandem Paris-New York, a transatlantic cultural exchange between Paris and New York. The festival will present two French films on July 22 & 28 at the Old Bandshell Lawn in the park, with DJ music before the film.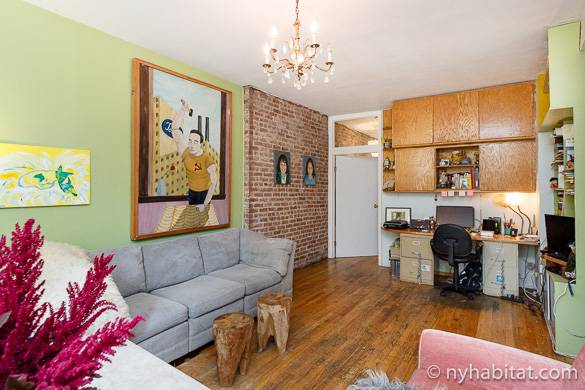 This apartment share in the East Village has a garden view!
Rent a room with a garden view! This two-bedroom apartment share in the East Village lets you surround yourself with nature just by looking out the window. The garden view gives the impression of living outside of the city, perfect for de-stressing from a hectic day. Craving more human interaction? Head to one of the local parks and you're sure to spot an interesting person or two.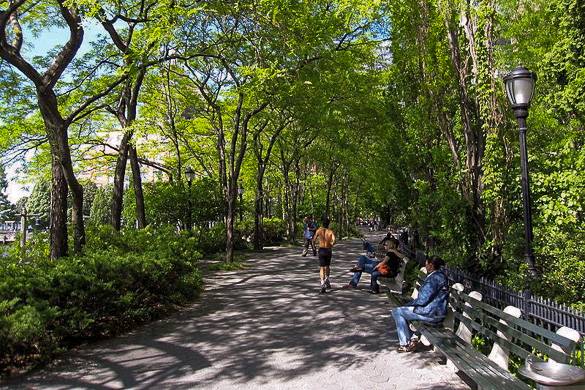 Take a stroll under a canopy of trees in Battery Park.
As development threatens to swallow more of NYC's unique green spaces, visit and appreciate these precious spots that add so much to our city! You can search for more great apartment rentals on our website. Rent an apartment and see what living like a local is like!