For many, the prospect of moving to New York is equal parts exciting and daunting. Often, those who choose to take the leap leave behind a hometown that is a lot quieter, smaller, or less densely populated than New York City. They may also leave behind a group of friends, family, or just an established place in their local community. Though a fresh start can be exciting, many newcomers to the city, especially millennials, seek a living situation that will provide them with both emotional and financial security. Enter the latest rental trend that's revolutionizing the apartment industry: communal apartments.
First, the definition: In a communal apartment, an apartment owner rents each individual room with an individual lease for the tenant. A tenant in a communal apartment will have a bedroom to his or herself, and will enjoy access to a shared living area, often including kitchen facilities and a shared bathroom.
What makes a communal apartment like this one different than a regular shared apartment, though, is the atmosphere: communal apartments tend to function more in a dormitory style. The individual rooms in the apartment are rented on a case-by-case basis, meaning that the occupant of a room is responsible for his or her own lease. Tenants stay for their own specified periods of time, pay their own rent, and come and go according to their own housing needs, vs. a shared apartment where roommates all sign one lease and thus move in and out on the same date, are responsible for a shared rent, and are often hosted by the apartment owner.
Beyond the basics, though, communal apartments offer a unique chance for residents to get to know each other and form lasting friendships. Because the apartment functions more like a dormitory, shared areas like the living room and kitchen easily become a social common room for group dinners, game nights, and of course the occasional Netflix binge! If a quieter lifestyle is more your taste, ask about a standard apartment share, where apartment owners may also elect to live in the apartment and can function as a live-in host.
This style of living is fast becoming a popular living option for millennials because of the sense of community it provides. A move to New York can be overwhelming—after all, you're sharing your home with 8 million other people—but a communal apartment offers newcomers an instant social group and support system. The appeal of communal living spaces has even become a wildly popular idea thanks to television shows like Friends. Also, besides the potential for a close-knit social group like the one depicted on the show, a communal apartment can also be a great way to save on rent!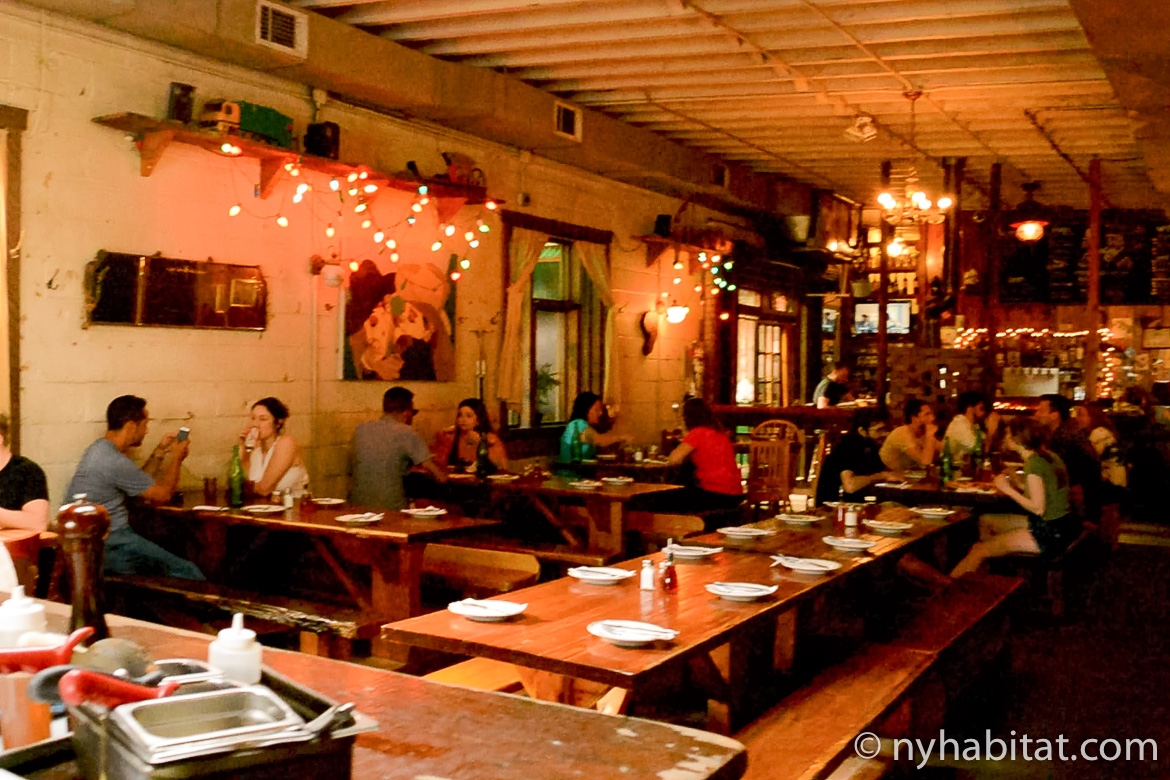 Millennial residents of Bushwick flock to the neighborhood's numerous hip bars and cafes, making them great spots to meet friends!
With areas of Brooklyn like Bushwick becoming millennial hotspots, communal living situations there may be about to explode in popularity. Bushwick is also a popular destination for millennials, particularly those seeking a sense of community, because of neighborhood's younger vibe. As we noted in part 1, Bushwick is a great place to go for thrift and flea market shopping, coffee shops, restaurants, and bars and nightlife of a younger crowd. Locals love the up-and-coming urban art scene and abundance of late-night eats, and flock to favorite music and performance venues like Elsewhere and House of Yes.
Should you decide a communal apartment is right for you, Bushwick's friendly flavor will be the perfect complement. Make the move in the summer and you can enjoy the chance to mingle with your neighbors at welcoming events like the Bushwick Collective Block Party. To get the scoop straight from a major player in Brooklyn communal real estate, we stopped by to talk to apartment owner Stephon Hinds and hear in his own words why New York is the perfect place for communal living.
Is a communal apartment right for you?
So how can communal living work for you? Maybe you're leaving your hometown for the big city, maybe you're a student looking for a little more flexibility and an enhanced experience from standard dorm life, or maybe you're coming from a foreign country and seeking some familiar faces when you're far from home. If this sounds like you, consider looking for communal apartments through New York Habitat—we offer properties featuring flexible dates, rooms with access to private bathrooms, and alternate housing for students. The chance to live in a furnished apartment in New York means the chance to live like a local, and in a communal apartment, you can take it a step further and make your own group of "Friends" (or just a great brunch bunch) within the city too!