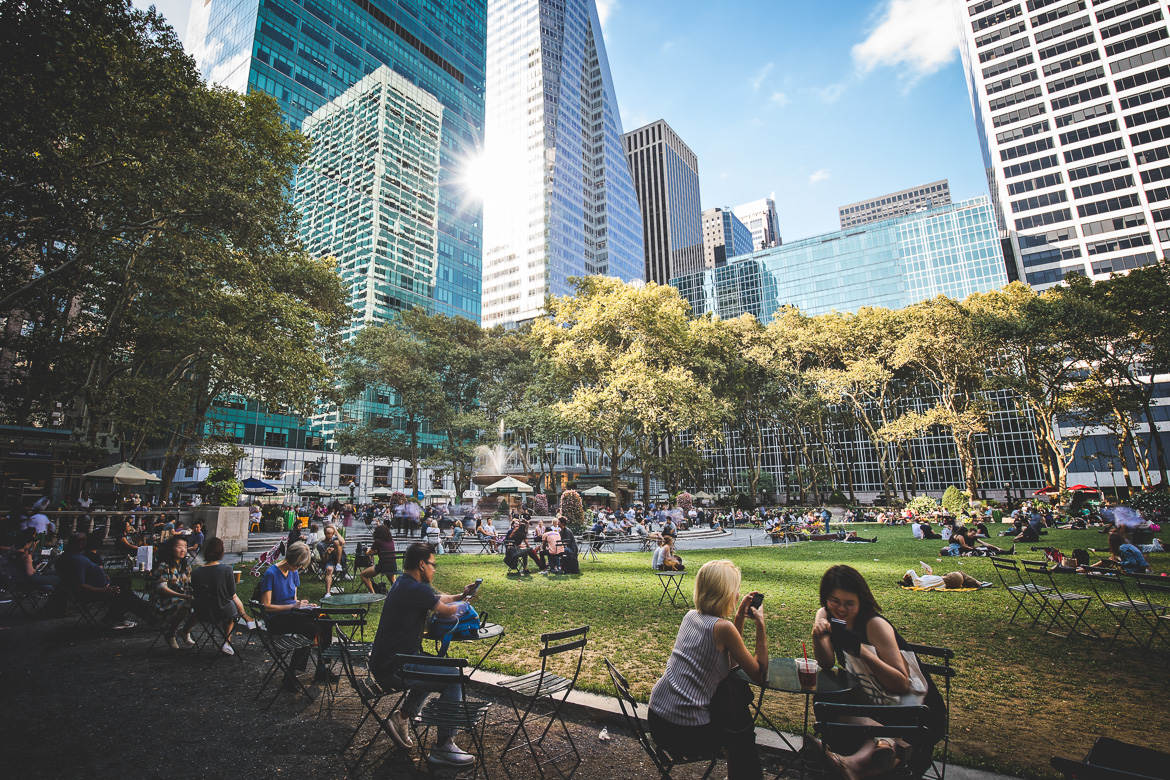 Spend a summer afternoon enjoying a picnic in one of New York City's parks (Photo credit: Markus Hill)
When you're a New Yorker, longer days and warmer weather mean one thing: there is truly nothing in the city that you can't do! Everything that makes New York City famous gets an upgrade in the summer: the world-class restaurants set up outdoor seating, music and entertainment takes center stage at the city's numerous music festivals, and athletes (or their fans!) have no shortage of places to exercise or sporting events to watch. Whatever brings you to the city this summer, there's a perfect New York Habitat furnished apartment for every lifestyle. Your ultimate New York summer awaits!
Celebrate the Jazz Age on Governor's Island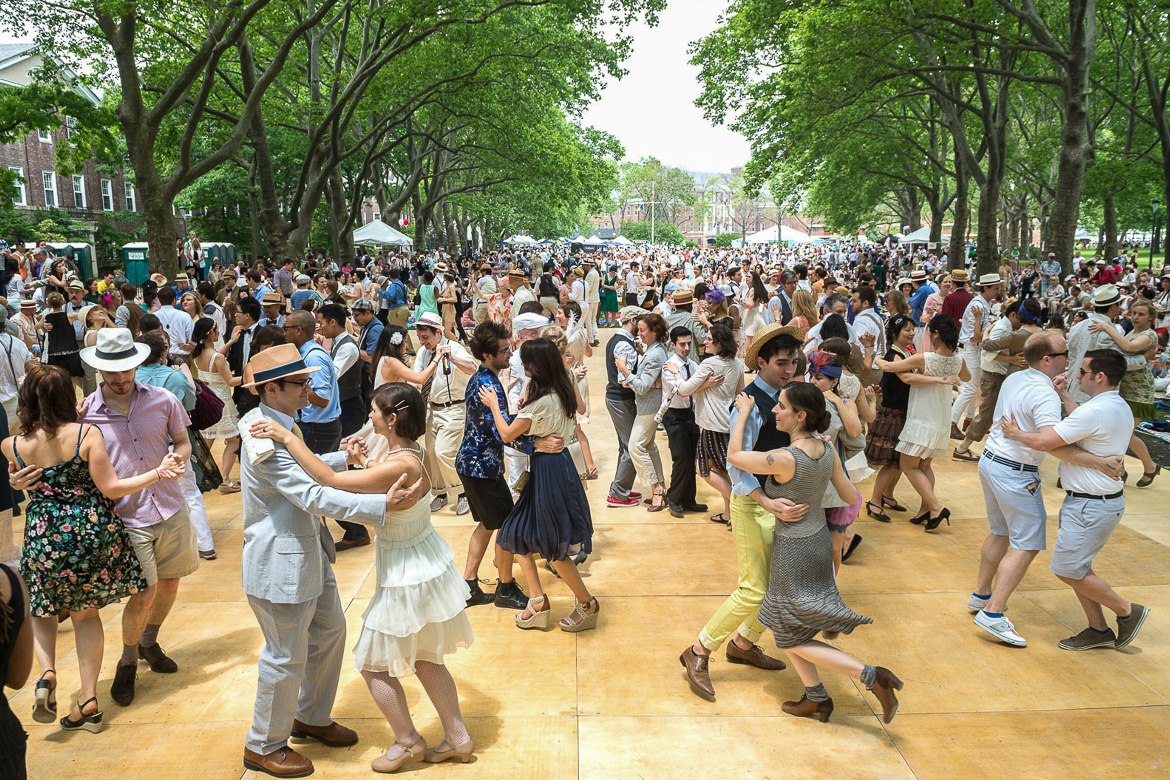 Come to Governor's Island this summer to dance right into the Roaring 20s (Photo credit: Jazz Age Lawn Party)
Our first must-see summer destination is for anyone who is an old soul, or just loves a good party. Dance your way back into the 1920s at the Jazz Age Lawn Party, happening in June and August on Governor's Island. Come dressed to the nines in your best retro attire and learn to dance the Charleston, or just watch– there will be demonstrations by professional dancers as well!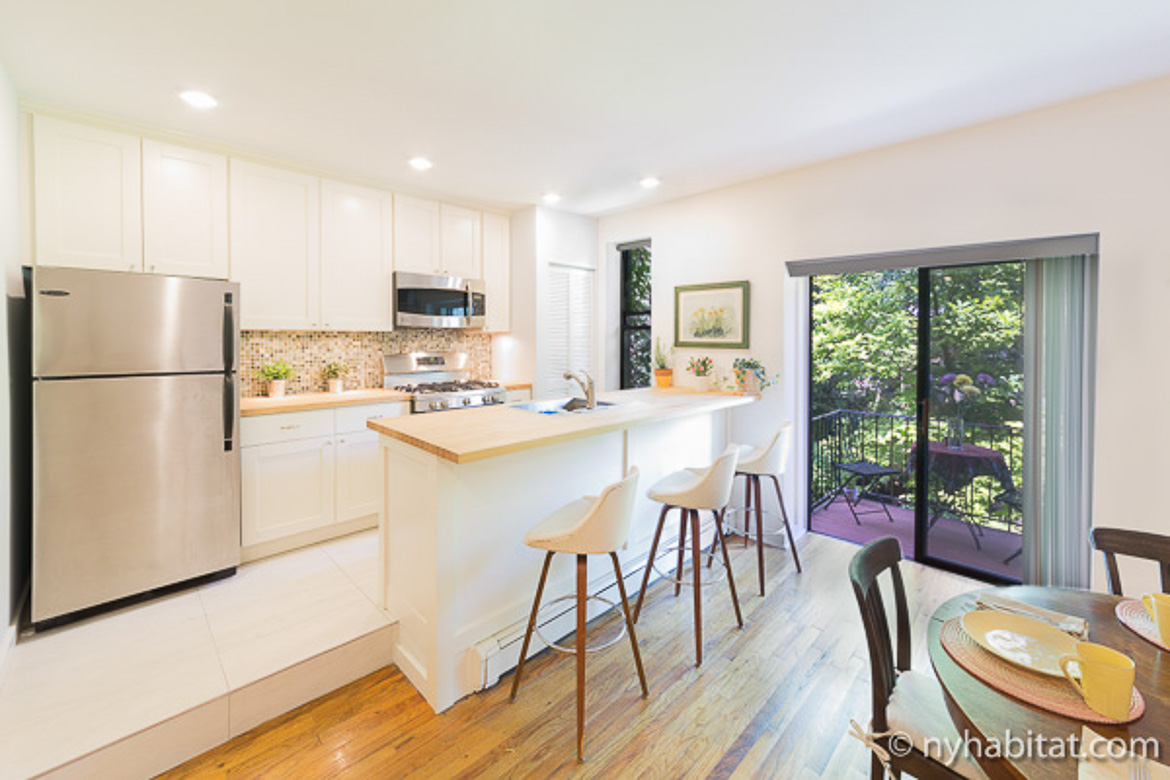 This 2-bedroom apartment in Brooklyn is perfect for a summer dinner party.
Those who come to the city for the art-deco buildings and glamorous parties of the roaring 20s will love this 2-bedroom apartment rental in Boerum Hill. Live the life of a Gatsby-era socialite with a large kitchen, dining table and bar-style seating perfect for entertaining friends and guests. Additionally, the outdoor patio opens into a green space that is perfect for summer, whether you're relaxing or looking for another spot to socialize with friends. Boerum Hill also puts you close to the ferries to Governor's Island, whether it's for a casual trip to the park or dancing all afternoon!
SummerStage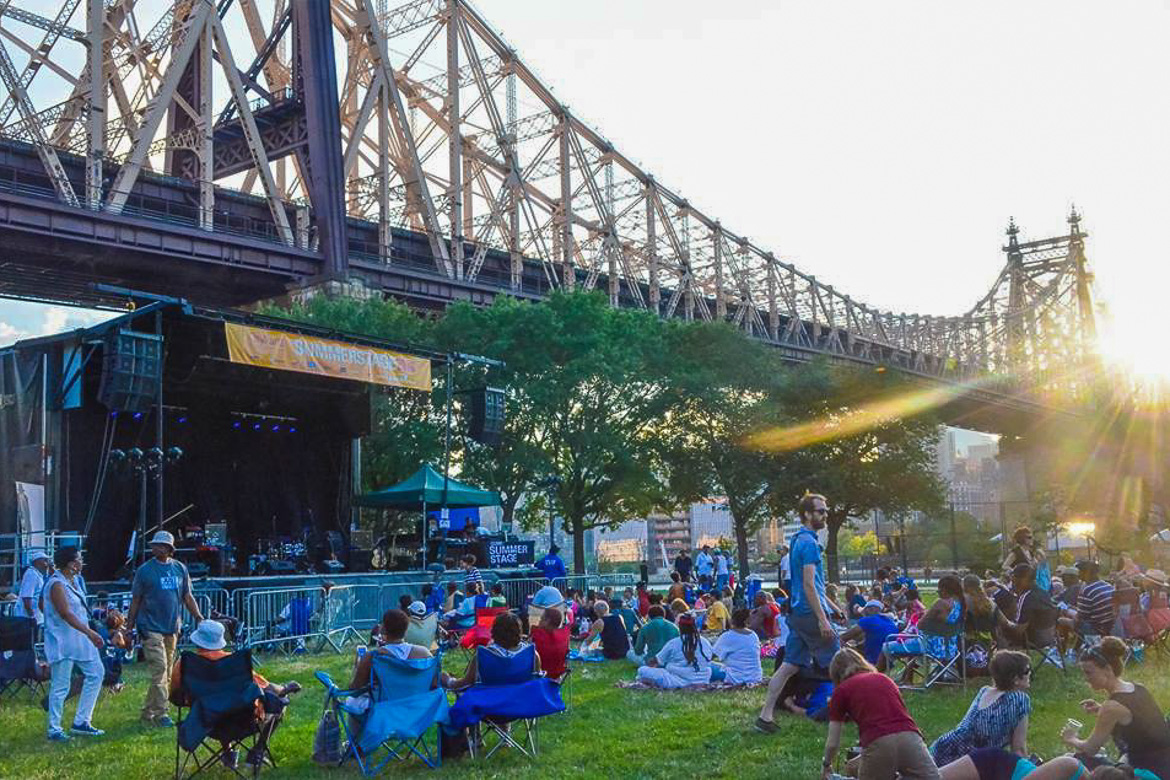 Enjoy live music in one of NYC's stunning parks with SummerStage's concert series (Photo credit: City Parks Foundation's SummerStage www.summerstage.org)
For fans of live music, City Parks Foundation has the ultimate summer celebration planned. Beginning June 2, parks throughout all five boroughs of New York City will hold concerts, dances and musical events, many of which are free of charge and open to the public. Musical acts span all genres from classical to hip-hop and will feature many local acts. No one wants to be cooped up inside when it's warm, so flock to one of NYC's parks and enjoy the weather, a cool breeze and a chance to relax in a green space even in the heart of this bustling city.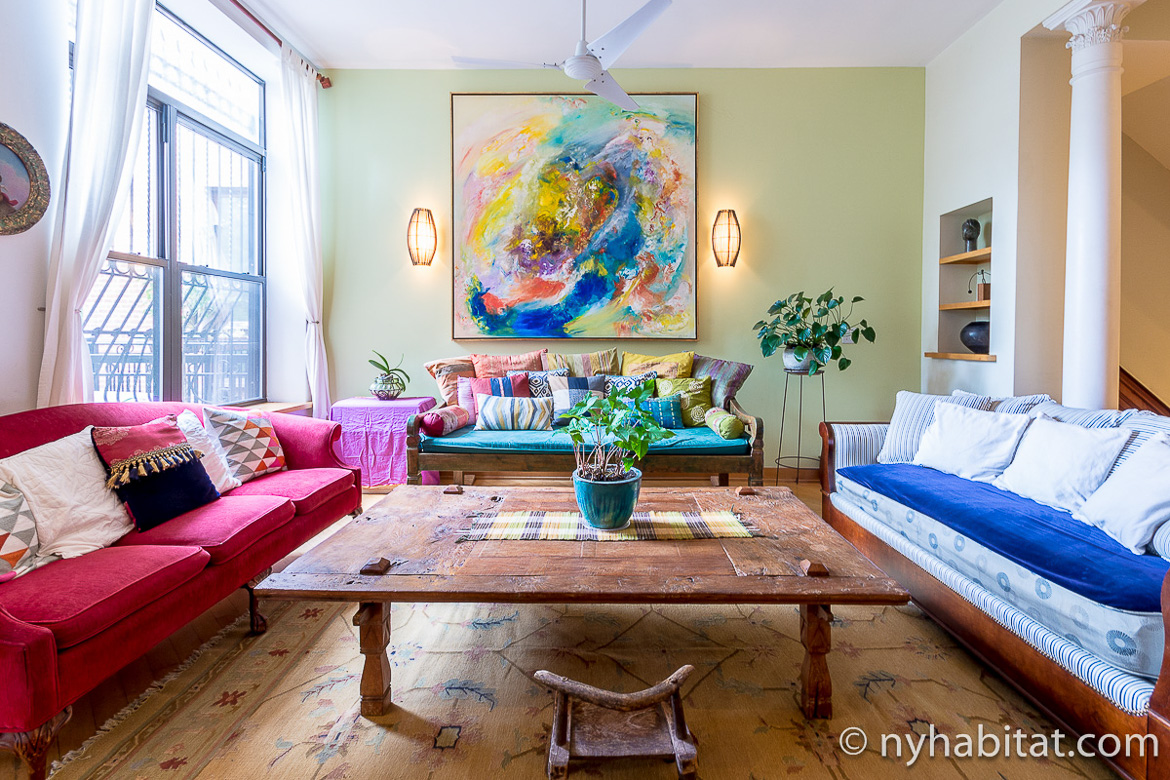 Embody the laid-back vibe of an outdoor concert in this Harlem triplex
Meanwhile, you too can find your oasis in the middle of the city in this 4-bedroom triplex vacation rental in the center of Harlem. Standing out among the contemporary style that many New York apartments favor, this apartment features a bohemian flair that is accented by funky sofas, wood furniture and antique-looking rugs. It also comes with access to a garden and terrace, making it perfect for a warm-weather visit. Plus, its proximity to Marcus Garvey Park ensures you will stay entertained all throughout the summer, whether it's at a concert, exercising, or just relaxing outdoors.
Ice Cream in Brooklyn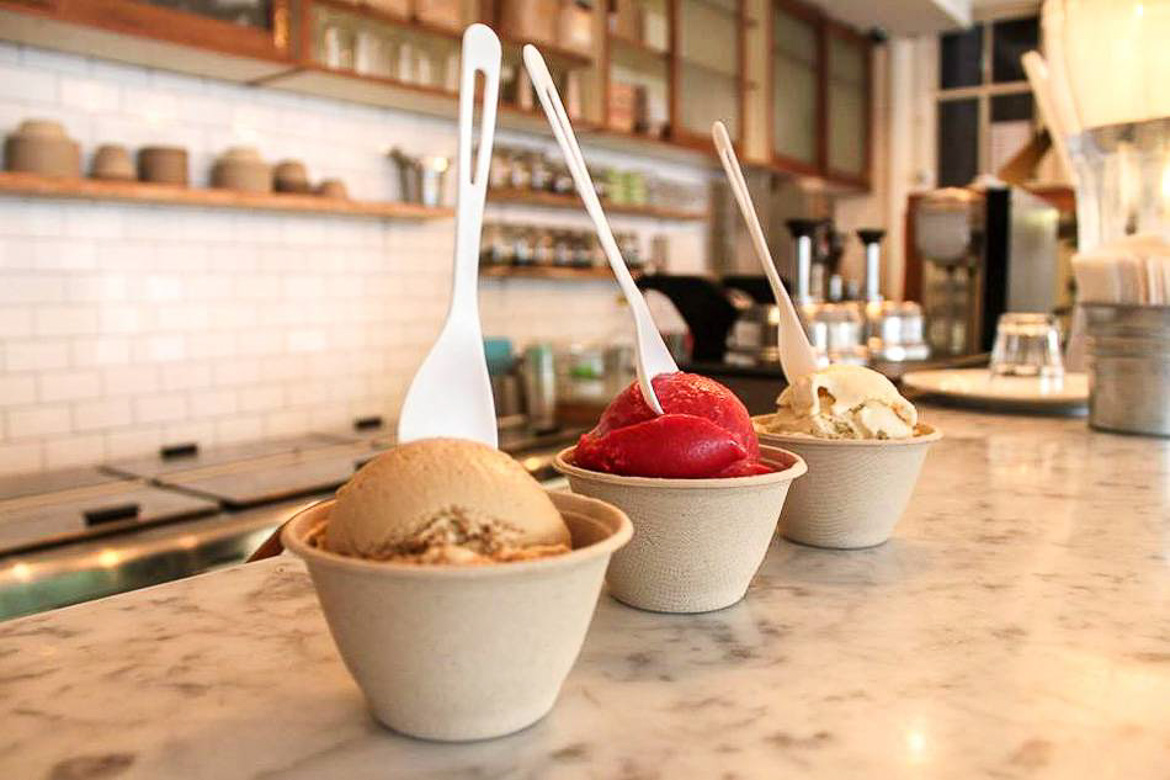 Summer is the perfect time to cool off with a sweet treat in NYC!
If you're traveling with family, or just want to indulge your foodie side, what could be better than a cold ice cream on a hot summer afternoon? Ample Hills Creamery is a neighborhood favorite in Brooklyn, with several locations throughout the borough, and new locations in Manhattan. With their kooky and unique flavors, there's sure to be something for everyone on the menu. You can also try an array of other famous New York ice cream parlors, like Morgenstern's, Van Leeuwen or Taiyaki NYC.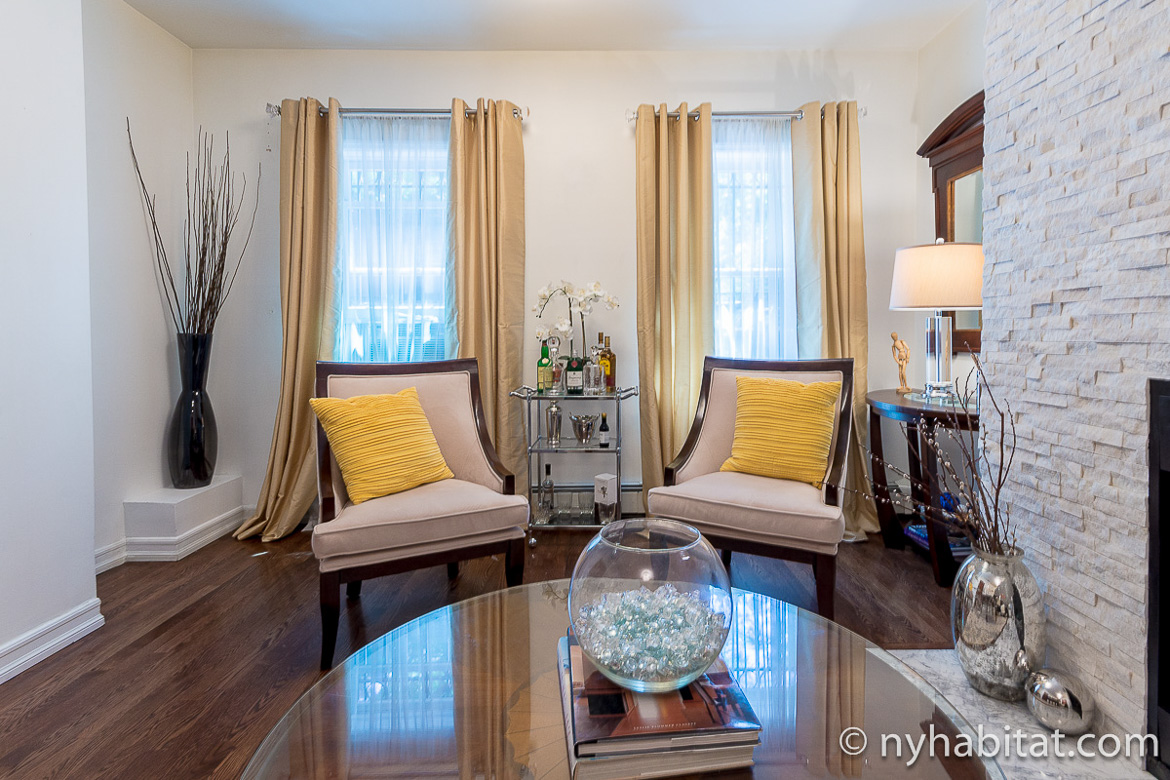 Live in this classy Clinton Hill apartment for easy access to a bunch of Brooklyn attractions.
You can make your apartment rental as gourmet as your ice cream with this 1-bedroom vacation rental in Clinton Hill. The apartment has a touch of luxury with its metal and wood accents, austere furniture and plush fabric finishings. Plus, the apartment's location puts it close to–you guessed it–an Ample Hills location, as well as plenty else to do in terms of restaurants, coffee and shopping in the neighborhood.
Bushwick Block Party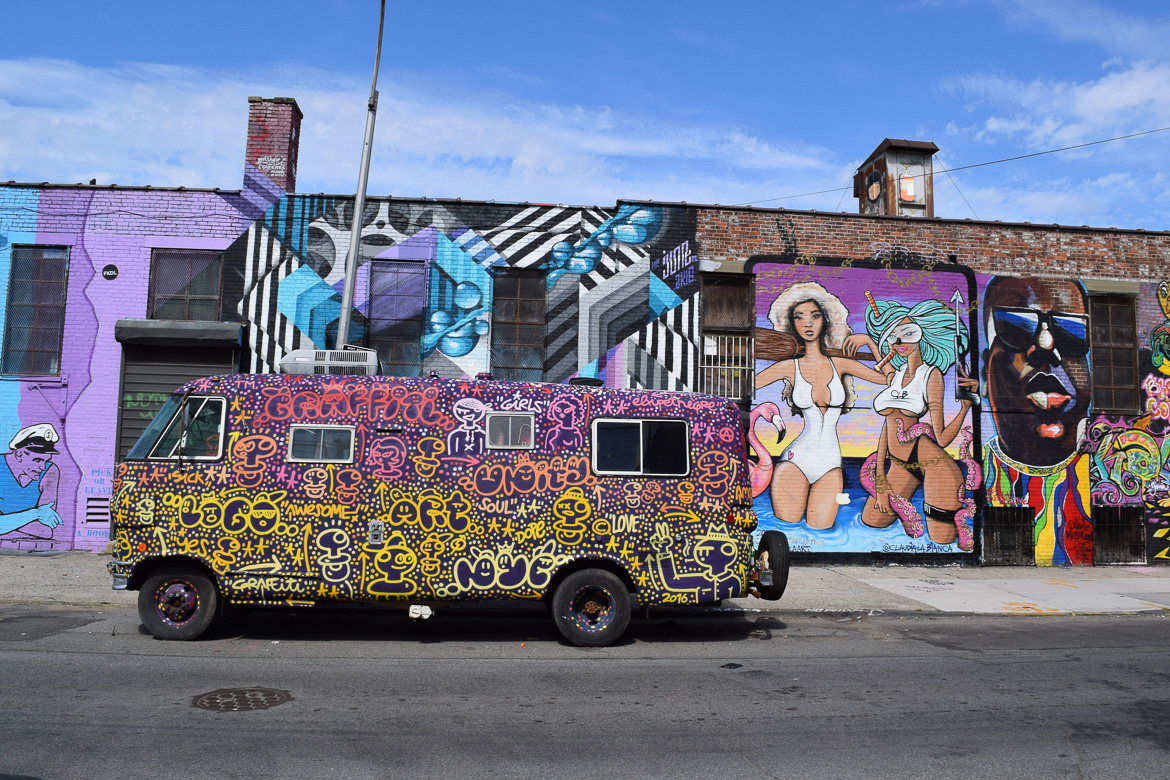 Experience the true flavor of Brooklyn at the Bushwick Collective Block Party (Photo credit: Daniel Selser)
While you're in Brooklyn, check out the annual Bushwick Collective Block Party on June 2, a perfect way to get a taste for the flavor of the area. This day-long outdoor event features food vendors, live DJs and best of all; some of Bushwick's best artists will be out for the event. Watch as they create the famous street murals for which Bushwick is famous in real time, and get to know your neighbors in the area as you go out and about!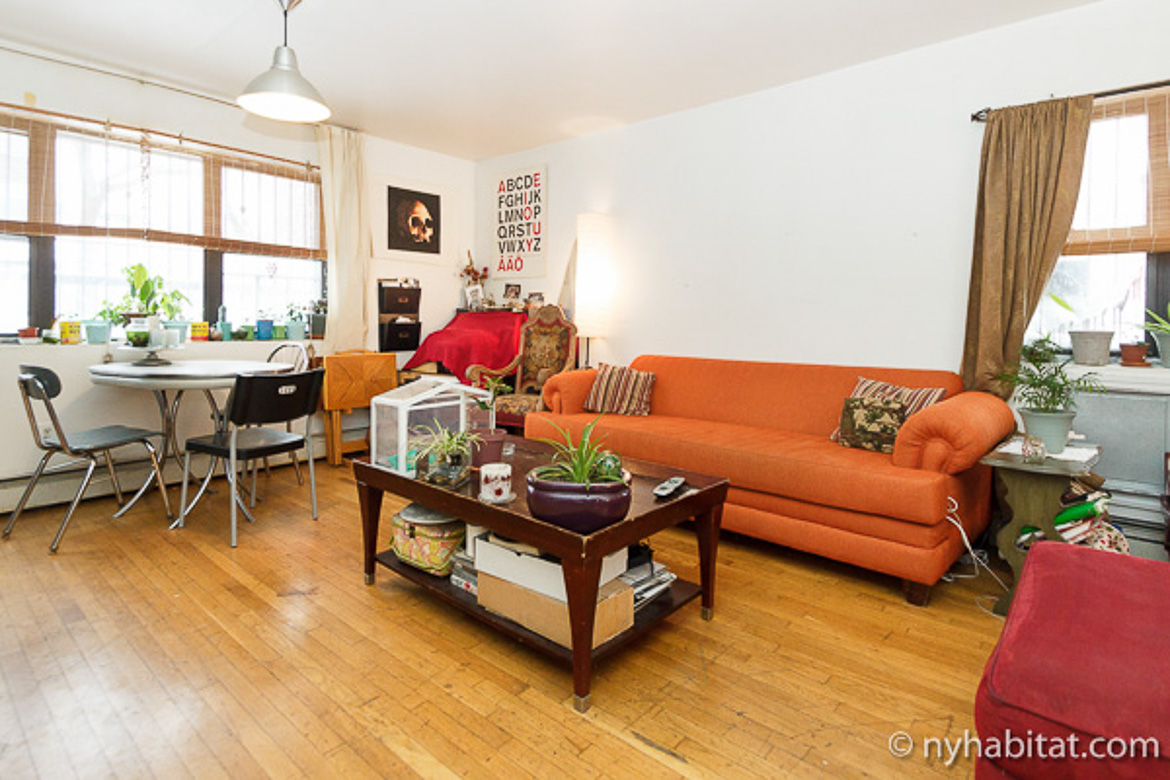 Sharing a hip apartment with Bushwick natives is a great way to experience the neighborhood.
You can mingle with Bushwick natives and live with one too in this super hip 3-bedroom apartment share. Bring the artsy vibe of the neighborhood inside with cool modern furniture, expressive art and a funky bohemian color scheme. Plus, this apartment is just steps away from the streets where the block party will take place, as well as convenient to numerous bars, restaurants and hip locales.
As the season moves into July, make your way back to Manhattan to celebrate the Fourth of July in true New York style! Plan a picnic in Central Park, or watch the city's fabulous fireworks displays after sundown from a glamorous rooftop bar.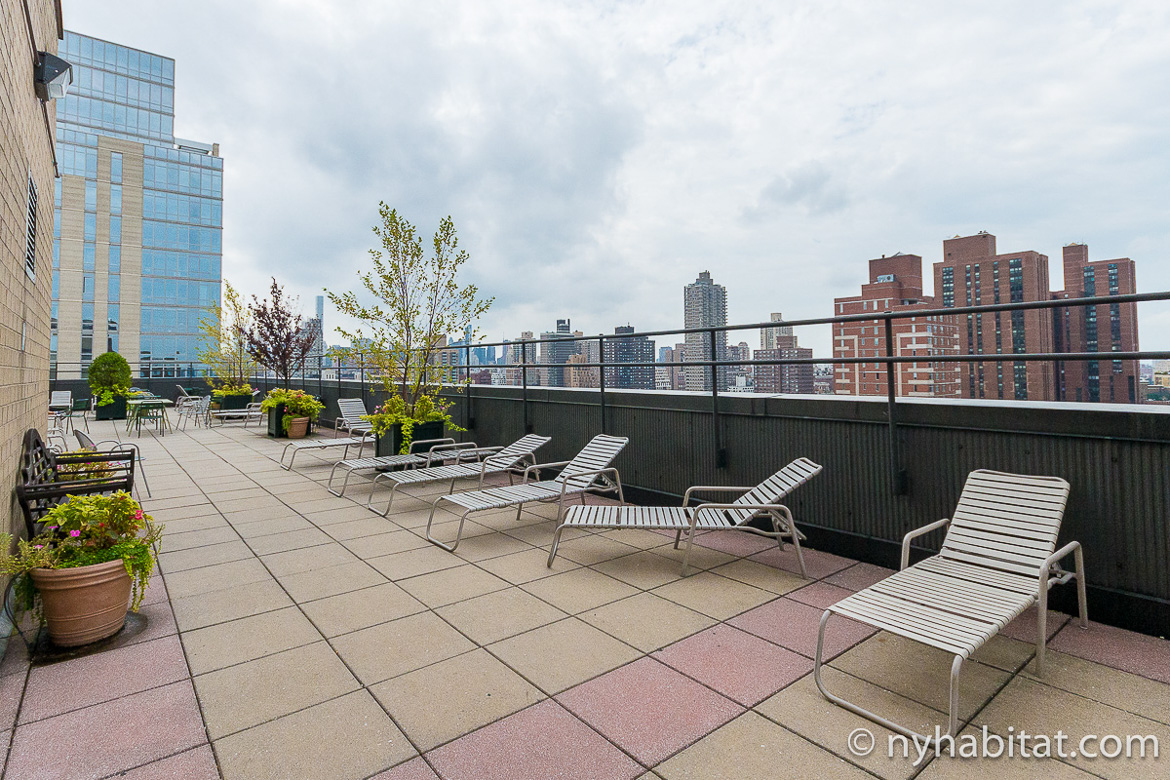 Rent an apartment with a roof deck for an exclusive and stunning view of the city!
In addition, you can set up your own private viewing of the Independence Day fireworks by renting an apartment with a luxurious rooftop deck through New York Habitat. Perhaps you prefer the sweeping views of the city skyline from this 2-bedroom bed and breakfast in the Upper East Side, or the more secluded rooftop of this 1-bedroom furnished rental in the West Village. Whatever your style, you can bring a few friends and some cocktails to the roof and enjoy your own private display with some of the best views in the city.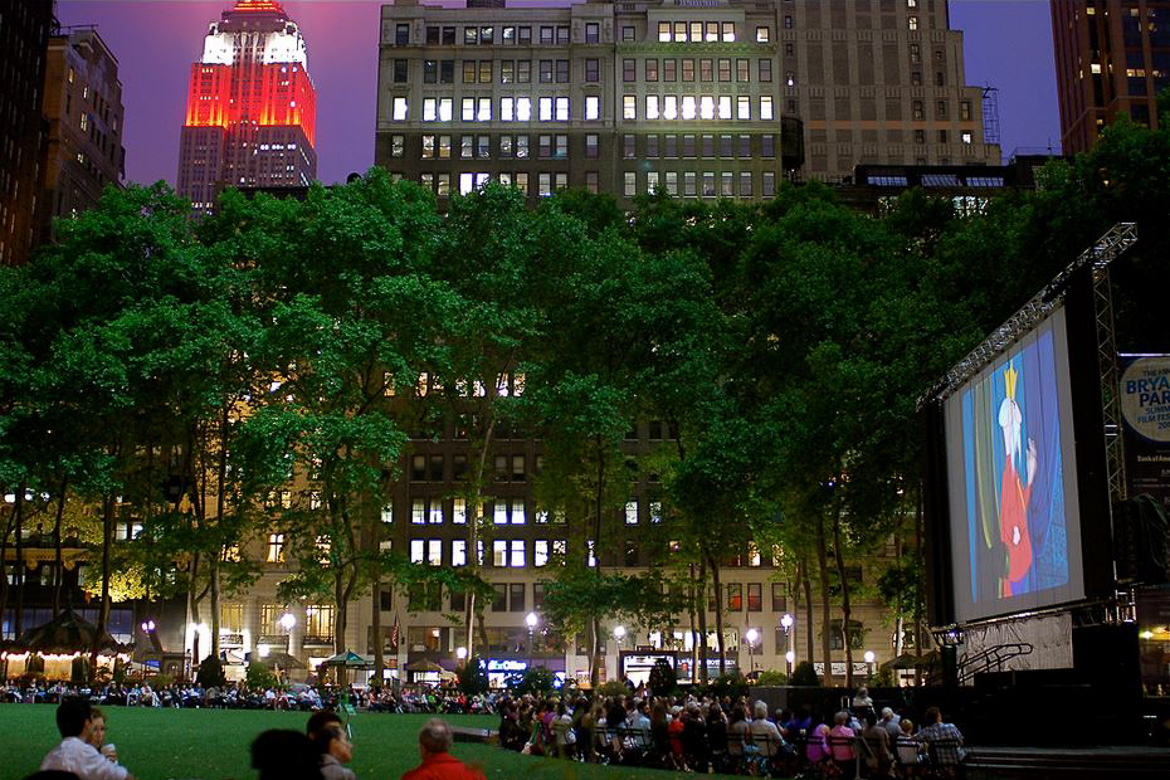 Watch an outdoor movie in the shadow of the Empire State Building (Photo credit: Noel Y. Calingasan www.twitter.com/nyclovesnyc, www.instagram.com/nyclovesnyc)
As the summer unfurls its lazy days in August, the fun doesn't have to stop! Do something more low-key like paying a visit to Summer on the Hudson, a selection of free activities like dancing, live music, films and children's activities in Riverside Park. Or, head to Bryant Park, unfurl a blanket, and enjoy an open air film at the Bryant Park Summer Film Festival through August 20.
If sports are more your speed, why not check out a Mets game at Citi Field in Queens? You can even save on rent by renting an apartment in the area, as a further distance from Manhattan will get you more for your money. Check out this sporty 1-bedroom roommate share in Astoria and see!
Flea Markets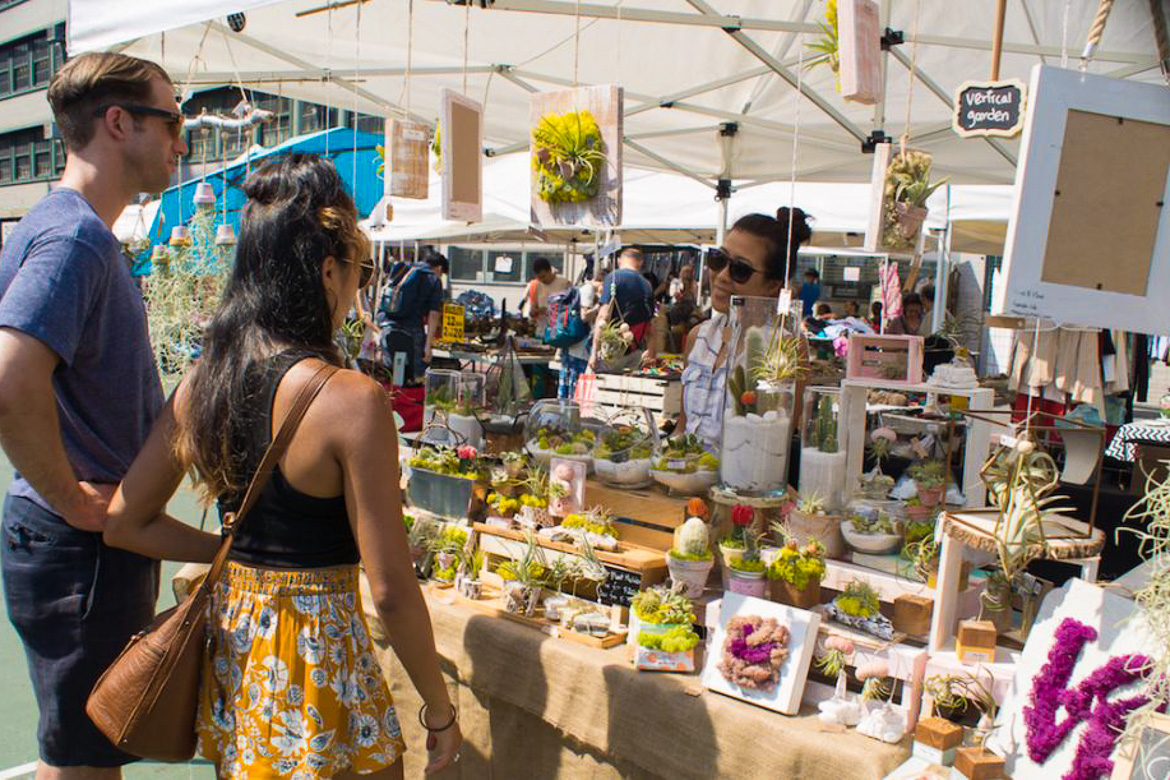 You never know what you may find at an NYC flea market! (Photo credit: Grand Bazaar NYC)
Another great activity for a breezy summer afternoon is to visit one of New York's many world-famous flea markets. NYC is known not only as a place where creatives flock, but also as one of the most fashionable cities in the world. Because of this, you can find some of the best flea market shopping in the world, from vintage clothes, to trendy houseware, to cool crafts. Visit the huge Chelsea Flea Market, the Grand Bazaar in the Upper West Side, or head over to Brooklyn for Artists and Fleas. All three flea markets are open every weekend all summer!
The eclectic vibe of a flea market will follow you home to this Upper West Side apartment
For our savvy shoppers out there, we have this fashionable 1-bedroom roommate share apartment. The apartment's interior is full of funky furnishings and eclectic art and decorations, perfect for those with a creative eye. Its location on the Upper West Side ensures you will be ready to roll out of bed and check out the Grand Bazaar any Sunday morning that you wish.
There are endless things to do in New York City every summer, and the truly wonderful thing is that there is an activity every person will enjoy, and an apartment to match their style! We've only scratched the surface on the great things this city has to offer, and we have dozens of rentals in New York City for you to choose from. Don't miss the chance to take a bite out of the Big Apple this summer!