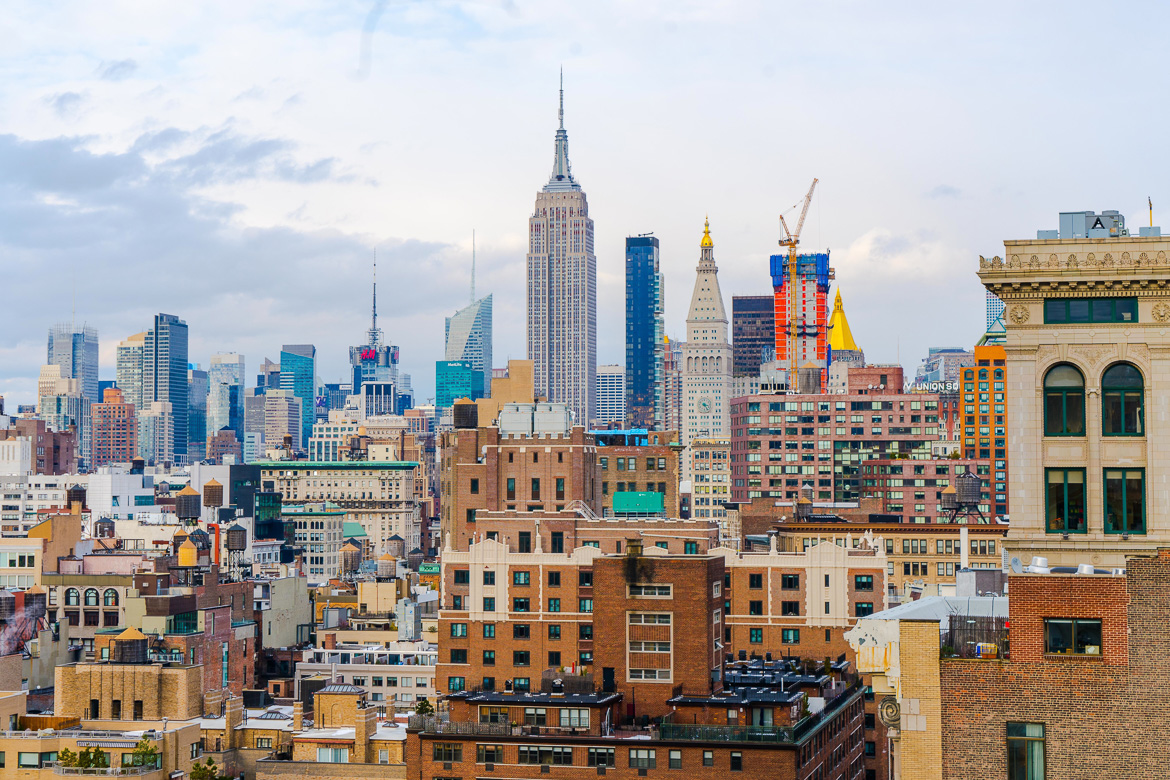 Get on top of a roof for a new appreciation of NYC's splendid skyline!
When you think of New York, what is the first thing that comes to mind? Perhaps you think of the bright lights and flashy advertisements of Times Square, the iconic silhouette of the Empire State Building, or the proud symbol of the American Dream, the Statue of Liberty. Whatever your first thought, one thing is for certain: the New York City skyline that contains all of these landmarks is instantly recognizable. Another thing that defines New York City is limited space, and when New Yorkers can't build out, they build up! The rooftops of New York buildings offer unparalleled views of the dazzling lights of the city, and in celebration of this, we've gathered some of the best ways to see the "city that never sleeps" from high above the streets. Read on to see some of our top picks for unique rooftop spaces in the city, from major tourist attractions to your very own New York Habitat furnished apartment rental!
"Raise the bar" with nightlife high above the city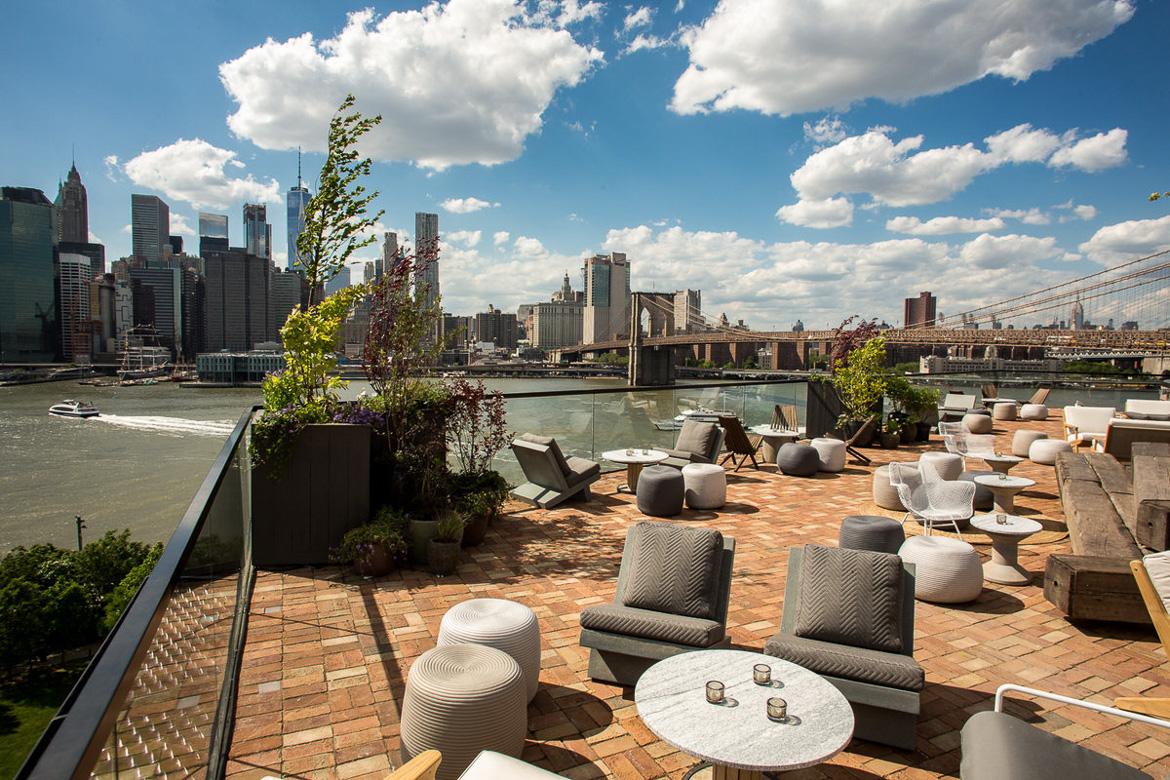 Some may say the best views in New York are from Brooklyn—the rooftop bar at the 1 Hotel Brooklyn Bridge is a great place to start! (Photo credit: Scott Heins)
New York City's motto could be "work hard, play hard," so it's no surprise that one of the most well-known functions of the city's rooftop spaces is to give hard-working New Yorkers yet another place to party! Rooftop bars across the five boroughs take happy hour to a whole new level, particularly in Manhattan, or on the water in Brooklyn or Queens. Sweeping panoramic views of the Manhattan skyline that are only visible from above get an even bigger upgrade when New York's skyscrapers light up the sky at night. Rooftop bars make a great date spot or just a place to kick back after work (after all, it's hard to be stressed when you're admiring that view)! The popularity of rooftop bars means new ones are opening all the time, but here are a few of our favorites:
Westlight at The William Vale: Enjoy views of the Manhattan skyline from Williamsburg, Brooklyn! Whether you prefer the outdoor deck, the glass-covered terrace, or looking through one of the roof's cheery yellow viewfinders, you're sure to enjoy this hotspot noted for its cocktails and tapas.
1 Rooftop Garden & Bar: Take advantage of more views of the East River, Brooklyn Bridge and Manhattan skyline from this sun-drenched rooftop bar, featuring crafty appetizers, wine and beer, and even a swimming pool for guests of the hotel!
The Top of the Standard: Feel like you're the star of a glamorous New York movie like The Wolf of Wall Street or The Great Gatsby in this enclosed rooftop bar with gilded walls and floor-to-ceiling glass windows offering views of the city from the heart of Chelsea.
Mr. Purple: Featuring indoor and outdoor spaces, Mr. Purple truly elevates your bar-going experience with more views of the skyline and a fancy black-tie dress code.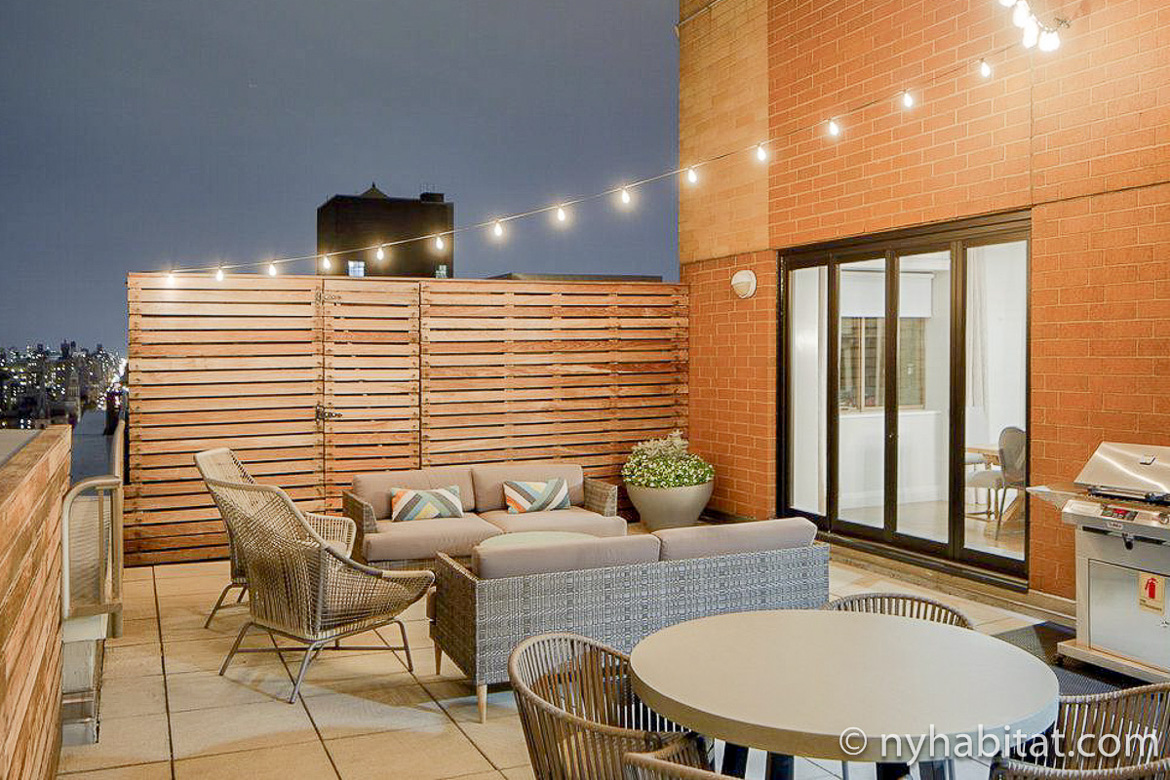 Soak in the swanky atmosphere of a rooftop bar without leaving your apartment building!
Of course, sometimes you and your friends or sweetheart just want a night in—and with a stay in this fabulous studio furnished rental in the Upper West Side, you won't have to compromise on any of the breathtaking views from a rooftop bar. Wow any of your guests with the exclusivity of this view: in addition to only being accessible to residents of the building, you can enjoy plenty of space to entertain with a homemade meal prepared in your very own full kitchen or the barbecue grills available on the roof. You will feel like a true New Yorker every time you step out onto this rooftop terrace to admire the city straight from its heart.
Lose yourself in a green oasis multiple stories above the streets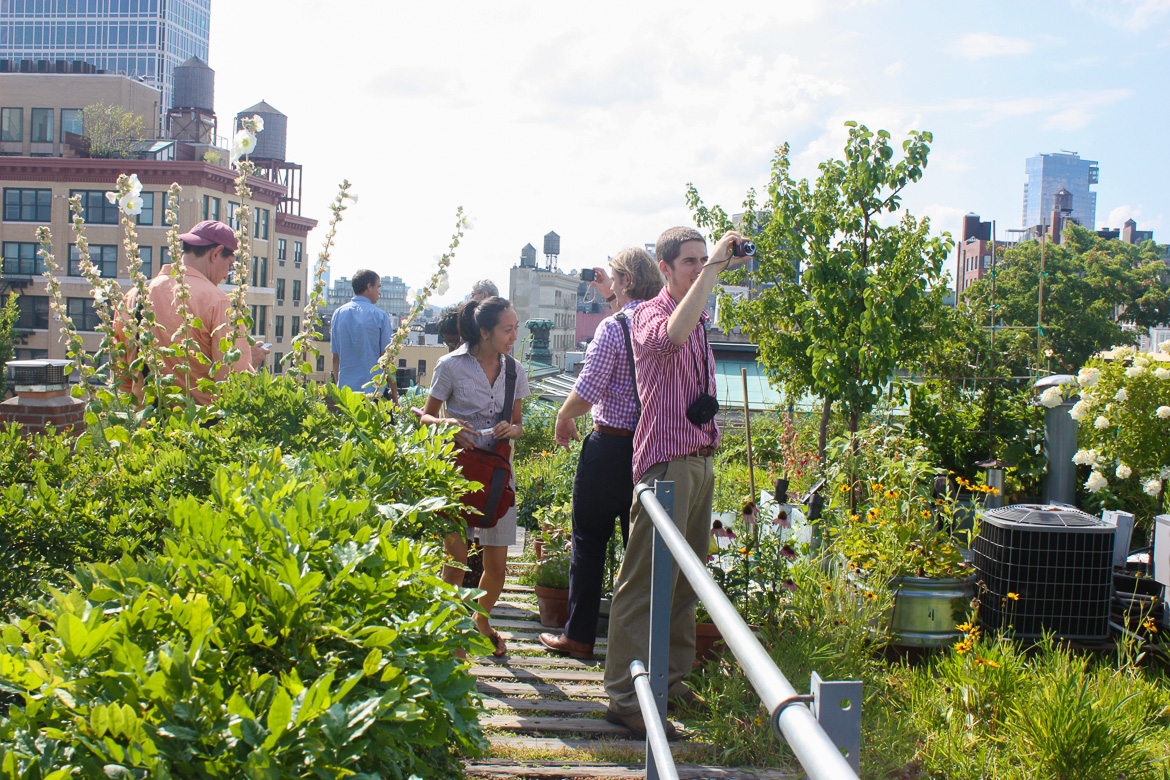 Rooftops are a great place for a garden or green space, and New Yorkers love the opportunity to enjoy nature! (Photo credit: Urban Green Council)
Rooftops function as more than just commercial spaces in New York City. With space in the five boroughs becoming ever more limited, those seeking green spaces, natural habitats, and farm-fresh food have learned to look beyond New York's major parks. Rooftops provide a unique opportunity to cultivate a garden, or sometimes even a full farm, in the heart of an industrial metropolis! Areas like the roof of the Javits Convention Center or The Grange in Brooklyn have been converted into full natural paradises, complete with plants, soil, and even protected habitats for wild birds, bats, and bees. These natural environments offer a rare opportunity for New Yorkers to learn about sustainability on guided tours, experience wildlife, or enjoy a farm-to-table meal from rooftop community gardens. However it is used, you can head to a rooftop green space for a true reflection of New Yorkers' ingenuity and commitment to sustainability and ecology!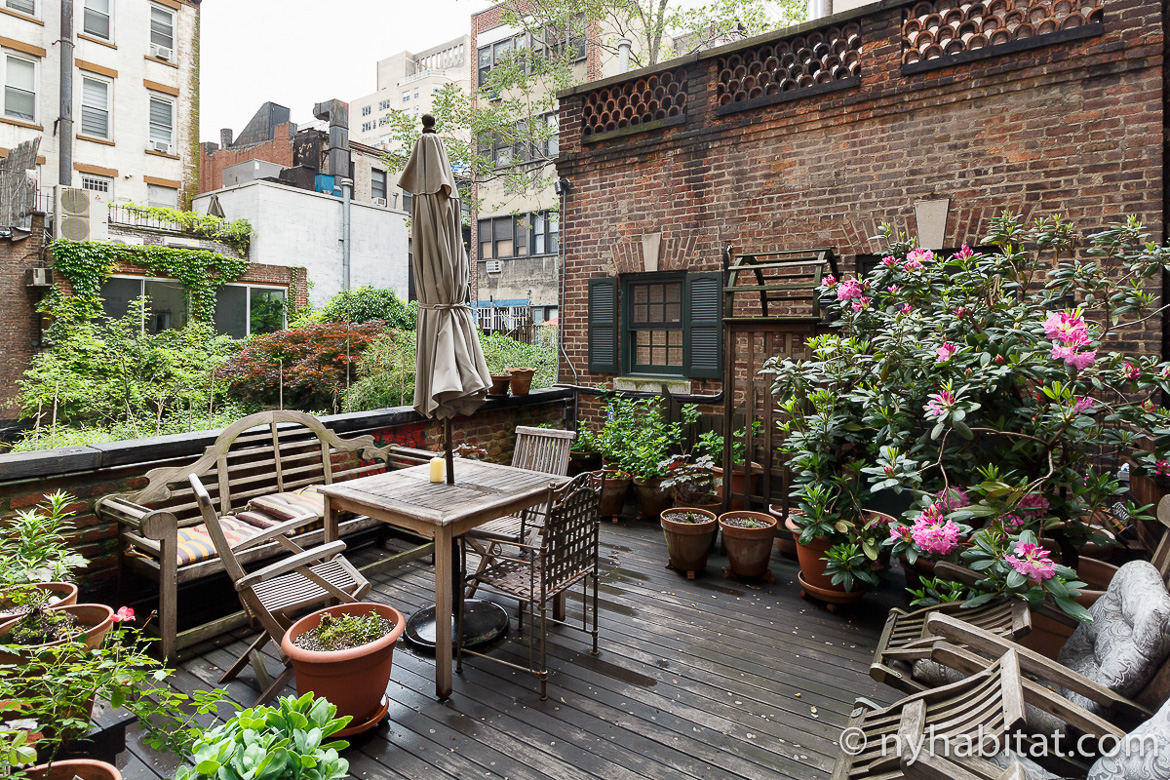 A private garden oasis is waiting for you at this Upper East Side studio
In some apartments in New York City, a love of nature can be found on a more individual level, like in this furnished studio apartment in the Upper East Side. New York studio apartments can have a reputation of being cramped, dark, or stuffy, but like the unexpected surprise of finding a green space in the heart of Manhattan, this rental breaks the mold with access to a spacious private terrace! Inside the apartment, all the essentials are covered thanks to a queen-sized bed, seating area, and a bathroom outfitted in tile and gilded fixtures. You will also enjoy plenty of natural light courtesy of the floor-to-ceiling windows on the back wall. Step through the built-in door to enter your very own private terrace brimming with potted plants, ivy, and natural wood furniture. With the unique opportunity to live in privacy in a studio, as well as all the greenery you can tend and enjoy in this secret garden, you may forget you're in a bustling city like New York! Private terrace and rooftop areas are especially popular in the Upper East Side, so be sure to say hello to your new neighbors too—you may make a few friends with outdoor spaces of their own.
Rooftop pools: a new kind of "high dive"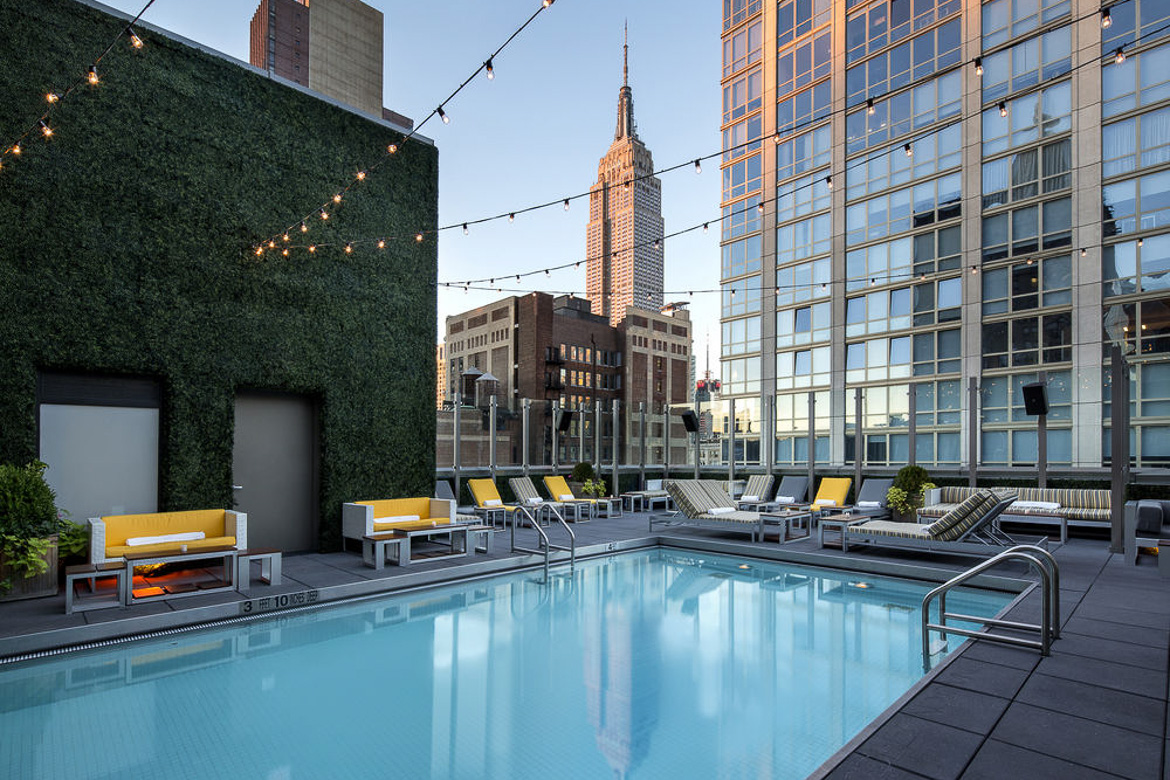 Swim high above the streets and enjoy scenic views in a rooftop pool!
When you think of an outdoor pool, you may imagine it to be sunken into the concrete, but believe it or not, pools can also be found hundreds of feet above ground! When the weather gets hot, New Yorkers can also flock to a roof deck to cool off in a rooftop pool. A rooftop pool is a unique place for visitors to enjoy fantastic views of the city, get some exercise (just in case your furnished rental doesn't come with gym access!), and an elevated social space (some rooftop pools also function as rooftop bars). Here are just a few of the can't-miss places to make a splash in the Big Apple:
Royalton Park Avenue: The pool atop this chic contemporary hotel (formerly the Hotel Gansevoort Park Avenue) features peerless views of the Midtown Manhattan skyline, including the Empire State Building. The pool is currently for hotel guests only, but the rooftop hosts special event parties for events like Halloween, New Year's Eve and more.
Jimmy at The James New York: Located in lower Manhattan and coveted for its fantastic views of the Freedom Tower, Jimmy at the James hosts pool parties for the general public every Saturday and Sunday after 3:00 pm in the summer months. Reservations are necessary to get in, but the interesting architecture and on-deck bar make the gamble worth it!
Sixty LES: This rooftop pool is one of the best-kept secrets in NYC, a favorite of Instagram stars and social media influencers! You'll need a friend to get in, as the pool is for hotel guests only, but the trendy pool has super-hip features like a tile Andy Warhol mosaic and underwater soundsystem you'll have to see to believe.
The Beach at the Dream Downtown: Head to "The Beach" for a supplemental Hamptons vacation! This rooftop pool has luxury cabanas available for rent and a chic white color scheme, as well as views to spare from both the rooftop deck and the pool, which has a glass bottom! Daily passes are available for sale during the summer season.
Turn your rooftop visit into a full experience at The Met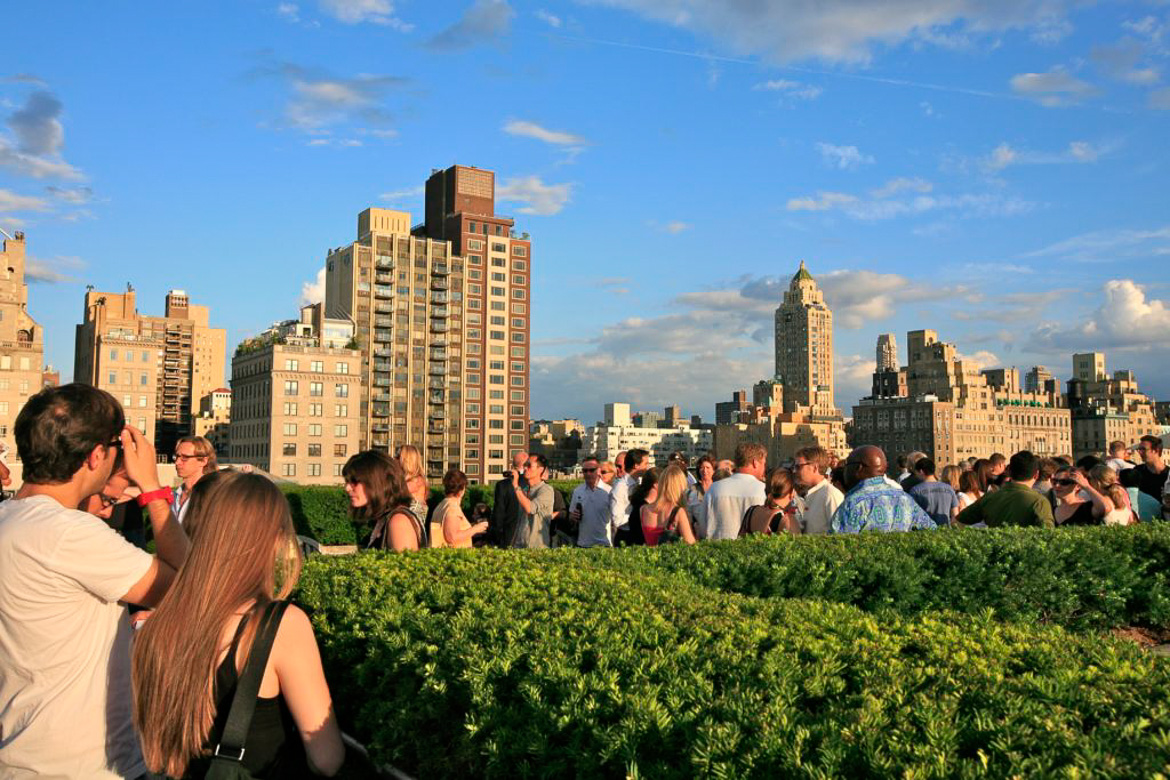 The roof at The Met has plenty of greenery and art through which to wander.
Commercial restaurants and hotels aren't the only place in New York to experience the city from the sky. With the modern popularity of rooftop spaces, even major tourist attractions have gotten in on the fun (and not just the Empire State Building and the Top of the Rock!). At The Metropolitan Museum of Art, you can now spend a day not only admiring the world-class art collection in the museum, but also the breathtaking views of Central Park! Enjoy a feeling of exclusivity that's unique to the established Upper East Side neighborhood as you wander through the rooftop of the Met. If you still haven't gotten your full art fix, there are even more sculptures and other pieces to see up here, as well as manicured hedges, a bar, and even a café restaurant.
If you came to the roofs of NYC for art and eats, you'll also love the rooftop at the newly-opened Vida Verde Mexican restaurant, featuring atmospheric lighting, bold and colorful murals on the walls encompassing the rooftop, and of course, Mexican food and margaritas!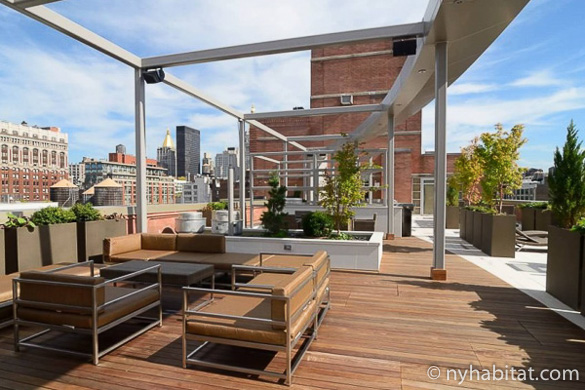 The vibe of the rooftop at the Met will follow you home with a stay in this 1-bedroom furnished apartment in Chelsea. The apartment itself features an open floor plan with a full kitchen, contemporary furnishings and hardwood floors, and the building's amenities will make your stay truly luxurious! The building offers a fitness center, bike room, lounge, and of course, a furnished rooftop terrace. Like the roof at the Met, the space is overflowing with well-groomed greenery and landscaping, and the wider aisles and benches lend to a more "park-like" feel. Cultured types will love this roof space, as it's perfect for lounging out with a good book, or just enjoying a private retreat. Plus, the sectional seating is great for a social gathering.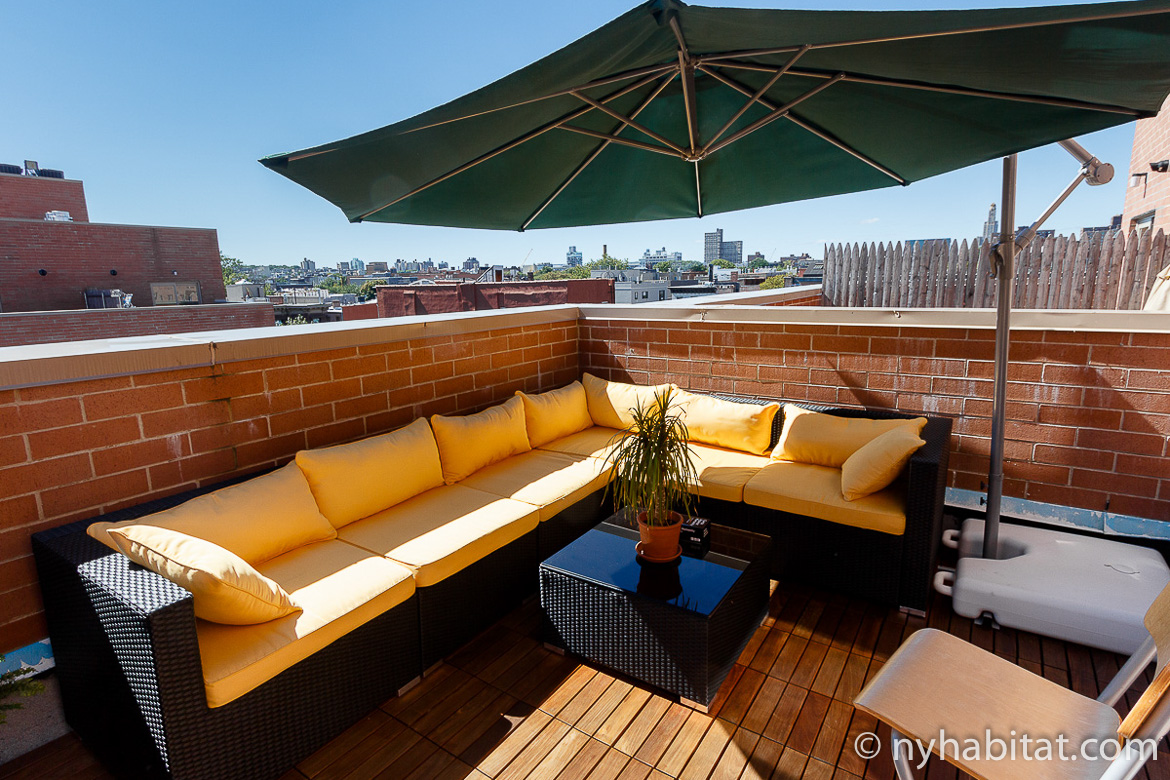 This Brooklyn apartment has multiple balconies as well as this rooftop with a personalized feel.
Our last apartment recommendation for rooftop fanatics takes us to this 1-bedroom furnished apartment in Clinton Hill, Brooklyn. This fully-modern apartment boasts 2 balconies, a private terrace, and a rooftop deck! The multi-functional terrace space can be used as a social area, with a large yellow sectional sofa (enough seating for all your friends), or a place to just stretch out, relax and unwind by yourself. Soak in the views of Clinton Hill's tree-lined streets and the rest of Brooklyn, as you can stay out here as long as you would like—the space has an umbrella to shield you from the sun. As with any of our furnished rentals, there is plenty to offer on the inside as well, including a double-sized bed, an indoor sofa, and even a hammock to add a bit of fun to the space!
With our tour of New York's rooftops now coming to a close, hopefully you've gained a new perspective on The City That Never Sleeps: one from the air! Why not head to a rooftop pool, garden, bar, or any of our furnished apartments with roof access to watch the sunset over the city?