We are pleased to welcome
guest writer
Michelle McMurray from the outdoor lifestyle, gardening and lawn care blog at
Lawnstarter
for this feature.
The Empire State is full of opportunities to leave stress at work and get outdoors. From state parks to botanical gardens, New Yorkers have the chance to experience nature in every corner of the state. The fact that there is so much opportunity to experience nature directly impacts the high quality of life that many New Yorkers enjoy. Take advantage of the many outdoor places that are just a few hours from New York City, like a weekend getaway to a cabin in the woods. New York State is perfect for the next time you need to take a break from the city and get back to nature.
1. Breakneck Ridge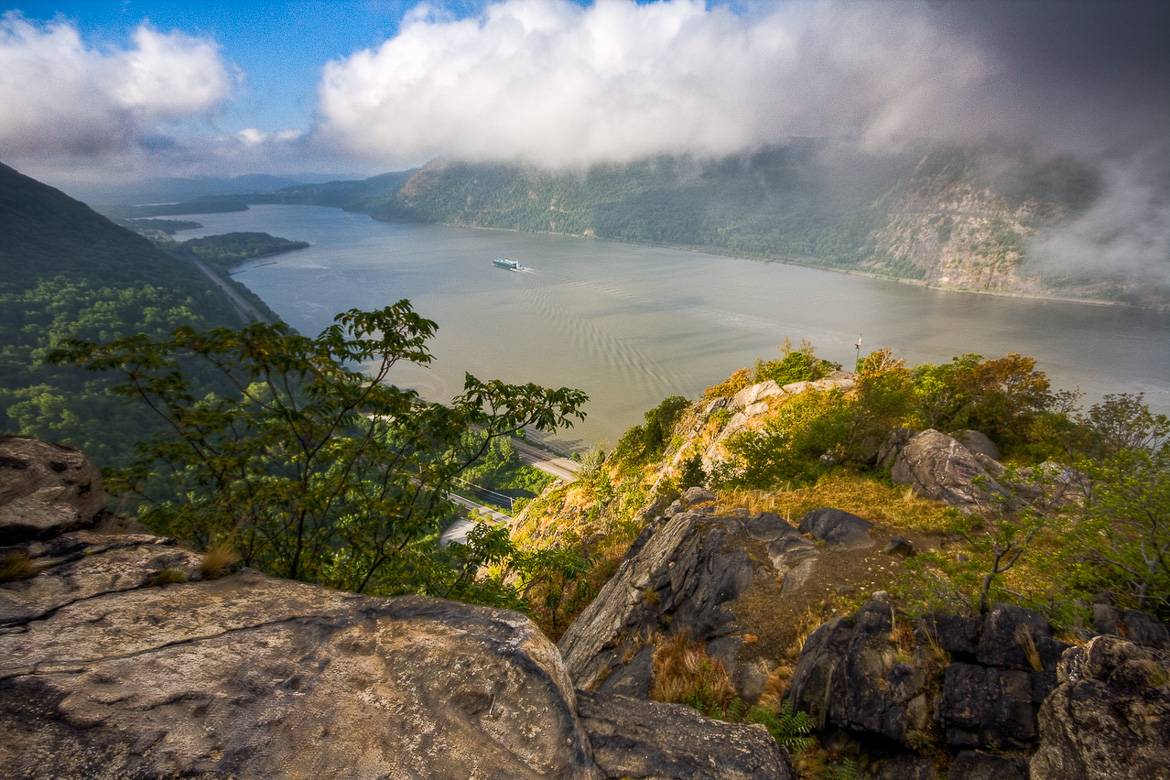 If you can make it to the top of Breakneck Ridge, you'll be rewarded with a dazzling view. (Photo credit: Jeffrey Pang)
This intense hike is located about an hour north of New York City and is easily accessible by Metro-North's Hudson Line. You can catch a Metro-North train from Grand Central Terminal. Located near the Hudson River, Breakneck Ridge offers a tough hike for those looking for some major adventure. The hiking trail takes you up a mountain in the East Hudson Highlands and is not for the faint of heart. Hikers will need to climb over rocks and not be scared of heights to enjoy the beautiful views from the top. Consider booking a cabin for the weekend and staying a few nights in this majestic and peaceful area.
2. Mohonk Preserve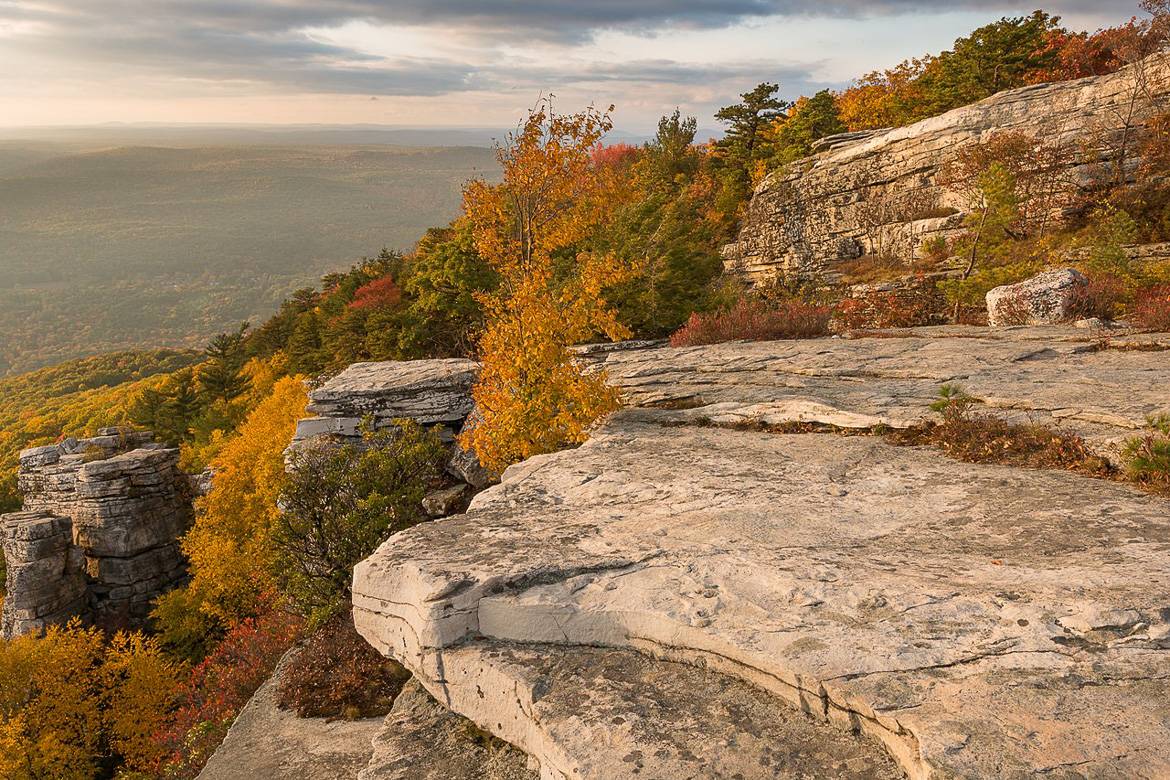 Mohonk Preserve's natural landscape makes it a favorite destination of rock climbers.
For those rock climbers in the state, Mohonk Preserve offers over 1,000 different climbing routes that can keep you busy from an afternoon to several days on the mountain. Mohonk Preserve is located in the Shawangunk Mountain Region about 2.5 hours north of NYC and is dedicated to keeping the land accessible for enjoyment by visitors. You can access the area by taking Metro-North's Hudson Line from Grand Central Terminal and transferring to the UPL line to New Paltz. You will need to call a taxi to take you to the preserve, which is about 2.5 miles from the train station.
You'll find hiking, biking, and horseback riding for those visitors that aren't intrigued by the rock climbing heights. Butterfly gardens and children's exhibits are also available. During the winter, many visitors enjoy skiing and snowshoeing on the groomed trails that offer access to the outdoors despite the cold temperatures.
3. Innisfree Garden
This 150-acre Chinese-style garden offers a wide variety of landscape architecture that corresponds to Chinese landscape design. A short 2-hour drive north of the city will land you at the Innisfree Garden, which was established in 1930 and inspired by the garden of Wang Wei, an 8th-century poet and painter. You'll enjoy waterfalls, streams, retaining walls and terraces that are all based off of Chinese designs. Tyrell Lake, located within the gardens, is a 40-acre lake that adds beauty and majesty to the area.
The garden is open Tuesday-Sunday through the 3rd week of October. To get to the garden, you can take advantage of rental car agencies in the city like ZipCar, Enterprise or Hertz, or you can take the Metro North Hudson line out of Grand Central to Poughkeepsie station and then call a taxi.
4. The Adirondacks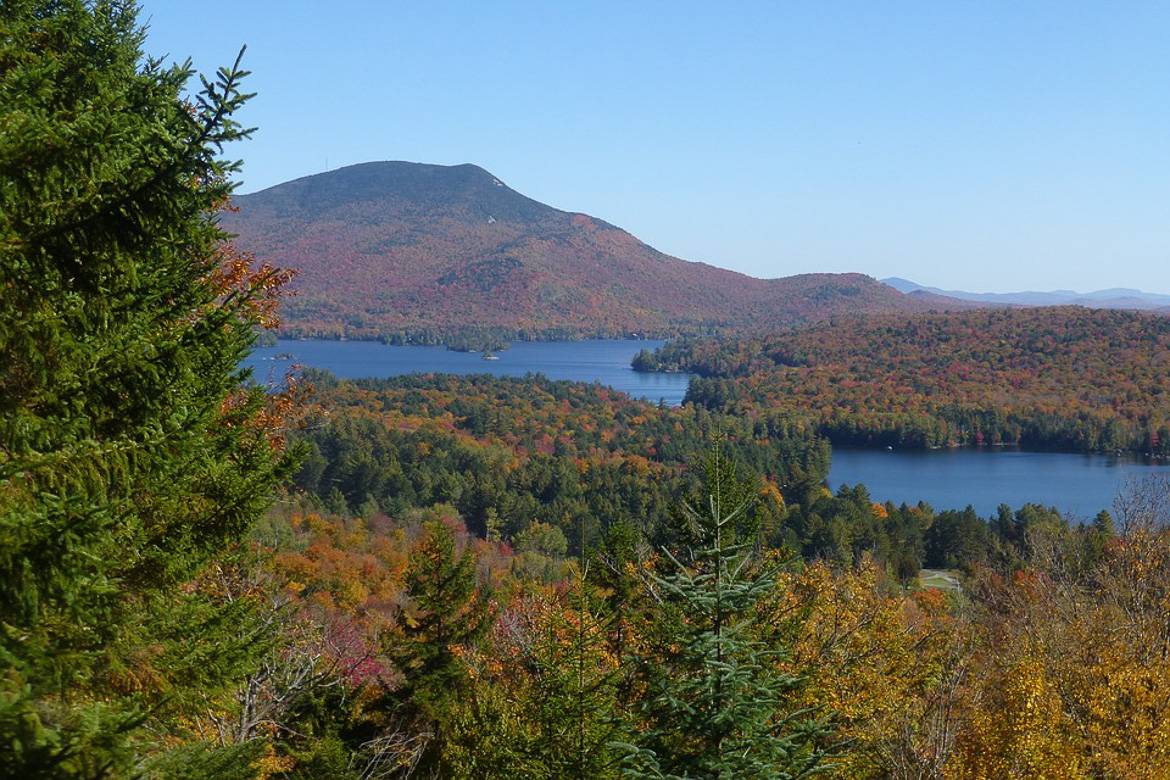 The Adirondacks offer gorgeous views for hikers, and plenty of chances for water sports enthusiasts to get active!
There is a reason why the Adirondack Mountains are so popular with people from all around the country. This amazing mountain range is located in the northeastern part of the state and is about 5 hours from the Big Apple. The area is also well known for its many hiking trails, vineyards, waterfalls, and water sports. Those looking for a peaceful getaway will appreciate the relaxing paddle boarding that is available, while those looking for excitement will enjoy the extreme whitewater rafting. Visitors to this area will also find great mountain biking and rock climbing opportunities.
Access is simple thanks to Amtrak's Adirondack train service, which you can catch from Grand Central or Penn Station. If you prefer to travel by bus, Adirondack Trailways and Greyhound service the area via the Port Authority Bus Terminal.
5. Cooperstown, New York: All Things Baseball
Located about 3 hours away from New York City, Cooperstown holds the National Baseball Hall of Fame and Museum for all of those New York Yankees and Mets fans. The facility is visited by over 250,000 people each year and is a great way to learn more about the rich history of the sport. You'll find die-hard baseball fans all around town, as well as baseball-themed shops and restaurants that have been overtaken by the love of the national pastime of America. You can pick up a customized bat as well as visit the Heroes of Baseball Wax Museum to learn more about the greats that made a difference in the game.
Amtrak offers direct service to Cooperstown from Grand Central Terminal via a train-to-bus transfer.
6. Watkins Glen State Park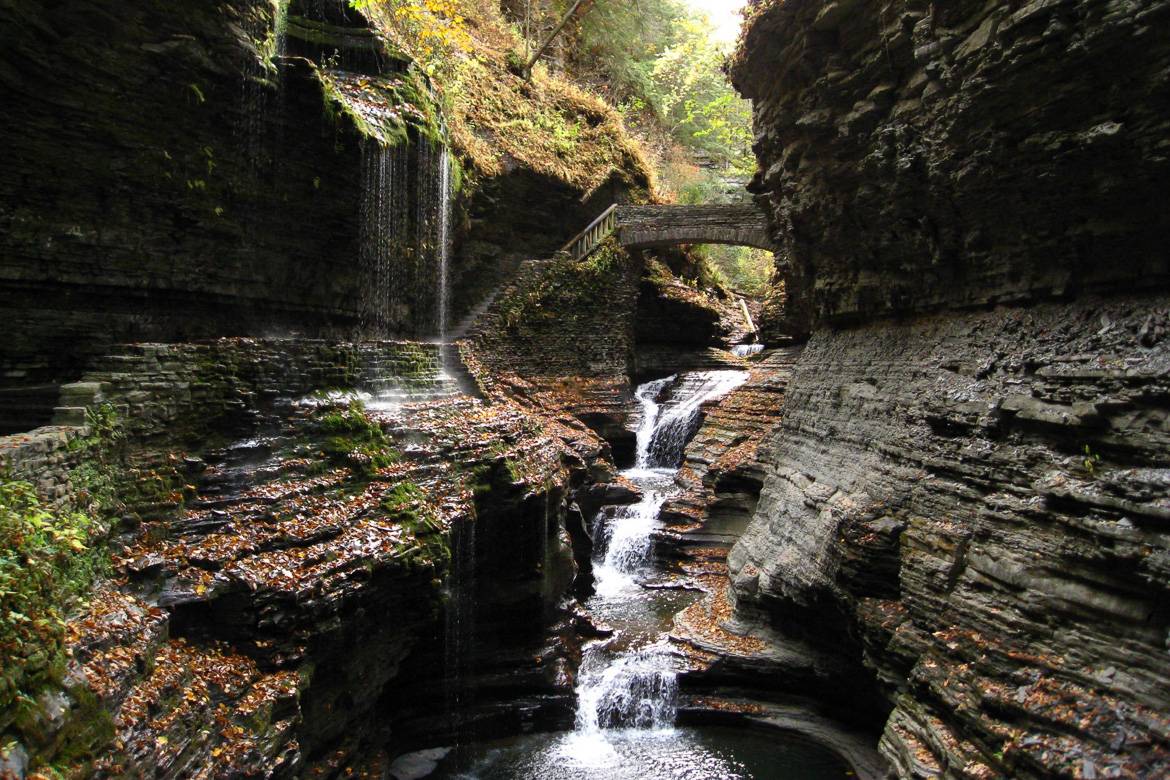 Watkins Glen State Park's picture-perfect waterfalls make it a beloved destination for nature lovers all over the United States.
This famous state park is a little less than 5 hours from NYC and is known for the 19 waterfalls that canvas the area. Watkins Glen State Park is part of the Finger Lakes State Parks in the western region of New York. The waterfalls are created by a quick 400-foot drop over 2 miles, creating waterfall after waterfall. The gorge is beautiful in itself as the water has intricately carved the rock over time. Visitors from all around enjoy Watkins Glen State Park, which received 3rd place in the 2015 Reader's Choice Poll for Best State Park in the United States by USA TODAY. Camping is available at the park as well as fishing in nearby lakes and creeks. Hiking along the rim of the gorge is also available for those who want to see the waterfalls but not get their feet too wet.
To get to Watkins Glen, you can take the Greyhound bus to Ithaca from Port Authority Bus Terminal and then take a taxi to the park.
7. Catskill Mountains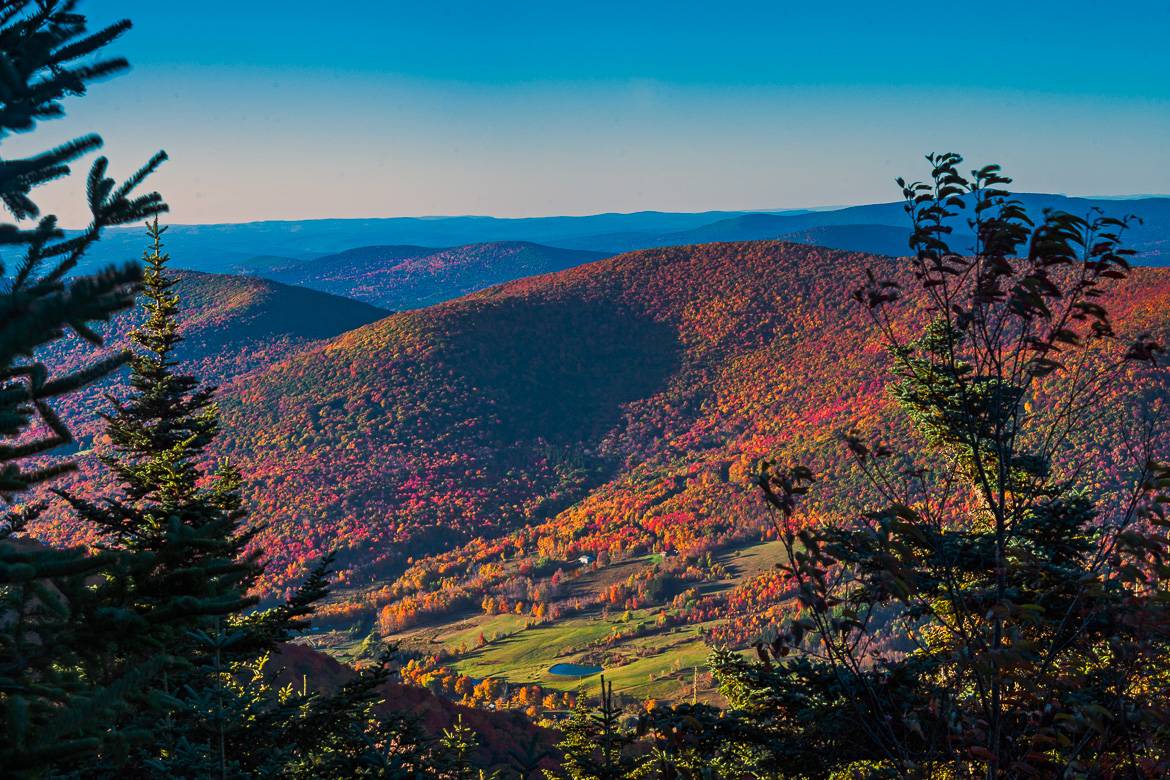 For the best views of the Catskills' rolling mountains and hills, be sure to visit in autumn.
Located in the southern region of the state, the Catskill Mountains offer plenty of opportunities to get back to nature after a short 3-hour drive north from New York City. The Short Line Coach Bus offers direct service to the area from Port Authority Terminal. The Catskills are part of the larger Appalachian Mountain range and are defined as the mountains that border the 700,000 acres of Catskill Park, a forest preserve. Much of the land that is considered part of the Catskills is a dissected plateau and not an actual mountain range. Visitors can enjoy many different Catskills festivals and events, as well as find outdoor adventures like mountain biking and hiking. There are many ways to enjoy a fresh farm-to-table meal in the region as well as plenty of cabins that will provide a respite from the busy life of the city. The Catskill Mountains are a hotspot for anglers who also cover the area, which is known for its fly fishing opportunities.
New York is brimming with ways to experience the peaceful and rejuvenating aspects of nature. Enjoy the many outdoor sporting opportunities in the Catskill Mountains, Adirondacks, or Breakneck Ridge, as well as the epic rock climbing routes at Mohonk Preserve. Watkins Glen State Park and Innisfree Garden are great for families who want to get out into nature as well. Any baseball fans can't miss a weekend trip to Cooperstown as well for a weekend full of baseball fun. Any of these choices are great ways to get back to nature for a weekend getaway out of the city.
Michelle McMurray loves all things fashion and design, priding herself on always keeping up with the newest styles in the home and on the runway. She loves to travel and is always seeking a new culinary adventure.
---
Note from New York Habitat:
If you're looking for easy access to any of these majestic natural destinations in New York State, consider booking a furnished apartment with New York Habitat. We offer plenty of apartments in Manhattan close to major transit hubs like Pennsylvania Station, Port Authority Bus Terminal and Grand Central Terminal. You can browse by location on our website, or get started with these listings: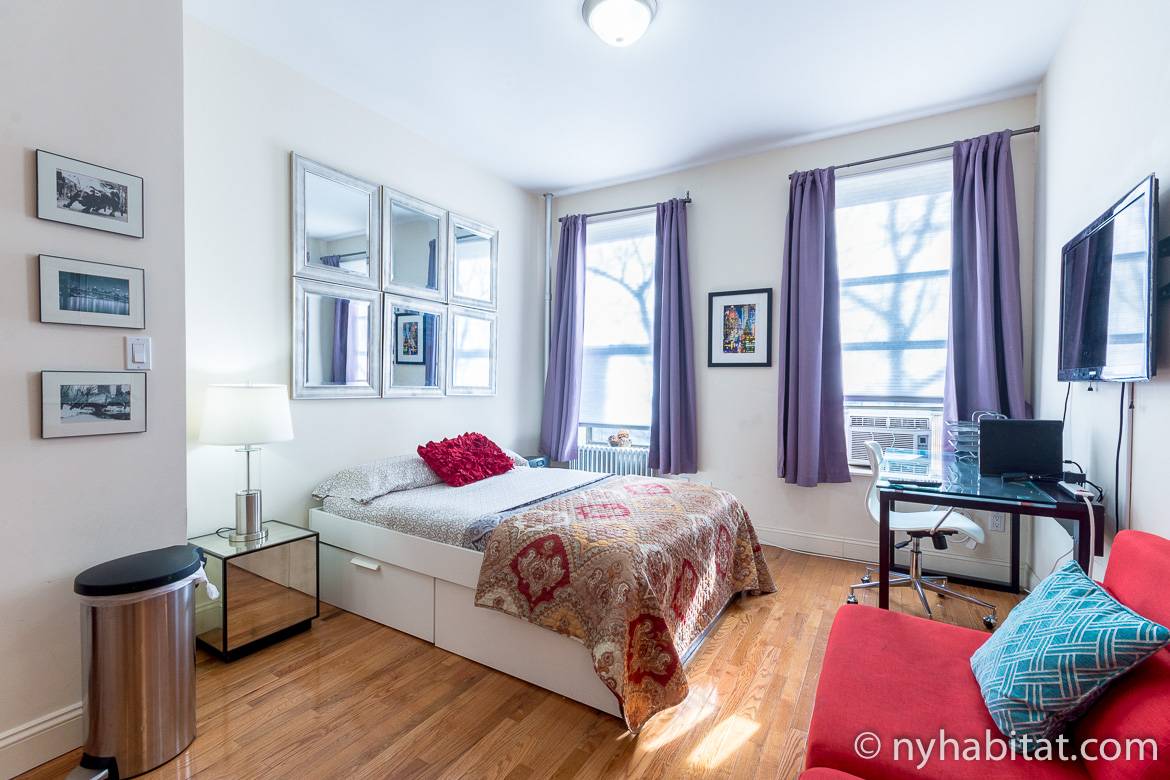 Book this colorful Chelsea studio for easy access to Penn Station, and have it waiting for you when you return from your trip!
A stylish furnished studio in Chelsea– Located just a few blocks south of Penn Station, this studio apartment is kept bright and cheery thanks to colorful modern décor and two large windows for natural light exposure. Plus, this studio boasts two closets- perfect for any outdoor gear you may need to store!
A family-friendly 1-bedroom apartment in Midtown East– If you're traveling to one of the family-oriented locations on this list, this 1-bedroom in Midtown East can't be beat. Furnished in a classic style with wicker chairs and potted plants to bring some green indoors, this 1-bedroom is within walking distance of Grand Central Terminal and has its own kitchen, perfect for preparing a picnic lunch to take with you!
A polished alcove studio in Midtown West– When you get back from a long weekend trip, you'll have a perfect place to rest in this contemporary alcove studio. Port Authority Bus Terminal is located within walking distance, so you'll be glad to get home right away and kick your feet up on the sofa or double-sized bed or prepare dinner in the modern kitchenette to refuel after your travels.